Keeping hair down with a gorgeous look is a dream of many. If you're looking for a romantic wedding day look, try a gorgeous wedding hair down hairstyle. Let your hair loose and take some stress off your shoulders, we have listed various hair down styling ideas below.
When to Style Your Hair Down
Whether topped off with a princess's crown, classic white veil, a floral hairpin or simply sweeping over your shoulders naturally, wedding hair down styles cannot be resisted! So, check out a plethora of our bridal collections below and get inspired!
Should I wear my wedding hair up or down? One of the most popular questions among brides. Making a choice is easy.
Wear it down if you have long and thick hair.
Wear it up if your hair needs volume.
Wear it down if you have a stylish cut.
Wear it up if your hair is hard to manage.
Wear it down if you are not afraid of frequent touch-ups.
Wear it up if you want to forget about your hair for the whole day.
Advantages Of Wearing Hair Down
Instead of going on a social media wormhole search for the best wedding hair down styles and the reasons behind their success, we have got you covered. So, what are the advantages of styling a wedding down hairdo?
More comfortable and moveable.
Less loose bobby pins to worry about while dancing or posing for photos.
No headaches resulting from tight high buns.
What About Hair Down with Bangs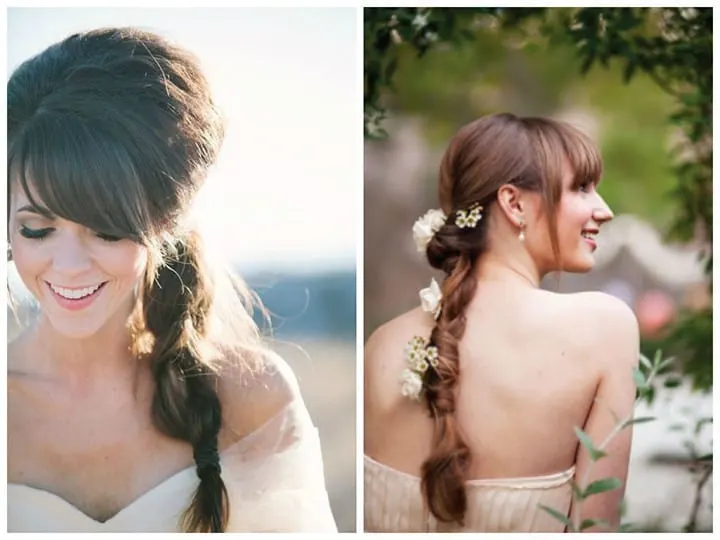 When you are letting your wedding hair down, you are giving up on most of the complicated hairstyles. However, you can still create an awesome image by making bangs.
Bangs look fantastic with any type of hairstyle as long as they are created professionally and maintained as required.
Consider wearing blunt bangs with medium-sized bobs, side-swept bangs with long curls, and wispy bangs with straight hair.
If you haven't tried a bangs hairstyle yet, your wedding might be the time to start.
Hair Down Ideas for Wedding
Wearing your wedding hair down is a bold move. You need to get ready for frequent touchups. But the overall impression you'll make will be so stunning that you'll thank yourself for the effort.
The best wedding photos are created when the bride wears her long locks down. If you have medium hair, don't be afraid to flaunt it either. There are so many ways to create stunning wedding hairstyles without lifting the hair up. You can take advantage of a few we've chosen for you.
1. Half Up Half Down Wedding Hair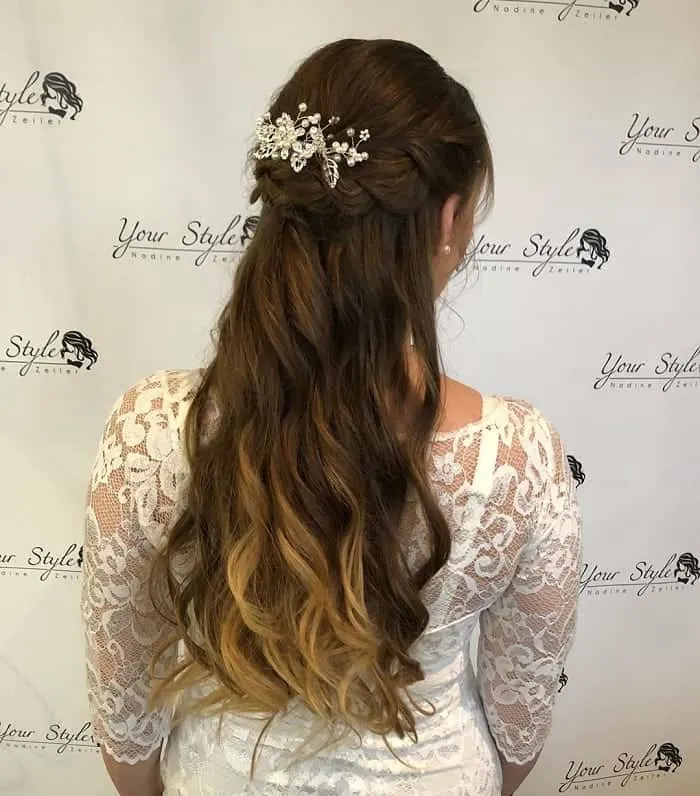 You must look fabulous on your wedding day because all eyes will be on you. Don't worry, this wedding hair down hairstyle is among the best options. It has a gorgeous low ombre and a mesmerizing small braid crown.
Those waves make your hair look like you are depicted in a fairytale, and a silver pearled flower application will add a charming effect to your hairdo.
2. Straight Down Hairstyle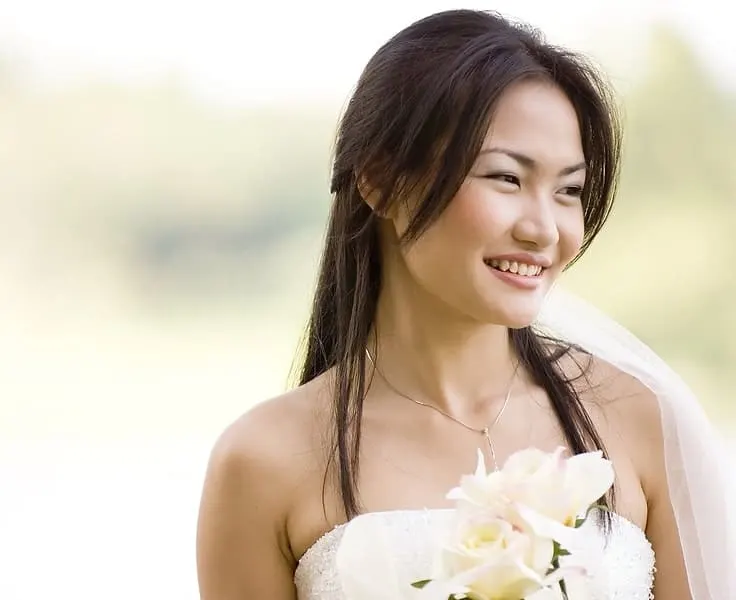 Sometimes less is more, and the best way to give value to that statement is this refined look. Part your hair in the middle and let your bangs frame your face. Grab your crown hair and pin it in the back, leaving the rest of your hair loose, falling on your back.
3. Shoulder Length Down Hair
This is probably one of the best hair down hairstyles for weddings, and that fresh gorgeous flower crown brings the magic in. For your hair, create a simple wavy look and let it arrange itself.
4. Rustic Wedding Hairstyle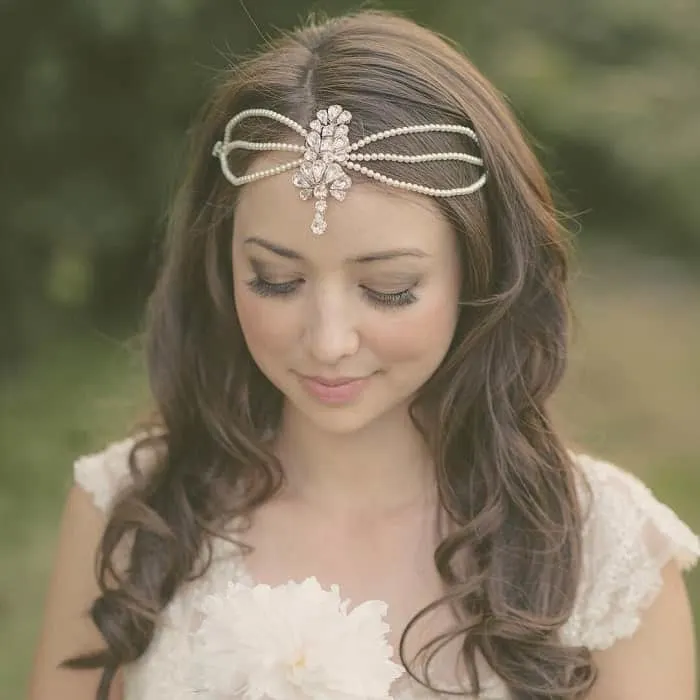 If you want to look like a princess on your wedding day, use a curling iron and style some twirls. Let them loose, on your shoulders, and add a pearled diadem on your forehead.
5. Down Hairstyle for Wedding Guest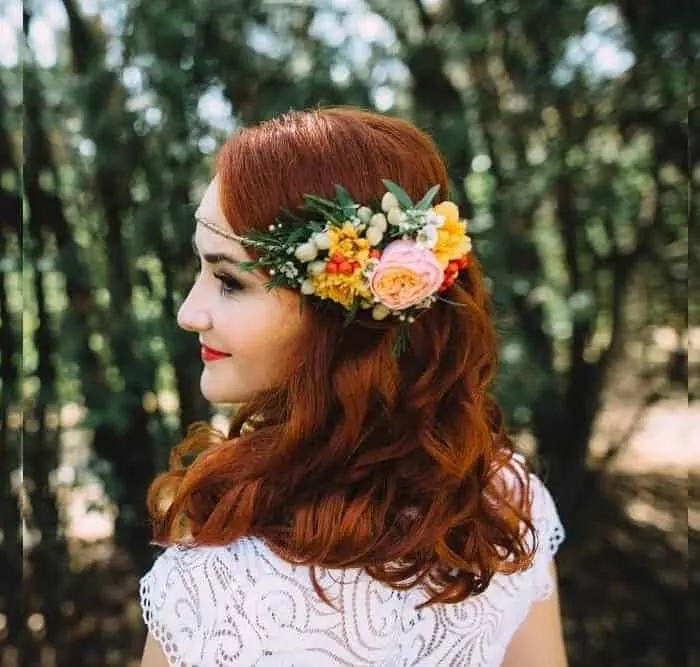 If you are just a guest at a friend's wedding, beware, all eyes might be on you and not on the bride. Choose a ginger color and create full loose ringlets. Accessorize this wedding hair down hairstyle with a flower application that you must orient on one side.
6. Glam Low Pony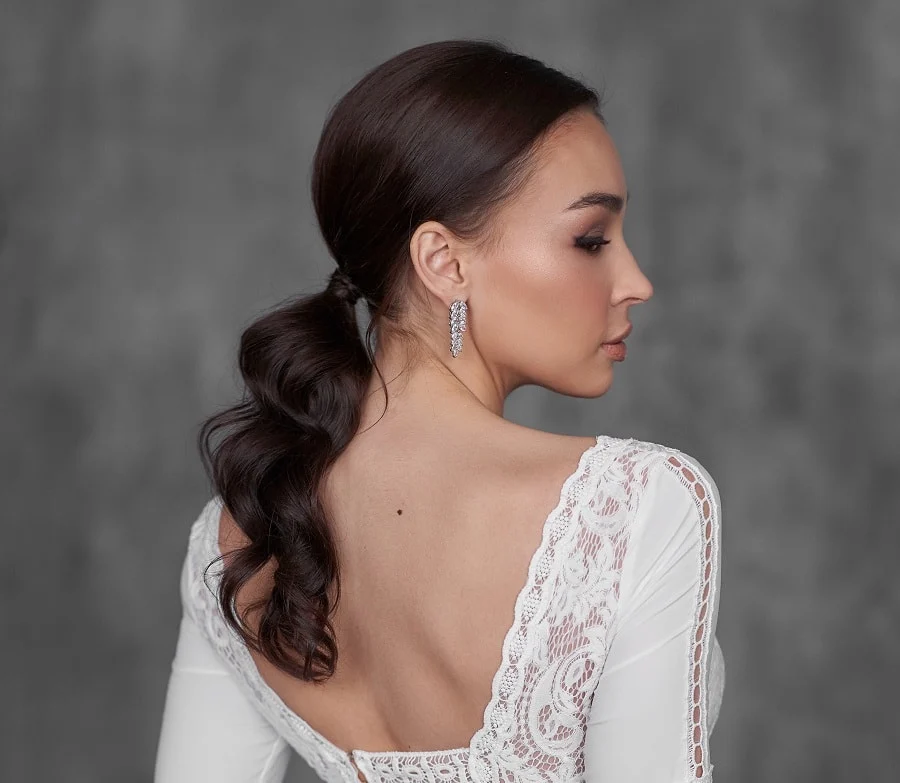 Your wedding is one of the most important days of your life, so you need to look your best. You don't have to go for something extravagant, a sleek simple back ponytail that is coiffed with class can be extremely effective. Curl the pony and wrap a strand around the base.
7. Forehead Headband
If you love the Golden Years or you are having a themed wedding from that period, you need a hairstyle that is suitable. Pick a lace headband with a flower that you'll place on the forehead. Go for a side braid and pull off the edges to give it more volume.
8. Flowers and Braids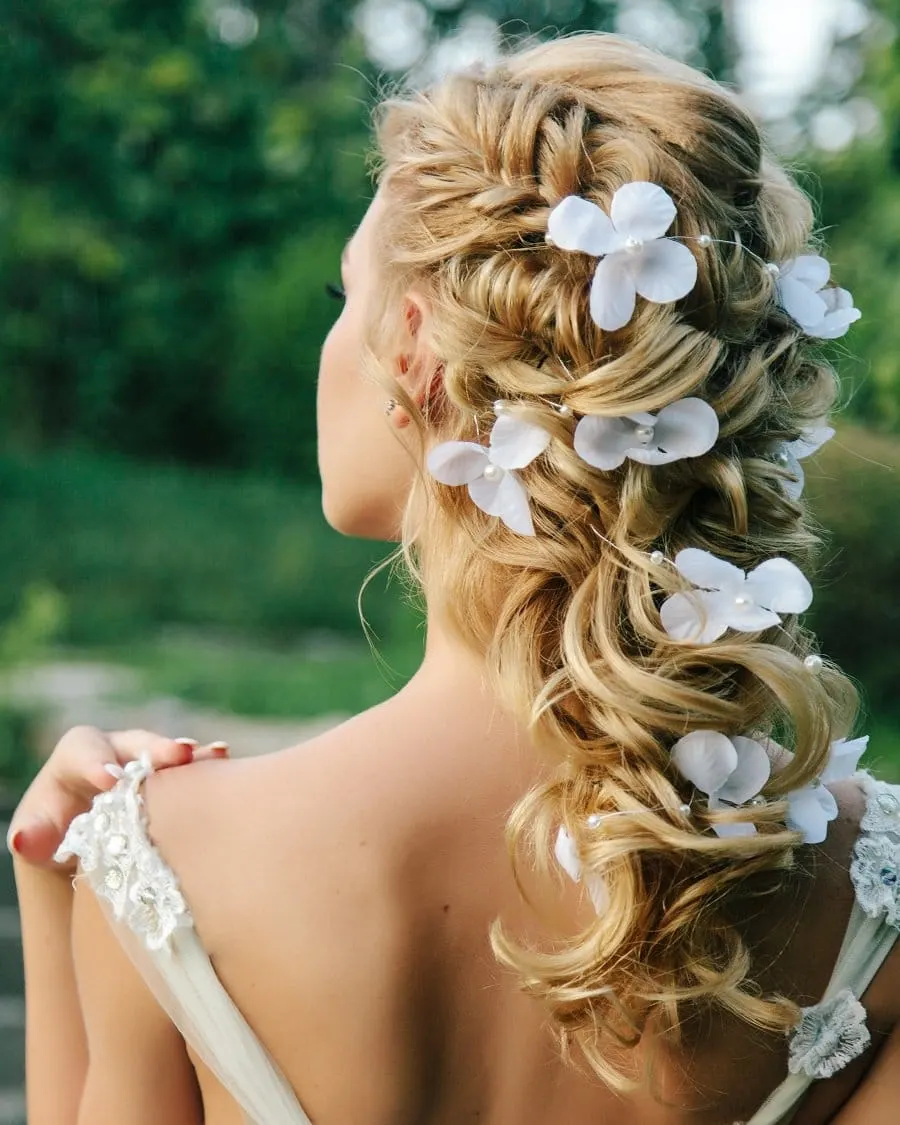 When you're going for a romantic look for your wedding hair down hairstyle, opt for a creamy blonde color. Curl your hair before doing any hairdo because this technique will give you so much more volume. Braid on the sides and pin the whole thing with bobby pins. Decorate with simple flowers.
9. Half Up Half Down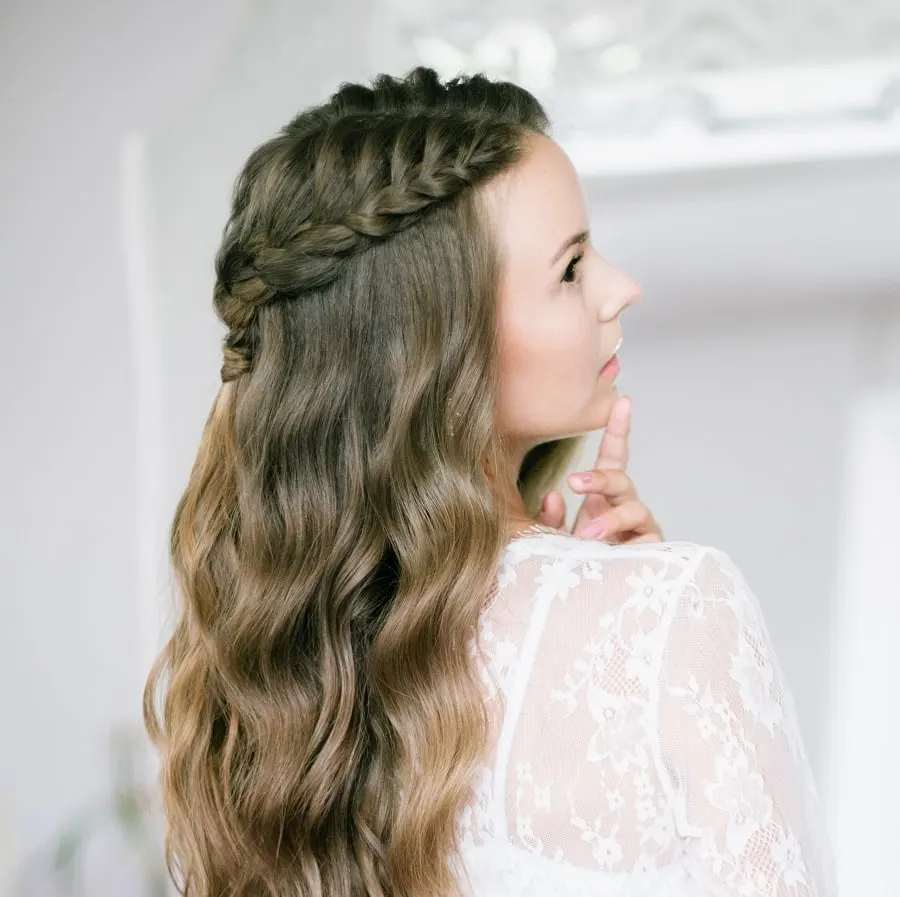 A half up half down hairstyle with top feed-in braids on each side will draw all the attention to your long mane, cascading on the back. You can use a mini crimping iron for the roots to lift them up. Wave those tresses and enjoy your fabulous wedding look.
10. Side Bun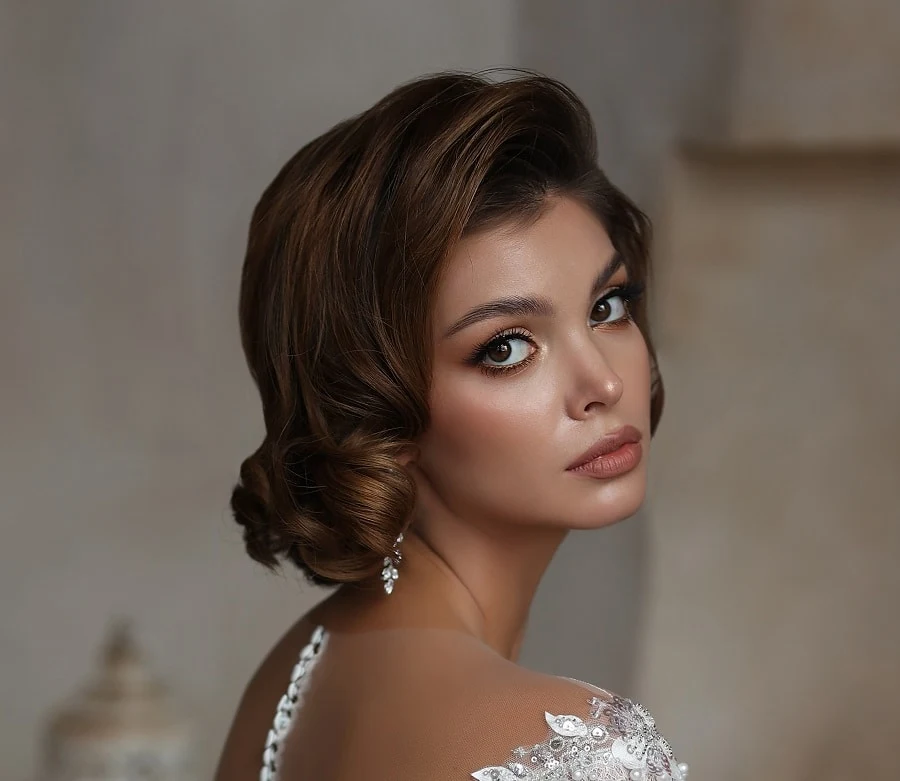 Wedding hair down hairstyles that are very simple, have a high degree of sophistication. Curl your hair and lift up the roots, especially for the side bangs. Fix the hairstyle with a strong-hold hairspray. Opt for a warm chestnut color that suits your skin.
11. Space Buns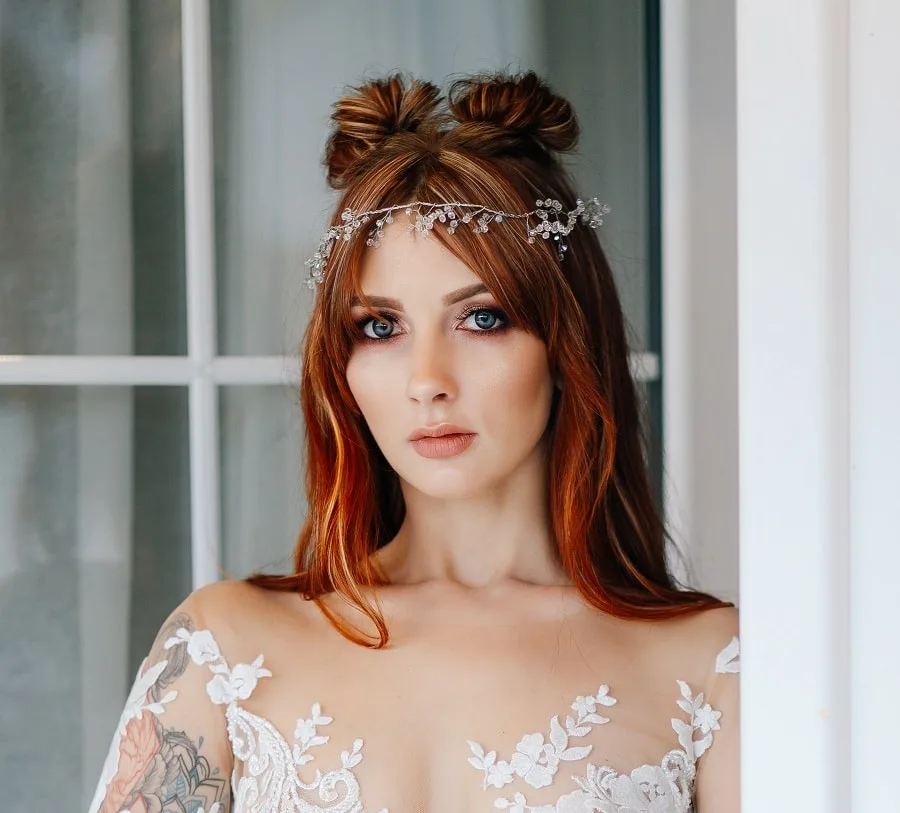 Even weddings are a great place to look a little bit childish, especially if you're a rebellious girl who doesn't always want to fit the standards. Go for a vibrant red copper hair color, get curtain bangs and decorate with a simple headpiece.
12. Jet Black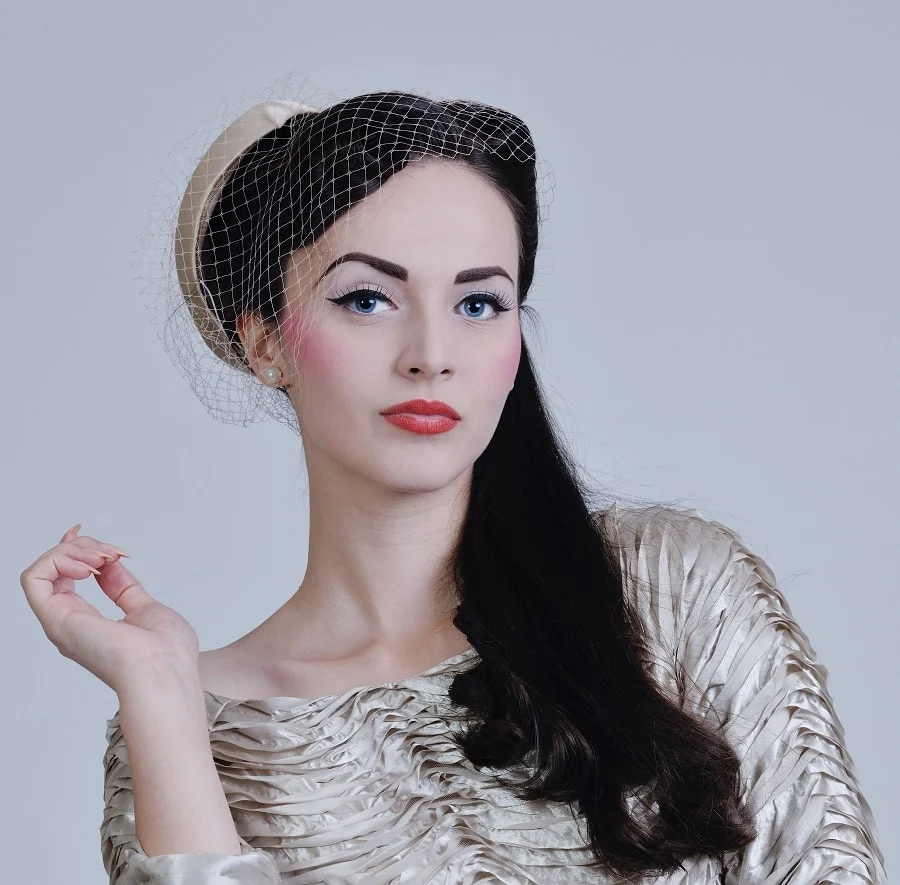 Jet black is a hair color that women with fair skin will simply adore. It creates great framing for your facial features and highlights your eyes. If you are going to a wedding or you are the bride, that long black hair will create amazing contrast. To encapture that old-school look, wear a bonnet with a fishnet covering the face.
13. Braided Curls
When you have long healthy natural hair, it would be such a shame not to build a gorgeous braid hairstyle for your wedding. A hairstylist will help you create those twists, knits and knots and decorate the construct with elegant hair jewelry. Place a bigger piece just above the braids.
14. Large Decorated Bun
If you want to make sure everyone will be looking at you on your wedding day, the hairstyle must be quite imposing. And this option really has everything: volume, supra-dimensional bun, wavers, fishnets, roses, beads, and a veil.
15. Creamy Blonde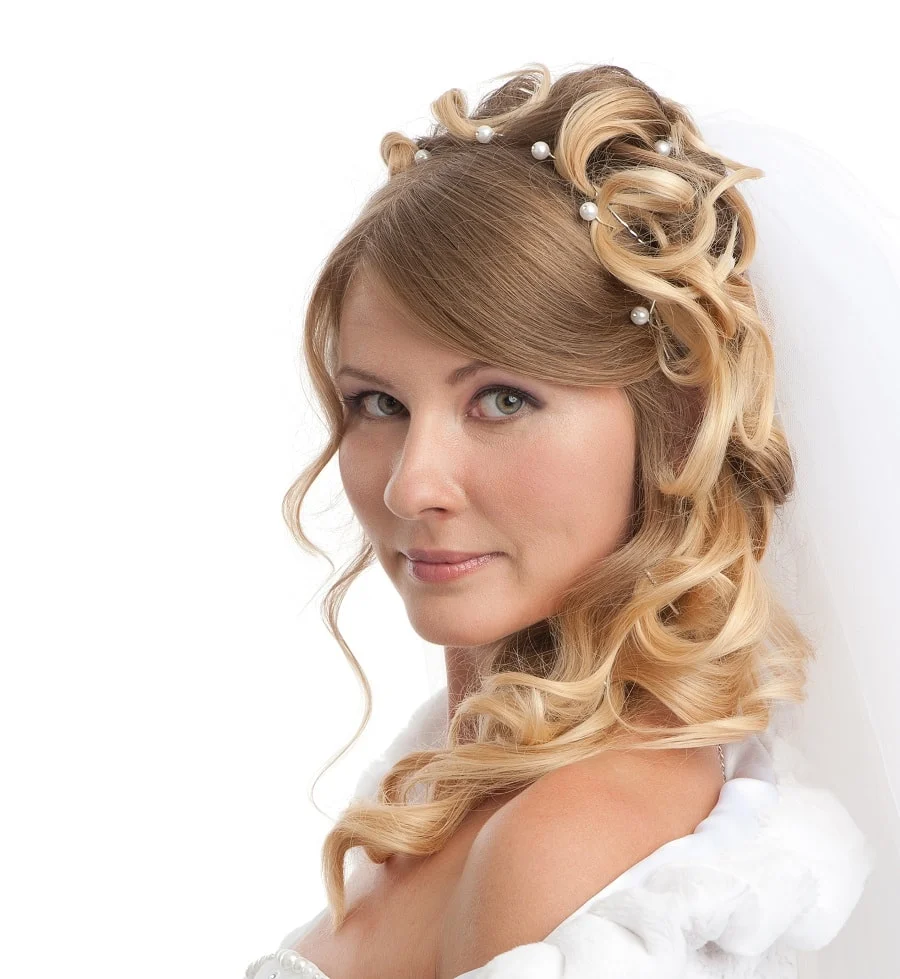 A wedding hair down hairstyle with a fabulous ombre is something you need for this memorable day. Style curls that you will pin up with pearled bobby pins. Use these to create the shape of a headband.
16. Hair Down With Side Swept Waves
This simple option is perfect for girls, who have long thick hair. You need to add your locks a little wave with a curling iron and sweep them to one side. This hairstyle is hard to keep in place, so it's usually created for photoshoots.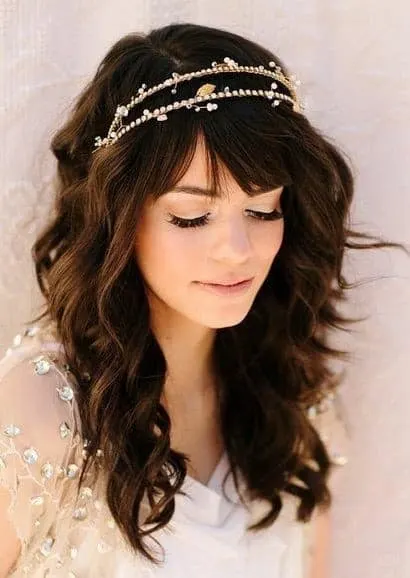 Long wavy hair is a perfect opportunity to sport blunt bangs. You have to give your hair a wave while leaving the bangs straight. The contrast is fabulous. You can add any hair accessories, such as a tiara or headband.
Best Wedding Hairstyles for Long Hair
18. Wedding Hair Down with Headband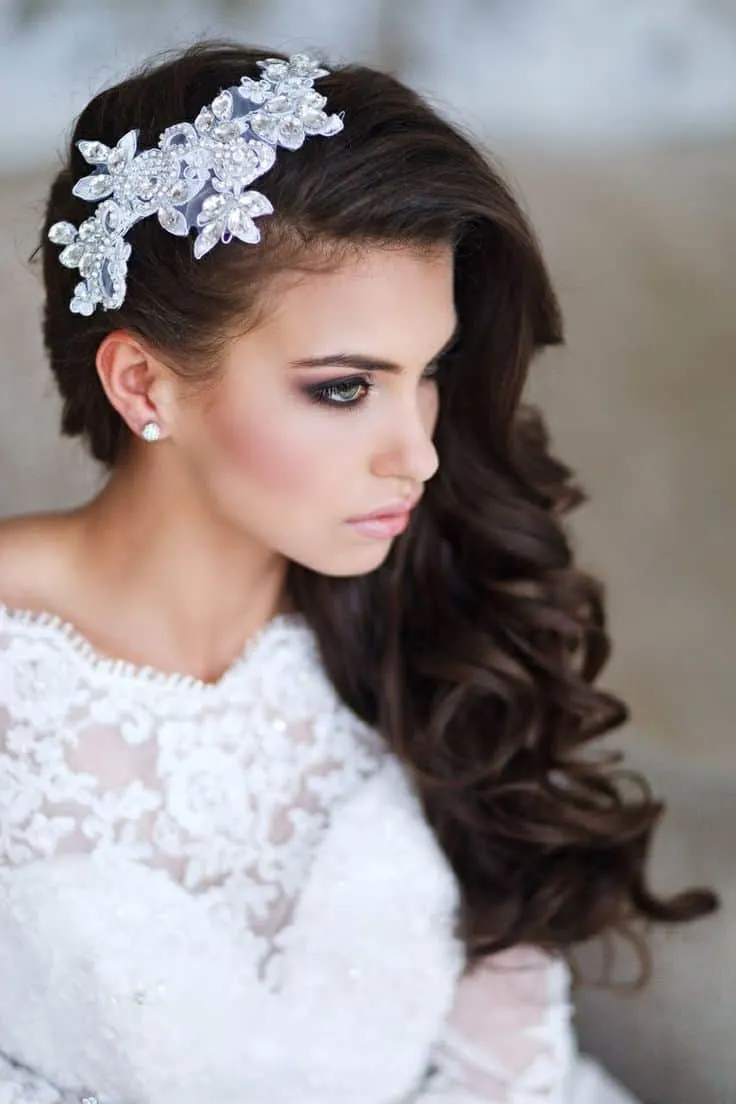 Wear your sunkissed waves and ringlets in a wavy side-swept style topped off with a floral headband for a more feminine and chic look. Moreover, pair it with makeup from the nude palette to go with your delicate girl-power appearance.
19. Wedding Long Down Hairstyle
Keep things a little more loose in the front and back gives off a more breezy and effortless vibe. So, all that is required for the wedding hair down design above is the attachment of the symbolic white veil.
20. An Organic Smile
It's hard to get that organic smile out of a bride on her stressful wedding day. But, with a wedding hair down design, she'll feel more comfortable, confident, and less insecure. So, go ahead and choose something effortless yet spectacular like the one shown in the example above to loose some of the stress you have to deal with on that big day.
21. Tucked In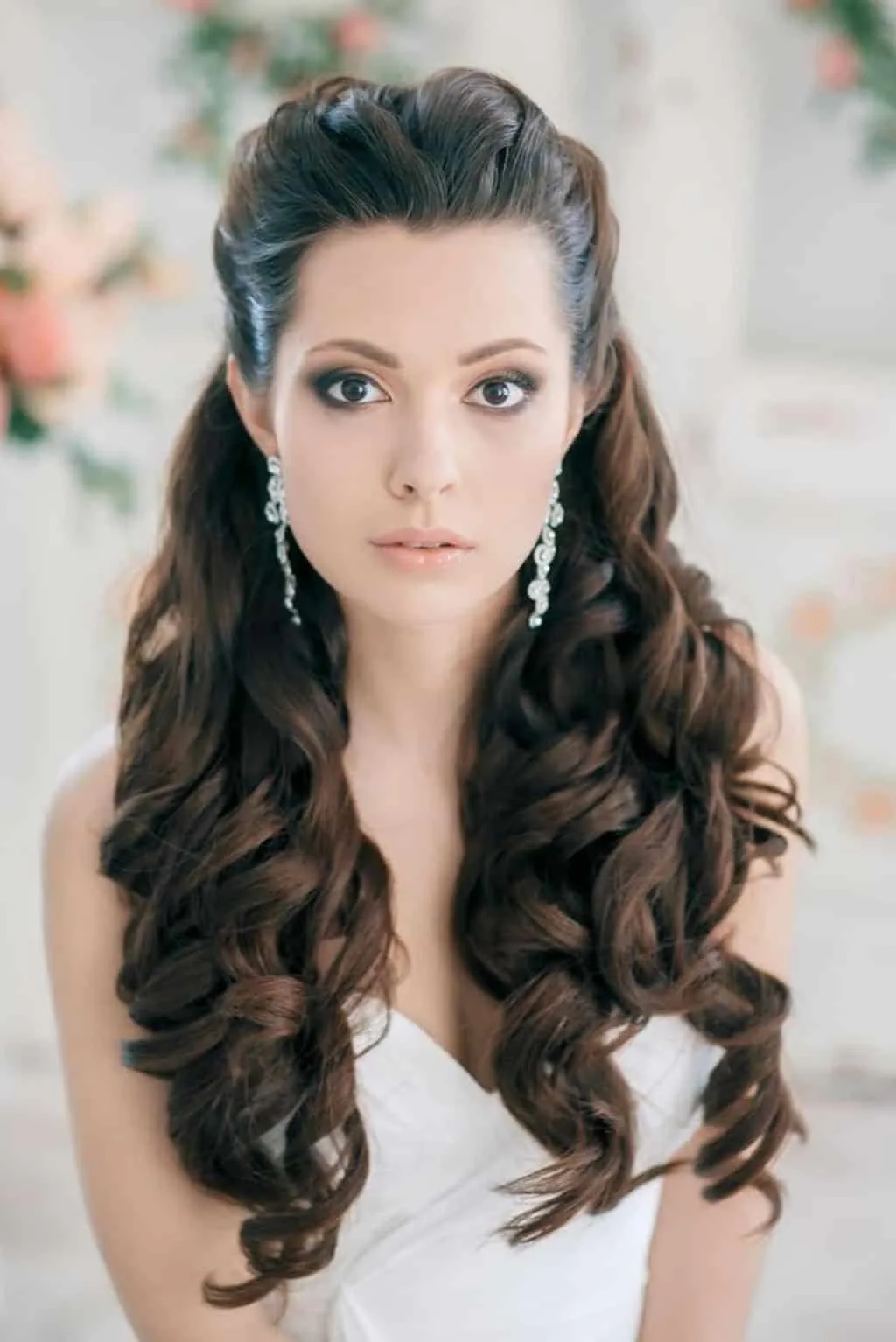 For loose curly ends and a neat black top you'll need to:
Tuck in your hair behind your ears.
Use hair pomade or gel to moist the top and make sure it gets a little glow.
Apply a spritz of hair spray to avoid little hair pop-ups during your big night.
Wear tall dangling earrings that go with this kind of wedding hair down design.
22. Excessive Curls
If you are the kind of bride who wants everything to turn out so dreamy and fairytale-like, then this wedding hair down design will inspire you. It combines excessive back curls of the ponytail while the front remains neat and crowd with a shiny floral headband.
23. The Most Effortless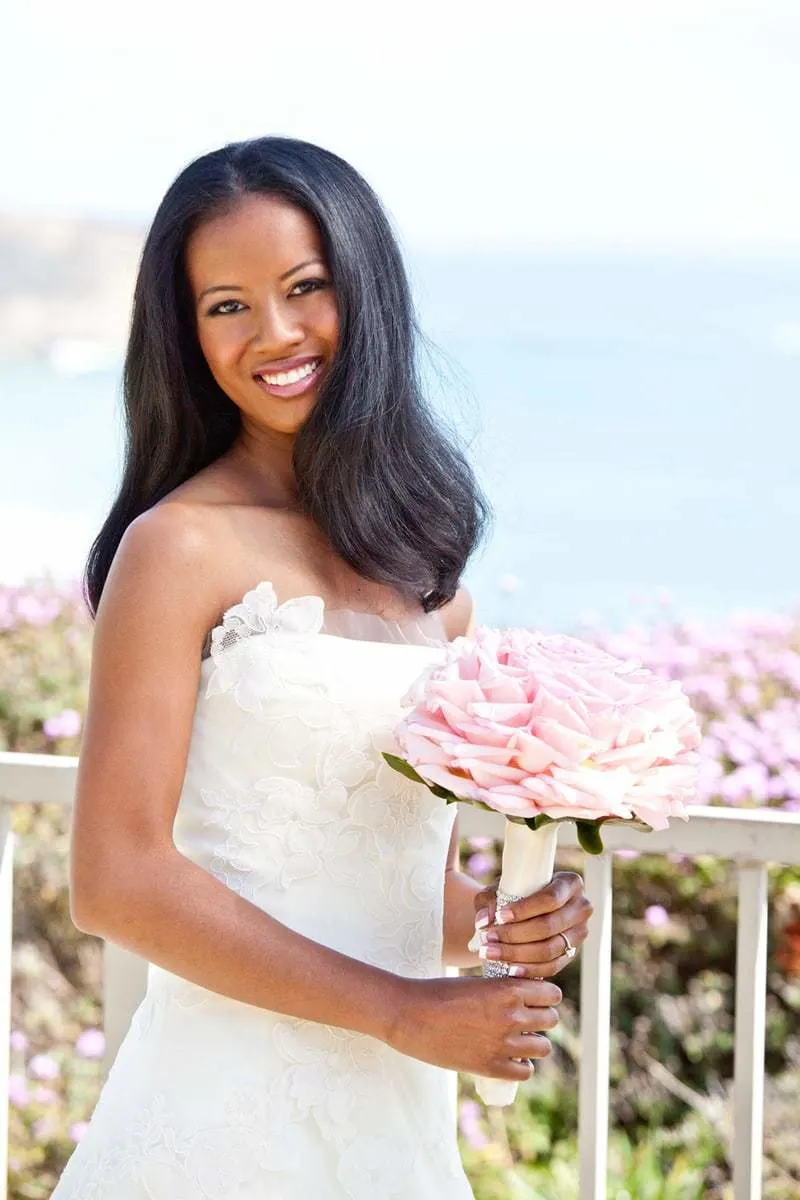 Coco Channel once said that simplicity is the keynote of true elegance. And that is why effortless and simple hairstyles are a big hit.
In addition to the whole, not enough time and less stress concept, this extremely easy wedding hair down design can draw a smile on your face make you look as beautiful as ever. Therefore, all you have to do is just brush your hair beforehand and you'll be good to go!
24. Down Wavy Wedding Hair
Go with the water flow and wear your wedding hair down style in a wavy manner for a stunning look.
25. Pretty In Pink
If soft, romantic, and stylish is what you are looking for then this is the right wedding hair down design for you. Consequently, all you need is a deep side part and a single pink flower pin to complete the whole romantic and pretty look.
26. A Beaded Trail
Get lost in a trail of beads hanging on to your hair locks that go all the way from your hair roots to your tips. And for a more random effect leave a few strands messy and overflowing. Finally, there's no doubt you will look exceptionally pretty and fully comfortable with this hairstyle.
27. Curled Up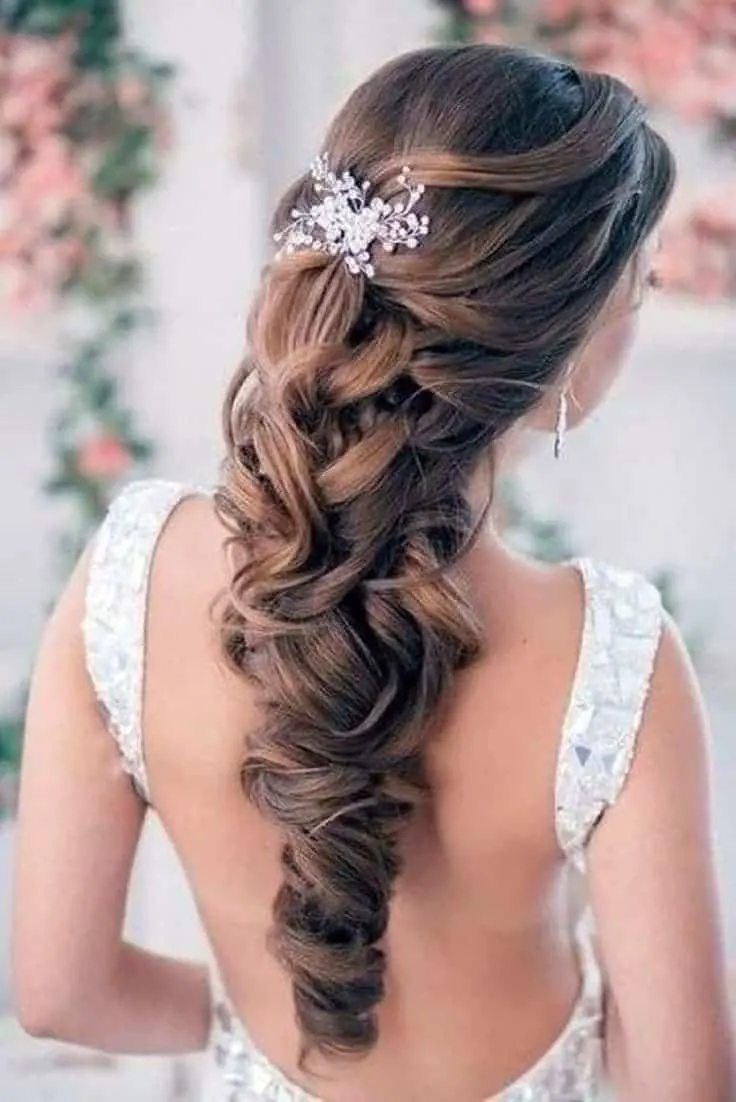 Here's a wedding hair down design inspired by the expression " Tie the knot" which implies getting married. So obviously, it includes curling up into knots and twists making up a legendary look for everybody to remember.
Tip: This works best for brides with backless wedding dresses and wants to fill up that space with something even more attractive than a naked back.
28. Wedding Hair Down With Braid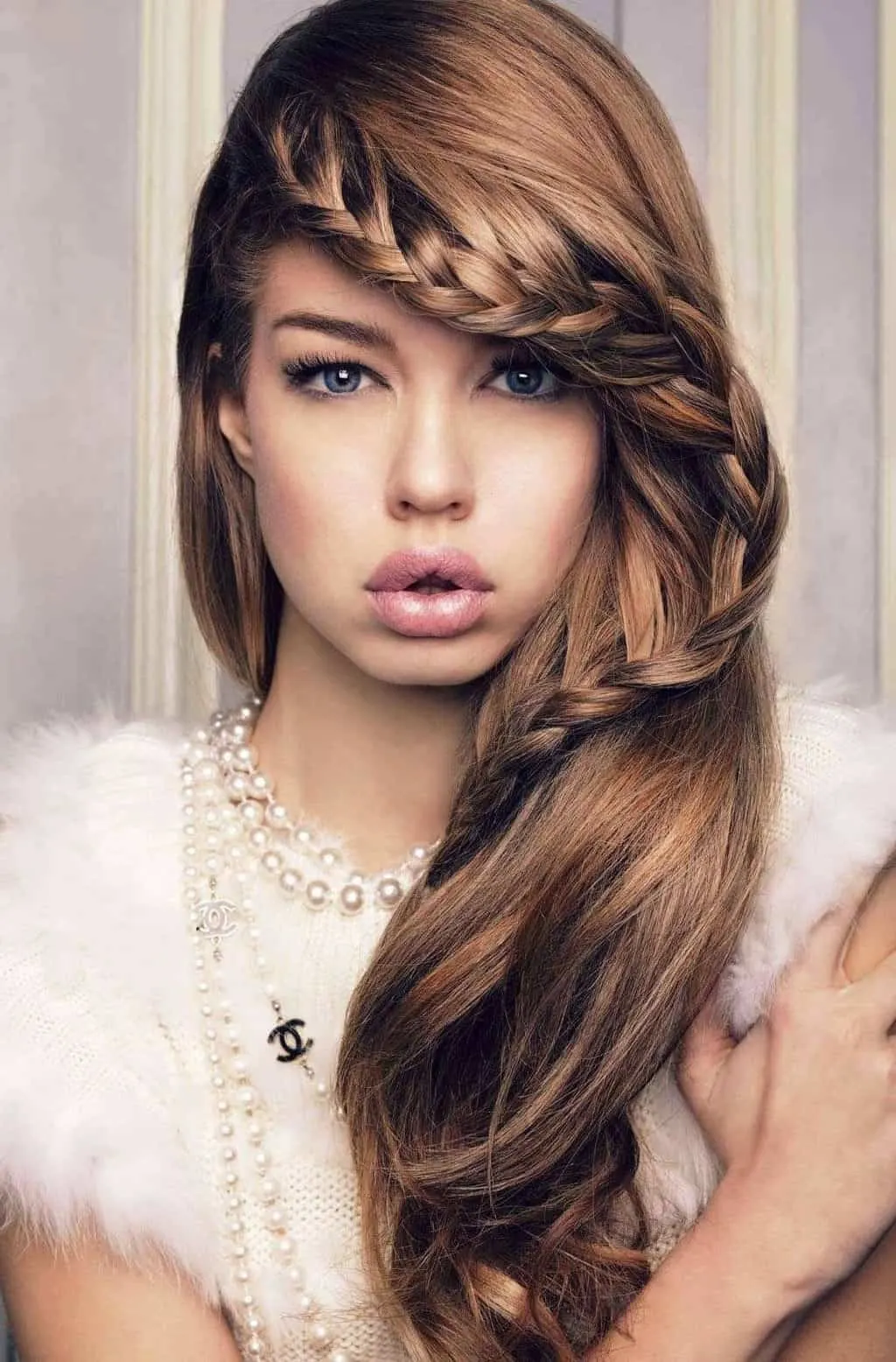 When you decide to wear your hair simply straight and plain, you'll need an eye-grabbing factor to add to the mix. And what's more feminine than a spiral braid that goes all the way around your face like a contour line marking your beauty territory?
29. Wedding Hair Down for Bridesmaid
For women with medium hair length, wedding hair down designs can be tricky. Because it's not long enough to give us the volume we need or short enough to stand on its own without help whatsoever.
30. Head Piece Concept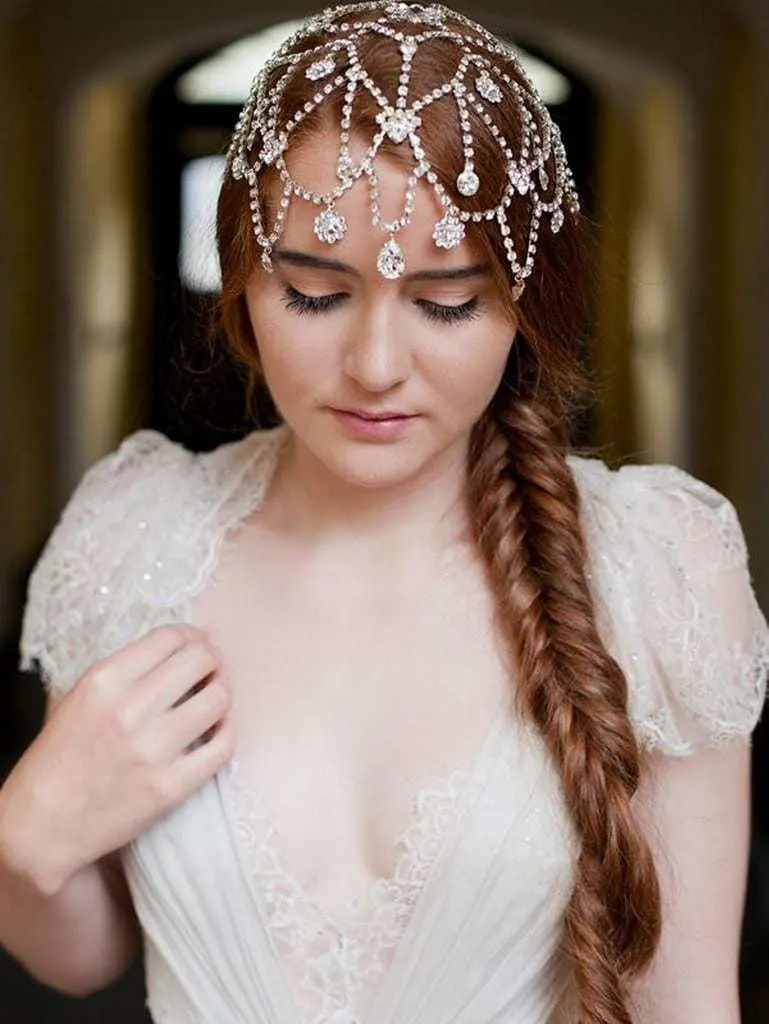 Sometimes all your wedding hair down design needs is the main headpiece as the focal point behind your hairstyling concept. So, by adding that headpiece to your plain braid you get an interesting wedding down do.
31. Side Swept Hair Accessory
One of the ways to look stunning is to pair up your hair accessories with your bridal wedding dress. Thus, here's a wedding hair down design that requires nothing more than that hair accessory and brushing your hair.
32. Laid Back
For a laid-back alfresco ceremony why not go with your slightly curled natural hair? And therefore, no accessories, no hair decals, no hair sprays, no bobby pins, just lived in loose waves.
33. Side Swept Style
In order to think outside the box a little, here's a wedding hair down design to make things a little bit more interesting. Sweep your hair to one side leaving the other completely exposed and decorated with a dangling earring choice. And of course, don't forget to curl up the ends to increase the appeal.
34. Floral wreath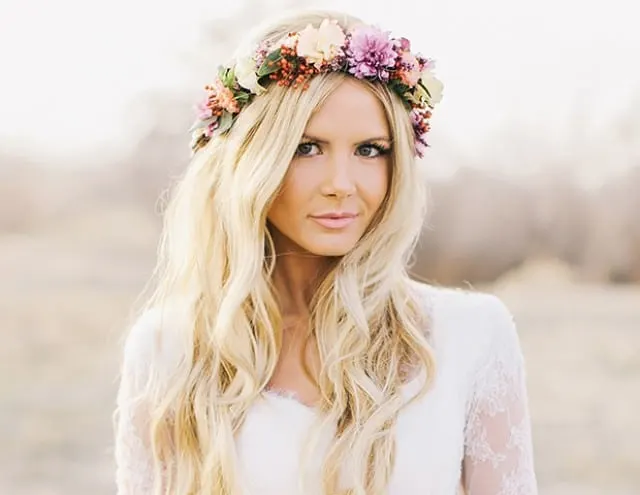 If you want to wear you natural wedding hair down, you can appreciate a floral wreath. It won't just look fabulous and make your image more natural, it will hold your hair in place and eliminate frequent touchups.
35. Tied strands
If you want to wear your hair down but wish to keep the windblown look to a minimum, you can use a simple trick. Tie two frontal strands in the back to sweep the side locks backward. You'll save yourself a lot of hassle. You can check out these trendy wedding hairstyle ideas for brides with short hair.
You can wear your locks down but keep them tied a little in order to avoid a messy appearance. Make a loose ponytail in the back and hang it over one shoulder. You'll create an appearance of down hair.
37. Go wild
Allow your hair to get a boho look just by hanging it down. A slightly messy appearance can be an advantage for certain images. You can use a hair clip to keep one of the side strands swept backward.
Vintage Wedding Hairstyles for Brides
38. Hair extensions
If you have thin hair but still want to wear it down, consider adding some hair extensions. Professionally woven in hair extensions can create a truly amazing and regal image for a bride.
39. Low wave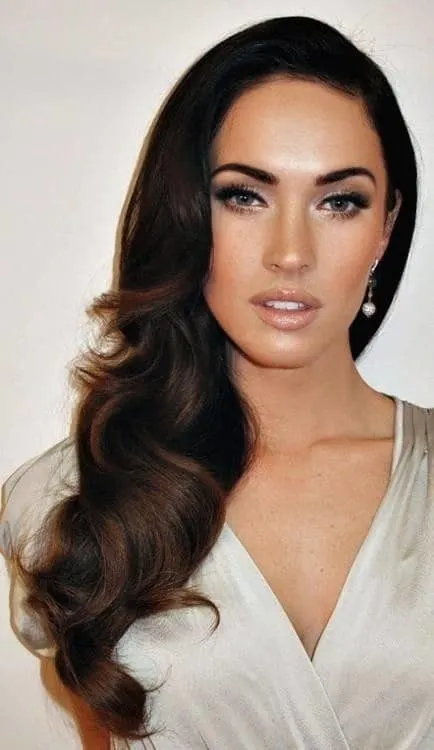 Consider keeping the top part of your hairstyle straight and giving the bottom some wave. This contrast will keep the hair neater during the wedding day and can take the unnecessary volume out of your thick locks.
40. Floral clips
If you've decided that your wedding hairstyle will be simple, consider adding some floral accessories. Overdoing the decorations is easy so think about getting just one. It can be a clip, a tiara, a bow or a headband.
41. Behind the ear
When you decide to wear your wedding hair down, it's hard to decide which earrings to choose since the ears are hidden. Consider brushing the hair behind one ear and clipping it there with a thin clip.
42. Wedding Hair Down with Veil
If you choose to wear your long hair down, you'll need to get a long veil. Wearing a long veil is not as easy as it might seem so you might want to practice a little.
Wedding Hairstyles for African American Brides
43. Wedding Hair Down with Flower Crown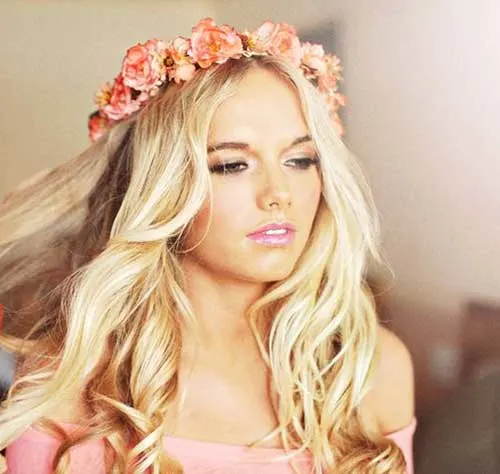 A wedding is a perfect occasion to brighten up your locks especially if you are planning to wear your hair down. Think about using partial highlights to make the frontal strands brighter and sun-kissed.
44. Soft and neat
Wearing your wedding hair down can be great if you create subtle twists. When you are making curls with a curling wand or iron, twist the hair into loose strands like you see in the photo.
45. A weave
If your hair is short but you want to wear it down, consider attaching a weave. A curly weave is exactly what you need to shine at your wedding just like you always wanted.
46. Large flower clips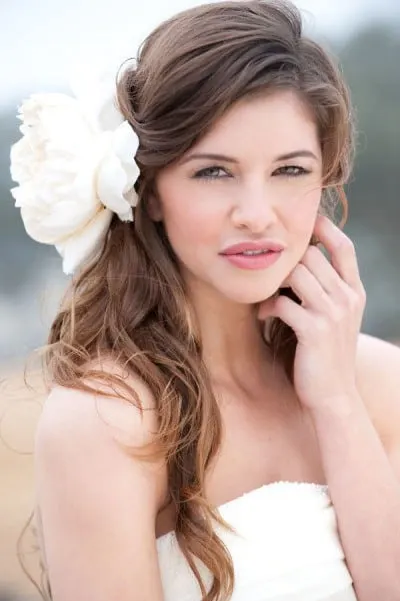 Large floral clips are perfect for keeping the hair intact when you decide to wear it down. Don't be afraid of getting really large accessories. They look perfect when coupled with windblown loose hair.
Your loose hair will look even more fabulous if you choose the right colors. The bride's hair should truly shine, so consider getting bright and shiny colors, such as golden or honey blonde.
48. Swept back
Sweep back the two frontal strands from each side and clip them behind with a floral accessory. You can add a large flower or another large decoration above one of your ears. The size of the wave you use can vary.
Magical Updos Dedicated to Medium Length Hair
49. Asymmetrical choice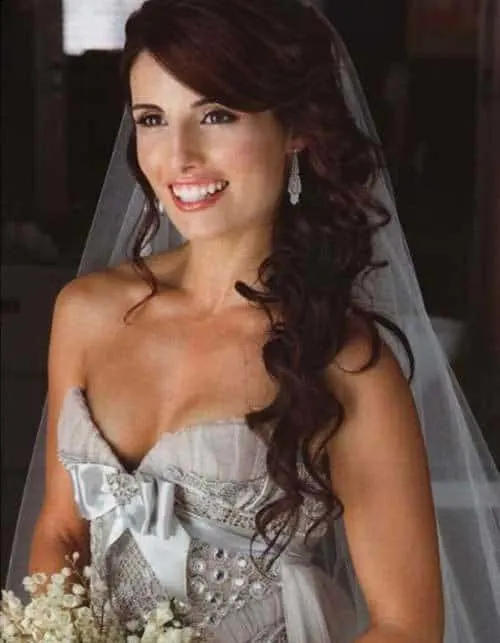 This is an alternative way to wear your wedding hair down while keeping it up. You can lift one side and sweep the hair to fall down another shoulder. Leave one strand hanging on the opposite side.
If your hair is really long or you decide to go for a weave, you can combine a down hairstyle with an updo. Tie part of your hair up to create a loose bun and leave the rest of the hair falling down.
More Down Hair Inspirations
Many women are trying to create an image of a princess on their wedding. Down hairstyles are a great way to complete that look. If you'd like to use this idea but don't know where to start, you can take a look at the few modern and interesting hair down styles for weddings.
51. Side Roll
First of all, for this wedding hair down hairstyle you will need a bright great color that will transform you into a gorgeous and joyful bride. Before pinning your hair down, it would be best to curl your tresses. Make it look fun, with loose strands and a messy kind of vibe.
52. Side Braid
When you choose to do fishtails, you can also pull off the edges to give the braid a fuller aspect. Use your fringe and side hair and pin the knit in the back. Decorate it with white and orange roses and curl your hair to give it more volume.
53. Back Knot
A simple hairstyle is many times the best way to look sophisticated and elegant. Using the laterals, create a back knot that you will secure with bobby pins and decorate with gypsophila flowers. Wave your hair then comb it to make it look loose.
54. Boho Colored Hairstyle
If you're not up for a traditional wedding and want to do things your way, your hair and dress must be carefully picked and decorated. Opt for a pale romantic pink color for your tresses. Using a tinted hair spray, create teal and purple sections. Build waves, twisted braids, and decorate with large white flowers.
55. 3 C Curls
One of the best wedding hair down hairstyles for black women keeps your curls bouncy and well-defined. When washing your hair, apply a hair conditioner for your hair type and while the hair is still damp, use a curl cream. Choose a unique veil that covers the forehead and falls on the back.
56. Headpiece Decoration
For this hairstyle, it's all about the decorations and the waves. If you have blonde highlights, your bob hairstyle will look magnificent on your wedding day. Toss the bangs to the side and place a leaf decoration on the other. When building the waves, select small strands to make the hair look luscious.
57. Violet Curls with Bangs
That hairstyle is a real statement! If you are all covered with tattoos and wish to make have a wedding look that suits your personality, you must find a matching hairdo. Go for something vivid, like this bright electric purple, pull off bangs and some waves.
58. Crown Braid
Braid crowns are ideal hairstyles for weddings whether you are a guest or the bride. Start knitting the hair in the lowers crown section and use stone or pearled decorations. Keep the rest of the hair wavy and spread on your back.
59. French Braid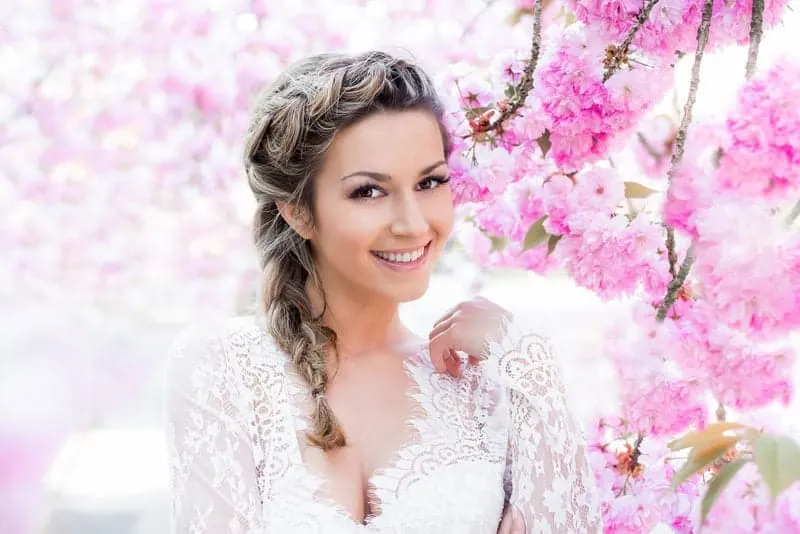 When you want your dull hair to look breathtaking, consider getting ultra-thin highlights on your brown locks. They will add a lot of value to any hairstyle you have in mind for your wedding, especially a French braid that goes from one corner of the forehead to the side.
60. Wavy Ombre
Wedding hair down hairstyles with an ombre are ideal for all brides who crave a hairdo that looks impressive even after the big event. Go see a colorist if you want a flawless sandy blonde look for this paramount day. All you need is waves and curls that look natural and will last the whole event.
61. Flower Crown
Always dreamed about your wedding day and wanted to look like a real-life princess? Well, this hairstyle is exactly what you need. If your hair is not that voluminous and long, you should get some tape on extensions. Style a long loose pony that you will secure from place to place. The piece of resistance will be the flower crown on your head.
62. Side Curls With Flower Decorations
Eucalyptus leaves and roses are among the most common plants used for decorating a wedding hairstyle because they look fresh after a long time. So you won't be ending the big event with decorations that have already faded. Get warm brown-blonde highlights and tight curls.
63. Classic Wedding Hairdo
Some hairstyles are timeless and still appreciated by women who want an elegant and classic look for their wedding. Firstly, you will need to curl the hair and build height for the top. Spend time arranging each wavy strand for the perfect look and style the nape hair on one side, falling on your shoulder.
64. Flawless Waves
A princess dress requires a royal hairstyle. And if you have long blonde hair, even better! Use a straightening iron and fixing spray to get that volume and curls for the top. On the rest of the hair, you can use a curling iron and spread that amazing textured mane on your chest.
65. Multicolored Side Pony
Wedding hair down hairstyles with multiple colors are ideal for women with fair skin and an exuberant personalities. Create pink, blue, and purple highlights and use a curler to obtain texture. You will get a big roll that you can wear on one side. To complete the look, get a matching bouquet.
Check These FAQs About Wearing Hair Down For A Wedding
Here we'll discuss some common questions about wearing your hair down for a wedding.
Should I wear my long hair down at the wedding?
Whether you should wear your hair up or down for your wedding depends on the neckline of your wedding dress. If your dress is low cut, strapless, or shows a lot of neck, having some hair down will keep your look feminine. If you have a higher neckline, keep your hair in an updo to emphasize your neck.
Can I wear my hair down for a formal wedding?
You can look appropriately formal while your hair is down, especially if you have a sleeveless or spaghetti strap dress. Many brides wear their hair down for their wedding, and the look can be beautiful, especially with a veil or headpiece.
Hair Down Ideas for Wedding
Wearing hair down at your wedding can be a wonderful way to make your appearance more magnetic. Don't be afraid of saving on a hairdresser and flaunting the beauty of your natural mane.