Are you searching for a look that channels your inner romantic side? In this case, flower braids are a perfect choice! They transform any hairdo into a real statement and add a lot of value to your look. More than this, they are not as hard to recreate as you probably think!
Flower braided hairstyles suit any occasion and any hair color and are ideal for medium and long hair. By using them to decorate your hair, you will make a ravishing impression at any attending events and people won't stop giving you compliments! You will feel like a true princess and irremediably fall in love with the flower braids.
Flower Braids
Also, flower braids look stunning if you already have marvelous hair color. So, are you ready to enter this land of fairies and flowers? Check out the examples above and find out what you need to do to build mesmerizing designs for your hairdo.
1. Flower Braided Headband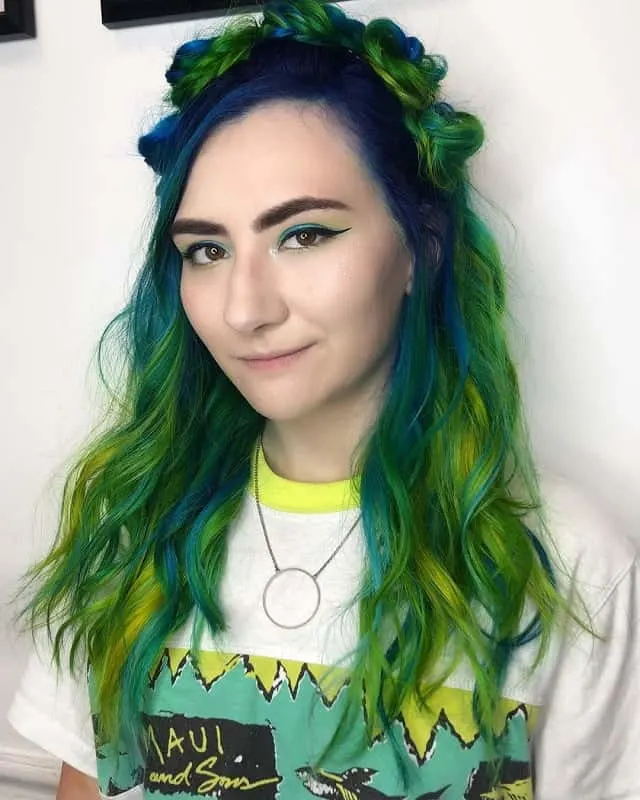 First, when you want a spectacular look, your hair color plays a significant role. A blue-green ombre is perfect for your flower headband. Section your crown hair in five parts and braid them. Roll them to create the flowers.
2. Rose Bud Flower Braid Hairstyle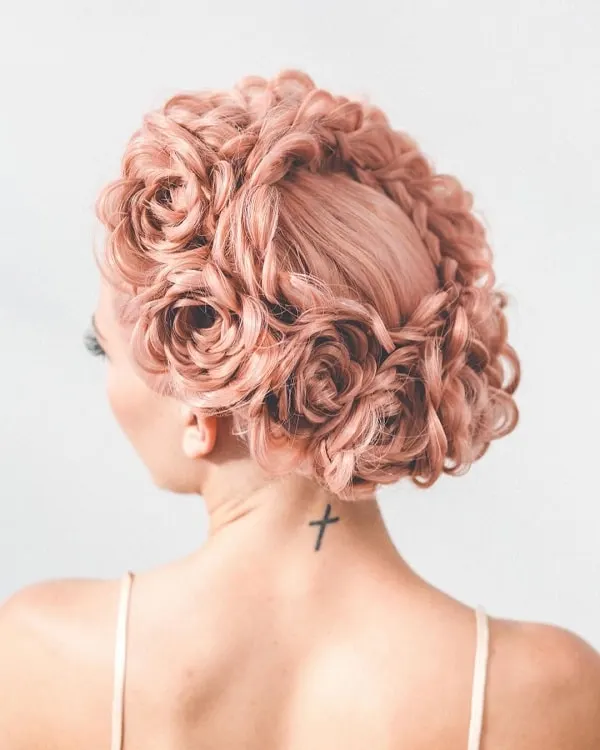 If you choose to adopt this crown of hair flowers for a wedding, we guarantee you that nobody will ever forget your ravishing appearance! How could they? That mesmerizing pale pink makes a superb option for the flower decorations.
3. French Flower Braid
Romantic and glamorous will be the words to describe your appearance! From one side, start knitting a French braid and at the and, roll the hair into a look-alike rose decoration, Use the remaining hair to build another flower.
4. Short Flower Braid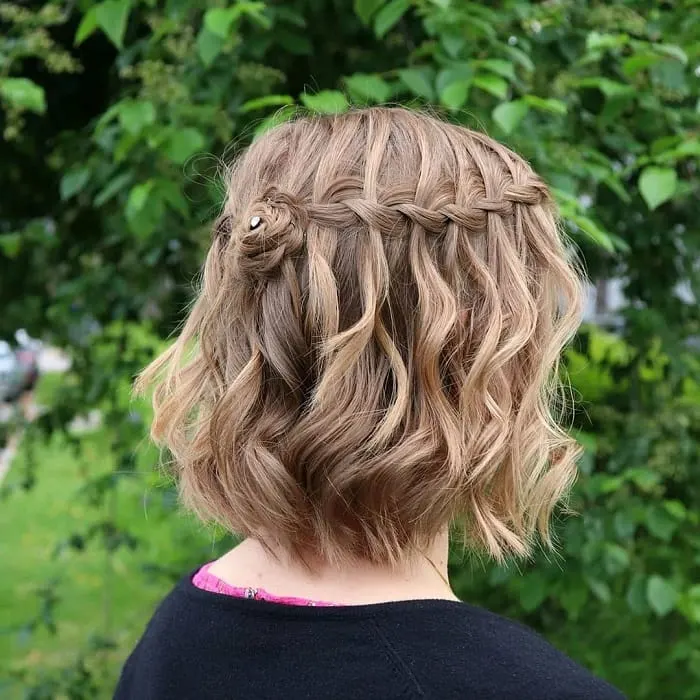 With such a relaxed wavy look, you will be hard not to notice! Make a lace braid for each side and meet them in the back where you can build a small flower that secures the updo.
5. Flower Braid for Black Girl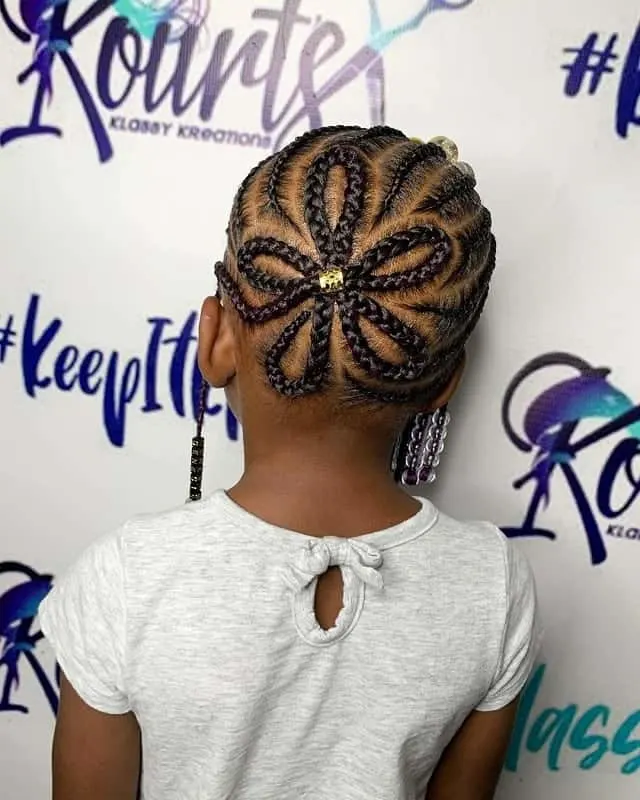 You can opt for the cornrow braids to style any design you want! In this case, use your thick Afro-American hair to build a large flower for you or your daughter. She will adore your idea!
6. Bridal Bouquet
For the happiest day of your life, you can mix both braided updo and florals in the same exact hairstyle.
Ideal for: There is no doubt in the world that this style would be so flattering for a happy bride.
How to Style: You can incorporate these cute flowers in any updo that you like. It can be a very simple one that is upgraded with braids that finish off like blooms or a much more complicated look. Consult with your hairstylist before making a decision.
7. Half Up Half Down Flower Braid
The ladies who have already experimented with fun hair colors should definitely add that modern finishing touch with a flower braid. Actually, it can be more than one, just like in the picture above.
Ideal for: Fearless women with a unique sense of hairdos will be completely obsessed with this pink and white ombre hairstyle.
How to Style: This is a half-up, half-down hair which means that you should divide the top part first. Create three classic braids, and just twist them in the shape of a flower. Pull off some strands to make it more realistic.
8. The Entire Bloom
Yes, you can recreate a complete blossom on your hair, with all the parts. The process will take some extra time, but in the end, everyone will love your new do.
Ideal for: This long straight ombre hair with flower braids is so chic that you can work it during your everyday activities. It sure does look like a hairstyle popular bloggers would rock at Coachella.
How to Style: Separate the top part of the hair that you plan on braiding. Leave a strand to create the petals, and do that sectioned fish braid to create the pedicel.
9. Colorful Floral Buns
Make the most out of your pretty hair color by decorating it with blooming braided flower buns.
Ideal for: It will turn out beautifully for all hair lengths without a doubt.
How to Style: Add two or three so that you can really achieve a full and rich look. If you are into accessories feel free to include them in the mane.
Special occasions call for a special hairdo. The girls who love Dutch braids, but also want to try out something new, can now do exactly that with this Dutch flower braid.
Ideal for: This is reserved for a more elegant event where you'll be wearing something more glamorous than just your jeans and tee.
How to Style: Start braiding in the top front, and slowly make your way down. Make sure to follow that floral pattern. Accessories are always a fun idea, especially when they are supposed to elevate a night outfit.
11. The Chicest Updo
It is a floral braid which is very similar to the previous one. The biggest difference is that it's been carefully deconstructed.
Ideal for: If you have a wedding or an engagement party coming up, why not give this updo a go. Everyone will be asking for advice on how to copy it.
How to Style: Begin with a French fishtail braid that takes the shape of a flower. From there on, all you need to do is pull off every single part and try to achieve a symmetrical look on both sides. You'll also want to have plenty of hairsprays to set everything.
This is a style which embodies more than a single braid. Make sure to watch a tutorial or two before you try it out.
Ideal for: It's a perfect idea for women who don't mind spending time on creating unique hairdos.
How to Style: The petals are made of a classic braid which is twisted in the shape of a bloom. The two braids in the top side parts are waterfall braids. The one in the middle uses strands from the waterfall flower shaped braids hairstyle. It sure does sound complicated, but you'll see how much fun you'll have.
13. An Actual Flower Braid
Nothing complicated here, just a braid decorated with real flowers. If you can't find real ones, you can always get accessories which are a great copy of the original.
Ideal for: We have to say that this look is reserved for either bridesmaids or a boho bride.
How to Style: Ask for a milkmaid braid, and make sure to include the blossoms all over. A very romantic way to elevate your elegant dress.
14. Gorgeous Bouquet
This stunning pastel pink hairstyle exists and you can be the fearless soul to debut it. It's not as much work as it looks like. Our guess is that you'll nail it on the second try.
Ideal for: Ideal for whenever you like, wherever you like. All you need is to feel extra while rocking it. The fact that you have a whole bouquet of flowers with you should mean that you have a bold style.
How to Style: Braid 7 classic braids in the middle. It can literally be any number that you like, it doesn't even have to be 7. Roll the flower braids in buns. Secure each one with bobby pins. Put the rest of the hair in a low pony. Leave a section that will help you do the bow as well.
You don't want to stick to the same hairdo all your life. There are so many amazing options you can experiment with. Just look at this stunning creation. It is much easier to copy than you think.
Ideal for: It will be so gorgeous for any hair length and event. All ages can make this braid work and be even more awesome than it looks.
How to Style: The main features the prettiest waterfall braid, which ends with a bloom. Begin with the braiding, and finish by using the leftover hair to shape a bloom. You'll need plenty of bobby pins.
You can now have a field full of blooming flower braids on your hair. Throw them around wherever you like, without any specific order for the most stunning end look.
Ideal for: The longer your hair is, the more flowers you'll be able to create. But that doesn't mean that shorter lengths should not give this hairdo a go.
How to Style: Braid as many classic braids as you like and roll them in small blossoms. Use bobby pins to set them in place.
Sometimes bigger is better. In this case, the huge flower like braided updo really catches the eye.
Ideal for: It can be such a cute mane for girls, but for adults as well.
How to Style: Begin with a regular braid, and slowly make the strands bigger and wider at the finish.
Once you do those chic oversized blossoms on top, you can mix things up with a fishtail style.
Ideal for: Young ladies will be so obsessed with the combo above.
How to Style: The only thing you need to do is create several simple braids and turn them in flowers with the help of bobby pins. Use the fishtail technique for the rest.
The terms boho braids with flower often come hand in hand. What better way to decorate a chic bohemian hairdo than with fun blooms?
Ideal for: It will make a huge impact on everyone, but will suit your festival outfit the most.
How to Style: This is a Dutch braid, with added fun blossoms all over. There are so many hair accessories you can choose from to match the colors of your outfit.
You can recreate a very elaborate flower braided hairstyle, just take your time.
Ideal for: Every lady who likes really pretty and unique manes should try to copy this one.
How to Style: The top part is very easy and simple since you don't have to make it perfect. The bottom is actually a loop braid.
21. Bubble Braid
Not the regular bubble braid you expected! Instead, it is a much more interesting creation, decorated with both pretty blossoms and fun accessories.
Ideal for: Ladies with long hair can now elevate their everyday hair routine with a stunning bubbly flower braid style like this one.
How to Style: Divide the hair into sections and separate them. Start braiding the top one, and twist it in a flower. Work your way down. Secure each bubble section with a hair strand and bobby pins. Don't forget to add the accessories at the end. It won't look as glamorous without them.
22. Diagonal Floral Braids
Instead of doing a waterfall diagonal braid, you can now change it for cute little flower shaped braids.
Ideal for: A very brave and chic mane, that will really boost your confidence. It works even better if you have a vibrant purple ombre hair color such as this one.
How to Style: Create each flower by twisting regular braids in a round shape. You will need to secure the hair with bobby pins.
There isn't a single summer bride who doesn't dream of this romantic mane. It seems like the most beautiful addition to a glamorous wedding dress and soft makeup.
Ideal for: Brides-to-be are the ones that will be in love with the glamorous floral braid above.
How to Style: Your hairstylist will be needing loads of flowers for this braided look. It is much better on super-long hair, which means you might also need extensions. Find a salon that you trust and that will make your dreams come true.
When you feel like all of your hairdos are boring, you can make a change just by trying out this style.
Ideal for: It is appropriate for a day at work, or just hanging out with friends. There are no rules or limitations when it comes to this flower shaped braid.
How to Style: Begin with double French braids on the side, and finish them off in a single one. Wrap it up to achieve the blooming shape in the middle.
Throw flower braids here and there, and you'll have the trendiest hairstyle of the season.
Ideal for: This hairstyle will work best for women with long hair. The ones with shorter and medium-length might need to invest more time so that they can achieve a similar look.
How to Style: These cute blooms were made with waterfall braids. Start braiding them up to a point, and finish off with a classic braid. Wrap it up in a small flower.