Out of ideas on how to make your look impressive? A textured bob keeps away the bluntness of the tips, and by doing so, it beautifully defines the strands.
Styling waves and thin highlights can offer that amazing texture you more often see in other women's hair. Also, bobs are known for their fabulous results in making even fine hair look voluminous and luxurious, so if you are struggling with that, follow the tips and examples presented in the article.
Textured Bob Ideas for A Vibrant Look
Every time you want a vibrant look that gathers all the attention and compliments, remember that a textured bob will reach your goals! Choppy ends, waves, they can all help upgrading your hair, so don't ignore these valuable tricks!
As we previously mentioned, highlights are an important tool because they add depth to the look, and after you finish the hairstyling process, you'll be amazed by the enormous hair change. Get ready to embrace your new astonishing hairstyle!
1. Purple Textured Bob
One of the greatest perks of a textured bob hairstyle is that you can style it with such ease. You'll have to flip the bangs to one side and use some styling products to arrange those layered tips. If you want to get funky, choose a non-conventional hair color like this dark purple.
2. Blonde Edgy Haircut
The trick for this hairstyle lies in that blunt cut. When styling the tresses, don't curl the whole strand. Spare the tips and if you need to, and straighten those ends. You'll get a cool, glamorous, carefree vibe and a hairstyle that works for all types of events.
3. Bob with Glasses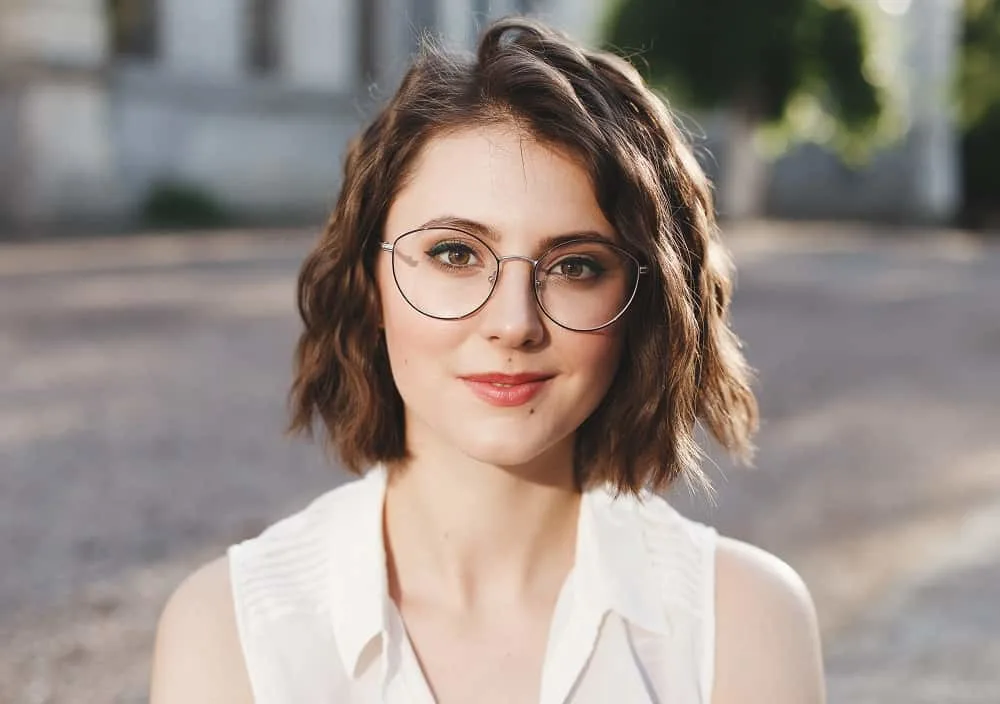 Don't change your natural color, and go for a bob hairstyle that reaches the jawline. To create those waves without using heat, braid your hair overnight. You'll build volume and those tresses will get a lot of texture.
4. 3C Curls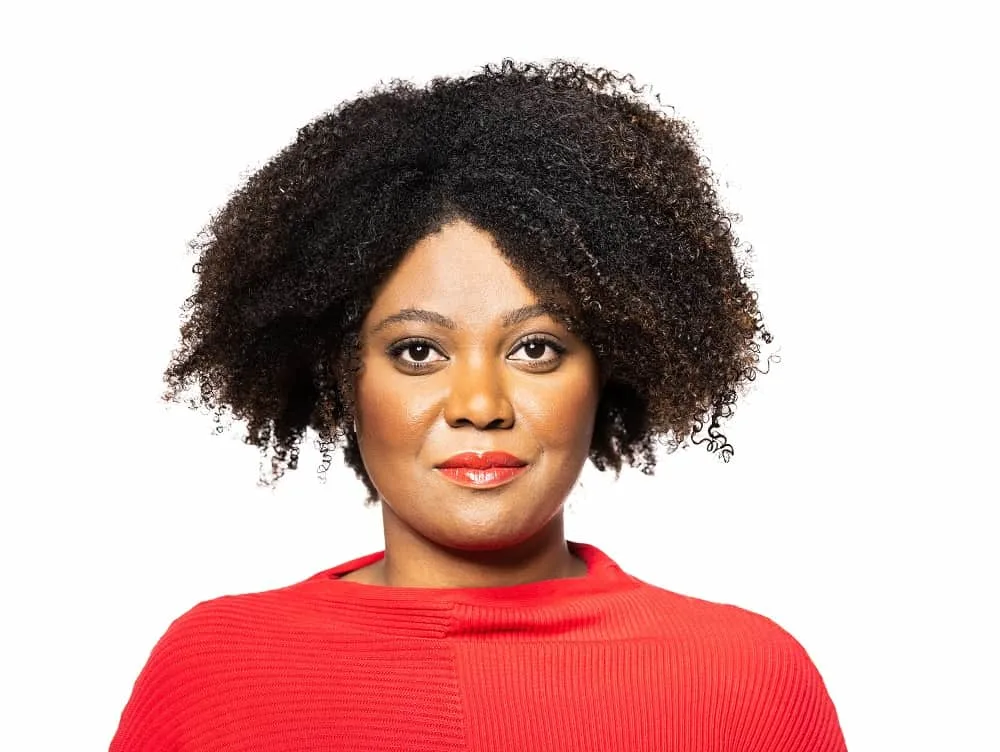 3C curls can be hard to style, but not if you're armed with the perfect products. Remember that the curl will be tighter if you cut your hair short. And if you want to preserve that shape all day and keep your hair in one place, use a balm and some styling jam.
5. Old Fashioned Haircut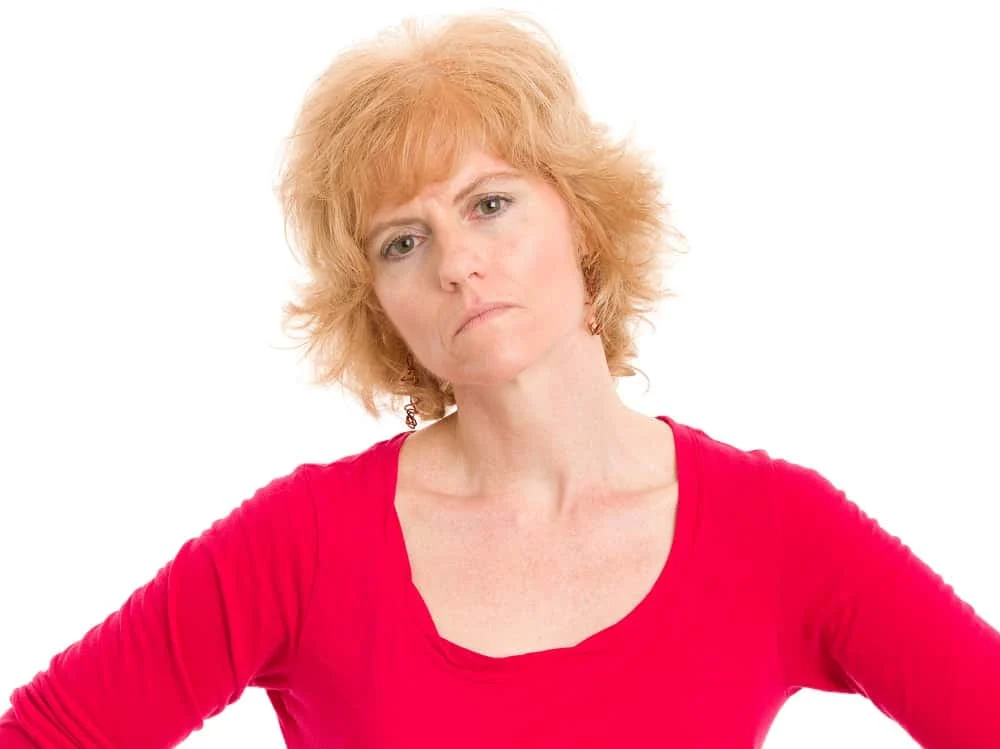 Textured bobs have all the versatility you need. They can be styled to suit modern women who want to hit the latest hairstyling trends, or older women that need something more old-fashioned, elegant, that suit their age.
6. Layered Haircut
Those blonde tips will seamlessly blend with the darker pieces and create a remarkable transition. The trick is to make those layers blend flawlessly. You will create a balanced hairstyle that looks great on all skin types.
7. Short Mauve Cut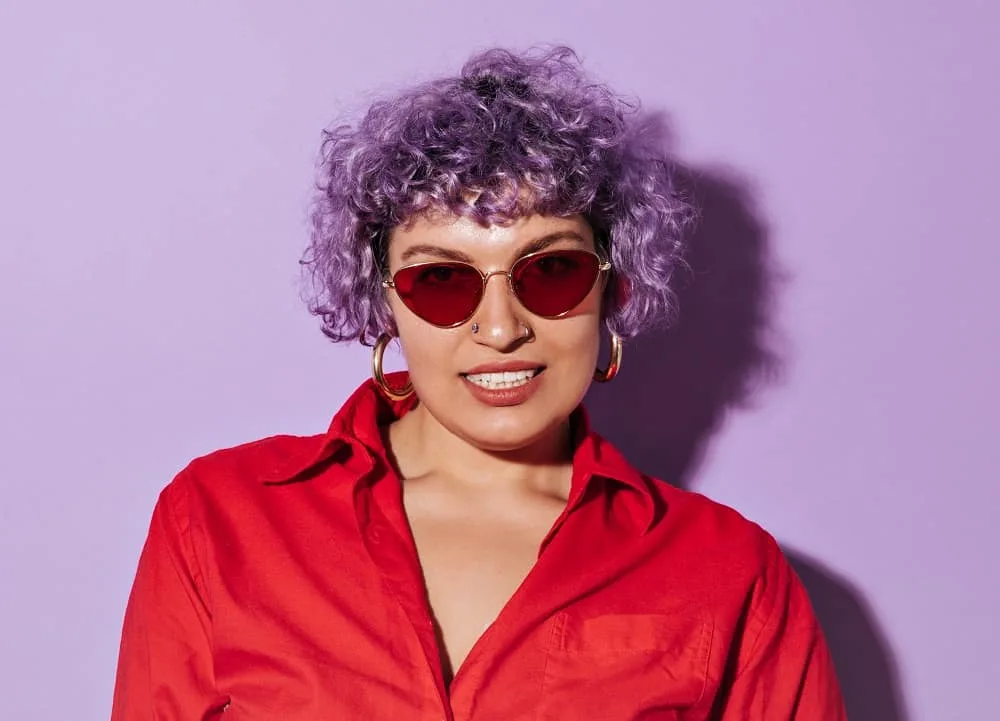 When you have such curly hair, damn, girl, you really need to make it stand out. And we're not talking only about the choice of color, but also about the haircut. So get a short bob cut with curly bangs that are two fingers above the eyebrows.
8. Green Roots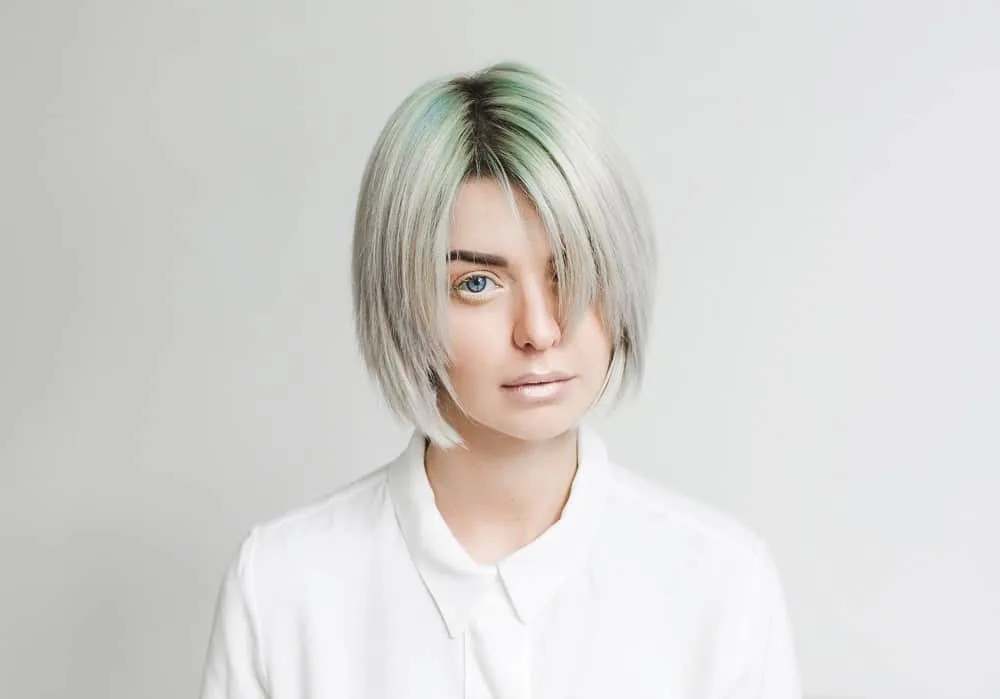 If you see that pop of color in most cases through highlights and at the ends, you might want to try something different this time. Opt for pale green roots that transform into a silver-blonde color. Go for curtain bangs and a jaw-length bob.
9. Textured Waves
We all love that effortlessly natural hairstyle. Those sliced ends maintain the look healthy and with a cool vibe. If you're keeping on your natural hair color, your look will be more romantic and with a remarkable shine.
10. Bright Blonde One Sided Cut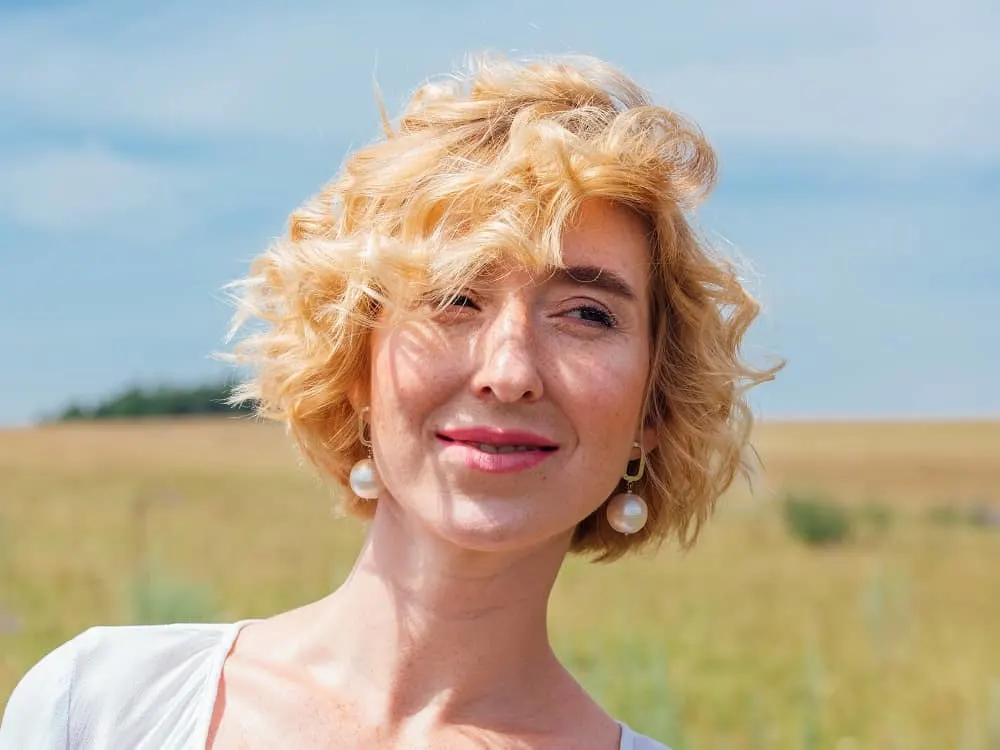 This playful blonde texture blonde gets intense volume and movement. To achieve it, get a heated wand and create those magic curls. It's a fancy yet modern way of styling, especially if you need to look elegant. And those pearled earrings really add a touch of class.
11. Textured Choppy Bob
To obtain that textured hair, you must trim your mane in layers, and you can use a razor to achieve that effect. Trim the bangs in a rounded shape, with longer strands on sides.
12. Textured Bob for Fine Hair
Fine hair is a problem for many women, but there are a few tricks you can do to obtain a better aspect for your locks. Texturing your bob by creating layers and waves is certainly an option, as you can see above. Also, an almond blonde mixed with pale mauve will highlight the hair strands.
13. Layered Textured Bob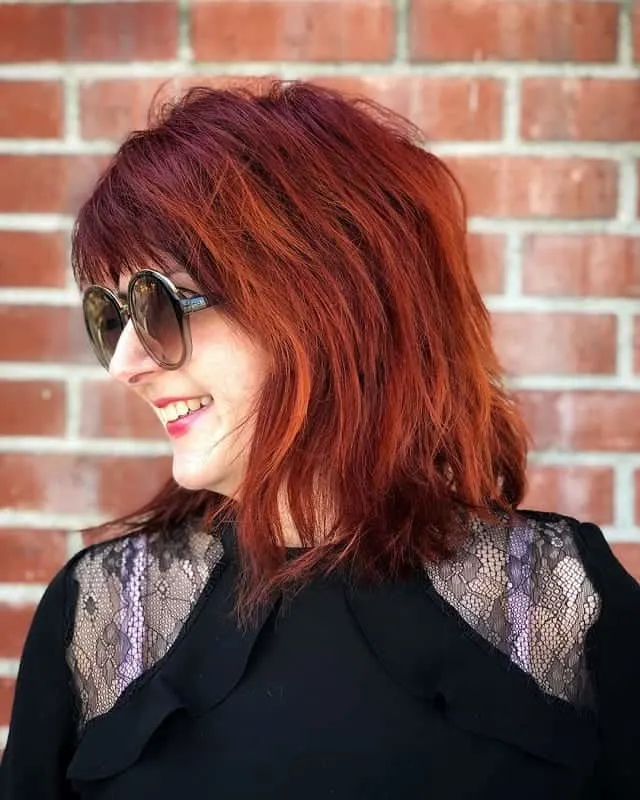 Use a razor to create choppy textured layers and play with a red and ginger color. They will beautifully blend and give the mane a distinct look. Also, for the bangs, get a wispy short cut, just above the eyebrows.
14. Medium Textured Bob
Bob hairstyles are great options for fine hair because they can revive any mane. To recreate this look, get a layered hairdo and build that fabulous texture by highlighting the ends with a blonde honey shade and loose waves.
15. Textured Fringe Bob
When it comes to bangs, they can have all sorts of shapes and aid you in achieving a more textured look. Cut them into an uneven shape and build layers for the short bob. Define each strand by making some smooth messy waves.
16. Textured Blunt Bob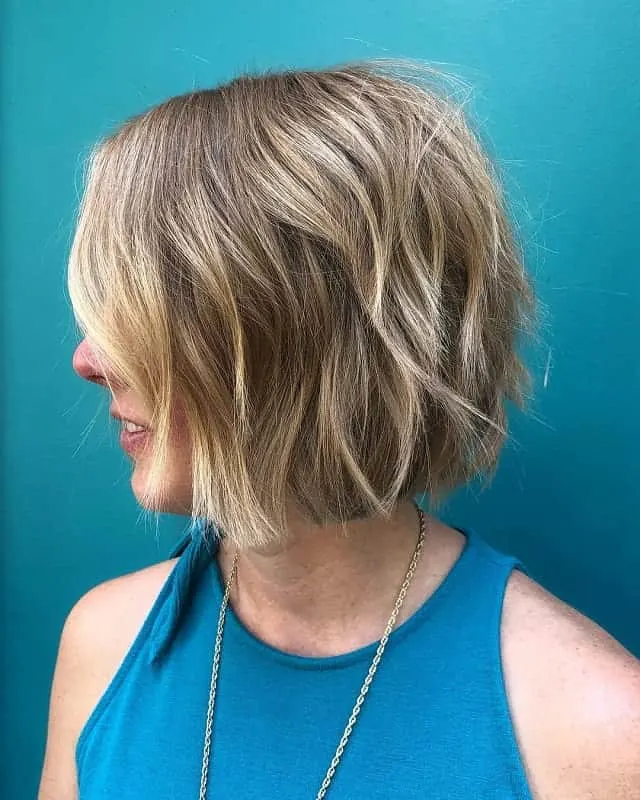 Even blunt bobs can have a lot of texture and you can easily get that by opting for some here-and-there layers. The highlights play a crucial role because they make the hair stand out and if you style waves, each strand will look absolutely glamorous.
17. Shaggy Textured Bob
Shaggy textured bobs are built using a lot of layers and jagged ends. This technique is also applied to the bangs. Tousle the hair to accentuate the tresses falling one over each other and gain more volume.
18. Textured Bob with Highlights
Black hair always looks more textured and does a fabulous face-framing. If you want to do an even better job, create small green highlights for the bangs and wider ones for the sides and tips of the hair.
19. Textured Bob with Side Bangs
A pale dark teal blue hair color will hardly go unnoticed. More than this, it will make any fine hair look gorgeous while a layered bob will give the tresses more texture. Toss the bangs on one side and get ready to impress!
20. Inverted Textured Bob
Inverted bobs have loads of volume and texture in the back, mainly thanks to those fabulous layered builds. Colors used are also essential because they can make the hair look more textured, just like the image above. Use a blonde creamy color and style wide white highlights.
21. Textured Bob with Undercut
Undercuts always give any hairstyle a lot of value! To achieve this mesmerizing look, create a short trim in the temple area and go for an asymmetrical bob. Style layers and choppy ends to end up with more textured hair.
22. Textured A-Line Bob
A-line bobs feature bangs that are longer than the back hair. To reproduce the look, create a middle part and use the fringe from one side to build a French braid. The look is ideal for the office, parties and even weddings mostly because those loose waves enrich the hair strands.
23. Straight Textured Bob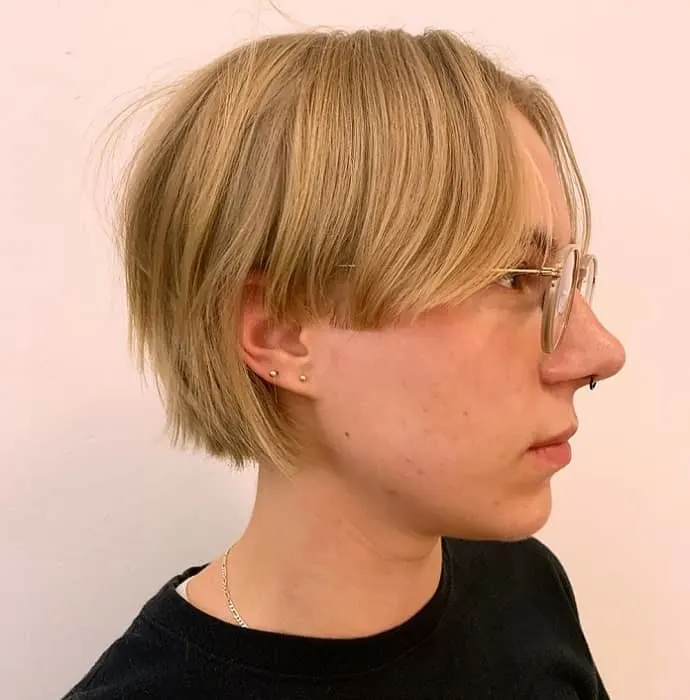 A bob cut that is built on two levels can upgrade your hairstyle and make you look modern and cool. Create a middle part and cut the fringe and the hair from the temple area just below your eyes. Keep the back layered and longer trimmed.
24. Textured Blonde Bob
An impressive look like the one presented above is voluminous and ideal for women who want a rich, gorgeous mane. Opt for a bright blonde color, some layers that create a textured look for the bob and flip the fringe on one side. Your whole mane will beautifully shine!
Do you prefer a simple take on bob hairstyle? You probably want a haircut that is easy to maintain, but it looks great on every occasion. At the same time, you want a hairstyle that fits perfectly any outfit you choose or setting you're in.
None of these wishes are out of reach. With textured long bob with side part that gives your hair gentle waves, you can get a classic hairstyle that looks great and is easy to maintain.
Most women change the color of their hair at one point or another. Sometimes your hair is colored in one particular shade, but there always comes the time when you want more, something new but still fabulous.
Give your textured bob haircut a new dimension with a two-tone look. Root area can be darker while the remainder of your hair is lighter. Choice of colors depends entirely on you.
Bob and curls are a perfect match. The reason is simple, and curls emphasize the volume of short hair. But, thanks to textured look your hair isn't puffy and triangular.
Not only does it look lovely, but this hairstyle is also easy to create. All you need is a little bit of mousse and a good brush and hairdryer or curling iron, and that's it. Feel free to try it out, and you'll love this style for sure.
Bob is often regarded as a sleek style that doesn't leave a lot of room for someone's creativity, but that's not really correct. Women and girls who love trying out wild colors will definitely love the textured bob.
The reason is simple, shorter, and the texture will emphasize your hair color perfectly. Let's take this green hair from the photo below as an example. The choppy haircut makes green gorgeously vibrant.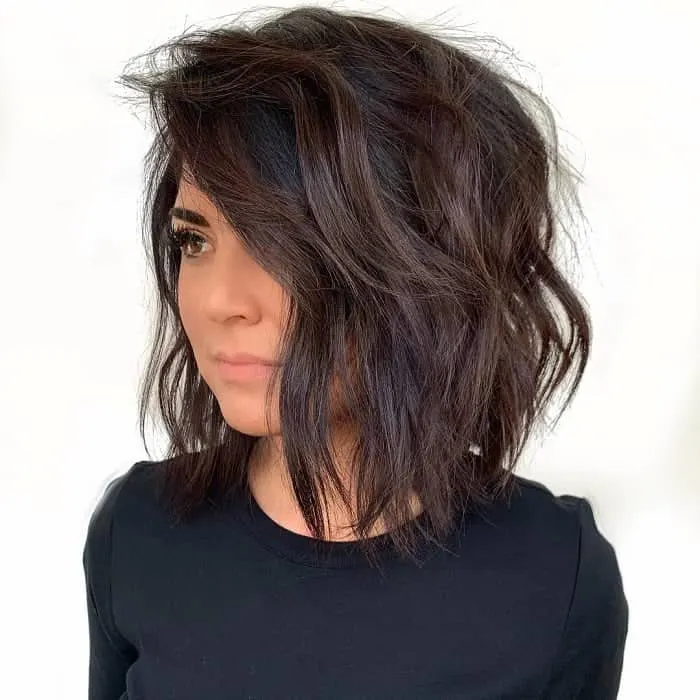 Most women with round face want to get a haircut that provides a slimming effect but still retains their gorgeous cheeks and accentuates eyes. With a textured cut, you can make it happen.
Create an asymmetrical bob style by getting most of your hair to one side. The diagonal and asymmetrical look has a slimming impact, and it also gives you a dose of playfulness. Isn't it cute?
Women with oval face shape can rock just about any hairstyle they want. There are plenty of amazing styles you can try including texturized asymmetrical lob.
What makes this style so awesome is the fact it looks both casual and elegant at the same time thanks to the effortlessly chic vibe it gives to your hair.
If you feel extra edgy, you can give your look a whole new dimension with some unusual hair color such as dusty rose pink which is IN right now.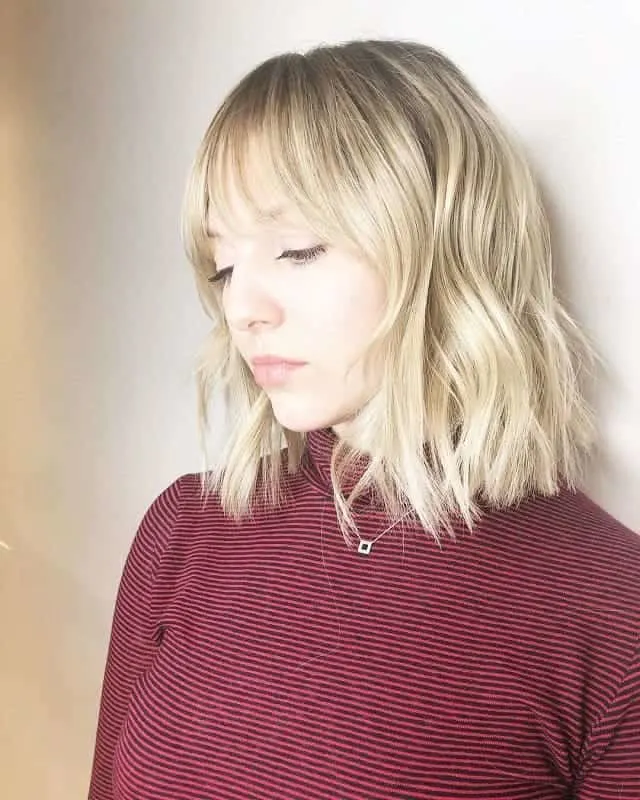 Bangs and bob are best friends, and they are a perfect match for every girly girl or feminine woman. Combination of the two frames your face perfectly and gives you that youthful vibe. At the same time, textured and wavy locks gently harmonize the whole bob look.
This look is particularly useful for women with thin hair. If you're wondering whether to get bangs or not keep in mind, there's a perfect type for every face shape and hair texture. See through bangs are always a good idea.
The swing bob gives us the "I woke up like this" vibe, and it's a type of style that looks great but without too much effort. To give your bob a textured look & a new dimension, you may want to consider getting highlights in vivid and bright colors.
Of course, you can opt for any color you want, even for highlights that are a shade or two lighter than your hair.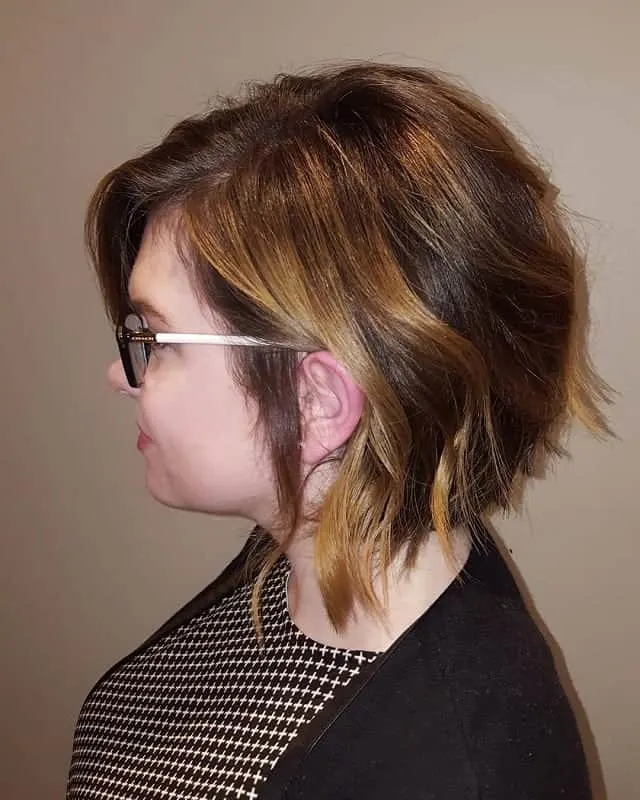 Textured short bob looks equally attractive as longer versions of the cut. If you have thick hair, the haircut can retain volume but remove bluntness and puffiness.
You also get more control of your hair which is particularly awesome if we bear in mind that thick hair tends to be difficult to control. Get a few caramel-like highlights on brown hair into the equation for a complete look. Simple and chic at the same time!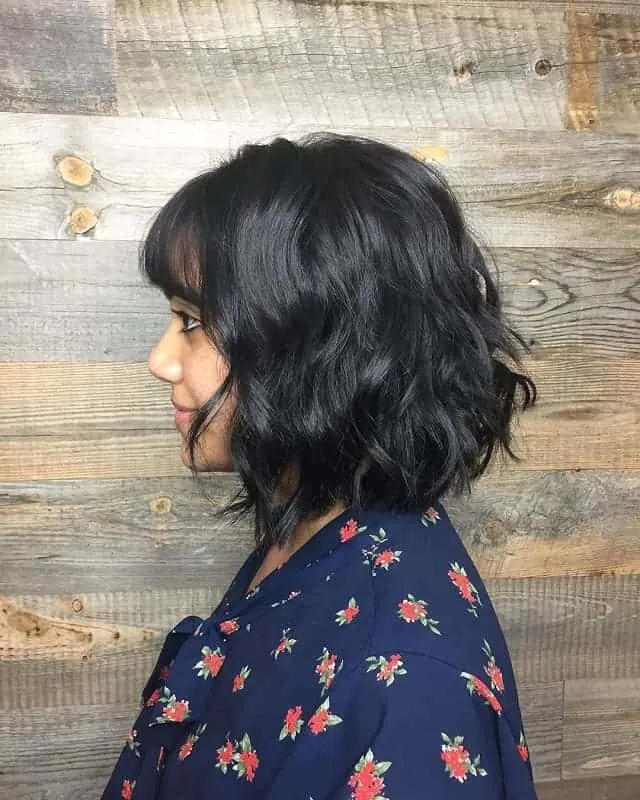 If you have dark hair one way to introduce more playfulness to the overall look is to get a short, textured bob with gentle waves and cute Korean bangs. This bob is both feminine and empowering. Let's not forget how easy it is to take care of this haircut to make sure it's always perfect.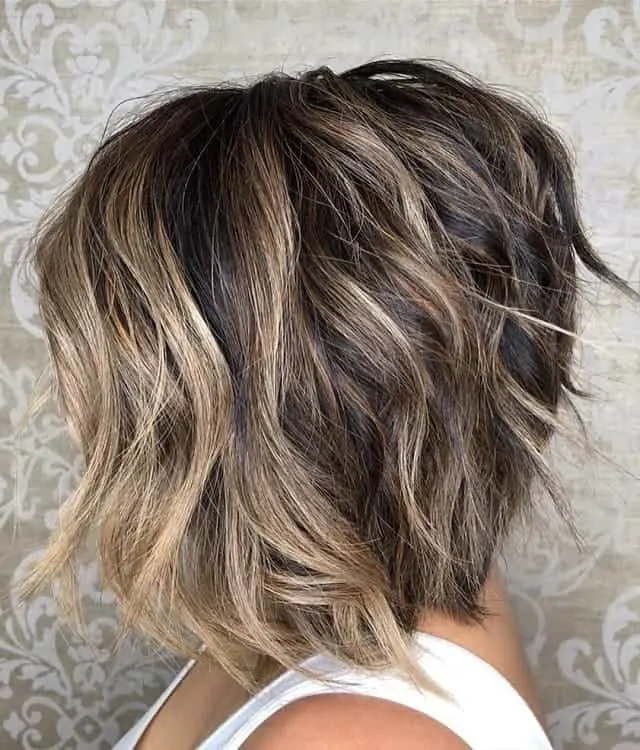 One way to achieve a voluminous hair effect without unappealing puffiness is to get a stacked look. Hair is shorter in the back and longer in the front. Now, when you add a textured look into this bob, you'll get a unique textured bob look.
How to Cut Textured Bob
The best thing to do in order to get a textured bob is to schedule an appointment at the hair salon and let a professional give you the best style for your hair texture and face shape. General practice is to section hair and pull most of it up.
Then, the lower part is styled in a way that you take piece by piece and sort of trim them carefully downwards. Trimming instead of using scissors creates the texture and choppy bob style. For a sleeker textured cut, bob scissors will do the trick.
This practice includes sectioning hair, cutting into a bob then using shears to add texture to the haircut by cutting hair in the ends or where necessary for the look. While cutting your hair seems more convenient for your wallet, it's more useful to let a professional do it.
Textured Bob vs Layered Bob
It's not uncommon for people to use textured and layered bob terms interchangeably. However, they are not the same thing, and it's important to learn about their differences. If you don't know the difference between the two, you may end up getting a wrong haircut, which is the last thing you need.
In some cases cutting a short blunt bob can give women, especially ladies with thick hair, a triangular look. The layer minimizes that effect. Essentially, layered bob involves layers of hair that may be shorter, longer than one another or even equal around the head.
This hairstyle removes additional volume that would make your hair appear puffy and triangular. Textured bob is similar to its purpose is to remove bluntness, but this haircut appears choppier due to more noticeable variations in length.
If you're thinking about changing a thing or two in your hair then textured bob is a good idea. This haircut looks great on everyone due to the fact it's easy to adapt it to face shape and hair texture of every woman. Now that you have 35 amazing ideas all you need is to schedule a hair salon appointment and get your haircut.