Black women with curly hair are proud of their natural African American hair, and they are not afraid to show those ringlets or extremely tight curls. Also, black women make real miracles when it comes to creating hairstyles with weaves or braids.
Curly Hairstyles for Black Women
From extravagant big buns to stunning ponytails, curly black women master the hairstyling techniques that help them always come up with something glamorous. They are trendsetters when we're talking about most types of braids and professionals about curly hairstyling.
If you are out of ideas, we have prepared 50 stunning curly haircuts and hairstyles for black women.
1. Short Curly Hairstyle for Black Women
Black women are so creative when it comes to finding the best hairstyles for their voluminous curly hair. If you want a hairstyle that is very low maintenance, opt for a short haircut that lets the curls form.
2. Ponytail for Curly Hair
When you want to keep those rebel curls out of your way, you need to find a hairstyle that is effective, simple, one that also looks stunning. A ponytail is an ideal choice, and you can pull it off in less than a few minutes.
3. Layered Haircut for Curly Hair
Layer your mane to give the coils bounce and texture. Dye the hair in a brown caramel shade and style long bangs that you can wear on one side. You will obtain a lot of dimension for the top, and a ravishing look.
4. Black Hair for Wavy Hair
If you have wavy curly hair, go for a hairstyle that beautifully frames the face. Opt for a layered haircut that will make the ringlets look impressive and will transform you into a black beauty.
5. Big Bun for Black Women with Curly Hair
When you have a long African American mane, you can go for a glorious bun on top of the head. Because of the hair's texture, the bun will have a lot of volume and dimension, and it will make you look like a real African queen!
6. Curly Hair with a Scarf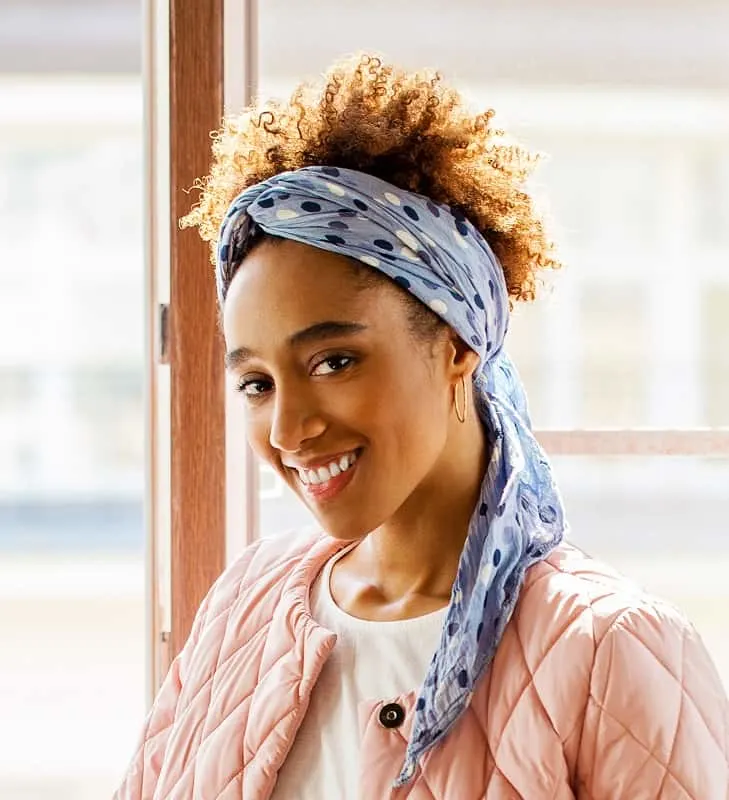 This casual look is ideal for women who are preparing for a lovely day spent outside, a picnic, or a relaxed day with friends. Use your favorite scarf and wrap it around your head. Make a knot at the base and keep the hair up.
7. Half Braided Curly Hair
Obtain a professional look has never been easier and can be pulled off only by knitting half of the hair. If you don't have long hair, you can use hair extensions.
Attach them at the roots, make the half braids, use the remaining hair to roll it on rods, and dip it into hot water to secure the braid and to obtain long-lasting curly hair.
8. Short Curly Hair with Curtain Bangs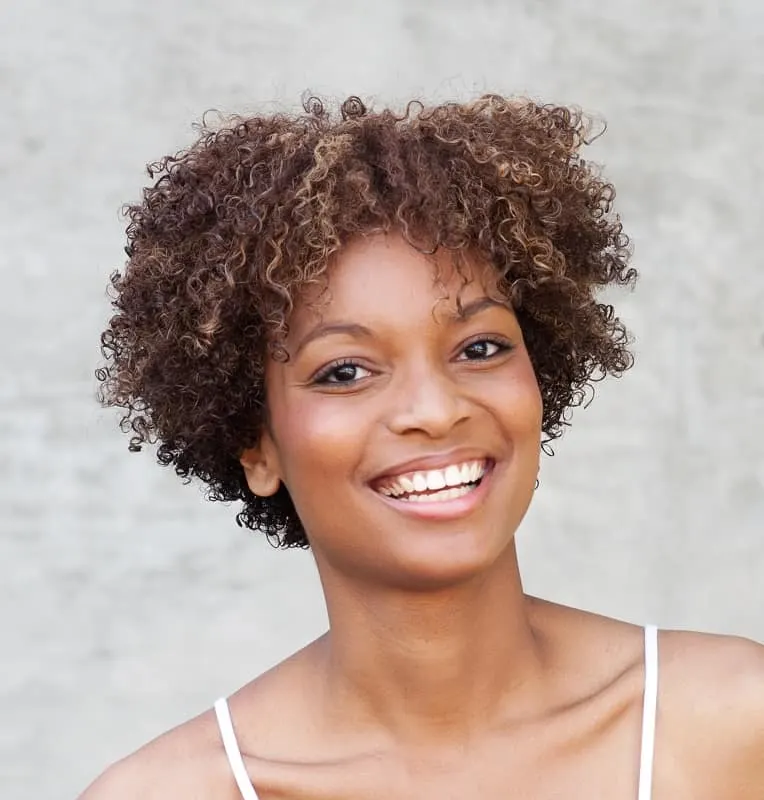 Style a short cut with longer top and curtain bangs. To give the hairstyle a beautiful glow, you can opt for some blonde highlights that will provide the top hair a lot of texture. Because it is short, your hair will be so much easier to style.
9. Long Curly Hair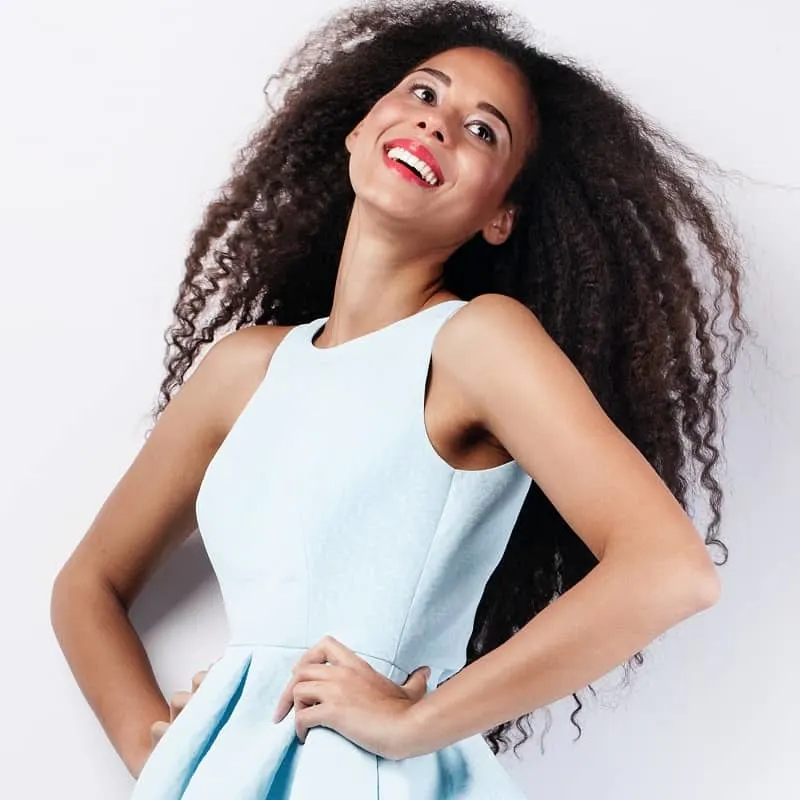 When you have long curly hair, it will look gorgeous, especially if it's healthy. Cut it in a V shape and periodically trim the ends. Use your favorite jam and moisturizers to give the curls bounce and a magnificent glow.
10. Very Curly Hairstyle
When you have that fabulous Afro American hair, your coils can be a blessing or a real struggle. To sort this problem, opt for a light brunette and get a layered hairstyle with bangs. Also, deeply moisturize from time to time to make sure the ringlets will maintain their beauty.
11. Loose Curls with a Bun
Loose curls for black women are absolutely stunning. They have a lot of volume and if you opt for a loose bun in the back, the front and top hair will get an excellent shape, and you will adore the way it suits you.
12. Natural Black Curly Hair
Build a natural curly hair for black women hairstyle by adding moisturizers to define each curl. The hairstyle must be slightly layered, so when the hair is oriented upwards, it will have almost the same size in each part.
13. Tight Curly Hair for Black Women
To build this fabulous curly hairstyle for black women, you need to take each ringlet and roll it. One of the perks is that you can do this easy procedure at some and save a lot of money.
14. Short Afro Hair
Short afro curls for black women are so easy to wear and maintain, and after getting this haircut, you can kiss good-bye all those expensive visits at the hairstylists or long hours spent on the chair to style the hair.
15. Curly Ombre Hair for Black Women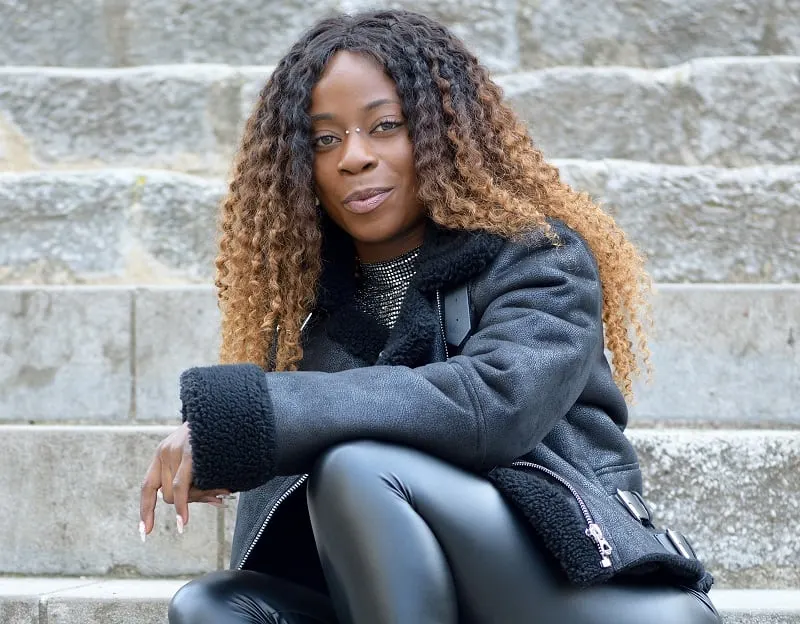 Opt for a curly weave for black women if you want longer hair that looks simply ravishing. If you use weaves made out of Remy hair, you can even style an ombre. If you want to go for this hairstyle from the beginning, you can buy weaves that have already been dyed to obtain the ombre.
16. Loose Updo
This curly updo for African women is probably one of the most straightforward hairstyles. Before pinning the hair in the head's midsection, apply some texturizing moose that will give each curl a fantastic shine and bounce.
17. Curly Space Buns
Curly space buns look impressive on black women, no matter the hair texture. When parting the hair in two sections, you might consider going for a zig-zag part. Detangle the hair with a wide-tooth comb and pull it up. If you don't want any threads popping out, use more jam and edge control to style the hair.
18. One-Sided Curly Ponytail
For this curly ponytail for black women, you will need to build great contrast between the top and the pony. To achieve that, use plenty of jam to slide the top on one side and pin it all into a bun. If you don't have impressive long curly hair to work with, a faux curly pony that is easy to attach can help you obtain this look.
19. 3C Curls
To make any 3c curly hairstyle look breathtaking, black women need to build a strong routine to keep those curls in the perfect shape. After you wash your hair, use a leave-in conditioner because hydration is one of the most important steps. Use hair gel to keep your curls tight and well defined.
20. Tight Ringlets
If you want ringlets instead of tight African American curls, you can use a thick wand or even a straightening iron to get your hair in that shape. A high definition curl and styling gel will keep those ringlets in place the whole day so make sure you use that too.
21. Layered Frizzy Hairstyle
When you know you have curly frizzy black hair, you need a haircut that works with your hair type. A layered cut that gives the top more volume and some wispy bangs are going to frame your face wonderfully.
22. Long Faux Curly Hairstyle
Long curly faux locs hairstyles for black women extend your hair and are quite versatile in terms of styling. You can buy them pre-styled, with waves and even curls. Attach them to your natural hair and use thick golden threads and colored beads to decorate them. They are suitable for all sorts of styling ideas, including half up half down coiffures.
23. Very Curly High Pony
If you love that palm curly high pony, place your hair down and perfectly comb it to make all those bumps disappear. On top, style your pony and use a brown weave to build a stunning contrast between your dark natural hair and the top pony. The final result will be a gorgeous hairstyle for black girls.
24. One-Sided Braids
For a fashionable look, one-sided curly braids will hype any black women's hairstyle. Section your hair in two pieces and tie each of them with a scrunchie because each section will be styled differently. On one part, you will build cornrows, while on the other, you will enhance the curls and keep them loose.
25. Blonde Tight Ringlets
First of all, if you want a stunning transformation, you need to find the most suitable blonde color that will match your skin tone. Get a haircut with layers that will highlight each ringlet and style short bangs to cover the forehead. Use your favorite high curl definition jam or hair gel, and you'll get the best blonde curly hair for black girls.
26. Beach Hair
We all adore how our hair looks during summer when you get out of the water, and you can quickly get this appearance even in winter with some help from salted water spray. Use it on your hair to get those messy waves and to make your tresses look divine.
27. Two French Braids
Section the hair in two even pieces and comb in thoroughly to achieve the perfect black curly hair with two braids. When braiding, start from the forehead and go along the hairline. The hairstyle will last more than a day if you sleep on a silk pillow or wear a bonnet overnight.
28. Natural Hair with Highlights
Highlights can lighten up any hair and can be done in so many ways. Depending on your needs, you can opt for slim blonde hairpieces, just like the image above. Thick strands or peekaboo highlights are also an option, depending on your tastes.
29. Extra Curly Hair with Bangs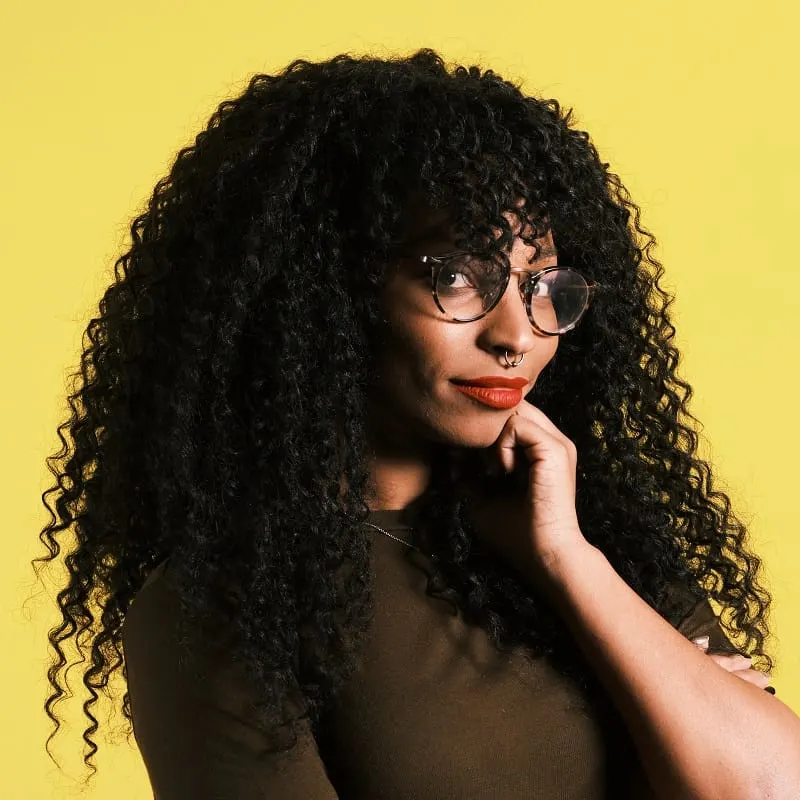 Not all of us are blessed with perfectly curly dense hair, and for that reason, weaves and wigs can be our best friends. To get those curly bangs for black women with glasses and that voluminous mane, you need to prep your hair and braid it. Sew the weave on the knits or place the wig on your head, adjusting it to your needs.
30. Long 2c Curls
Like 3c curls, black women 2c curly hair needs a lot of attention if you want to preserve the coil shape, make it bouncy and glowing. Combing it with a shower detangler after washing your hair will not cause breakage and make your hair so much easy to manage.
31. Black Girl with Long Curly Hair
Black women adore long wavy and curly hair, and they easily recreate these hairstyles with some help from hair extensions. Use a 100% Remy hair weave that you can apply as close to your scalp, and att the attention will be on you.
32. Natural Curls
For most black women, natural hair is something they're proud off, and they're not afraid to get a haircut that gives those coils value. A hairstyle with layers and bangs will give those 3b curls a fantastic shape and shine.
33. Curly Bangs
If you have curly hair, a hairstyle with bangs will cover your forehead but will also make your ringlets high definition. Pin your long locks into a high bun and style your sideburns for an elegant appearance.
34. Red Curly Hair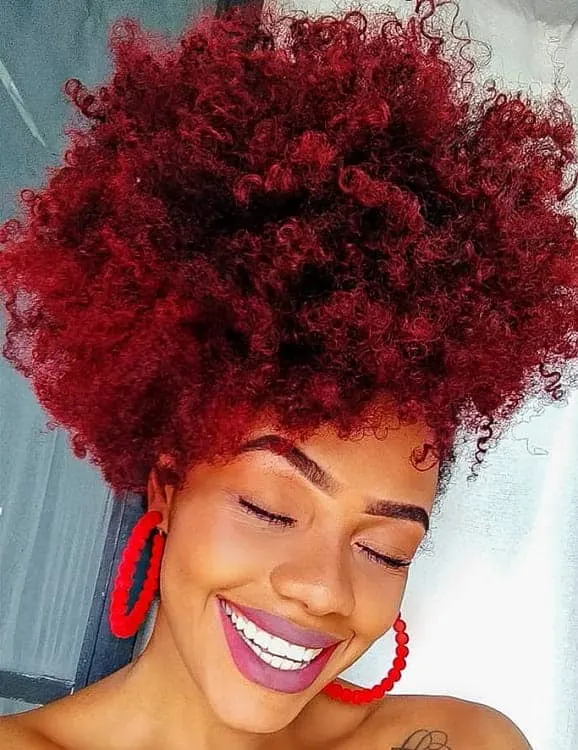 When you want your tight coils to look outstanding, dye your hair into an electric red color and pin all of your hair into a high pony. It will create a big textured bun with its own personality.
35. Black Curly Updo
3c coils tend to be dry, and they need a lot of moisturizer to style. Create one of the cutest curly hairstyles for black women by creating a pony on top of your head. It will look like a stunning rich bun with a lot of volume.
36. Curly Hair Ombre
In order to obtain that round effect for your hair, you need to get the perfect even cut. Create a middle part and dye the tips of your coils in a bright red color for a fabulous effect.
37. Honey Blonde Curls for Black Women
When you have well-defined ringlets, you can create outstanding highlights. This way, each coil will have fantastic color and will gorgeously blend with the others. Create asymmetrical bangs and swipe come curls on one side.
38. Curly Black Bob
Bobs are ideal haircuts for straight hair but also for black women. Layers will make your ringlets fall one over each other and create a mesmerizing voluminous hairdo. Create a middle part for a luminous forehead.
39. Long Waves
The above is a flawless example of curly bob that is guaranteed to make you turn around 36o degrees. Moreover, this style can be literally worn to any occasion of your choice ranging from study group casual to dinner date formal.
40. Hippie Waves And Curls
Just like the fashion-forward, celebs do it on the fashion runways and red carpets, you can give off that effortless hippie vibe with your black curly hair.
41. Tight Curls
The tight curls in the above photo are a mere example of how stunning natural black hair can be. So, don't waste any more time and get yourself one of these exceptional black women short hairstyles.
Related Read:
42. 1990s Vintage Black Hair Look
A simple yet attractive curly hairstyle for black women you can try. Taking you back to your old groove, in the 90s ladies used to do it differently. Yet, different doesn't mean worse.
On the contrary, these heavily gelled loose strands apparently were widely popular and we can see why! Because it has evolved from the high school frame and now can suit any black lady for any to- go event.
43. Too Tempting
Sometimes your naturally curly black hair can be too tempting to chemically straighten its locks for a more relaxed look using the magic wand we refer to as the "flat – iron". Because there's nothing more fun than kicking it up a notch once in a while and going crazy with a totally different look.
Another daring choice for black women's short curly hairstyle is the pixie design. Because of centuries ago, people used to consider girls with short hair to have lost their feminine characteristics.
However, modernity has proved our ancestors wrong with its picture-worthy pixie perfections. Therefore, nowadays girls have never looked better than in relatively short pixies.
45. Side Swept Cut
Whoever said that women's undercuts are strictly tailored for guys has not seen the wonders that side swept undercuts can add to an African American woman's curly hairstyle.
So, not only the above design would bring you up to the top of the fashion chain, it works best for the businesswoman who wants to look both professional yet stylish at work.
46. Curly Hairstyle for Black Women With Thick Hair
Naturally loose curls have the potential to look good on anyone with any hair length and type. However, girls with thicker strands are the ones who really can pull them off better than anyone else. So, all you need to do is let your curls fall freely into the breeze's mercy to blow away every guy's mind.
47. Short Black Curls
48. Longer Bangs for Black Curly Hair
49. Medium Length Curly Hairstyle
50. Curls and Accessories
Short natural hair? Try these hairstyles
Finally, being an African American woman with curly hair is not as easy as it seems. However, with the right hair products and styling tricks, you will be able to pull off a stunning hairstyle. Therefore, don't hesitate in trying out these amazingly sleek black women's curly hairstyles as your everyday new look.