It's not just her supermodel look, long legs, and slim silhouette that made us fall in love with Heidi Klum. Many fashion enthusiasts adore her incredible hairstyles and colors too.
Heidi is a German-American model who is a popular television host, producer, and businesswoman and also appeared on the cover of the Sports Illustrated Swimsuit Issue in 1998. She was the first German model to become a Victoria's Secret Angel.
Heidi Klum is an awesome mom, has a bubbly personality, and has a well-developed sense of humor. Moreover, each time she steps on the red carpet, she amazes with incredible hairstyles and remarkable outfits.
Heidi Klum's Latest Hairstyle in 2023
One of the most flattering Heidi Klum hairstyles is definitely this long wavy hair with layers and bangs spread on the forehead that she wore for the Nickelodeon Awards.
If you want to replicate a Heidi Klum hairstyle, check out the below options as you will find many other cuts and styles that consecrated her!
1. Wet Look
This Heidi Klum hairstyle is a glorious wet look that keeps her locks straight and combed towards the back.
The look is incredibly flattering, and it highlights her neck and collarbones. If you want to get this look, remember that such comb overs are an excellent match for strapless dresses.
2. Wavy Hair with Bangs
The fabulous supermodel has a square face that she knows how to glorify with awesome hairstyles. The Runaway Project host flaunted her long locks and bangs for this red carpet look.
The color she chose is a warm blonde with caramel lowlights and lighter blonde highlights for the crown area.
3. Blonde Ombre + Side Pin
Long, texturized tresses colored with an outstanding ombre make Heidi Klum look so natural and glamorous.
The official Barbie ambassador went for a middle part and layers and she used a piece of her bangs that she twisted and tucked under her locks, on one side.
4. Comb Over
Heidi Klum looks stunning with a comb-over that goes slightly to one side. To replicate her look, tease the crown, giving your roots height.
She wore a strapless dress with sequins and long blue earrings that make your neck look longer.
5. Half Up Half Down
Heidi Klum sported this hairstyle for one edition of America's Got Talent, where she has been part of the jury, since 2013 (with small breaks).
Heidi went for golden brown locks with caramel tresses and blonde highlights. She sported a top bump, curtain bangs, and long wavy hair.
6. Layered Golden Ombre
This stunning ombre is pulled off quite low, starting with the tips of the front layers. The color has coppery notes and beautifully coats the strands.
It also features some brown lowlights that pop up in the back and that you can see on her shoulder.
7. Puff Ponytail
Another Heidi Klum hairstyle that looks flattering on her square face is a high ponytail with a small top bump that softens her jawline.
The color has golden hues and looks natural and warm.
8. Side Swept Bangs
In 2016, Heidi Klum stunned us all with her red carpet appearance at the Emmy Awards. After being nominated six times, the supermodel won the most wanted award.
She wore a simple yet elegant long hair with side bangs that she tucked under her ear.
9. Middle Part + Back Updo
The supermodel showed us on numerous occasions that a simple hairstyle can be an excellent asset for any look.
For the America's Got Talent red carpet, Heidi went for the middle part, with hair glued to the scalp and long tresses that fall on her back.
10. Casual Waves
Her tanned skin looks amazing with this blonde color and golden tones. The supermodel and businesswoman opted for a wavy look, with a sun-kissed look.
She kept her roots black and got a layered medium-long hair and casual messy waves.
11. Side Swept Waves
These large bouncy waves and side-swept hair, that fall on the shoulder make Heidi look like the beauty queen she is.
The top is styled with hair gel and lifted to create more volume and the waves have a creamy silky look.
12. Side Bangs with Hair Clip
One thing is for sure, the actress and German-American supermodel loves flaunting her waves. She swiped her bangs on one side, twisted them, and secured them with a hair clip.
The styling option she chose for NBCUniversal Summer Press Day at Universal Studios is ideal for the hot season.
13. Back Bun
The America's Got Talent judge pulled all her hair back and combed it thoroughly to exclude getting any bumps.
She used several strands to create a braided look for her back high bun and wore large diamond shaped earrings.
14. Messy Pony + Bangs
Simple ponytails are an attractive option for feathered bangs with longer corners. This Heidi Klum hairstyle keeps the longer tresses easily crimped so they have more texture and volume.
The look she sported for American Music Awards (AMA) is completed with smokey eyes and long metallic earrings.
15. Side Braid
In 2013, Heidi Klum and Tim Gunn won an EMMY Award for Outstanding Host for a Reality or Reality-Competition Program, for the Project Runaway.
That night, she wore a Dutch side braid that goes to the nape, covered by her long glossy locks.
16. Golden Hair + Top Bump
For this red carpet at America's Got Talent, Heidi went for a diaphane look with golden locks and blonde highlights.
Her temple hair and crown tresses are tied in a pony, while the roots are lifted for more volume. She also sported casual waves and golden matching earrings.
17. Ultra Volume Low Curls
Keidi loves a great blonde ombre, as this color is a perfect choice for a retro hairstyle with low curls.
The star swiped her bangs to the side and pulled off curls building volume for the back and top.
18. Back Updo + Middle Part
This back simple Heidi Klum hairstyle with a middle part is elegant and glammy.
The updo is so easy to replicate as you need to tie your hair in the back and secure it in a bun or pin it with bobby pins.
19. Caramel Blonde Waves
A medium hairstyle with wavy tresses is a wonderful idea for women who have square-shaped face, just like Heidi.
She went for a great ombre that resembles highlights in the crown area and keeps the roots in their natural dark shade.
20. Layered Straight Bob
Heidi Klum loves having textured hair that is long and falls on a cascade on her shoulders and back, however, she's not afraid of a short crop like this bob hairstyle.
The supermodel went for highlights for the top and an extended ombre.
21. Blonde Highlights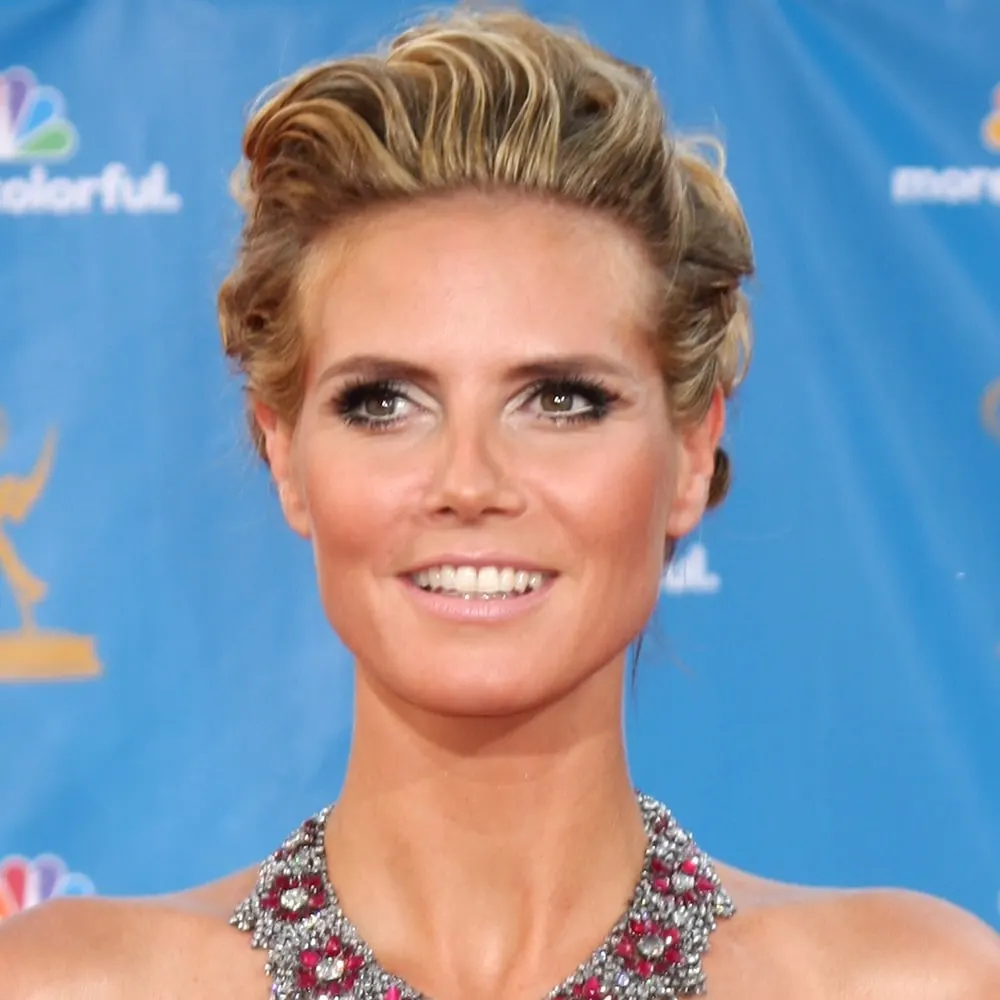 For this hairdo, Heidi lifted the roots in the fringe and crown area and gave that top a wavy aspect.
Also, she blended multiple nuances of blonde and added some copper notes.
22. Glammy Updo + Curtain Bangs
When she attended the Elton John AIDS Foundation event, the AGT judge went for a messy updo with curtain bangs.
She kept her hair nuance in the same color range and made this nonchalant look glorious.
23. Blonde Bob Haircut
A blonde bob haircut with layered side bangs is a marvelous choice for a woman with a square face.
The nuance of the long bob matches her peachy skin tone and great gray-green eyes.
24. Curled Low Ponytail
To nail a hairstyle like Heidi did for this event, you must have volume and marvelous hair color.
The hairstyle can be simple, like this low curled ponytail, with side swept crown hair.
25. Side Braid + Curly Bangs
A Heidi Klum hairstyle like this will definitely help you get at least half of the attention she gets when she hits the red carpet.
The star went for bang swiped to the other side, which are loosely waved and diamond, long earrings.
26. Wavy Middle Part
For this ashy blonde color, Heidi was probably advised by her stylists to opt for thin loose waves and curls that add depth to her look.
However, even if this is a look from a decade ago, that hairstyling choice is still fashionable nowadays.
27. Voluminous Back Bun
That huge back bun makes Heidi look like a countess. And if you're aiming for that large bun, you will probably need a sponge underneath, that you will cover with hair.
To look even more glamorous, she completed her look with large shining earrings.
28. Crown Comb Over + Pony
For this American Music Awards red carpet, the supermodel pulled off a bright colorful look with a back straight ponytail and bangs.
She combed over the fringe and directed the tips to the other side, rolling the ends at the base of the pony.
29. Two French Braids
Heidi Klum-inspired hairstyles with two French braids are a fabulous option for women with medium and long hair.
They help you brighten up your face and make you feel years younger.
30. Feathered Dark Blonde Cut
Heidi Klum never stops to amaze us with her hairstyles and color choices. For this red carpet moment, she went for a feathered medium hair that looks tousled and a little messy.
Bangs are also feathered and styled on the forehead, while the color she picked is a mix between dark blonde and light brown.
Whether she walks the runaway, steps on the red carpet, or for America's Got Talent jury, Heidi Klum always has an iconic appearance that makes you look at her with utter admiration. So if you want a hairstyle just like Heidi's, try some of the flattering options above!
Trending Topics