Jennifer Lopez's hairstyles are still very popular in 2023. She has been a style icon for decades, and it's no secret why.
This 52-year-old Puerto Rican pop princess is a force to be reckoned with, and while we may not be able to achieve that toned body and fabulous dance moves, we can attempt her hairstyles!
Jennifer Lopez's hair has changed many times over the years, from dark brown to platinum blonde, body waves, braids, high ponytails-you name it.
evolution of Jennifer Lopez's hairstyles over the years
Jennifer Lopez starts her career with a simple, long, straight hairstyle in her early acting days.
Lopez introduces subtle layers and highlights to add depth and dimension to her hair.
She experiments with a sleek, high ponytail during her dance performances.
Lopez embraces a shorter, shoulder-length bob for a modern look.
She adds soft waves to her bob, giving it a more glamorous appearance.
Lopez opts for a topknot bun at red-carpet events.
She transitions to a long, wavy hairstyle with caramel highlights, becoming a signature look.
She surprises fans with a dramatic, extra-long high ponytail during a performance.
Then she experiments with bangs, adding a fringe to her long, wavy hair.
After that, Jennifer Lopez tries a slicked-back, wet look for a photoshoot.
She sports a textured, high half-up ponytail for a youthful appearance.
Jennifer Lopez ultimately settles on a versatile, long, and wavy hairstyle with various highlights and lowlights, continuously reinventing her look to stay on-trend.
Jennifer Lopez Hairstyles
Jennifer Lopez's latest hairstyle in 2023 has been lengthy and straight- a big difference from the curly bob that she rocks on her show 'Shades of Blue', but with that being said, here are 20 of our favorite Jennifer Lopez hairstyles.
1. Wavy Ombre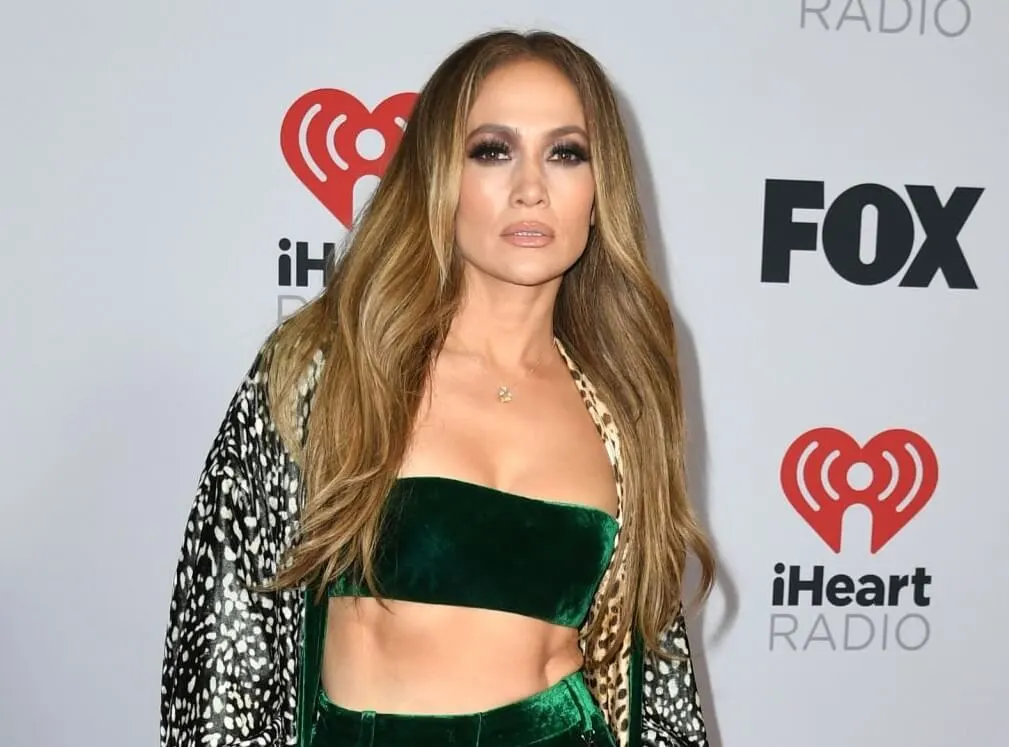 Jennifer Lopez always has flawless appearances on the red carpet. She's always praised for her body, outfits, makeup, and, of course, hair. For this event, she went for a wavy mane with thin blonde highlights. She got a middle part with shorter laterals to better frame her face.
2. Creamy Curls
You are certainly going to fall in love with this hairstyle! It has length, gorgeous highlights that blend with a dark sandy brown base, and loose waves that provide a lot of volumes. The hair is elegant and flawless with lots of dimensions.
3. Messy Waves
Jennifer Lopez's hairstyles are not always glamorous. Like anyone else, she sometimes sports casual hairdos and is a great choice for day-to-day activities. And this messy wavy hairdo speaks for itself.
4. Space Buns
The singer and actress always surprise us with new hairstyles that make her look fabulous. In one of her music videos, she went for a space bun hairstyle that makes her look modern and young and gives her a fresh vibe.
When she wants to look classy, Jennifer Lopez knows that sometimes less is more. For this red carpet appearance, she sported a simple bob hairstyle with the middle part. Moreover, we must give her applause for the beautiful blonde and caramel color blend.
6. Back Comb
For this event, Jennifer Lopez's hairstyle is pulled off to the back to reveal her face, makeup, and diamond earrings. The bangs are combed over and her mane is falling on the back.
7. Back Bun
Hairstyles with buns are the best option when you want to wear a strapless dress. This way, the hair will not cover your shoulder line and neck, and you will still be able to look elegant and classy, just like Jennifer Lopez.
8. Ombre with Highlights
For this look, the singer went for medium-length hair with loose waves and a stunning color blend. She mixed up-to-date blonde nuances, caramel tones, and an ombre. What can we say? The result is truly fantastic!
9. Messy Hairdo with Side Bangs
Messy updos with a touch of glam that involve waves styled with a straightening iron are always a good choice for the singer. This way, she highlights her neckline and makeup.
The half-up bun hairstyle doesn't only make her look fabulous, but it is also a practical choice. So if you want to look your best every time you get out of the house doing errands, you might consider Jennifer Lopez's hairstyle.
11. Sleek and Straight
Jenny from the block has been rocking her tresses long and straight in more recent pictures of her, and we especially love this sandy blonde color that she's chosen.
Keeping up with current trends, Jennifer Lopez rocks her hair in a half-up, half-down style that is straightened but curled at the ends. This playful look not only mimics her youthful appearance, but it also shows that style has no age limit.
In her hit series, "Shades of Blue," Jennifer Lopez's natural hair is styled in a short bob. Her tousled curls and waves are beautiful as they play into the authenticity of her role.
14. Bombshell
J-Lo loves her blonde and we love her blonde, too. This chic balayage look is both sexy and carefree, drawing attention to the eyes with face-framing bangs and highlights.
15. Half-up, half-down Curly
Here's another instance where J-Lo rocked a half-up half-down 'do, but this look features a look that closely mimics her natural hair texture. Her edges, or "baby hairs," have been laid down so that they frame the face and complete the look.
16. Primmed and Pomp'd
J-Lo looks wonderful sporting this modern twist on the classic pompadour. The texture and movement of the style give the look more feminine as opposed to just being slicked back like it typically is.
Nothing beats a high ponytail, and on Jennifer Lopez, it definitely is a remarkable spectacle. Her high ponytail has been carefully slicked up and loosely braided so that the braid is not too stiff. Her edges, or "baby hairs," have been slicked down as well to frame her face and further tie the look together.
Jennifer Lopez Inspired High Half Pony:
Buns have been a staple Jennifer Lopez hairstyle since the beginning of her career and it's easy to see why. High buns show off her wonderful features and are a great option no matter what the occasion may be.
19. Slicked Back
Jenny is rocking a simple straight hairstyle that has been slicked back, off of her face. This simple, yet chic hairstyle doesn't distract from her dramatic smoky eyes or her rather intricately designed outfit.
20. Sultry Waves
These romantic body waves are definitely our most loved Jennifer Lopez hairstyle of all time. The classic elegance of this side-swept 'do is timeless which is a perfect match for the seemingly ageless Jennifer Lopez.
Jennifer Lopez's Sleek Top Knot Hair Tutorial:
Jennifer Lopez's hairstyles are timeless and the fact that she can literally do anything to her hair without looking crazy is simply mindboggling. Loose waves, slick buns and choppy layers- the woman can pull off any look she wants. I think it goes without saying that J-Lo is and will forever be one of our favorite celebrity hair crushes of all time.