If there's one Hollywood celebrity who knows how to rock a fabulous 'do without jumping into trends or trying out bold hair colors, it would be Sofía Vergara.
The popular Sofía Vergara hairstyles show off almost the same old thing: her long wavy (or sometimes straight) locks. Despite sticking to a simple hairstyle, she manages to still make her hair look unique and ends up with an eye-catching hairstyle every time she steps out on the red carpet.
Colombian-American actress Sofía Vergara rose to fame as Gloria Delgado-Pritchett on "Modern Family," earning her multiple award nominations. Recognized as 2020's highest-paid actress by Forbes, she's also championed brands like Head & Shoulders and CoverGirl. Currently, she lights up the stage as a host on "America's Got Talent."
Sofía Vergara's Latest Hairstyle in 2023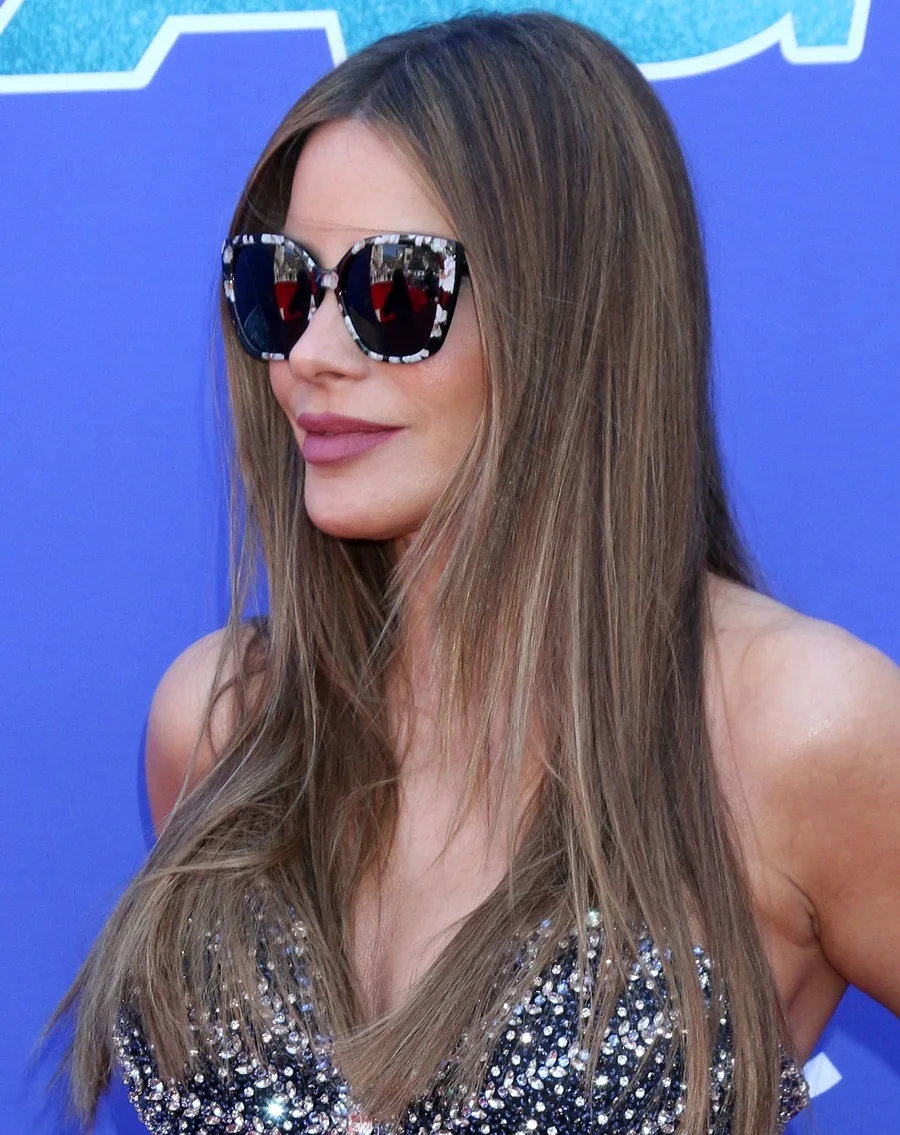 Sofía is currently sporting a straight long hairstyle with a gorgeous mushroom blonde shade and a few blonde and brown highlights, making it look sexier.
But, of course, there are a lot more things you can do with beautiful hair like hers. With that said, check out this article for other Sofía Vergara hairstyles to get ideas on how to style your long hair as glamorously as she does.
Sofía Vergara's Hairstyles, Haircuts and Colors
Let's walk down Sofía Vergara's fabulous memory lane with some of her most amazing hairstyles.
1. Dark Brown Long Straight Hair + Light Golden Blonde Highlights
Sofia looks amazing even with just a simple sleek and straight hair. Her secret? It's no other than golden blonde highlights which add radiance and give that most-coveted sunkissed glow to her dark brown hair.
2. Brunette Waves + Caramel Blonde Balayage
If you want something fun and flirtatious, Sofia's sexy waves are the way to go. The secret to achieving her perfect beach waves is to curl only the bottom two-thirds of your hair using a curling iron with a big barrel.
3. Dark Brown Side-parted Hair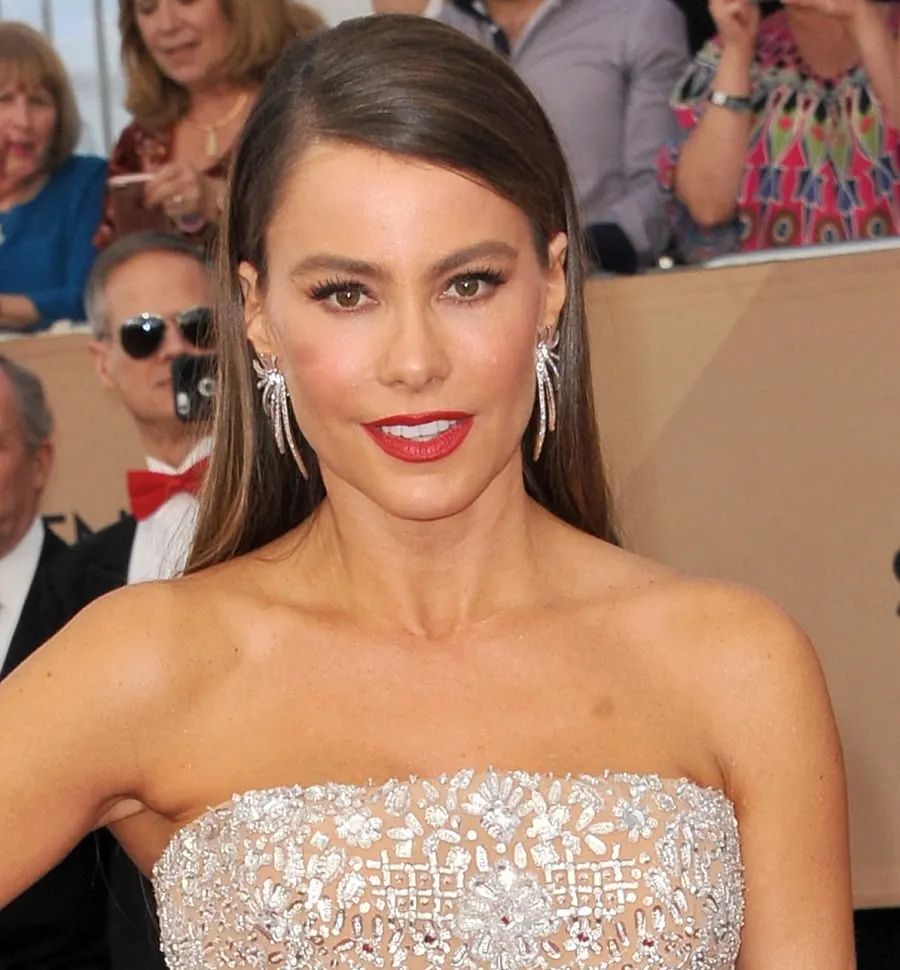 For formal events, you can copy this Sofia Vergara hairstyle. Her sleek side-parted long hair gives off a polished look.
Additionally, a side part can create the illusion of a more contoured face, so it's the best option if you want to have a tighter jawline and more snatched cheekbones.
When choosing which side to part your hair, go for the one that will show off your best side.
4. High Ponytail + Chunky Bangs
Sofia also knows how to pull off that hip and chic younger look, and she quickly does that with a high wavy ponytail. She paired it with chunky bangs which frame her face and add a retro vibe to her look.
5. Teased Half-do + Dark Copper Highlights
This sexy actress is so versatile that she can sport a beautiful half-do too, and this is her unique take on that casual hairstyle. Instead of just it straight, she wore chic waves and a teased crown to make her look stand out.
6. High Wavy Bronde Ponytail
A high ponytail shouldn't always be sleek and straight. Adding waves to this Sofia Vergara hairstyle is excellent for boosting its texture and giving it more pizzazz.
7. Dark Brown Low Braided Updo
This glamorous actress knows how to wear fabulous updos too and this elegant yet free-spirited braided bun is proof. The middle parting kept the bun elegant and refined while braids and loose strands injected a flirty touch.
8. Medium Brown Long Wavy Hair + Blonde Balayage
This is one of the Sofia Vergara hairstyles that match the actress' fun-loving personality. The blonde balayage and face-framing highlights made her curls look extra bouncy and added shine to her glorious locks.
9. Long Golden Blonde Hair + Lowlights and Highlights
For women with a warm skin tone like Sofia, golden blonde hair color is one of your best options.
However, avoid sticking to only one hair color to prevent your hair from looking flat. So follow her cue and add a few thin lowlights and highlights all to boost your hair's dimension.
10. Caramel Blonde Retro Waves
If there's one look that Sofia does oh-so-well, it would be Old Hollywood glam. Her large retro waves are the perfect blend of elegance and sexiness.
Also, check out how her caramel blonde balayage made her vintage retro waves look extra bouncy.
11. Middle-parted Light Auburn Hair + Full Golden Blonde Babylights
Brown and blonde hair shades have always been her thing, so this auburn hair color is quite a refreshing change from her previous looks. This shade suits her well because it has a reddish tint that brings out the rosiness from her cheeks.
12. Sleek Straight Brown Hair
If you want to stick to a simple and sleek hairstyle, you need to pay extra attention to your parting. Middle parting is the best option for women who want to emphasize their jawline and accentuate their best facial features.
13. Brunette Teased Wavy Ponytail
If you haven't noticed yet, teased ponytail is one of the classic Sofia Vergara hairstyles. You can easily recreate her look using a rattail and hair pick comb. You can apply texture spray to achieve Sofia's voluminous yet polished look.
14. Dark Chocolate Brown Long Hair + Teased Crown
At times, Sofia loves to keep her hair sweet and classy but she still tries to find ways to elevate her look.
That's why she went for a teased crown to boost her hair volume and give this simple hairstyle the oomph it very much needed.
15. Brunette Waves + Copper Brown Highlights
Lighter hair colors look amazing on Sofia, but rich browns look more exquisite on her. Even though brunette is a classic shade, she was able to give it that signature Sofia magic by adding a few copper brown highlights which gave the shade better texture and dimension.
16. Middle Ponytail + Beehive Effect and Long Curtain Bangs
And it looks like she was not satisfied with the height of her teased hair, so she went for that more noticeable beehive style. This retro hair trend gives her ponytail look a vintage spin and better structure.
17. Dark Chocolate Brown Hair + Long Choppy Bangs
Sofia's also a fan of sleek straight hairstyles too, but she always tries to find a way to add a few interesting details to them.
For this look, she elevated her chocolate brown layered hair by adding long and choppy curtain bangs that made it look edgy.
18. Wavy Hair + Small Half Ponytail
If you're looking for a way to hide your unsightly fringe, a narrow half ponytail is what you need and Sofia shows you how it's done. She pulled her bangs back which opened up her face and allowed her beautiful features to take center stage.
19. Dark Brown Voluminous Curls + Curtain Bangs
Achieving that classic sexy Latina look is all about piling on the layers and volume, so this voluminous curly hair is the way to go.
She piled on messy curls in various directions for better movement and texture and added perfectly styled curtain bangs to frame her face.
20. Dark Long Curly Hair + Middle Part
If you think it's impossible for long messy curly hair to look refined, this Sofia Vergara hair is here to burst your bubble. With a middle parting and a darker brown shade, she balanced off her curly hair's playful vibe.
21. Long and Messy Straight Hair
You can still pull off that Vavavoom hairstyle even with straight hair. Her secret? She flipped the ends of her hair strands in various directions to achieve that messy look without curling her hair.
22. Jet-black Curled Hair + Side-swept Bangs
A jet-black hair color is the best way to pull off that rocker chic look. Her wavy hair added a feminine touch to her look while her side-swept bangs have the perfect length for concealing her forehead without hiding her beautiful features.
23. Sleek Long Brown Hair + Wispy Bangs
While she's known for her sexy looks, Sofia also knows how to get that chic-next-door vibe and this sleek long brown hair is the perfect hairstyle for it.
Since she kept her hair simple and straight, all the attention went to her beautiful hair color which is a dark caramel brown shade with a few blonde baby lights.
24. Loose Updo + Long Curtain Bangs
Updo's don't always have to look uptight. If you want to go for a sultry vibe, opt for a loose curly updo like hers, and don't forget to give it lots of volume for a playful touch.
25. Golden Beige Blonde Hair + Dark Roots
This is probably the lightest Sofia Vergara hair shade that we've come across and the best part is it's actually the closest shade to her natural blonde shade. The only difference is it has darker roots which give off that seamless live-in look.
These Sofia Vergara hairstyles just prove that she knows how to wear long hair right. Whether you're looking for sleek and straight or fun and sultry, you can definitely find your next hair inspiration from this list.
Trending Topics