If you think fine and thin hair is a limitation, Jennifer Aniston is here to prove you wrong. From "The Rachel" in the 90s to her minimalistic straightened hairstyles, she's been a hair inspiration for decades. She has proven time and time again that there are lots of chic ways to style fine hair!
Born in Los Angeles on February 11, 1969, Jennifer Joanna Aniston gained global fame as 'Rachel Green' on "Friends" from 1994-2004, bagging Emmy, Golden Globe, and Screen Actors Guild awards.
So if you're planning your next hairstyle or you're sitting at the hairstylist's chair desperately looking for the perfect hair inspiration, Jennifer Aniston is the celebrity to look up to. Let's get inspired by her iconic hairstyles!
Jennifer Aniston's Latest Hairstyle in 2023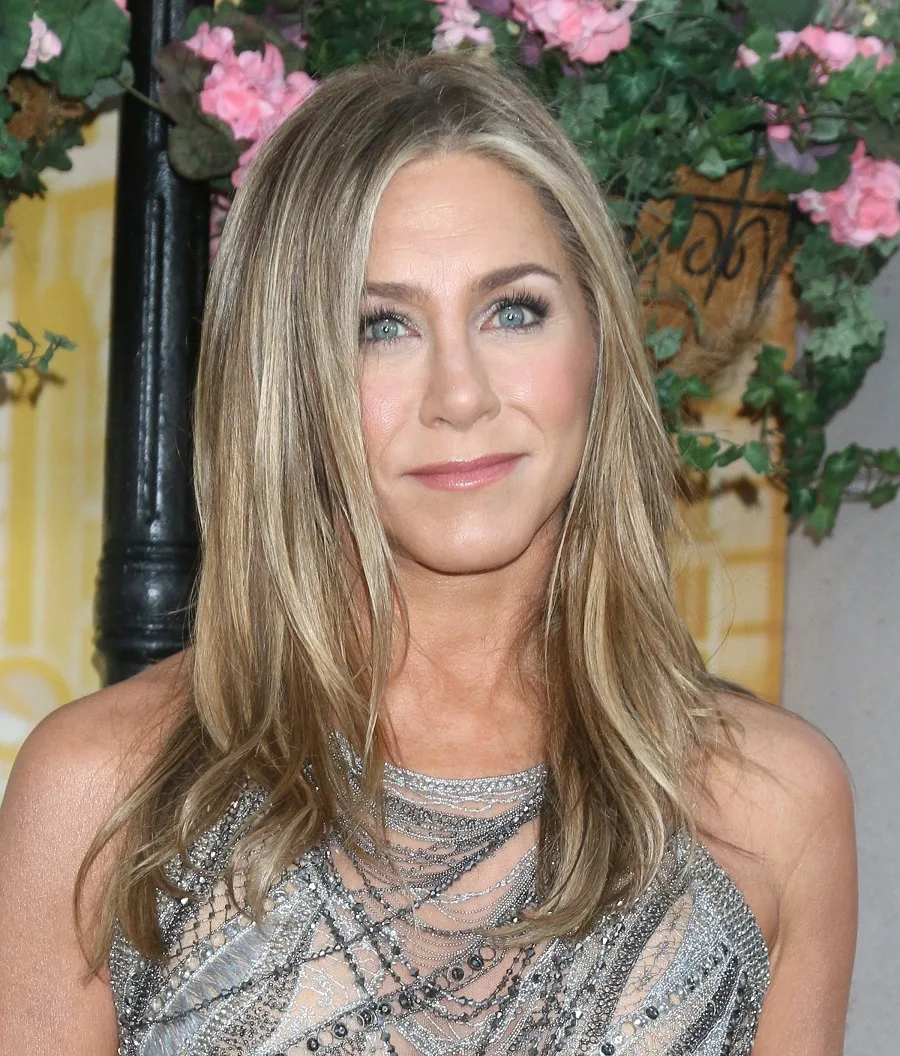 Jennifer may have gotten a bit older, but she still knows how to rock her gorgeous mane. She was last seen sporting long hair with messy layers. She elevated her simple haircut with a mix of sandy and honey-blonde balayage.
Jennifer Aniston Hair Cut, Hair Styles, and Hair Color Ideas
We've compiled some of Jennifer Aniston's best hairstyles, so you don't have to. If you're ready to explore her more iconic hairstyles, keep reading.
1. Bronde Messy Waves + Herringbone Highlights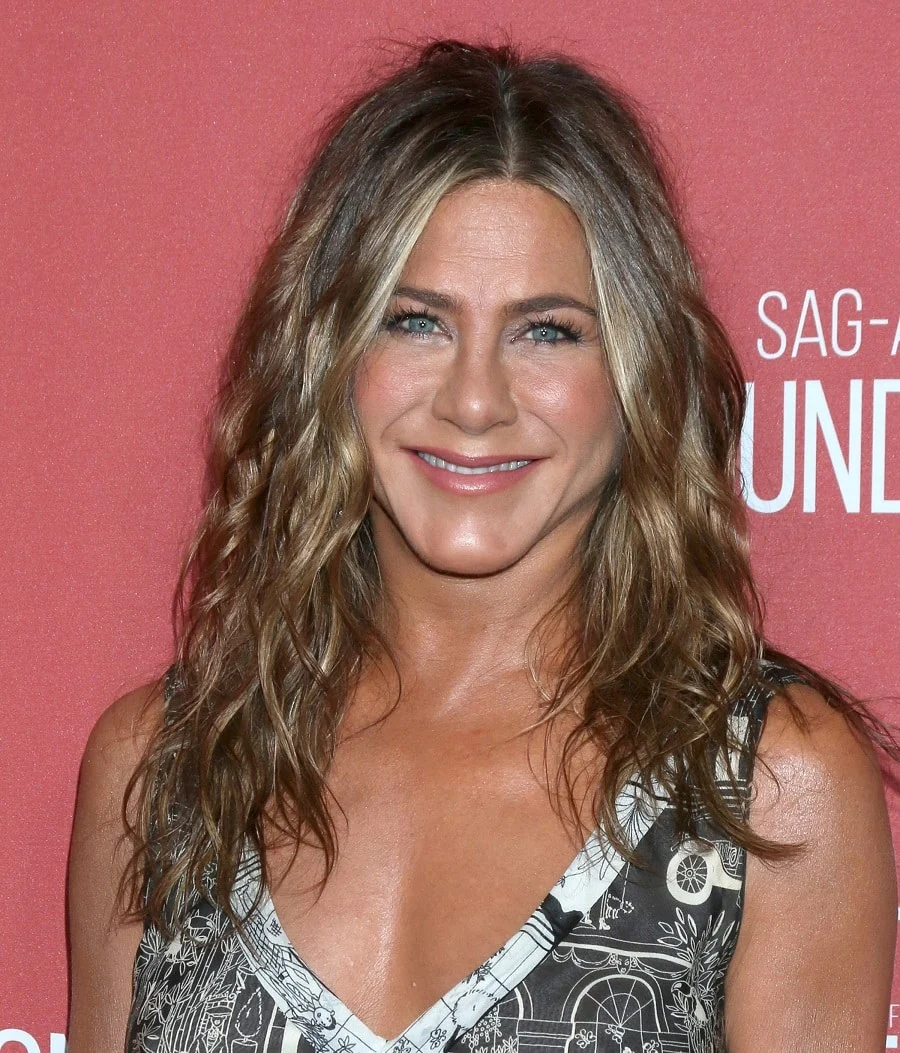 Her gray hair can't stop Jennifer from wearing trendy hairstyles like this bronde messy waves. In fact, she even used her graying hair as a license to try another stylish coloring technique which is the herringbone highlights.
This new coloring method weaves her gray strands into a perfectly balanced mix of warm and cool tones to create this eye-catching look.
2. Caramel Brown Low Updo + Blonde Babylights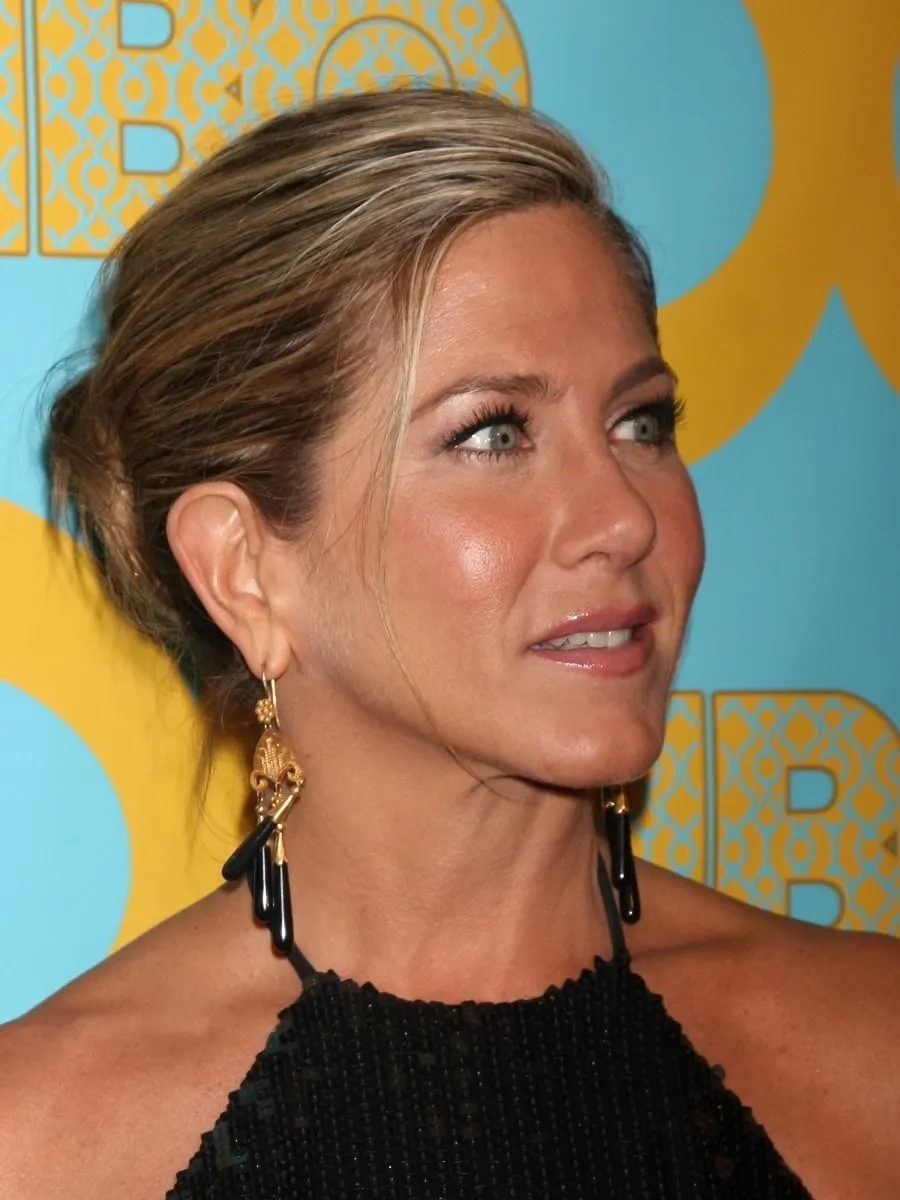 Jennifer does know how to wear her hair down but she also likes to wear it up from time to time, and this low updo is her effortlessly stylish way of doing so.
The updo keeps hair away from her face and allows her facial structure and beautiful hair color to take center stage.
3. Messy and Loose High Ponytail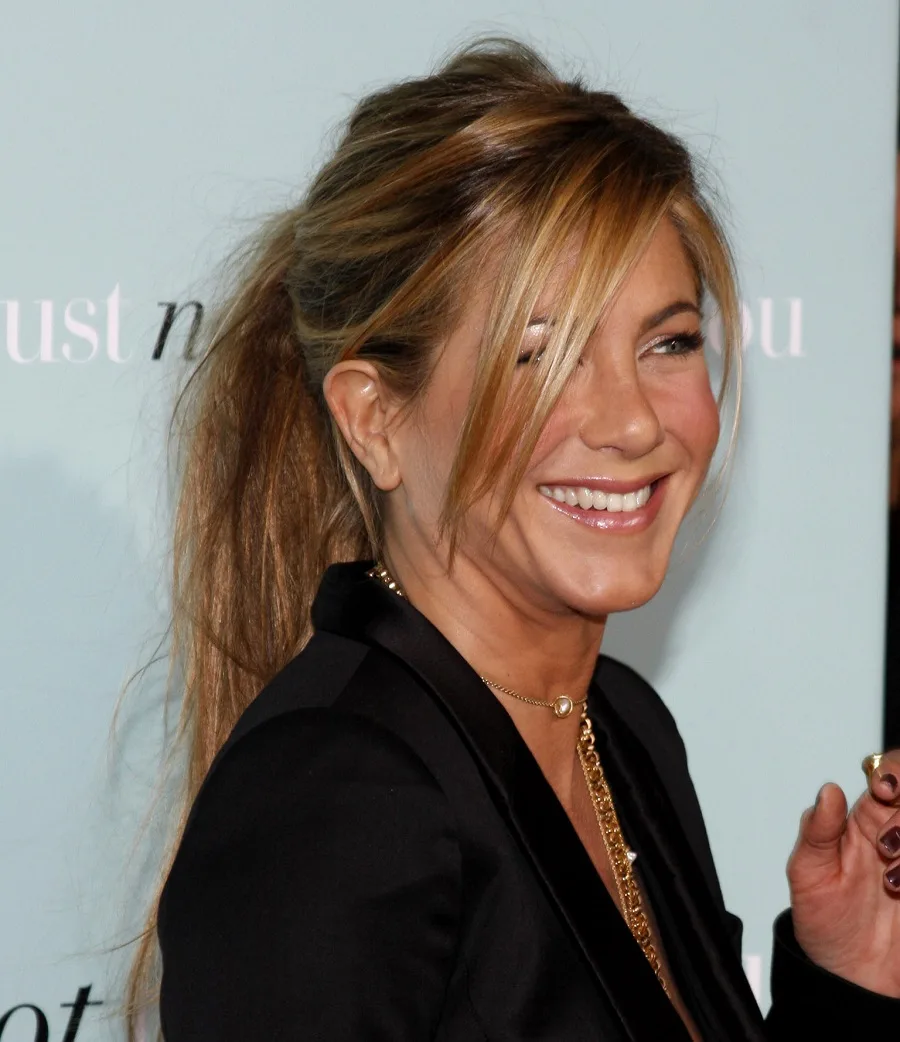 If you're into ponytails like me, try this Jennifer Aniston hairstyle. Instead of keeping hers sleek and polished, she went for loose and messy which is more of her vibe. However, she kept it a bit higher than usual to elevate her casual ponytail look.
4. Blunt Lob
This is a unique Jeniffer Aniston haircut because she ditched her trademark layers and went for a simple blunt bob instead. But as expected, she still pulled it off perfectly.
The long bob's one-length style and middle parting transformed her usual girl-next-door vibe into a chic and edgy look.
5. Subtle Waves on Mid-length Hair
If Jennifer's not piling on the layers, she's experimenting with waves. In this hairstyle, she did both. To prevent her layered wavy hair from going to wild, she opted for a middle parting which gave it better structure and balance.
6. Blonde Layered Lob + Shadow Rooting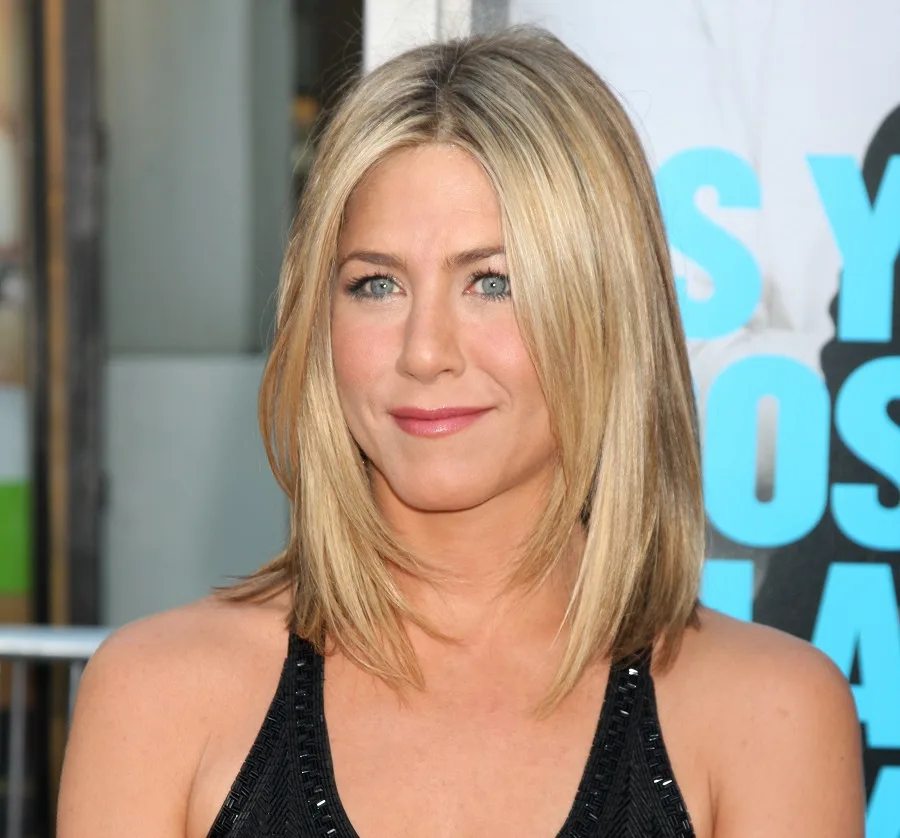 It's quite rare to see Jennifer in a full-blonde look, but she still looks striking whenever she goes for this brilliant hair color. To prevent her blonde hair from looking like a wig and keep it low-maintenance, she left her roots darker.
7. High Loose Bun
Give it to Jennifer to make even formal-looking updos to look chic and stylish. Instead of going down the sleek and polished route, she went for a casual-looking loose and messy high bun. She even left a few strands at the front for good measure.
8. Wavy Layered Caramel brown Hair + Sideswept Bangs
This Jennifer Aniston's haircut is known for its volume and layers, and this layered hair with side-swept bangs is the epitome of that. To achieve this voluminous look, she curled the ends of her hair. She paired it with side-swept bangs which added more body to her hair while framing her face.
9. Golden Blonde Wavy Hair + Front Side Braid
If you want to keep your formal hairstyle simple yet whimsical, this is the way to go. Her golden locks only feature subtle waves, so the star of this hairstyle is her front side braid. This hairstyle didn't just open up her face but also added a romantic Grecian look to it.
10. Beach Waves
With this Jennifer Aniston hairstyle, you'd think she has naturally curly hair. Well, you can copy her naturally tousled beach waves by curling your hair from top to bottom using a curling iron with a bigger barrel. Apply mousse all over to achieve this wet look and give your hair added texture.
11. No-part High Ponytail
High ponytails have never looked this good. Jennifer wore hers in the best way possible. The high position of the ponytail made it look high-fashion and elegant while the lack of parting and messy look gave it a carefree vibe.
12. Side Braid
She's truly the queen of effortless hairstyles to the point that she can make even a simple side braid look ethereal. Her secret? It's none other than her face-framing layers at the front. She also likes to keep her hairstyles loose to achieve a more natural look.
13. Top Half Ponytail + Big Bow
Jennifer is giving us some major throwback with this hairstyle and we're all here for it. You can easily re-create this retro 'do too by gathering the upper half portion of your hair and pulling it into a top half ponytail. Secure it with a huge bow, and the rest is history.
14. Feathered Layers + Blonde Highlights
Ahhh. Here's 'the Rachel Haircut' which is the most iconic Jennifer Aniston haircut of all times. It's one of the most famous hairstyles in history with about millions of women emulating this look.
According to her hairstylist, it's a crossover between a shag and a bob and it's characterized by lots of feathered layers which gave it a voluminous and bouncy look. She also sported caramel and blonde highlights which gave her hair a sunkissed effect.
15. Pinned-Back Hair
One of the cutest hairstyles donned by Jennifer Anniston. For those who are looking for a way to hide their bangs or just simply get their hair away from their face, this pinned-back hairstyle is the chicest option you have.
It's also easy to do since you just need to tuck your front hair strands back and secure them with a hair clip of your choice.
16. Long Layered Honey Blonde Hair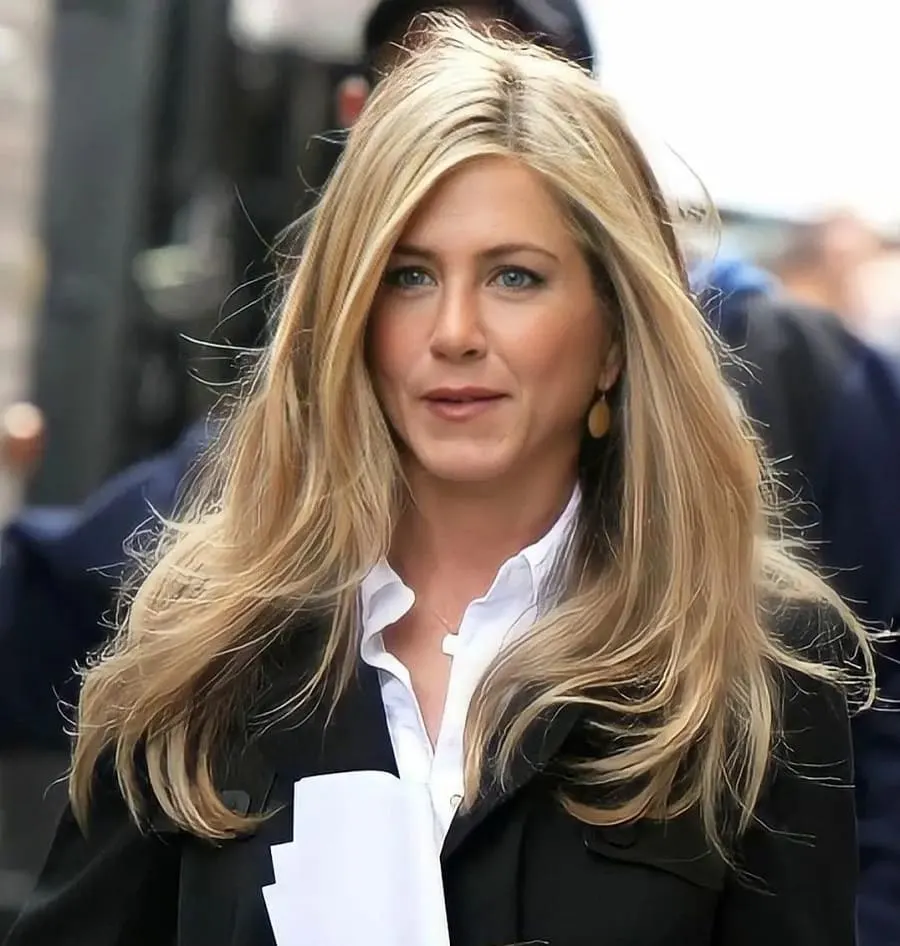 This full honey-blonde hair is a breath of fresh air from her usual brown hair color, but it looks fabulous on her nonetheless. This warm hair color brightened up her complexion and had her looking more radiant than ever.
17. Wispy layers + Moneypiece Highlights
If you want to achieve her blonde hair's brightening effect without having to go for an all-over hair color, then a blonde money piece highlight is the way to go. This coloring technique focuses the lighter color at your front hairline, so you can enjoy the brightening effects without the maintenance.
She also flipped out her wispy layers to give her thin hair a volume boost.
18. Tousled Layers + Deep Side Part
For a fun, flirty, and playful look, this is the hairstyle to try. The tousled layers gave this supposedly simple look a messy and undone vibe. Add in a deep side part to give it a sultry touch.
19. Chin-length Layered Hair with Flicked-out Ends
Jennifer's hairstylist truly loves playing with layers and it works all the time. With this haircut, they decided to flip the ends of her layers to give her straight bob more texture and dimension. It's an edgier and more casual take on the famous hair flip trend.
20. Classic Updo + Tiny Twists and Bows and Tendrils
This Jennifer Aniston haircut is her chic and fabulous take on the famous butterfly clip hairstyle. She used small ribbons instead of butterfly clips to secure her tiny twists. Additionally, she used tendrils as a unique way to frame her face.
The moment that 'The Rachel' haircut took the world by storm, everyone knew that Jennifer would be a legendary hair inspiration. With all these beautiful Jennifer Aniston haircut ideas, we can say that she has certainly lived up to her fan's high expectations.
Trending Topics