Blonde is beautiful while copper blonde is a show stopper, isn't it? The lovely hair color comes in many shades with or without high and lowlights which makes a huge range of hair colors to choose from.
In order to have the perfect fashionable and trendy hairstyle, it is not necessary to spend hours in front of the mirror and try new hairstyles. Rather it is better to go for a stylish hair color which goes well in all situations
Trendiest Copper Blonde Hairstyles
Well, if you are up for a stylish and attractive hair color then go for the coppery blonde and it will be the best hair decision that you make. Here are 27 ideas for you to choose from.
1. Summer Curls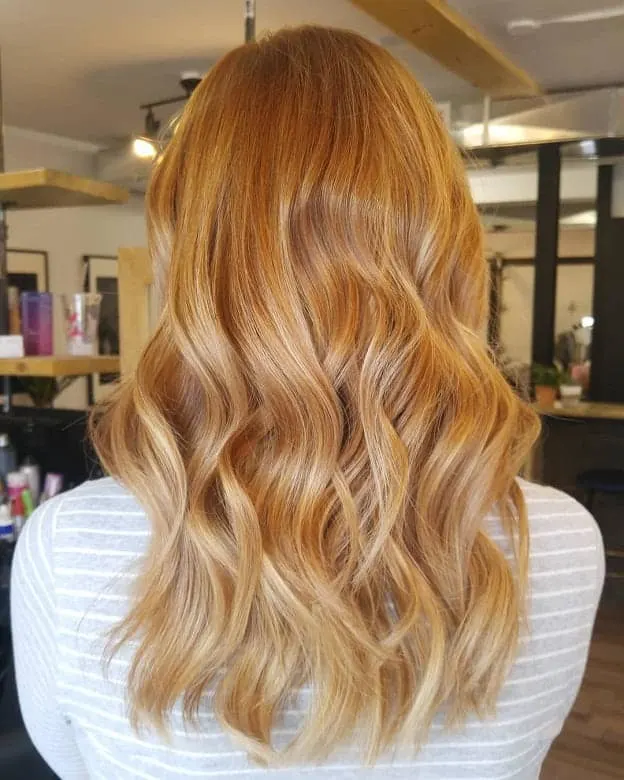 This flawless and natural copper hairstyle is going to be the ultimate attraction that you have. The lighter shade of blonde accentuates the loose curls more leaving a feeling of freshness and youthfulness that every woman desire.
The easy curls are just below the shoulder blades which add a very feminine feel to your hairstyle.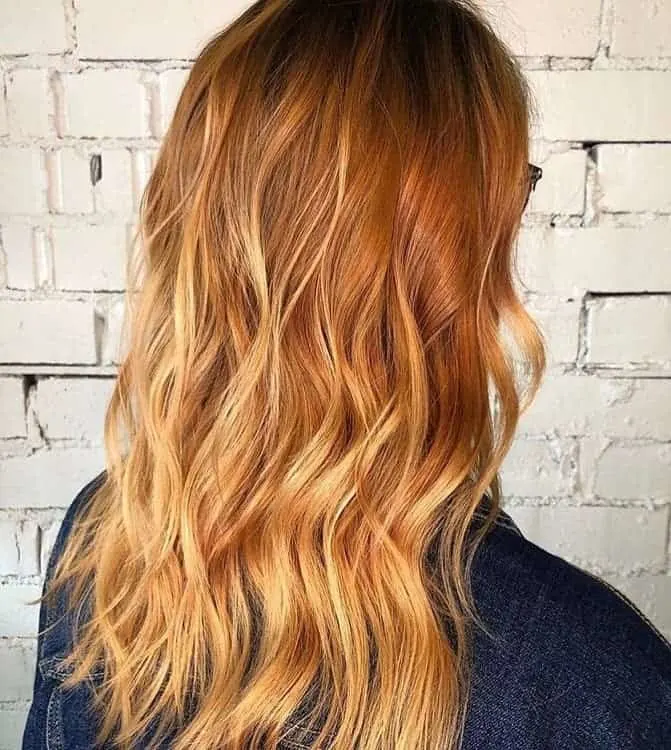 Beach waves are an evergreen hairstyle, aren't they? You can look absolutely stunning with your beach waves given copper and blonde hues all through the year.
The shades are so perfectly blended in this one that no matter if it is autumn or spring, you are going to be the fashion queen of all gatherings with this lovely hairstyle.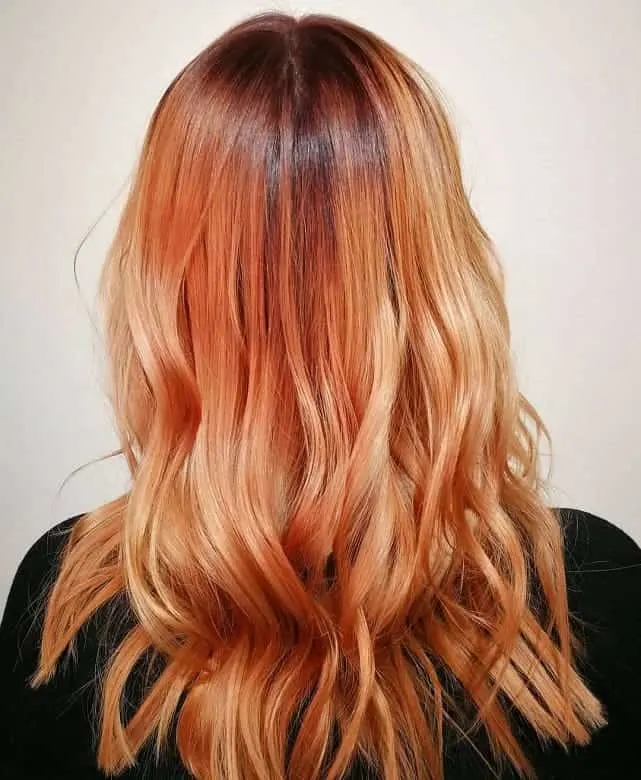 Some of us are quite concerned about keeping the base of hair natural which is something that this hairstyle idea approves of.
You can keep the roots natural while dying rest of your hair copper blonde to have that chic modern look. The rose gold highlights are such a nice addition to this hair idea that you will become irresistibly beautiful with this one.

If you have thick voluminous hair then why not flaunt it with the sexiest hairstyle that you can go for? The blonde balayage on the natural copper brown hair is so pretty that everyone who sees you is going to try to catch your eye.
The luscious waves are the perfect complementary detail that this hairstyle needs to attain that level of being perfectly sultry.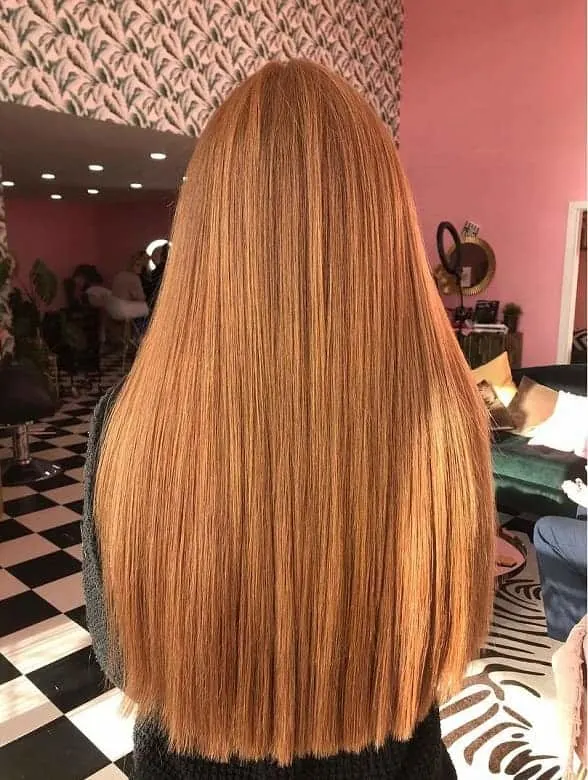 Growing your hair long takes a lot of time and effort, so sometimes you just do not want to part with it. However, you can make it more glamorous and modern with this sleek and straight look.
The hair is given the right details while maintaining the natural base which turns out to be so beautiful that you cannot help loving it.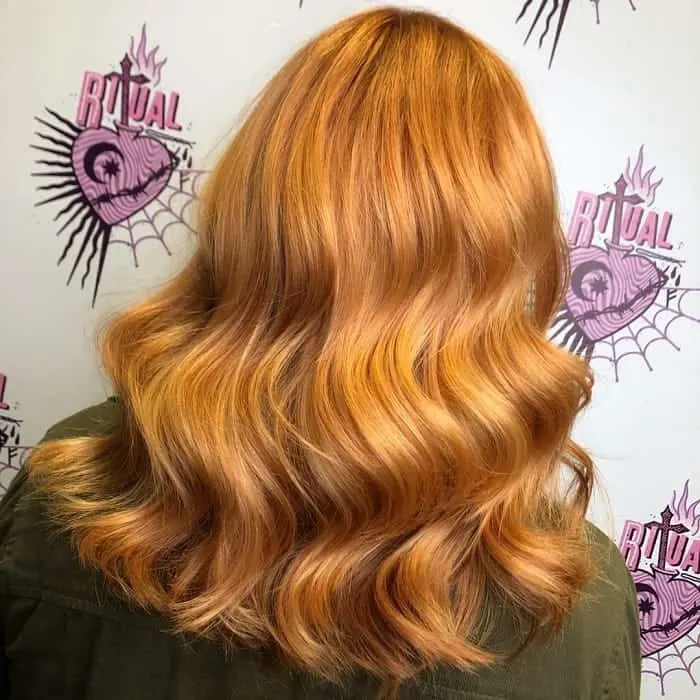 If you have a very girly personality and want to add a bit of more funky charm to it then this copper hair color with blonde hue is for you. The short luscious curls cascade down gently and are made hotter by the tinge of peach to them.
All these hairstyle needs are occasional brushing and it will be all set to impress others.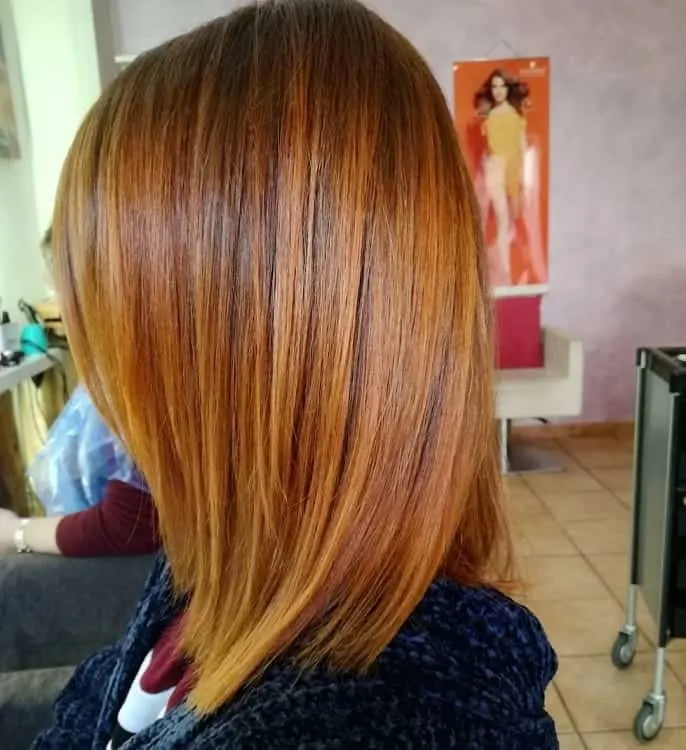 This straight lob is all that you need to boost up your magnetic charm this season, isn't it? The short ginger hair is all modern and Hollywood diva-like with the perfect natural base.
The lob is given a dramatic touch by the uneven trimming of edges at the side which is surely a lovely addition to it.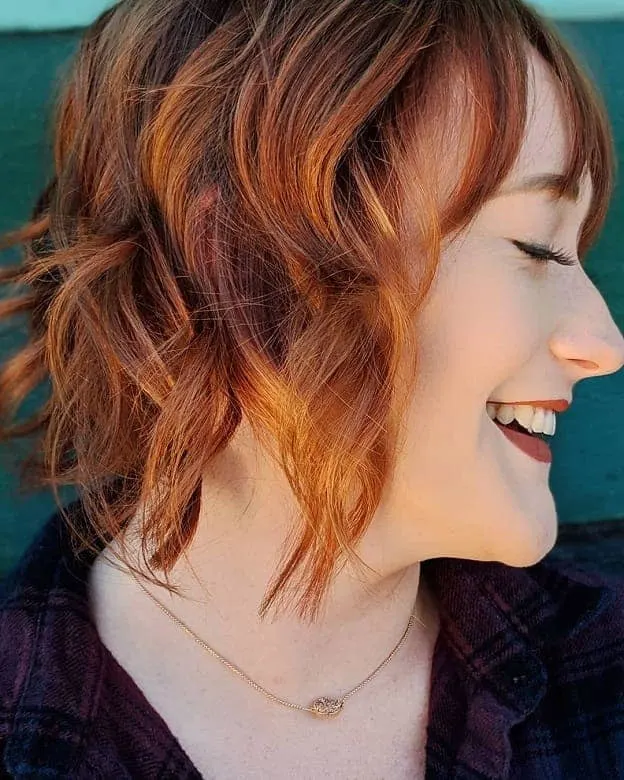 Why go for a single shaded hair when you can have fun with a combination of dyed strands? This lovely and cute wavy bob has a dark copper base which is beautified with subtle and fun blonde color.
The golden strand at the side and the myriad of other darker tones make the base even more prominent making you look cuter and more attractive.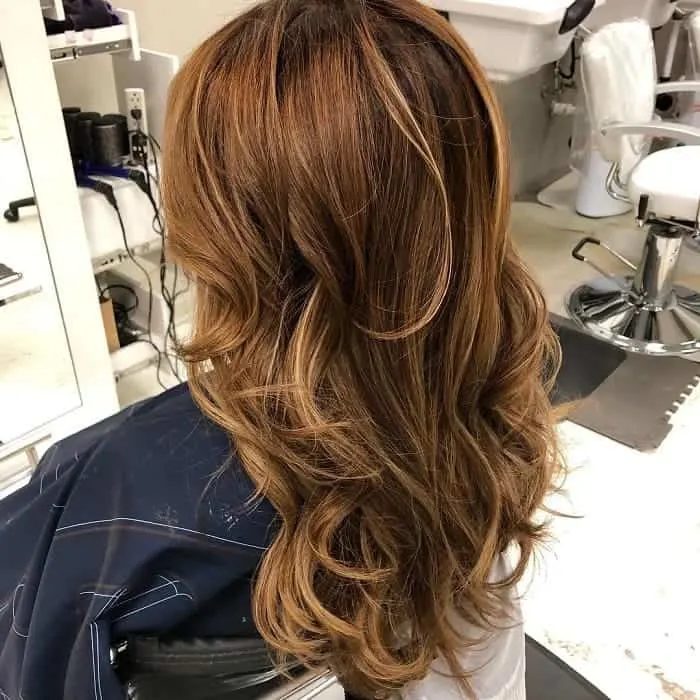 Free-spirited and stylish women have a certain charm of their own. This eye-catching balayage is so stylish and trendy that you can be the ultimate fashionista guru with this one.
The curls are loose and fall about freely but the balayage has no air of casualness since it is one of the hottest hairstyles.
10. Blonde Lowlights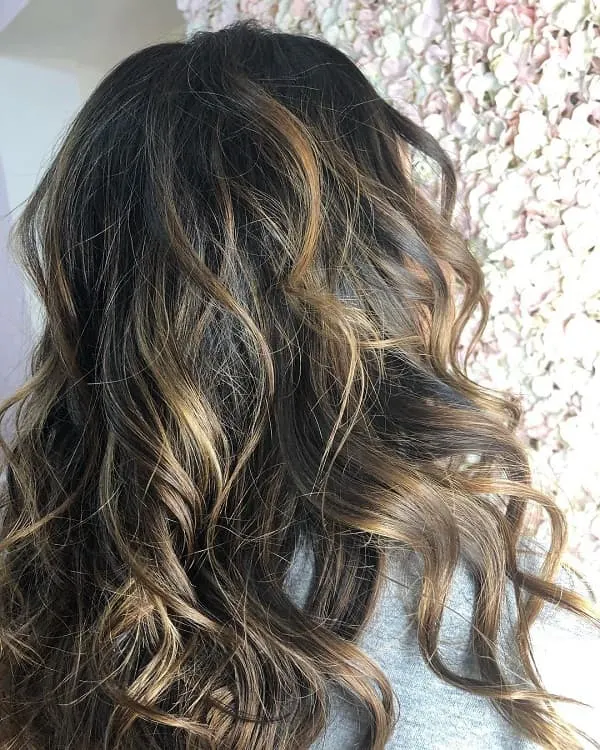 Black hair base looks exquisite with all kinds of highlights and lowlights, but blonde lowlights take it to a whole new level.
The loose curls look more voluminous and sultrier with the touches of light blonde with copper to the black at twisting angles. This is surely going to help you dazzle people everywhere you go.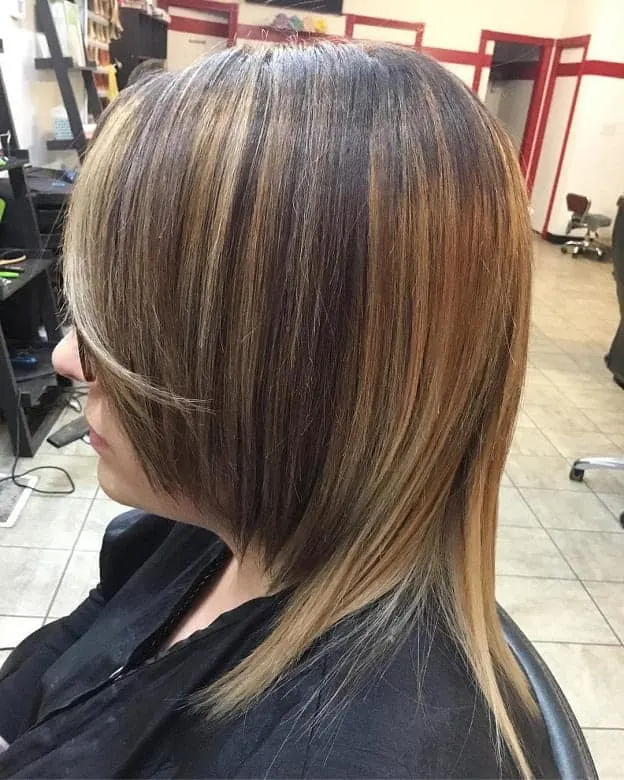 What better way to make it to the top fashion highlights of your friends' circle than to have highlights on your hair?
The highlights merge so well with the natural base that they are hard to tell apart, but still, the distinct lines are visible. This contrasting hairstyle is one of the loveliest versions of hair transformations that you can go for.
Well, if you feel that highlights or lowlights are too over the top for you then this sweet and chic hairstyle with babylights is perfect for you.
The feathered hair has all the right angles which are going to make you look so hot that you will have a hard time running away from all the attention that you get.
13. Color-melt Balayage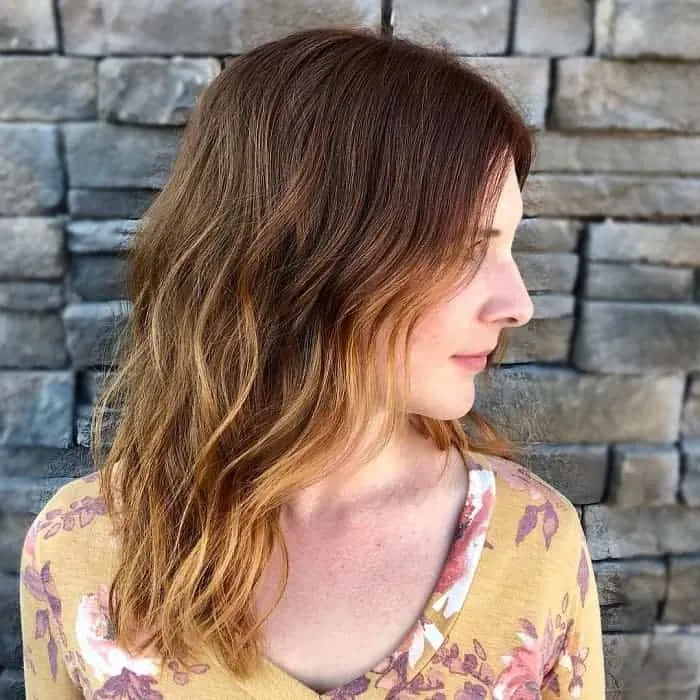 If young and lovely is what you are looking for then this is the right hairstyle for you. The light coppery blonde has other colors blended in so perfectly that the overall look is quite artistic and wholesome.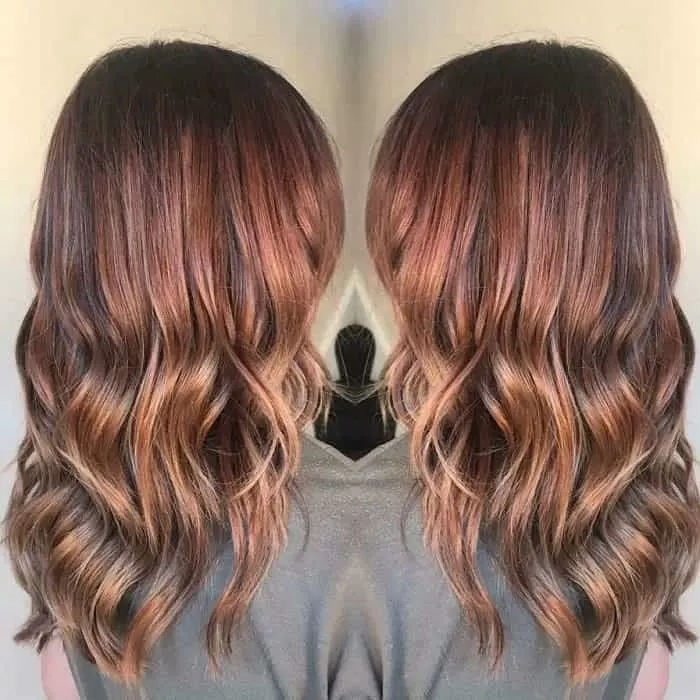 This is where you get to unfold your imagination and play with hair colors and dyes as you please. The addition of rose gold to the copper blonde balayage makes the overall hair look so sexy that you will get a renewed confidence.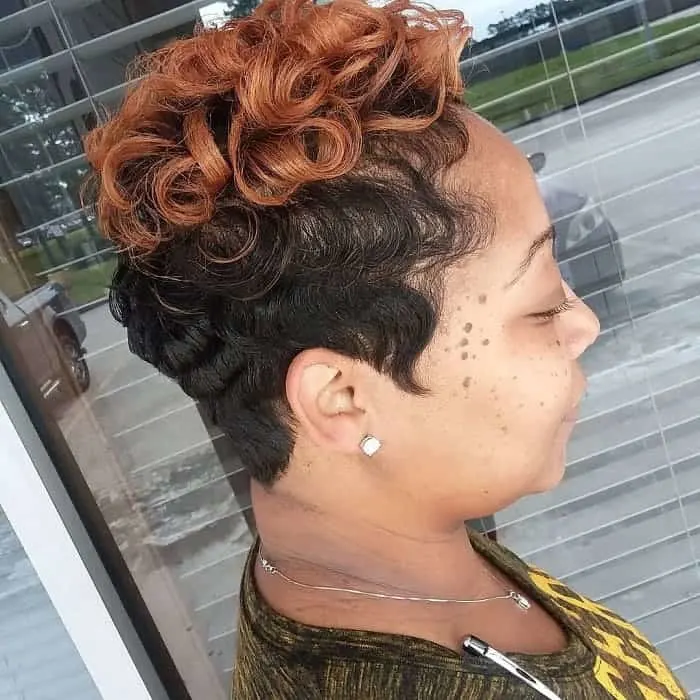 Fingerwaves are classy and chic at the same time, so women of all ages can go for them. The colored mass of finger waves at the top looks so hot and rebellious that you must give it a try.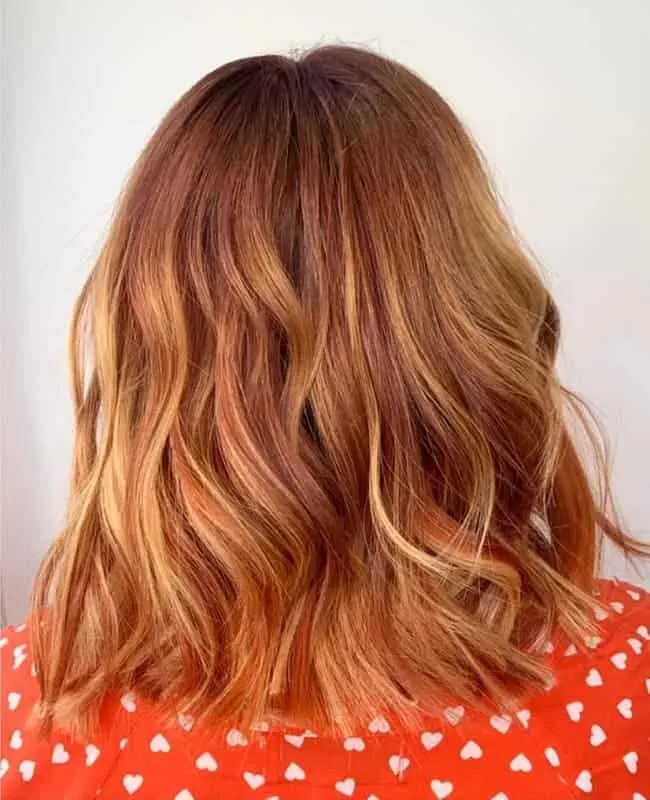 For a hair color as amazing as this, get your hair dyed into copper and blonde balayage style. Don't forget to chop your hair to a shoulder-length and add beach waves to them for a look more than just perfect.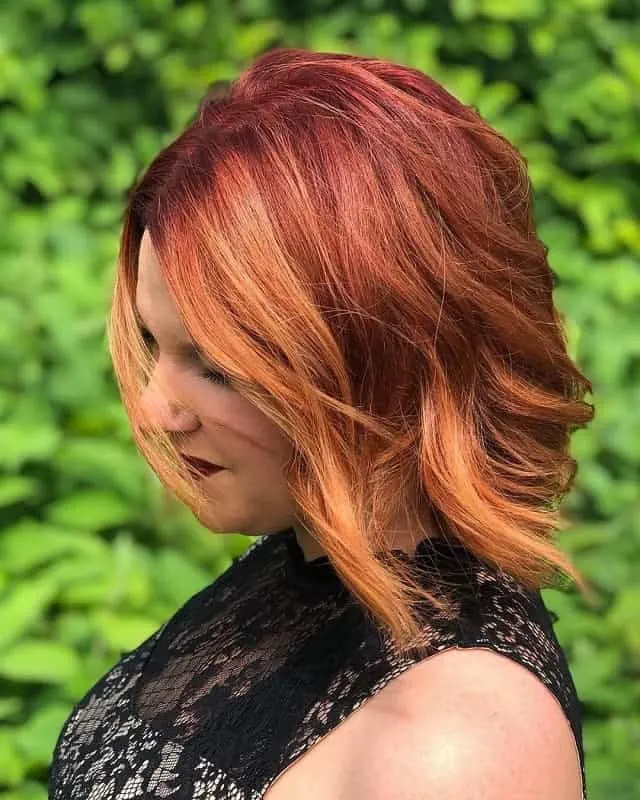 If you want this look the next time you go to a salon, ask your stylist to cut your hair into a bob style and put waves in them. Color your hair a copper red shade and add blonde face-framing highlights to look beautiful.
Your hair will thank you for this refreshing new style.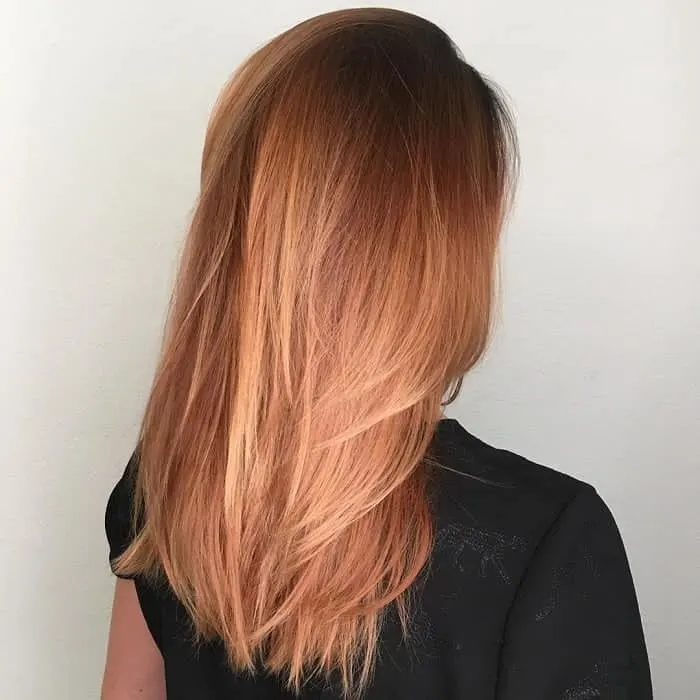 Copper hair color is a gorgeous shade, but when it's sun-kissed, there are no chances that you won't fall in love with this hair color right at that moment. Not the light or bright copper, but just the right amount of it is the reason behind its enormous success.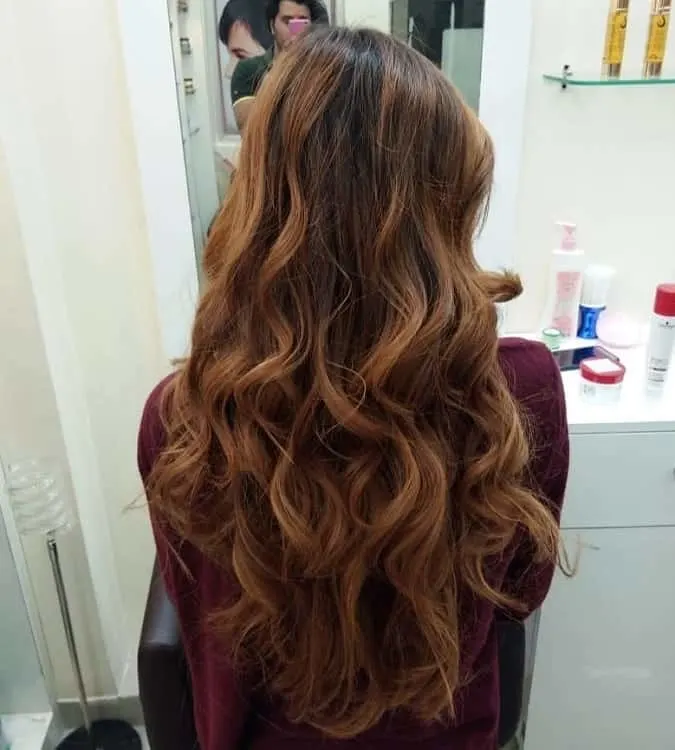 Coppery blonde highlights are the best highlights you could get for your curly hair. This hair color is perfect for long hair as it brings out the beauty of your hair even more. Use some styling products to add texture to your beautiful long hair.
The blondish copper color looks as good on short hair as it looks on long hair and there is no denying that.
Ask your stylist to give your short hair an undercut to the sides for a hairstyle as amazing as anything. Get ready to make people fall in love with your hair color.
21. Sleek Style with Side Fringe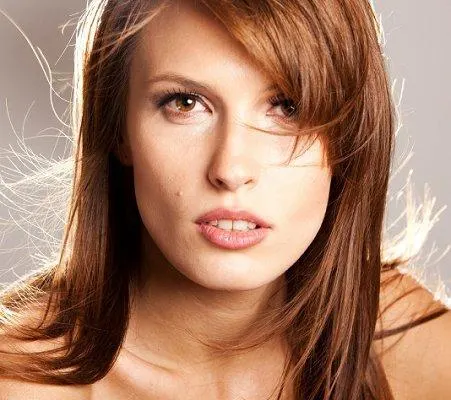 Sleek styling helps to enhance the shine on copper brown hair colors. A light side fringe helps to give the hairstyle a bit of irregularity. This can help to prevent thinner hair from looking too limp.
22. Amazing Waves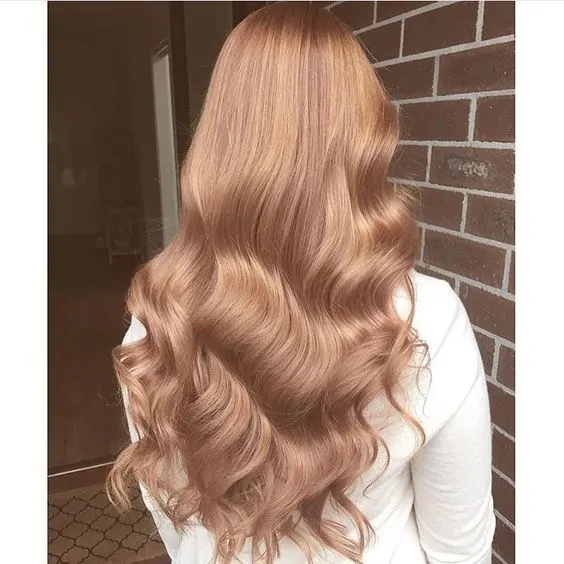 With longer hairstyles, the weight of the hair can pull the top sections straight. Create regular waves in your style using a curling wand. Very subtle copper blonde highlighting will enhance the look of the waves.
23. Long Hair with Curled Fringe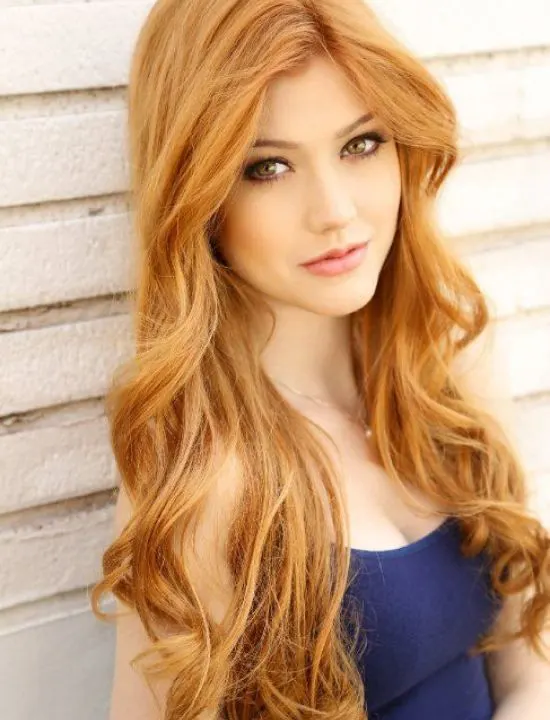 Copper color hair looks fantastic when it is styled with a long haircut. Put curls into the front section of your hairstyle to help to open up your face. This creates a gorgeous Celtic hairstyle.
24. Long Hair with Big Loose Curls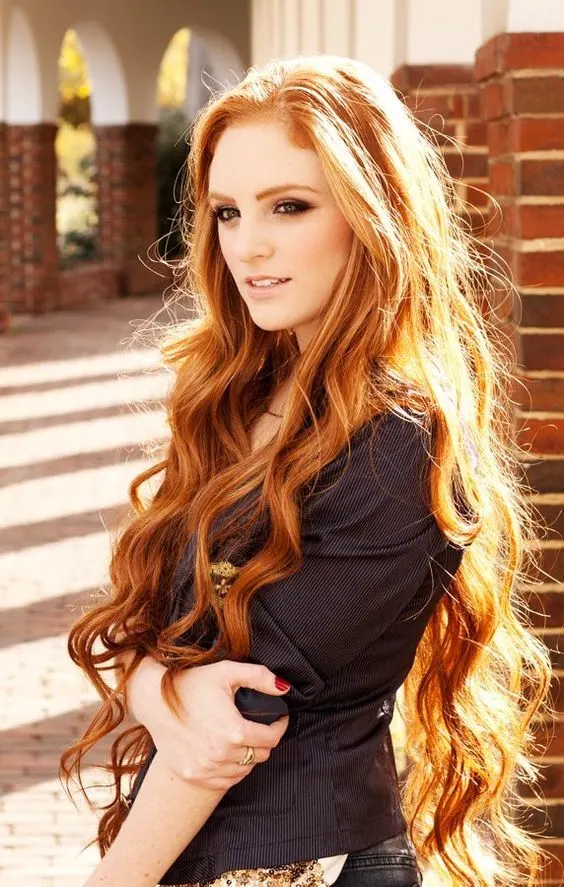 Loose curls are an ideal choice if you want to add texture to your hairstyle without losing too much length. Use a curling wand to create regular curls, then separate them out with your fingers.
25. Copper Blonde Ombre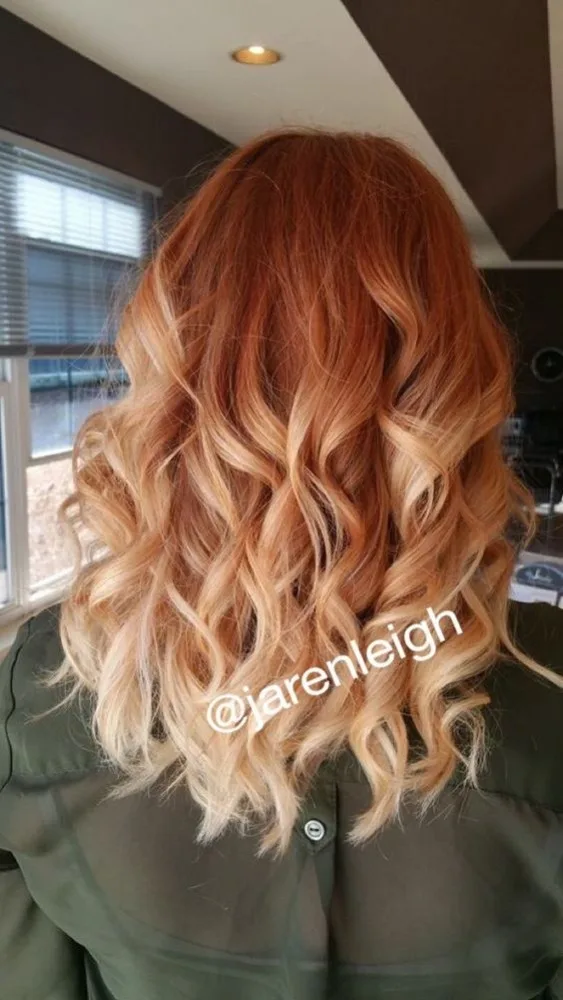 An ombre style is a type of hair color which fades from a darker color into a lighter color. Transitioning from copper tones to bright blonde color works really well as the shades look great together.
26. Swept Over Style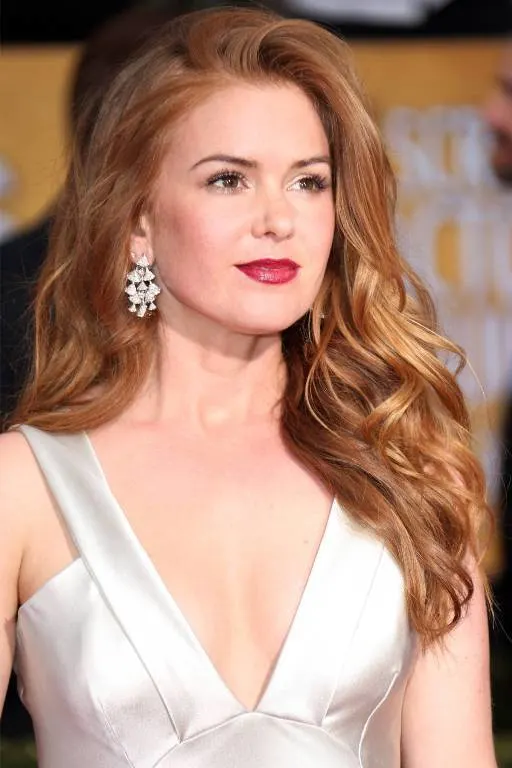 Sweeping your hair over from one side to the other will help to give your hairstyle tonnes more volume. Brush upwards from the roots and then push the body of the hair over towards the other side of your head.
27. Copper Streaks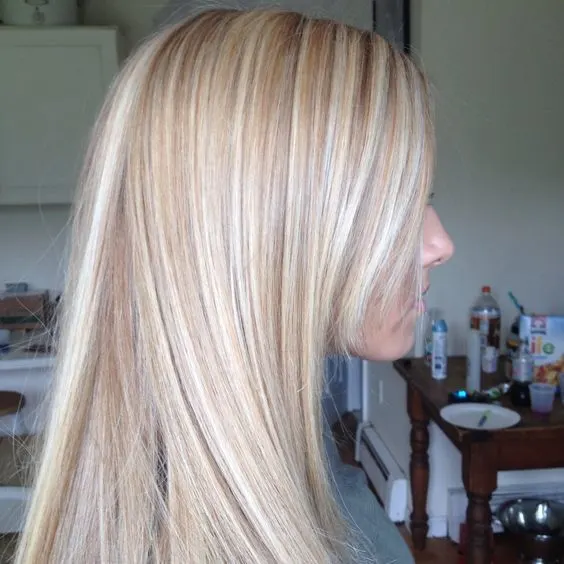 Putting lovely copper streaks into your hair can really transform your look. The copper hair color is very subtle when it is used as a base for a blonde or light color.
These copper blonde hairstyle ideas are just the thing that can change your hairstyling routine for the rest of your life, so do consider them!