You don't have to have light hair in other to get some pretty highlights, and these brown highlights on black hair are solid proof of that! And today, we've got you 20 styles for you to try on.
Who Should Try Brown Highlights
Before we go on and show you all the different brown highlights hairstyles we have put together for black hair, let's talk about who should really try this specific trend.
Let's start by saying that this particular hairstyle is meant for girls who have naturally black or very, very dark brown hair, not for girls who have dyed black hair.
The reason behind this is because getting your hair dyed black for then applying brown highlights will only result in you significantly damaging your hair more than necessary.
That being said, both girls with very thin, thick or curly hair can try having brown color highlights, it doesn't matter what texture their hair is as long as it is naturally black or very, very dark brown.
Last, but not least, this type of hairstyle works better on virgin black hair. This doesn't mean girls with black hair that have dyed their hair before can't get brown highlights, but that it might take few extra steps.
You see, dyed hair might not take in brown dye directly and the color won't show up. Which means you WILL have to bleach your hair and then use the brown dye to get the highlights, otherwise, the color won't actually show on your hair.
Again, this doesn't mean you can't get highlights on black -dyed- hair, it just means it's very likely you'll have to bleach it first in order for the color to look good! Now, let's get into the list.
Gorgeous Black Hairstyles with Blonde Highlights
Trendy Black Hairstyles with Brown Highlights
Have a look at these amazing brown highlights ideas to flaunt your black hair. You'll love them.
This is a fun take on the typical highlights on black hair because instead of having your whole head covered in brown highlights, you can ask your stylist to just give you two central highlights that frame your face and bring to your face!
A great way to show off your new highlights is to go for more of an ashy brown hair color and ask to apply it in the medium to the bottom part of your black hair. Also, don't forget to slightly wave it and you're done!
The whole point of highlights is to make the black hair seem significantly lighter, and this is a perfect example! The brown highlights should naturally blend with your hair color almost seamlessly. Of course, don't forget to straight it up completely to really bring out those colors.
Edgy Highlighted Bangs Styles for Women
This is another classic style for long black hair. This time, the highlights should start right on the top of your hair and be a light brown tone instead of an ashy one. Then simply ask your stylist to curl your hair to give it some more texture and volume and you are done.
You don't have to have long hair to get highlights, and this is proof! You'll have to cut your hair down to your cheeks and then ask for very subtle highlights across the different layers of your black hair to bring in some natural light into the mix.
To get this black hairstyle with brown highlights all you have to do is cutting your hair down to your shoulders! After than, give yourself subtle copper brown touches on random strands of hair so you can give yourself some more texture!
Similar to the previous black hairstyle we just showed you, however this time the brown highlights can be slightly lighter. Once that's done, you could wave it with a big curling iron and then break the curls with a hair comb to achieve the same waves you see on the picture.
Superb Black Hairstyles with Pink Highlights
A great way to bring in some color and texture to your black hair is to get some light brown highlights right at the bottom of your hair! Again, make sure to curl it down with a curling iron to get some soft waves that show off your new color!
Like we said, highlights don't have to be super noticeable. You ask your stylist to give you a couple of brown touches across the different layers of your black hair and then simply curl it to let the colors blend together!
Not all highlights have to be extremely visible. This time, your brown highlights should be very few and in a very natural color so they can blend very well with your natural black base but also be visible enough to create some contrast between your natural hair and the new color!
11. Brown Lowlights
If you're looking for more subtle highlights this is it! To get it, make sure you just get highlights on the bottom tips of your hair and then slightly wave it away from your face so it can be seen!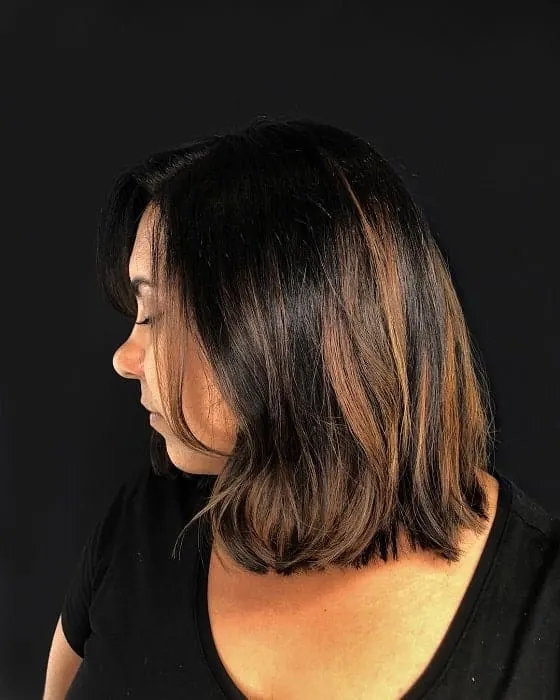 Continuing with the bold hairstyles, you can also try to cut down your hair to your cheeks and then ask your stylist for very chunky, brown balayage highlights across your head that pop out from your natural black hair.
This is another classic brown highlights you can try on your black hair. To get it, you should use a chocolaty brown hair dye only on the medium and bottom parts of your hair. Then simply curly it to get some more texture and you're done!
A great way to show off the different colors on your hair is to put it up on space buns! Part your hair down the middle and put each have in a little bun at the top of your hair. Make sure to leave a couple of hair strands loose on the front part as well to frame your face.
Believe it or not, not all brown highlights have to be done on straight hair. You can ask your stylist to give you light brown touches on your dark curly hair and then twist out it like in the picture and you're done.
This is a variation of the style we showed you before. This time, you should ask your stylist to first give you a light brown highlights that turn into blonde as you reach the tips of your hair, and only once that's done braid your hair so the three different colors can be appreciated.
This is another classic hairstyle for women with thick wavy hair and it's very easy to achieve! All you have to do is ask your hairdresser for ashy brown highlights all over your black hair, the tone of the hair dye should be slightly lighter than your natural hair color, sinde the point of this hairstyle is to look as natural as possible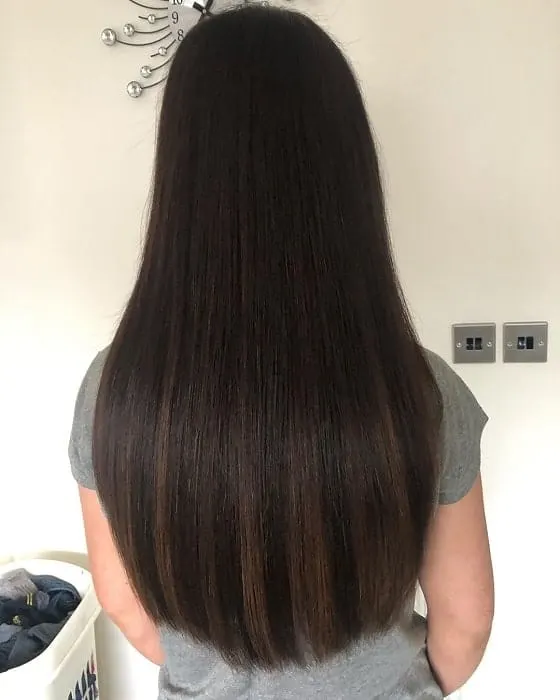 This is another subtle way to have darkbrown highlights. To get it, make sure the highlights are only done on the very bottom part of your hair and are only a few tones lighter than your natural black base.
19. Wavy Bob with Highlights
To get this brown highlighted black hairstyle first cut down your hair slightly below your cheeks and then get subtle touches of brown across the different layers of your hair, don't forget to curl them down a little bit and that's it!
Trendy Red Highlights Ideas for Women with Black Hair
20. Flipped Out Hair
If you want this women's feathered hairstyle first you should ask your hairdresser to give you highlights that go from the top of your hair down to the tips. Once the highlights are ready, blow dry your hair and make sure to curl the tips outwards as well with the round comb.
And that's it! You've got 20 different black hairstyles with brown highlights you can choose from to try on this 2021! Just make sure to rehydrate your natural hair once you're done so the hair doesn't damage it and you should be good.