Gray hair used to be a symbol of old age, but recently, grey highlights has become a significant hairstyle trend among younger women across the globe. You don't even have to dye your hair entirely, and gray hair highlights are enough to switch things up and rock this trend. Scroll down to see some of the coolest highlights ideas and learn a thing or two about grey strands.
How to Get Grey Highlights
Getting grey highlights hairstyle requires a lot of patience, especially if your hair is naturally darker. The very first thing you need to do is to determine what kind of highlights you want i.e., whether you want them all the way from the scalp to the ends i.e. full highlights or just partial highlights.
In order to go grey, you have to pre-lighten your hair first. The goal is to get to the clean white blonde shade which you will tone with grey hair color then. Bear in mind that lightening your hair tone can weaken it and using bleach can sometimes damage hair if not performed properly.
That's why the best thing to do, especially if you want gray highlights in brown hair, is to see a professional hairstylist who will give you highlights of your dreams without causing damage to your hair.
Stunning Gray Hair Highlights Ideas
Let's take a look at some of the most awesome highlights with grey hair shade you can do with grey shade. You'll be amazed at their versatility and beauty. Check them out.
The beauty of highlights in this gray shade is best depicted by the fact we can style them in more ways than one depending on our personal likes and preferences. For instance, if your style is feminine and romantic, then these subtle highlights will do the trick. This is also the perfect representation of black hair with grey highlights.
Here's yet another amazing example of how you can style black hair with gray highlights. The long blunt bob is coupled with bangs that perfectly frame your face. The beauty of this style is that you can keep it straight and sleek or you can opt for a layered or messier version. Also, this style suits both younger and older ladies.
A combination of light and dark sections makes hair visibly fuller, and it also gives you an elegant vibe. If you don't want too many highlights, you can just go for a few sections that will still make a huge difference. Grey highlights on dark brown hair look wonderful regardless of the length, and that's why we love them.
4. Luscious Locks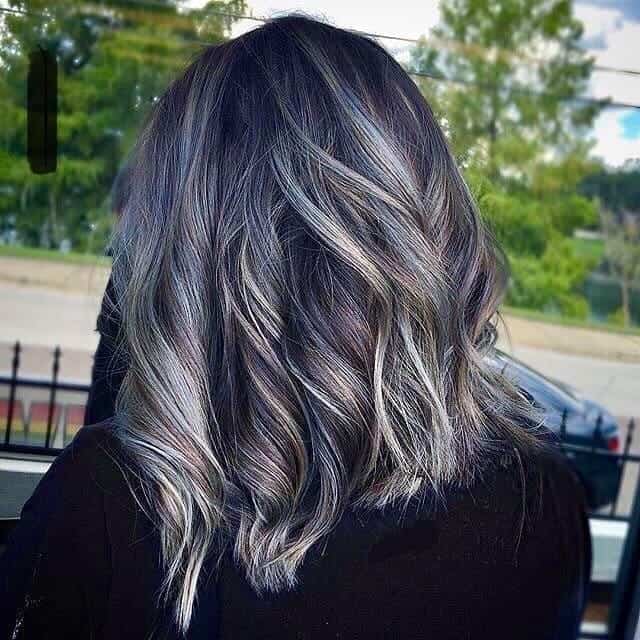 Turn gray highlights on brown hair into a truly sensual look with luscious locks as shown in the photo below. Both medium-length and long hair can work. All you need is to make gentle and subtle grey curls that will bring more bounciness to your hair and also accentuate highlighted areas.
Highlights in grey shade and brown hair color are a perfect match. If you have long hair, then you may want to spice things up with this look. Get highlights and style your hair in sexy waves for a sensual and elegant appearance. Take a look and see how awesome it can be.
6.
7.
8.
9.
10.
11.
12.
13.
14.
15.
16.
17.
18.
19.
20.
Some women love striking gray highlights that make them stand out, while others are more inclined to subtle shades. If you're in the latter group, then you'll definitely love this look.
In this case, only a hint of grey is used to upgrade the look, and that's it. Dark hair with greyish highlights can be as simple as adding a hint of grey strategically as seen in the photo below.
Bob, regardless of the length, is one of those haircuts that will always be in style. Take your choppy bob to a whole new level with grey highlights in brown hair. For the best effect, make sure your bob remains straight and sleek. You can rock this cut with casual outfits, but also with those more formal options.
23. Highlighted Ends
Highlights don't always have to start on the scalp and go all the way down. You can also opt for getting them done in the lower section of your hair and look fabulous anyway. This medium hairstyle is particularly awesome on round-faced women with gray hair. Blow-dry your hair to make it bouncy and playful, and you're good to go.
Grey highlights work on short hair just as they do on long hair. If you have a pixie cut, there's no reason not to sport these highlights as well. For the best effect, tousle your hair with fingers to get a layered and choppy look that will accentuate the highlights and make them pop. As far as the shade is concerned, you can go for a subtle or more noticeable hue.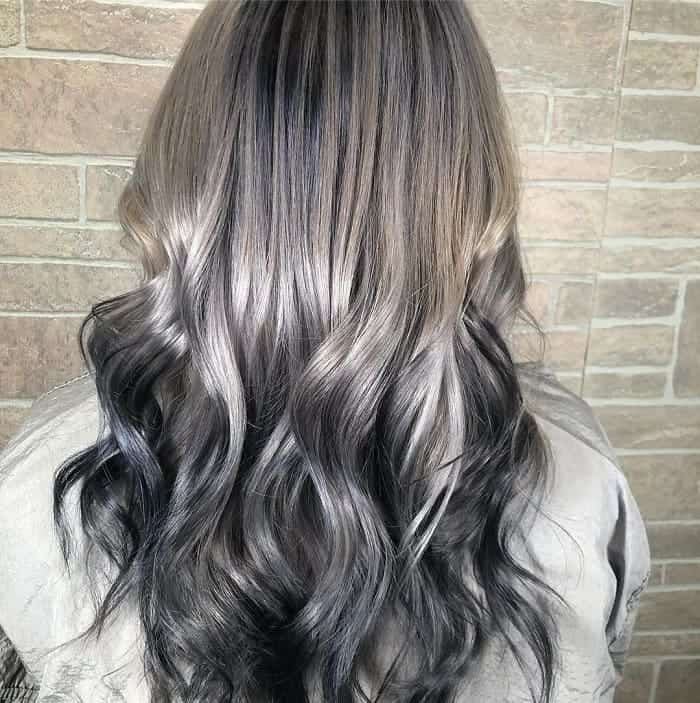 Are you looking for highlights that will be easily noticeable on your dark hair? Then metallic shade is ideal for you. This shade is both edgy and elegant. When paired with long hair, metallic gray highlights can accentuate your locks and curls.
FAQs
Read the following frequently asked questions to learn more about grey highlights.
Will getting grey highlights make you look older?
Grey shades can be seen as an "older" or "dated" look, but clean and shiny grey is powerful and stylish. If your hair is naturally turning grey, dying it other colors may not compliment your skin tone. Brightening the grey in your hair can help you look younger, not older. Brightening the grey in your hair can help you look younger, not older.
Can you add grey highlights to brown hair?
Grey highlights look great on dark brown hair to have a more natural look. A silver or grey highlight is a smart choice for brunettes since the tone is similar and complements one another. The highlights can be added through ombre, highlights, or balayage techniques.
Can blonde hair have grey highlights?
If your hair is turning grey, you can highlight the hair with blonde. The goal of this technique is to blend the silver and the bright blonde for a natural look.
Which hair color gray highlights suit the best?
There is no precise answer to this question because it all depends on the effect you want to achieve. Generally speaking, a combination of dark or brown hair with grey highlights produces the most powerful impact. But, you can still rock this trend with lighter hair too.
Are gray hair highlights hard to maintain?
Gray or silver highlights can be tricky to maintain. Bear in mind this hair dye fades faster than others, so you may want to wash your hair less frequently. Instead of washing your hair every day, do it two to three times a week. Unless your hair is oily, washing once during the week can be enough to make your highlights last longer.
Your hairstylist will probably recommend you should use some products to maintain your highlights properly and you should definitely listen to them. The beauty and durability of your highlights depend on the effort you put into maintenance.
Gray highlights are trendy, elegant, and edgy. Getting these highlights requires some hard work and effort, but to make sure everything's done properly, you may want to consider letting hairstylists do it rather than opting for the DIY approach. While these highlights are beautiful, they do require a lot of maintenance. Choose your favorite style of highlights and upgrade your look today.
Related Topics: