The seasons have changed, so why should your hair stay the same? You've transitioned from your winter/spring wardrobe to your summer wardrobe, and we believe this is the perfect time to get cool girl beach waves on your straight hair.
The beachy wave is a perfectly undone, casual wave that screams summer. Think beachy, bedhead, and tousled.
While this hairstyle is meant to look effortless, if you're a straight-haired girl, it's going to take some styling to transform your hair from silky, smooth to bedhead, beach babe.
We'll discuss the best ways to transform your straight hair into beautiful beachy waves. From heat styling techniques to air drying methods, we'll cover them all so you can choose your favorite or even try them all!
How to Create Beach Waves on Straight Hair
Heat Styling Techniques
If you have stubborn, straight hair that won't seem to curl, these heat styling techniques will work much better to create beachy waves than the air-dry techniques.
Curling Iron
To get that beach girl waves using a curling iron, you'll need a large curling iron with a diameter of 1″ or larger. Start by preparing dry hair with a heat-protecting styling cream. Then, take 1″ sections of hair and curl the mid-lengths and ends using the curling iron.
To create the undone, casual look with the curling iron, alternate between curling the hair away from your face and towards your face.
Leave some of the ends straight and curl others. This will make the hair look less uniform and more beachy. You can also leave some smaller pieces of hair straight (also a time saver!) to get that bedhead feel.
After you finish curling the hair, let it set for a few minutes without touching it. Once it sets, flip your hair upside down and spray with a texturizing or sea salt spray. Beachy waves for days!
Flat Iron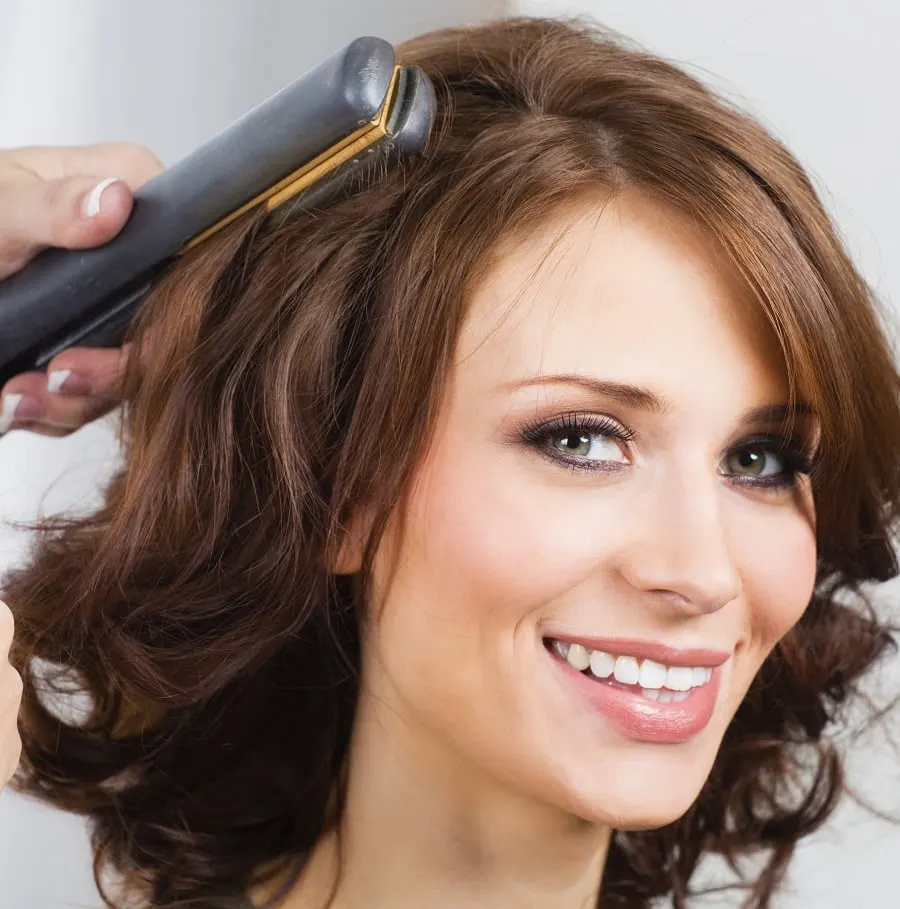 Using a flat iron to get wavy hair may seem counterproductive, but it's actually one of our favorite ways to add waves to hair.
You'll first start out by applying a heat-protecting styling cream to the hair. Use claw clips to section your hair into four quadrants so you can stay organized.
Start in one of the back quadrants and take a one-inch section of hair. Clamp a section of hair at the root. Then, pull the flat iron down, gradually turning it away from your face as you move a few inches down.
Continue turning the flat iron until you've completed a full rotation, then pull it down again and twist the flat iron once more. It's important to move quickly as you pull and twist to create those loose waves.
Once you've done this in all four quadrants, let the hair set for a few minutes. Once the hair is set, shake out the waves gently with your fingertips and spray with a texturizing or sea salt spray.
Related: How to Get Beach Wavy Hair With A Straightener?
Diffuser
You may have wondered what you're supposed to do with that funny look contraption that comes with your blow dryer aka a diffuser. Well now's your chance to use that crazy-looking blow dryer attachment to achieve the perfect cool girl wave.
Diffusers work by creating more direct heat and less airflow. This allows you to form your damp, straight hair into a wave pattern and dry it with the diffuser.
Starting out with towel-dried, damp hair you'll apply mousse from root to end. Then using your fingers twist 1" sections of hair away from your face until it's all twisted up.
Take your diffuser and hold it a few inches away from your hair, moving it slowly around your head until your hair is almost 100% dry.
The most important thing to remember here is not to touch your hair with your hands until it's completely dry. If you touch it too much during the drying process you'll create frizz and the waves won't hold.
Once your hair is dry, use your fingers to gently loosen up the twisty pieces. You'll have the perfect undone beachy waves.
Air Dry Techniques (Without Heat)
If you want to get beachy waves on your straight hair without using any heat, the below air-dry techniques will help you achieve that.
Braids
We've been using braids to create waves since middle school and it's still one of our favs. It's also easy and you can do it before bed and wake up with beach waves.
Starting out with second-day hair works best for this one. Before braiding your hair make sure to apply some styling cream for hold.
You can then do two classic three-strand braids for loose waves or you can do four-strand braids (two in front and two in back) for tighter waves.
If you have super straight hair that has difficulty holding waves, you can quickly run a flat iron over the braids before taking them out.
Once you take the braids out, flip your hair upside down and spray with texturizing spray. This will give your straight hair the ultimate beachy waves look.
Space Buns
If you're looking for a cute hairstyle that will give you waves for the next day, we love space buns. Space buns are like pigtails but with the pigtails twisted into buns, they also give you the perfect beach wave.
Start with dry, clean hair and apply a styling cream. Use a tail comb to part your hair down the middle all the way to the nape of the neck. Take one side of the hair and put it into a ponytail, then take the other side and do the same.
Once you have your hair in the two pigtails, twist them around the hair tie them into buns, and secure them with bobby pins.
You can wear this style that day and then the next day take them down, leaving you with waves! Once you take the buns out, spray them with texturizing or sea salt spray.
Scrunch
This one may not work for our super straight girls but if you have even the slightest texture in your hair, this is one you can embrace. It's also our most low-maintenance way to get waves.
Start out with wet hair and scrunch mousse or styling cream in. We like to use a microfiber towel to scrunch the hair as it removes excess moisture and doesn't create frizz.
Once the hair is scrunched into the wavy pattern, you're basically done. It's a set-it-and-forget-it situation. The only thing you have left to do is wait until it dries.
After drying your hair completely, you can gently finger comb the waves and spray a hair spray or finishing spray. Do not touch it until it's dry. A little scrunch can lead to a big cool girl beachy wave style.
Now that you know our fav methods for getting cool-girl beach waves, you have several ways to style your straight hair into one of the most popular hair trends of the season. We can't wait for you to rock a curl girl wave anywhere and everywhere
Things to Remember
There are several different ways to turn straight hair wavy.
You can get beach waves on your hair with and without using heat.
You can use a curling iron, flat iron, or diffuser to get that straight hair wavy
We recommend heat-free methods such as braids, buns, and scrunching to achieve waves damage free.