Wet hair looks attractive, we must admit that. As the summer is finally here, it often becomes necessary to cool off several times a day with a light shower. However, this often poses problems with your hangout plans.
After all, who has the time to blow-dry wet hair before going out? To get to a solution, we've gathered for you a list of 50 beautiful hairstyles for wet hair that will have you look stunning out of the shower.
Wet Hairstyles for Women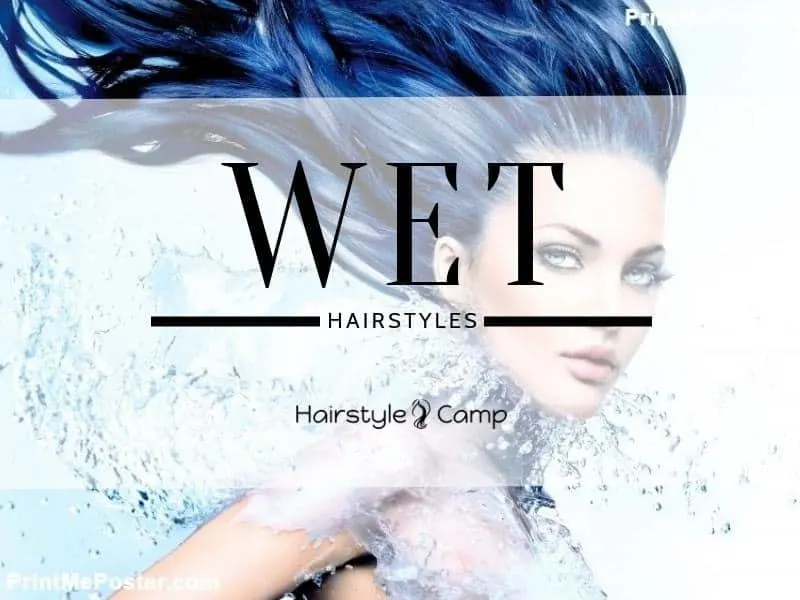 To achieve this look, make a side-parting. Next, start braiding each side with a French braid till the very bottom so that all of your hair is in either one braid or the other.
After that, twist the braid on the smaller side to make it a bun and then clip it. Next, twist the braid on the bigger side around the one on the smaller side and ta-da! You're ready to go to work or school with this wet hairstyle! You can make the look messier by leaving out some hair and not including all of it in the bun.
2. The Triple Helix
In this hairstyle, you make three buns at the back of your head, one below the other. Part your hair into three portions starting from the top to the bottom, then make a bun out of each part and you're good to go!
Read: How to Get Wet Hair Look in 4 Easy Ways
Part your hair into a smaller upper part and a larger lower part. Make an upside-down braid in the lower part. Bring the two parts together, tie into a bun and you're done! This wet hairstyle looks neat and tidy so it's perfect if you're going to school or to work.
4. Side-way Triple Low Bun With Wet Hair
This bun hairstyle is similar to the triple helix hairstyle shown above, except in this, the three partitions are done vertically. After making three vertical partitions, tie each partition into a low bun separately using hair clips and hairpins.
5. The Fishtail Pony
Well, this may not a quick to do hairstyle for wet hair but it definitely will look good! Tie your hair with a pony, then start making a fishtail on the free part. After you're done with the fishtail, use another hair tie to tie the end of the fishtail. And there you go, a stunning wet hair look!
Part your hair in the middle. In each section, make a French braid to the bottom at the back. After you've reached the end, join the two parts together. After this, you can proceed in four different ways that will give you four different looks:
You can braid the rest of the hair
You can tie up the rest of the hair in a high bun
You can tie up the rest of the hair in a low bun
You can just tie a pony and leave it like that
7. Side-twisted Double Bun
To rock this look, part the hair in the middle. Then, on each side, form twists with your hand starting from the front and leading onto the back. Pin up the twist in place using clips at the back. After that, put the hair on each side into a low bun on that side. Not only does this hairstyle look great on wet hair but even after the hair dries, it will look messy and sexy. It's perfect for a date night out!
This hairstyle is simple and looks great even after your hair has dried. Take two sections of hair from the front on each side. Then, make a braid on each side and bring the two braids back together. Tie them up at the back. Leave the rest of the hair open and flowing. This wet hairstyle is perfect for a night out. You can also shorten your hair if wet hair causes too much trouble for you. If you have a round face, try these short hairstyles.
9. Braided Double Crown
In this hairstyle for wet hair, there are two braids instead of one that forms a crown. The instructions are similar to the single braid crown. You just have to repeat the same step with another set of braids. This style looks especially beautiful on hair with shades of red or dark brown! It's perfect for a night out when you feel like leaving your hair open. It will look just as great after drying out too!
10. One-sided Braid with Open Hair
This hairstyle works great on both, dry and wet hair! It looks especially pretty with short hair. Part the hair on the side, then make a French braid on the bigger side that leads to the back. Clip up the French braid and cover its end part with hair that's flowing down.
Leave the rest of the hair open or closed according to your own preference.
11. The Donut Bun
This bun is very simple to make and looks great on wet hair! Follow the instructions on the picture above and you'll end up with a beautiful wet donut bun!
Part your hair on one side then starts making a 4-strand Dutch braid on the bigger side. Bring the braid toward the back and then tie it either with a lock of your own wet hair or a hair-tie!
13. 4-Stranded Dutch Braid
This style is very simple and easy to make. First, start at the side to make a simple double stranded French braid. After that, proceed to the front and make a 4-stranded braid and then tie the braid at the end. It looks very stunning and decent, especially on wet hair!
14. 4-stranded Side Braid
This side braid looks incredibly stunning and pretty! Part your hair on one side then start braiding it using the 4-braided technique on the bigger side till you reach the bottom and ta-da! You're done in no time! This wet hairstyle is great for when it's hot outside and you don't want to open your hair but you want it to look pretty and stylish.
15. The Twisted Hair Knot Effect
This hairstyle looks absolutely gorgeous on wet hair! It adds a simple and decent touch to your hair. It's perfect for when you want to stay home but you don't want to leave your wet hair open out of the shower!
These were just some of the many wet hairstyles we have in store for you. Stay tuned for more hairstyles!