A middle parting is a great and quick way to switch up your hairstyle without needing to change your entire look. The added beauty of having curly hair is that a center part seldom looks very harsh as the curls help soften the style.
A parting is usually used to frame the face, and it will often highlight and draw attention to the area where the parting falls. For example, in the case of a center part – it will showcase right down the middle of the face, which can sound daunting!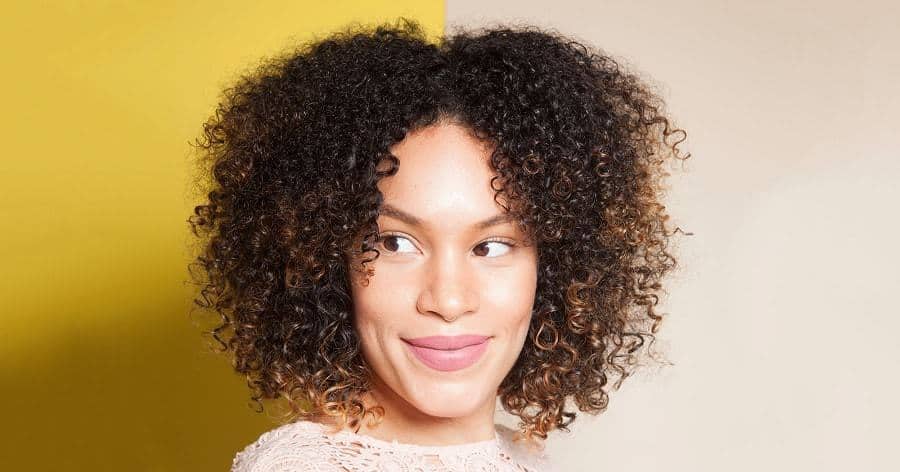 If the idea of a bold and stark center part scares you, you can try and set the parting slightly off center (only by around half an inch) and it will still look like a center parting, but it will not appear as unforgiving.
Side partings tend to be more popular as they are thought to be more fashionable and aesthetically pleasing. But this is not always the case, especially when you have naturally bountiful and curly hair.
The big drawback, however, is that curly hair can be difficult to part. By separating the locks, especially when wet, you will often be pulling apart naturally formed curls which can create unwanted frizz.
How To Middle Part Curly Hair
The key to sleek and natural curls is to leave them alone as much as possible. This means setting your middle parting BEFORE you wash your hair when it is still dry.
Gently wash and condition your curly hair as you would normally do but pay attention not to disturb your middle parting.
Comb your hair once washed and towel dried with the parting still in place and your curls will sit and form – without frizz – where they are.
A perfectly straight middle parting is not always necessary when you have a big mop of beautiful curls – often a more natural and haphazard parting can help add lift at the roots.
If you do want a more defined and straight parting, then use the sharper end of a styling brush or even a pencil to separate the hair and get a more distinct part. However, it is still best to do this before you wash, while your hair is still dry.
Make sure that you choose the best cut to help your hair. Curly hair can range from super tight curls to loose waves to a gradual kink, so speak to your stylist about how to get the best cut so that your style sits well.
Layering curly hair is key to get a beautiful and soft look – especially if your hair is thick and long. Layering prevents a heavy and lank look and can provide texture without frizz.
Condition your hair to ensure that it remains moisturized as this is a good combatant against frizz.
Best Middle Part Styles for Curly Hair
Following are the trendy  middle parted curly hairstyles for women in the fashion world.
1. Long Curly and Simple
A middle part for curly hair doesn't have to be poker straight – here a more natural part suits the overall effortless look of the hair, with the relaxed curls providing a more fun and laid-back style.
An uneven center part is great for adding lift at the roots however if you are lucky enough to have the volume that comes with a natural afro then a more structured mid part on curly hair can still be an option. The contrast of the severe parting mixed with a natural afro is a stunning style.
3. Wavy Bob
Curls don't always mean you have super tight ringlets – sometimes you can have a more natural waved style. This beachy look is perfectly paired with a more natural middle part, rather than opting for a structured side parting, as it allows the waves to fall naturally and frame the face.
Perfect Curly and Wavy Hairstyles for Women
4. Cute and Choppy
This cute and flirty middle part on curly hairstyle is a great way to wear super short hair in a curly style. The center part is surrounded by wild and wicked curls that have been brushed loose in a haphazard way to make for a bold and beautiful statement.
5. Structured Curls
If you don't have naturally curly hair, then it doesn't mean that you have to miss out on this look. This stunning natural curly hair with a middle part is enhanced by the structured and set ringlets. The blonde color really makes this a very feminine and ethereal look for any goddess.
6. Half Up Do
This is a beautifully glamorous middle parted curly hair look that pairs natural curls with a structured half-updo half down. Straightening the front section either side of the mid part makes for a very sleek, sophisticated and dazzling look.
7. Two Halves
If you are wanting a more edgy style, then pinning curly hair at the roots with long clips when wet makes for a unique and bespoke look. This style works best on naturally curly hair in particular with a neat and structured center part.
If you want to create this look but don't have time to wash and dry, it can be done by straight ironing the hair from the roots to just above the ear.
Bangs are often an underused option where naturally curly hair is considered. Here a curtain bang is used perfectly. The curtain bang is a longer fringe that is tapered into the front of the hair.
It can create a more natural looking bang and is a cross between an effortless fringe and a bang that looks on the brink of growing out. This is a great choice for curly middle parted hairstyle.
9. Making Waves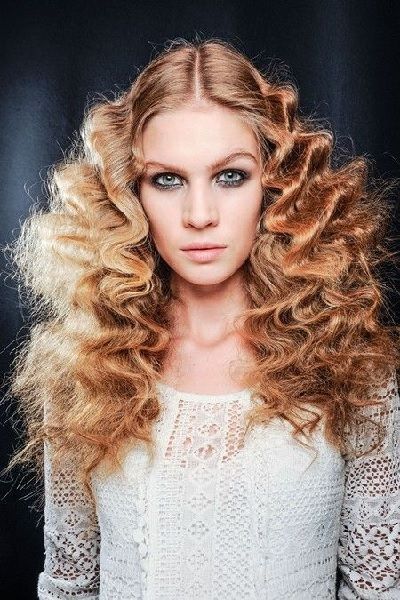 Frizzy and wild hair isn't always for everyone, but it can have its place and look stunning and striking when paired with a highly structured part and very considered and controlled waves.
The middle part is straightened across the top of the crown and then falls into zig-zag waves which are lightly brushed out for a dramatic style.
10. Short Curly Hair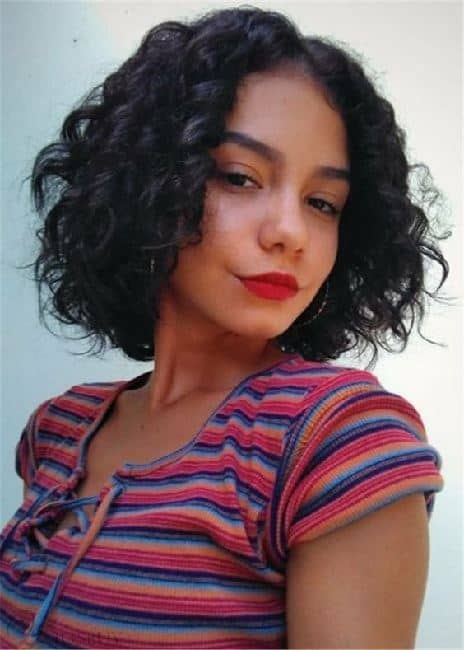 This short and choppy crop is a great everyday look but still is glamorous in its own right. The cute relaxed fringe, paired with the blunt length and haphazard center part makes for an uncomplicated and naturally beautiful hairstyle.
If you are wanting to alter your parting to switch-up to middle part on curly hair look– remember that it can frame your face differently. However, you have nothing to lose in trying out something new – it is a fun way to have a change that has no lasting consequences if you decide you don't like it.