Long straight hair gives your mane a particular shine and helps you achieve that flawless look. Your hair can look glossy all the time, and it's quite easy to obtain this marvelous effect.
You can make a keratin treatment that will nourish your locks and make it always look straight. Also, you have some other options like applying a straight weave that you can style.
However, you can use a straightening iron or a brush to make your locks look smooth.
Straight Hairstyles for Long Hair
From long hair with bangs to exquisite ponytails, you can build so many mesmerizing hairstyles that will inspire elegancy. The color is always an important choice, and straight hair will enhance any ombre or highlight. Check the article below and find the best long straight hairstyle for you!
1. Long Straight Weave
For this long straight weave hairstyle, you will need a few packs of hair extensions that you can apply on your protective hairstyles. Start your bangs from the top center of your head and that they cover your forehead, reaching the eyebrows.
2. Straight Long Black
If your natural hair is not long or rich enough, you can always use a faux pony that you can attach to your natural hairdo. For the top hair, knit a French bride and pull the edges a little bit to obtain more volume.
3. Long Straight Hairstyles for Thin Hair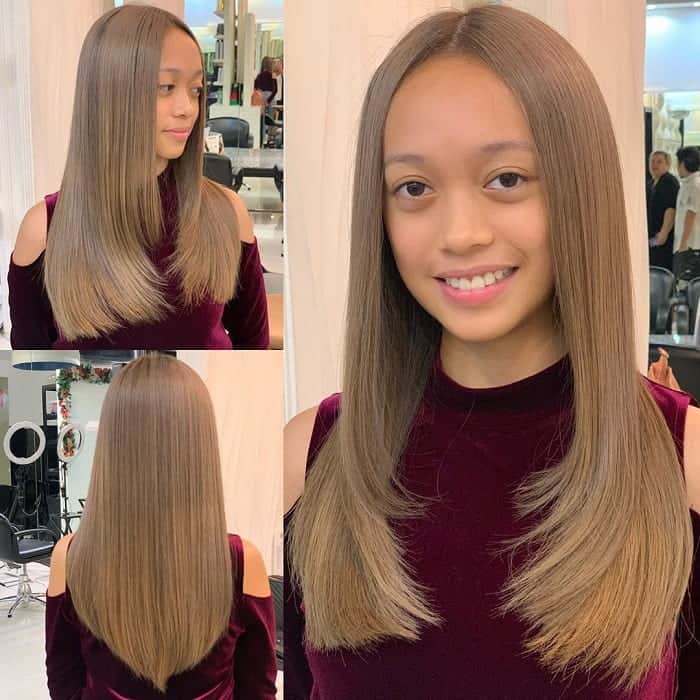 A long hairstyle for thin hair can look fabulous if you choose a V cut for the edges. Your hair will amazingly fall on your back and will create a layered look in front.
4. Long Straight Hairstyle for Thick Hair
A gorgeous platinum ombre will show off if you choose to wear your hair straight. For the back hair, use a small section and create a loose knot. It will gorgeously decorate this outstanding gradient.
5. Straight Blonde
Choose a layered haircut for your long hair and swipe your bangs on one side. That blonde perfect platinum color is ideal for women who wear round-framed glasses.
6. Long Straight Brown
If you have long thick hair, you can give your mane a stunning shine with a straightening iron. For the roots, you can slightly style them upwards to give them more volume.
7. Side Part
Recreate this fantastic long straight hairstyle by following a few easy steps. Toss your hair on one side and use hair wax to create a slightly wet look. Pin all the hair in a high ponytail and straighten the pony to create a mesmerizing glow.
8. Middle Part
For this hairstyle, you need to choose a brown hair dye and gt a straight line cut for the back. Gradually trim your bangs and create a middle part. You will get such a proper framing, and by straightening your hair, you will achieve a gorgeous shine.
9. Long Straight Hairdo for Wedding
Real ladies will adore this elegant bun with bangs. Part your hair in three sections and create a big braided bun using the top crown hair. Now take the left and right side hair sections and crisscross them just above your bangs. Use bobby pins to secure the hairstyle.
10. Vintage Long Straight Hair
Are you one of those girls that adore old-movie like vintage looks? If the answer is yes, you will love this long straight hairstyle with a big ponytail. Select a small section from your bangs and pin it in the half ponytail at the top of your head. Use a blue ribbon to decorate the hairdo.
11. Straight Hair with Side Bangs
Whenever you want to feel and look elegant, choose this ravishing yet straightforward look. Style a low one-sided ponytail and straighten your locks Toss your bangs on the same side and choose some pearled earrings to complete this glamorous look.
12. Long Straight Hair with Highlights
13. Women's Shaggy Layers
When you think of a shag haircut, you probably think of a shorter mane that's layered to perfection with a 70s flare; well, shaggy layers can also be introduced to a lengthy mane! Shaggy layers add a ton of flashback fashionable dimension to your locks, ensuring every step gives your hair a charming bounce.
Easy Hairdos for Women With Long Hair
14. Face Framing Layers
Leaving hair too long around the face can really be a drag, making your entire appearance look longer and older; and no woman wants that. Face framing layers is a definite must, especially when you have SUPER long locks. Face framing layers for long hair will perk up your entire look in an instant and give your face more like and youthfulness.
15. Long Straight Hair + Choppy Layers
Without layers, long hair can be simply boring and lifeless. By adding tons of choppy layers from the top to bottom- in all different lengths- completely revamps your hairstyle and gives you a bounce that can't be achieved otherwise. Choppy layers is a great haircut for long straight hair, especially if your hair is on the thin side and you need some more volume and dimension.
Our Choice: Best Long Hairstyles for Round Faces
Cause some dramatic contrast and some fierce attitude to your hairstyle for long straight hair by taking the bold move to thick bangs. Cut right above the eyebrow and straight across, thick bangs are a super bold step that any fashionista is bound to enjoy. This fierce haircut pairs well with hair that is completely stick straight and void of layers, but also looks refreshing and fun with choppy layered locks that are wavy and beauteous.
Really any braid is an amazing choice when it comes to hairstyles for long straight hair, but one braid in particular that 'takes the cake' is undoubtedly the fishtail braid. Fishtail braids are the new trend when it comes to the hair world, and their unique style and dimensional appeal has a dramatic yet feminine effect that any woman will adore. Once you get the hang of it, fishtails look absolutely stunning on lengthy locks, with enough room for every plait of the braid to shine. Fishtail braids look extra awesome with highlighted locks!
18. Long Straight Haired Updo
Everyone knows buns are all the rage right now, and if you have long hair you probably want a break every now and then from dealing with those lengthy strands! To stay in style while enjoying an easy hairstyle, consider a super high bun!
Instantly rev up your hairstyle and switch things up by choosing the ever-popular ombre hair coloring technique. You can really get crazy and unique with your style, or go for a more subtle and sexy blend of lighter/darker browns and blondes. So many amazing ideas to suit your style!
20. Loose Waves
When it comes to the most beautiful hairstyles for long straight hair, loose waves is always an excellent choice. Loose waves have that 'beach babe' vibe that you can wear all summer long, plus it adds a boost of daintiness and volume to your entire appearance. A must try!
21. Voluminous Curls
Date night? A night on the town with the girls? An elegant party? You can't go wrong with voluminous curls. It may take a little extra work- the right product, tons of hairspray, and curling each divided piece of hair to perfection- but it is well worth the wait. You'll step out looking like a gorgeous Victoria's Secret model by the end of it!
22. Long V-Cut
One-length hair from the front to the back is totally out, not to mention boring. But if you don't want to do anything too crazy and don't want to lose your length to layers, then consider a simple v cut. The v cut creates a fashion-forward angle in the back, that's smooth and sultry and the perfect pairing for long locks.
You can never go wrong with a ponytail, especially when you're rushing off to school or work. Ponytail hairstyles for long straight hair can be anywhere from sporty and quick to elegant and glamorous with curls and waves. Shake things up or go basic with your pony. Either way, you won't have to worry about long hair getting messed up during the day or having pieces fall in your face!
Side swept bangs simply never go out of style. They're extremely flattering on almost every face shape and anyone can get by with these bangs no matter the age. Side swept bangs are also a great choice for longer hair because they give your look some youthful, flirty attitude around the face- which is exactly where you want it.
25. Straight Long Layers
Long straight hair – especially thin hair – can lose all of its body and volumes rather quickly. To ensure your hair is bouncy and full, without losing much length, you can indulge in longer layers. Long layers are cut throughout the locks, instantly adding volume and flare.
26. Waterfall Braid
One way to break the mundane look of long hair without going overboard is to toss in an accent braid. This can be worked in as a cute subtle waterfall braid or a side braid. Add in a couple waves as well and you have a look that is dainty and sweet- nowhere near boring!
This particular hair color technique is similar to ombre, but with a bit more blending. This causes instant dimension and tons of luscious appeal that brings your locks to life. Even with no extra styling or cutting, the extra highlights and beautiful coloring bring out a brighter side to your entire look.
Long straight hairstyles give your mane that incredible straightforward look that inspires so much glamour and perfection.
The options of hairstyling are endless, you can create V shapes, line cuts and style stunning ponytails or buns. They will all look impeccable thanks to that shiny stunning texture of straight hair.