Figuring out how to get salt and pepper hair is way easier than it once was. You have tons of options now that gray is seen as an on-trend hair color, but not so long ago, it was impossible to even find gray hair dye.
Thanks to actors like Jamie Lee Curtis and George Clooney, as well as younger trendsetters, including Pink, Dascha Polanco, and Nicole Richie, gray is no longer a sign of age to be covered up and hidden.
It is its own movement. Maybe you want to go gray gracefully or perhaps you simply long for a silver mane. Either way, you can sprinkle a little salt and pepper in your hair without a care.
What Is Salt and Pepper Hair?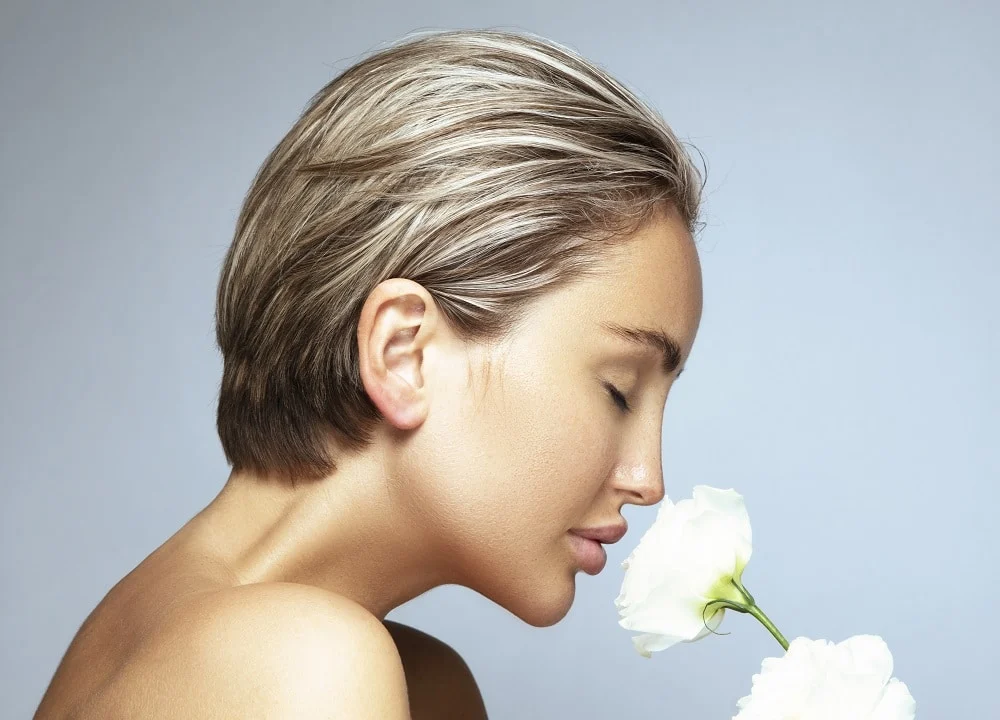 Salt and pepper hair combines gray and black shades with hints of white. In most cases, these silver strands are because of age, but you can also get salt and pepper hair earlier in life through premature aging.
The salt and pepper hair look is more noticeable for people with black or brown hair because it stands out. However, people with naturally lighter hair can also go gray as they age.
How To Get Salt And Pepper Hair
While salt and pepper hair used to be something to hide, it's now a chic color trend to embrace at any age. You can get the look even if you're not going gray soon.
It's important to note that if you're starting with dark hair colors, you will most likely need to bleach your hair to achieve gray color strands. If you start with lighter hair color, it will be easier to achieve this look.
Follow these steps for DIY salt and pepper hair:
Select your hair-dye brand of choice.
Put on gloves and prepare your hair dye kit.
Apply the dye to dry and unwashed hair.
Comb the dye through the hairs you want to be peppered.
Leave the dye in your hair for the time suggested in the hair dye instructions.
Rinse with lukewarm water.
Dry and style to your desired look.
Salt and Pepper Hairstyles
At present, there are several methods to get gray hair. Some of them require the help of a professional and others are quite, well, natural.
In your quest to learn how to get salt and pepper hair, it's recommended that you talk to a professional stylist first, even if you decide to take the DIY dye approach or change your mind altogether. Salt and pepper is a tricky trend, so you want to get it right.
#1: Highlights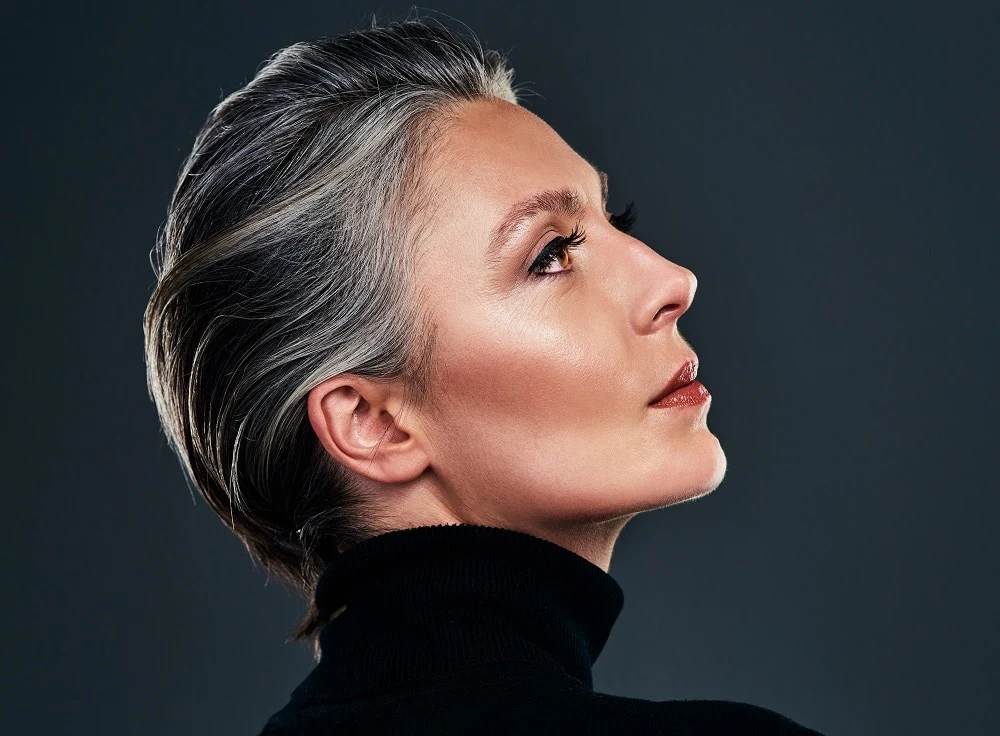 The best way to transition to salt and pepper hair is with highlights. Choose a tone that matches those natural grays the most and add streaks all over the head to pop against a black base. Recreate the exact look with a slicked-back pixie haircut. Chic!
#2: Vivid Stripes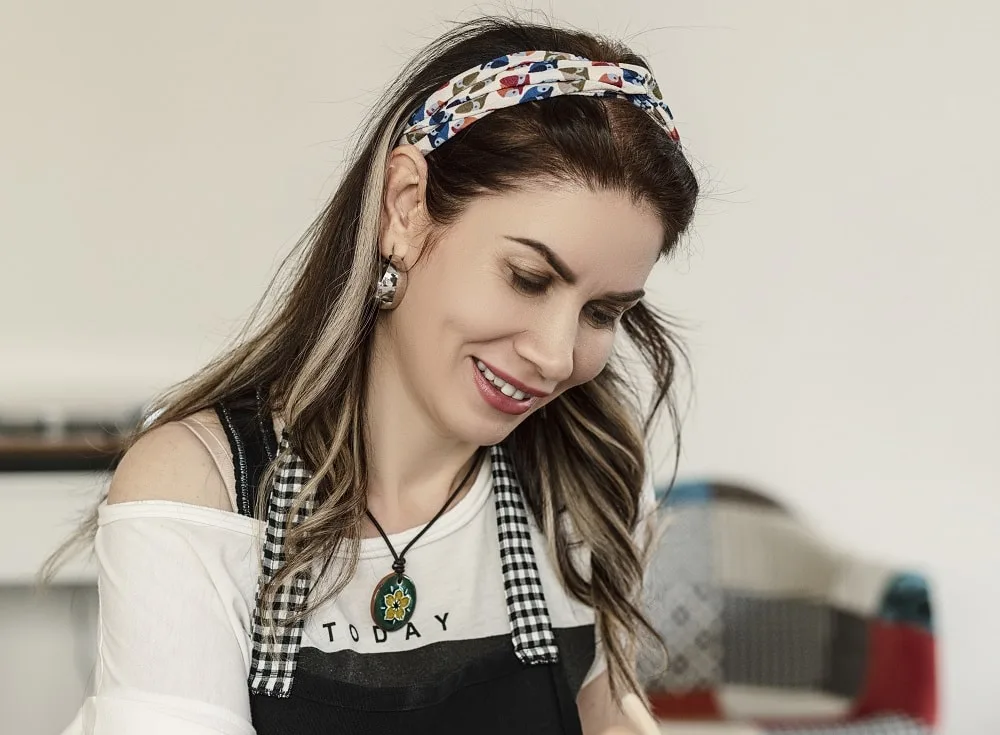 Ladies with dark brown tresses can steal the show with chunky highlights inspired by the 90's.
Ask the hairstylist to add ash blonde stripes to the head focusing on the sides and back rather than the top. Finish off with a headband and loose curls.
#3: Dusty Green Hair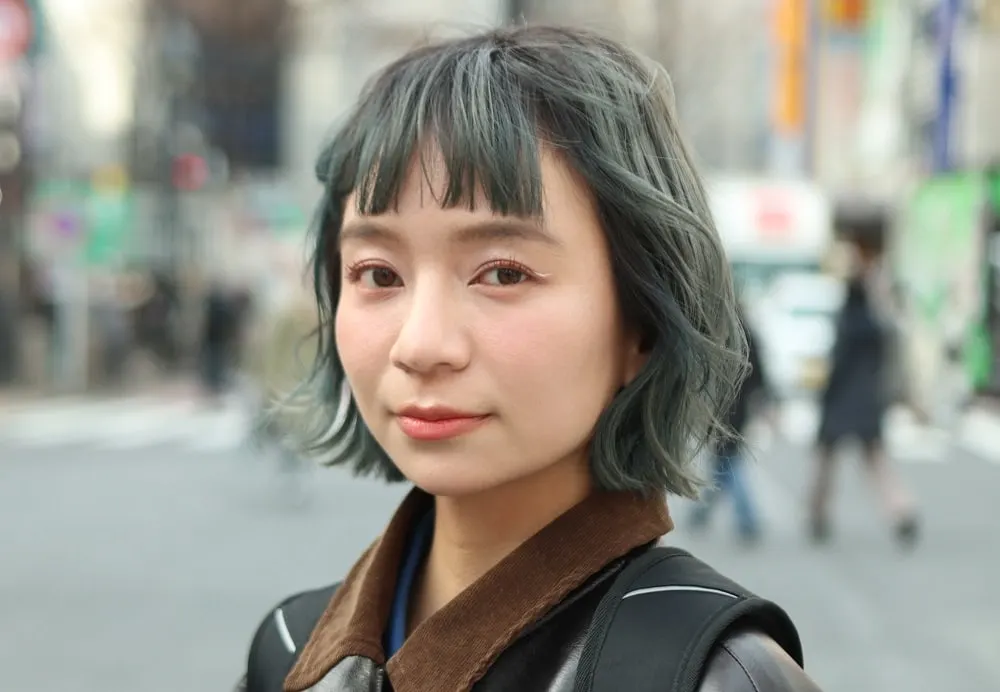 Reluctant to try a silvery gray hair color? Check out this dusty green hue with hints of silver in between. This color looks exceptional on ladies with naturally dark tresses. Try the style with a messy chin-length bob and cropped bangs for a snazzy appeal.
#4: Natural Beauty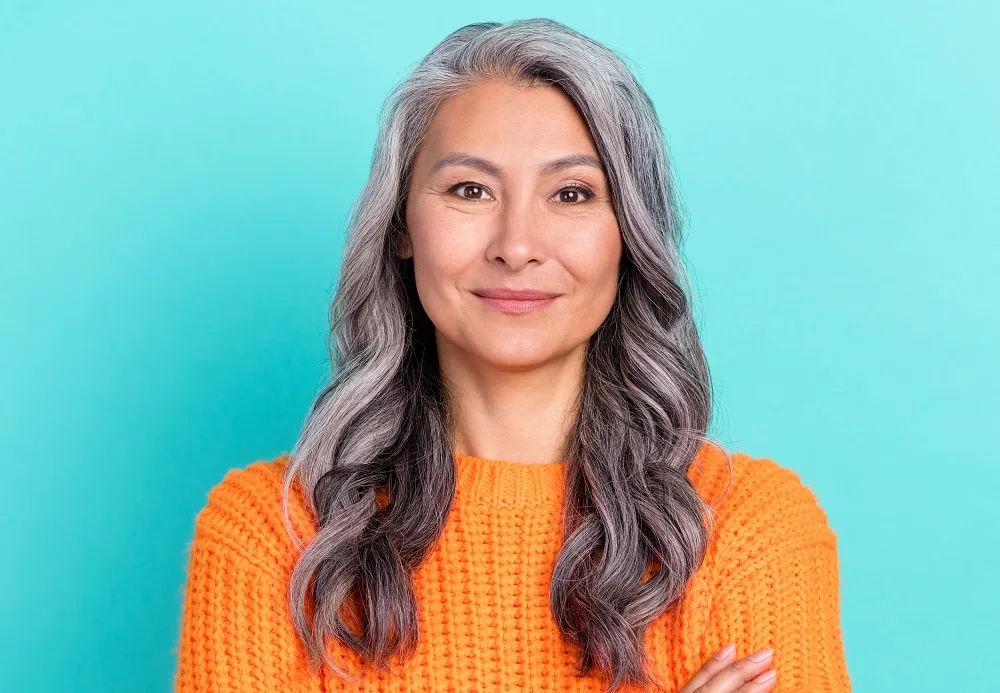 Keep it elegant with this natural salt and pepper hairstyle. Women getting on in years can accentuate their grays with highlights focusing at the front while those with most white hairs can spice up their look with black lowlights. Subtle layers and soft curls add further grace to the look.
#5: Chic Money Pieces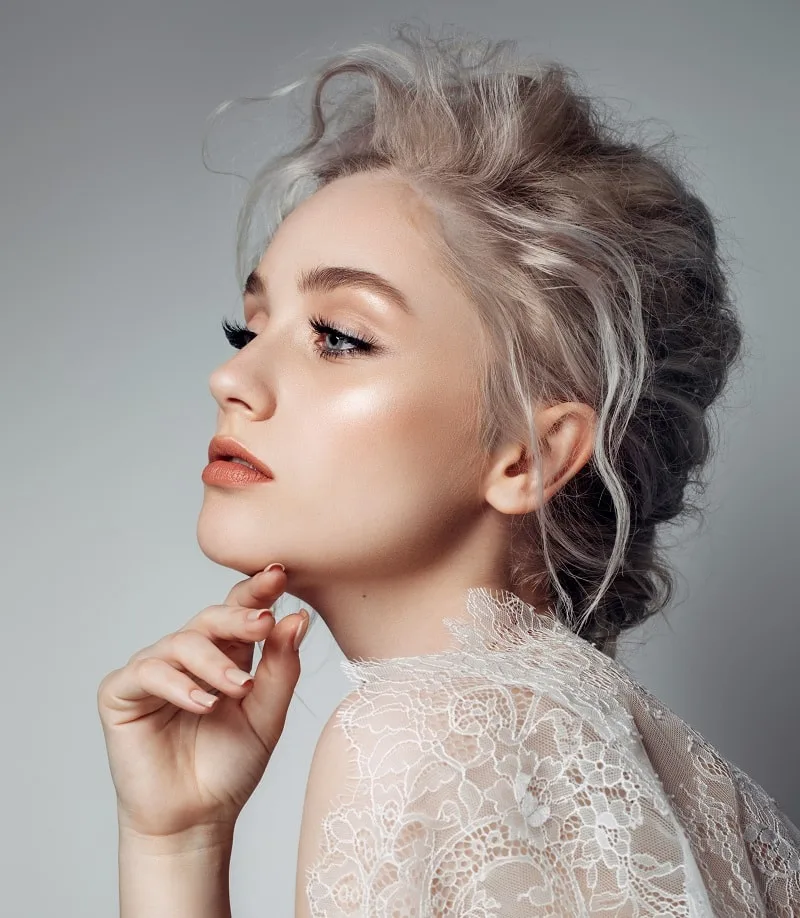 Money pieces are highlighted chunks at the front that frame the face and brighten it up instantly. They are easy maintenance and look stylish without a doubt.
Go for a light ash brown base and amp it up with a dove gray balayage for a frosted look. Show it off with a messy French braid.
#6: Wait for It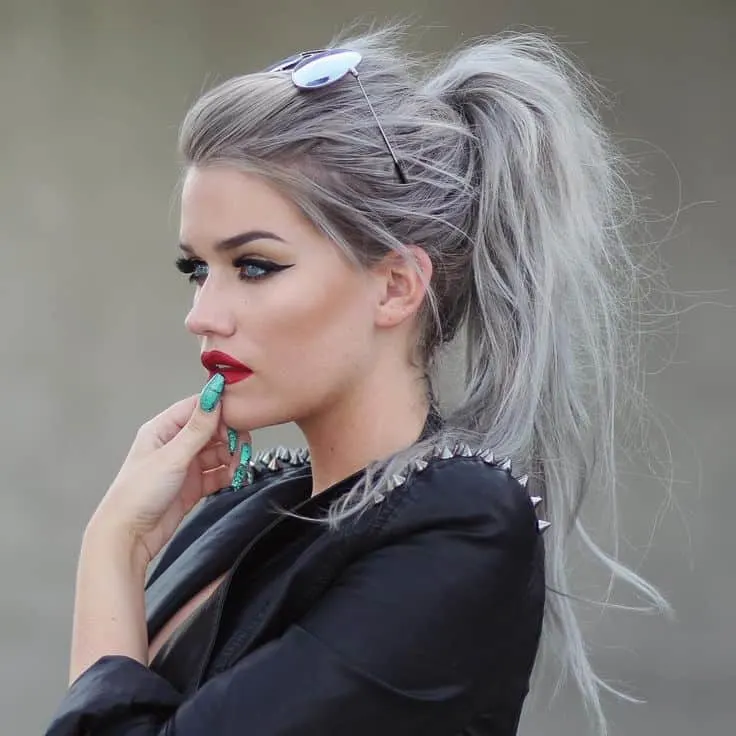 If your hair is already starting to go gray, then you don't need to know how to get salt and pepper hair. You just have to wait for it.
Given enough time to grow, you'll notice that all of your hair starts to grow in salt and pepper. Of course, sometimes you need a little help.
Embrace Grey Hair Color at Any Age
#7: Black Lowlights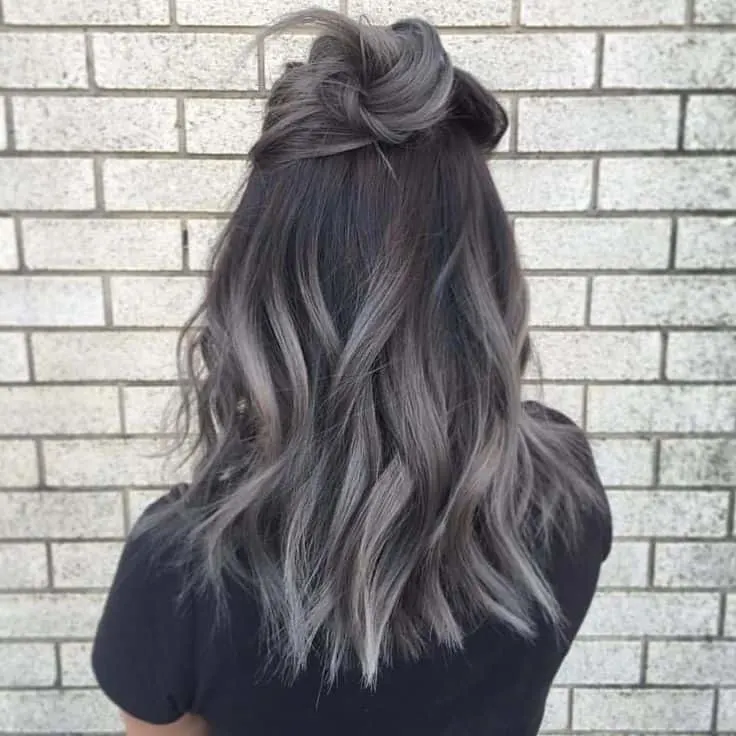 Black lowlights are the secret to a stellar salt and pepper coif. It offsets shades of platinum, white, and silver. Lowlights are an excellent choice for women who already have some gray, for blondes who are going more golden gray, or for anyone who wants to make their dyed tresses take center stage.
#8: Pale Platinum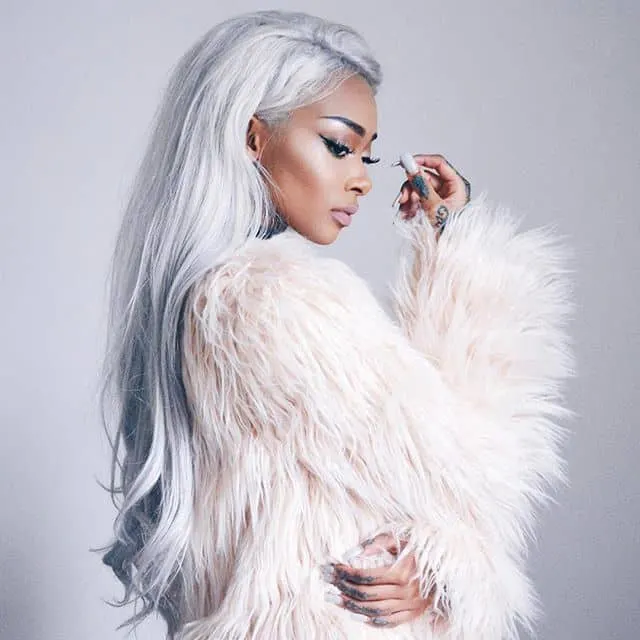 Having your hair dyed silver isn't quite as easy as it sounds. To get a pale, shimmering silver, for example, you actually start with platinum blonde. At its palest, it's indistinguishable from silver.
Flaunt Your Faded Purple Hair at Any Party
#9: Dye Your Natural Color
Obviously, you can dye your hair silver, but this is about how to get salt and pepper hair. So, let's say that you're starting to get streaks of gray, white, and pewter—and you love them.
However, if you're a natural brunette or redhead, you'll also notice that you can see your natural color through salt and pepper, which doesn't always look fashionable. This is the time when highlights or lowlights painted over your natural shade will work best.
#10: Slip into Lavender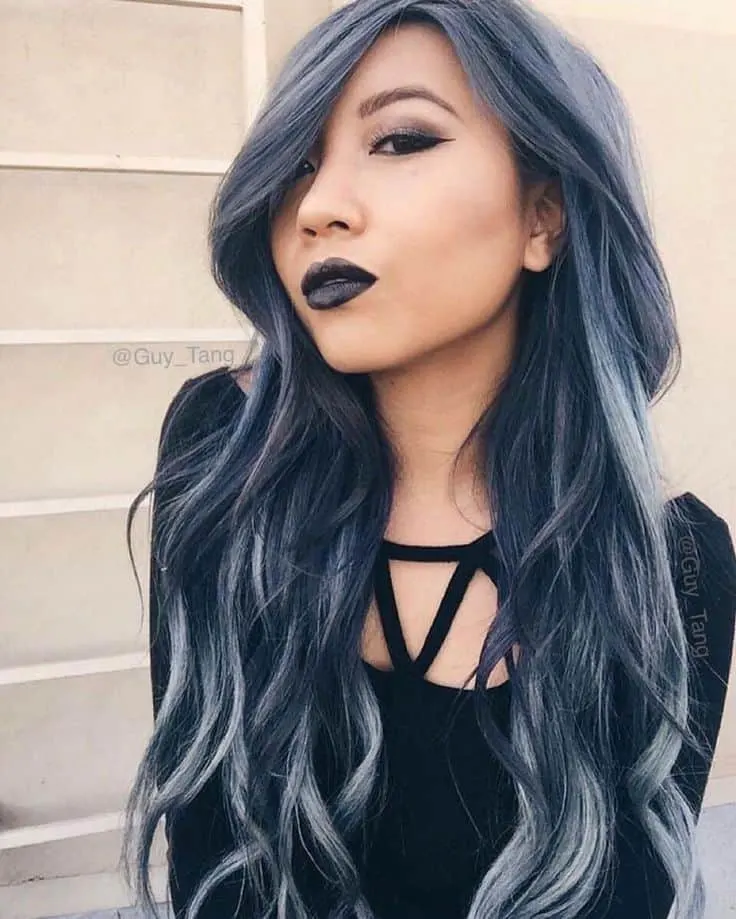 A pale lavender with hints of platinum and silver is absolutely stunning. Toss in a few pewter, black, or even deep purple lowlights, and you've instantly got a head-turning hairstyle.
Fashion Trends! Short Hair in Silver Fox Aesthetic
Maintenance of Salt and Pepper Hair
To keep your salt and pepper hair looking vibrant and shiny, edit your hair-care routine. For starters, use a shampoo and conditioner that is for color-treated hair.
Swap out your typical conditioner for a hair mask and use it once or twice weekly. Wash your hair in lukewarm temperatures.
Avoid hot water as it can lead to a dull look, and strip the essential oils out of your hair. Regular treatment can help keep your hair plump and shiny.
FAQs
Here are the primary questions people ask regarding salt and pepper hair.
Does salt and pepper hair make me look older?
No. The notion that salt and pepper hair makes you look old is so passé! It's now a trend that stands out, especially when styled sleek. If you're one of those trendsetters that want to switch up the vibe, consider this salt n' pepper streak mix.

If you're skeptical to try an all-over color, you can start with an ombré look over your dark hair base as an idea.
Can I get a salt and pepper look with long hair?
Yes. There are many ways to style salt and pepper hair, whether a cool cropped cut or long luscious locks.

Since highlights like this dry out your hair, you will need to take care of your long strands with conditioning treatments and haircuts.
What is the difference between grey and salt and pepper hair?
Salt and pepper hair is a more dimensional mix of hues rather than a solid color like grey. Genes dictate how early and how quickly you develop grey hair.

According to Harvard Health, the older you get, the less color your hair follicles reveal. This is especially apparent after the age of 35. As a result, when new hair grows in after older hair follicles dye off, it is more likely to come in gray.
Is salt and pepper hair hard to maintain?
Yes. Color-treated hair needs extra attention and upkeep if you want it to last long. It may be helpful to let someone help you apply the color or go to the hair salon.

A professional hairstylist and color expert will know how to achieve the best results based on your hair length and individual needs.
Do you know how to get salt and pepper hair? Are you eager to go gray like a trendsetter?