Men with glasses should take their time when they're deciding which hairstyle to get. They can either choose a hairstyle that goes perfectly with their glasses, or they can pick a completely wrong one.
Hairstyle Ideas for Men with Glasses
Choosing a great hairstyle that will go well with your glasses is easier than you might think. The most important thing you need to think about is the vibe that your glasses are giving off. Are your glasses more luxurious and sleek or are they more on a casual side?
Are they the first thing someone will notice when they look at you or are they more subtle? After you've looked at your glasses more carefully and figured out their overall style and vibe, it's time to choose a perfect hairstyle. Here are our top 10 classy haircuts and hairstyles for men who use glasses.
#1: Nerdy But Still In Style
Hipster glasses have been all the rage in the past few years. With their sleek yet playful look, so many men couldn't resist trying them out. Keeping your hair longer compliments this type of glasses the best. It will look even better if you choose to carefully comb your hair to resemble a fresh-off-the-runway look.
#2: Messy Quiff Hairstyle With Full Rim Glasses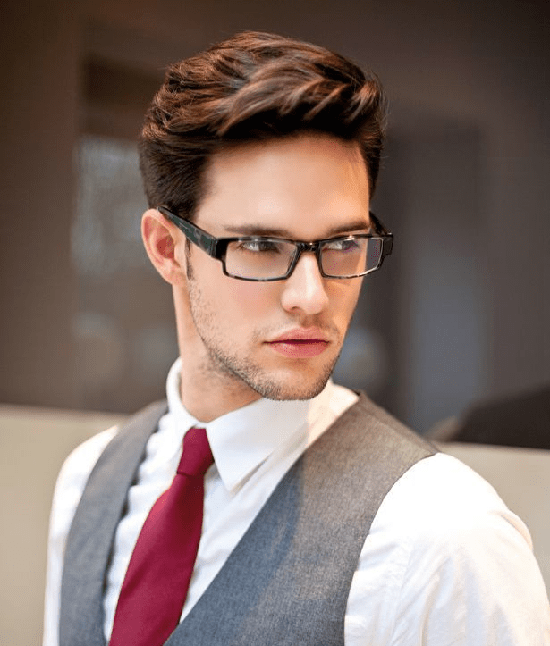 If you thought that there's only one way of looking like a hot nerd, you're wrong. Nerds can rock their pushed back hairstyle just as well as anyone else. Compared to the previous haircut, this one is more attractive. Smaller square glasses go great with pushed back hairstyles. This whole look will be stunning on men with sharp facial features.
#3: Rebellious Fade Haircut
If you a man who use circular glasses, you can try this hairstyle. Rebellious men who are not afraid of expressing themselves through fashion and style will love this hairstyle. Sharp fade haircut works amazingly well with Lennon glasses. Even on their own, these glasses will make you stand out, but when you top that with a fade haircut you'll look very unique. Extra tip: if your hair is darker, choose glasses that have bright glasses frames to create a stunning contrast.
#4: Bold And Long
A classic long hairstyle for men with bold glasses. Stylish gentlemen who know precisely what kind of an impression they want to make on others will love this hairstyle and glasses combination. You don't have to be Brad Pitt to pull this off. Glasses with thicker frames need to be complemented by a distinct hairstyle and the rest of your look. Best hairstyles that go with these glasses are long and messy hairstyles.
#5: Sharp And Symmetrical
If you're the type of a guy who doesn't have sharp facial features, this whole look is for you. The easiest way bring sharpness into your facial features is with glasses and hair. The best glasses option here is simple black glasses that frame your face perfectly. After that, just go and get a stunning symetrical haircut. You will look bolder and more daring than ever before!
#6: The Infamous Man Bun
The man bun trend exploded a few years ago. So many men tried it out and loved it, so we can still see this hairstyle very often. It has quickly become a hairstyle for men with glasses. Why? Because it's a perfect mix of playful and sleek. A perfect man bun takes so much more time and effort than most people think. Pairing this hairstyle with some good glasses is always a fantastic idea.
#7: Curls
Men with glasses can often look very serious, sometimes even cold and uninterested. That's just a first impression, so it can't describe what they're really like. If you have curly hair and you wear glasses, then it's time for those curls to see the light of the day. Embrace them and show their full potential. Because you're wearing glasses that make you look more serious, it's perfectly acceptable for your hair to be wild.
#8: A Sleek Undercut With Half Rim Glasses

More sophisticated glasses require a more sophisticated hairstyle. There's no better hairstyle for that than a clean undercut. This style is best suited for men who like dressing up in a more formal way. It's especially suitable for younger men who want to look more serious and put together. Keep in mind that this haircut does require a good amount of maintenance if you're going to keep it looking perfect.
#9: Messy Fringe
Messy and spikey fringe has been in style for such a long time. A lot of us lost interest in having this hairstyle, but men with glasses are certainly not losing interest in it. That's because they can pull it off better and in a more unique way than anyone else. If you enjoy experimenting with fashion, you will have a lot of fun turning this look into something new every time.
#10: Short but Effective
A smart short hair look for the men with glasses. It's such a common misconception that short hair looks dull. In reality, it's all about how you wear this hairstyle and whether or not it matches your personality. Having short hair shows the world that you're always making sure you look sharp and carefully groomed. Adding glasses while you have short hair is a great idea. You will undoubtedly look more approachable and very confident.
Men with glasses might think that it's really hard and complicated to find a fitting hairstyle for them. In reality, it's just a matter of the vibe you want to give off. As you saw, certain hairstyles really do go amazingly well with specific styles of glasses.