Nerd boys have always had an allure that goes beyond the books and glasses. A nerdy hairstyle is a great option if you're looking to give your bookworm boy a boost in the style game.
While there are plenty of styles depending on age and face shape, there's sure to be a perfect haircut for you. So, what are you waiting for?
Boy's Hairstyles For A Nerdy Look
Whether you need it for yourself or your teenage son heading to school or a party, below are some of the perfect nerd hairstyles. So, grab your favorite comb and get started!
1. Undercut + Comb Over
This look is achieved by trimming the sides and back short with a number 1 clipper while leaving the top longer. To style, simply comb the hair on top over to the desired side. It suits nerdy boys with spectacles. Also, check these haircuts if your boy is 9 or 10 years old.
2. Messy Sweep Over
This look is easy to achieve and can be done on any hair length. To get this look, start by applying some mousse or gel to your damp hair. Then, using your fingers, sweep your hair to the side. You can either let it air dry or use a blow dryer to speed up the process.
3. Messy Curls
You can create a messy geeky style if your son has medium to long curly hair. Start with clean, wet hair and use a diffuser to dry the hair. Once the hair is dry, use your fingers to scrunch up the hair, then finish with a light-hold hairspray.
4. Brush Forward + Bangs
If you're looking to add a touch of glamour to your look, consider sweeping your bangs to the side. Use a round brush to sweep your bangs to the side to get this look. Be sure to keep the brush moving forward as you work to create a smooth, sleek look.
5. Bushy Curls
This style requires a moisturizing shampoo and conditioner to help keep the hair hydrated and manageable. Use a blow dryer to dry the hair while tousling your finger all around the head. After that, leave the hair as it is, giving it a headful of thick hair.
6. Blonde Sweep
Start by brushing your hair with a bristle brush comb to detangle the blonde hair. Then use your fingers to sweep over your hair in the direction you want it to lay. Finally, use your hand palm to smooth down any flyaway.
7. Short Afro
If your nerdy boy has coil afro hair and you want to keep it short, try trimming it with a number 2 clipper. It is an effortless afro hairstyle for all.
8. Sweep Over
If you're looking for a new nerd hairstyle for you, you may want to try the sweep over with short sides. This look is easy to achieve and can be tailored to the geek's style. To get started, simply sweep the hair over. Then, cut the hair shorter on the sides.
9. Wavy Curls
Boys with long thick, wavy, curly hair have a natural advantage when it comes to styling as their hair is already full and textured. Start with dry hair and tousle them with your finger and leave the hair messy.
10. Side Spike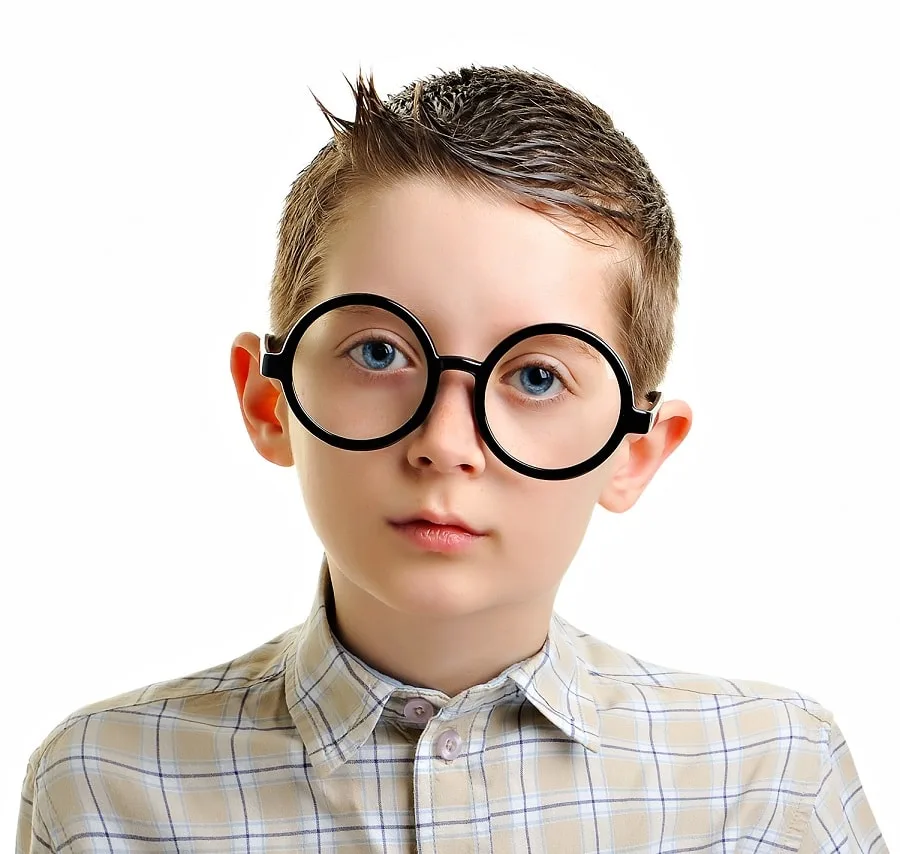 This hairstyle is perfect for any boy who wants to achieve a cool nerdy look. Use your fingers to create a side spike. Before that, use a bit of gel or pomade to help hold the spikes in place. This will give a perfect bookworm look with a pair of spectacles.
11. Teen Harry Potter
If you are looking for a new hairstyle for your boy, you may want to consider the geeky Harry Potter bangs hairstyle.
To style this, simply comb the hair forward and use a small amount of gel to hold the bangs in place. You can also use a small amount of hairspray to help keep the bangs in place.
12. Side Part
For this style, brush the hair to the side. Next, use a comb to create a deep side part. Finally, use your fingers to style the bangs into the side. It is perfect for any occasion, from school to a formal event.
13. Short Crew Cut
First, make sure your hair is cut evenly on the top. However, no need for anything too fancy here – a simple, clean cut will do. Next, cut the side shorter than the top. A pair of thick-rimmed glasses can really complete the look.
14. Nerdy Undercut
Any nerdy boy who wants to look cooler with a round spectacle can try styling with an undercut. For a regular style, cut the hair shorter on the sides and longer on top.
15. Scissor Bangs
With the right styling, scissor bangs can be edgy and cool for bookworm boys. If your hair is naturally straight, you can skip the shampoo and just use a conditioner. If your hair is wavy or curly, use a straightening product to help tame it. Next, use a comb to section off the front of the hair.
16. Brush Back
This medium-length hairstyle is perfect for nerds who want to look great without spending a lot of time on their hair. Just brush the hair back with a detangling brush and use hair spray to keep the hair in place.
17. Ginger Curly Bob
To style curly bob with bangs, start with a good shampoo and conditioner that will help to tame your waves and curls. Then, use a diffuser to dry the hair and continue scrunching as you go. Finally, finish with a light spray of hair spray to help keep your style in place.
18. Nerdy Brush Forward
To style brush forward hair for nerd boys, start by applying a small amount of gel to the hair, then use your fingers to push the hair forward, starting from the front hairline and working your way back. It looks great on oval face shapes.
19. Long Curls
If your teenage son has long, curly hair, let it all hang down. This carefree style is perfect for summertime or whenever you want him to feel relaxed. Hang down in a way so that hairs remain out of the face.
20. Side Part + Mane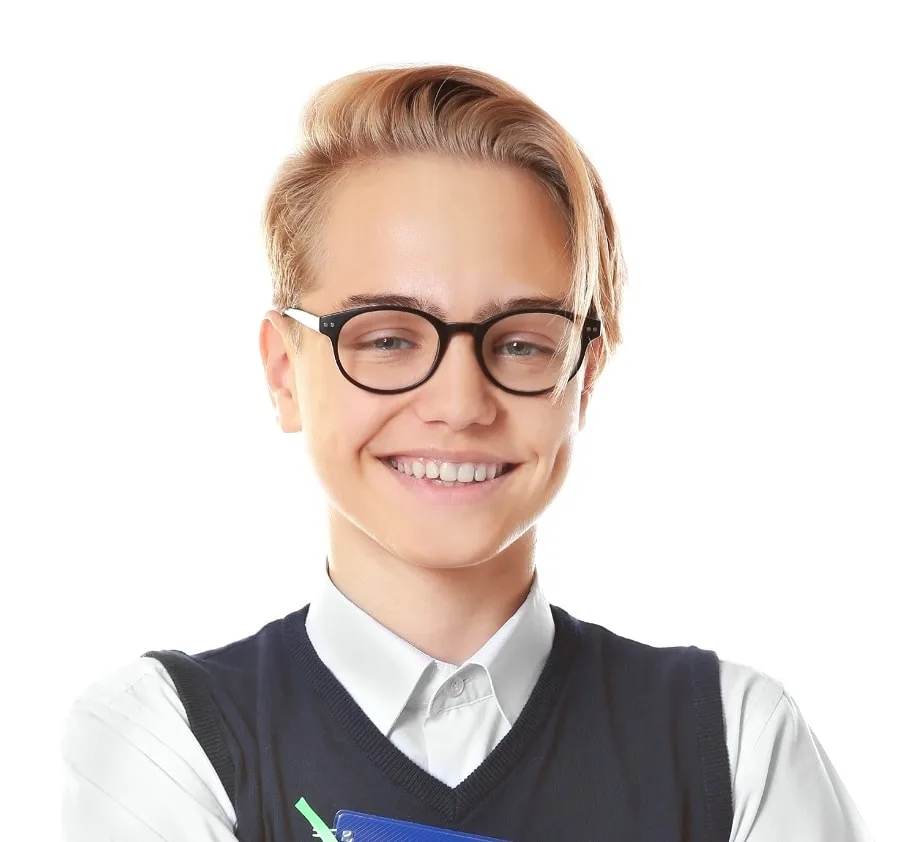 This trendy look is perfect for any occasion, whether your son is headed to school or a special event. Plus, it's easy to style – simply part your son's hair to the side and use a bit of product to tame any flyaway. Then, let his natural mane do the rest!
If your son is into science or math, one of these styles may be perfect for him. Also, these nerd haircuts are perfect for anyone who wants to add some fun and personality to their look without going too over the top.