Are you a black woman with glasses struggling to find hairstyles matching your overall look? If so, you're not alone! Many black women face the same challenge when getting a new haircut.
Your new hairstyle should flatter your facial features and glasses. Sometimes you might notice that your brand-new hairstyle looks so much better with your spectacles.
On other occasions, you get a new trim and it just doesn't seem to fit. This is why, before making any changes, you must search for a black women's hairstyle that suits your face shape and looks good with both on and off glasses.
Modern Hairstyles for Black Women With Glasses
Many hairstyles can look stunning with your darn skin and specs. First, find a hairstyle that suits your face shape, eyeglasses, and personal style.
From short to long hair, straight to curly, there is a hairstyle that will suit every black woman with glasses. The hairstyle should make you feel confident and stylish. So, let's dive in to discover the trendy African American hairstyles for black ladies with glasses!
1. Thick Box Braids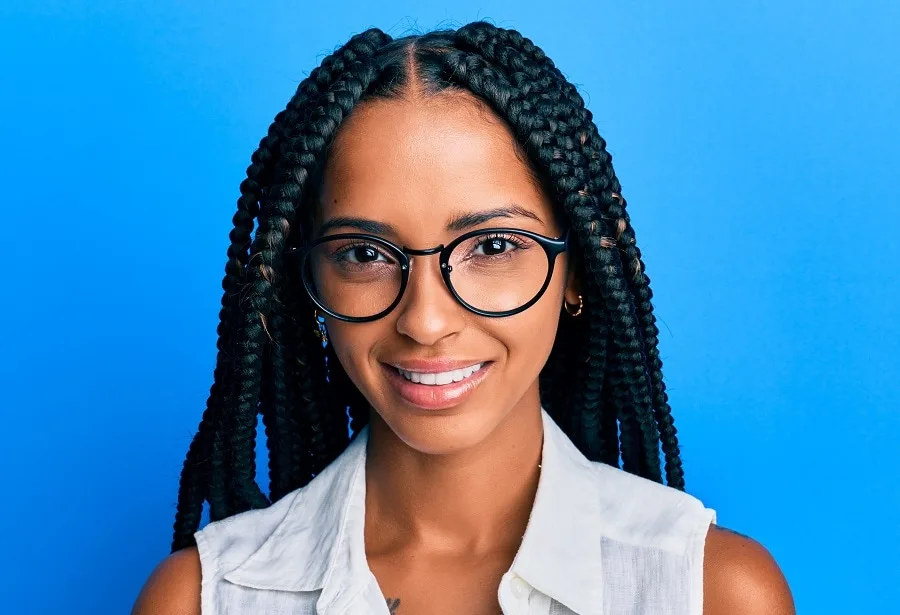 An oval face looks good with any hairstyle or frame. So if you love box braids, style them to look professional and cute.
Get jumbo hair bundles of the same color as your natural hair and braid them tightly. To build symmetry, go for a middle part.
2. High Top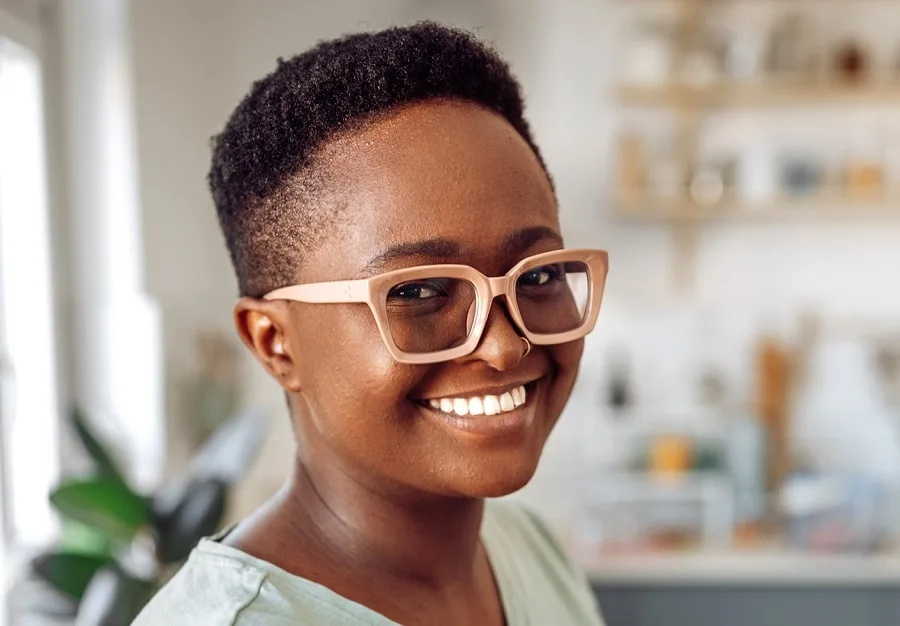 Try this hairstyle if you're a black lady who loves short hair and stylish glasses. Square frames are perfect for those black women with heart-shaped faces. Instead of choosing a regular dark color, opt for something less common, like this matte beige that adds warmth. You can get more hair color ideas for black women here.
Opt for a short pixie cut with glasses that will help you better control that coarse thick hair.
3. Half Twisted Bun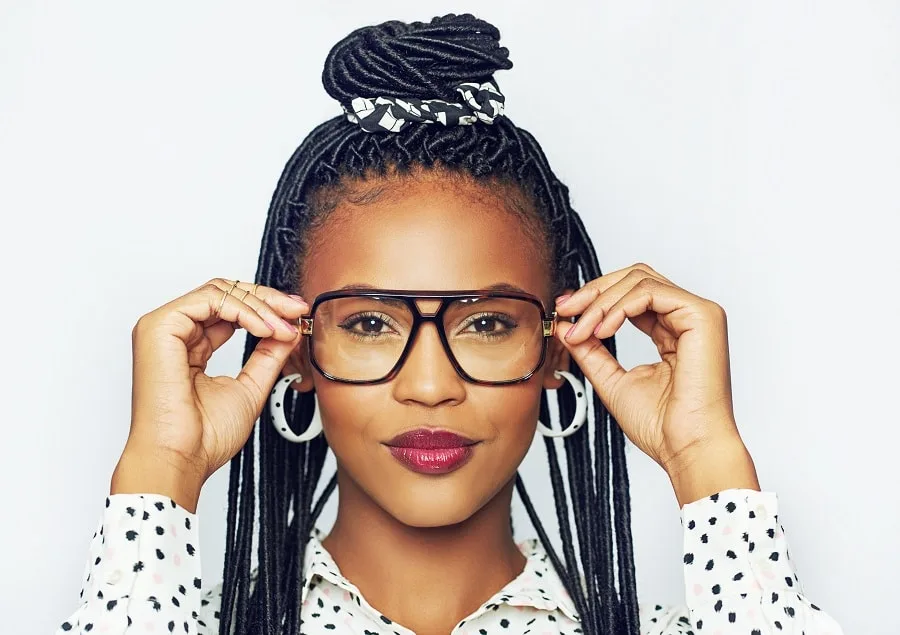 Twisted braids are fashionable and a great match for black women wearing glasses. Choose diamond-shaped frames with golden accents and split your hair into two sections. Tie the top in a rolled bun and use a scrunchie to secure it.
4. Layered Bob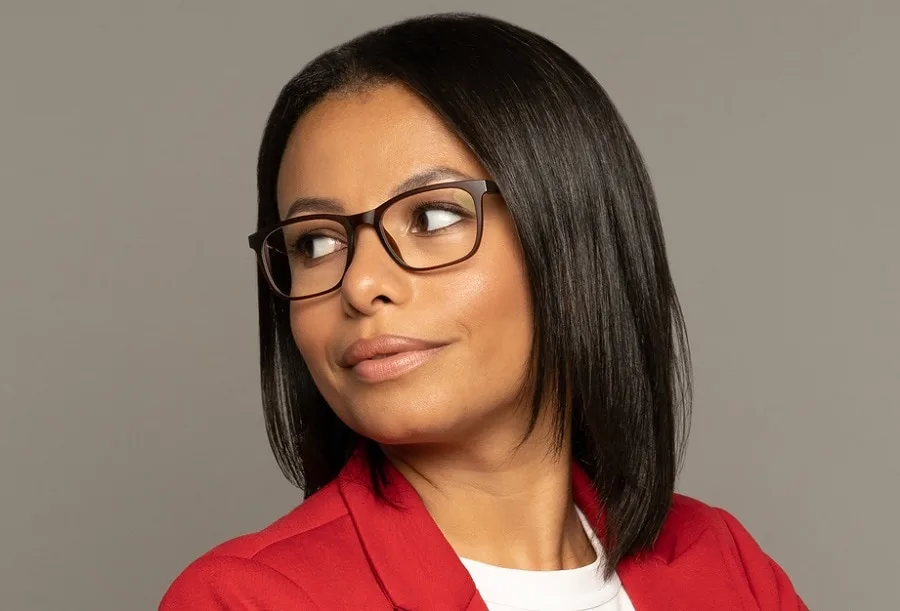 Black women look stunning with bob and glasses. Rectangle glasses are ideal for black ladies with round faces. Pair them with a layered bob hairstyle that keeps front pieces shorter than strands from the back. Straighten your hair with an iron to get that professional, elegant look.
5. Curly Weave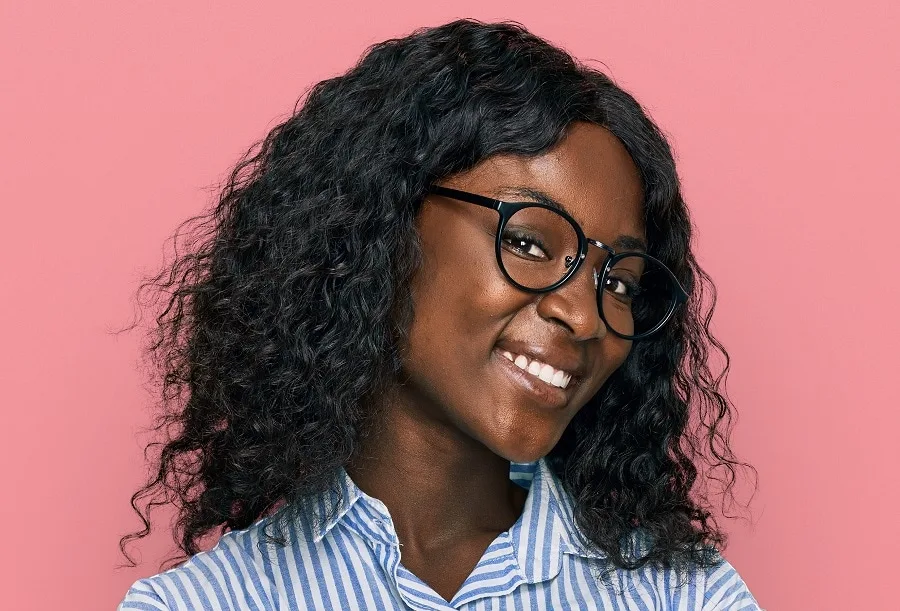 A beautiful shoulder-length hairstyle for black women with glasses. Style your hair with loads of layers if you have natural curls or a weave.
Attach the extensions and cover the roots with your natural hair; nobody will know you're having them. Get a cool casual look with modern rounded glasses.
6. Dark Teal Short Hair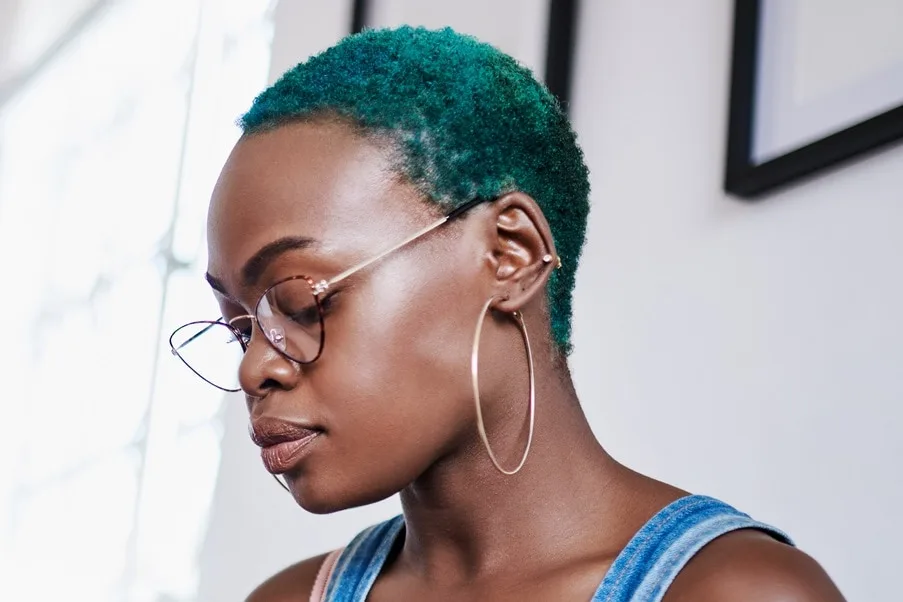 Cat eye glasses are perfect for those with an oval, square, triangular or heart-shaped face. As for the hairstyle, a very short cut that allows your curls to form is going to suit you greatly. Bleach your hair and dye it in a green teal color.
7. Caramel Ombre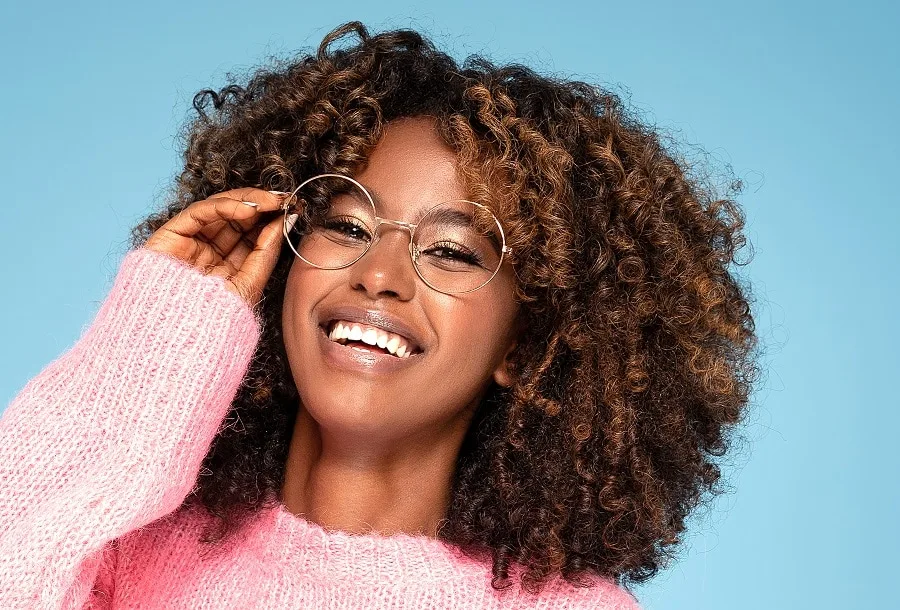 As a black woman with such gorgeous curls, it's clearly that your hair has a lot of volume. However, when you're doing your next trim, you might consider getting some layers, so your hair will have a rounded shape. Go for an ombre that warms up your strands, and if you have an oval, square or triangular face, choose a pair of round glasses.
8. Faux Ponytail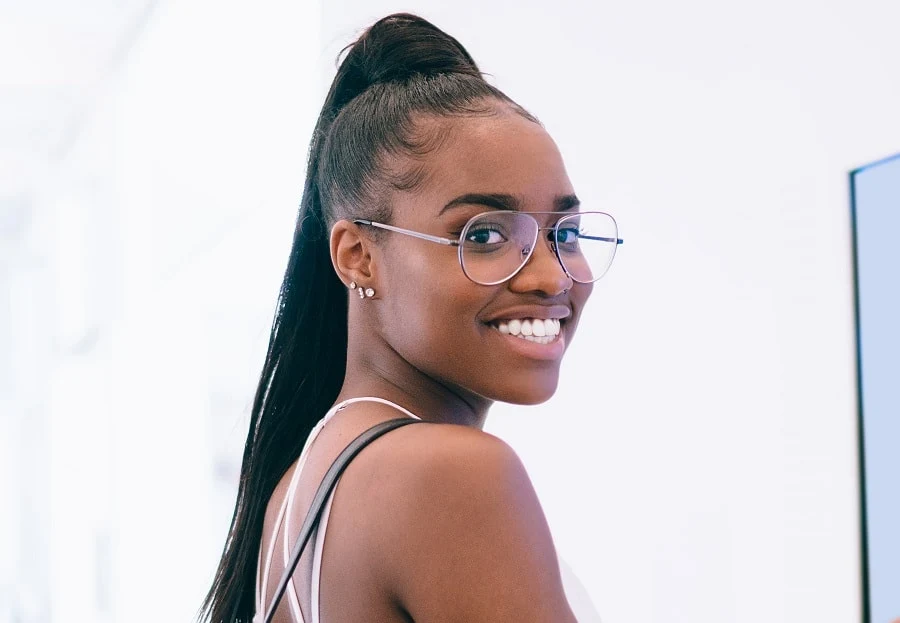 You might think that aviator glasses work well with any face shape or hairstyle. Opt for a sleek faux ponytail, especially when you have an oval perfect shape, or a prominent jawline. Wrap a hair strand around the base to hide the pony attachment.
9. Black and Brown Box Braids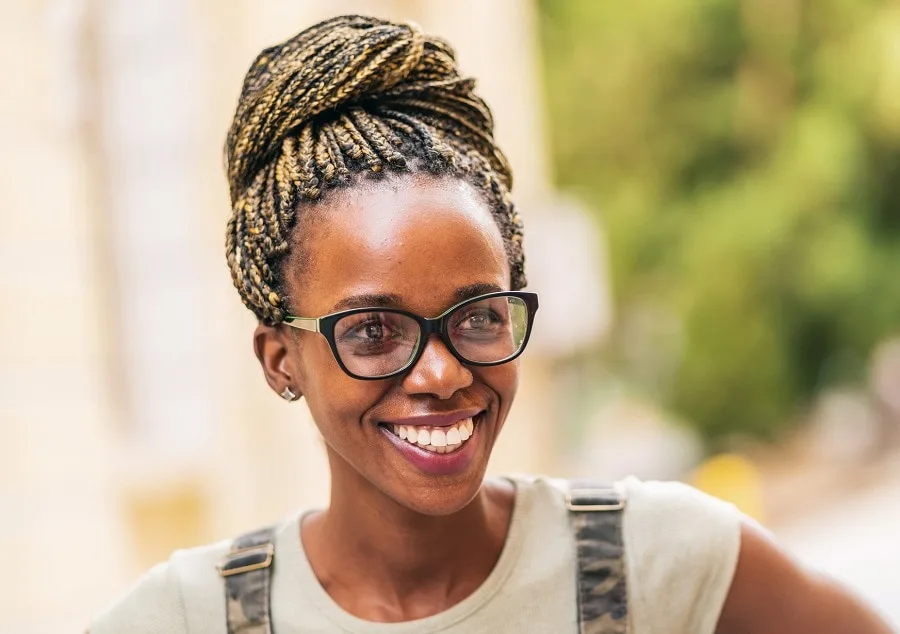 Do you wear glasses and maintain long hair? Why not keep those box braids in a bun and keep a cleaner look?
Box braids can help you achieve your goal when you want to add more color but avoid hair dye or bleach.
Use colored hair bundles for your braids and use your knits to create all sorts of hairstyles, like this large rolled bun presented above.
10. Thin Dreadlocks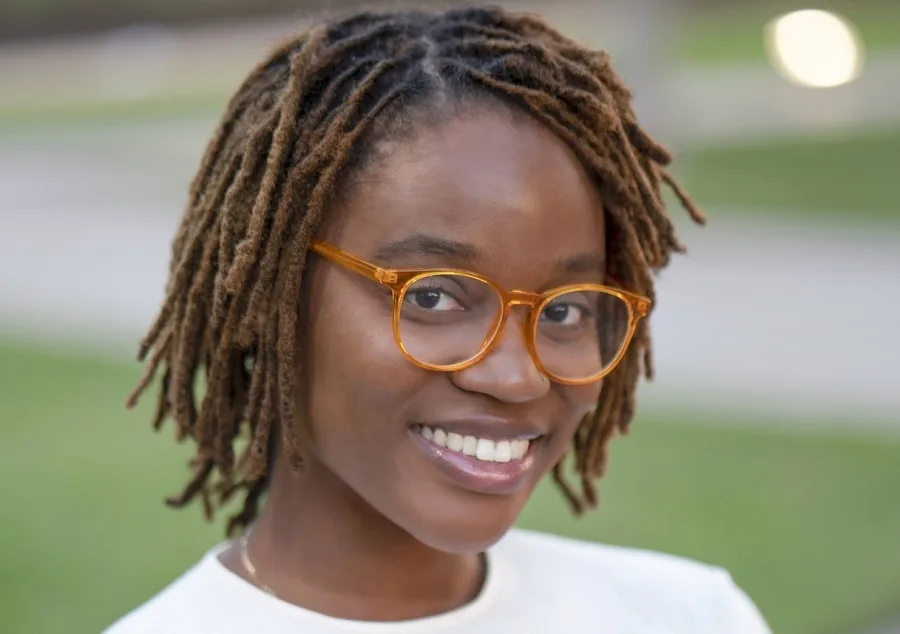 Short dreadlocks are a great way to achieve a low-maintenance hairstyle. Layer your locks if you want to sport a cool look and make it wearable for work.
If your hair is short, you can always use extensions to achieve your dream hairdo.
11. Curly Hairstyle for Black Women Over 50 With Glasses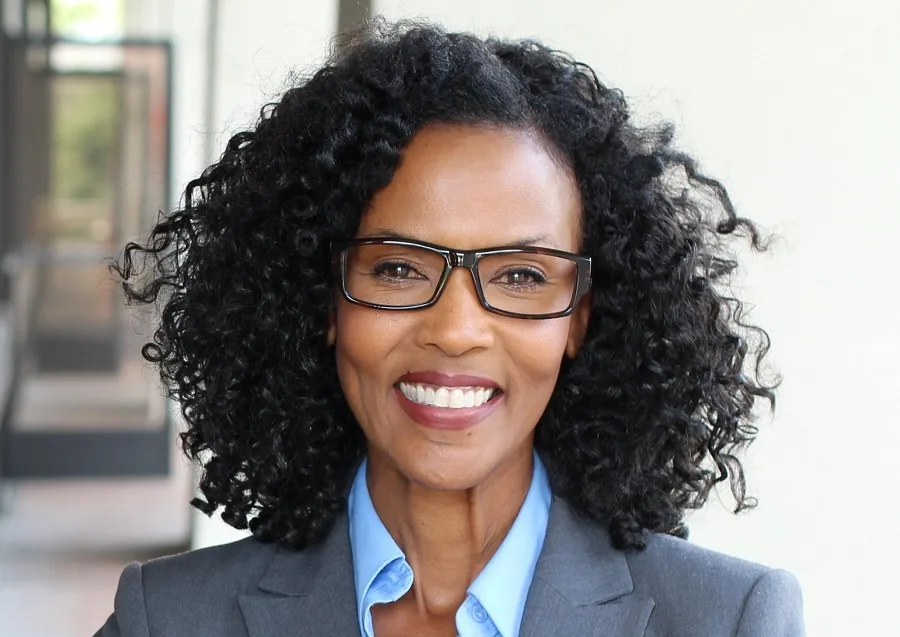 Black women over 50 with glasses and curly hair can rock any show. Curly hair looks stunning on black ladies with glasses. Always use products designed for ringlets and a foam that better defines your curl pattern.
Flip your bangs on one side, and if you have an oval, rounded or heart-shaped face, choose rectangle frames for your glasses.
12. Natural Curls with Headband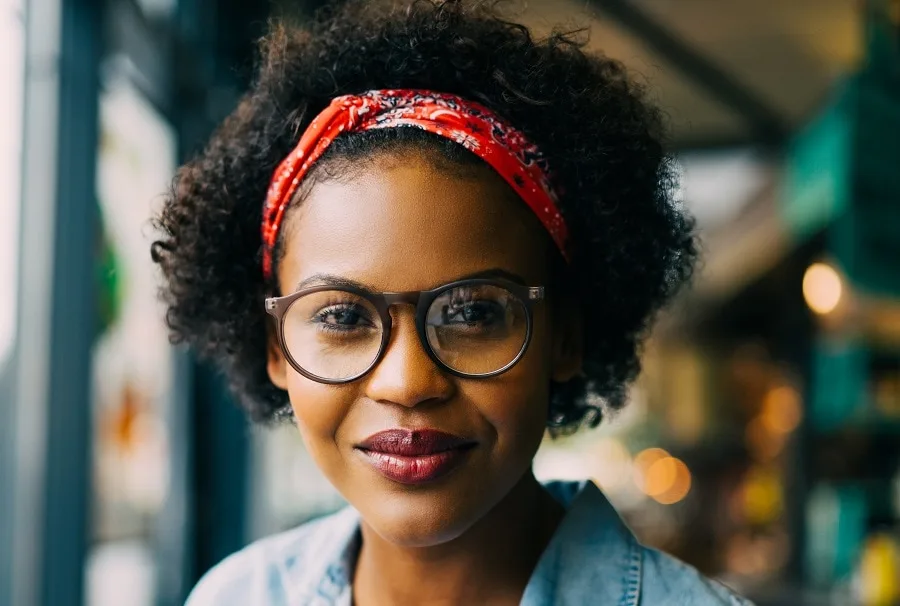 Such curly hair might be hard to tame, but a headband with a cute print or pattern will help you keep those locks out of your way. Use a mousse to give your coils more definition and bounce.
13. Top Curly Pony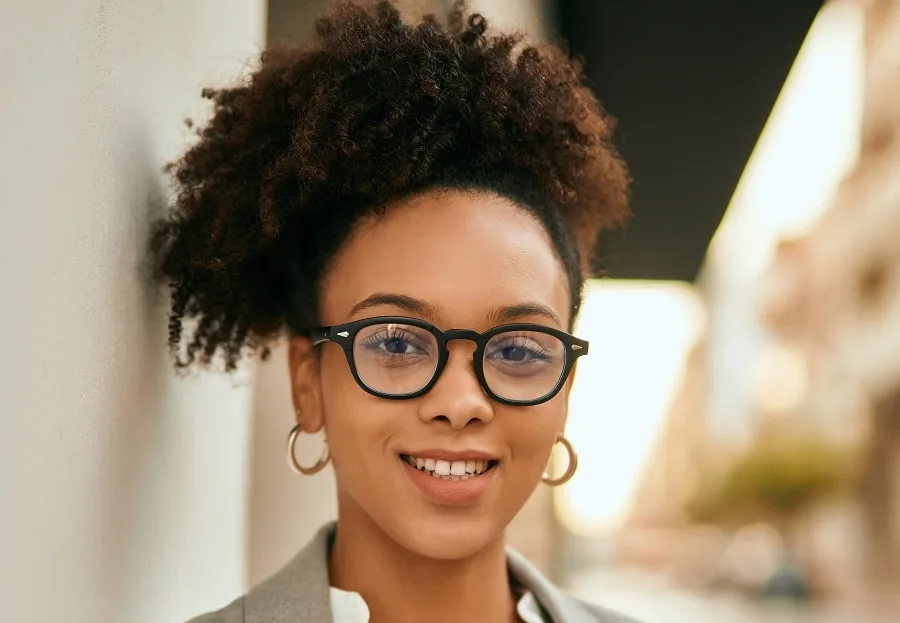 Sometimes, when you need to tame your hair and still get a nice hairstyle, the best option is also the easiest one. Use jam and styling gel for the roots and comb your hair in a top ponytail. Your voluminous hair will do the rest!
14. Flawless Back Bun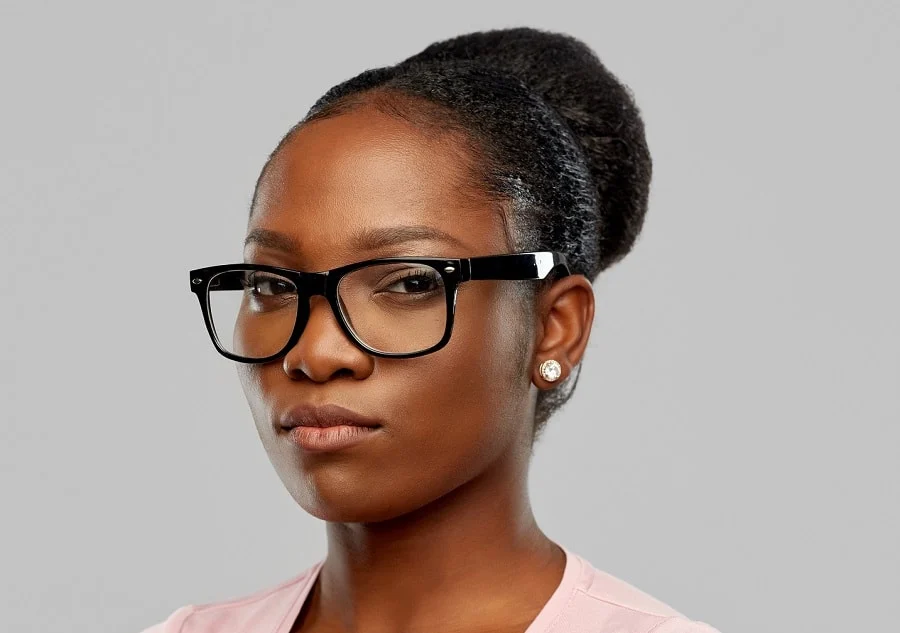 Love those teacher looks with bun hairstyles and glasses? Get wide rectangular frames and comb your hair to the back.
Apply styling gel and pomade abundantly so the hair looks shiny and wet. Pin it in the back, in a pony, then use a sponge bun to wrap the hair around it.
With a toothbrush, style the baby hairs from the forehead and temples.
15. Thick Layered Hairstyle
Such thick and voluminous hair needs a gorgeous shape. Consider layering it and tossing your top to one side to build more height. If you have brown skin, you can pick a caramel color for your frames.
16. Turban Look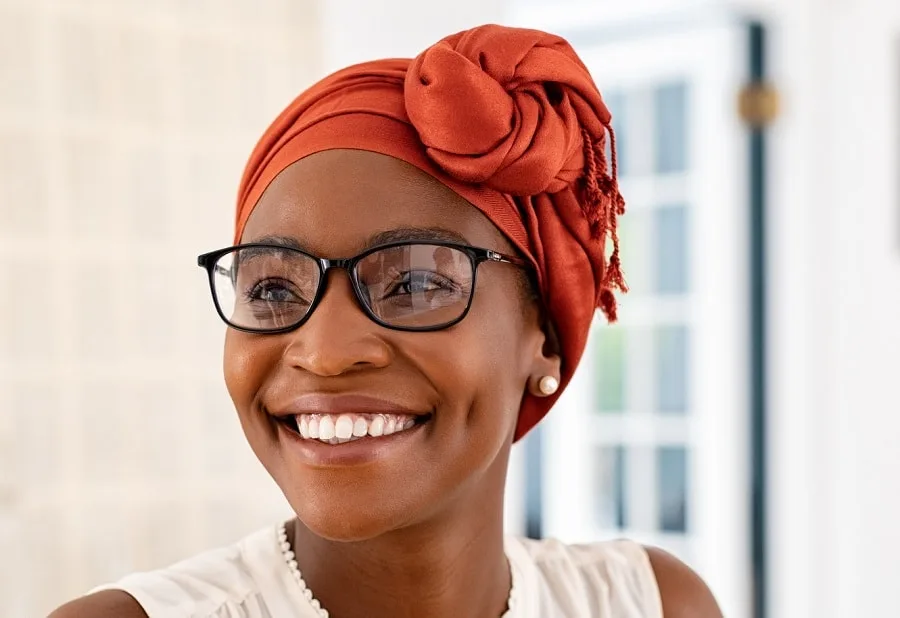 Having a bad hair day? No worries, a turban has your back! Get a colored scarf with hanging tassels and wrap it around your head.
On one side, meet the ends and roll them, tucking the tassels under.
17. Black Straight Hair Wig
Wigs can be your best friends when you need a dramatic change.
First of all, if you have coarse hair, we recommend you style cornrow braids to keep the hair in one place.
Use a wig net cap and place your wig using the interior small combs. Leave out the edges to ensure the whole look is natural.
18. Ultra Thin Dreads
Ultra-thin dreads are ideal for black women wearing glasses. This African-American women's hairstyle is low maintenance, but you need to invest more time when washing.
Soak your dreads in baking soda and vinegar for better residue removal. Make sure you rub the shampoo in your hands and create enough foaming for a deep clean.
19. Messy Corse Hair
A pixie cut for coarse hair will allow you to build height. Keep the sides shorter so they will gorgeously work with your rounded glasses. Pick frames with a pattern that warms up your face with caramel and brown nuances.
20. Space Buns
Space buns are so cute and channel your inner child. They strip years off your face and are a great hairstyling option when you are a black woman wearing glasses.
As a black woman who wears glasses, you need a hairstyle that completes your look and makes you stand out. Remember, each time you're choosing a new hairdo, consider your face shape and frames because these two have to match for an outstanding appearance.