Boys with glasses often have difficulty finding hairstyles that look good on them. You want to find a style that is both flattering and practical, but it can be tough to find the right style to work with the hair type and glasses.
However, there are plenty of boy hairstyles, and you just have to pick according to the glass type and desired hair length.
Best Haircuts for Boys with Glasses
We've gathered some of our favorites right here. So, whether you're looking for a classic cut for your boy or something a little more fashion-forward to rock with glasses, we've got you covered.
See some amazing haircuts and hairstyles for boys with glasses.
1. Long Afro
This look is achieved by growing your son's hair out long and then styling it into an afro. To add a bit of flair, you can add round-framed glasses to the look. This will help your little one show off his nerdy side.
2. Bangs + Curly Bob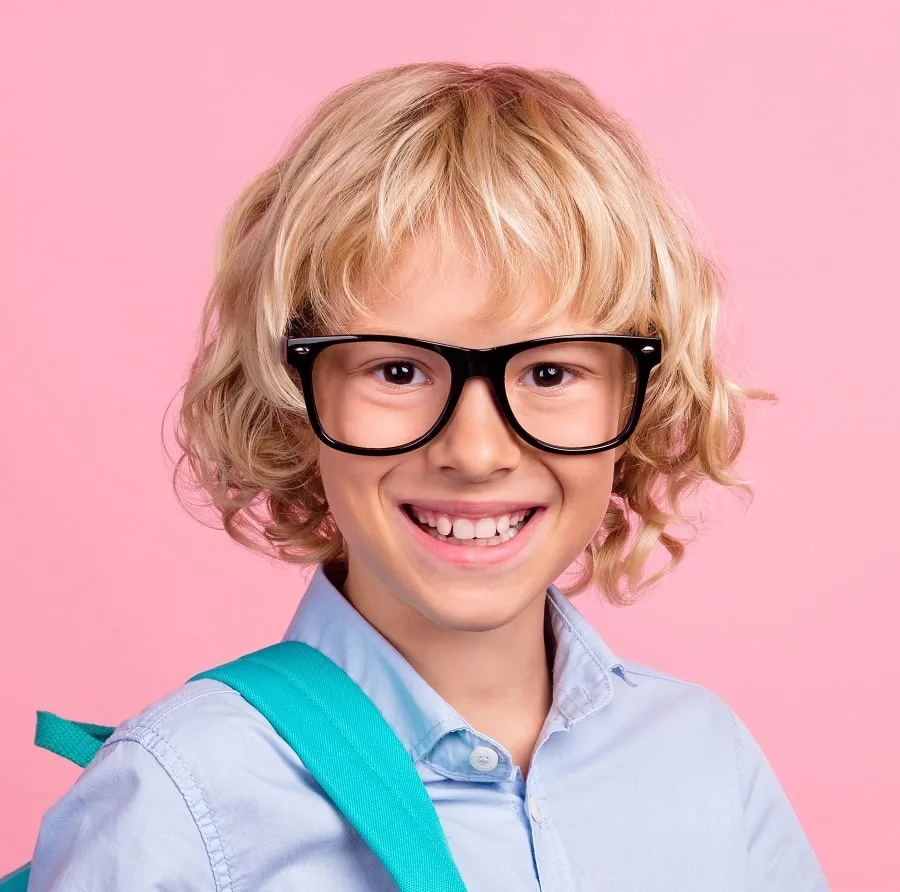 You can get your boy this look by having his hair cut into a bob with slightly curled bangs. Let the hair hang down naturally while tousling with your fingers.
3. Short Comb Over
This style is easy to maintain and gives a polished look. To style, cut the hair short using scissors and then simply comb the hair over to the side.
It is a versatile style that can be worn with glasses for both casual and formal occasions.
4. Slick Black Ponytail
This hairstyle is achieved by pulling the hair back into a ponytail and then using a gel or pomade to slick it down.
However, you may see some flyways, which is normal for such long hair. For a polished look, make sure the sides are short.
5. Curtain Bangs
This haircut is both stylish and easy to maintain, especially flattering for teenage boys with glasses, as it helps to frame the face.
To style, simply blow-dry your hair straight and then use a comb for the middle part and create a soft messy wave in the bangs. Finish with a light-hold hairspray to keep everything in place.
6. Swept Bangs
This hairstyle is perfect for boys who want a neat look with short sides and back. The top is kept longer so that it can be styled into a swept bang, which looks great with glasses.
This versatile hairstyle can be worn both in school and at any event.
7. Shave Sides + Short Afro
This black boy hairstyle features short sides that are shaved close to the head, with a short section of hair on top. The hair on top is left as it looks a unique and stylish twist.
This hairstyle is perfect for African American boys who want an easy-to-maintain trendy look.
8. Faux Hawk with Longer Sides
This look is stylish and modern yet still easy to achieve. To style, simply apply a small amount of gel to damp hair and comb into a faux hawk.
The sides can be left natural or slicked down, depending on your preference. This look works best with medium to long hair lengths.
9. Bushy Curls
Curly, long, bushy hairstyles for boys with glasses can be a great way to add some personality and style to the look.
This type of boy hairstyle can be difficult to maintain, but it can be a great way to add some volume and texture to your hair. Just grow the curly hair naturally and keep it normal.
10. Long Side Part + Bob
To style, simply part the hair to the side and tousle for a messier look. This long hairstyle for boys will look great with any type of glasses, from hipster frames to preppy tortoise shells.
Also, it is a versatile look and can be worn for any occasion.
11. Undercut Side Swept
This long on top short on sides hairstyle for boys with glasses is achieved by fading the sides of the head and leaving the hair on top longer. The hair is then swept to the side, creating a cool, modern look. It looks great on teenage boys.
12. Thick Afro hair
To achieve this afro hair look, you will need to grow out the afro and then style it into a big, voluminous style. Be sure to use a good quality hair product to keep the afro looking its best.
The hair might need to grow for 2-3 months for the desired length.
13. Faded Brushback
The brush back on short hair is a great option for those who don't want to spend a lot of time on their hair.
This look is achieved by brushing the hair back and fading it into the sides. The result is a clean, polished look that is perfect for any occasion.
14. Nerdy Side part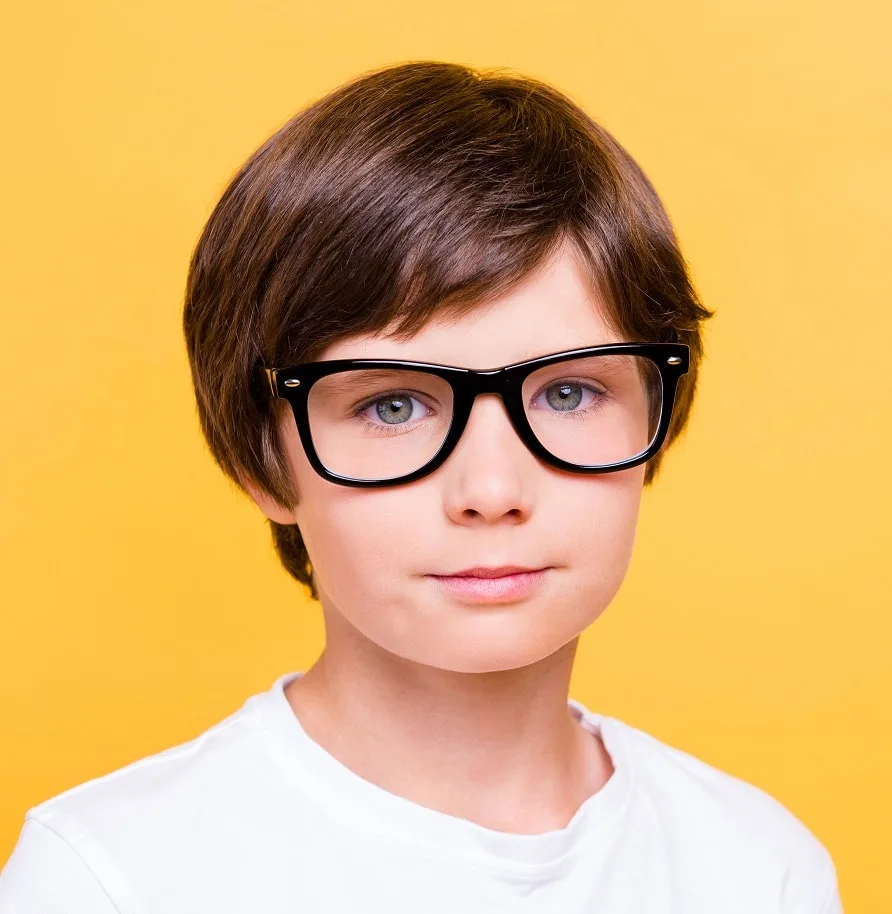 This hairstyle is perfect for nerd boys with glasses to add quirkiness and personality to the look. This style is easy to achieve with a little bit of effort, and it can be tailored to suit any face shape.
To get the look, grow the hair long and simply part the hair to the side and let it fall naturally over the forehead.
15. Long Dreads
Any teenage boy can get achieve style is achieved by growing out curly hair and then dreading it. After that, the dreads should be left hanging down.
This dreaded hairstyle is perfect for black boys who want a unique look.
16. Dyed Faux Hawk
This colored hairstyle for boys is achieved by dying the hair a bright color and then styling it into a faux hawk. The glasses add an extra touch of originality and style to the look.
You might want to try out these new haircuts if your boy wears glasses. Be sure to take your time and go to a professional stylist to get the best results.
With any of these haircuts, you will look sharp and stylish in no time!