As a bridesmaid with short hair, do you find yourself feeling unsure and nervous about your hairstyle as the wedding day draws near?
Even with many bridesmaid hairstyles out there, you might worry that your short hair could limit your options or not fit the wedding's style.
But that's far from the truth. Short hair can be styled to reflect the theme of the wedding and match any personal taste.
So, whether you're chilling at home alone or the entire bridal party is together picking out hairstyles, this is the ultimate list of bridesmaid hairstyles for short hair.
Trendy Short Hairstyles For Bridesmaids
As a bridesmaid with short hair, choosing a hairstyle that mirrors the wedding theme is vital. If you're attending a traditional or formal wedding, classic hairstyles such as a sleek bob could be a beautiful fit.
On the flip side, for a relaxed beach wedding or a whimsical garden event, opting for a more laid-back hairstyle is ideal.
Considering all this, here are some fantastic hairstyle ideas for you to explore.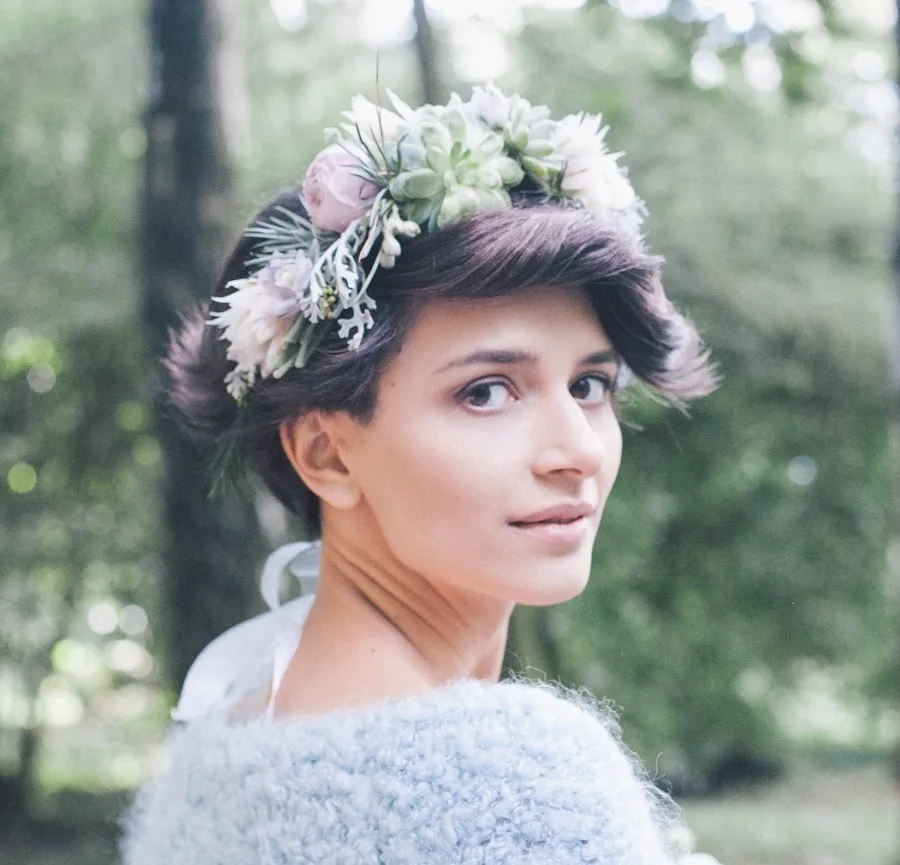 Searching for a heavenly bridesmaid hairstyle for your short hair this is it! This unique and fun hairstyle is ideally suited for an outdoor gathering.
This hairstyle features feather-like sides that bring to mind wings fluttering gently in the breeze. Much like Princess Diana's famed bob, a side part allows the hair to be elegantly swept to one side in a chic roll.
Complete with a flower crown, made with succulents, flowers, and greenery, topped with a fluffy wrap – this short hairstyle is truly breathtaking.
We can already imagine the beautiful pictures that will fill your Instagram feed, all thanks to this stunning hairstyle.
2. Pixie Cut With Casual Curls
We love this playful and romantic bridesmaid hairstyle for short hair. A beautiful strawberry blonde color with a cut just below the ear is fun and flirty on any day, but for a wedding, it has been elevated to a glamorous status with loosely tousled curls.
It's a simple short hairstyle for bridesmaids that's easy to style. Her bangs are teased for volume and swooped to the side, then the rest of her hair is curled with a small to medium-width barrel. Next, the curls are gently tousled with the fingers to give a less structured and more effortless look.
A small, dainty white headband with a small flower is added to complete the look. Just stunning!
3. Natural Afro For Black Bridesmaid
Here's to celebrating natural beauty and confidence in its purest form. This gorgeous black bridesmaid decided to wear her hair naturally, and we think it's beautiful.
The short soft afro is a classy look with a longer length on top for height and volume, and two decorative rhinestone barrets on the side add a touch of elegance along with her drop earrings.
But the real beauty lies in the woman herself; the natural makeup and radiant shine on her skin paired with the simplistic champagne-colored bridesmaid dress create an absolute knock-out look.
4. Bob Cut With Side Braids
For bridesmaids whose hair just grazes the shoulder, you're in luck! The combination of a stylish bob cut with intricate side braids provides a simple yet gorgeous appearance.
This hairstyle starts with a bob cut, preferably shoulder-length or slightly longer. The side braids are pinned at the back.
This look is perfect for those who dare to be different. It's certain to steal the show at any wedding. Give yourself a bold bob cut, dyed a vivid red with a hint of orange.
The straight bangs frame the face perfectly, and a playful flower headband suits a garden-themed wedding.
6. French Coils
This chic and stylish hairstyle is perfect for bridesmaids with short to medium-length hair. French Coils, also known as French Twists, works well with the one-shoulder bridesmaid dress and drop earrings.
You can customize this hairstyle with accessories such as pearl pins or delicate flowers according to the wedding event theme.
7. Layered Bob with Greek Leaf Crown
This cute hairstyle is perfect for Asian bridesmaids with short hair. Start by creating a defined part in your hair. Then, gather your hair at the back and secure it with a Greek leaf crown for an elegant touch.
Her initial look was a simple bob cut, which has been transformed into a striking wedding hairstyle. One side is kept loose and free and the other side is stylishly pinned up.
This combination creates an asymmetrical pin-up charm, perfect for the bridesmaid at a formal-themed wedding.
9. Platinum Blonde Bridesmaid Hairstyle
Nothing is more fun than a short and sassy bob haircut with playful bangs. Oh, wait! Yes, there is something more. Dye it to platinum blonde, and that's unbeatable.
So, when you have this beautiful and epic hairstyle, you really don't need much extra styling. Just add some stylish earrings, and you're done!
10. Retro Hairstyle
This hairstyle uses bobby pins to create a retro look. Gentle curls, added volume, and a bit of height evoke a sense of nostalgia and grace. It's a wonderful choice for weddings with a retro, or classic theme.
For those with a bob haircut seeking a simple yet stunning hairstyle for the short-haired bridesmaids, the half up half down is a winner.
With gorgeous shades of strawberry red intertwined with hints of pink and blonde, this hairstyle combines simplicity with beauty.
All you need to do is pull the front sections straight back and secure them with bobby pins and brush the sides downward. Quick, easy, and elegant – the perfect, no-fuss hairstyle for your special day!
12. Center Parted Wavy Hair
You have to see this if you're looking for a minimalist hairstyle as a bridesmaid. It's a cute and feminine center-parted short bob that is wavy on the back and styled with a vibrant purple headband.
13. Vintage Hairstyle For Bridesmaid
Nothing is a better match than a short haircut and a love for all things vintage. The hair is rolled and pinned on top with a vintage clip that has a rose design on top of it.
14. Traditional Curls with Flower
When styling hair for a wedding, you can never go wrong with barrel curls. Just make sure to have plenty of hair products to spritz and spray to make sure the curls last throughout the event. And to finish it off, add a sprig of flowers.
15. Edgy White Ash Blonde Hairstyle
If you live life on the edge, you'll love this hairstyle. It's short in the back and on one side, and the other is longer.
And when it comes to styling it on the wedding day, all you have to do is tousle it and give it that wind-swept beachy vibe. This style is perfect for outdoor weddings.
16. Side Parted Bob For Outdoor Wedding
A short side parted bob hairstyle for bridesmaids with short hair. The highlights and soft curls is perfect for outdoor weddings.
Part the hair on the side and blow dry it smooth. Then, add highlights to the hair to create volume. Next, create soft curls with a curling iron and lightly brush them out for a more natural look.
Finish off the style with a light mist of hairspray to keep the curls in place, and you're good to go!
17. Parted Fringe with Floral Crown
If your bridesmaid dress already has a glamorous high neckline that makes a statement on its own, your hair doesn't need to compete for attention.
Let your gorgeous blonde hair strands be under-curled. The final touch? An oversized, statement flower crown for that ultimate fashion-forward vibe.
18. Romantic Short Wedding Hairstyle With Fishtail Braid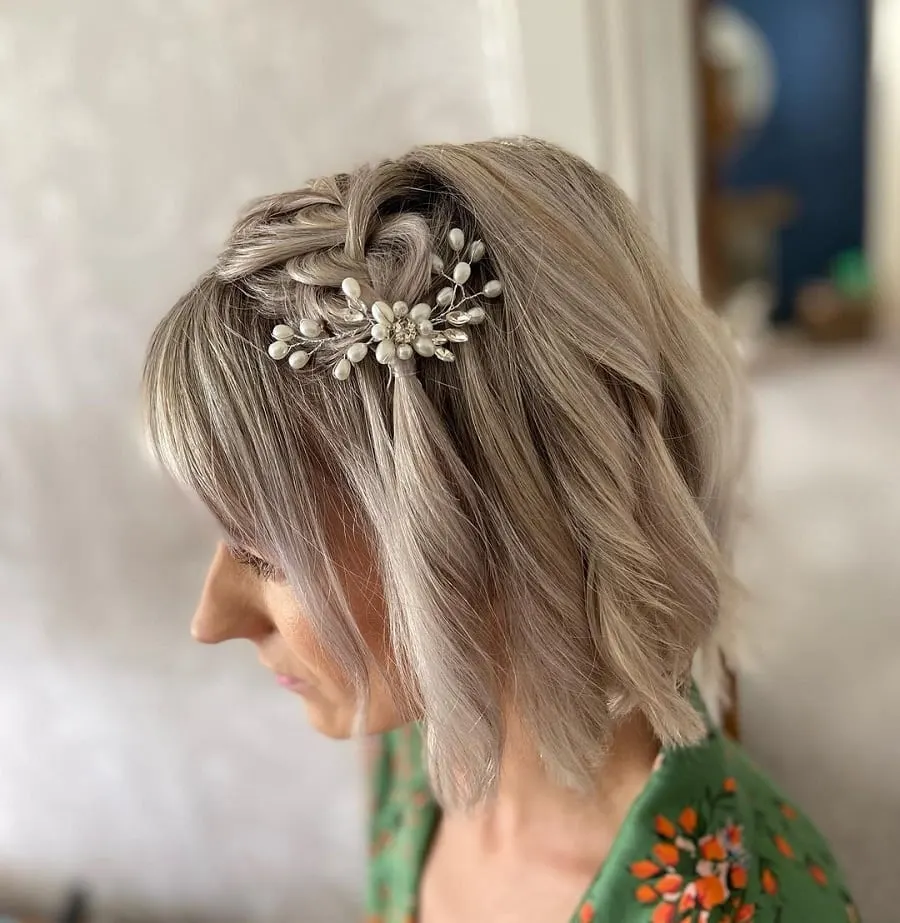 Here is another example of a minimalistic wedding hairstyle. The short hair is styled with soft barrel curls, and a small section has a fishtail braid and pearl hair clip.
19. Burgundy Red Asymmetrical Bob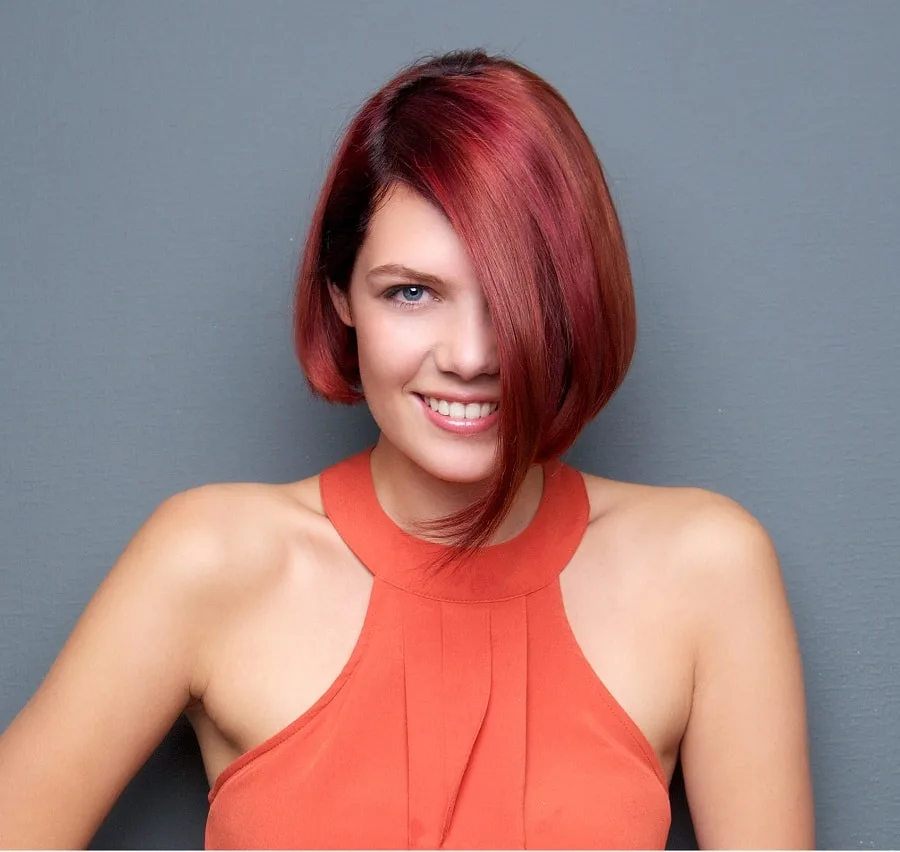 This hairstyle is all about color and fashion-forward prowess. When you have those two qualities, there is no need to add a bunch of curls, fluff, and hair accessories.
We love the bold choice of color, the asymmetrical style, and the sleek and straight look. It is modern but still soft and romantic.
20. Keep It Simple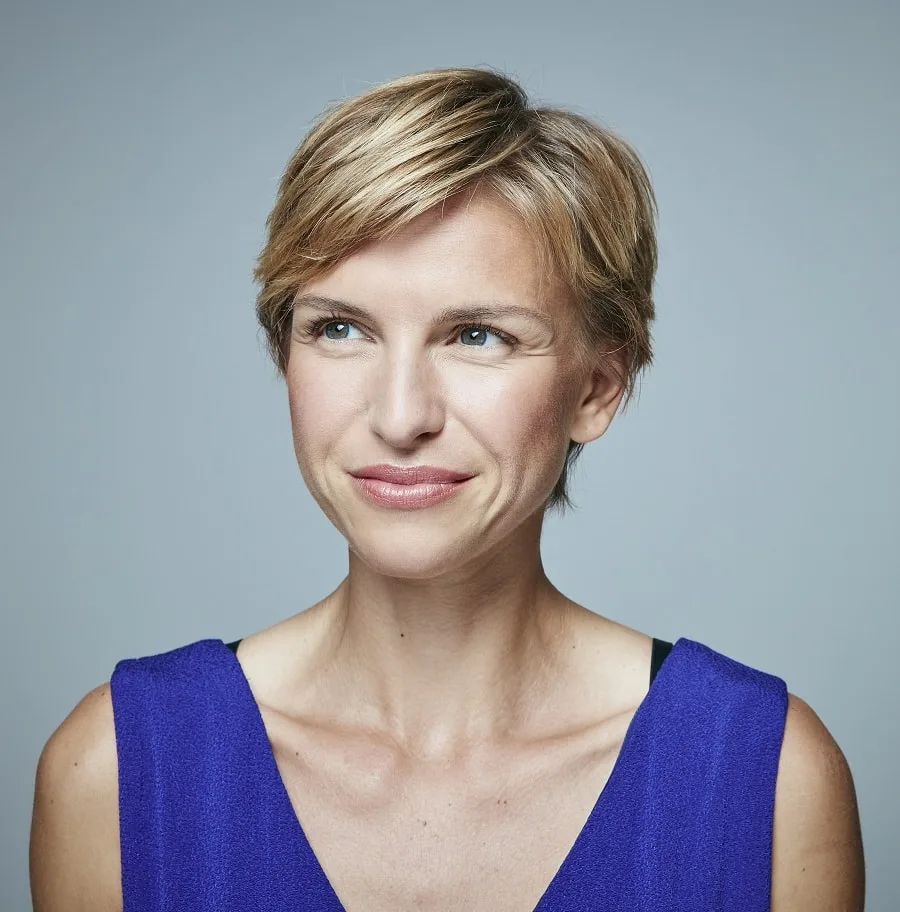 No reason to go against the grain of what you love. Some brides may opt for hair extensions, curls, hairspray, and accessories, but it's unnecessary.
Love who you are, and live how you want. So, if you love a short and sassy cut, embrace it on the wedding day. It'll allow your true radiance and confidence to shine.
So, select your bridesmaid's short hairstyle and customize it with accessories considering the wedding theme. Make sure to experiment ahead of time to find a style that perfectly suits you and the occasion.