When you are planning your wedding, your to-do list seems endless, right? Dresses, flowers, locations, band, they can make you lose your mind. After picking your bridesmaid's dresses, you need to think about their hairstyles.
Not all of them have the same facial features, and that means some hairstyles will look great on some of them, others won't. All you need to do is find a few options for your girls, and the problem is solved.
Bridesmaid Hairstyles
This is why we gathered here 101 bridesmaid hairstyles to inspire you. Your options have no limits, and you can adapt them for your own taste, you want them to look perfect, don't you?
Choose between lovely buns, flawless braids, or romantical looks. Remember that you can accessorize any hairstyle for bridesmaids with beautiful bobby pins, ravishing tiaras, or other hair jewelry.
1. Layered bun for bridesmaids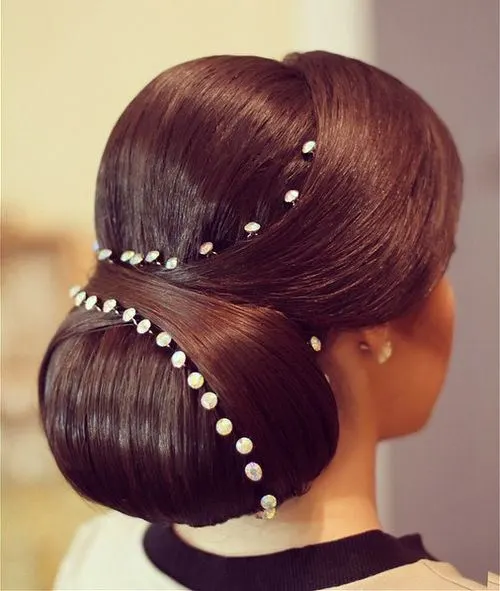 This layered bun can be done by the professional hairstylist if you have enough hair. But even if your locks are short, you can use the hair extensions to pump up the volume. Two strands are left out to create the second layer.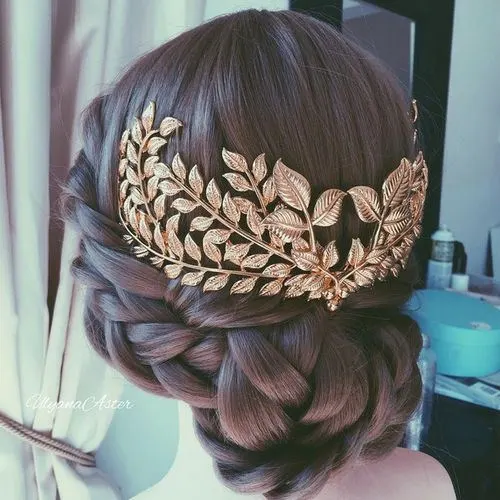 A braided bun can be made on your own hair, but you'll doubtfully get a voluminous effect unless you have really long locks. This bun can look fantastic with just a few hair extensions. Your own hair is braided on the sides and the extensions are shaped into a bun.
WEDDING: Long Hairstyles for the Bride
3. High hair mix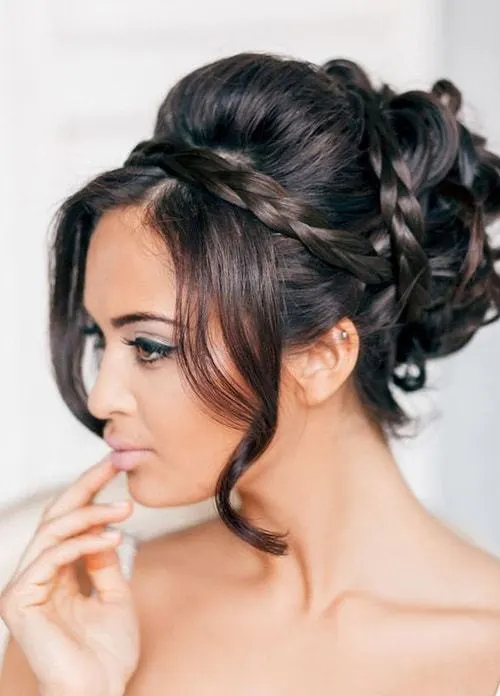 This mix of braids, high hair, and loose strands make this bridesmaid hairstyle look slightly messy and very appealing. This hairstyle is suitable for women with long and medium length hair. Girls with short locks can take advantage of a weave.
4. Bridesmaids loose bun with braid
This hairstyle is perfect for girls, whose hair is on the shorter side. The braid runs from the top to the bottom and the rest of the hair is clipped upwards to create an appearance of volume. The bottom strands can be curled.
Top 100 Wedding Hairstyles for Brides With Short Length Hair
5. Jewelry pins
If you have short locks that can't be arranged into a hairstyle, you can play around with various hair accessories. Jewelry pins are the best way to make your haircut look special and makes it easy to match to the dress.
6. Low bun
This low loose bun creates a romantic bridesmaid hairstyle that can suit virtually any bride. No additional bright accessories are required. This is a natural hairstyle that complements the overall close-to-nature appearance.
7. Ponytail bow
This is one of those hairstyles that doesn't take too long to make but look very complicated. If you have long or medium-length hair, this impressive hairstyle can become your favorite. You can even match it to the bow on your dress.
75 Gorgeous Hairstyles for African-American Brides
8. Loose braids and curls
Girls whose hair is not too long can take advantage of the braiding and clipping trick. The braid on the side gives the hairstyle some volume while the curled and clipped ends in the back give an appearance of long hair.
9. High bun
A voluminous high bun is a simple bridesmaid hairstyle for long hair that can suit any dress. The hair is out of your way while making you look stunning. You can add various hair accessories to decorate the high bun.
10. Headbands
Bridesmaid with short hair can take advantage of beautiful headbands created especially to make the locks shine. So even if you don't have long locks or the volume you so much crave, a headband can save the day.
Wedding Hairstyles For African American Bridesmaids
11. Loose strands
While loose hairstyles require frequent touchups, they look fun and romantic. Leaving a couple of loose strands hanging on each side of your face is a wonderful way to emphasize the hairstyles. Curl them slightly for better effect.
12. Thick braids for bridesmaids
A thick braid circling your head is a dreamlike bridesmaid hairstyle coveted by many girls. So if the thickness of sand the length of your hair allows it, go for it. If not, consider using a temporary weave.
13. Coils
If you have layered hair, this coiled hairstyle can become a wonderful choice. You don't need long locks to create one simple coil in the back and outline it with nice hair accessories. The shorter front layers can be left straight.
14. Flowers
Each wedding has plenty of flowers for decorations. So why not decorate your hair with a few? Consider getting plastic flowers for your hair accessories since they can stay intact all day. Fresh flowers might need to be replaced.
15. Straight and sound
This bridesmaid hairstyle for long hair is a grand choice for women who don't want the hair getting into their faces. It's also a good choice for girls with fine hair that needs volume. Make the best of both worlds with this hairstyle.
16. Side bun
Creating a bun on your side rather than bottom or top may be more complicated but it serves a great purpose. It won't be hidden from the view when the pictures are taken. Decorate your side bun with large flowers for a festive effect.
17. Coils and braids
This hairstyle is created out of the twists, braids, and coils. It's a wonderful way to give your hair some volume without any hair extensions. Ask your hairstylist for this messy yet very chic style for any occasion.
18. Wavy fun
The volume for this bridesmaid hairstyle is created by making waves on the top part of the hair. The bottom is arranged into a bun, which can be either braided or twisted for a great and special appearance.
19. Pin it up
Want to add some volume to your grand look? Use a curling iron to curl all of your locks and pin them up. Even women with shoulder-length hair can create this hairstyle, which doesn't yield to the most voluminous buns.
20. High bangs
Your bangs warrant special attention when you are thinking about a perfect hairstyle. You can lift them up with some hair gel in order to give the overall image some volume. Use some asymmetry for the rest of your hair.
21. Romantic curls
If you have thick and straight hair that doesn't need too much volume but still want some curls, this bridesmaid hairstyle is for you. Consider leaving the top straight and making a ponytail in the back. Curl it up to make large coils.
22. High Donut
This high donut hairstyle is a simple way to add volume to your hair without any curls. You lift your locks up as high as possible and use a special donut accessory to style it. Then you lift it further up and secure with a headband or elastic band.
23. Loose and windblown
If you have fine hair, loose and windblown hairstyles are great for your purposes. High buns, ponytails, and braids that look tight on thick hair can look airy on yours and bring you all the volume you wished for.
24. Asymmetrical bangs
Asymmetrical bangs are a wonderful way to outline your eyes. If this bridesmaid hairstyle is possible for your thick hair then blunt bangs with a little asymmetry can become a wonderful compliment.
25. Red highlights
Even the simplest bridesmaid hairstyle for long hair such as a high bun can become special with the right use of highlights. If your locks are dark, use fiery red highlights to outline your hairstyle. You can use a temporary dye if you wish.
26. Fairytale look
This hairstyle can be appealing to those girls who wish for a fairytale look. This is a princess hairstyle that takes some time to make but the hassle is truly worth it. The mix of waves, straight hair and braids is priceless.
27. Flower headband
No matter how you decide to go about your bridesmaid hairstyle, a flowery headband can be a wonderful addition. Whether you wear your hair down or up, it can outline your face and give you a smashing appearance.
28. Braid flower
If you have enough hair to make a long braid that can be arranged into a flower, go for it. This is a really special hairstyle that can become the envy of all the other bridesmaids. Don't miss this chance to shine.
29. Braids and curls
This is another way to mix and match the braids and curls. This is a bridesmaids hairstyle for girls with short hair, who want to add some volume in the back and create a romantic image in the front.
30. Extravagant bangs
Playing around with bangs is always fun. If you really want to stand out of the crowd, you can ask your hairstylist to create these extravagant bangs. They will definitely make an impression on all the guests.
31. Side coils
These pretty coils can be created anywhere on your hairstyle, be it the sides, the top or the back. They are easily made with a flat iron, clips, and some hair gel. Take advantage of them if you have fine hair.
32. Back to the 20's
This fashionable bridesmaid hairstyle may look stunning but can be hard to keep intact. If you are ready to handle it, you can enjoy awed looks and a magnificent appearance at your friend's special day.
33. Let it down
Many bridesmaids try to avoid wearing their hair down since it requires touch-ups. Consider this bridesmaid hairstyle down that keeps the volume on top and allows you to flaunt your long curls in the back.
Hairstyles for Junior Bridesmaids
34. The diva
Use a flat iron to create stunning waves that you can slick down to create another interesting 1920 – 1930's hairstyle. This is an ideal bridesmaid hairstyle for short hair, such as bobs and shags.
35. Strikingly simple
This strikingly simple hairstyle involves creating a loose high bun. All depends on the approach your hairstylist takes on keeping the hairstyle intact. If they succeed, you can enjoy an amazing look.
Guest In A Wedding? Try These Hairstyles
36. Flower Fun
A rare wedding won't have flowers all over the place. And one of the places they look the best is the bridesmaids' hair. Attach beige or red flowers to the bridesmaids' locks while leaving the white to the bride.
37. Bright headbands
Bright headbands are the perfect way to make al bridesmaids look as similar as possible. Buy large accessories and make sure they match the bridesmaids' dresses.
38. Complicated buns
This long bridesmaid hairstyle can easily create this complicated bun with the help of your favorite hairstylist. It will look especially well on highlighted hair without any visible accessories.
39. Curly Bangs
Another cool way to go about the bridesmaid hairstyles is to make simple curl arrangements. Ask them to create a large bun in the back and have each of them leave on curly strand hanging down the forehead.
40. Bridesmaid hairstyle for short hair
If you need a perfect hairstyle for short hair, this is a great choice for you. You will need to make small and very tight curls and brush all your hair backwards. Use a lot of hair spray to keep it up.
Dreamy Wedding Hairstyles for Brides With Long Hair
41. Braided Bun
A braided bun is easy to make. However, it is still one of the most popular wedding hairstyles for both the bride and the bridesmaids. Diversify it with some interesting clips or flowers.
42. Curly Sue for the bridesmaid
No wedding will be perfect without a lot of curls. So, even if the bride opted for a straight hairstyle, bridesmaids should bring some curly atmosphere into the picture.
43. Comb over
This is a great bridesmaid hairstyle for girls with long and straight hair. The front locks are combed over to one side and the back, while the rest of the hair is arranged into a simple low bun.
44. Long Bangs
Brides prefer not to deal with long bangs since they get into their faces at the most unexpected moments. However, the bridesmaids can easily allow themselves to sport long and sexy fringe.
45. High bun
Even if the bride decided to go for a high bun, it doesn't mean bridesmaids should avoid it. One of the best wedding style choices is to have the same hairstyle for everybody. A high bun is a good option.
46. Hair extensions
Hair extensions are a perfect choice for bridesmaids who must all have the same hairstyle. Buns and braids are the easiest way to arrange the hair to make everyone look similar.
47. Donut bun
Donut buns are very easy to make with the help of special hair accessories or just a simple sock. This hairstyle will not have you spending money on hair salons and will still look amazing.
48. Temporary highlights for bridesmaid
A great way to create a special bridesmaid hairstyle is to dye your hair. If you don't want anything permanent, go for temporary highlights to make your tresses brighter and more impressive.
49. Loose style
If you want to make a nice and relaxed impression at your friend's wedding, consider loose hairstyles. Make sure to keep it together with plenty of hairsprays otherwise, you'll get a mess by the end of the day.
50. A cocoon
This is a good choice for girls who don't have long hair but still want a stunning hairstyle. A professional hairstylist will make your tresses look stunning with just a few strokes and a lot of gel.
51. Cutie bridesmaid's curls
If you are a bridesmaid at a princess-like wedding you might want to work on a simple yet very cute girl image. Simple blond curls can do the trick if they are neatly arranged together. This short bridesmaid hairstyle is an amazing option if you don't have the long hair to do other styles.
52. Half up half down
This simple half up half down hairstyle is a great way to arrange a bridesmaid's hair without any extra hassle. All you have to do is create some curls and tie the front strands in the back with a nice accessory.
53. Flowing curls
Flowing curls are a no-lose bridesmaid hairstyle. Even if the bride chooses the same style, it will still look perfect. Make sure some strands are hanging over your shoulders so they are visible on the photos.
54. Simple beehive
A small beehive is a great addition to the simple half up half down hairstyle. Consider creating neat coils in the area where the strands are tied together. You will look fantastic!
55. Romantic waves
A bridesmaid is a very important person at any wedding. But she can't upstage the bride. So it makes sense to go for a simple hairstyle such as romantic waves and no large accessories.
56. Lift it up
There are many ways you can lift up your tresses. But if you are a bridesmaid, no need to get too creative. Make sure that this loose hairstyle is well-held by a lot of hairsprays.
57. Short bangs
If you have short bangs, consider clipping them to the rest of the hair in order for them to stay neat all day long. The rest of the hair can be arranged to make a stunning half up half down style.
58. Nice and natural
If there are no special requirements for a bridesmaid hairstyle, you can go for a natural look. Surprisingly enough, this is the approach that is usually the most appreciated by the brides.
59. Blunt bangs for bridesmaids
Blunt bangs look perfect coupled with long and wavy hair. This is one of the simplest yet very beautiful hairstyles you can use if you are a bridesmaid. Just don't forget the hair gel to keep the curls neat.
60. Blond and Fabulous
Dyeing your hair blond is always a great way to make your image brighter. Lighten up the color of your hair if you are a bridesmaid and you will truly shine on your friend's special occasion.
Bridesmaid Hairstyles for Short Hair
Every girl cares about how she will appear at the wedding. But many forget about the way their bridesmaids will look. Never forget that the bridesmaids will be part of most of your wedding photos. Their image is especially important for the perfect wedding.
Bridesmaid Hairstyle for Long Hair
That's why it is imperative to pay special attention to their hairstyles. Perhaps you will want them all to have the same one just like the dresses. Or you'd like them to wear their hair either up or down. Whatever is the case, you will need to browse through some good options to make your choice.
Bridesmaid Down Hairstyle
That special wedding day is around the corner and besides caring for your dress, hair and nails, you can't forget about bridesmaid hairstyles. Some girls allow their friends to choose the styles on their own, while others do some careful research to make sure that the bridesmaid hairstyles suit her own or at least go together with the rest of their image. Of course, if you want your wedding to be absolutely perfect, you will need to spend some time planning. Whether you are a bride, a bridesmaid or a wedding planner, you will be choosing the perfect bridesmaid style out there.
These awesome bridesmaid hairstyles will help you decide what to do with your or your friends' hair on that special day. Don't automatically go for the simplest ones. Complicated hairstyles can really make the girls shine and the day truly memorable.
More Amazing Hairstyles for Bridesmaid
There are thousands of bridesmaid hairstyles out there. We hope we achieved choosing the best ones available today. Being a bridesmaid is a serious responsibility so you need to look your best. Each one of these hairstyles can help you do the job.