Curly hair is beautiful and easy to maintain. Light brown curly hair might sound scary at first, but give it a try and you won't be disappointed.
Coloring curly hair can be exhausting and frustrating because it requires patience, skills, and an artisan thought as curly hair reflects light brown hair color easily because of the volume.
With straight hair, you can apply bleach and you're good to go with the colors, but with curly hair, you often run out of ideas and end up spoiling your mood with a bad hair day, and what's worse than a bad hair day? Another bad hair day!
How to Dye Curly Hair Brown
Dyeing your hair is the best way to freshen up your look, but you cannot just start it over. Different hair types require different guidance and hair care tips.
While it is difficult to tame and dye curly hair at home as compared to straight and wavy hair, it can be a five-finger task if you do it the right way:
Here's how to dye your curly hair brown:
Retain The Moisture
Curly hair is dry and brittle, thus, needs more moisture, moisture balance is necessary while dyeing curly hair, wash your hair 3-4 days before you dye it so it develops enough oils to help protect the hair during the process.
Avoid using hair styling products before at least 3 days before dyeing your hair. You need to condition your hair on the day you dye to keep your hair moisturized.
You can leave the conditioner and let your hair dry. After they have dried, you are ready to dye your curly hair light brown.
The Bleaching Process
Bleach is required if you want a bright and vivid tint on your hair. However, bleach is a very strong and harmful chemical, you need to take care of things while bleaching:
Start with the tips and do not bleach the roots.
Do not exceed the time recommended on the packaging, otherwise, you will ruin your hair.
Always rinse the bleach completely before applying shampoo.
Preparing to Dye
There are dyes specifically formulated for curly hair. Always buy the dyes that are for curly hair as they are much gentler than other boxed dyes. Prepare the colors according to the instructions mentioned on the packaging.
Divide your hair into 4-5 sections and clip them up. Using an applicator brush, apply the dye to your hair from mid-lengths to the tips. Apply the dye to all sections, once you've applied the dye, remove the clips.
Using a wide-toothed comb, comb your hair correctly from the tips to the middle of the shaft. Once you've applied your hair dye properly, wrap the strands in pieces of aluminum foil and wait for about 30-45 minutes for the color to develop.
Rinse The Hair
When your desired stain is achieved, it's time to rinse your hair with cool or warm water. Don't shampoo your hair instead use the conditioner that came in the kit for about 2 to 3 minutes and washes it off with cool water. Give your hair a break from heating and styling products and let it air dry.
Watch The Following Video to Learn How to Dye Curly Hair in Light Brown Shade
Smashing Brown Hairstyles with Bangs for Women
Tips and Tricks to Maintain
Curly hair is beautiful and a blessing. It will surprise you that many women with straight hair are envious of the women with long, curly voluminous hair, but taking care of the thick curly mane on your head is challenging and sometimes heart-breaking.
Here are some tips to maintain your beautiful light brown curly hair:
Nothing can take care of your hair but a Good shampoo and conditioner. Shampooing and deep conditioning leave your hair super silky and lustrous. While choosing a shampoo, make sure you choose one without sulfates and paraben as these chemicals weaken your hair follicles and make them dry and brittle.
A wide wooden comb is your best friend as they reduce static and helps prevent hair loss with a moisturized scalp resulting in faster hair growth and beautiful hair.
Curly hair is more brittle, frizzy and dry than straight hair. Moisturize your hair as much as you can. At least 2 times a week for the smoother, silkier and healthier hair. Coconut oil is the best for dry curly hair.
Nothing beats a beautiful and professional haircut. Haircut helps your hair look more voluminous and rich. Trim your hair every month to prevent the split and dead ends and never underestimate the power of a good hairstylist.
Latest Light Brown Curly Hairstyles
Sometimes, curly hair gets extra brittle and dry, but doing the right things at the right time may save your day. Single tone hair colors impress no one anymore.
While highlights, lowlights, balayage and ombre hair are on fire. Here is a list of 7 eye-catching light brown hairstyles for curly hair:
1. Honey Brown
If there could be one color that would spice your summer/spring/winter look flawlessly, it would definitely be honey brown. With the warmth and shimmer, this hair color rocks the light brown curly hair game and looks super impressive and sublime.
2. Soft Curls
Whether long or short, curly, wavy or straight, the brown color looks the best on every hairstyle. If you're planning to dye your hair curly hair brown, but not sure how it will end up.
Go for the light shade of brown without a single doubt. If it turns out well, you can opt for the darker shade later on, or just stick to the lighter shade for the more natural and lively look.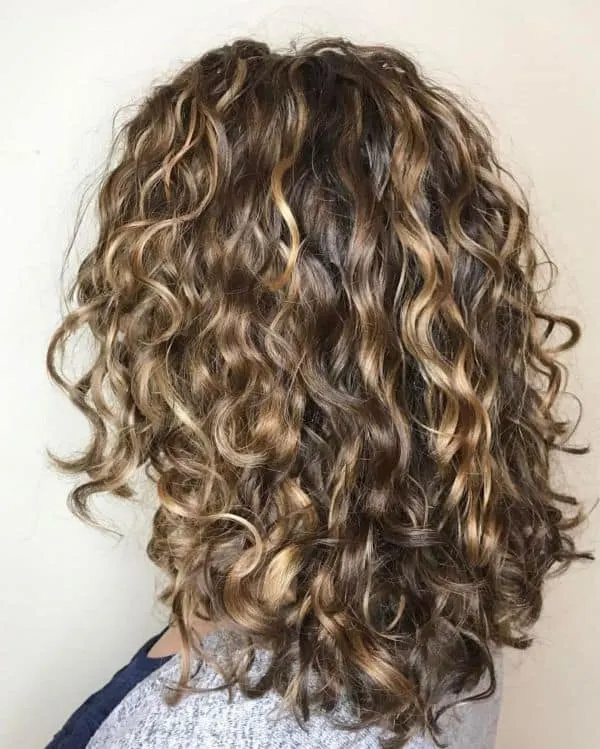 If you want to get eye-popping, punky yet elegant hues of brown. You can dye your curly hair light brown with blonde highlights, this is the stunning hair color duo and works the best with every hair type.
Curly hair looks luscious and luxurious with lighter brown hair color. This hair color works the best on coily hair and gives a gorgeous and attractive look.
This color is pure bliss for women with a curly mane. The color has more ash tones in it, but with the classic light brown, it gives your hair a chocolaty brown effect and looks amazingly beautiful. One of the coolest light brown curly hairstyles for women.
6. Medium Brown Balayage
This is the trendiest, up to date and ever-so-beautiful warm brown hair color we have for women with curly hair. With a very subtle tint of medium brown and a deep hue of chocolate brown, this color looks straight out of a luscious palette.
This light brown hair color looks exceptionally wonderful on curly voluminous hair. The balayage on the light copper brown hair color looks dreamy and subtle. The warm tones of brown light up your face giving the hair color a thrilling, eye-popping effect.
FAQs on Light Brown Curly Hair
What shades of highlights works the best with curly brown hair?
Highlights can be bold or subtle depending on your taste, but experimenting with the highlights can be the most amazing decision you can ever make. Highlights are bright and fun.

Be it blonde highlights, balayage or ombre highlights, with highlights your hair looks sophisticated and one of a kind. You can make it look interesting and compelling with blonde highlights.

Caramel highlights also add warmth and stand out with the darker tones of brown giving a beautiful and feminine appearance. Brown hair with golden highlights is the laud.

It is a perfect combination that makes your hair stand out in the crowd. If you are being too adventurous and experimental, always go for Red highlights with bright and intense hues.
What is the difference between loose curls and tight curls?
Fully coiled, extra bouncy with intense volume, tight curls are compactly packed and coiled. These curls demand extra attention and moisture. Keep them hydrated and they will make your hair game stronger than ever.
Fun, playful, soft and luscious, loose curls are full and voluminous. These curls crave for light moisturizers and nourishing hydration to lift, create volume for silky movement.
If you are blessed with curly hair, do not forget to moisturize, oil, and trim your hair timely. Give your light brown curly hair the love and care they deserve and wear your brown curls like a crown!
You May Also Like