Try the bangs on your brown hair and look fabulous! If typical hairstyles no longer interest you and you'd wish to try something new, you can never go wrong with bangs. The good news is that the length of your hair will not limit you, as bangs go well with all hair types.
Brown Hair With Bangs
We've shortlisted 12 trendy brown bangs hairstyles to try.
1. Space Buns with Bangs
Brown hair color has multiple nuance ranges that you can explore, and in this case, we will definitely vote for an in-depth tone. This dark brown hair with bangs is ideal for women who want a youthful touch and adore looking childish with space buns.
2. Medium Brown Hair with a Fringe
A light brown hair with bangs looks not only charming, but very modern. These natural shades are trendy in 2023, and if you go for a straight cut, the hairstyle will provide great framing.
3. Choppy Rounded Bangs
By getting a fringe that is just above the eyes, you will maintain the regular face length. A brown hair with light copper nuances is an excellent match for choppy bangs and a layered haircut, especially if you have green eyes and fair skin.
4. Layered Pixie
A short brown hairstyle with bangs with loads of layers is perfect for framing. If your face is rounder in the cheek area, you need to add more angles. Use that fringe if you crave an oval face shape.
5. Brown Hair with Highlights
This chocolate hair color looks delicious, and it can look even better if you apply some highlights. Your fringe must cover your eyebrows and if you want that bouncy effect, make sure you blow-dry it with a round brush.
A perfect bangs cut can take off up to five years off your face! Even though they require regular maintenance, a nicely shaped fringe will leave your beautiful chin popping.
Consider your hair texture when going for a trim. If your hair is very curly, the fringe might end up frizzing as soon as moisture hits the air. Flat iron or a blow drier will have to be your friend. Blunt bangs are ideal for one who wishes to create an illusion of a longer face.
These are the easiest brown hairstyles with bangs to achieve. They require less commitment than blunt bangs and can be worn by any face shape. You can choose to have them super long or short. A couple of trims every week will have your hair looking fresh for 2-3 months. Alternatively, you can let them naturally grow with your haircut if you are the lazy type.
You can wear this brown hair with bangs style to the office or formal events. Simply tie your hair at the back in a high pony and you are good to go! You will still have something going on at the front even as all your hair is secured in a ponytail.
Rock long brown haircut with bangs by adding blunt bangs. Your look will instantly be freshened and many will be left wondering what you just did. Should you get bored with it, you can nicely transition into a neat see-through bangs with a ponytail for an official look.
This bangs style on brown hair effortlessly frames your face even with thick hair. Have your stylist trim the middle part just below your brow and the sides a bit longer, to form an inverted bangs.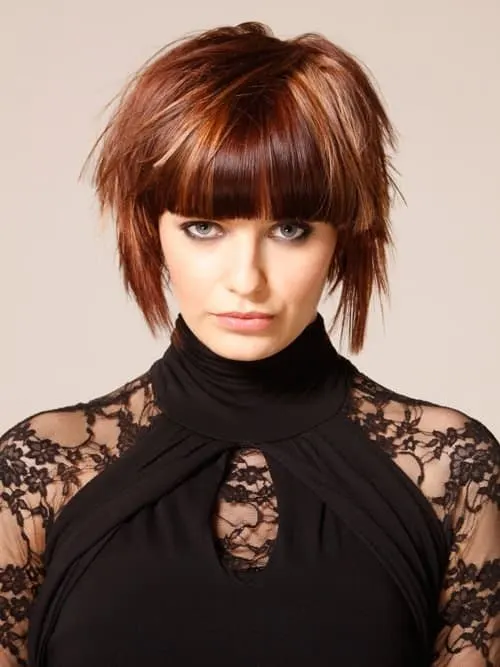 A messy pixie hairstyle fits a flashy and fun personality. Besides being trendy, such bangs always come back. They are ideal for a platinum blonde as they give one a funky, edgy, rock 'n' roll look. It is a simple brown balayage with bangs hairstyle that will always be gorgeous on all face types.
Brown hair with bangs can never go wrong when in a short bob. This gorgeous fresh look has never gotten out of style especially with those that want to add a classy touch to their look. Such a look goes well with minimal makeup, for a classy minimalistic look.