If you are active on the Internet and Social Media, you might have seen that the men's cornrow braids are becoming one of the most preferred hairstyles in recent years.
While it can be problematic when worn without addressing the genesis, it is a low-maintenance hairstyle that everyone can pull off. So here are the best Cornrow braid hairstyles that every man should try once in their lifetime.
Who Should Wear Cornrows?
Cornrow braids are traditionally worn by black men of African descent and are rooted in their culture. If you want to try out this braid style, it is a good idea to acknowledge the genesis and the cultural significance of the hairstyle, and you are good to go.
Cornrow Styling Tips for Men
Unless you know what you are doing, get your men cornrows professionally styled by a stylist. Avoid washing your hair and use leave-in conditioners. Moisturize the hair religiously and use spray sheens for your hair. Avoid any oil-based moisturizers. Use satin pillowcases to protect the cornrows.
Things to Keep in Mind for Cornrows
Cornrow braids on men are easy to maintain and last over a month if you care for them properly. By preventing regular touching and using gentler cleaning techniques, you can make your braided rows last longer. Remember never to keep your cornrows in for more than 6 weeks.
Watch The Following Video to Learn about DIY Cornrow Braids for Men
Cornrow Braids for Men
Cornrow braids are common yet intricate hairstyles that are carried out mainly by African-American men and women. It's easy to maintain and gives an exotic look. We have compiled 40 best men's cornrow braids ideas that any man can pull off. Take your pick!
1. Cornrows with Curled Ends
If you're a man with hair that has a slight wave to it, cornrow braids that are loose at the ends are a good choice. The natural ends will allow your hair's texture to peek through, so you get the best of both braided and natural worlds!
2. Short Braids with Beads
Does your black hair have a bit of length to it? Go for cornrow braids and stack the ends with clear or white beads for a bit of personality. If you want a little more color, opt for blue or even green beads!
3. Cornrow Fade
To achieve a hairstyle with tons of detail, leave half of your hair natural and add a cornrow braid fade to the other side. The contrast between braids and soft wavy hair is very handsome on men.
4. Cornrow Braid Man Bun
We love the peeps of blonde on this men's cornrow braid hairstyle. The curved braids are gathered into a man bun, a convenient style whether you're heading to the gym or just trying to look fresh on date night!
5. Thin Cornrow Braids
These super thin cornrow braids are anything but boring because of their varied directions. The combination of curves and straight lines makes the braids a flattering style for any man's face shape.
6. Cornrow Braids with Fade
To add a bit of edge to your cornrow braid hairstyle, try experimenting with a high fade. This one comes up to just the middle of the sides of the head. The braids are super smooth and sleek, pairing nicely with a full beard.
7. Thin and Thick Cornrows
Another way to play with contrasting styles on a men's cornrow braid hairstyle is by making the braids in both thin and thick rows. Also, instead of making the braids flow straight back across the scalp, make them curved. You can also gather them in a low man bun or leave them loose.
8. Center Parted Cornrow Braids
If your hair is pretty thick at the top, but thins out at the ends, go with these perfectly lined cornrow braids. They're gathered into a low ponytail where the thin, curled ends are noticeable.
9. Criss-Crossed Cornrows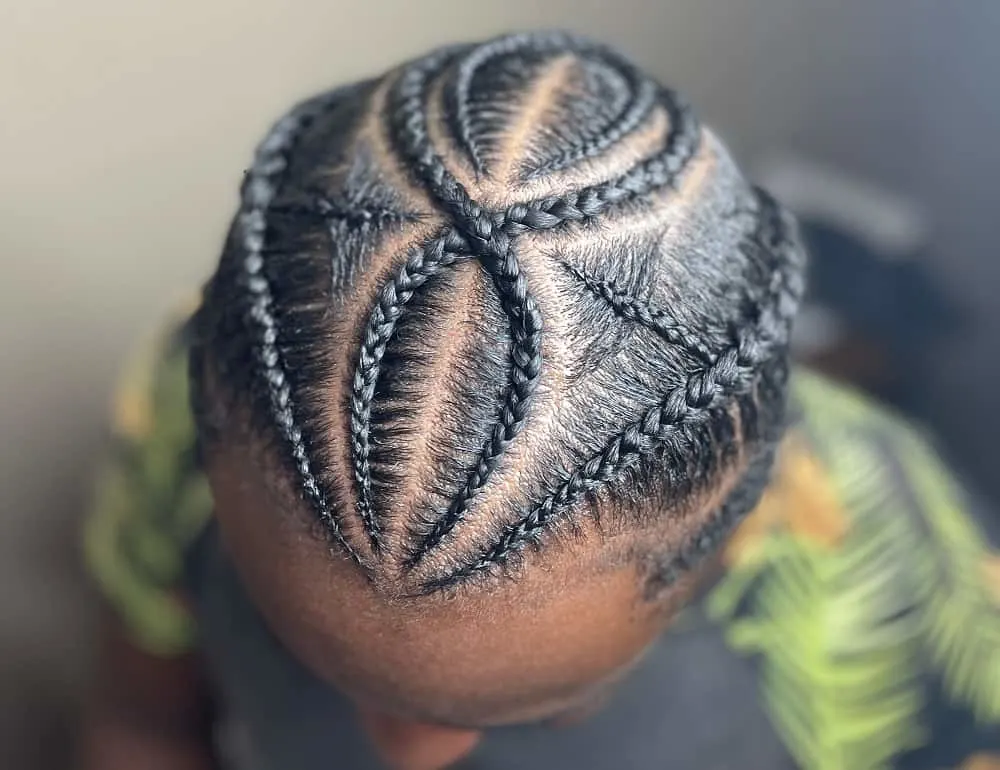 Looking for a men's hairstyle that encompasses your love of detail? A criss-crossed cornrow braid hairstyle is your match! These thin braids are swirled together, creating intricate patterns all the guys will envy.
10. Thick and Diagonal
A temple fade looks very handsome on this men's cornrow braid hairstyle. For thicker hair, make the braids in two sections, each heading back from the scalp in a diagonal direction.
11. The Basic Cornrow Hairstyle for Men
If you are just starting out with the world of cornrows men, this is the perfect place to start. This is a beginner design and features rows of braids without a lot of embellishment. You can always jazz a basic braid up with jewelry or some cool highlights. This is a very clean and straightforward design.
12. The Spaced out Simple Cornrow for Beginners
This is a simpler cornrows men style for guys that are more spaced out and ideal for beginners. The rows can be made more vibrant with the use of some highlights, preferably in bronze or gold tones. You can even spice things up with some simple and fashionable hair jewelry options that are not too flashy. If you are looking for a manly haircut with lines and patterns, check these designs.
13. The Not-so-basic Cornrow for Men
This is an amazing example of how the simple cornrow can be elevated into a work of art. This simple cornrow style features a few main braids and is ideal for people who have mid-length to long hair. The cornrow design also incorporates the buzzed fade, which is super clean and complements this look perfectly.
14. Man-bun with Buzz Cut and Cornrows
This is another simple cornrows men hairstyle which features the classic cornrow design but pairs it with a cool and in-trend man-bun. The design also features a buzzed undercut hairstyle, which makes the design look much cleaner and more intricate. This look is quite low maintenance and is one of the best cornrow braids for black men.
15. Level up with Lightning
This is an amazing example of a more advanced design and is beautifully symmetrical and clean. Four braided cornrows men are offset by a central middle part and some cool chevron/lightning pattern on the sides that makes it way more interesting and cool for people to look at. This one is 100% sure to grab attention and appreciation.
16. The Wavy Cornrow for Men
This cornrow hairstyle design is for beginners who want something a little different for their hair. This design combines the beauty of the basic cornrow as well as the symmetry and introduces a stunning wave pattern into the mix to create this masterpiece. This is ideal for beginners who want to step out of their comfort zone.
17. The Double Helix
If you are looking for something that looks out of the ordinary and if you have hair that is on the longer side, this is absolutely ideal for you. This pattern features a double helix design and looks absolutely stunning. The intricacy of the braids is sure to grab quite some attention, no matter what you go.
18. Differently Sized Braids
If you are looking for some variation for the size of your cornrows, this is a cool design for you. This cornrow braid is ideal for mid-length hair and is combined with two different sized rows, one thicker and one on the thin side and is paired with a man bun to gather the rest of the hairs.
Best Man Braids to Become A Debonair
19. Cornrows for Longer Hair
If you have longer hair, it can be a good idea to go for this style. This pattern of cornrows on guys has a middle part as well as two side braids that tame the longer hair strands. The head features a mix of different lengths of cornrows that are beautifully symmetrical and create a very striking pattern.
20. The Cornrow and Side Buzz Combo
If you are looking for a more edgy look, this is ideal for you. This design combines a cornrow that follows an M/W shaped pattern throughout the scalp, two larger braids near the side and a clean and symmetrical buzz for the sides. This is a very convenient style and looks extremely fashion forward.
21. Cornrows with Waves
This cornrows men hairstyle combines different patterns, with some neat and clean straight rows as well as some cool wavy patterns that offset the straight rows to give you some contrast. The end result is absolutely phenomenal and symmetrical due to the inclusion of the perfect middle part, framed by two neat braids. This is definitely an advanced hairstyle.
22. The Row-pro for Men
If you want to go for a very advanced look done by a professional, it can be a good idea to pick this style. This is a pro-level look with differently sized and shaped rows symmetrically arranged to resemble a sort of petal-like design. The rest of the hair is piled up neatly in a man-bun.
23. An Advanced Corn-row Design
This design is similar to the previous version of the hairstyle and uses the same different shaped cornrows for men and goes for a simpler design. The lower part of the design features some incredible mastery and is placed at a clean angle from the rest of the design, giving it an amazing, clean, crisp and impeccable look.
24. Simpler Cornrows for Thinner, Longer Hair
If you have thin and long hair, there is no reason you can't go for one of these cool cornrow braids. These clean and fresh rows may look simple but are perfectly symmetrical and look clean and crisp as per your needs. These rows also look incredible with some highlights, especially brown or golden.
25. The Simple Cornrow with Side-fade
This design looks absolutely stunning and features two neat cornrows as well as a side-fade. If you are a beginner to cornrows and don't want too many braids which can be painful for someone who isn't experienced with cornrows. This style features a neat fade on the side with a braided man-bun.
26. The Symmetrical Rows
This design is something you can get done by the best of the best in the business, due to the level of precision and skills this entails. The lines and edges are extremely crisp whether it is the rows or the branching pattern; and are offset by a simple buzz cut on the sides to prevent overcrowding.
27. Adding Some Bling to The Mix
This design is absolutely flawless and needs some major skills to pull off. The floralesque pattern looks stunning and the rows in themselves are set at a curve. The two big rows are also super cool and interesting as they start thin and grow in width. This style can be accentuated with hair jewelry.
28. The Dangling Rows
If you want something that is a bit low maintenance, this look is a good option. This style is super popular at the moment and is often featured by rappers. The loose men cornrows are offset by a grid-like pattern at the scalp region and are more comfortable to wear overall, making them ideal choices for beginners.
29. The Snake in The Corn-row
This is an advanced men's cornrow hairstyle that requires a great deal of precision and understanding of the basics of how to do cornrow designs. Not only does it have some cool wavy patterns, but the rows also feature snake-like patterns which are super intricate and interesting and is sure to get you many compliments.
30. The Spoke Design
These spoke-like design looks amazing and is a very technical and intricate design that looks absolutely incredible on everyone. This style features a spoke-like design on the side and covers the entire scalp without buzzing off the sides or shortening the length of the hair. If you want to preserve your length, this look is ideal.
31. Wave Parting
This simple-looking cornrow hairstyle for black men is absolutely deceptive in its apparent simplicity. The design is actually brought to life by the absolutely brilliant use of negative space in the design. While the rest of the design is simple with regular cornrows, the use of the blank space and how the rows are parted gives it an incredible and artistic look.
32. The Waves Come Crashing
This wavy cornrow pattern features an amazingly clean design with the two main rows, complemented by the wavy designs surrounding them. The buzzed sides are angular, giving the flow more definition and makes it stand out more. This is definitely one of the more pro levels looks on this list and should be done by professionals.
33. The Pro-row
This is the ultimate level corn-row men design that is nothing short of epic. This design is not for the ones who like to blend in and will 100% draw a lot of attention and compliments. The design is so intricate and unique and features multiple braids interwoven to create a stunning pattern that is beautifully symmetrical and unique.
34, The Best of Both Worlds
If you want to combine the old-school cornrows with the new-school flavor of dangling rows, cornrow braids style for men is ideal for you. With a combination of an intricate grid pattern as well as the inclusion of two dangling braids that frame your face perfectly, this is again for those who love to stand out and be different.
35. The Highlighted Cornrow Style
This is an amazing example of a men's braids design that incorporates some color into the look. If you have highlights, especially golden or bronze highlights, this look uses them as the central focal point to create the rows with many different sized braids and the classic man-bun to tie off all the rest of the hair.
36. The Cornrows in A Grid
This hairstyle combines a very intricate grid pattern for your hair with the inclusion of hanging braids. The two come together with this incredible pattern which forms a cool grid-like pattern, resembling a turtle shell almost, with the hanging braids that are ever so popular at the current moment to create a unique hairstyle.
37. Colored Hair Cornrows
If you are looking for inspiration for men cornrows and have colored hair, don't worry. Colored hair pairs amazingly well with rows and can even disguise the roots if you don't have the time to get a full touch up. This cool hairstyle combines different sized rows with a man-bun and looks amazing with the golden hair color.
38. The Diamond in The Middle
This braid style for black men is very similar to some of the ones depicted in this list but takes things a few steps forward. The basic design is a grid with two side braids that are thick and symmetrical. The top of the scalp is where things get more interesting with the inclusion of a cool diamond pattern.
39. The Spider Web
While people with arachnophobia cringe at the mention of spiders, spider webs are some of the most symmetrical structures in the world. This pattern looks amazingly cool and features thick and thin rows alternated and leaves the edges to hang, which is very popular at the moment with rap artists and celebrities looking to embrace natural hair.
40. The Colored Highlight Cornrow
If you have colored hair, you can not only make any cornrow braids look good, but also rock simple or complex styles with ease. This symmetrical grid pattern is offset by larger rows that make use of colored hair to form a very cool looking braid that runs from the sides all the way to the back.