There is a great variety of modern and impressive haircuts out there. Line hairstyles are becoming popular as a unique type of haircut that allows men to use their imagination. Making lines and other patterns in different places can turn any regular undercut or taper fade into something that should be admired.
Most of the time men will ask the hairstylist to make the best line they see fit. There are also some men out there who love being creative and making up different line haircuts on their own. Others need to see some examples to help them make the right choice.
One downside of line hairstyle is that if your hair grows fast, the lines and patterns will soon become invisible. Accordingly, such haircuts might need frequent touch-ups.
Creative Line and Pattern Haircut Designs
Line hairstyles are very useful when you are out of ideas. Want something original but changing your beloved taper fade or a fohawk seems like a bad idea?
Get a line! Lines are gaining popularity quite fast but still, not many men are brave enough to try them. So, by getting such haircut you can be sure to stand out of the crowd. You can go further to add some complicated designs to the shaved part of your hairstyle.
We have handpicked 91 interesting line and pattern inspired haircut designs for men who want to try a line cut but need a good push. Take a look at these samples and make a barber's appointment!
1.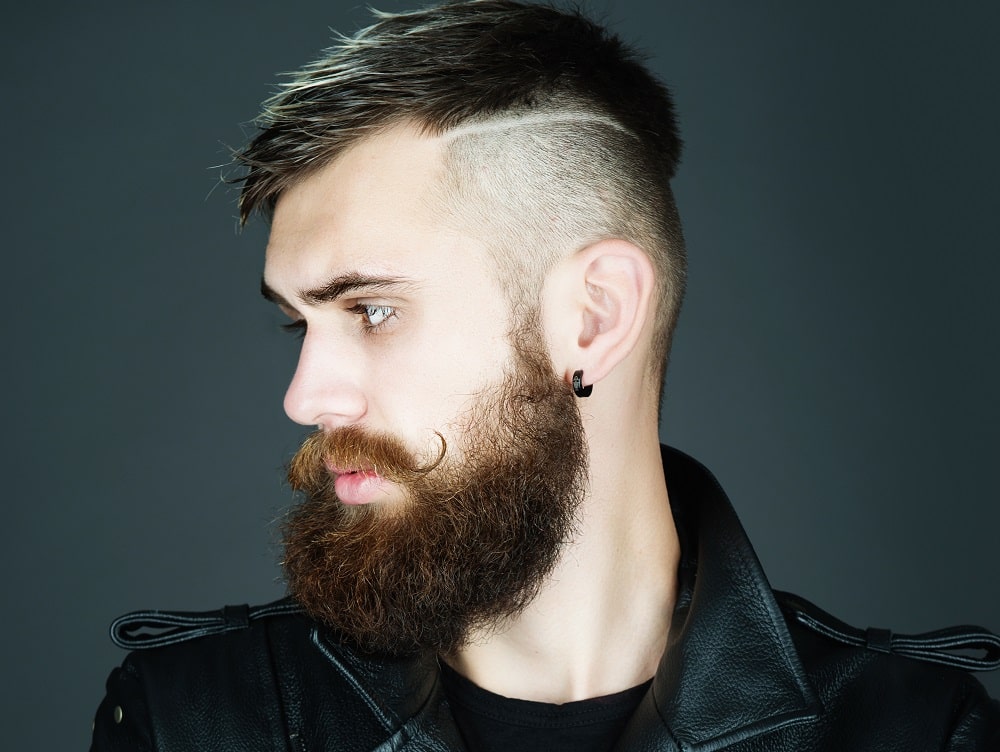 2.
3.
4.
5.
6.
7.
8.
9.
10.
11.
12.
13.
14.
15.
16.
17.
18.
19.
20.
21.
22. High fade fohawk
If you've always wanted a fohawk but were afraid to get it because it seemed too outrageous, this line haircut is for you. Make a simple high fade and leave enough hair on top to be spiked up. A line on one or both sides will outline the top and make it resemble a fohawk.
23. A line part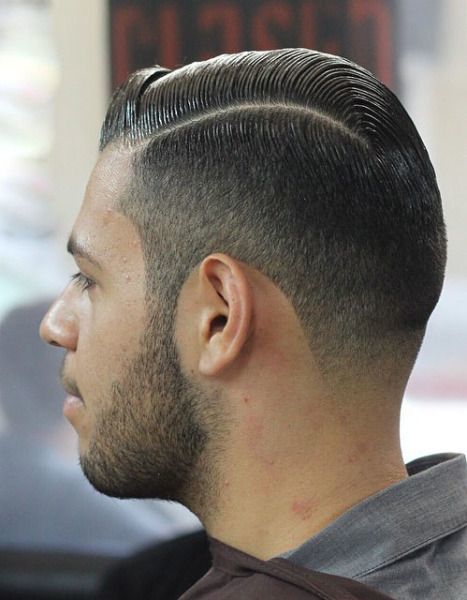 One of the best ways to make a really neat haircut is to create a line where your side part is. This will make brushing and styling much easier. You can get any hairstyle you wish, from a fohawk to a low fade. Just don't forget to make a line.
24. Fade line
A great way to use a line is to separate the fade levels. Depending on the length of your fade, you can use one, two or even three lines. Consider getting them on just one side to make an asymmetrical hairstyle which is very popular.
25. Fohawk with patterns
If you have tried one or two lines, you are ready to go further. If your haircut is rather short and has some shaved areas, you can try getting patterns. The nature of designs can vary depending on your mood or interests.
5. Pompadour line
A line can be used to outline some special part of your hairstyle. In this case, a line design is created to make the pompadour look more voluminous. Using a line in the right place can do wonders for making your hairstyle really stunning.
26. Thin line
If you want a line hairstyle, there is no reason you need to make a thick and wide line. A thin line looks very natural and can be mistaken for a natural hair parting. If your hairstylist can create such a line, then he or she is a real master.
27. Undercut lines
One of the most popular places where you will see lines is the shaved area of the undercut. Depending on the size of that area, lines can be either long or short. You can make from one up top five lines if you wish.
28. Classical lines
This very stylish line haircut is considered to be the classics. The hair on the sides is cut short and the top part is left long enough to be styled into spikes or a pompadour. A line is created to outline the side part.
29. Line Detail for Black Hair
You can still maintain stunning texture with this Black men's hairstyle with line. Round bangs and voluminous curls make this curved line detail truly pop and enhances the appearance of your cheekbones.
30. Soft Wavy Line Detail
A hard part defines this men's haircut with line on side. Even though a series of lines separate this hair, a gradual fade is still apparent. It works perfectly with the asymmetrical long curly hair on top.
31. Fade with Round Line and Color
A fade haircut with line is quite possibly the trendiest look out there. Make your line faint and round to mimic the effect of the ear and frame a bald fade. Bright orange hair up top only furthers the cool factor that this look invokes.
32. Funky Over the Ear Detail
Concentrate detail over the ear for a clean and funky style. Use your natural sideburns as a feature of this pattern to ground your look. A fade on the back and sides of the head brings the energy forward and highlights your handsome face.
33. Patterned Mohawk
Create intricate patterns on the scalp while defining a choppy mohawk up top. Bangs should be long and worn casually over the center of the forehead. Be conservative with product, however, so as to not weight this style down.
34. Faded Rows Detail
Why have just one line on your hairstyle when you can cultivate entire rows? This fresh style is perfect on short, tightly coiled natural hair to perfectly compliment its round nature.
35. Energetic Details
Round swirls beef up the interest from the spiky lines on this style. It adds the perfect amount of softness on an otherwise harsh look. The color up top adds a touch of warmth and fire to pull the look together.
36. Simple Short Hair with Line
This look packs in loads of style without losing any of that clean cut nature that we love. Cut hair all one length and spike it up with a texture-defining gel. A simple line buzzed midway on the head sharpens the style with flair.
37. Funky Detail with Connected Beard
These sideburns may be thin, but they provide the most essential detail on this look. Create artful swirls and details on the sides and back of the head and finish it off with short rounded bangs over the forehead.
38. Electric Low Fade
Convey your stylish and energetic personality with a unique hairstyle. A close crop is all you need to draw the eye to the points and curves of this line. This breezy style is sure to keep you cool as well.
39. Low mohawk lines
If you want your mohawk to really stand out, consider getting lines on both sides. If you are not a fan of large shaved areas, you can make a low mohawk with the long top part. Since the transition from long hair to shaved sides might not seem very neat, a line will be a great help.
40. Short part line
When you make a line haircut, the line itself doesn't have to be too long or obvious. A short line will look great on such popular cuts as taper fades that require a side part. Stick to one short line if you want to make a respectable impression.
41. Lightening lines
Lightning lines are the ones that are created separately from your natural hair parts and are usually placed in front. These lines can be angled or tilted. They can start at the front hairline and go toward the middle of your hairstyle.
42. Low thin lines

Low thin lines look especially impressive on a high fohawk. The top part of your hair should not be too voluminous and start about 3 inches above your ears. The lines are created about 2 inches below. Make 2 or 3 lines on one or both sides.
43. Neat lines

Sometimes lines are created to make your haircut neat. This is especially true for mohawks or taper fade fohawks. The line that outlines the top part of your fohawk allows the rest of the hairstyle to look neat and well arranged. It also helps you with styling borders.
44. Wide taper lines

This impressive way to use lines will really turn some heads your way. In fact, it is quite easy to make. All you have to do is make levels on your sides by using trimmers with different heads. Any hairstylist can do it in a matter of minutes.
45. Textured fohawk
This very high textured fohawk will look great with a part line. Since the hair on the sides is not very short, the line might get a little lost. Spike up your textured top in order to reveal the side lines. This way your hairstyle will become even more impressive.
46. Get it shaped
If you have been skipping barber appointments, your hairstyle will most likely get out of shape. Same goes for people who decided to forget about their fohawk and grow long hair on the sides again. You can use lines to shape your grown out hairstyle.
47. Highlighted tips

Highlighted tips will make your hairstyle pretty impressive. Especially if you follow all the other style guidelines, including shaping lines. Your mohawk will look fantastic with well-styled top part and lines on the sides.
48. Half moon design
If line haircuts seem too simple for you, you can go for more interesting designs on top of your head such as the pictured half moon. You'll be amazed at the result that will really turn some heads your way. Consider adding some simple lines on the sides.
49. Handmade lines
You can diversify your stylish haircut by adding handmade lines. Making a line is actually quite easy. Especially when it is on the side and doesn't go much toward the back. Ask your stylist for a masterclass so you can make your own designs in the future.
50. Double lines
While adding lines to the popular hairstyles such as mohawks might seem complicated, military haircuts can easily sport simple double lines and look just as stylish. Add a double line on one side of your very short cut and it will immediately start looking amazing.
51. Neck lines
If you want to start with something simple, consider getting short neck lines as you see pictured. These lines will not be visible from the front. However, the subtle designs usually become greatest hits. Give couple of them a try and then you can go further.
52. Be brave
Getting outrageous line hairstyles might seem scary at first. But once you try them, you might get addicted. The main advantage of such hairstyle is that the lines become invisible quite fast and you can choose to make another design.
53. Lizard mohawk
This is one of the most popular mohawk line designs. While looking quite complicated, such hairstyle is actually pretty easy to achieve by a professional hairstylist. Keep the hair on top short and spiky to hold up the image.
54. Ronaldo zigzag
Ronaldo knows a lot about getting a stylish haircut so why not use his experience to your advantage? Get an amazing Ronaldo zigzag haircut next time you decide to sport a high fade and you will love the way you look.
55. Triangular design
This design is subtle but it still makes quite a statement. The triangular, almost arrow-like design is interesting and it's not limited to the back of the head because you can allow the lines to run through the sides if you want.
56. Thin lines
Sometimes lines are the right answer, and in this case they are the right answer if you want a simple and subtle yet interesting shaved design for the back of your head. These thin lines look amazing and they go perfectly with the skin fade.
57. Inverted waves
This inverted wave design is super subtle but it won't go unnoticed. It's placed towards the ear and it creates a nice little divide on the back. This design is the perfect compromise for men who want the detail without going too far.
58. Curly hair with a triangular design
Triangular designs such as these are a bit more complex than the first one we looked at on the list, but they're still subtle. This design is super interesting and cool, and you will be able to show off your hair and keep your top medium to long, while you rock the shaved design on the back.
59. Staircase shaved design
If you're not really into triangle or lines and you want something a lot more unique and interesting, you can get this staircase shaved design on the back of your head. It's very simple, but it adds a lot of detail to your hairstyle without making too much of a fuzz.
60. Line Up and Sharp Curve Shaved Design
We already learned that lines and curves are a great match and they can make up some amazing designs. This one is great because the curve is deep and severe while still looking very simple.
61. Fade and Crisscrossed Lines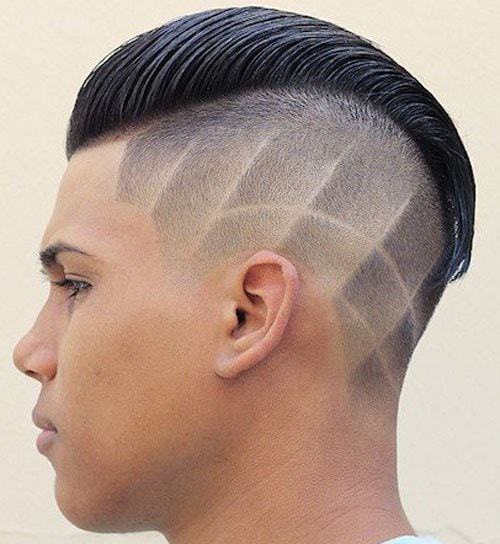 Even though this design is simple, it really catches the eye. This combination of fade and crisscrossed lines makes a great hairstyle that's interesting and unique.
62. Spike and Wave Design
This combination of spike with a little flowy wave makes for an interesting design that's very simple but still very interesting.
63. Line Up and Dégradé Fade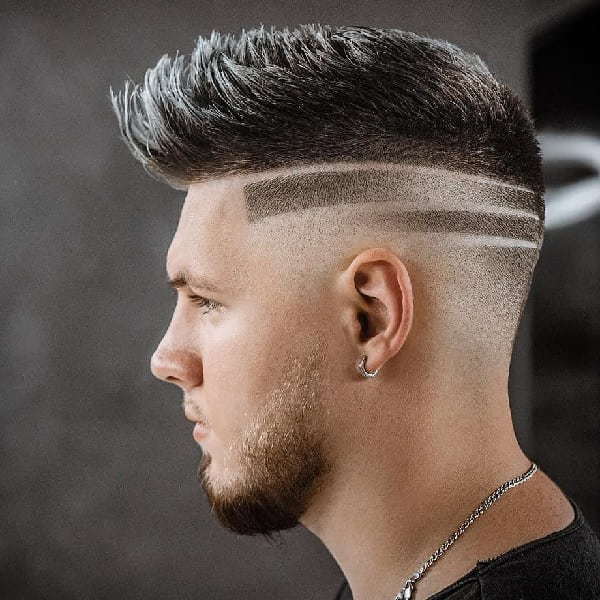 This three-tier line up with a dégradé fade in between makes for a super interesting look that not everyone will be willing to wear, which means you'll stand out for all the right reasons.
64. Radio Waves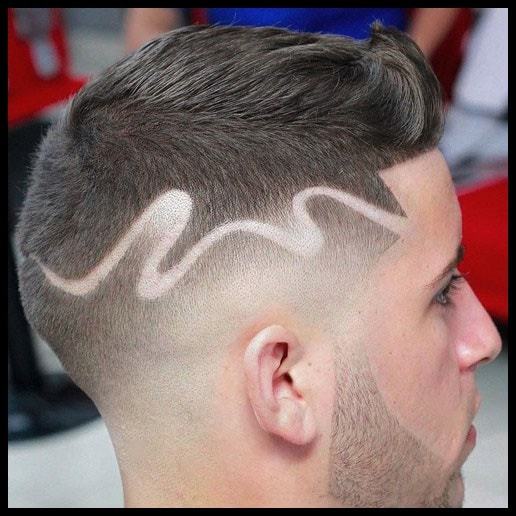 This radio wave design to the side makes for a funky, fun, and interesting shaved head hairstyle!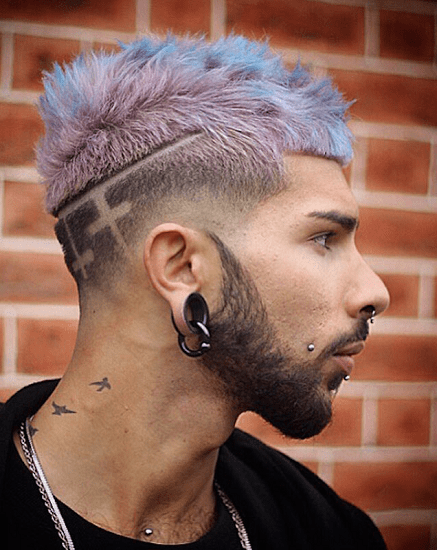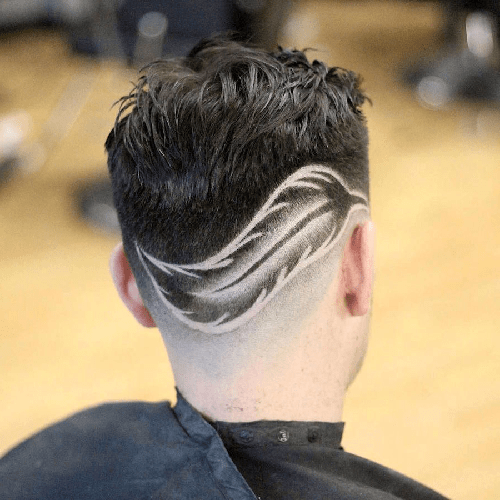 Always wanted to get a line hairstyle but were afraid to try? We hope these 91 choices will give you that push you've been looking for. If you are afraid of radical changes, go for the smaller line options we presented here. But if you are brave enough for a serious change then pick one of the most outrageous ones. Good luck!