Many black men struggle with keeping their hair looking curly and neat. Most of them lose the battle and settle for short haircuts, such as high taper fades or military style. If a black guy keeps his hair longer than about one inch, it looks perfect when it's wet, but it completely loses its shape as soon as it dries. As a result, you get unruly and messy hair that's hard to brush, style, and enjoy.
What can be done to keep the hair looking beautiful without cutting it too short? We will teach you how to get curly hair for black men today. Don't forget to check curly hairstyle ideas for black men here.
Experiment #1 – High-Maintenance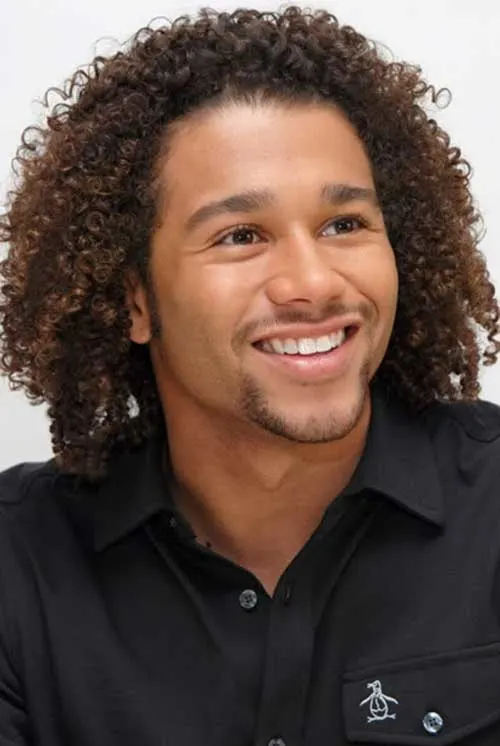 This approach is rather high-maintenance and might take some time at first. But, don't worry, you will soon learn how to do this fast.
What to Buy:
A high-quality moisturizing shampoo
Detangling conditioner
Leave-in conditioner
Spray bottle
Hair gel
Wide-tooth comb
Hooded hairdryer
What to Do:
Wash your hair as you usually do with a moisturizing shampoo and the detangling conditioner.
Slightly dry the hair with a towel by dabbing.
Comb the locks with a wide-tooth comb.
Separate your hair into one-inch sections and apply gel to each one.
Use a wide-tooth comb to comb each section from the roots to the ends. Start in the back of your head.
While combing, pull the hair up to ensure longer and neater curls.
If the hair gets dryer during the process, spritz it with some water.
The best way to keep the beautiful curls intact is to use a hooded hairdryer. However, if you don't have one, you can dry your locks with a hand-held one. Just be careful about using the high settings. Stretch each curl carefully while drying it from the root to the end.
20 Coolest Curly Hairstyles for Men
Experiment # 2 – The Straw Approach
The straw method is a popular way of controlling frizzy hair. It can work with both short and long hair. Men who struggle with unruly and frizzy locks can appreciate this option.
What to Buy:
Moisturizing shampoo
Detangling conditioner
Plastic drinking straws (1 pack)
Bobby pins
Alcohol-free setting lotion
Hair oil
Hooded hairdryer
What to Do:
Wash your hair, as usual, using a moisturizing shampoo and detangling conditioner.
Dab your locks with a towel but make sure they are not too dry. You'll need the hair to be slightly wet for the method to work.
Separate your hair into have-inch sections. If you have really thick locks, consider quarter-inch sections.
Place a straw at the end of each section and roll the hair up to your head. Secure it with a bobby pin.
Repeat for the rest of the sections.
Dry your hair under a hooded hair dryer or let them dry naturally.
Remove the straws one by one and carefully separate the curls.
Spray the hair with oil.
See The Below Tutorial on How to Get Straw Hair Fast
Hairstyle Ideas for Black Men With Curly Hair
If you're thinking of getting a new look, here are 20 of the best curly hairstyles for black men!
1. Short with Temple Fade
You can still have a masculine look with short curly hair. This style gives your curly hair the height it needs to shine. Pair it with a defined temple fade to show off your facial structure.
2. Long Man Bun
If you have long black curly hair, don't let it just hang there limply! Instead, comb it back into a slick man bun. This style is a long curly faux hawk with faded sides paired with a long curly beard.
3. Curly Flat Top
A flat top hairstyle gives you more than enough length to flaunt your black curly hair. As the style says, the top is flat, but the overall style certainly isn't void of any texture!
4. Long Pink Faux Hawk
Love playing with color and prefer a bolder hairstyle? A long faux hawk for curly hair is the perfect style for letting you express your style. Comb most of the hair to one side and let the faded sides give it edgy framing.
5. Short Blonde Curls with Fade
Many black men think they can't rock a different color, but experimenting with hair color is one of the best ways to play up that curly hair! Try a short haircut with blonde curls and a medium fade close to the ears.
6. Super Short with Grey
For older men who prefer short, low-maintenance haircuts, this one is flattering for men of all face shapes. You can enhance your curly hair's texture with a shorter style, and those grey and white hairs peeking through will look handsome too!
7. Messy Curly Ponytail
Hair that is at least shoulder-length can be styled into one of the hottest black men's curly hairstyles: the messy ponytail! There is no need for a comb; use your fingers to gather up that curly hair into an imperfect casual ponytail.
8. Curly Mohawk with Cornrow Braids
Consider yourself an out-of-the-box hairstyle lover? Then you'll definitely want to try this long mohawk that nicely displays black curly hair. The sides aren't just faded; they're styled into thin cornrows for added edgy definition.
9. Thick Curly Twists
Twists and dreads are an everyday hairstyle for men with black curly hair. If you have thick curly hair, try this style featuring long twists and a medium fade.
10. Detailed Fade on Thin Curls
Are you in-between hairstyles and trying to give your black curly hair a fresh start? Go with a super short haircut, especially suited for thin curls. You can always detail up the faded sides with shaved in lines!
11. Curly Taper Fade
Another common choice among black men is keeping their hair short to look neat, so this taper fade allows you to add that extra touch that will make you look sharper. A little detail goes a long way!
12. Natural Fade with Line Up
The lineup is not the most versatile hairstyle for black guys with curls out there because it doesn't necessarily suit everyone, but it's a great choice if you're looking for something different. Once again, details make a difference, and these structured haircuts are made to flatter your features while still keeping it simple.
13. Tapered and Dyed
As you can see in the picture, this curly black men's hairstyles consist of fade and that long top that will allow you to show off your curls or afro. Dyeing that long top will direct all the eyes to where you want them to be, and you can play around with colors, from platinum blonde to fantasy colors and anything in between.
14. Short Afro with Temple Fade
If you love your afro, you can still stand out by adding a fade to your temples. Not to mention that the fade will always frame your face and allow you to have that clean, elegant look that your full afro doesn't precisely provide. This a classic style for black men with curly hair.
15. Dreadlocks with Temple Fade
Dreadlocks can look amazing if you do it right, and this is a perfect example of what I mean. If you want something different, going with dreads instead of the afro can be a good choice, and if you add the temple fade, you will frame the dreads and make everything look nice and neat.
16. Sponge Twists and High Fade
Sponge twists are yet another way to do something different with curly black men's hairstyles, and they look fantastic. You can always accentuate and frame your features with a little bit of fade while keeping all the texture and the fun on top.
Faux-hawks are very common choices because they look great on black guys with curly hair. The length of the faux-hawk can be up to you, and this hairstyle will be flattering for both black teens and adults who enjoy the natural texture of their hair.
The faded temples you see in the picture are what shape the faux-hawk, so I recommend it.
18. Long Curly Hair
If you've never allowed your curly hair to grow out, this might be a great opportunity. It's a great curly black men's hairstyle, and it's an excellent way to get familiar with your hair because it will demand a lot of attention; from buying the right products to styling, but that's all part of the fun of letting your curls be what they are.
19. Curly Twists with Fade
Curly twists are yet another way to get an exciting new hairstyle for black men with curls, and they look great. Couple the curly twists with some fade, and you'll have that nice hairstyle change you're looking for. This is a fun option, and it's a way to stand out and do something different with your hair.
20. Rounded Top with Fade
This hairstyle is classy and fashionable, making it a perfect choice indeed. The rounded top, which can be as tall or low as you like, along with a nice temple fade and maybe a lineup design of your choice, can make an incredible hairstyle for black guys with curly hair that will catch people's eyes for all the right reasons.
Some Amazing Curly Haircuts to Try for
Curly Hair Maintenance
But first thing's first, let's take a look at what you should do to maintain those curls and keep your hair healthy and strong. As you may have noticed by now, there are different types of curls, so you have to find the products that suit your hair the best. But if you want to make your hair stand out, you need to get curl-defining shampoo along with a leave-in conditioner.
It will also benefit you to learn some tips about curl care, such as: untangling your hair while it's still damp, not after, and always making sure you moisturize your hair, so invest in good products that allow you to keep your curls hydrated.
Don't be afraid of experimenting with your hair. If you follow the directions, you'll soon get a mane you are proud of. Good luck! These great curly hairstyle options for black men can help you bring your style to the next level, provided that you make the right choice for yourself, so don't be afraid to try something new with your curly hair!