If you have long and thick hair then, you are truly a blessed guy. There are plenty of options of men's long hairstyles for thick hair. It does not matter that you have short, medium or long hair; if they are thick then styling them is not so problematical.
You can wear your long hair with a variety of hairstyles like a pompadour, undercut, and ponytail .e.t.c. Here, we will explore the surprisingly exceptional haircuts for men with long thick hair, which you might have not seen before.
Best Men's Long Hairstyles for Thick Hair
Nowadays, men love to wear long hair and do various hairstyles to get a different look. Let's have a look at 23 best ideas of long hairstyles for men with thick hair that we've gathered here.
1. Blonde Straight Hair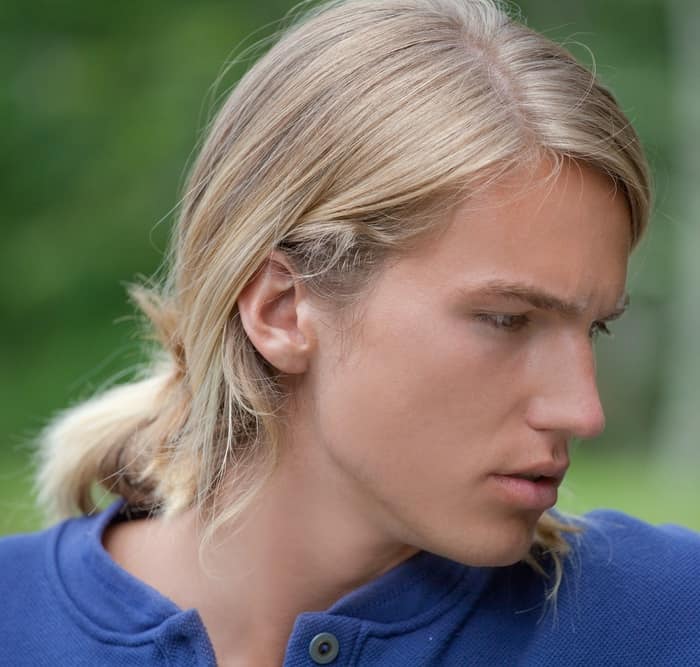 Men with long thick straight hair make any woman feel jealous. They can create chunky braids or keep the look messy in a careless low bun. No matter the hairstyling choice, they will look so damn hot and beautiful.
2. Curly Layered Hairstyle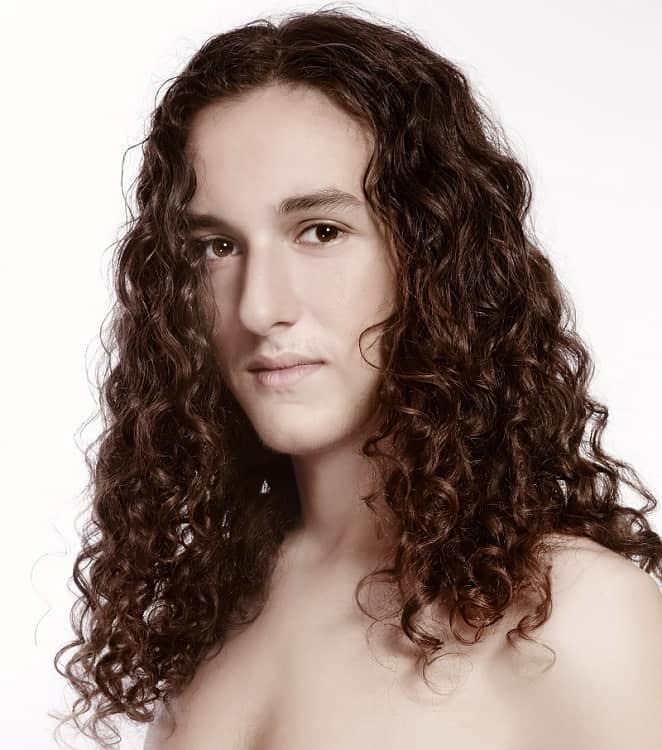 A long thick curly hair looks perfect on men who want to brag about their perfect ringlets. Layer those tresses, otherwise your hair might get that unwanted triangle shape.
3. Straight Long Asian Hairstyle
Asian guys have those gorgeous straight locks, and if you are one of those fellows who adore long hair, this feathered hairstyle is an enchanting option. Part your hair in the middle to create that beautiful face frame.
4. Braids for White Guys
If you have thick hair but crave for a cool braided hairstyle, build your knits with Jumbo hair. You will get the needed length and look hot and trendy.
5. Messy Hairstyle for Older Men
As an older man with gray threads and thick hair, you can get a layered haircut that will better define those waves and loose waves. Keep the hairstyle messy and get a stubble beard with a prominent mustache.
6. Long Wavy Hairstyle with Bald Side
Such a hairstyle gives you a lot of styling opportunities, from braids to mohawks. You can even flip that mane on the other side and hide that bald part. The thick full beard will transform you into a cool rebel guy.
7. Salt and Pepper Curly Hair
Salt and pepper hair is so cool and it will look fabulous if you keep it all natural. It will create such a stunning blend that you need to embrace because it will look so much better than dyed hair.
8. Longe Ginger Hairstyle
Any girl would feel blessed to have that gorgeous ginger color and thick hair, and if you happen to have that, you need to draw all the attention to it. So grow your hair, and we guarantee you that everyone will admire your mane.
9. Long Thick Braids
As a black guy, you have probably already tried several types of braids. To get a remarkable look, create long chunky knits that can get more volume by using your black Jumbo hair.
10. Thick Curly Hair with Bald Fade Design
Hair designs must be your specialty, especially if you are a guy with thick curly hair. You can maintain a long top that you can pin in a pony, and on one side, style a bald fade with an abstract design.
11. One Side Braids
If you adore boho hairstyles and you happen to have long thick hair, you will definitely adore this mind-blowing hairdo. Create a middle part and use one side to knit three braids. You can also add a golden thread on each braid to gain that royal look.
12. French Braid
Even if you are a man, that doesn't mean you are not allowed to experiment with a large variety of colors and braids. In this case, go for a platinum blonde ombre and build a French braid on that gorgeous thick long hair.
13. Medium Long Hair
When you have thick hair, your styling options are quite extended, and you can get the most out of your hair. You'll get all-girls' attention with your long layered hairstyle and that carelessly tossed on one side bangs.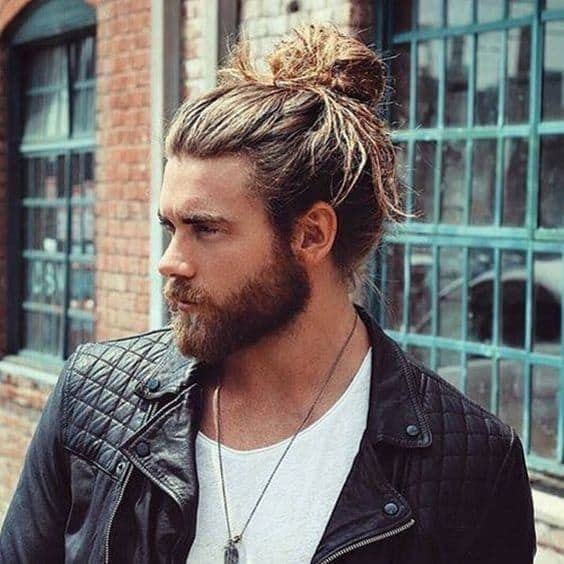 Man-bun comes in the category of classic long hairstyles. If you have long thick hair then, you can try this bun hairstyle. It can be worn on a casual outfit or on a proper coat suit, in both avatars, it gives an elegant look.
Do Girls Like Men With Long Hair More?
15. Half Up Long Hair
Half up hairstyle with thick long hair gives a very stylish look to men. When it is worn with the combination of beard, it enhances the overall grace of men's personality.
16. Topknot with Long Thick Hair
If you have tried bun style and get bored with it and want a change in your look then, you can try this topknot hairstyle combination with long thick hair and beard. You will observe a remarkable change in your personality. You can also wear this topknot style with a shaved face. The choice is all yours.
17. Thick Long Hair Dreadlock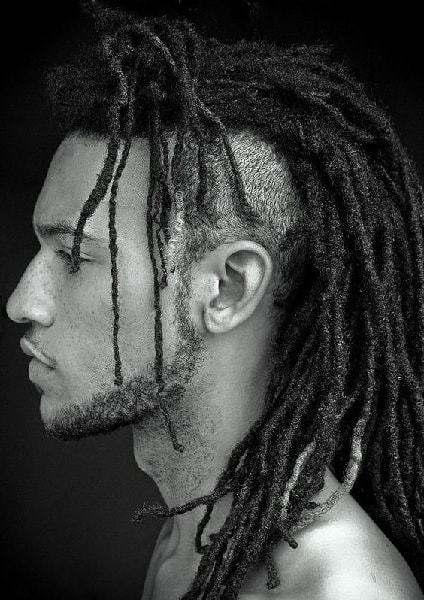 Whether you are an afro or live in a different region of the world, have long thick hair and love the dreadlocks too. This hairstyle is mainly for you. You can do enormous variations with this hairstyle if you have long thick hair. You can make braids of dreadlock, bun or a simple ponytail, whatever you want. Here, in the below image we have shown another marvelous idea, which is dreadlock Mohawk hairstyle with long hair.
18. Layered+ Opened Long Thick Hair
This style looks impressive on straight, silky long hair. We recommend you to go to a professional for perfect layers. If you have dry frizzy hair then needn't worry, you can apply a good quality hair product like pomade on your dry hair. After that, use a straightener at low temperature. You are done. This layered style looks excellent on opened hair.
19. Wavy Long Hair
This wavy long hairstyle with thick hair gives a little messy but a charming appearance to men.
20. Double Bun with Side Braids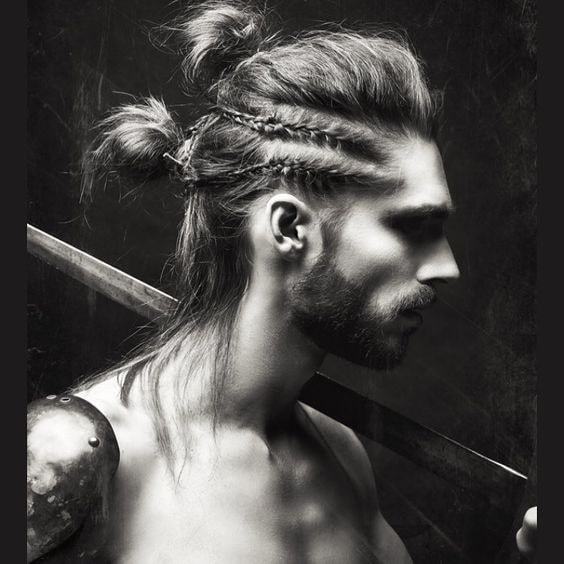 It is a unique hairstyle for men with long thick hair. Double bun with braids on one side enhances the masculine factor of men's personality. Top hairs give an extra voluminous look to hair.
You can also try this elegant look of Brad Pitt style with long thick hair. In this hairstyle, you can blond your hair for a stylish look. The front long hairs are swept on one side and the rest hair give a glossy look. French beard enhances the masculinity. Kindly have a look at the image.
22. Braid+ Half up Long Hair
If you want to add a stylish look to the simple half up then, you can make single braids on each side of the head. This style with long hair can be worn on any casual or formal outfit. Half up and braid look extremely good together, as shown in the image.
23. Pompadour, Cornrows, and Ponytail
Pompadour hairstyle is itself a trendy hairstyle. When this hairstyle is worn by men on their long thick hair with the combination of a ponytail and multiple cornrows on sides as well as on the lower back of the head, it adds an extra charming effect on their appearance. You can also blond your hair to look stylish among the crowd.