If you are a man looking for a funky and cool way to upgrade your outfit, bandana hairstyles should be on your to-do list! They can transform your outfit to make it look edgy and funky, and provide endless options to style your hair.
So, whether you choose a casual, formal, or rebellious outfit, you can easily integrate a bandana into your look by selecting a color that works to your advantage and complements your personality.
Fold it over itself and do a knot in the back or double it to get that chic triangle shape! And these are just a few examples to style a bandana hairstyle for men.
Trendy bandana hairstyles for men
If you want to discover the best ideas to complement a bandana on your look, scroll down and check out these bandana hairstyles for guys.
1. Bandana for Buzz Cuts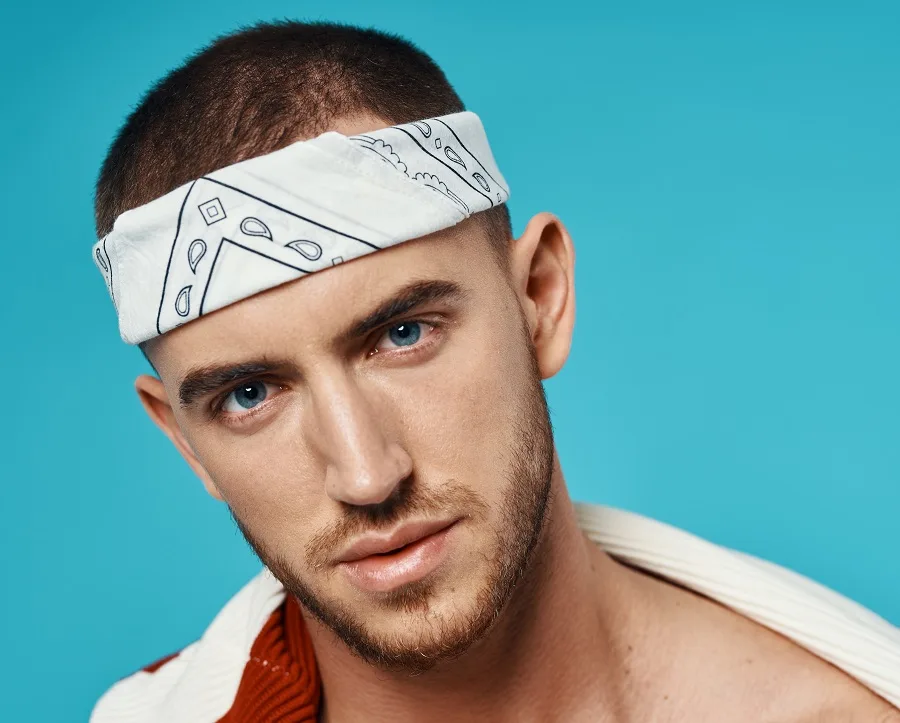 As a man with a buzz cut and a short beard, the bandana will look amazing if you fold it and wear it on the forehead, with a knot in the back. This look is perfect if you are aiming for a casual outfit.
2. Loose Ponytail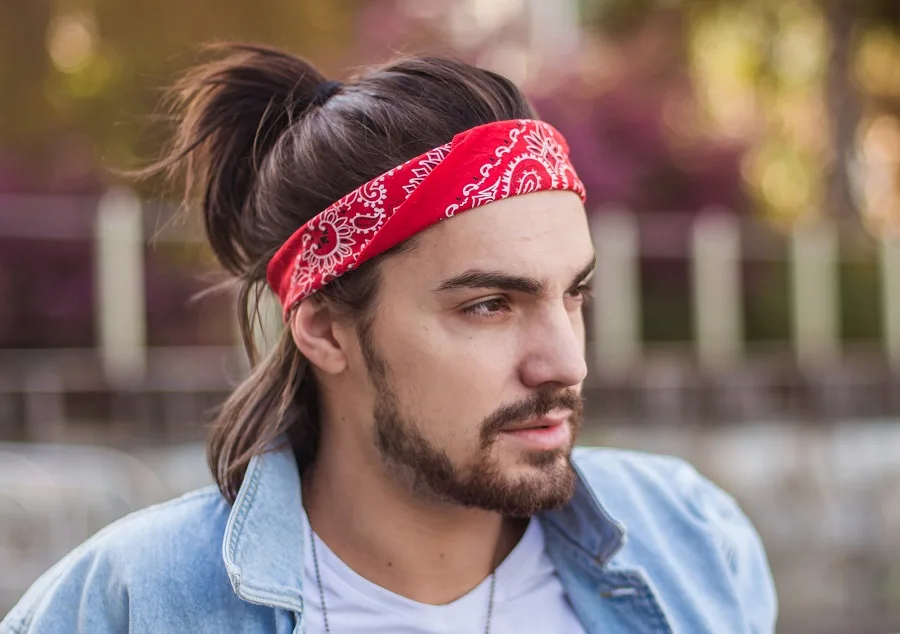 Are you going out with friends on a casual Saturday? Then this bandana hairstyle look will suit most men with hair reaching their shoulders.
Pin most of your hair up in a careless ponytail and grab a red bandana that you will fold and tie in the back. Slightly cover the tips of your ears.
3. Afro Hair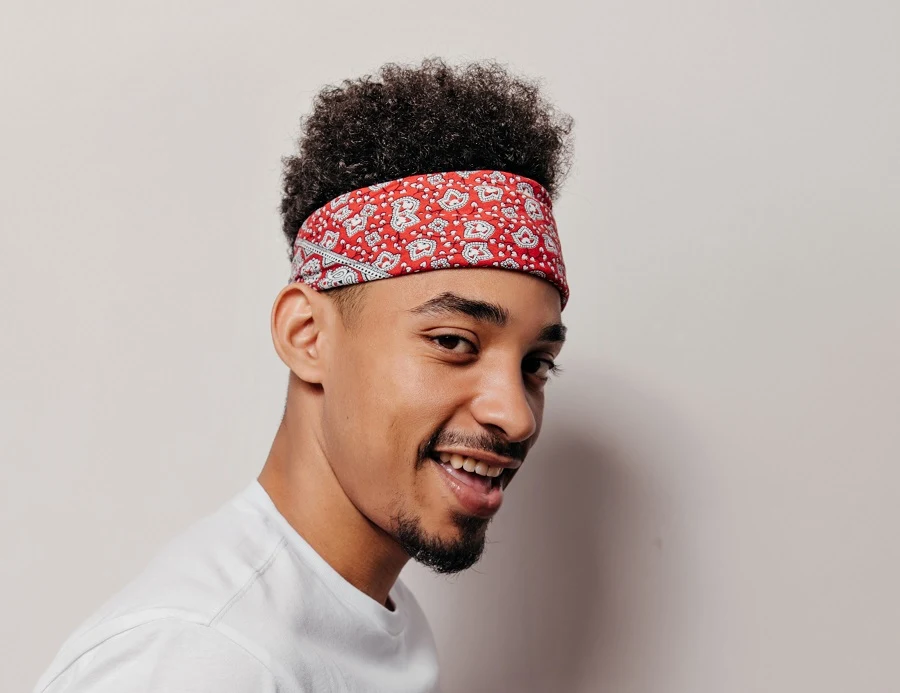 If you have Afro hair and want to concentrate your coils on the top of the head, then get a widely folded bandana with a cool pattern. Place it on the forehead and right above your ears.
4. Curly High Top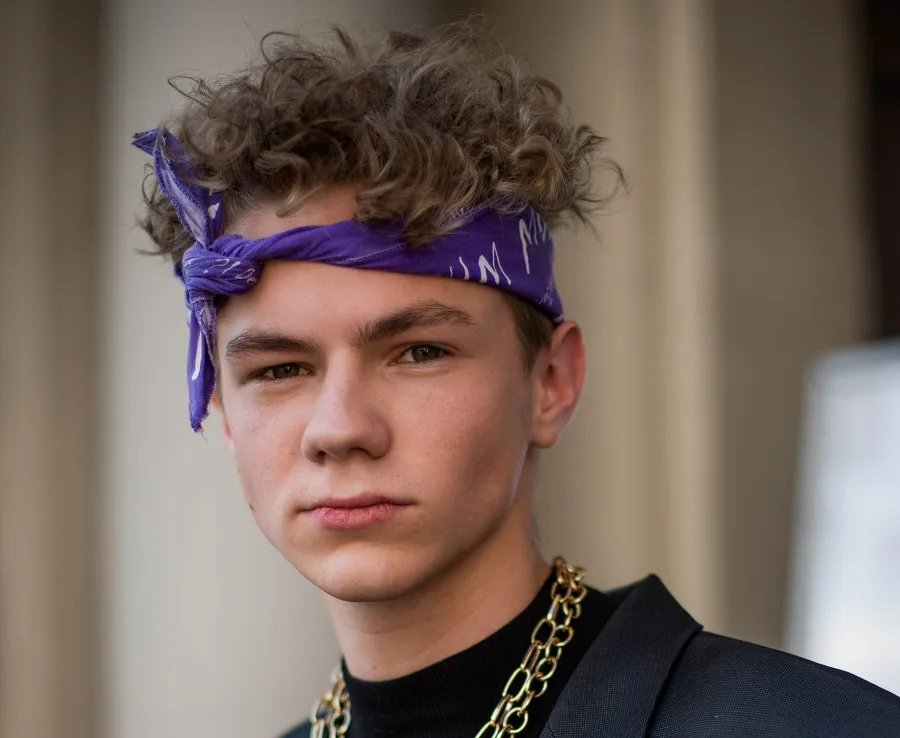 High top haircuts can give you that urban street neighborhood vibe, especially if you have curly hair. Add some mousse to better define that texture, then place the bandana with a knot in the front.
If you want to create a striking look, go for a full black outfit and choose a scarf with a vibrant color or pattern.
5. Swiped Back Hair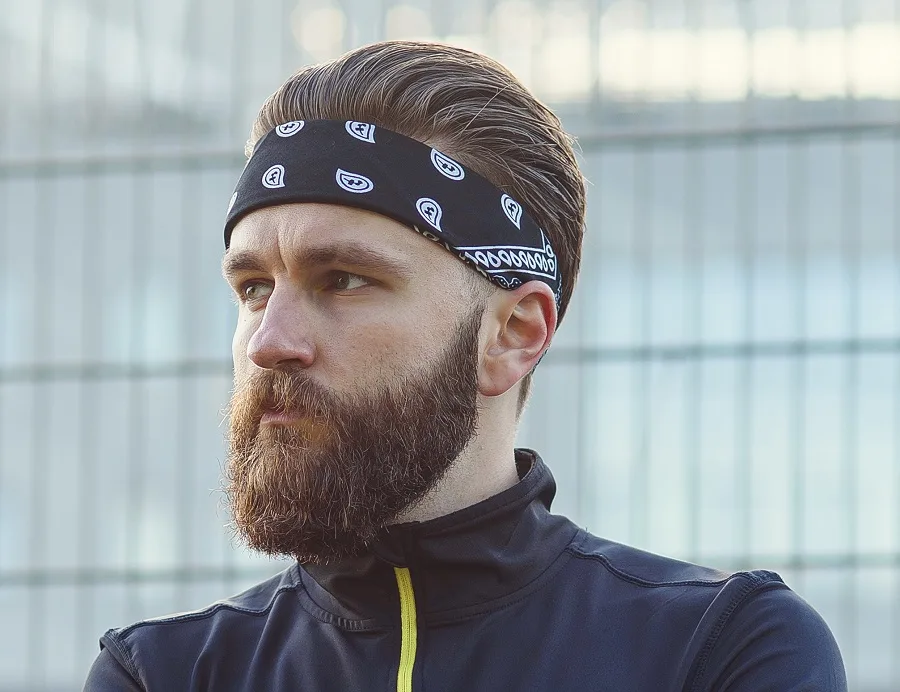 The sleek back comb is probably one of the best bandana hairstyles for men because it adds value to your entire look and highlights both your hair and beard.
However, you must keep your hair carefully arranged towards the back and ensure your beard is well-groomed to achieve the desired effect.
6. Tied Box Braids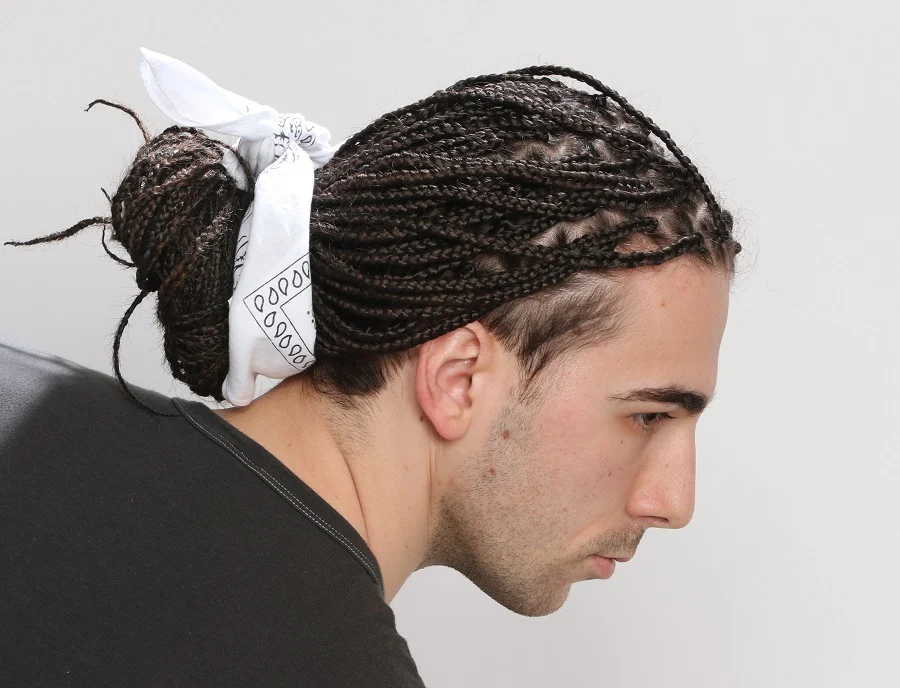 Box braids are a fantastic option for white men who love a unique look. And if you don't want to keep them free all the time, using a bandana to secure them in a cool, hip way is a marvelous idea.
7. Bandana with Dreadlocks
If you're into a more hippie look, with long dreadlocks and an extensive beard, a bandana hairstyle will suit you like a charm. If your hair is naturally blonde and you have fair skin, choosing a warm color like orange for your triangle-styled bandana is the right choice.
8. Forehead Bandana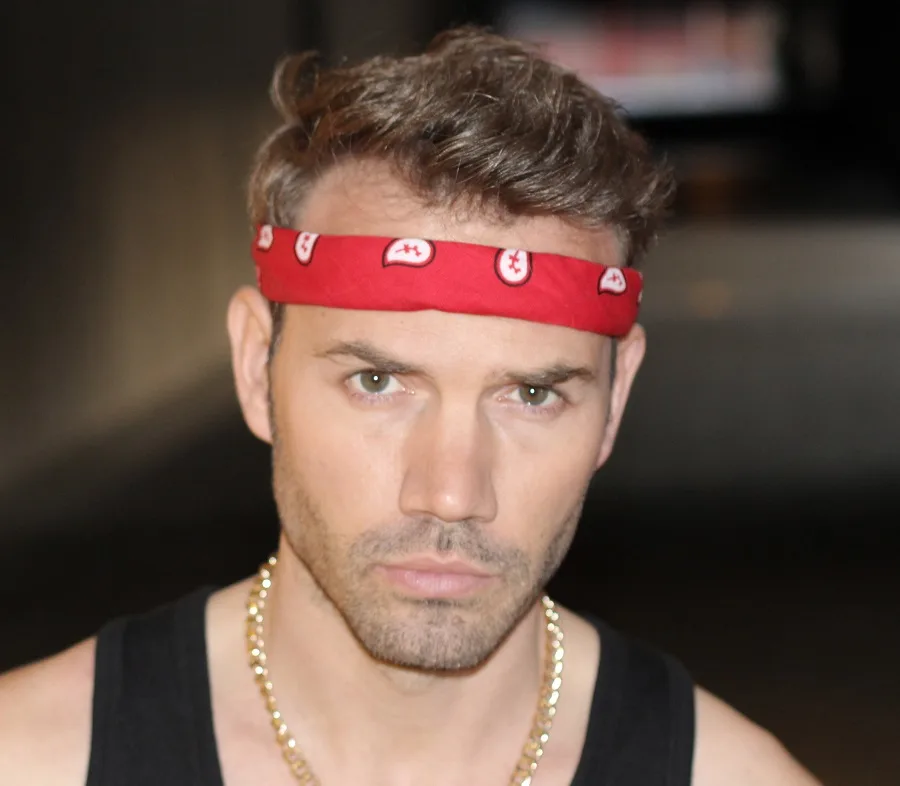 If you love a good old-fashioned badass look, you're in the right place. Short hair with a lifted top, paired with a thin red bandana and a black undershirt with a thick golden chain, are all part of the mix for your bad boy look.
9. Headband Style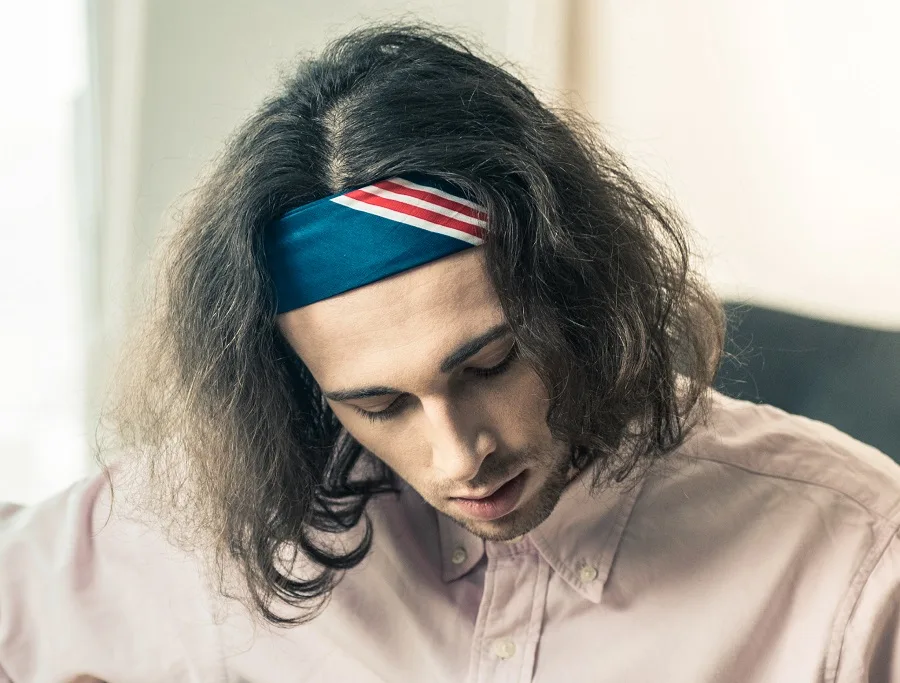 Bandanas are both cute and practical. If you love your long hair and want to keep it untied, you only need a cute headwrap to keep those long locks away from your face. A bandana is a better alternative to hair elastics that might damage your precious hair.
10. Forehead Cover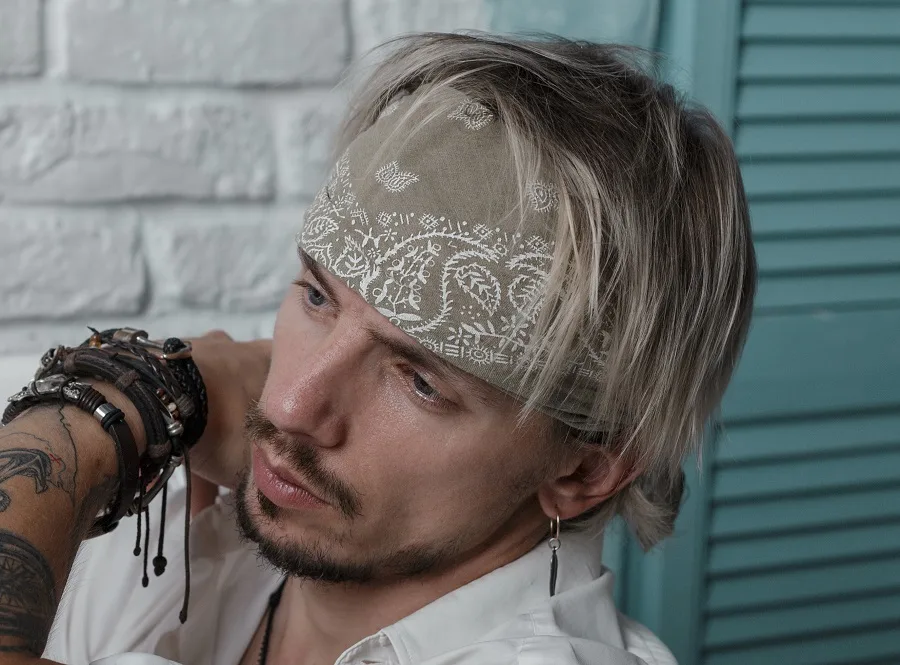 Living your life like a rockstar? Then you'll love this old-school bandana hairstyle for guys that's highly popular and adored among headbangers. Go for an ashy blonde color with darker roots and choose a beige nuance for the bandana.
11. Tight Coils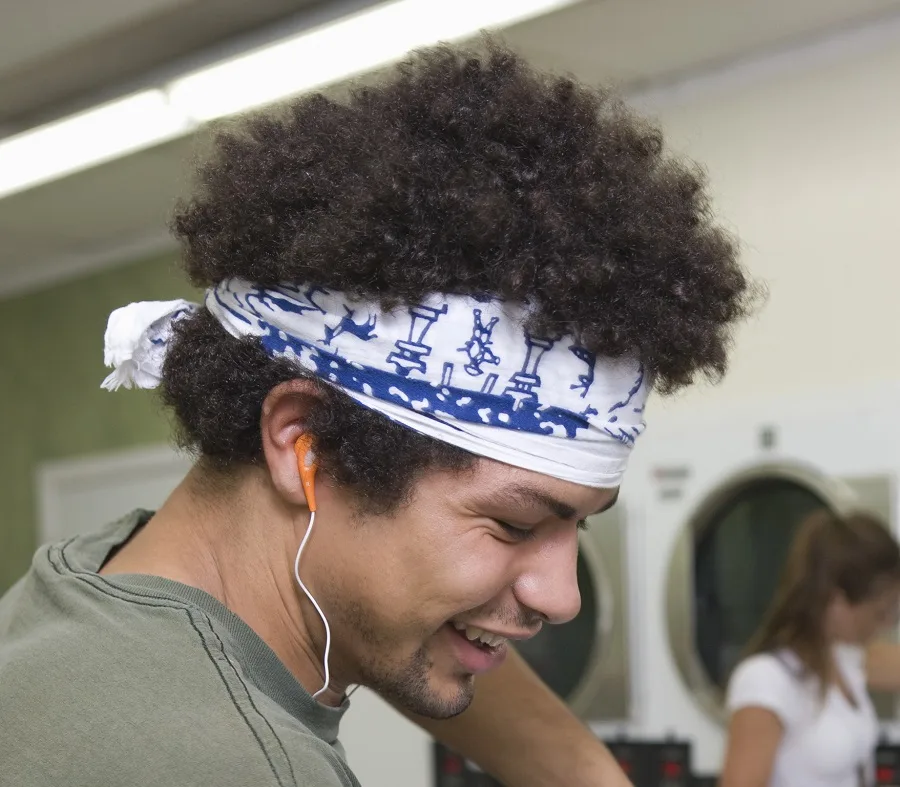 This is a hairstyle for men that you'll adore, especially if you have tight, rebellious coils. The look is funky and eye-catching, and the white fabric creates a beautiful contrast with dark hair.
12. Middle Part with Bandana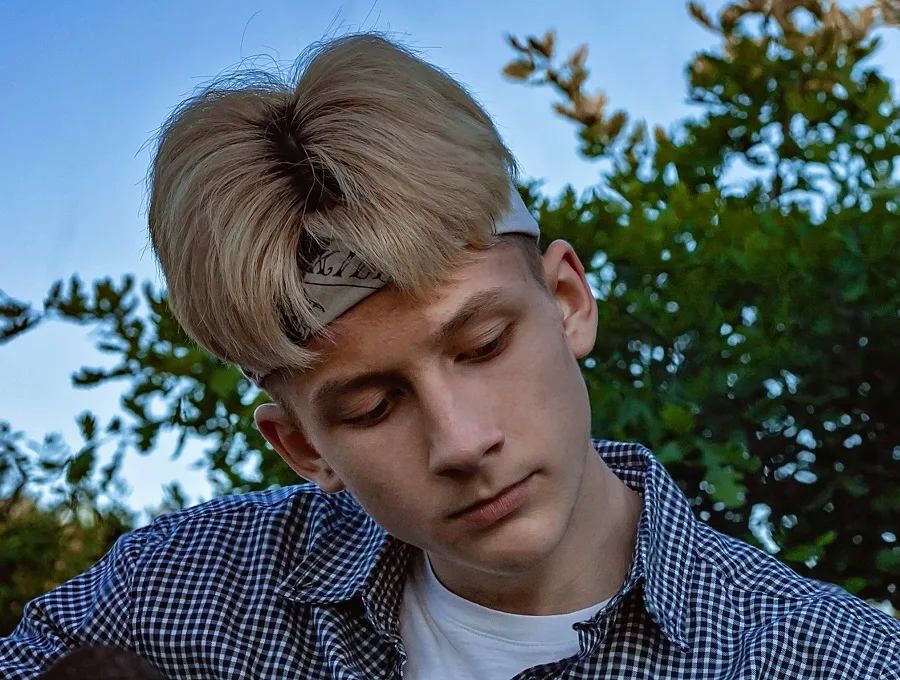 If you have thick hair with a lot of volume, it's a great idea to choose a longer hairstyle with a middle part. Dye your hair in a sandy blonde color, keeping the roots darker. Place the scarf on the forehead and wear those strands over it to complete the look.
13. Top Pony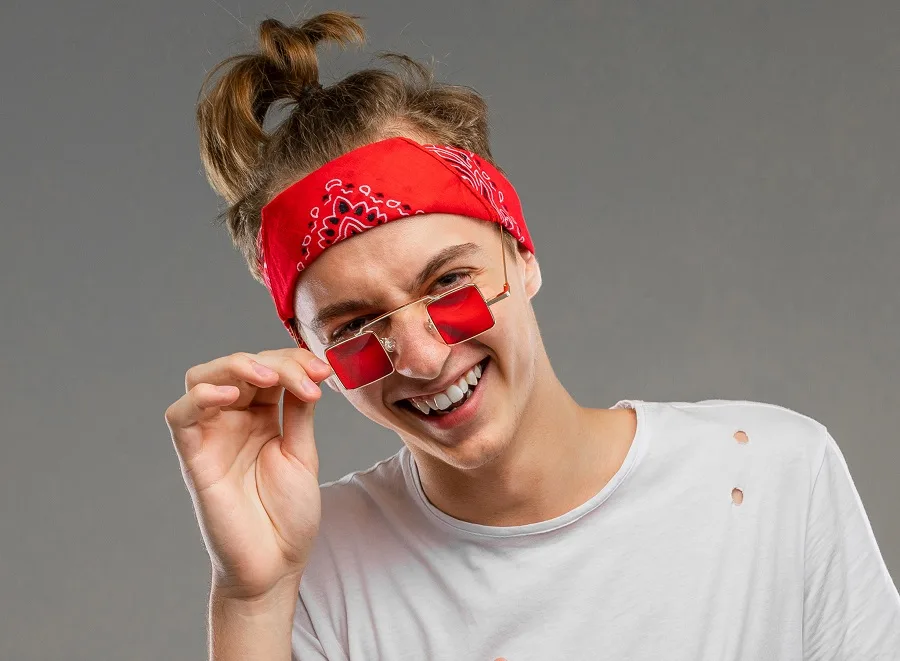 When you want a modern and edgy look, you can consider this bandana hairstyle for men. It works best with longer top hair, allowing you to create a high ponytail on top of your head. Choose a red bandana and pair it with square sunglasses for a stylish finish.
14. Oldschool Long Hair with Ombre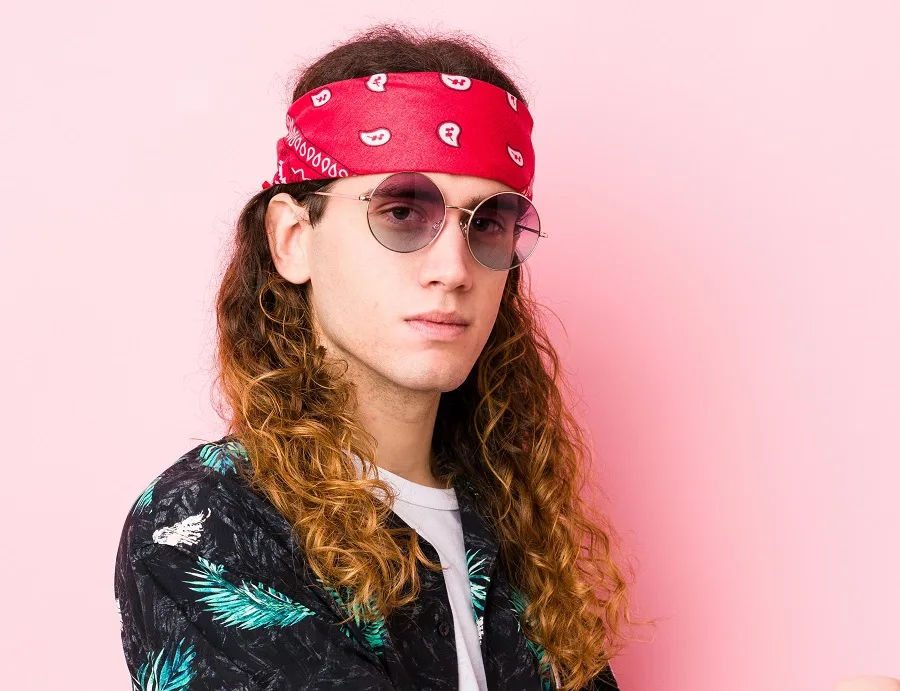 If you're inspired by glam rockers, this hairstyle features several elements that will make you look striking and hip.
Firstly, you need to get a warm copper ombre that highlights your long curls. Rounded glasses and a red bandana should also be a part of your rockstar kit.
15. Front Knot Bandana with Faux Hawk
Faux mohawks can be enhanced with a cool white folded bandana that you can knot in the front. Use hair gel to lift up your hair, grab your sunglasses, and get ready to rock!
16. Dark Copper Waves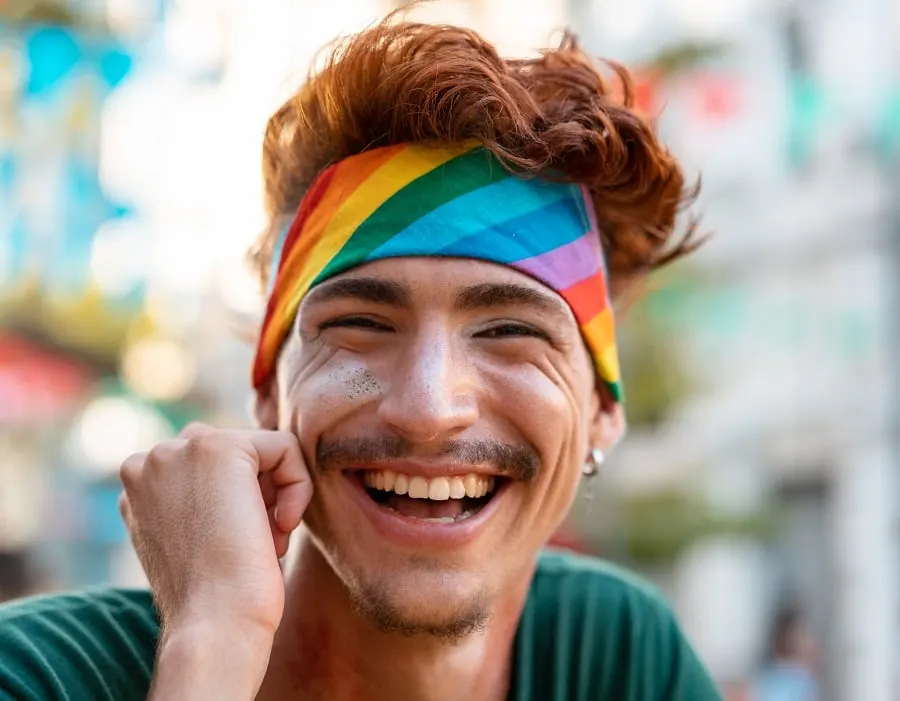 If you love looking extra, this hairstyle will definitely match your personality. Get a scarf that you will fold to cover the forehead.
Create some texture for your amazing dark copper hair by using a wide curler. Add some glitter and eye makeup for a bold look that's sure to turn heads.
17. Wavy Medium Crop
This bandana with moon patterns, black stripes, and mustard circles looks so sophisticated and cool and is ideal for a man who has a medium wavy or curly bob haircut.
Fold the bandana so it gets a triangle shape, cover the crown, and tie it in the back.
18. Top Dreadlock Bun
If you adore looking sophisticated and unique all the time, you must make sure your beard is groomed, with defined edges, and your dreadlocks are in good shape.
But bad hair days can happen to anyone, so your salvation can come from a simple bandana and a high man bun.
19. Long Blonde Curls
If you are a proud American and love an old-school look, then get a layered cut for those curls. Don't fully hide them, but wear your scarf covering the top, tied in the back. Your golden locks will pop underneath and show off that great texture.
20. Spiky Short Dreads
This manly bandana hairstyle puts those spiky dreads into the spotlight. Go for a neutral color, something that doesn't pop out too much and steals the attention away from your dreads.
21. Long Layered Blonde Hair
If you have long hair that looks and feels healthy and wants to make it the centerpiece of your look, consider a layered haircut that emphasizes its qualities.
Add a headband that you'll wear on your forehead, and get ready to receive all the compliments.
22. Mohawk with Bandana
Make that men's bandana hairstyle stand out! Shave the sides to get a mohawk and use a strong-holding gel to lift up those strands. Place the bandana on your forehead and tie it at the back.
Bandana hairstyles can be cool and rebellious, bringing out your masculine side and drawing attention to your hairstyle in just one second. Try the hairdos presented above and let us know which one suits your everyday style best.