Rockabilly is a forefather of rock-n-roll music style that appeared in the early 1950s. It was born in the USA by combining country-n-western, bluegrass, hillbilly-boogie and rhythm-and-blues styles. The main ingredients of this mix are reflected in its name.
"Rock" – was taken from rock-n-roll (rock as a separate style appeared a little later) and "billy" from "hillbilly. First, this term appeared on 23rd June 1956 in a Billboard review to Ruckus Tyler's song " Rock Town Rock".
Some of the most popular singers of the early second half of the 20th century were creating rockabilly music. You will hear it from such stars as Elvis Presley Buddy Holly, Johnny Cash and Bill Haley. As always the case with movie and music stars, their style has been copied by their fans.
Accordingly, the hairstyles sported by these popular artists became wide-spread among the public. The greasy and high haircuts got the name "Rockabilly hairstyles" and some of them are still used nowadays.
Whether you are a big fan of rockabilly music or just looking for a special image for the next masquerade party, these easy to make rockabilly hairstyles for men can be of great help.
Take a good look and you will see why these haircuts were so popular in the previous century.
Rockabilly Hairstyles for Men that Don't Go Out of Style
When rockabilly was first created as a style, it made a real explosion in the music arena. Popular music artists, who used to be into rock-n-roll or country quickly picked up on it and soon it was flooding radio airwaves and record stores.
The popularity led to music stars developing their own special hairstyles that were associated with rockabilly music. These haircuts became popular among men all over the USA and spread beyond the borders.
Even now in 2023, those hairstyles are still done. They have different names and became a little more modern, but their roots stay in the 1950s when rockabilly music was born.
We have prepared a list of easy to do rockabilly hairstyles for men, that you can enjoy. They can be created on an everyday basis or for special occasions. It is up to you.
1. Rockabilly Pompadour
This rockabilly pompadour embodies the more clean-cut era of rock music. This is no Rolling Stones hair-do! This perfectly coiffed pompadour is perfect for the workplace and more formal occasions.
2. Short Rockabilly Style
Show off that gorgeous face with a short rockabilly haircut. This style is swept back to reveal those eyes, but it's the height that adds a little something extra to the look. Use a blow dryer to lift hair straight from the root.
3. Long Rockabilly Hair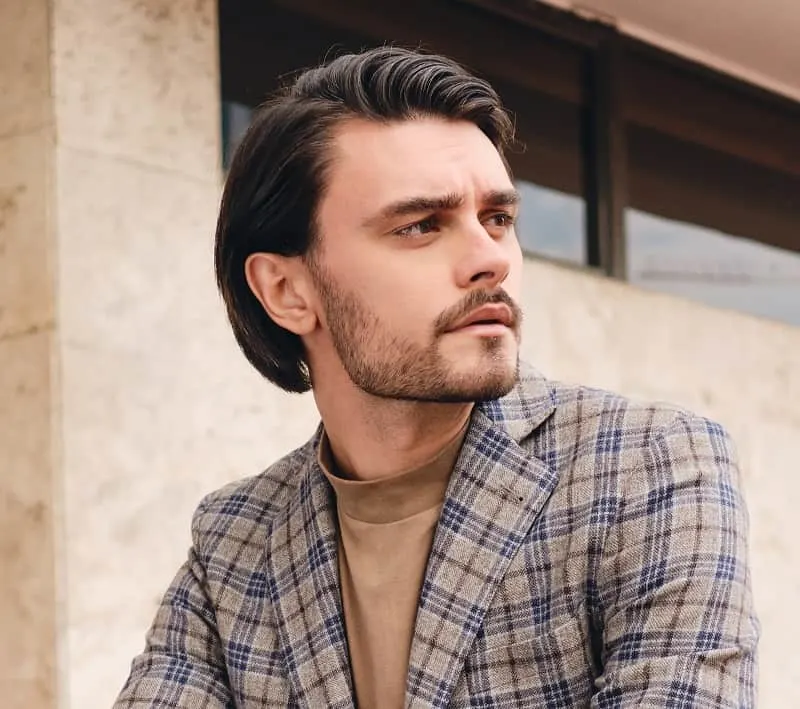 Yes, even medium or long hair can pull off this polished look. Create a rockabilly hairstyle for man with long hair by using a touch of gel to toss hair over your part and smooth it all together.
4. Slicked Back Rockabilly Hair
What was once edgy is now timelessly chic, just like this slick back rockabilly hair. Don't bother with a part, just be sure that hair is cropped close at the temples.
5. Hipster Rockabilly Texture
Between the beard and crazy height up top, this hipster guy with rockabilly hair would seem messy on paper. It's the short sides and back of the hair that lets these other elements shine, and the neat manner in which hair is styled upwards that makes it all look pulled together.
6. Sideways Quiff
Quiffs are quintessential rockabilly styles. This sideways style provides the perfect modern twist. Buzz hair at the temples and at the back of the head but use pomade on your fingers to draw this look to the side.
7. Silver Rockabilly Style
Embrace a clean-cut nature with this rockabilly hairstyle for older men. Maintaining clean lines is key, so sweep short hair back, buzz the temples, and make sure that not a hair is out of line on your mustache or beard.
8. Rockabilly Hair with Piecey Texture
Rockabilly hair is typically seamless while this look is rather piecey. Maintaining shape, though, is another defining feature, and this long hairstyle fits the bill. Gel may come in handy here to create that wet look.
9. Edgy 50s Style
This 50s rockabilly hairstyle for men looks like it came straight out of an editorial. Exaggerated height certainly isn't for everyone, but let it serve as future inspiration for playing with volume and proportion.
10. Quiffed Pompadour
Embrace the sexy style of the T-Birds with this coiffed pompadour. Nothing says confident quite like this slicked back look. To create, maintain plenty of height at the front of the forehead before gelling hair to the back corner of the head.
11. Greasy taper fade
This is the simplest rockabilly hairstyle that will suit absolutely any man out there. All you need to do is create a simple taper fade while leaving hair on top long enough for a comb over. Use a lot of hair gel to create that popular wet rockabilly look.
12. Voluminous fohawk
High hairstyle is a must-have for many rockabilly fans. You need to keep the sides short, but not shaved! Leave the hair on top long enough to make a voluminous fohawk. It should be about 8-10 inches. Style it upwards with the use of some hair spray.
Difference between Fohawk and Mohawk
13. Go modern
If you don't want to copy Elvis, but still hope for a stylish hairstyle to make you look like a real music lover, this modern style is for you. Cut the sides very short. Shaving is allowed as well. The top should be carefully styled into a high lateral comb over.
14. Ivy league
If you like Ivy League styles but still want some rockabilly touch to your hairstyle, then this cut is your best choice. Create a simple long taper fade and leave about 5 inches on top. Style it a bit upwards and to the side. Add a beard to complete the look.
15. Undercut with a side part
This modern look is quite simple to make and maintain. You need to create a neat undercut while leaving not too much hair on top. Make an obvious side part with the help of a strip and brush the hair to another side. All you will need to do is apply some gel daily to keep it neat.
16. Spiky taper fade
This spiky taper fade is used by modern music stars, but they didn't go far from rockabilly times. A neat taper fade is crowned with a voluminous top. Create some spikes to make this Zayn Malik hairstyle to look really amazing.
17. Rockabilly Quiff
If you are not a big fan of too much hair gel, which was very popular in the rockabilly times, try something different. You can create a high hairstyle but keep it intact by a bit of hair spray. The look might be a little messy, but you'll really save your hair.
18. Creative fohawk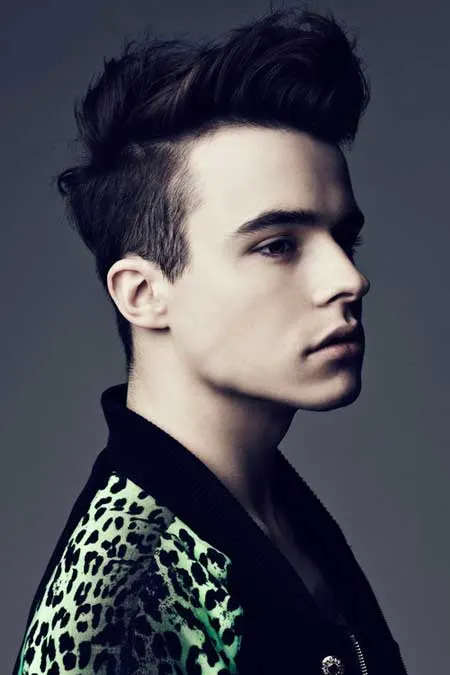 This creative fohawk will really make some heads turn your way. Instead of making a full-time taper fade, you should create a partial one. The hair in the back should stay as long as the one on top. Styling will be complicated, but it is worth it!
19. Simple start
This is not a true rockabilly hairstyle for men but it is something you can start with. We would like to show you that any rockabilly cut can be created out of a very simple and mundane style. So, don't be afraid to experiment! You can always get your simple cut back.
20. Natural pompadour
If your hair is very thick, you can make the rockabilly hairstyle without any hassle. Don't forget that the sides are only partially cut short and the hair on the back is longer. The top part is left about 4 inches long. This is a perfect length for your natural pompadour.
21. Short spikes
This easy to achieve rockabilly hairstyle is very popular among young men nowadays. The undercut is complemented by short spikes on top. In the end, you get a short hairstyle which really resembles the haircuts of the 1950's artists.
22. Wet and curly
If your hair is curly, it is usually very unruly and hard to make neat. A rockabilly hairstyle will take care of that. Apply a lot of gel to your mane and start styling it into a high crest. The more gel you use, the better it will hold together.
23. Office look
If you thought that rockabilly hairstyles for men and office looks have nothing in common, you were really wrong. By keeping the volume down, you can achieve a truly respectable style. At the same time, a combed over side part will create a wild impression.
24. Side part with a short pompadour
This is a wonderful hairstyle, which can be used for any occasion. It is easy to make. Ask your hair stylist for a taper fade with an outlined side part. The rest is up to you. Use a lot of hair gel to create a short and neat pompadour.
25. Rock the world
Not into high crests? No problem. Another way to look like a music star is to grow long hair. Create bangs and middle part to make a really romantic look. Make sure to keep your tresses brushed and neat. Such hairstyle can easily be turned into something wild by using hair gel and imagination.
26. Just the spikes
A slight variation from a rockabilly hairstyle is allowed for the modern men. The sides are cut short or completely shaved. The top is left about 5 inches long to create amazing wet spikes. This hairstyle is different from a mohawk since there is a lot of hair left on top.
27. Get creative
Want a real special hairstyle which will help you make a true statement? Ask your hairstylist for a creative rockabilly look. Create a really large pompadour on top, while making special designs on the short part at the back of your head. You will truly rock!
28. Spiky comb over
Some modern hairstyles look a lot like fashionable rockabilly cuts. This is one of them. The hair is cut short on the sides, but not shaved as it would be in a mohawk. The top is left about 3-5 inches long for easy spiky comb over creation. Almost no maintenance required!
29. 21st century rockabilly style
Want to combine the popularity of the 1950's haircut and the modern image? Go for the 21st century rockabilly style. This haircut can be created out of a "simple start" hairstyle. All you need to do is use some gel to spike it upwards.
30. Soft and beautiful
While wet looks ruled the music world in the second half of the 20th century, there is no reason to copy them completely. Create a soft lateral comb over by using a bit of hairspray. If your hair is thick, it will stay in place all on its own.
Hoping to become a real rockabilly star or just want to look extremely stylish? Now you know what to do. Most of these haircuts are very easy to make and maintain. You can really make a statement with each one of them. So, choose a hairstyle and become popular right now!