Gone are the days when braiding was an option for women only. However, nowadays, braids for men with short hair are also an upcoming style to look out for. As peculiar as that sounds, men braiding their hair is now seen all around the world.
It shows different ways of experimenting with one's hair and allows one to experience their creative side. Cornrows, box braids, and braided Mohawks are some of the very famous styles that men opt for in this category. Following are some of the most preferred braiding options by men.
Awesome Braid Styles for Short Haired Men
Braiding hairstyles aren't limited for women only. Men worldwide are also incorporating braids into their styles regardless of their hair length and texture. Let's have a look at the most popular braid styles for men with short hair.
1. Wavy Hair with Braid Fade
Snazzy side braids aren't just for the ladies anymore! Give your short hair the appearance of a fade on one side by making two or three skinny braids. Then work in mousse to enhance the wavy texture for maximum style!
2. Fohawk with Braids
Be proud of your thick black hair and rock it on a fohawk hairstyle! Just spike your short hair up and frame it with tiny braids on the sides.
3. Multi-Directional Braids
The beauty of this look for short hair is that the braids have no rhyme or reason. You can make them thick or thin (although one-size looks better symmetrically), and run them in any direction you like!
4. Dip Dyed Thick Braids
If you're a man who is constantly experimenting with color and/or accessories, you need to try this braid hairstyle! Just the top half of the hair is used to make three chunky braids. They boast bright blue ends and funky hair ties.
5. Cornrow Braids with Temp Fade
Any time you want a look that's fresh and spiffy, you must go with a temp fade. It perfectly frames the cornrow braids in this natural hairstyle and will look oh so hot with those black sunglasses.
6. Thin Braids on Natural Hair
For Black men who are keeping their hair mostly natural right now, consider adding in a few braid extensions at the bottom of your short hair. You can top off the ends with colorful or clear beads to fit any mood!
7. French Braid Undercut Mohawk
Do you prefer the more detailed styles of braids? Go for a French or fishtail braid mohawk on your short hair! This works best if you have thick hair to get a better tease for volume. With or without the accompanying undercut, this looks screams edgy.
8. Short Undercut and Box Braids
If you want a hairstyle that will let you show off your natural short hair's texture, you might like these super thin braids! They're sporadically placed around the head, competing for attention with a handsome undercut. Feel free to secure each braid with hair ties in a contrasting color for extra detail!
9. Ombre Braids on Short Undercut
For men whose hair color is naturally black or dark brown, a light blonde or caramel-colored ombre is highly recommended to show off your braids! These long thin ones are super hot laid over a short undercut.
10. Wavy Cornrow Braids
Are you brave enough to do something different with your cornrow braids? Instead of directing them straight back from your hairline, go with fun wavy designs around the head!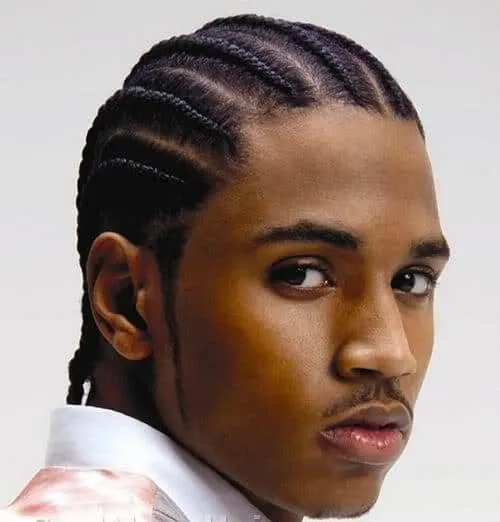 First experienced by women, cornrows are now famous among men as well. Cornrows help in using up all the hair to get a decent hairstyle. It even gets the short, baby hair incorporated into the braid. It is the perfect braids for men with short hair styles.
12. Braided Mohawk
As peculiar as it sounds, braids for short-haired men has a Mohawk braid as a must. A normal Mohawk stands tall on the top of the head while a short braided Mohawk is the same too but the only difference is now the hair is braided and are standing upright in the middle of one's head.
13. Cornrows with Top Knot
This type of braid hairstyle includes the basic cornrows but the added uniqueness is in the top knot. Many men prefer ending their braids in a man bun but if the hair length is not sufficient, and then a top knot would be the perfect alternative.
14. Boxer Braids and Cornrows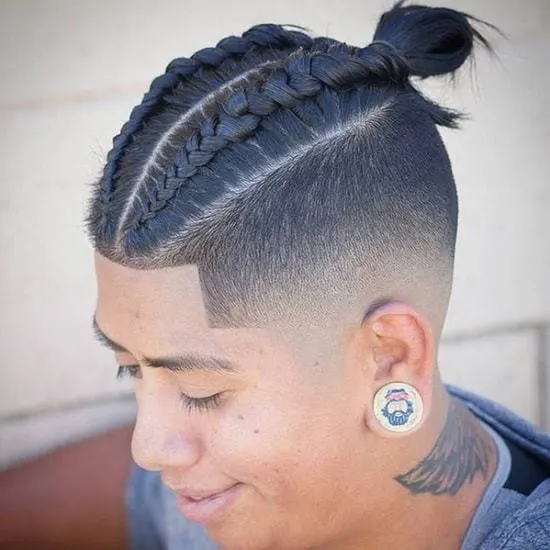 Boxer braids and cornrows are the perfect options of braids for men with short hair. Boxer braids are two extreme-sided braids with a middle part. The addition of the cornrows in the middle of the boxer braids will make it look more intense.
15. Zig-Zag Braids
Another way for people to turn around and be forced to look at your braids is to attempt this complicated type of braid. The Zig-Zag design braid includes cornrows and normal braids to cover up the entire short length of the hair.
16. Braided Undercut with Design
This type of braiding style is not new or unique and has been around for some time now. The uniqueness is in the designed that is done at the back of the head. When short hair is braided, part of the scalp is exposed to the naked eye.
Creativity is at peak with this type of braid as it shows different designing done by professionals in the empty scalp area.
17. Braid with Ponytail
This type of braid is specifically for those men who have their main tuft of hair at the top of the head. The main tuft of hair can be braided either in cornrows, box braids or in a fishtail, which will end in a tiny ponytail.
Many men would admire this type of braid as it gives a new and fresh look and the ponytail looks unique. This hairstyle of braids for men with short hair is also accessible for those with long locks.
18. Crown Braids
Male advancement into the braid style has not left them far from experiencing every type and style of braid that is out there. This includes the most royal braid the crown braid. It is the perfect braids for men with short hair as all the hair gets incorporated in while making it.
It also gives off a very luxurious and royal vibe. It is created in such a way that two braids are made at each side of the head and then connected at the back.
19. Reverse Braid
The reverse short braid is still new and has not yet been attempted by many men. It is created in the way that unlike normal braids, it starts from the back of the head, right from the bottom, and ends as you go up and reach the top. Here it can be left as it is or can be turned into a top knot or man bun.
20. Double Mohawk Braids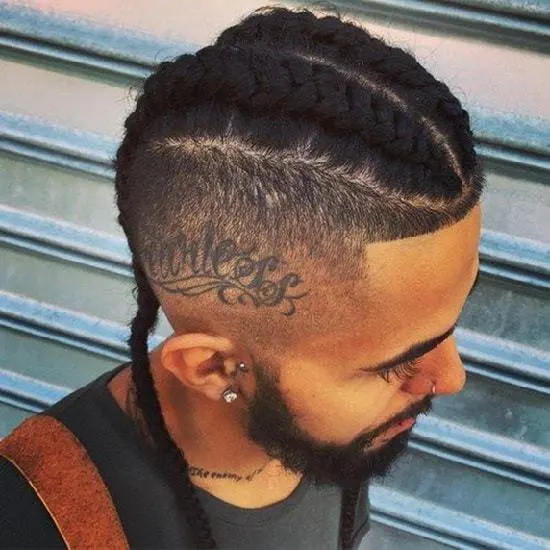 Men who don't prefer the mainstream way of sporting short braids Mohawk can try their luck with the double Mohawk braid which allows two main braids from the center till the back of the head. Extra intricacy can be included by side braiding the rest of the hair too.
In today's modern times, braiding is a cool way of experimenting with one's hair and is also practical for daily life. Inspiration to braid can come from anywhere. An individual should always be ready to try new and exciting things in their life. Try these braids for men with short hair to rock your styles.