Yes, men are going for two braids hairstyles too. Since the world is now evolving, everything is becoming more common amongst both the gender parties which are actually cool because now even men can go out tying their long locks into a braid or two braids without anyone judging them for their choice.
Manly Two Braids Hairstyles
In this article today, we have discussed 10 amazingly different ways of styling your hair into two braids hairstyle with quite a few epic ways to wear them.
1. Two Braids with An Undercut
Having a tapered undercut and no clue about what to do with the top hair can be a hassle. No worries, as we have given you a nice idea of two braids hairstyles for braiding your hair from both sides to give you that hip-hop looks to rock!
2. Double Braid with A Top Knot
If you don't like the feeling of hair constantly tickling your neck when you walk around, then tying two braids into a nice man bun would make life much easier and will also give an illusion of a flowery bun on top.
3. Two Braids with Highlights
Bleaching the top hair would give a nice look if you tie them up into two braids for men. The hair is dark in the background and only the braids which are bleached would pop out from the hairstyle which looks super-cool.
Best Braided Hairstyles for Black Men
4. Zigzag-Parting Double Braids
Having a simple middle-parting is just too plain. If you're feeling lucky, then you should try doing a zig-zag parting along with this men's two braids hairstyle.
5. Faded Undercut Double Dutch Braids
If you have an undercut and your top hair is thick and long, then you should go for this two braided style. The undercut is tapered and the top hair is tied into two closely tied Dutch braids that reach all the way down to where the hair ends.
6. Two Long Braided Pigtails
If you have beautiful long locks that you want to keep from coming over your face, then go for braided pigtails. They are trending and they are also the easiest to style two braids for men when you don't have much time in hand to spend in styling your hair.
7. Blonde Hair Double Braids
If you want a new major hairdo that completely changes your style and look, then go for an all blonde hair look. Make two Dutch braids and tie it up into a nice bun at the crown of the head. To really emphasize the double Dutch braided hairstyle for men, get an undercut that would calm down the bleach tone with a natural hair color hue.
8. Corn Row Middle-Parted 2 Braids
Corn-row hair is very common amongst men who have afro hair. It helps in keeping the hair nice and neat in place without having to style it every time you want to go out. If you have long hair, then you should make two braids on each side and pull the rest of the hair back into a nice tiny knot.
9. Double Corn Row Dutch Braids
If you're least bothered about opening up your corn rows, then doing another hairstyle over it, as this one would help in applying lesser efforts into your hair. Simply, divide the hair into sections and make two Dutch braids on each side joining the ends of both braids into one.
Men's Box Braids with Extensions
10. Two-on-Two French Braids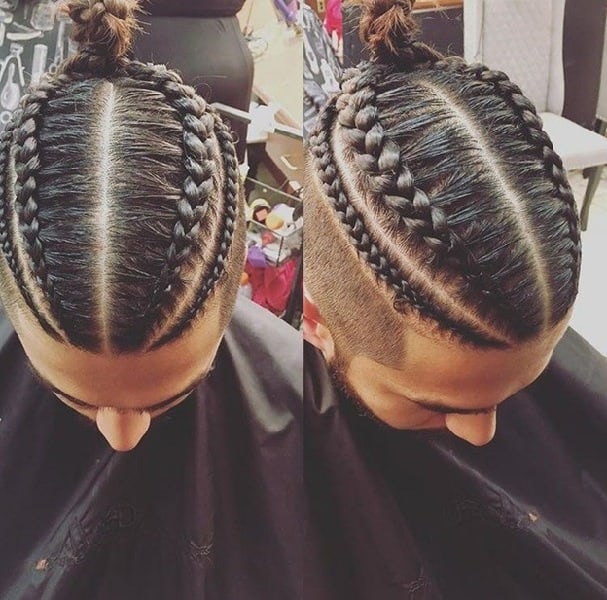 If you love having braids in your hair then going for a two-on-two look would fulfill your demand perfectly. In this men's two braids hairstyle, you make two thin French braids on each side and then again make two more under the top ones taking all four back into a knot.
Adding an undercut would enhance the style with a modern touch.
We have shown two braids men in so many forms by now that you must be willing to make one in your hair and see if it really makes your hair feel good and worthy of styling. There is no shame in doing something that was once only for the opposite gender as now everything is fair and more acceptable as long as one feels happy about it.