Undercut hairstyles have been the most popular and long-lasting hairstyles in the history of hair trends. Due to its wild popularity and long stay in trends, there have been a wide number of variations (ex- tapered undercut, mohawk undercut, fade undercut etc.) added to keep this trend alive for as long as everyone is happy about their outcomes that they expected from their hairstylists in the salon.
Coolest Tapered Undercut Hairstyles
To show what kinds of variations have been included in the undercut family of hairstyles, we will talk about the tapered undercut with 18 unique ways of wearing it.
1. Layers with A Tapered Undercut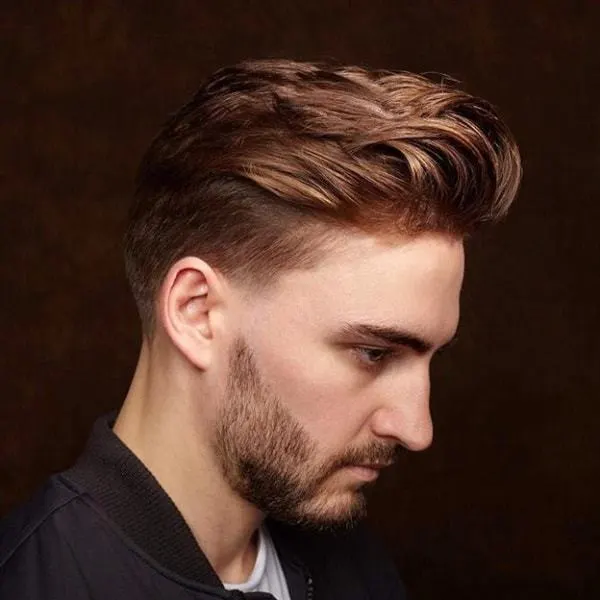 Men who have silky and straight hair should go for layers on the top hair with a tapered undercut. Layers fall in different lengths and directions which give a nice illusion of strokes and as the hair comes down towards the sides, it seems to be fading away.
Best Layered Undercut Hairstyles for Men
2. Two Tone Tapered Undercut
Having an undercut automatically gives you the benefit of going for a two-tone hair color. Dying the top hair into pale-white color would really make the top hair stand out from the rest of the hair and really define the border between the top hair and the tapered side undercut.
3. Tapered Side Part
This look is achieved by gradually decreasing the hair length as you move down the sides and back while leaving the top longer and tapered to the side. To finish the style, use some hard-hold gel and angle sweep over on the side.
4. Curly Undercut
The hair on the sides and back are trimmed short and tapered, while the top remains longer and styled with tight, curly ringlets. The fringe is also styled curly, creating a textured and defined look.
This undercut hairstyle is excellent for those with a rectangle face shape because it helps to add volume and softness to the angular jawline and forehead.
5. Short Sides + Dry Medium Hair
This hairstyle is perfect for men with medium to thick hair and has round oval, or square face shapes. You can get this undercut taper by trimming the sides and back short and keeping the top medium in length.
This look is best achieved by blow drying the hair with your fingers, creating a textured and effortless look.
6. Braided + Tapered Undercut
To get this unique style, divide the top of your hair into two even sections and braid each tightly. Cross the two braids over at the back and secure them with a hair tie. Finish the style by trimming the sides and back evenly for a sleek and tidy appearance.
7. Complex Twists
It is best suited for those with naturally curly or kinky hair, and it is perfect for men who want to add some unique texture and definition to their hair.
For this appearance, the top is divided into different sections and twisted which eventually create box shapes. This style is achieved by twisting each section of the top of the hair, starting from the roots and working your way down, to create a tight and defined twists style.
8. Medium Curls with Design
The hair on the sides and back are tapered to an undercut, while the top is styled with medium-sized curls. You can finish the look with a creative design on the sides, such as a shape or pattern. It is best suited for men with medium to thick curly hair.
9. Undercut + Messy Top
Start by having your hair cut short on the sides and back, gradually tapering up towards the crown. Then have your barber add texture to the top, creating a messy yet polished look. This style is perfect for guys who want to keep their look contemporary and stylish.
10. Silver Spike
This tapered undercut style works best with medium to long hair on top and is best suited for someone with an adventurous spirit who wants to try something different.
Start by using a hair clipper to taper the sides and back of the head to a short length. Then use a lightning product to bleach the top section of the hair to a silver color. Finally, spike the top using light hold hair gel.
11. Undercut with Loose Waves
If you have thick wavy hair and a long beard, then going for this look is what you should aim for. Keeping thick waves on top with a tapered undercut that is connected to the beard with neatly trimmed corners really makes one look well-groomed and a high-profile guy in town.
12. Tapered Afro Haircut
Afro hair is one of the coolest hairstyles to style as an undercut. The hair texture is rigid, which gives one the advantage of having a preset Mohawk on top with a tapered undercut that blends the style altogether really well.
Have A Look At These Tapered Crew Cut
13. Jet-Black Tapered Hair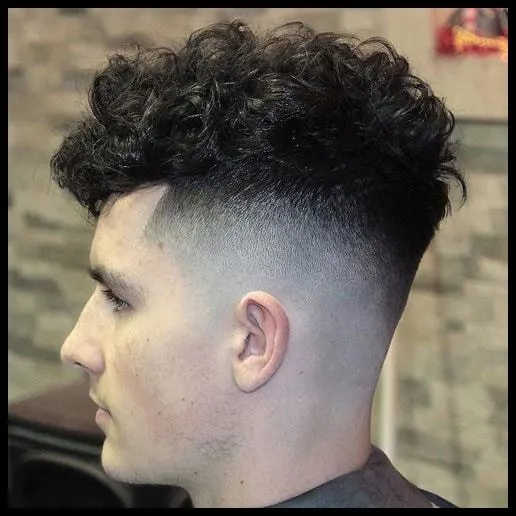 Many guys out there think that having jet-black hair would be of no use to style as the haircut does not really show. This is wrong as a tapered undercut is just the right one to really show-off those dark locks and show the world the true beauty of having jet-black hair with a nicely trimmed undercut.
14. Pompadour with Sideline
Men who love having more than one hairstyle in their hair should seriously consider getting this hairstyle done already. The top hair is cut into a pompadour, while the sides are well-faded with a nicely trimmed sideline that really shows the border between the pompadour and the tapered undercut.
15. Flat Top Tapered Undercut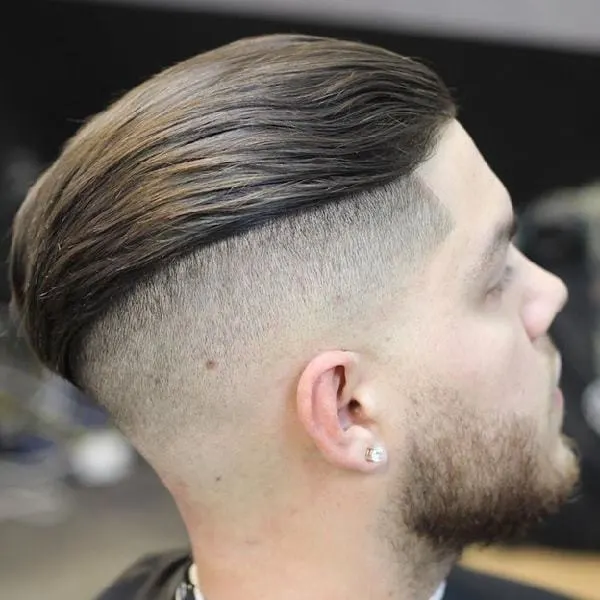 Apart from having fluffy or standing hair on top, going for a flat helmet shaped top hair wouldn't do any harm to you, in fact, it is a unique combination of having a tapered undercut with flat surfaced hair on top.
16. Asian Hair Tapered Undercut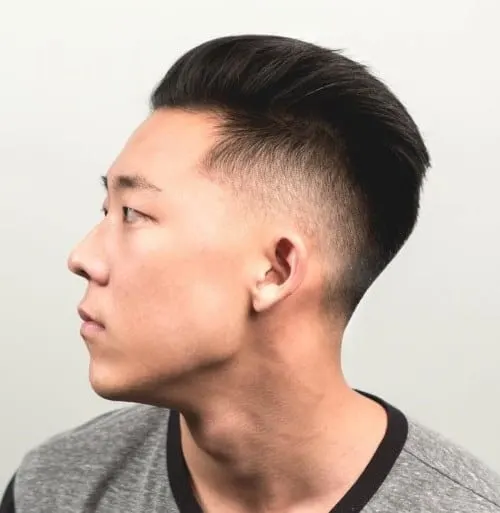 When we think of Asian hair, we imagine smooth, silky and straight hair that can be styled in any way you want to, which is actually right! This is a plus point of having Asian hair as one can go for a tapered undercut with light-weighted hair on top which has a lot of movements in them.
17. Spiky Tapered Undercut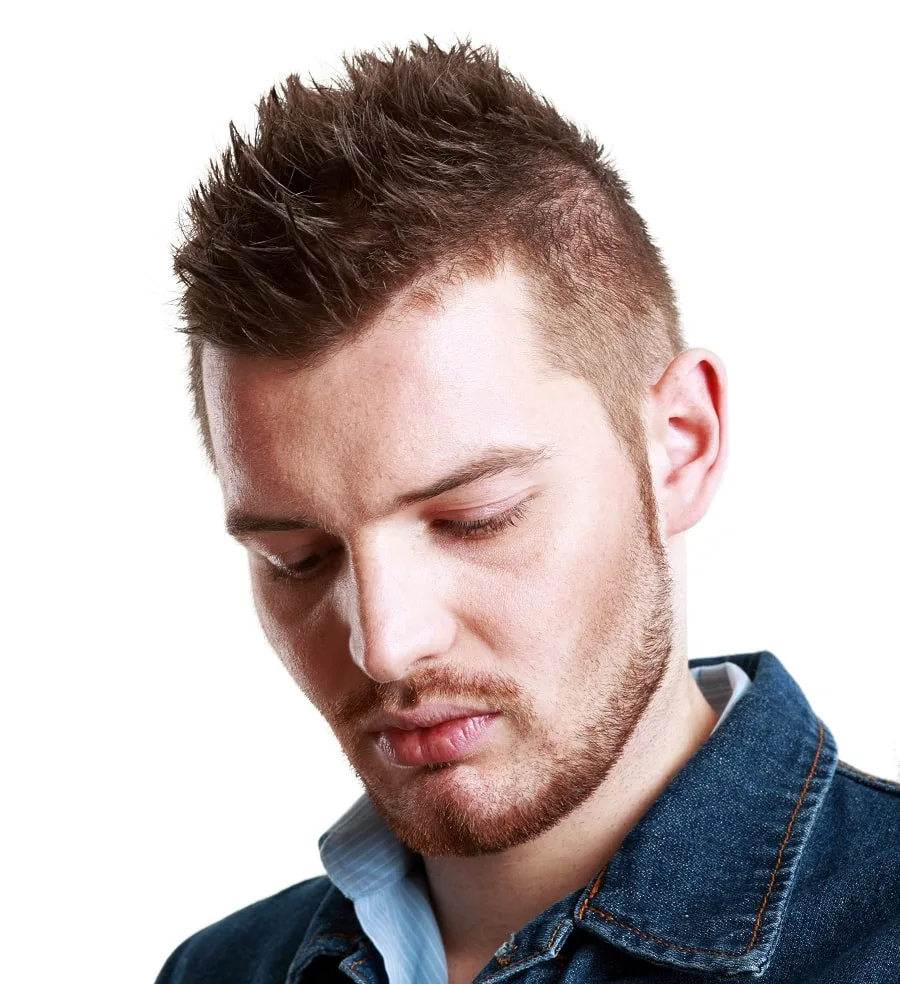 Pointy spikes have been a trend since the 90s and are still in demand these days. This is the very first style that most guys go for when they initially get a tapered undercut hairstyle to have an idea whether an undercut suits them and if they should grow out their top hair longer to keep on changing the hairstyle every few months.
18. Natural Grey Hair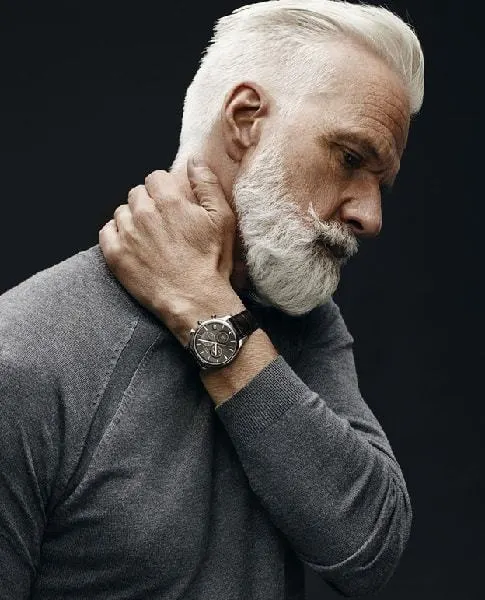 There is absolutely no shame in having a modern-day hairstyle even if you're as old as a dinosaur. In fact, it looks even classier on older men as they have completely white hair that makes the hairstyle more prominent.
From layers to waves to all the way to old men's hair, we have shown you that no matter what type of hair texture or hair color you have, going for a tapered undercut is absolutely worth it and one should at least give it a try to see if it suits them or not.
FAQs
Read these frequently asked questions to learn more about a tapered undercut.
What is an undercut taper?
An undercut taper is a haircut that blends long and short with a tapered low fade on the sides and medium fade towards the crown.
Is there any difference between a taper and an undercut?
Yes, the difference between a taper and an undercut is technique. The undercut is shaved on the sides or underneath the hair. The taper takes the gradient tapers from the sides and back of the head.

Both can be cut short for a classic style, layered for volume and texture, or make a statement paired with a pompadour or dreadlocks.