Women's long perm hairstyles have a rich history. They have been going out of style and coming back for dozens of years. While there are always people who hate them, there are more who love them.
Most women can't resist trying a perm at least once in their lifetime. If you have long and unruly hair, a perm is often the best way out to sport a great hairstyle 24/7.
Perms come in all shapes and styles and can be enjoyed in a variety of ways. If you are considering a perm, we are giving you a chance to see how beautiful this hairstyle can be.
Getting A Perm for Long Hair: Pros and Cons
Before you make this important step, read about the pros and cons of the process.
Pros:
1. Long-Lasting Hairstyle
If you make a perm, it will last for many months. In fact, it will stay on your hair until you decide to get rid of it. You can hide your curling wand and forget about too much hair gel.
2. More Volume
A perm adds volume to your hair. If you have fine locks that hang lifelessly ruining your mood, a perm can give your tresses much-needed volume. It lifts up the roots creating a more exciting appearance.
3. It Will Shorten Your Morning Routine
Permed hair looks great even if you've just gotten out of bed. No more standing in front of the mirror with an arsenal of cosmetics and tools. You can get up, brush your locks, and go.
Cons:
1. It's With You For A While
If you are a girl, who likes to change hairstyle every month, think twice before getting a perm. A perm is long-lasting and requires special attention for removal. Most likely you'd have to get a drastic haircut to get rid of it completely.
2. Your Hair Will Be Damaged
Perming is a damaging process so get ready to sport dry and frizzy lock. Meanwhile, the hair will be weakened so it will need more attention from your side. Read into various hair treatments before getting a perm and decide whether you are ready for it.
3. Dyeing Is Questionable
Once you weaken your hair with perming, dyeing it a different color is bound to damage it even further. Ideally, you shouldn't be dyeing your hair after a perm. Are you ready to live with this fact?
Beautiful Long Perm Hairstyles
Perms for long hair tend to look very beautiful. Even though some girls are afraid of damaging their locks, many are ready to overlook this little problem in order to look beautiful. The long-lasting effect of this styling exceeds all expectations.
Some women are so tired of wielding their curling irons and buying expensive gels in order to keep their hair looking neat, they are ready for anything. We are offering you 70 options to check out and make your decision about getting a perm.
1. Beach Wave Perm on Long Hair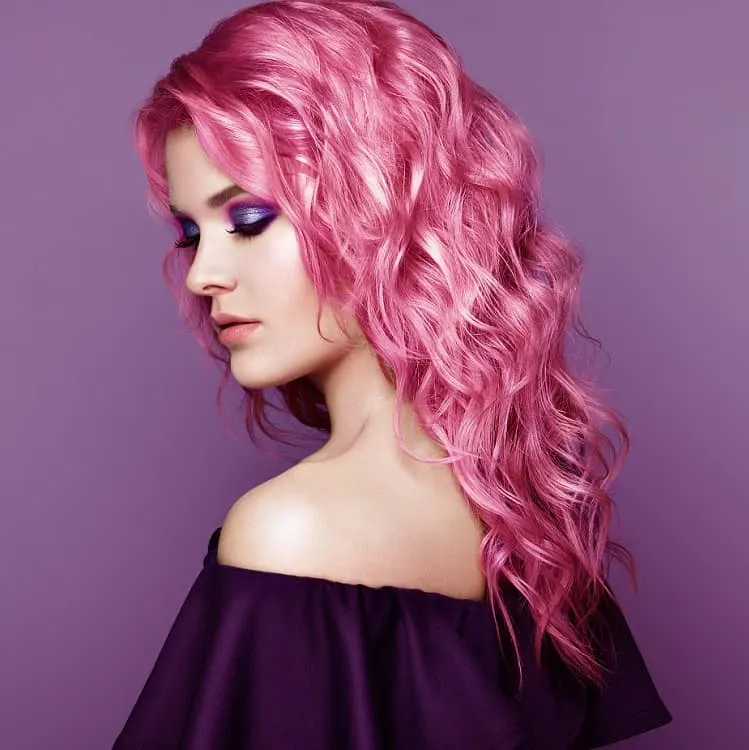 Opting for a beachy wave perm on your long hair is a great way to get mermaid vibes that will last several months. Your long perm will look even prettier with a bold color like pink or purple.
2. Long Curly Perm Hair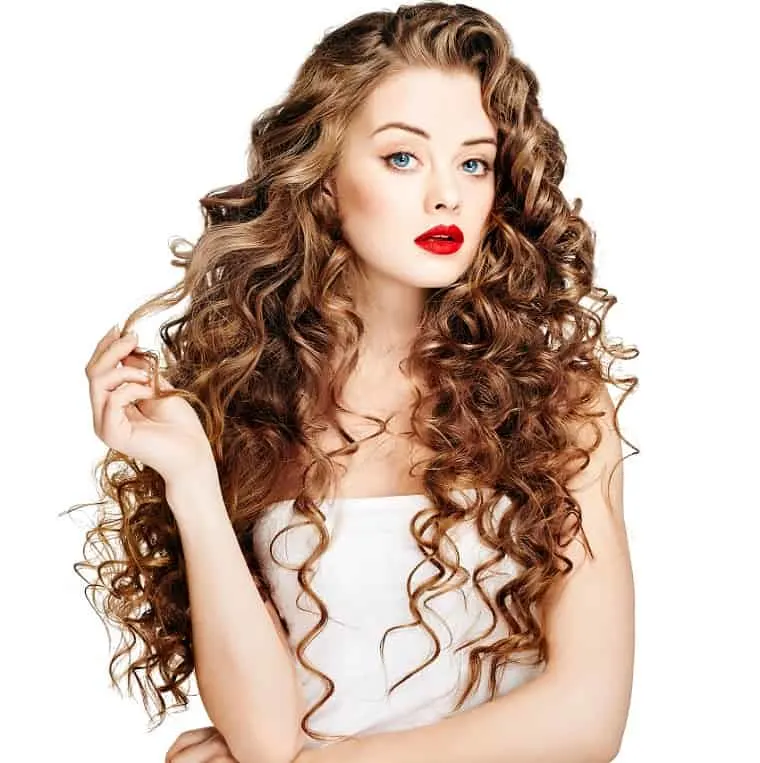 Long permed hair can look even more voluminous with a heavy side part. Since your curls are semi-permanent, you won't need to spend much time on styling, making this a low maintenance option.
3. Body Wave Perm on Long Hair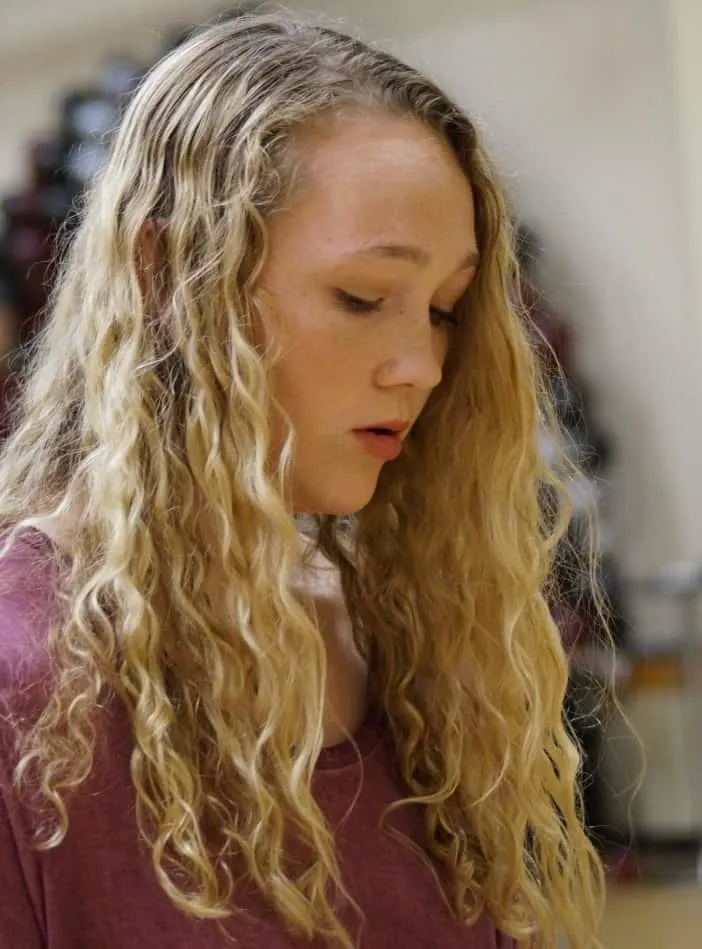 Another option for a long perm is a body wave that creates softer and more loose waves. If your hair is stubborn and doesn't hold curls, this is your best option.
4. Long Brown Permed Hair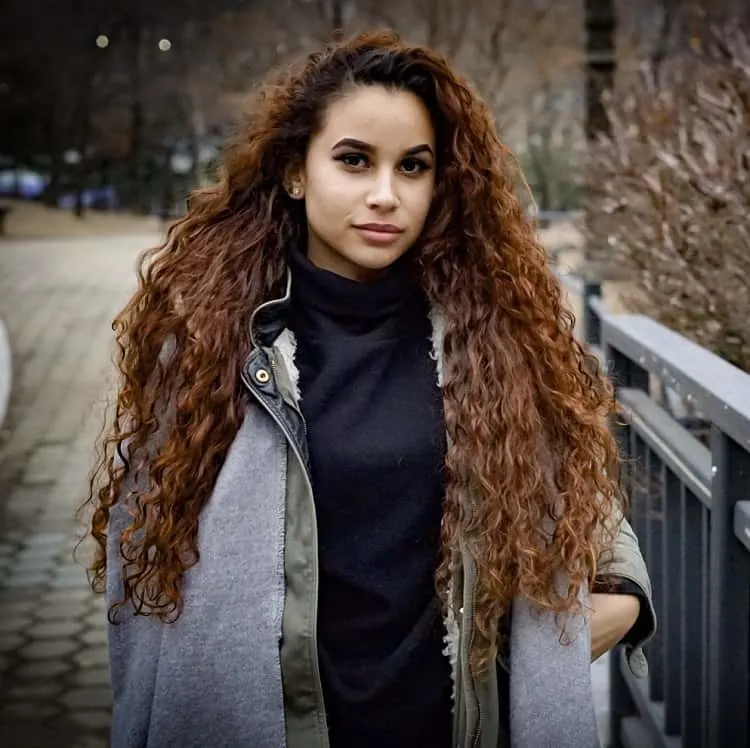 Giving your long hair a perm is a great way to not just make it more beautiful, but freshen it up when you're tired of wearing it straight.
5. Perm on Long Thick Hair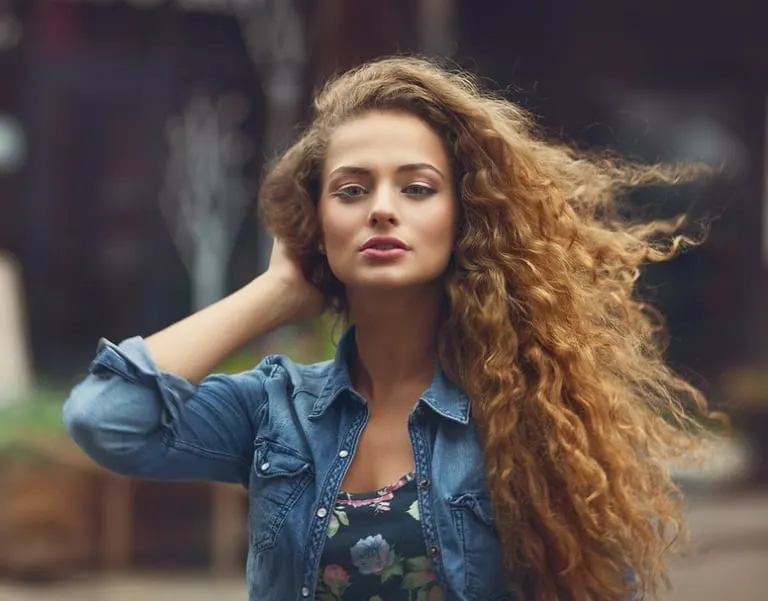 Did you ever see that show Felicity? Keri Russell rocked long thick hair that was permed and it was a statement style, turning heads to her blonde locks all the time.
6. Long Tight Perms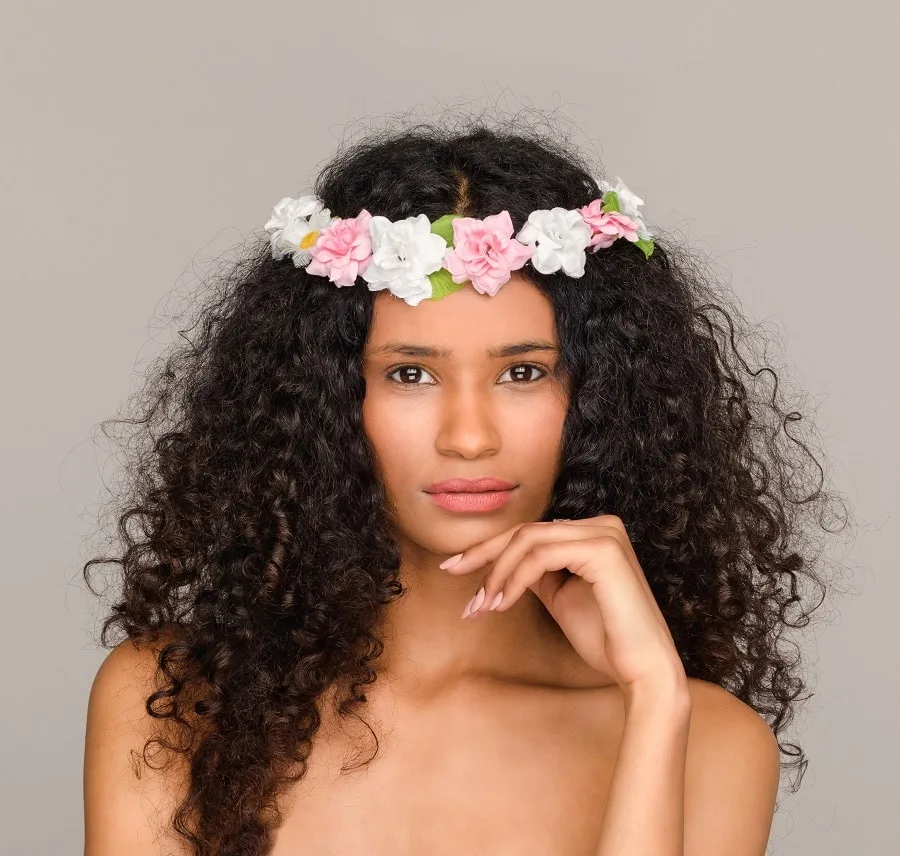 For a wedding or other special occasion, top your long permed hair with a beautiful flower crown. Real or fake, these flowers will be the delicate detail that helps your gorgeous locks stand out.
7. Low Side Ponytail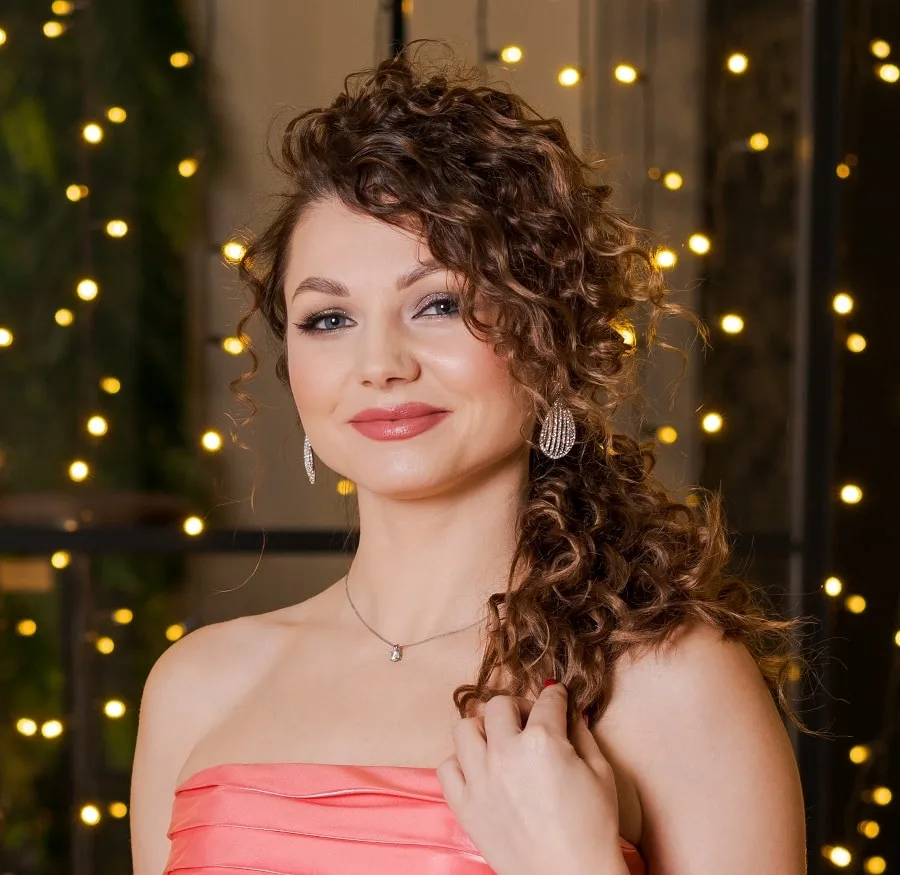 We love this full curly ponytail secured at the side. To get the look, part your hair off-center, then use your hands to gather your hair in a low ponytail at the side. Pull a few tendrils loose to soften the look around your face.
8. Messy Long Perm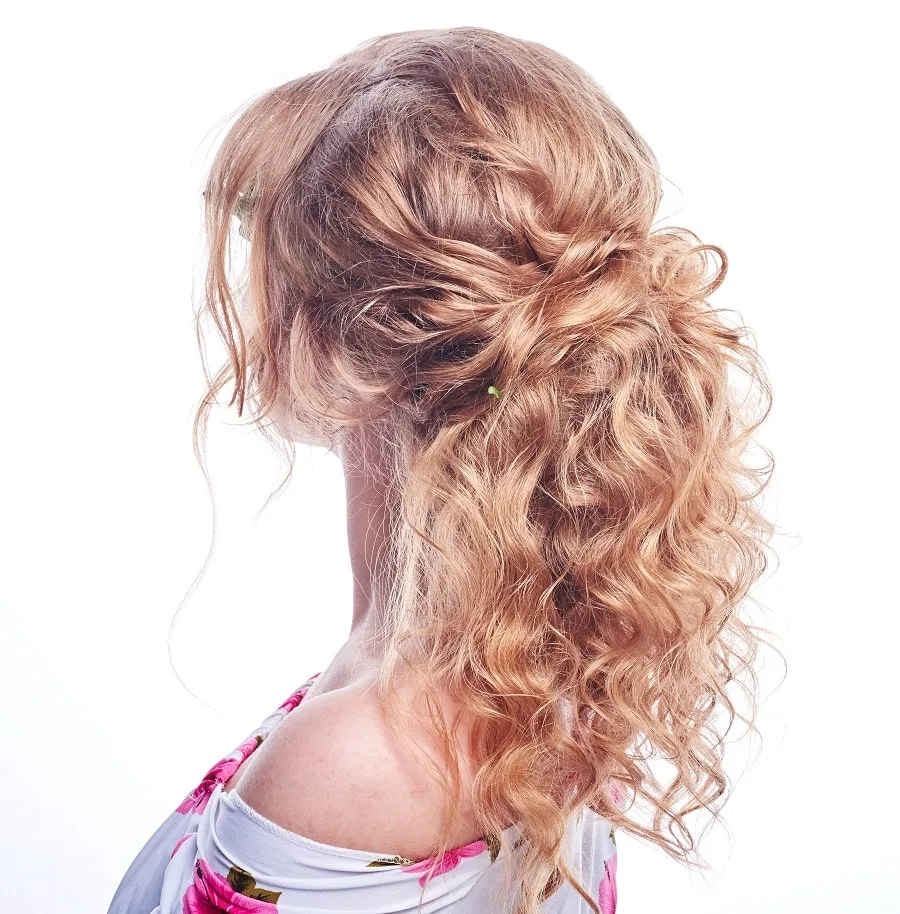 Styling your hair in a purposely messy way can make your mane look even more full and thick. This Rapunzel-like updo is a half ponytail secured loosely with strands of hair from opposite sides of the head criss-crossing to thicken up the pony.
9. Permed Updo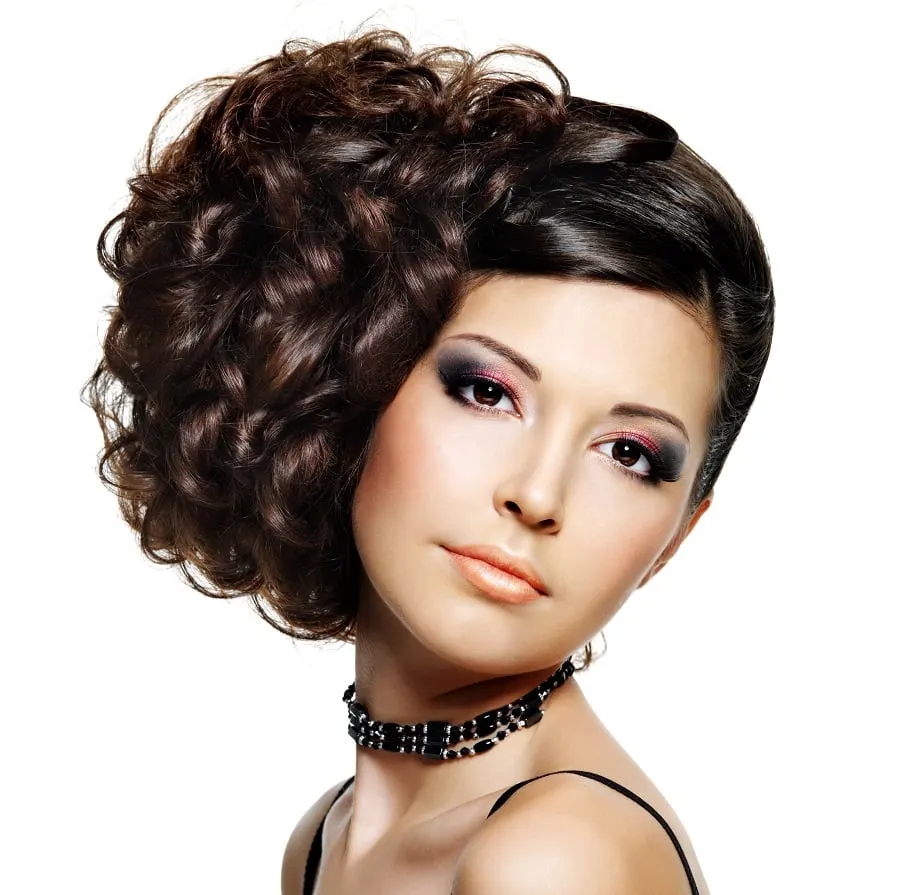 To make an instant statement look with your permed hair, create this jumbo sleek side bun. It's easier if you have long hair, possibly with extensions for more length, but after loosening parts of the bun, you'll get a gorgeous result.
10. Blonde Ombre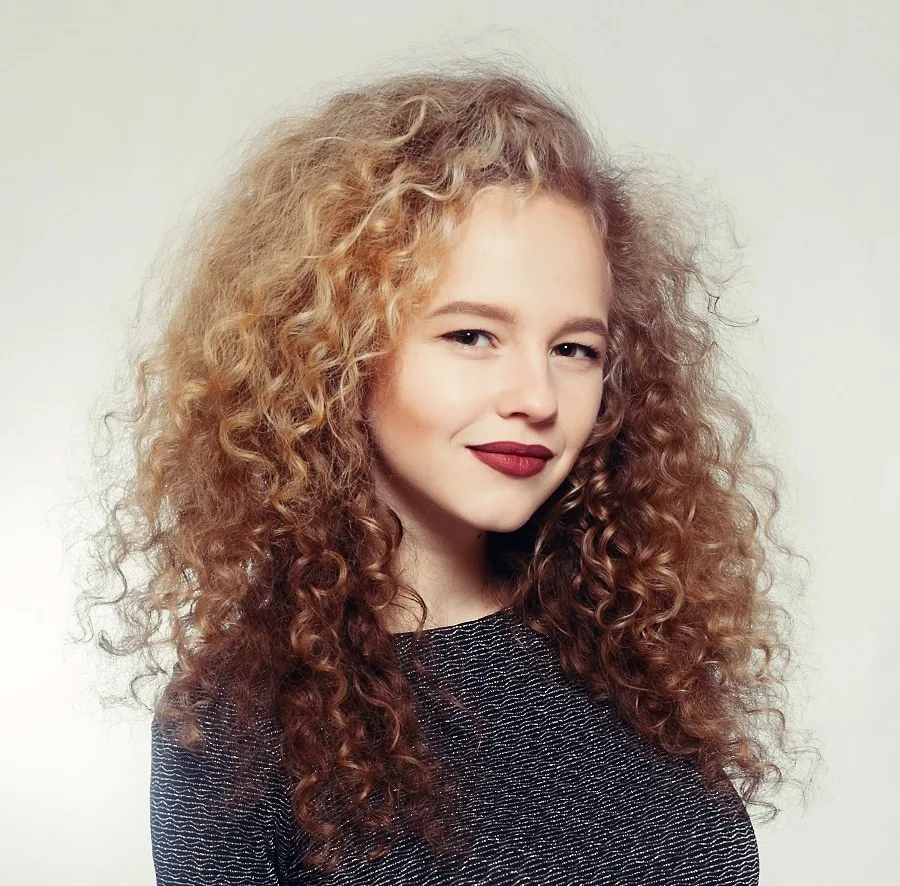 Whether it's blonde ombre or a reverse balayage you opt for, these colors are warm and inviting on pretty much every skin tone. The shades accentuate the curls of this long and layered permed hairstyle.
11. Black Perm Updo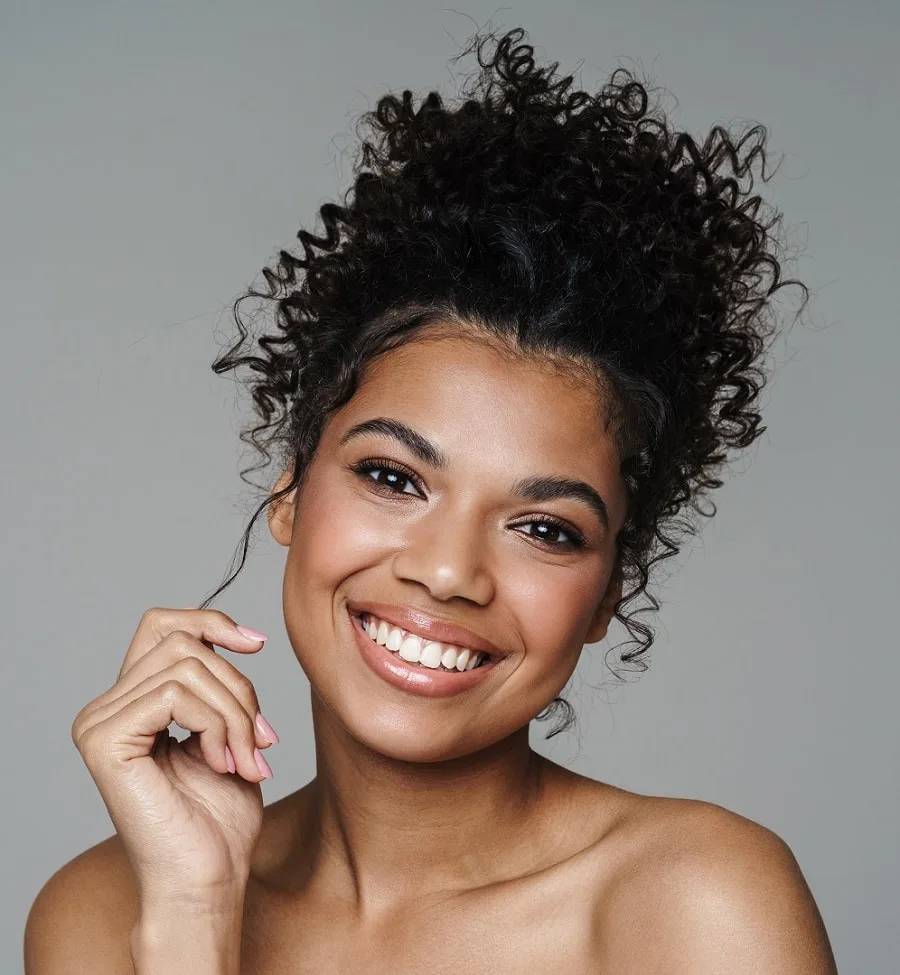 Women of color looking for another way to rock long hair would do well to choose a perm. You'll see perfect ringlets of curls that look gorgeous whether worn down or up in a high bun with loose face-framing tendrils.
12. Colored Perm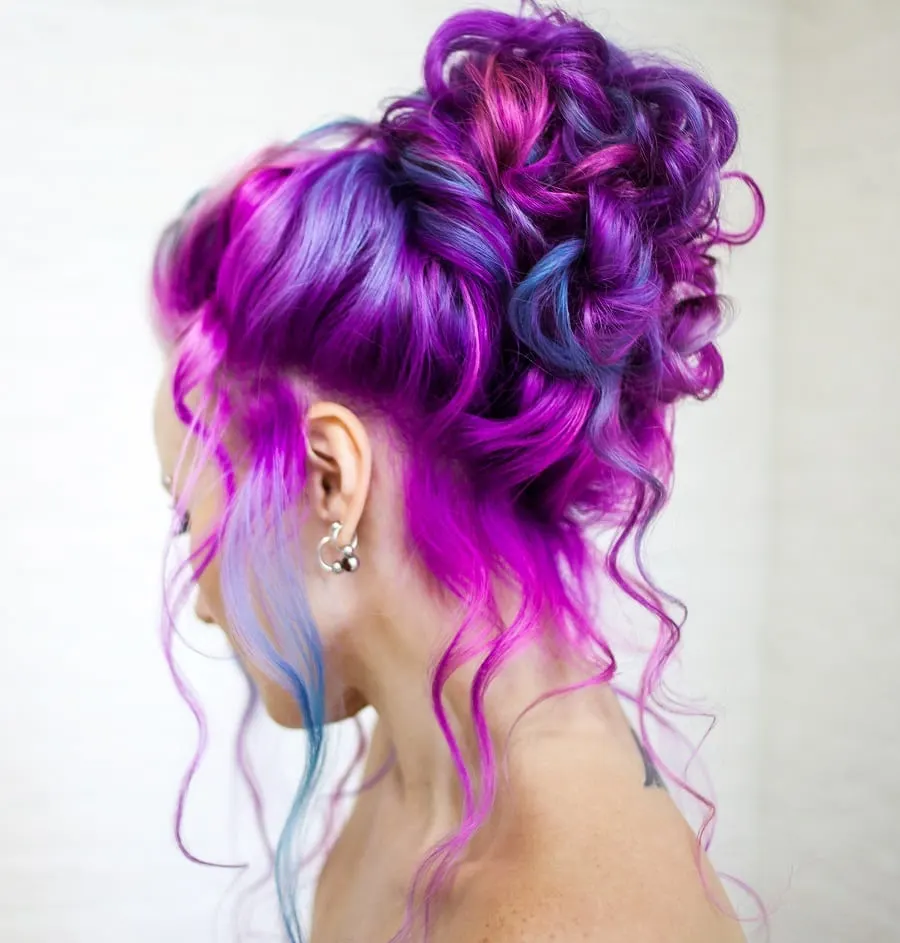 Do you love trying gorgeous colors in your hair? Then this hot pink and light blue permed hairstyle is for you! Use your fingers to gather your hair up in a large twisted bun, taking care to loosen plenty of tendrils to hang down your neck.
13. Fishtail Braids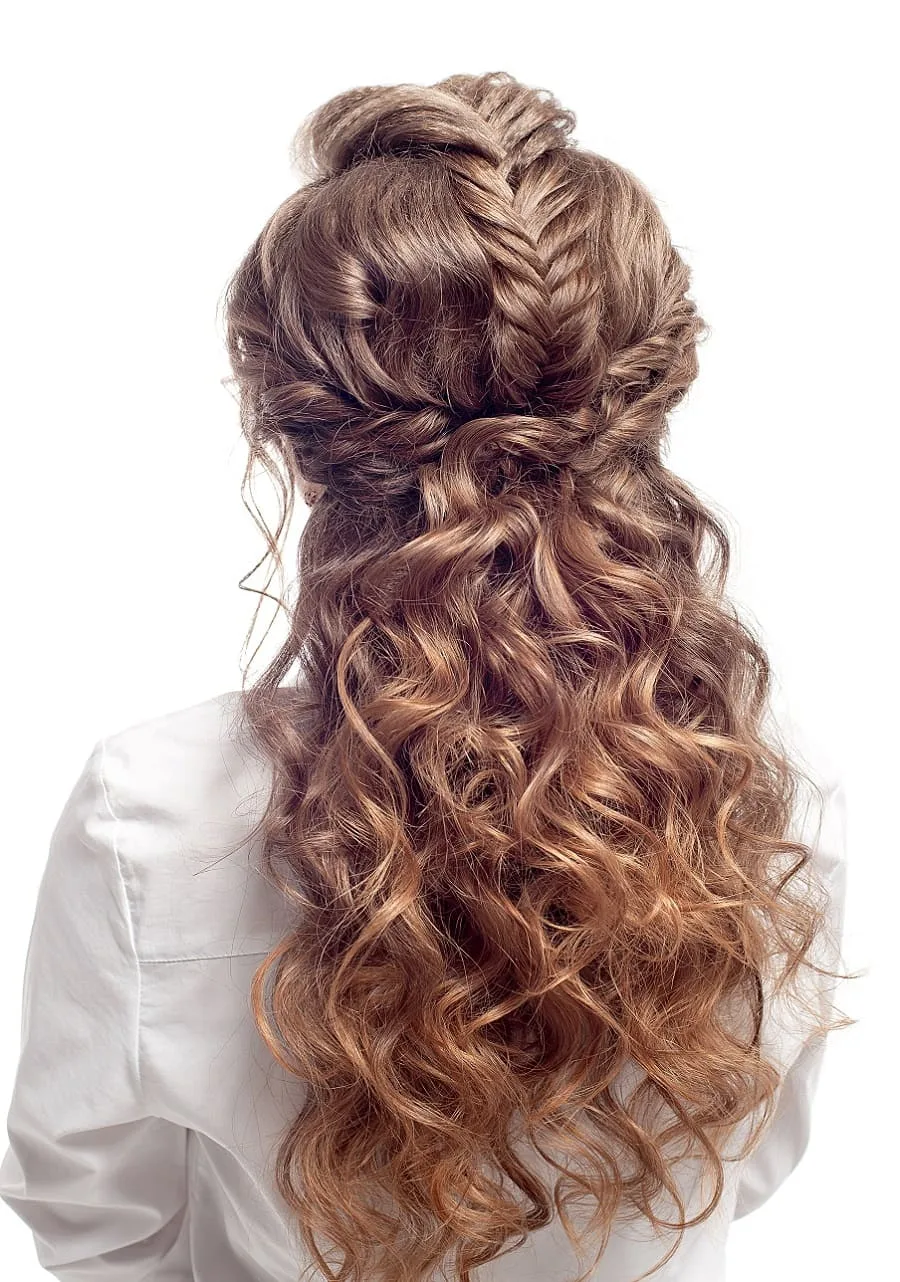 A perm gives these long cascading waves enviable texture, and also draws attention to the three large fishtail braids at the top of the head. If you choose this elegant updo, the key is in not making the braids tight.
14. Perm for Wedding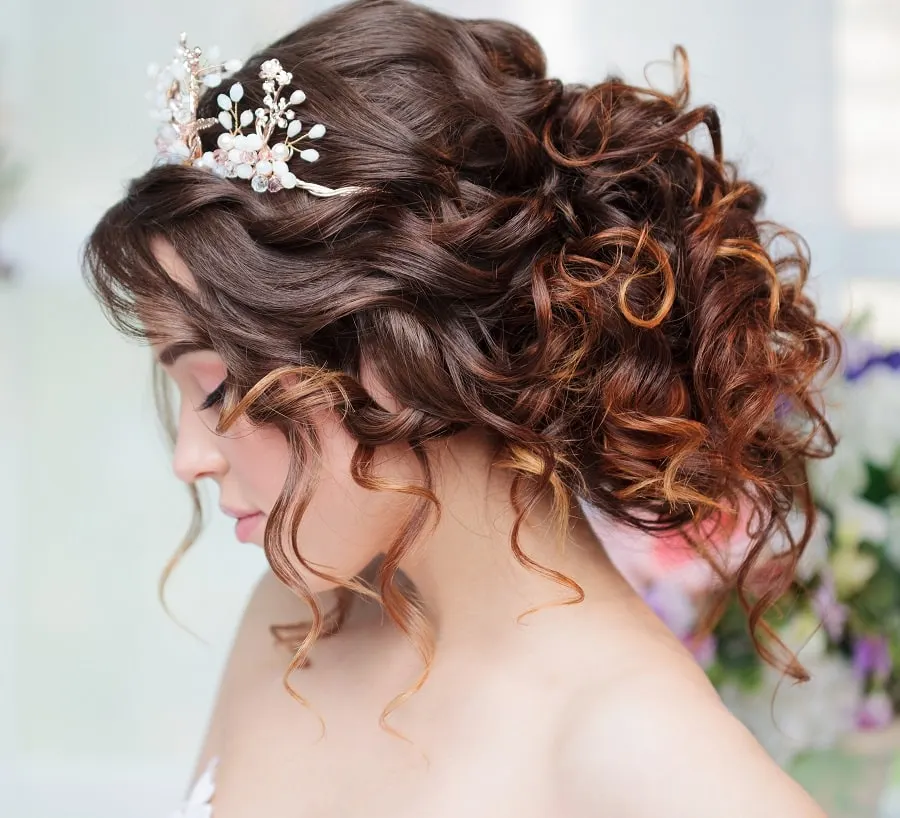 When it's your wedding day, you want your hair to look its most voluminous. A permed long hairstyle will yield amazing results, like this low chignon filled with loose, romantic curls. Add a tiara and you're ready for the big day.
15. Perm with Headband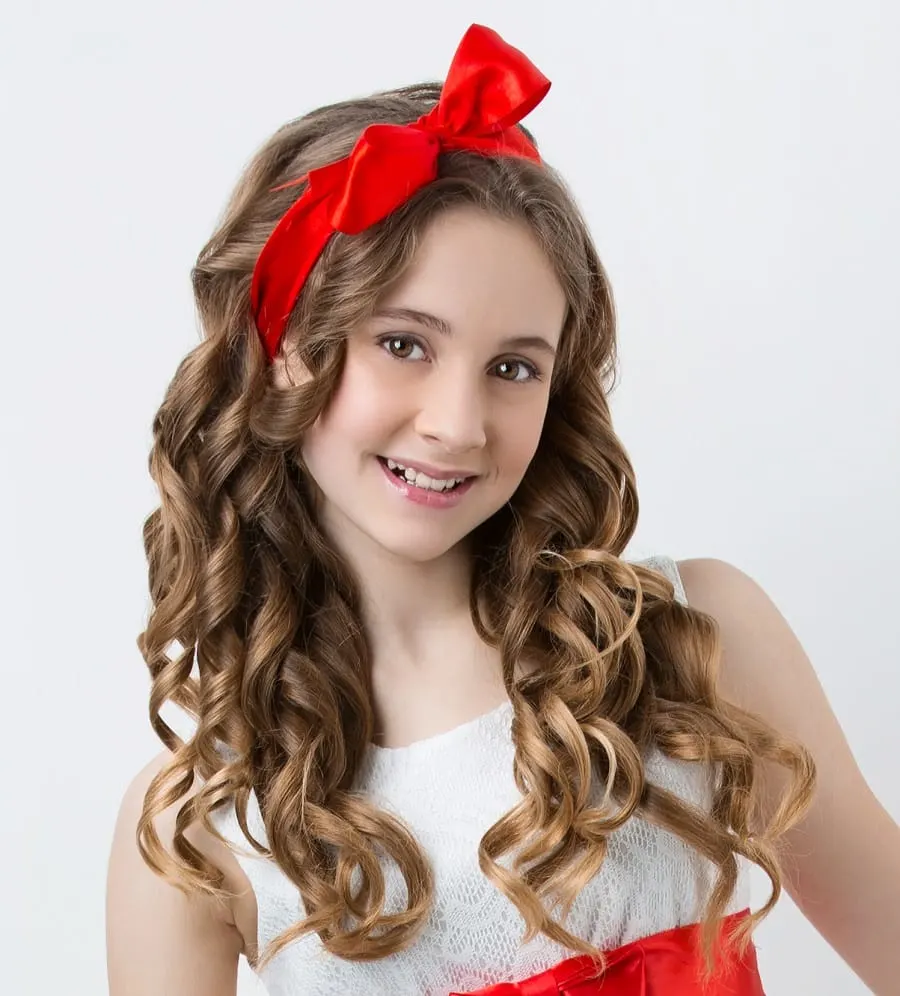 If you'd rather wear your newly permed long hair down instead of up, consider rocking a headband. Choose one with a cute bow in a bold color, such as red, if you have light-colored hair. If your hair is dark, we recommend a light-colored headband.
16. Sleek Bun Updo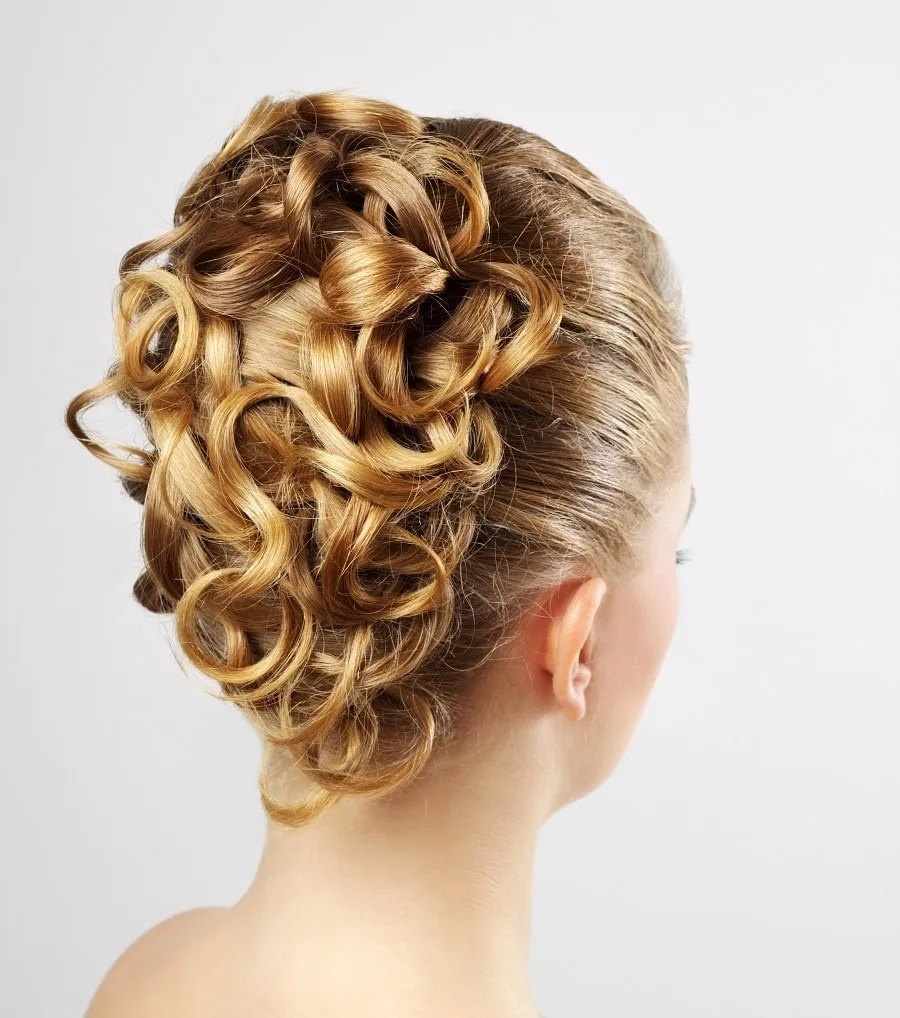 There are many ways to flaunt long hair in an updo, including this bun which is slicked back away from the face. This one can be done by making a ponytail at mid-height, but only pulling it halfway through on the third loop.
17. Highlighted Perm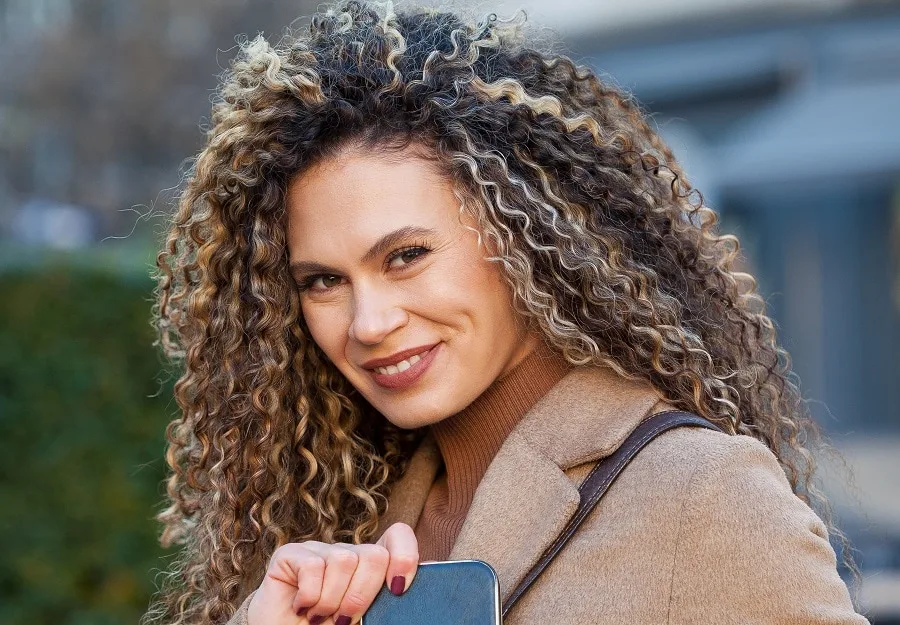 Is your long hair dark-colored? Add blonde highlights throughout your mane to warm it up a bit. The light and dark hair colors will help a perm's effects shine. Part your hair off-center for voluminous, model-worthy hair.
18. Long Gray Perm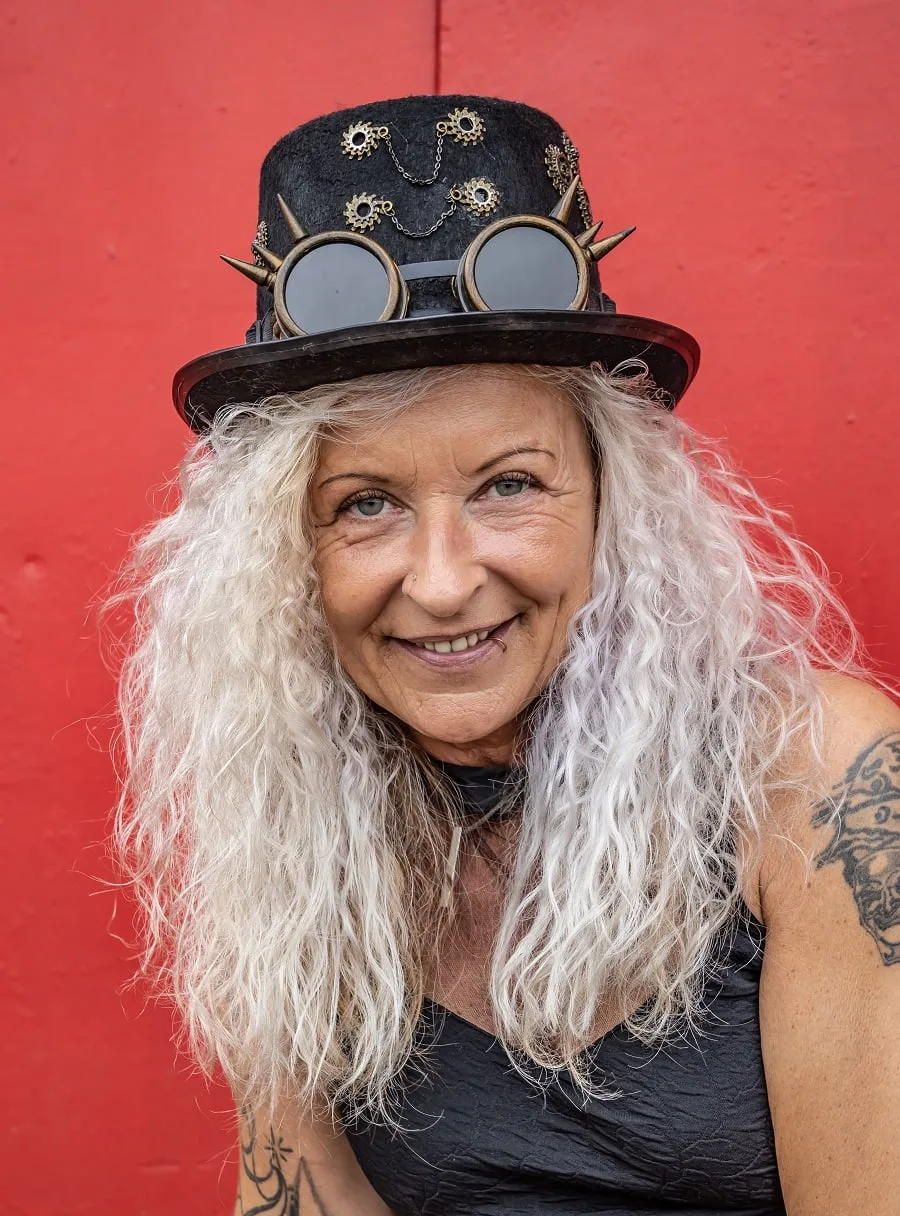 If you're in your older age, don't be like all other women who go short. You can revive your long hair easily with a perm and even take it one step further with a platinum blonde coloring.
19. Beachy Perm
Why spend every morning styling your hair to be naturally beachy when a perm will save you time and last longer? This look features soft waves that look like they were the result of you spending your day on the beach!
20. Shaggy Perm
If there's anything better than permed long hair, it's permed long hair with a bit of shape and structure. If you have bangs, ask your hairstylist for a shaggy haircut to create more volume for your fringe.
21. Half Up Long Hair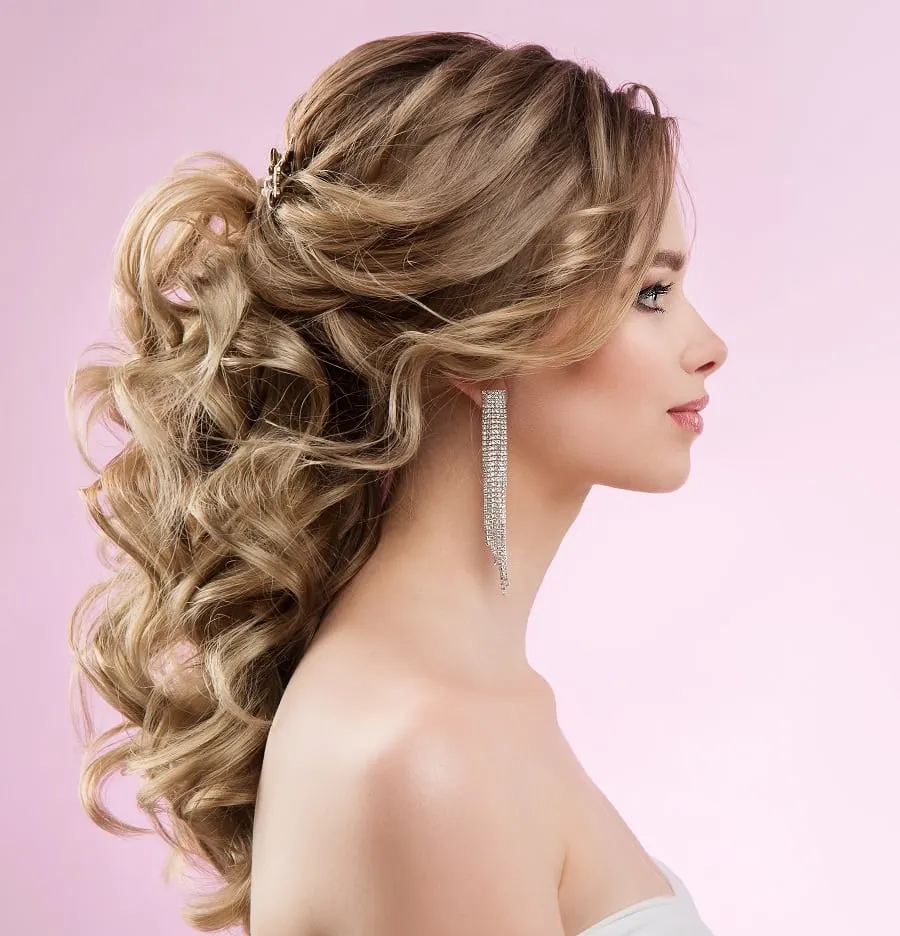 If this long curly hairstyle is what you dream about, a perm will grant your wishes. Simply gather up the top half of your hair into a low ponytail. Loosen a few sections of hair around your face for soft framing and secure the look with a pearled clip.
22. Hairline Braid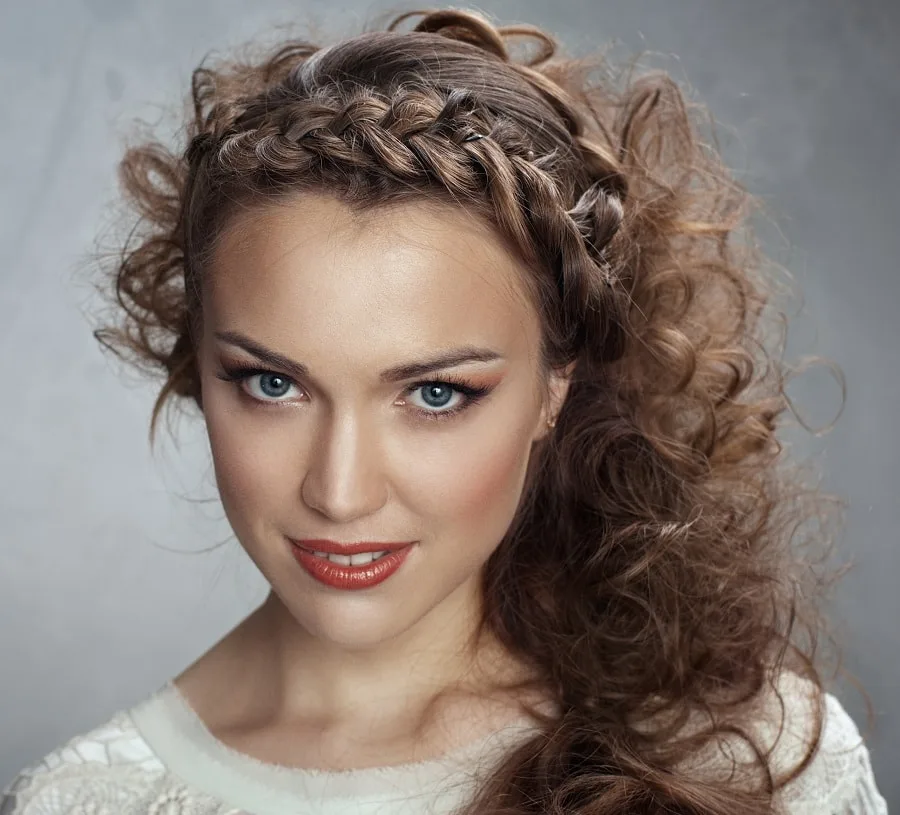 Long permed hair won't ever look as stunning as it does worn down with a braid along the hairline. You can choose the thickness of the braid – just make sure to tease your mane for extra volume and spritz your braid with a little hairspray for hold.
23. Permed Waves with Flower Crown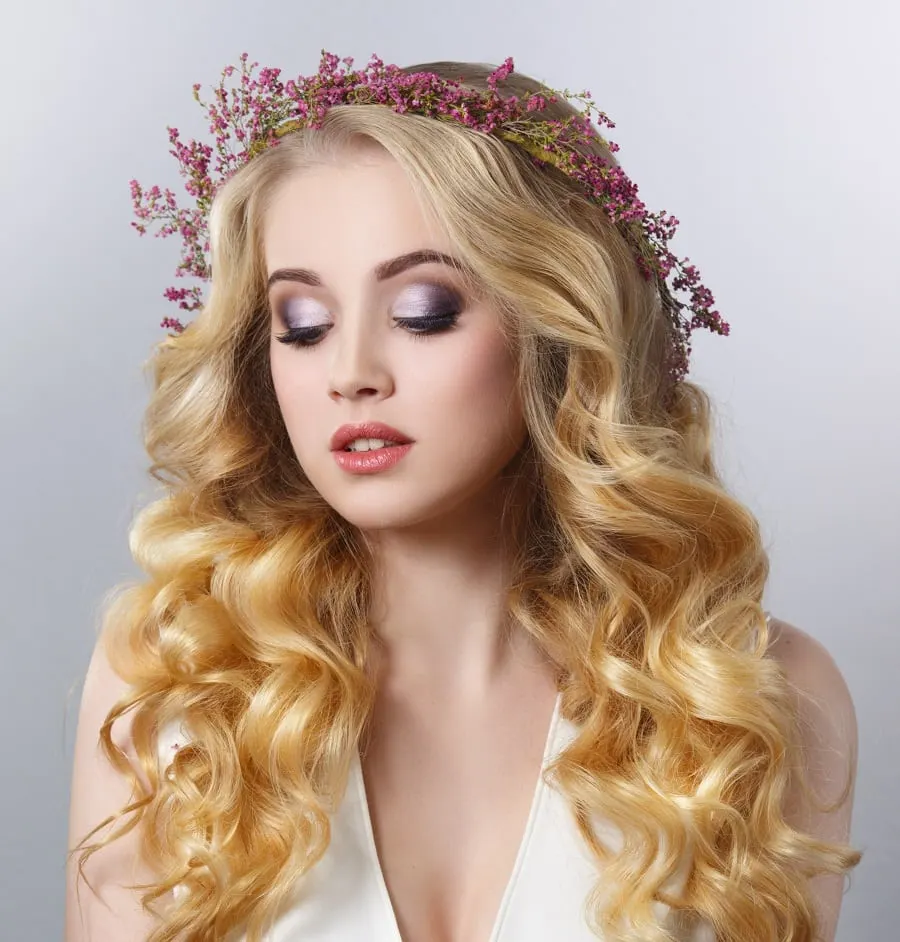 For blonde-haired women with long hair, those locks will become red-carpet-worthy with a perm that turns them into glam waves. Part your hair in the middle and top it with a flower crown for a soft, romantic look.
24. Perm on Long Thin Hair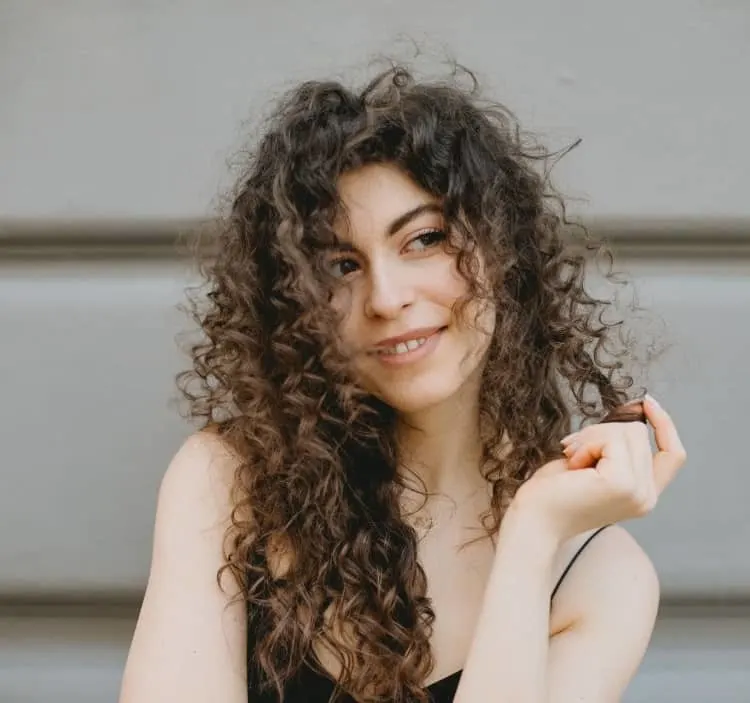 Long thin permed hair looks amazingly thick and luscious when loaded with curls. You'll love running your fingers through your curly locks that are no where near thin anymore.
25. Korean Long Permed Hair
Korean women with long hair typically wear it straight, but a perm on long hair is quite gorgeous. This one features slightly loose waves and rounded bangs.
26. Crimped Curls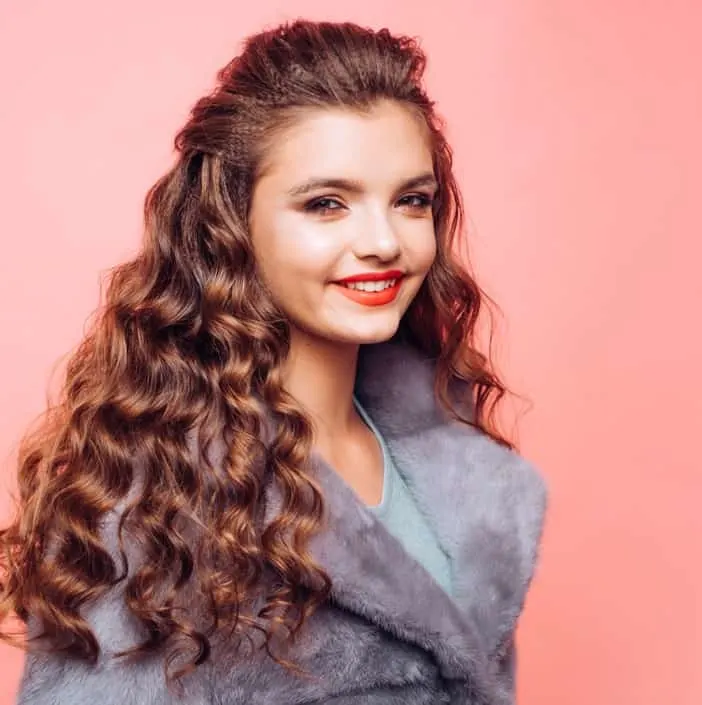 A perm on long hair with crimped curls is a stunning style to work as a half updo. Hair is pulled back off the face in a low pony while the rest of the hair cascades its curls over shoulders.
27. Long Perm with Side Part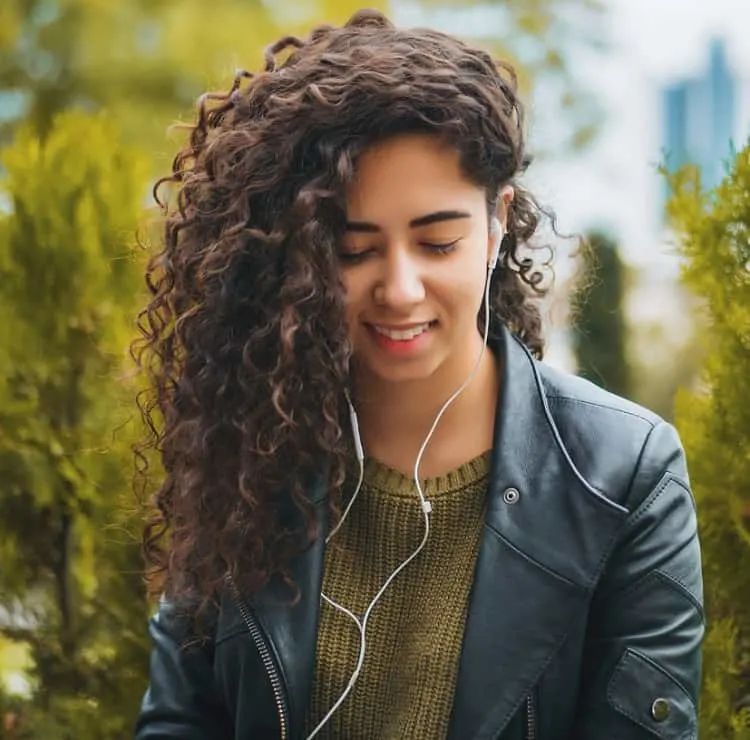 Looking for some more volume in your life? Your long perm will look thick as the 80s by flipping hair over in a heavy part. Seal the style with hairspray for all day hold.
28. Tight coils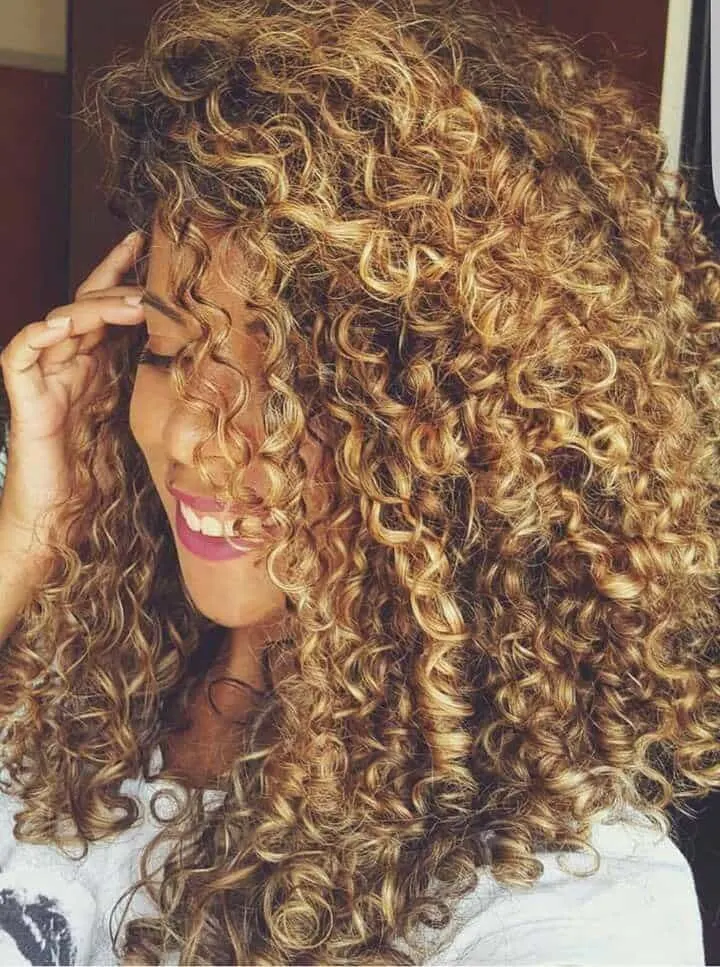 If you have thick hair, you can take advantage of this tight perm hairstyle. Girls with really long hair don't have to worry about the perm shorting their hair. Brushing the perm to one side creates a stylish image.
29. Long and loose spiral perm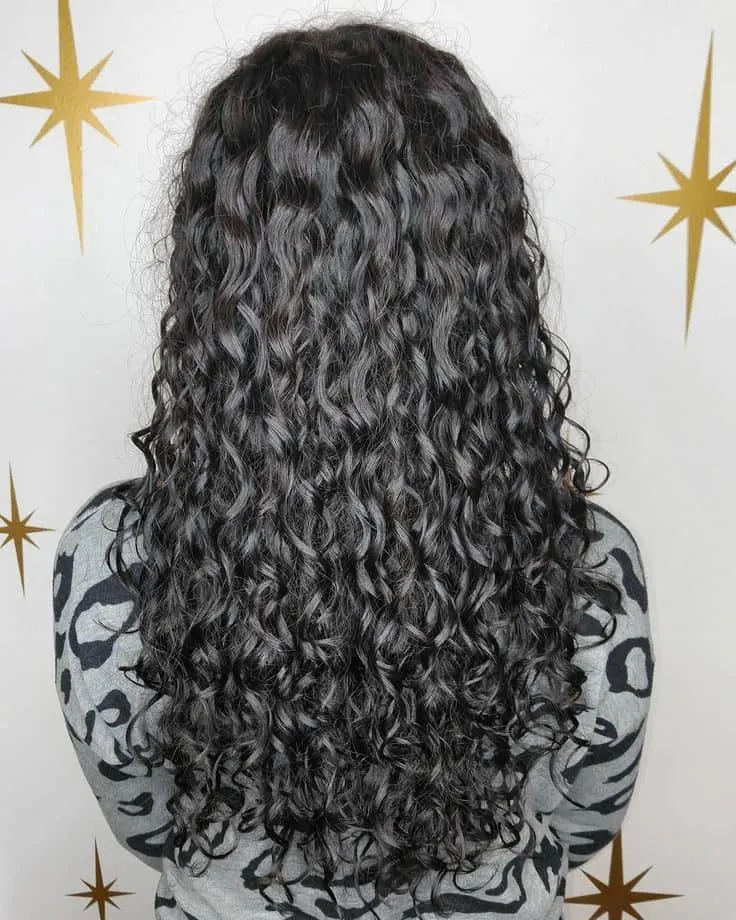 If you have naturally black wavy hair, you'll appreciate this wavy perm. The top part of your hair can stay untouched in order to avoid a drastic difference between the natural and permed hair. Enjoy this perm for at least 6 months.
30. Highlighted perm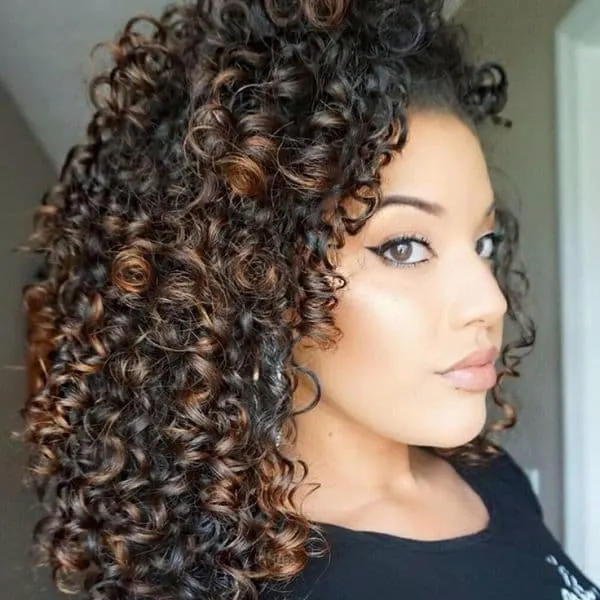 If you want to brighten up your permed hair without damaging it too much, you can consider making partial highlights. You either can dye the ends of your curly hair or do spot highlighting for an unusual look.
We loved this vlog on long perm hairstyle for women, you may like it too!
31. The wet look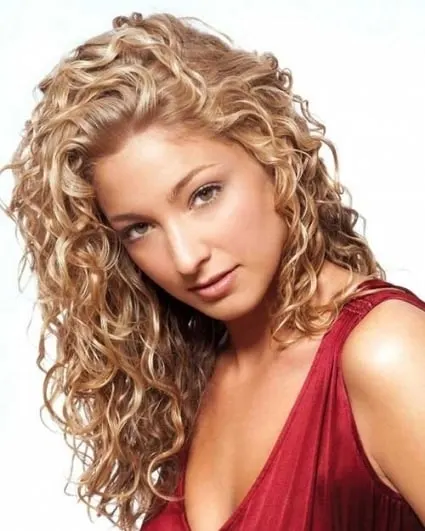 A properly done perm can turn your long locks into a wet hairstyle. Such hairstyles are very popular nowadays and you can sport one for many months without worrying about everyday styling.
32. Large coils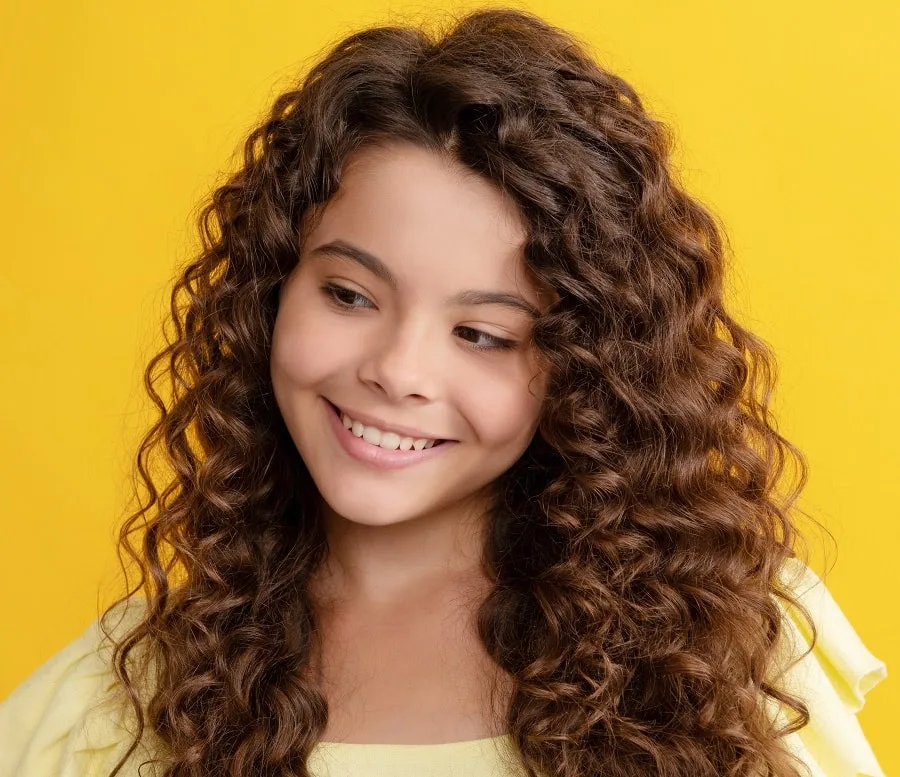 For many years, the beauty industry considered the small coils to be the only fashionable version of a perm. Nowadays large coils are becoming just as popular. This is a good choice for women with fine hair.
33. Red and beautiful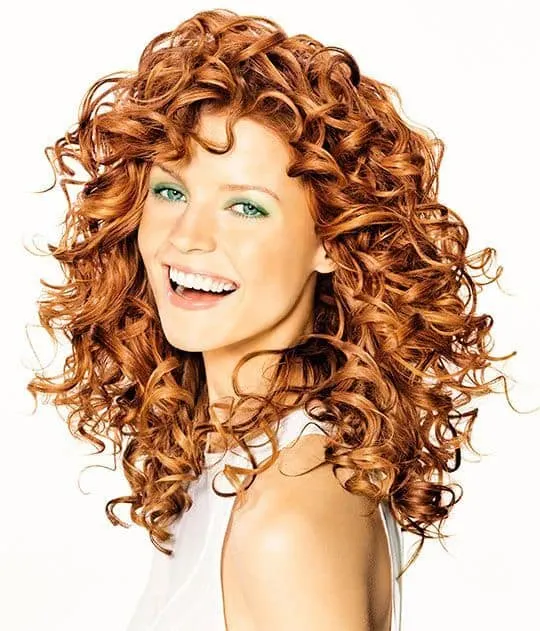 While dyeing permed locks is not very recommended, some women overlook this problem. If your hair is not too damaged, you can take advantage of bright colors. Dyed permed locks are especially beautiful.
34. Permed waves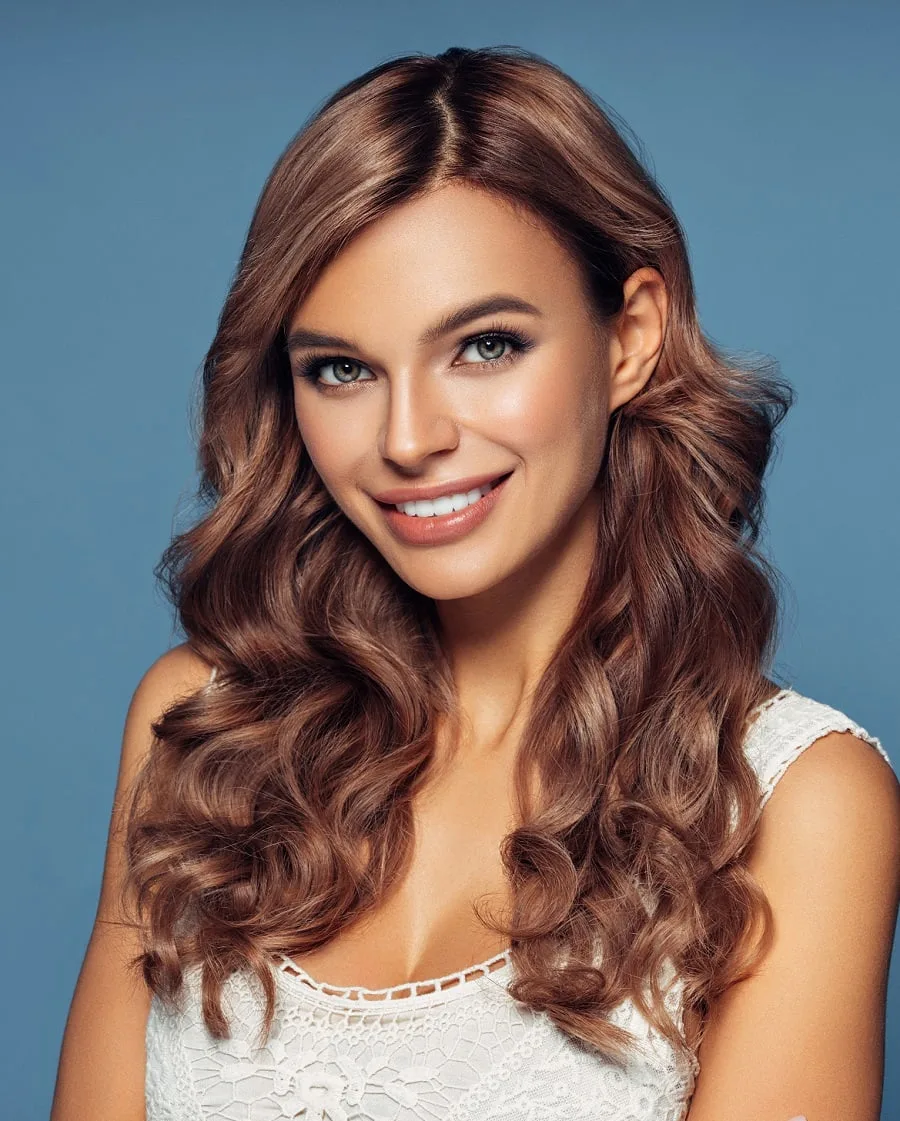 If you are not a big fan of curls but still want to give your hair some volume, this type of perm for long hair is exactly what you need. Beautiful wavy hair can give your image the extra zest you always wanted.
35. Coiled and beautiful
Women with thick hair and some volume can enjoy this absolutely grand appearance. Such coils need extra hydration and very close hair care in order to stay fresh for as long as possible.
36. Extra volume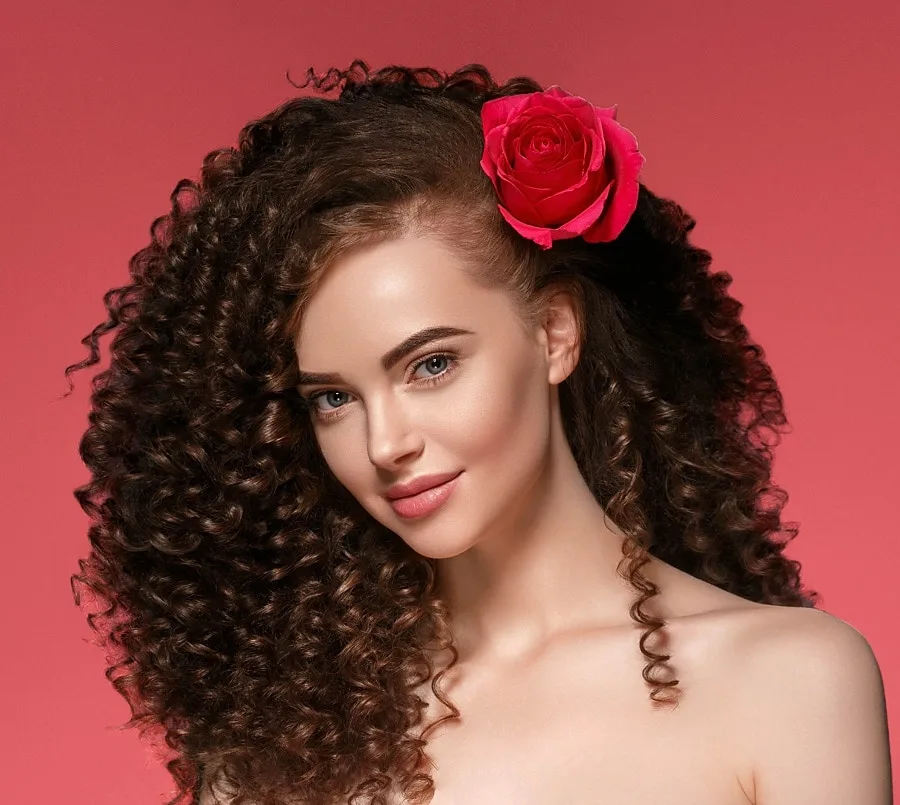 If you want your long perm hairstyle to stay as voluminous as possible, you can experiment with different hairstyles. Permed hair is very hard to arrange into anything tight and neat while voluminous styles look fabulous.
37. Keep them down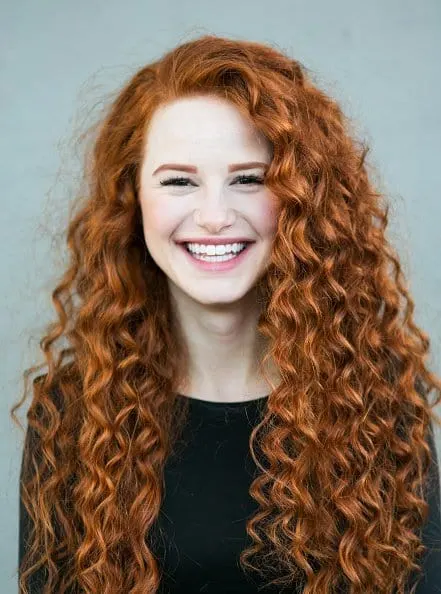 If you have unruly thin locks, a perm can do wonders for your hair. If all you did before was try to tie your hair into a ponytail or create a bun, the perming can give you the freedom on wearing your hair down and enjoying the process.
38. Soft and low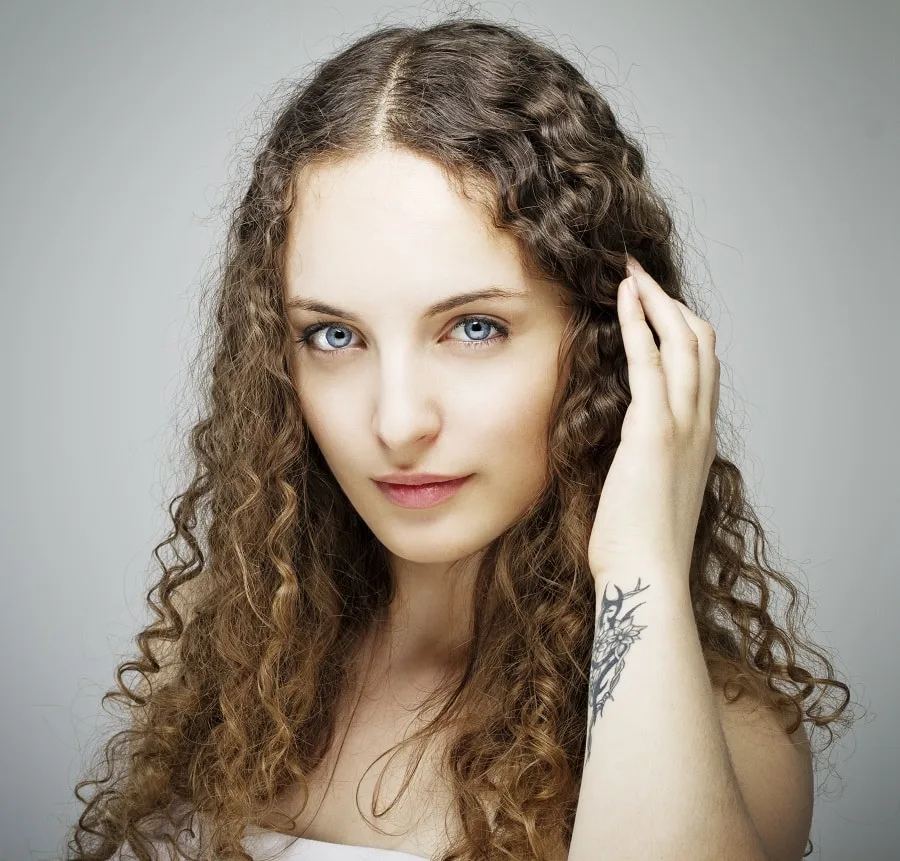 A well-done perm can achieve soft-looking hair. Usually, it happens when a girl has fine but long locks. A tightly coiled permed might not look as grand on gals with thin locks as it does on women with thick tresses.
39. Keep it real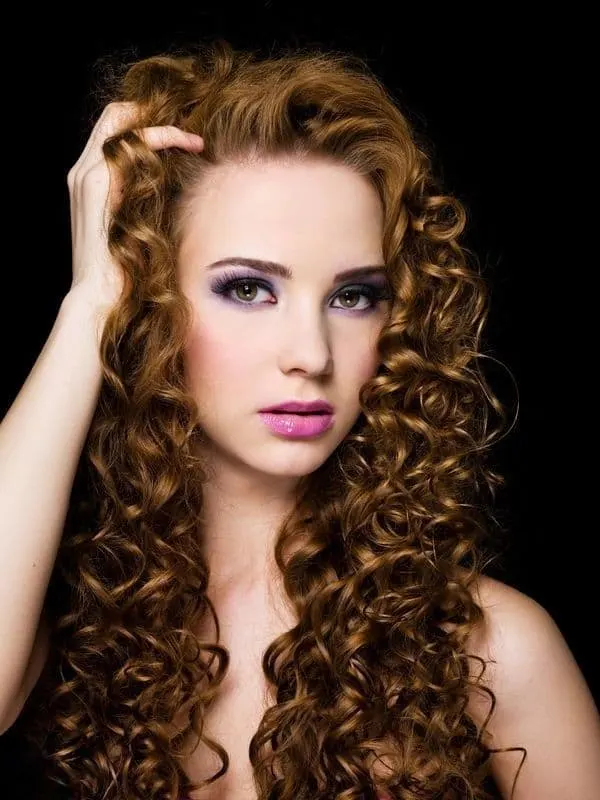 When you are doing the perm, you can leave the top part of your hair natural. While these might steal some volume from your hairstyle, it will make your overall appearance softer and more natural.
40. Wild colors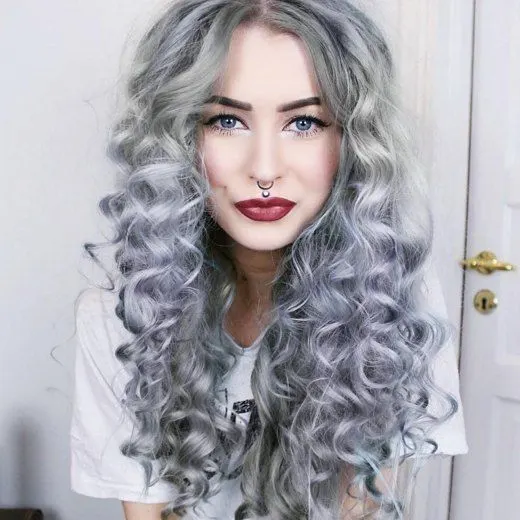 If your locks are dyed silver, you can enjoy a beautiful perm for long hairstyles that has elements of a wild hairstyle. You can also add some suitable colors such as blue or violet to make your appearance even more striking.
Difference Between Tight Perm and Loose Perm
41. Blonde perm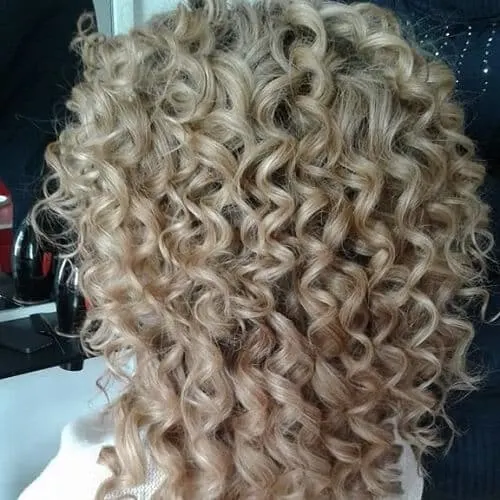 Blonde curly hair is a dream many women have. However, most of them have to deal with fine hair that needs special care. Careful dyeing can help you achieve this dream. Bleaching is not recommended.
42. Low waves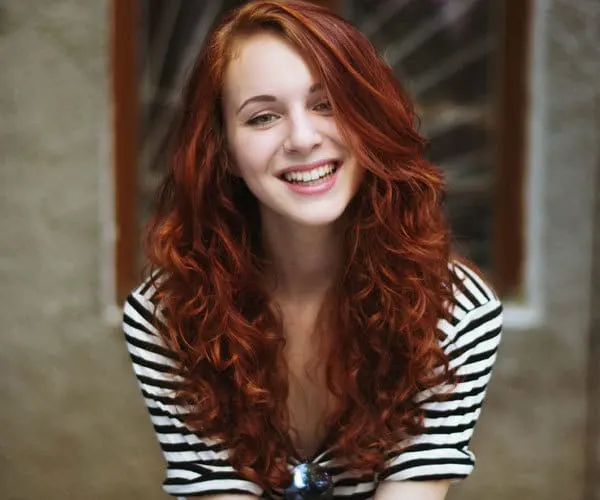 Perming the lower part of your hair is a way to keep your natural hair intact in order to minimize the damage. You'll lose some volume but will gain a completely fabulous appearance. Ask your hairstylist about this possibility.
43. Dark roots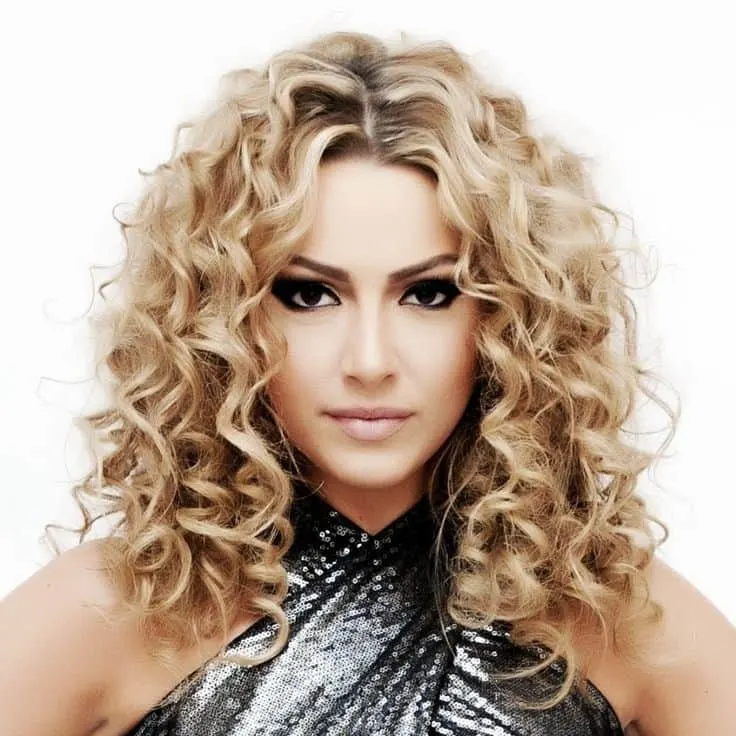 Girls who get a perm after dyeing their hair often try to avoid any more damage. That's why it's very convenient that dark roots on blonde hair are not a bad thing anymore. In fact, they look very stylish.
44. Hair extensions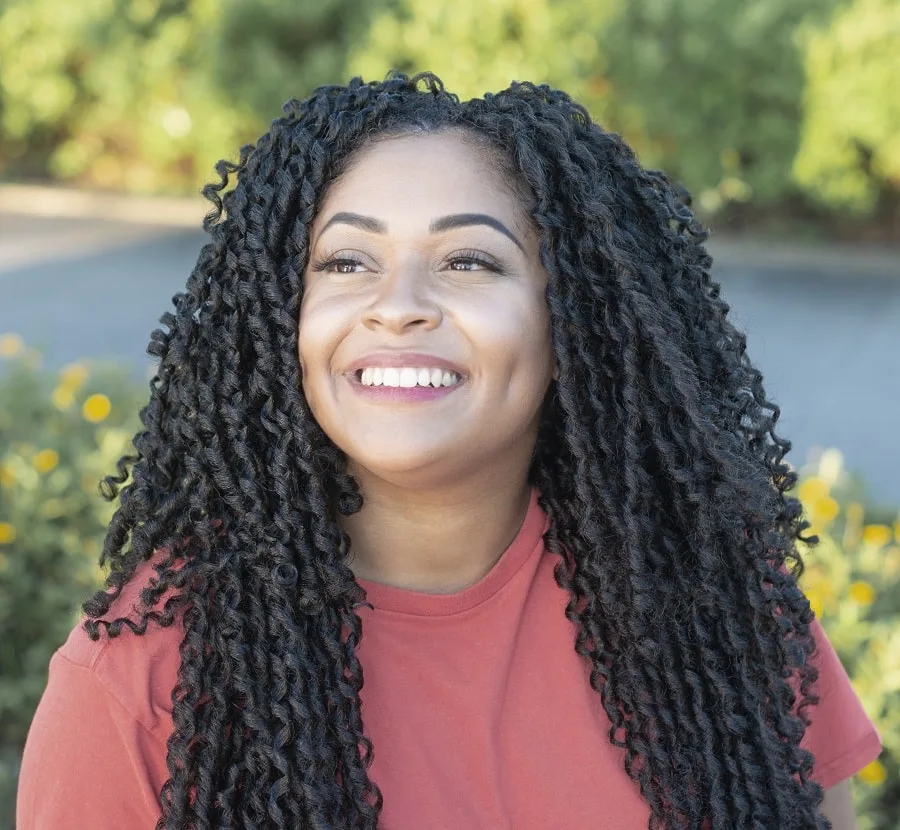 If you want curly locks but a perm is completely out of the question, you may want to consider getting hair extensions. Braiding them in at the very roots can make your hairstyle look very much like a perm.
45. Women's perm formal hairstyle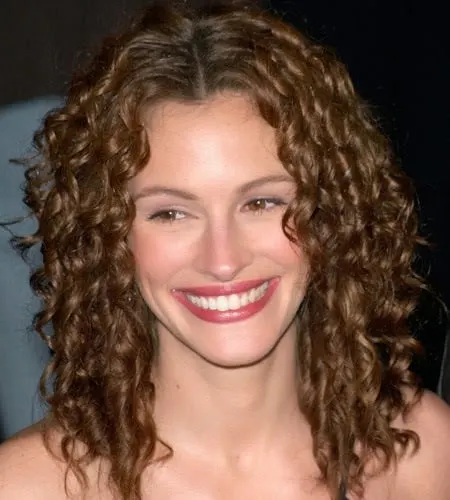 This formal perm hairstyle is a wonderful choice for any woman with long hair who needs to look top-notch every day of the week. Follow Julia Roberts and look grand for any occasion.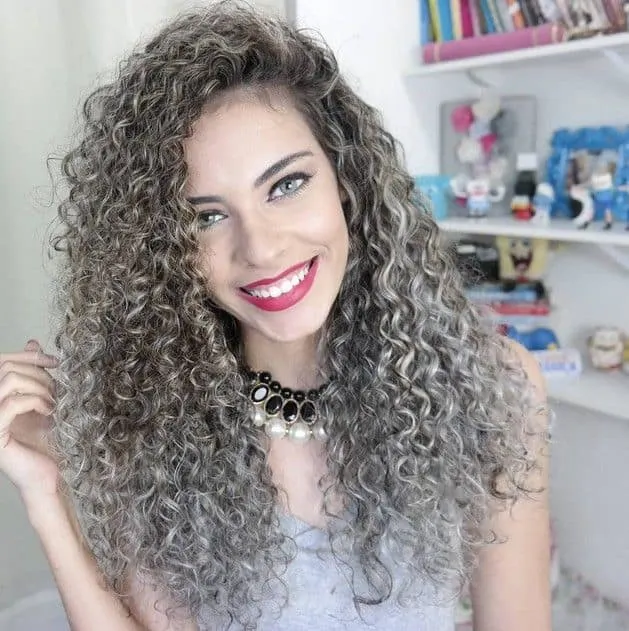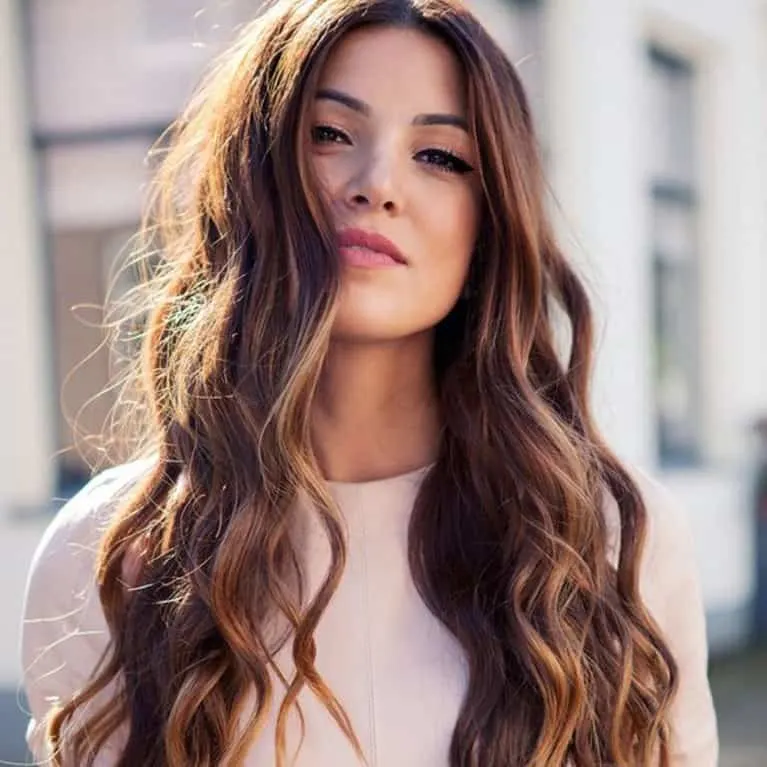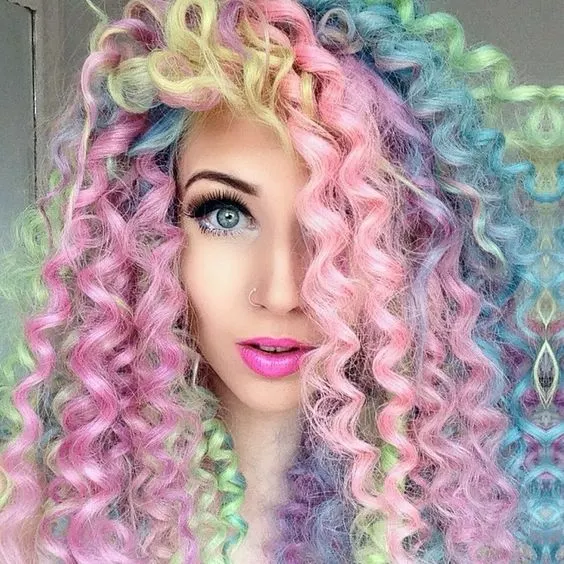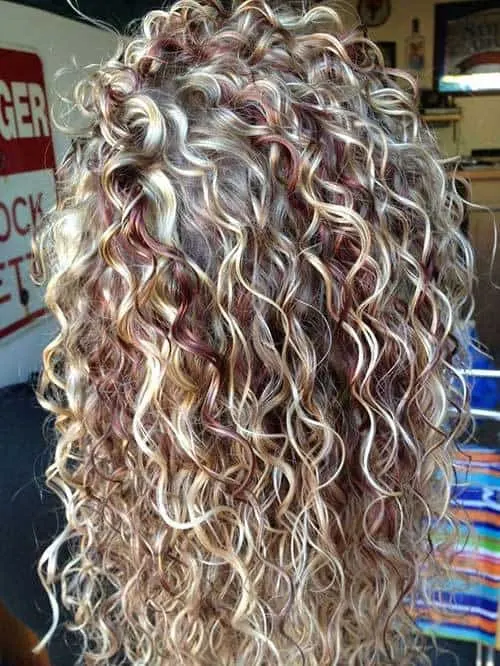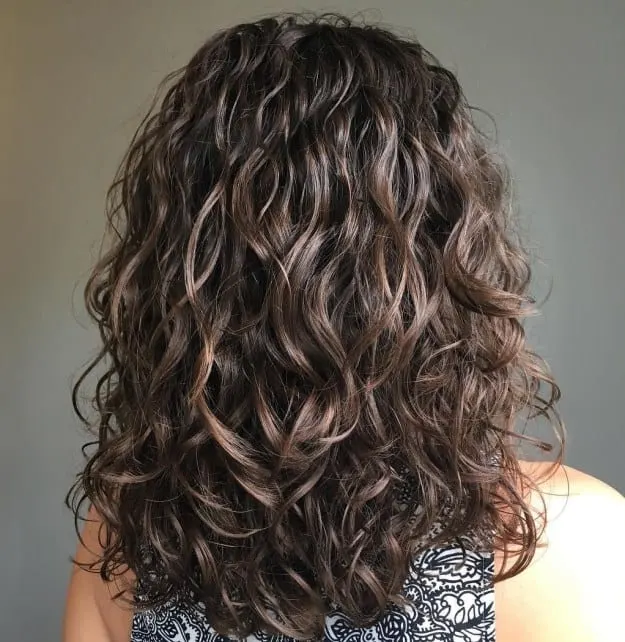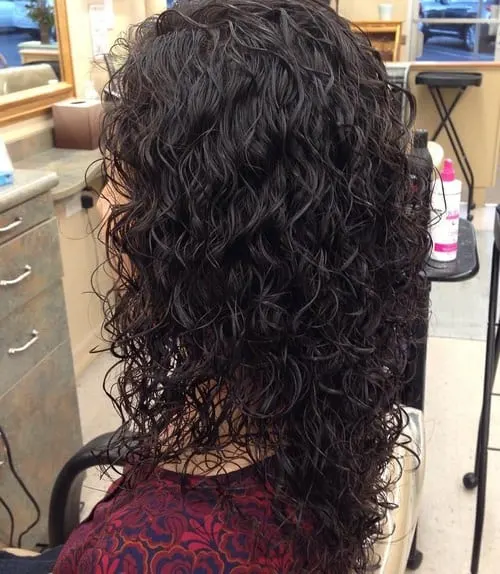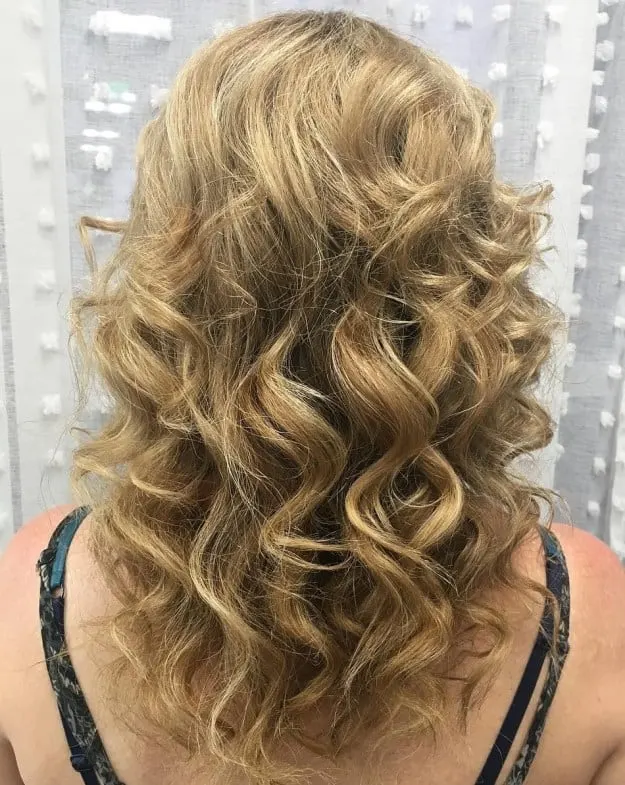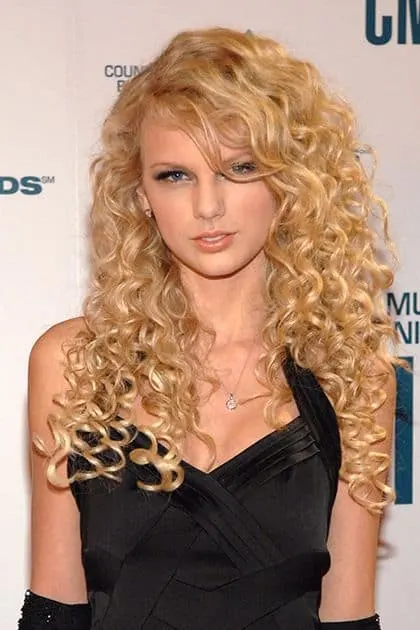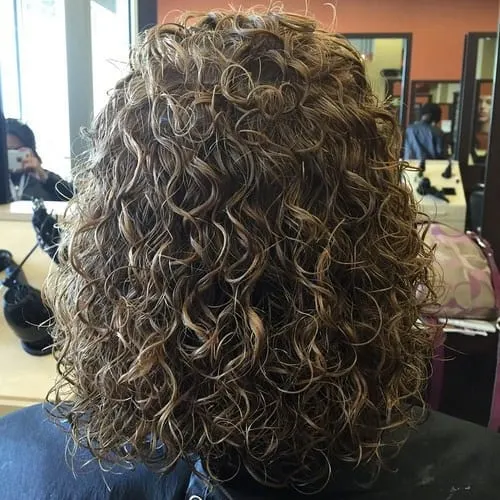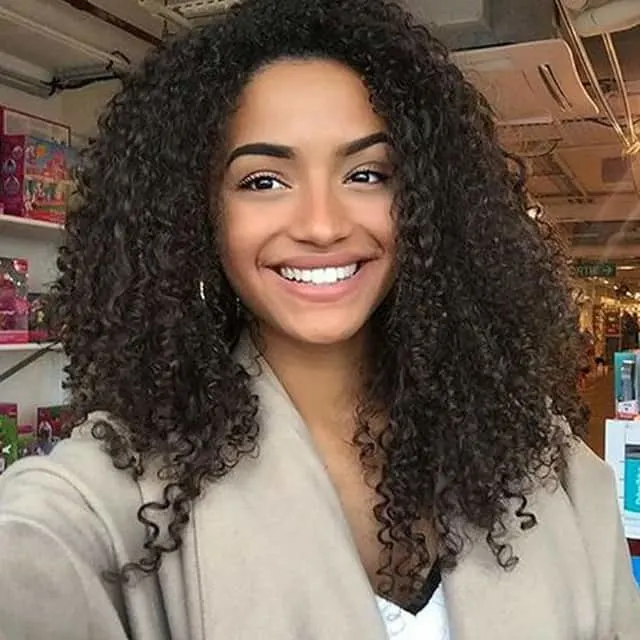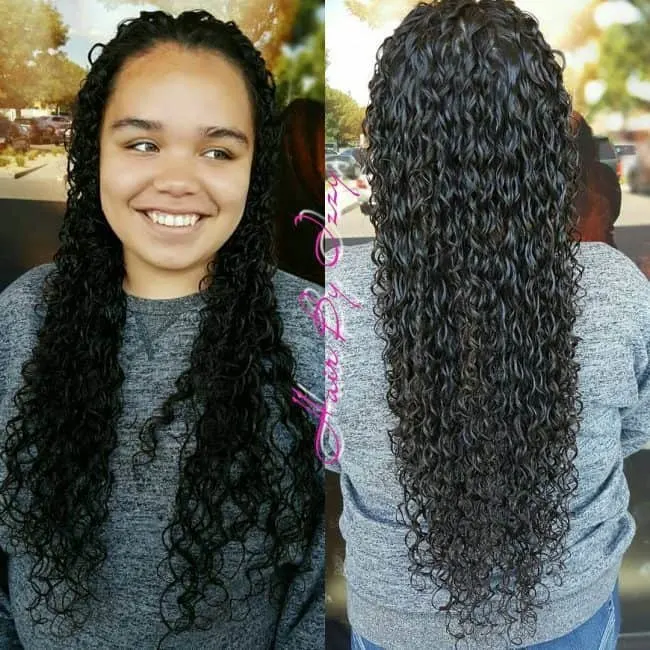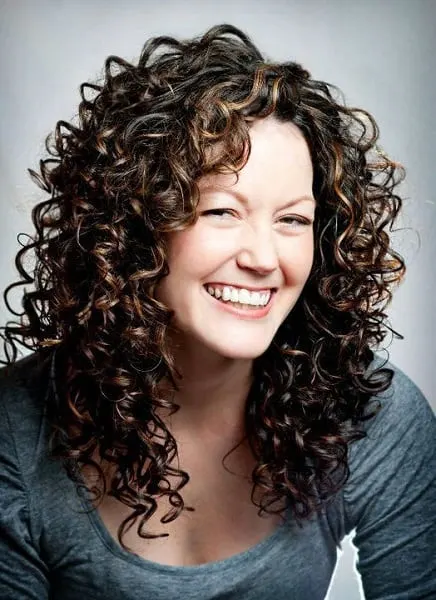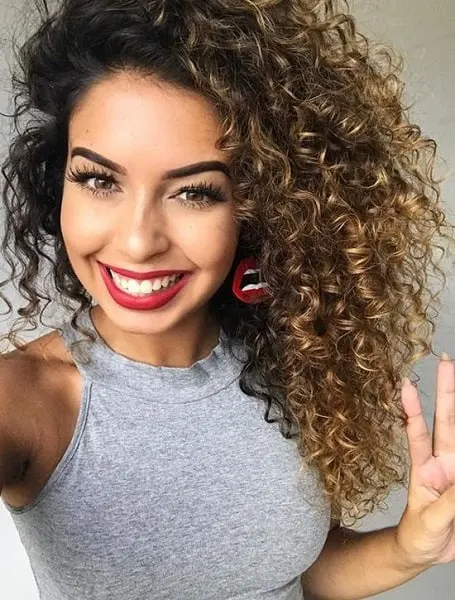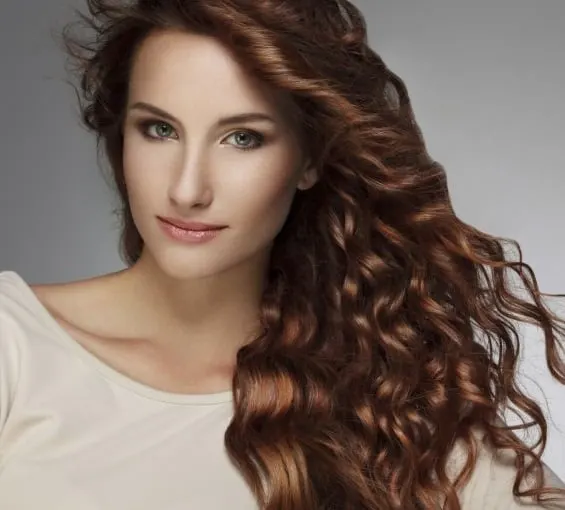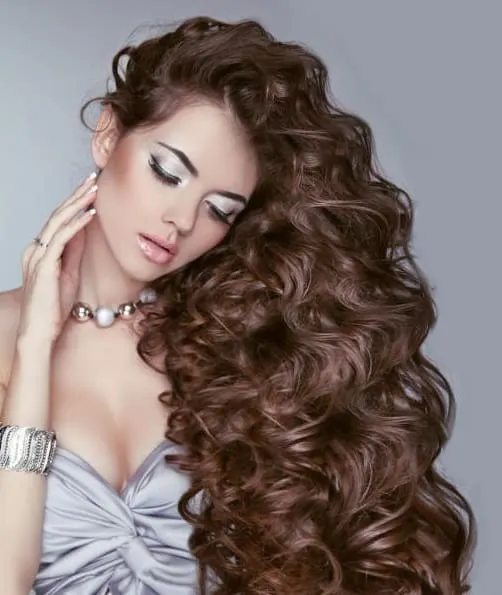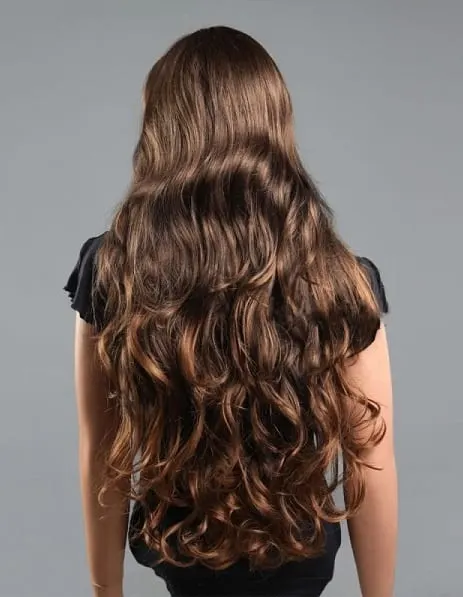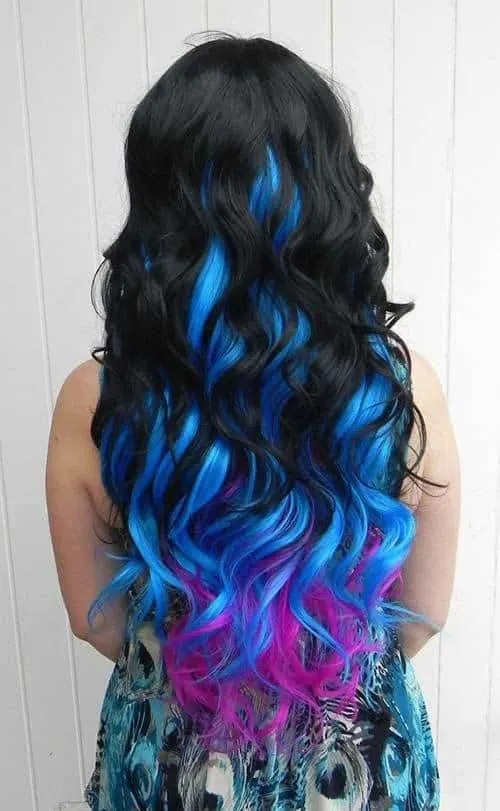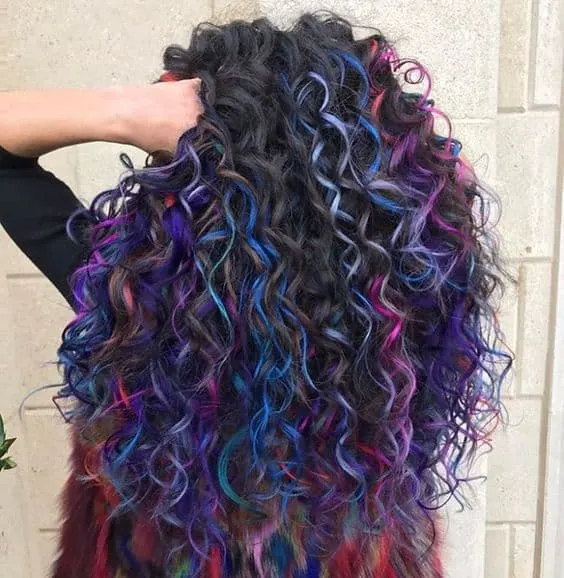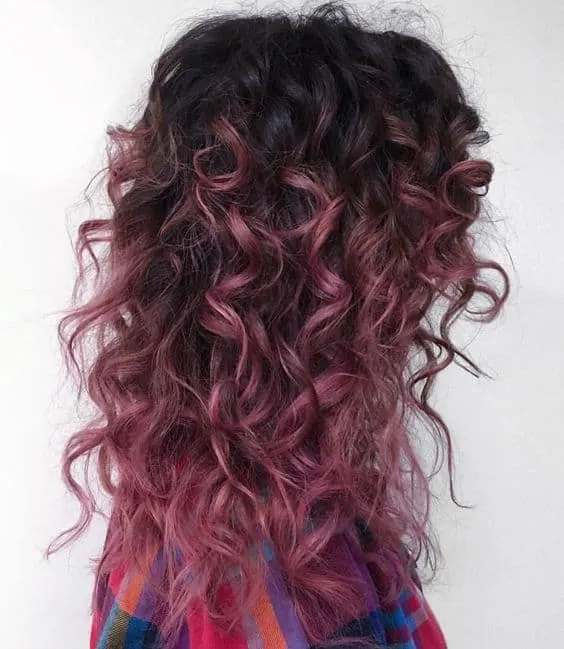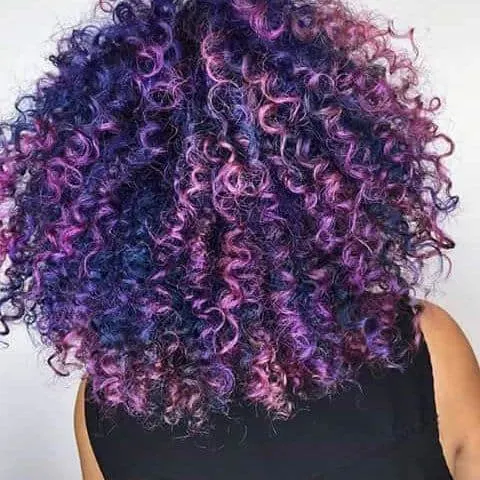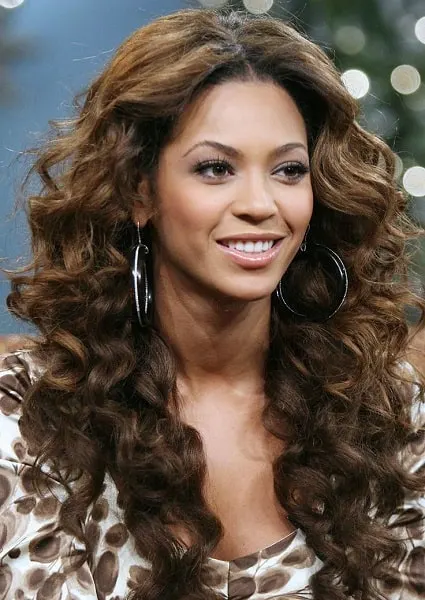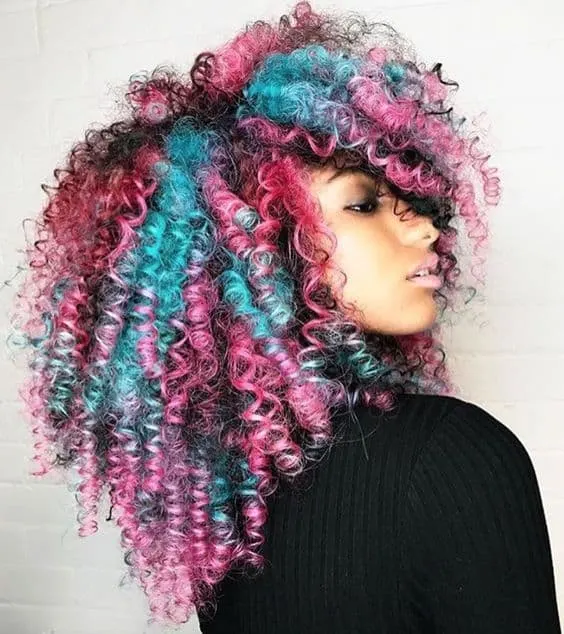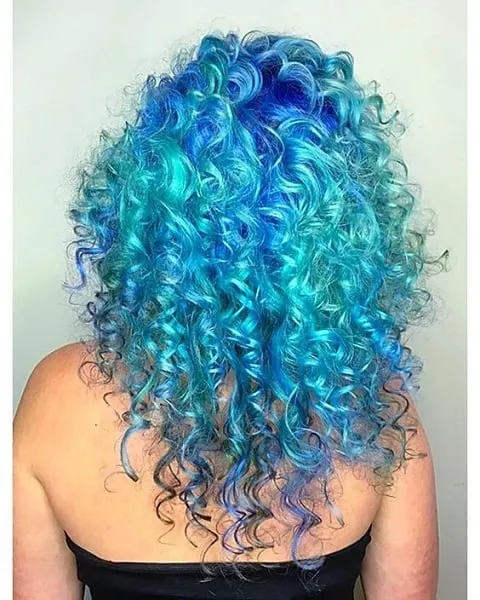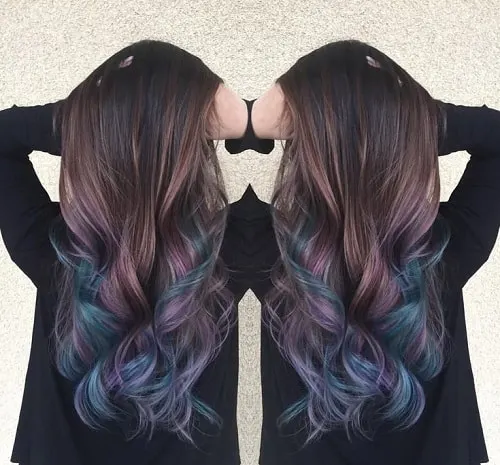 Should You Perm Your Long Thinner Hair?
You can still perm your long thin hair! The key to getting a perm with long thin hair is to make sure your hair is completely healthy, despite the thinness.
If there is any breakage or signs of more thinning, it's paramount to take the time to improve the health of your hair before trying a perm.
You can also invest in different kinds of spot perms. These perms are perfect for long thin hair because it doesn't touch all of the hair, making it a gentler process.
If these perm hairstyles for long hair didn't convince you, perhaps you are not ready to get a perm just yet. Remember, a perm is a wonderful choice for women, who want to enjoy curly and neat locks for months to come.
FAQ's
Read through these frequently asked questions to learn more about perms for long hair.
How much is a long hair perm?
Long hair perms, in 2023, are costing $49-$200 on average.
What perm type is best for long hair?
There are many perm types out there that work for long hair! It's a personal question- what works best for you and your hair type? What look do you want? Most long hair perms require hair to already be healthy, which can be a factor that not all hair meets.

The spiral perm, however, is one of the most popular and can be considered the best for long hair perms.
How much length can you lose with a perm?
On average, 25%-30% of your hair length is lost but reconfigured into a new, beautiful volume. Actual numbers of loss will depend on the original hair length.
How long do you have to wait to wash your long hair after a perm?
Generally, you should wait 48 hours following your perm.