If you have always dreamed about a curly mane but were forced to deal with straight hair, there is one absolutely worry-free way to make your dream come true, that's perm hairstyles.
You can get a perm hairstyle that will make your beautiful curly locks last for a very long time. Many women are afraid of getting perms since they might be damaging to their hair. However, nowadays there are so many different hair care products to keep your permed locks nourished, that being afraid of damage shouldn't prevent you from looking beautiful.
There are many different ways to go about perming your hair. You can make tight curls or soft waves. You can start with perming just the bottom part of your mane and leaving the top one straight. This will allow you not to go for a touch up for quite some time.
A perm will look great regardless of the length of your hair. So, girls with shoulder-length locks can also get it. Perming hairstyles for women vary greatly. Take a look at some options and make your choice.
Stunning Perm Hairstyles for Women Who Dream about Curls
Jealous of those girls with amazing curls? Don't be. You can be just as beautiful after one salon visit. Take some time to consider perm hairstyles for women with straight hair. You'll be surprised to find out that even the finest locks can look amazing in a perm. Don't spend time wishing for curls, go and make them!
The best part about a perm is that it is very long-lasting. This is not a one-time deal. You will be enjoying the curls as long as you wish. Since there are many ways to go about a perm, we have collected 60 most popular ones to make your choice easier. Check out the below hairstyle ideas to make up your own style.
#1: Free hair with beautiful curls
This is an amazing hairstyle which suits all the faces. The beautiful flowing curls left free look gorgeous.
#2: Full perm with medium length hair
If you have a flat and small forehead then you can choose it. This medium length permed hairstyle looks elegant equally on black hair or brown hair.
#3: Long curly hairstyle parting idea
This is really a gorgeous hairstyle for long hair. You can wear this hairstyle on a party or any evening function which gives you a stylish look.
#4: Beautiful curly perm for your thin and long hair
If you have long or medium length hair then you can try this one. The freely flowing curls look very beautiful.
#5: Curly layered hairstyle
If your hair is thin try this permed hairstyle. If you want to add volume to your hair then this is one is highly recommended if you like it.
Most of the girls love to wear curls. You can try different short permed styles which add curls to enhance the beauty of the hairstyle. For short length hair, this shoulder-length perm is one of the best.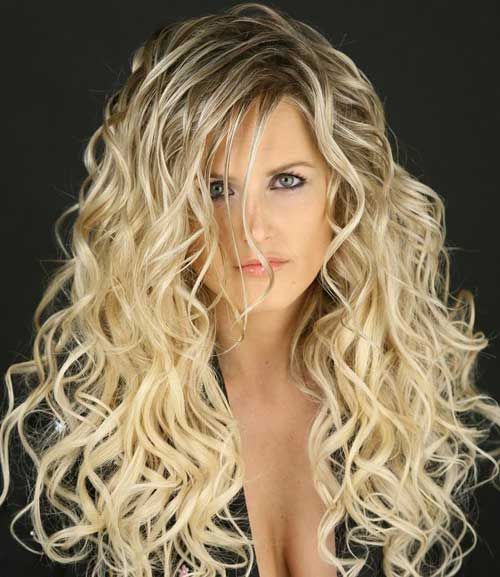 The girls with an oval shaped or long shaped face should opt this hairstyle which adds volume and gives you a fashionable look. Free curls in this picture are looking really amazing.
#8: Simple and cute hairstyle
If your hair is thick, try this perm hairstyle. It gives a decent as well as an attractive look. Beautiful curls at the end of the hair adds the beauty.
#9: Beautiful long hair with curly perm:
If you want to change your hairstyle and looking for the factor that'll make you look different from others then you can dye your hair & opt this beautiful hairstyle. A crowd of little curls at the end looks gorgeous.
This is a simple curly permed hairstyle for short length hair. If you have naturally curly hair, you can push your hair back from the forehead and let the remaining hair fall freely.
#11: Volume curly hairstyle for thin hair
This hairstyle is a beautiful version of curly hairstyles. For thin hair, this hairstyle is the best idea.
#12: Twists with long hair
A fabulous hairstyle which looks more amazing when you dye your hair. Beautiful curls spreading all around your face and shoulders look fantastic.
If you have short or thin hair, you can try this perm style. This hairstyle will make your features prominent and add style.
#14: Voluminous curly hairstyle

This is completely curly hairstyle which looks amazing on all the faces whether you have an oval face or you have a round face.
#15: Fabulous curly hairstyle for long black hair

Setting a larger ratio of your hair on one side and then adding curls to all the hair is a great idea. Particularly if you have thick black hair then the beauty of this hairstyle enhances.
#16: Beautiful
twists for long hair
Curls are very common among young girls in party or wedding. This is another version of the beautiful curly perm style which is suitable for parties and functions. If you have long hair you can wear this hairstyle on all the joyful events.
#17: Curly perm style with

side bangs
This hairstyle will look amazing on oval and long faces. If you have a big forehead and you want to cover it with a curly hairstyle then pick this one in the picture.
#18: Medium length hair with amazing curls
Beautiful curly hairstyle with shoulder-length hair. Curly hairstyles are always beautiful if you can wear it suitably with your facial size and shape.
For the girls with thin and medium hair this is an ideal choice which adds volume to your hair and makes you look fabulous.
#20: Stylish short permed hairstyle for naturally curly hair
If you are going to attend a night function or a party with red lipstick then this hairstyle will add drama and style to your personality. If you want a stylish and fashionable hairstyle for your short hair then this is the best hairstyle.