Getting a curly perm for black hair is one of the many ways to get a relaxed, bouncy, and softer look. Black women have been getting perms for decades to achieve a curlier look. This method is carried out by millions of hair salons around the globe.
However, it can be pretty challenging to style amidst the new soft feel and curliness of permed hair.
In this post, we will highlight ten beautiful curly perm looks for black women to give you more options when you try styling your permed hair. These styles will change your look and help you get the most out of your permed hair.
We will also shed more light on how to do perms and get them to last longer. You can also fix a bad perm without using scissors!
How to Do Perms to Get Your Straight Hair Curly
Perming techniques have changed over the years, and this is definitely for the greater good. In the 80s, one of the leading causes of hair damage was perming, and this was a direct result of all the harsh chemicals used in the perming products.
However, today, beauty doesn't have to come at such a high cost any more, thanks to science. You can get a curly perm for black hair right from the comfort of your home.
However, we recommend that you visit a professional hairstylist and get it done correctly to avoid any mishaps.
Getting a perm occurs in a few easy steps:
First, your hair must be thoroughly washed to remove any dirt that may prevent the perming agent from entering your hair perfectly. (don't you just love getting your hair washed at the salon? It's super relaxing)
After washing, a perming lotion will then be applied to your hair. Bear in mind that there are different kinds of perming lotions with different strengths designed for different kinds of hair textures (you know we, black women, have quite a lot)
As the lotion works its magic in your hair by breaking the disulfide bonds to make it more flexible, the hair is then wrapped in curling rods for a predefined structure.
Your permed hair will be allowed to sit for a while, depending on how coarse or thick your hair texture is.
After some time, the curling rods are removed. A neutralizer is applied to your hair to rejoin the previously broken disulfide bonds into its new structure given by the perming lotion.
The neutralizer is then washed off, and you are advised to keep your hair rid of any shampoos or heat for the next few days.
This process usually results in beautifully permed or relaxed hair regardless of your hair texture. The average time spent on this process largely depends on your hair texture, so don't fret when your stylist asks you to sit for a longer period.
Watch The Following Tutorial to Learn How to Do Curly Perm on Long Straight Hair
Amazing Curly Perm Styles for Black Hair
Now let's get on to the 15 beautiful curly permed hairstyles for black women.
1. Extra Long Curly Hair
If you love a bold hairstyle that makes you feel glamorous, go with extra-long permed hair. You'll love feeling like Rapunzel and hair will look gorgeous whether it's worn down and loose or in a thick Dutch braid draped over the shoulder.
2. Caramel Curls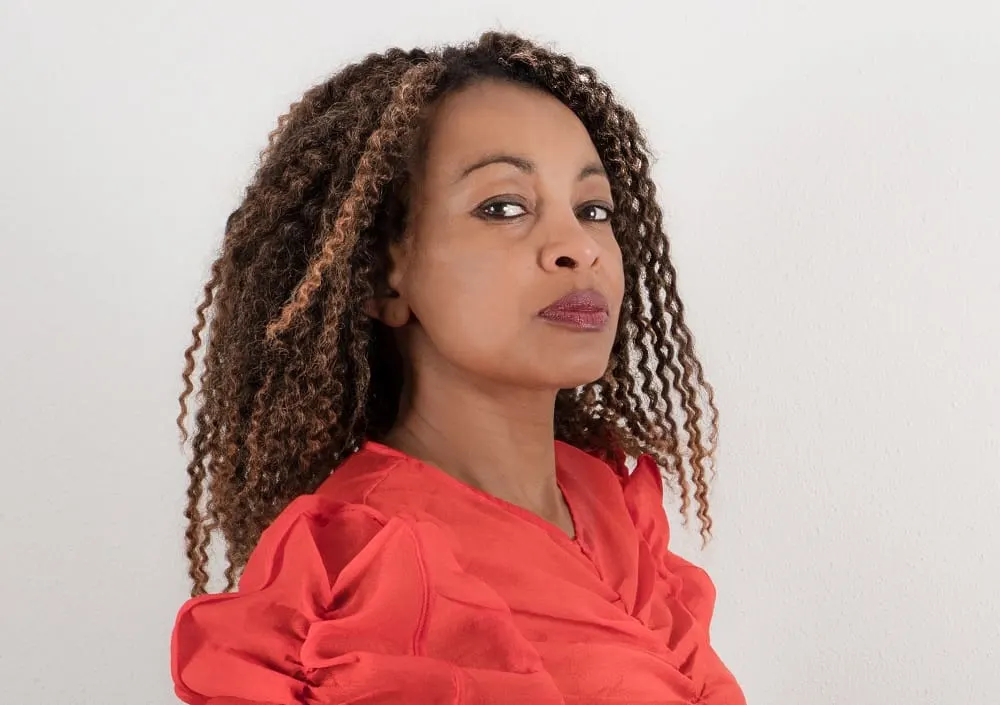 Instead of only giving your hair an update with a curly perm, offset your black hair color with caramel highlights and make sure to add in layers. The layers will work wonders for drawing attention to those highlighted curls!
3. Thick Curly Bob
A short layered or asymmetrical bob is a beautiful choice for a curly perm hairstyle for black women. Not only do the layers provide shape to thick hair, but they also have the ability to distract from a round face, making it look more slender.
4. Low Permed Bun
Another beautiful dramatic hairstyle is thick permed hair on black women. For instant chic style, part hair in the center before gathering it into a low bun right at the nape of the neck.
Secure it loosely for a thicker appearance and add in a few jeweled pins for sparkle.
5. Waves and Kinky Curls
Can't decide between tight curls or loose waves? A curly perm hairstyle can feature both! This style is more relaxed, but just as gorgeous.
Spice it up with a patterned or colorful headband to contrast with your black hair.
If anyone said curly perms could only be done with long, black hair, well, they lied. Perms are as beautiful on short hair as they are on longer ones.
Regardless of whether you are currently sporting a pixie cut with very short strands, you can still carry a perm perfectly.
This black curly perm style is fabulous, and the ombre look just adds a bit of spunk to the entire look—definitely one of our favorites.
7. Extra Tight Curls
Go all out with that perm and achieve this incredible look with extra tight curls. This is the perfect look to get the most out of your perm and will give you the needed attention wherever you go.
We all know that blondes have more fun. This curly perm look for black hair is one of the most voluminous in our style book, and we are obsessed with it.
The perfect, full perm plus the blonde coloring takes this permed style to a new level, who said black people couldn't wear blonde?
9. Loose Curly Perm
If you have a bit of length, you might be a massive fan of this style. This look adds class to any look and turns out amazing regardless of hair texture or age. We love this black girl and the way she rocks her perm in loose curls.
This curly perm style for black hair is fast becoming a favorite, and we get why. Her cut is perfect but what makes this style kick is the perm which adds the perfect amount of volume needed to complete this look. we are also totally obsessed with the dark red coloring!
It should be evident in your hair if you love a bit of drama. This kinky curly look with perms for black women is just the bright amount of drama your hair needs.
This textured hairstyle works on any kind of woman, regardless of your shade and hair texture.
12. Deep Bouncy Curls
If you are a lover of full hair looks, then you will appreciate this perm style. This style looks great on all face types and is a great way to wear out your perm. It also lasts long with proper maintenance.
Short hair lovers, get in here! This look is subtle but sends a strong message. It's classy, sophisticated, and just the right amount of perm you need. One of the best curly perms for black hair!
14. Spiral Long Perm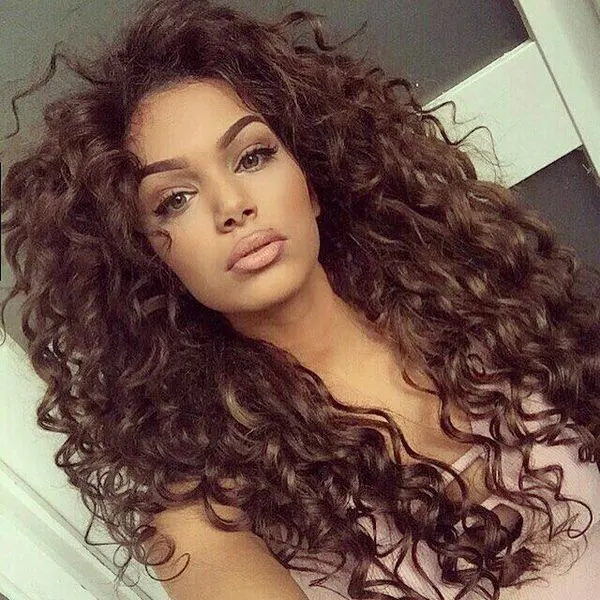 If your hair is lengthy, then you should try out this spiral perm style. It puts your hair in beautiful waves and is also very voluminous at the base and top. It's almost like a mane, and we love it.
15. Big Body Perm
A body perm is a go-to for big, bouncy curves that will last longer and add an edge to black curly permed hair. The curls in this look are not as tight as the spiral perm's but are strong enough to give your hair that extra oomph you need.
FAQs
How do I get curls on relaxed hair?
You can also get amazing curls on your relaxed hair by simply dividing your hair into small sections and wrapping them with a straw set, curl formers, or even flex rods. You can also braid your hair in sections and use perm rods on the ends.
Do perms make my hair permanently curly?
No! but how we wish they did. Although the results are long-lasting, the curls are not permanent, and you must re-perm your hair to get those curls after a while.
Can perms damage my hair?
Sadly, yes. When not done or maintained correctly, a perm can have temporary adverse effects on your hair due to the chemicals used to achieve the results.
There you go! The most beautiful curly perm styles for black hair will give you the desired look. Get the inspiration you need to create more beautiful curly perm styles for the Black woman.