Does a perm for short hair seem to be a thing of the past? Not all contemporary women prefer wearing their hair short and curly. Meanwhile, many straight-haired gals dream of a chance to shake their curls even if they are short. Knowing how to make your short hair look good is an art.
Having a bird's nest on your head is not something you've dreamed about. However, this is what most of the lovely short haircuts tend to turn to under a good night's sleep. A perm is a way to avoid this look and appear great right out of bed.
Here are some incredible short permed hairstyles that women can choose from when they want to add volume and interest to their style. Rather than sticking with a plain hairstyle that doesn't improve a woman's appearance or give her a boost of confidence, any of these fun styles are a much better option
Best Pieces of Advice for Girls with Perms
Here are four brilliant pieces of advice for women planning to get perms for short hair.
Know Your Hair (the no-nos)
Please take a close look at your hair to find out whether or not it should be perm. Baby fine locks are out of the question. You'll end up wasting your money and damaging your hair. If you have plenty of highlights or recently bleached your hair, leave the hair alone. Damaged hair doesn't hold the perm. As a result, you'd need to be repermed in a month or two, which is far too fast. Frequent perming can damage the locks. In the best case, you should reperm once a year.
Show What You Want
There are so many varieties of perm that it's impossible for a stylist to know what you want. If you don't want to look like a happy Shaun the sheep from your niece's cartoon, bring your stylist a picture of what you want to see on your head. An experienced stylist can advise whether one or another perm is a reality for your hair.
Learn the Steps
Don't hope to jump out of the stylist's chair in a flash. Perm is a lengthy procedure that involves several necessary steps. Therefore, it would be best to start prepping even before you get the perm. First, the hair needs proper cleaning, conditioning, and a haircut. For example, a perm for short hair needs short hair. Then the stylist will wrap the rods, do the chemical processing, cleanse the cuticles and seal the cuticle off.
Try to Commit
A perm is a serious commitment. The only way to get rid of the short perm is to cut your hair off or wait up to a year for it to disappear naturally. So if you are not 100 % sure that you want a perm, don't get it. Crying in front of the mirror is not how you want to spend the next several months.
Tips to Style Short Permed Hair
Knowing how to style short permed hair will allow any woman who opts for one of these styles to pick one that makes them look great and makes them feel great when they head out of the house. Short hair perm on women can look amazing, but only when the hair is styled correctly. Learn how to get a great-looking style here.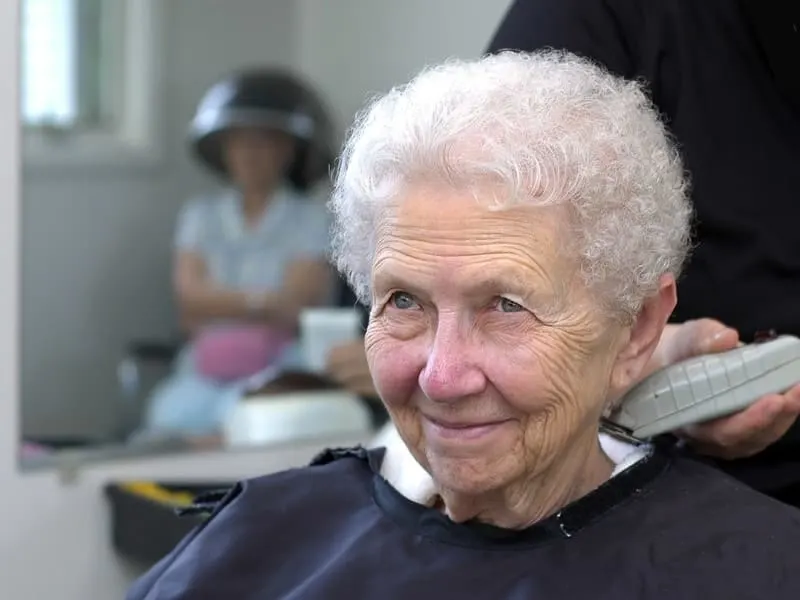 Older women who want something that will make them stand out in a crowd and still provide them with a softer look will appreciate the way they look with loose curls that are kept short. This is an excellent short permed hairstyle for women over 60 who have longer faces and want to show off their eyes.
Opt for a looser perm that allows a lot of movement in the hair, and then carefully style it away from the head with a bit of hairspray or other products. Light products will allow the curls to be defined without weighing them down. This look is great on all women, but older women with white hair will love the loose look.
Shorter to the Head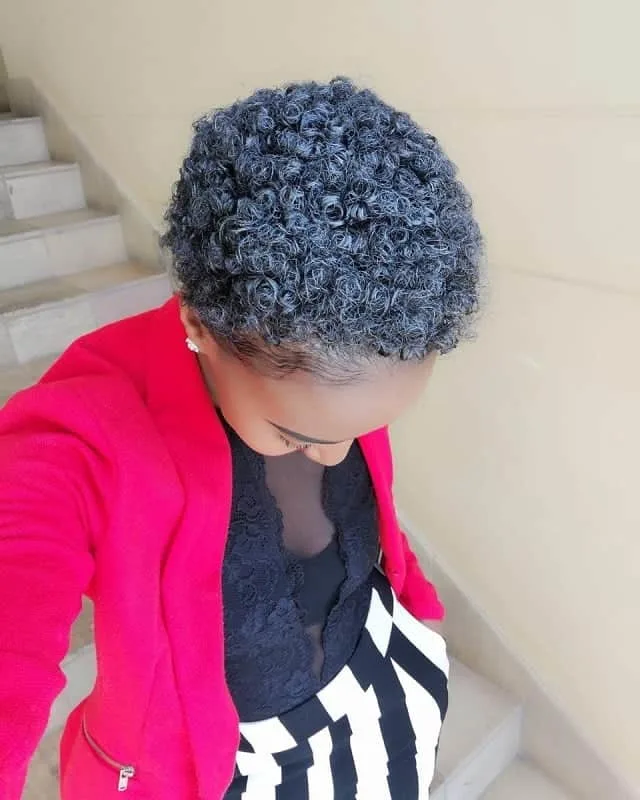 Women who don't want to spend a lot of time fixing their hair in the morning and want something that is a little bit more no-nonsense will appreciate a style that is kept shorter to the head. These short curls need to be large enough so that they are still loose without being overly tight to the head, which makes the style look much more natural.
This is a fantastic option for women who are in a hurry in the morning, as they can wash and dry it and head out the door. It looks lovely on women of all ages and with different hair colors.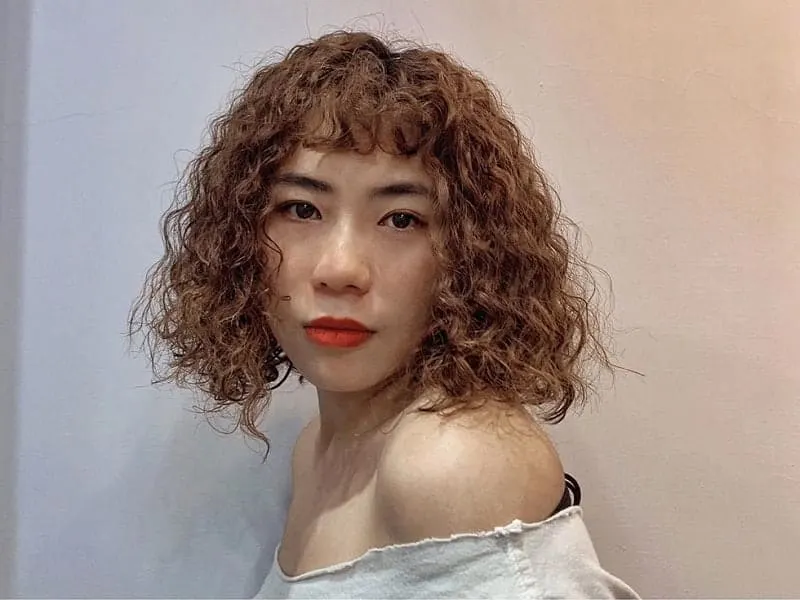 There is no reason that women who have short permed hairstyles can't also have bangs, as this is a great way to soften the look. In addition, this is a great option for women who want to help offset a large forehead that makes them feel uncomfortable. This look is attractive as long as the perm is loose enough so that the bangs don't curl up against the head.
Adding in a few tighter curls in other areas of the head that can then mix and mingle with looser curls will create a mass of curls that appear natural but are attractive and look refreshed.
Opt for Color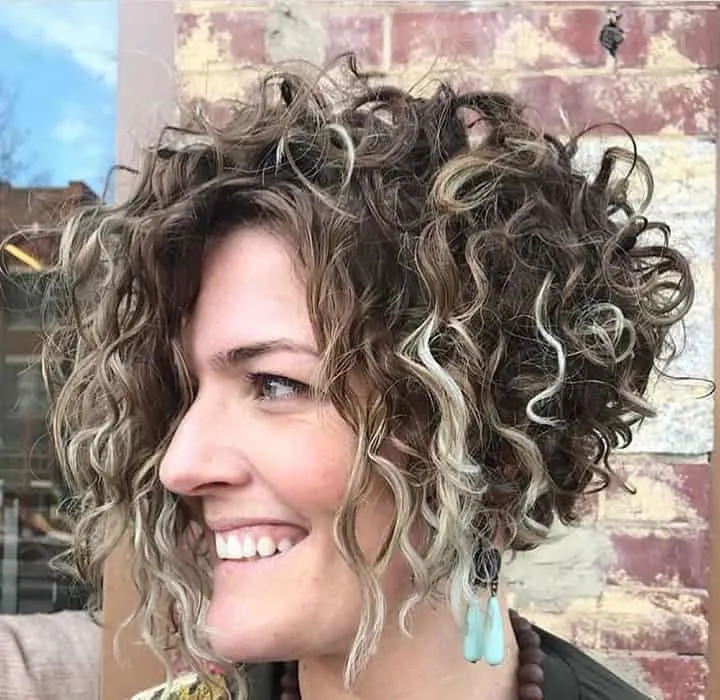 Adding color is a great way to take a short hair permed look from boring to exceptional without much work. Whether the color is a natural one in the form of highlights or lowlights or is something bright and funky, this helps to make the look appear more fun and less one-dimensional.
Adding color to a style breaks up the monotony of curls and allows them to shine, which is why this is a good option for women who have very thick and dark hair and need to make it look lighter and less heavy.
Magnificently Neat Perms For Short Hair
Finding a hairstyle that can make you look good always is tough. Most of the time, it involves cutting your hair short. At the same time, not all girls are ready to sacrifice their locks for convenience. Others are looking for ways to kill two birds with one stone. We came up with 23 perms for short hair that can help you look great for weeks without too many touch-ups, brushing, and styling.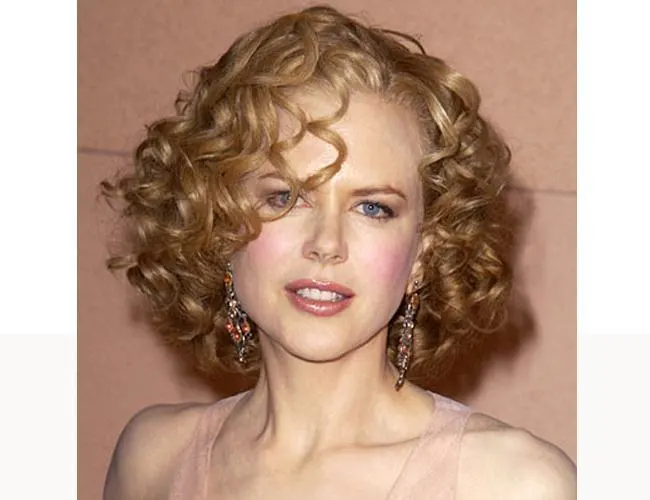 If you have a medium-length bob, you can make a long perm. The curls shouldn't be too tight to stretch the hair a little out. The tighter you make the curls; the shorter your hair will look. So it's up to you to choose the length.
Spiral Perm vs. Regular Perm- How They Differ?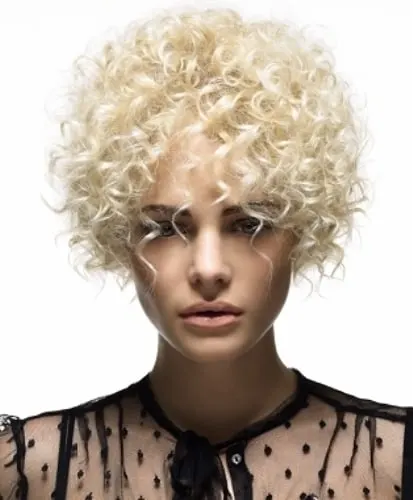 Short hair perms look perfect when they are arranged in a pixie. To achieve such a perm, you'll need to grow your hair to the size of a bob. Then, the perm rods will lift the locks and create a pixie. Don't forget the appealing bangs too!
3. Go down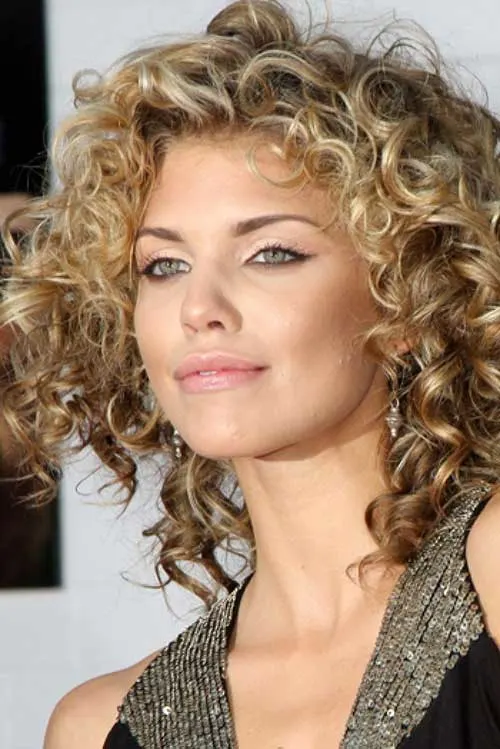 Asymmetrical and a-line bobs create incredible perms for short hair. You need to be careful with the size of the coils in order not to hide the asymmetry. You can make different size coils for the top and bottom parts of your hairstyle.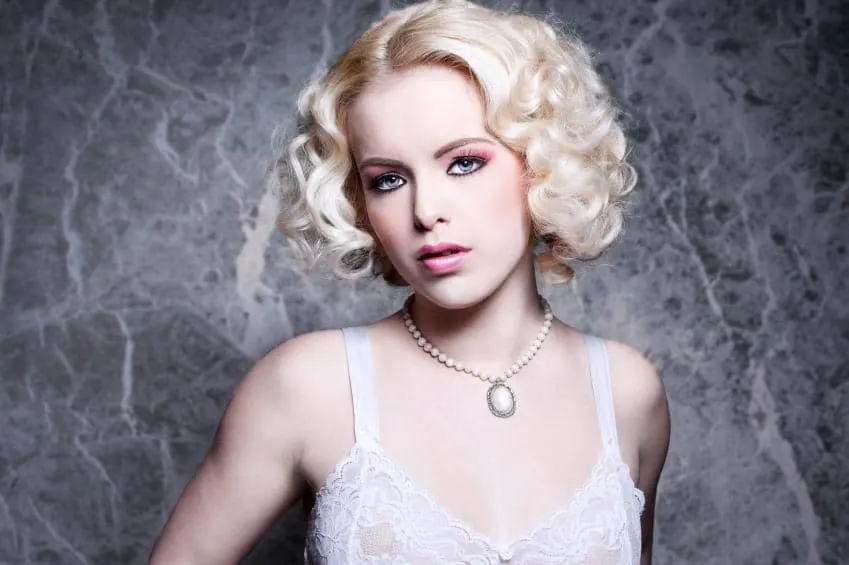 Who said you need to keep the perm rods close to your scalp? If you want a vintage yet beautiful hairstyle, it's up to you to show this picture to your stylist. Slight waves on top and tight curls on the bottom can make you look fantastic.
Black women often suffer from unruly curls that they can't do anything about. Instead of looking at pictures of cornrows and such, you may want to consider a short hair perm. It can make your hair look much neater, and a few highlights can give it an extra oomph.
6. Thick Curls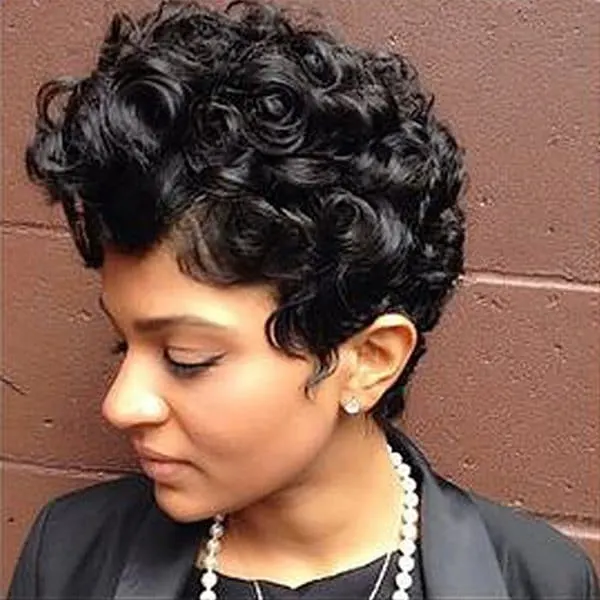 If you have thick and unruly locks, this perm for short hair can become your favorite choice. Thick coils look fantastic, especially when they are styled into a short permed pixie or a fohawk. You can allow your imagination to run wild here.
7. Wild and Happy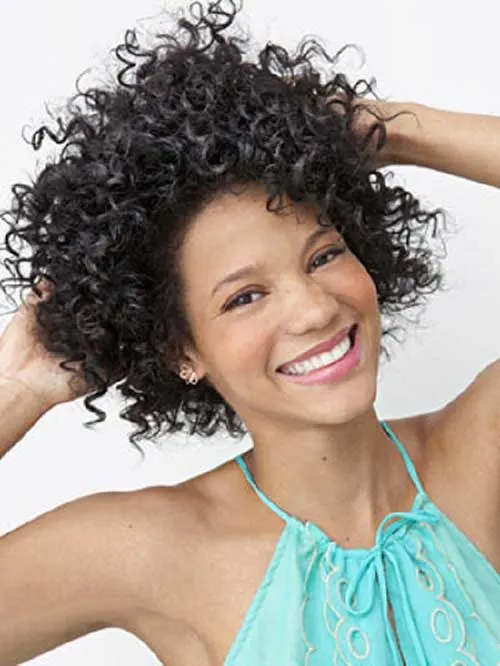 If you don't want the perm to steal the length of your hair, you can go for this type of wild curly perm for black women with short hair. It allows your hair to become a little messy while keeping it from being too frizzy. It's up to you to choose between neat and long.
8. Golden Girl
If you have dark skin and thinking about getting a perm, consider dyeing your hair a lighter color. Golden and dark honey blonde hues can turn a simple short permed hairstyle into a sunny masterpiece. Allow yourself to shine for months to come!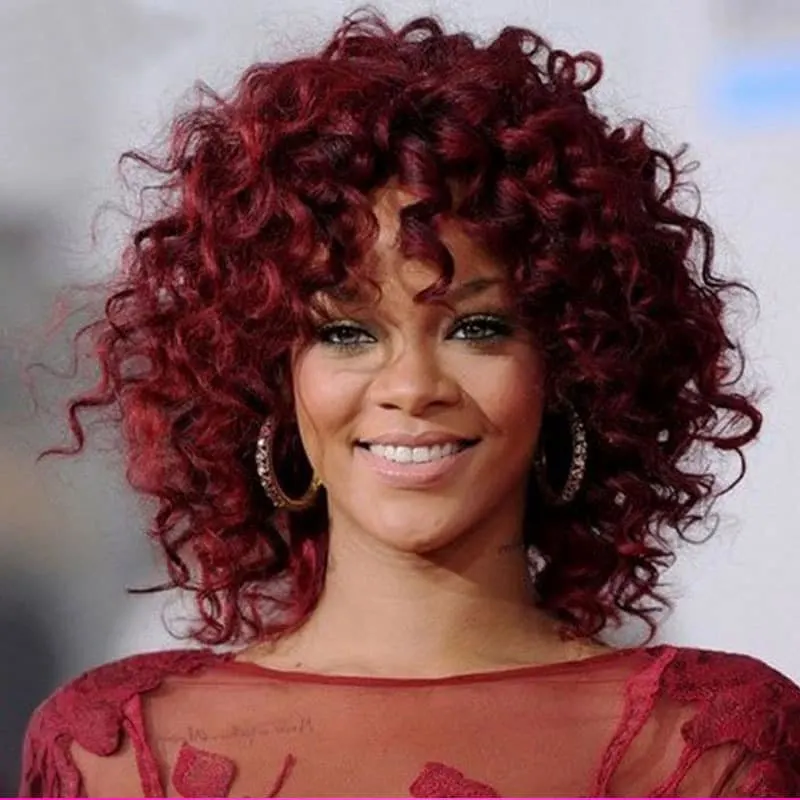 If you have bangs, don't forget that they are an integral part of your perm for short hair. If your fringe is too short, it may look strange when curled up with a rod. So consider growing the bangs longer before perming.
10. Slightly Permed
A slight perm you see on the photo is not exactly the classic style. It won't keep your hair beautifully curled for a year. However, it can take your straight and frizzy mane and turn it into a medium curly hairstyle you always dreamed about.
11. Beach Waves
What woman doesn't want mermaid beach wave hair? With a short perm, you can try soft waves that give off that coveted ethereal vibe. Then, add a rich blonde or caramel color to show off texture.
12. Short Tight Curls
A short perm comes in all shapes and sizes, like this bowl cut featuring tight curls. It's great for thick hair and leaves plenty of touchable texture to play with.
13. Spring Messy Perm
A short perm with springy curls makes a gorgeous statement, especially when you wear a sparkly dress with it like the one above. Rock this perm slightly messy and add highlights for color.
14. Layered Perm
Lots of layers are the key to cutting down on a poofy, bushy short perm. This style features long pieces around the face and shorter layers at the back and up top.
For all the volume you can handle, part your short perm three-quarters of the way over. On the style here, spiral curls almost looked crimped, a beautiful look for any woman.
16. Short Ombre Perm
Put a caramel ombre over a dark brown short perm to brighten your face. This is another perm that uses a heavy part to give soft waves a lift.
17. Short Perm with Bangs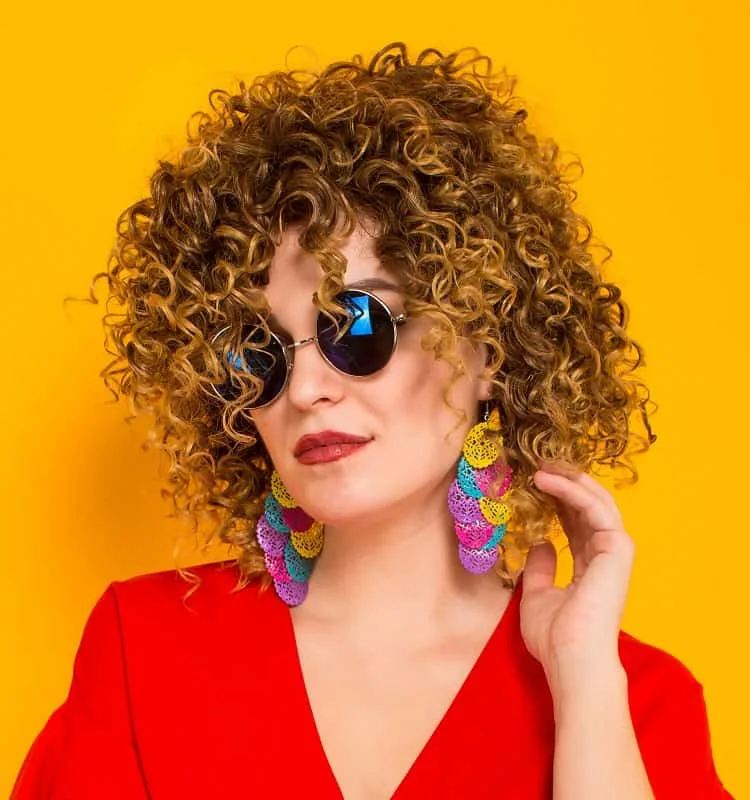 Just because you have a perm, that doesn't mean you can't still wear bangs! We love the way this short perm with its tight curls boasts minimal fringe action upfront.
18. Chin Length Perm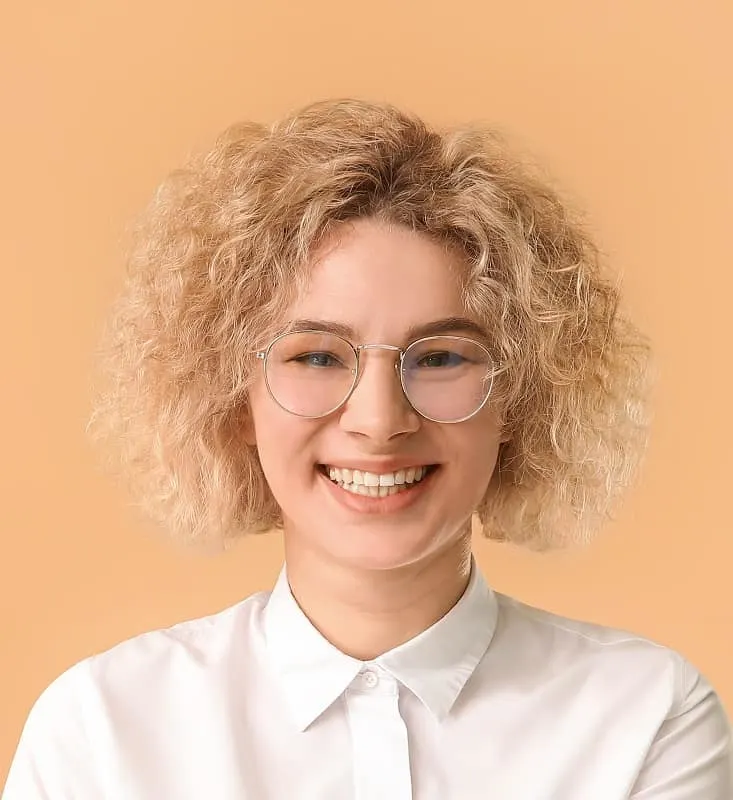 From the way this wavy short perm's texture looks, you can tell hair is naturally thin. The waves and off-center part help thicken up locks, and a chin-length cut is very flattering.
19. Shaggy and Short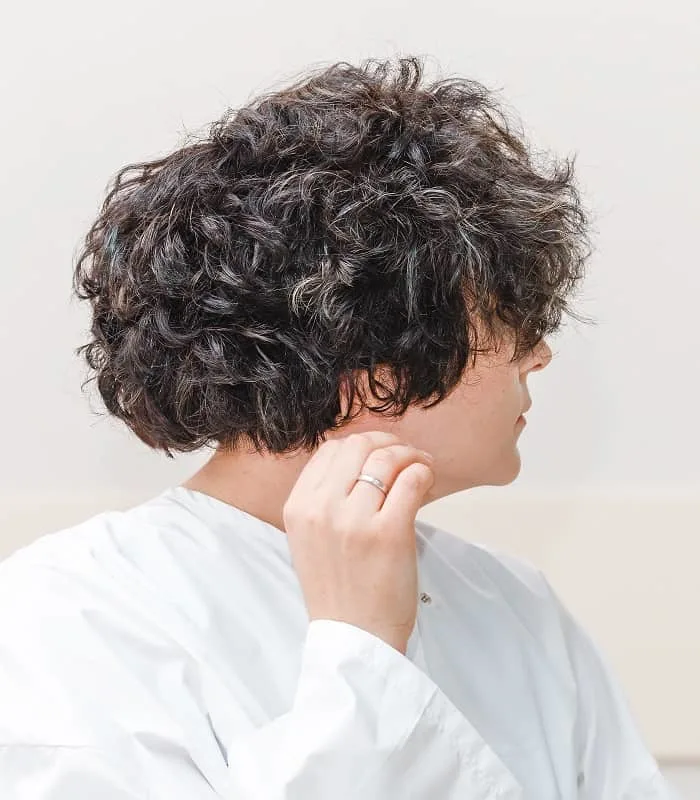 For low maintenance style, give your short perm shaggy layers. It's good bedhead vibes, and the flattering rounded cut is excellent for narrow faces.
20. Slightly Straight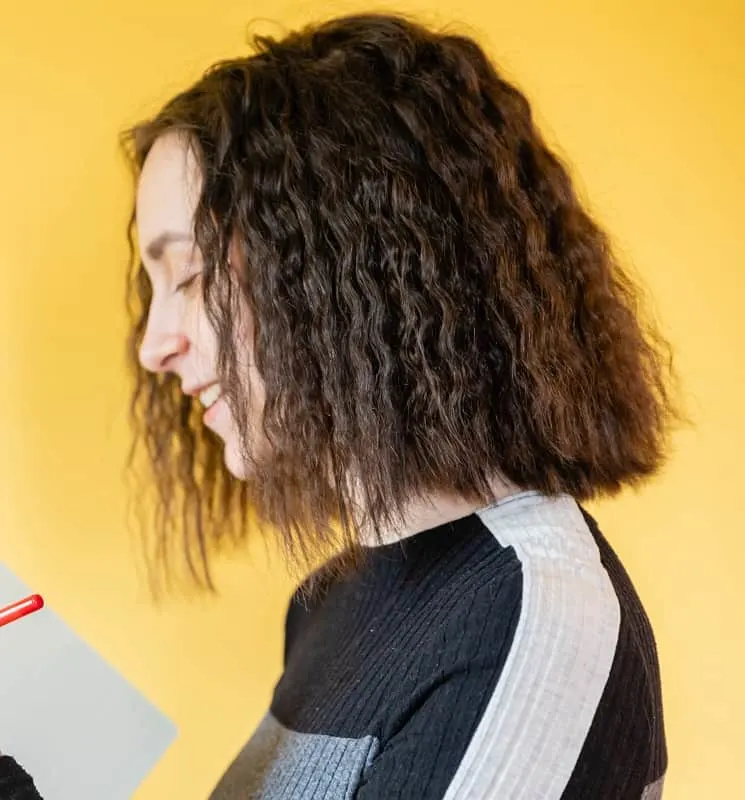 It's the best of both worlds (wavy and straight) when you go for the pictured short perm. Hair is mostly wavy, but the ends are straight. It's the perfect edgy style!
21. Tight Curly Perm for Natural Hair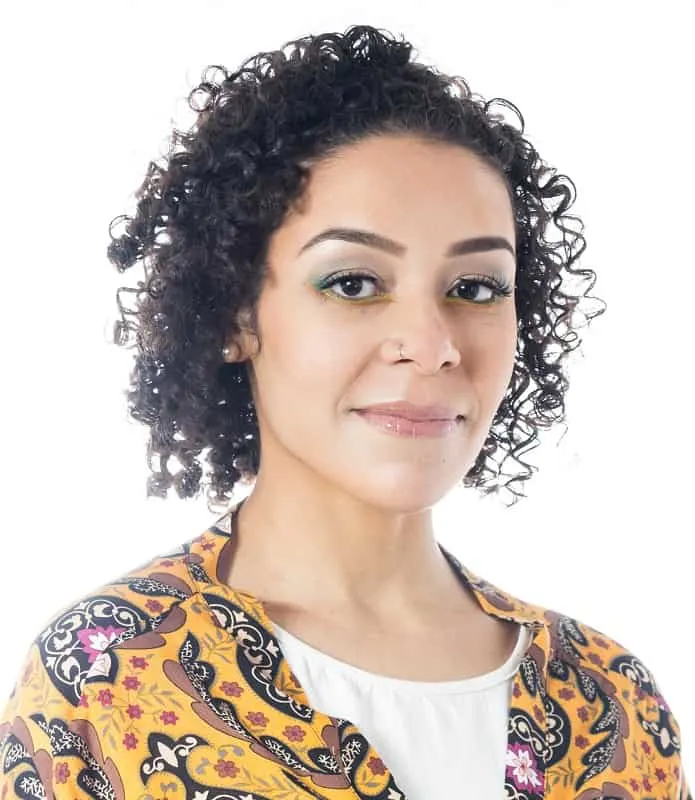 A short perm with tight curls is a classy hairstyle option for black women with natural hair. Layering is minimal, and an off-center part switches up a dimension.
22. Short Body Wave Perm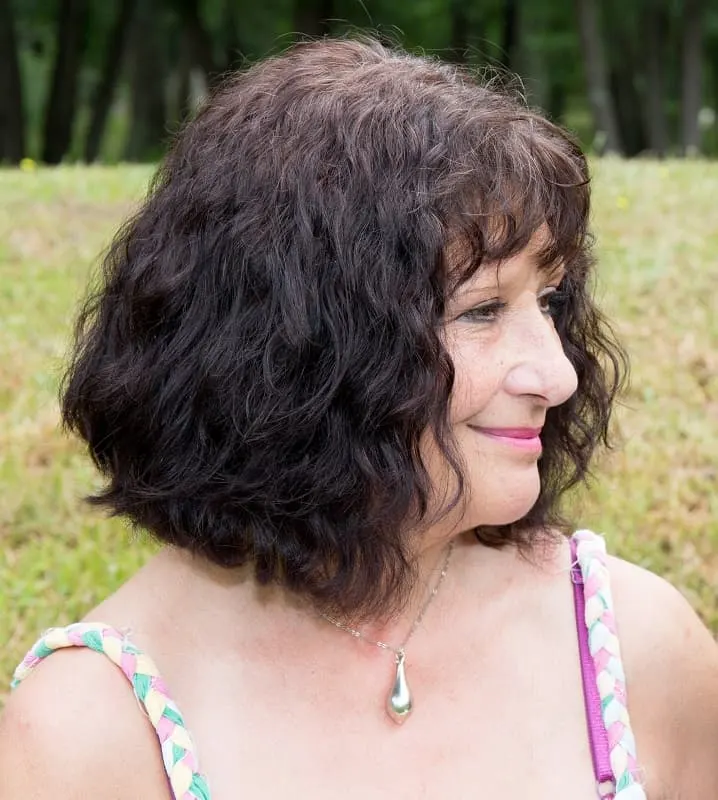 Are you an older woman dying to switch up your style? Try out a short angled perm with body waves and bangs. You can keep the length you love with the above cut, and thin bangs will beautifully round out your face.
23. Thick Messy Perm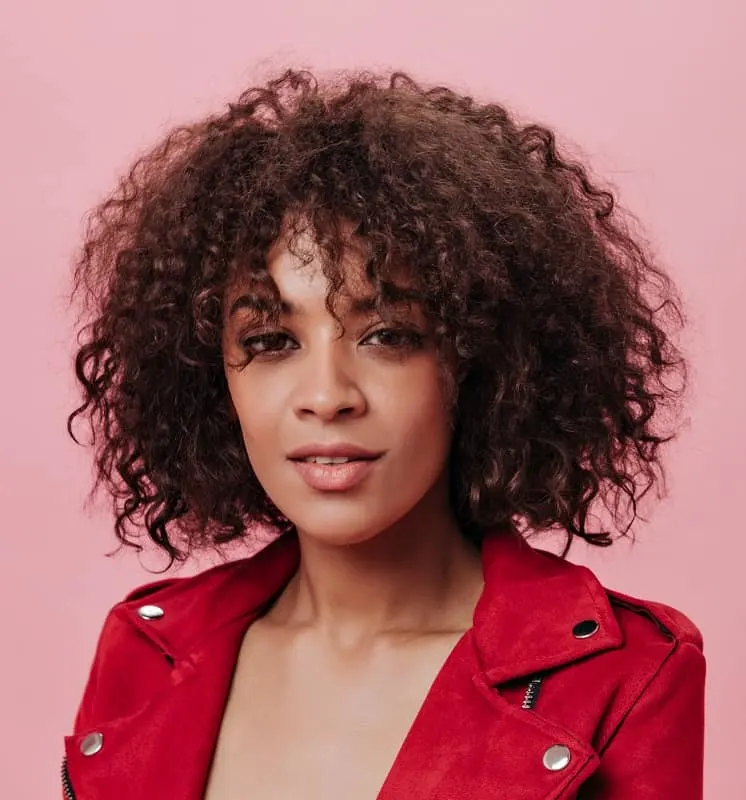 From the shaggy curls on this thick short perm to the wavy texture and soft bangs, there's no shortage of gorgeous details. Whether you wear hair up in a thick ponytail or down and loose, you'll always be noticed first.
FAQs
Here are some of the most commonly asked questions regarding perms for short hair.
Is getting a perm expensive? How long does it take to do a short hair perm?
Even with short hair, the perming solution requires time to work, so allow at least two and a half hours for the appointment.
Can very short hair be permed?
Yes, hair of any length can be permed as long as it is long enough to reach around the perming rods. That means it only takes around 2-3 inches of length to perm your hair. However, specific styles may require more hair length.

For example, to do a spiral perm, you need at least 8 inches of length.
Keep in mind that adding curls or waves can reduce your overall hair length by as much as two inches, so if your hair is already very short, it will be even shorter following your perm.
Is getting a perm expensive?
The average cost for a perm is around $80, though it will vary depending on where you live. The exact price will be determined by the style and the length of your hair. Short hair perms run between $30 and $150. They are generally cheaper than longer hair due to less time and product required.
Can I do a body wave perm for short hair?
A body wave perm is possible as long as your hair is two inches long, just long enough to wrap around the perming rods.
Do short hair perms cause damage?
Since the perming process uses harsh chemicals, it can lead to hair damage if done incorrectly. Breakage, chemical burns, and dry hair are examples of the possible damage done to hair during a perm.
How long does a perm last in short hair?
A perm generally lasts between three and six months, but the duration will vary based on your hair type and also how well you take care of the perm.
How often can permed hair be washed?
You should ideally wash permed hair no more than once a week. However, if you have an oily scalp, you will want to wash it more often, up to every 2-3 days. Additionally, you must wait at least two days to wash your hair after it is permed to give it time
We hope these perm options for short hair allowed you to understand how amazing a permed hairstyle can be. The best part about it is the lack of too much maintenance. All you'll have to do is buy a few extra hair care products.
Allowing the curls to have some movement prevents these styles from looking unnatural. Knowing how to change up a short permed style with a fresh color or a few bangs also gives women a lot of freedom when it comes to styling their hair.