If your hair is short and you haven't tried ombre hair, you're missing out. Ombre is the process of blending one hair color with another for a result that is natural-looking if you use neutral hair colors, or unique and gorgeous if you use unexpected ones like light to dark purple. The trend has the potential to turn a short hairstyle into something seriously gorgeous, no matter your hair texture.
Who Should Try Short Ombre Hair?
Any woman looking for an easy, colorful update to their current short hairstyle should try ombre hair. Women with long hair can even draw inspiration from the different ways you can style short ombre hair. If you're ready for a hair refresher, you need to put short ombre hair on your list of looks to try.
Short Ombre Hairstyles
These 30 stunning short ombre hairstyles are reason enough to try the hair trick.
1. Short Ombre Hair with Fringe
Bangs can easily help frame any face shape. On this shoulder-length haircut, layers and waves combine with light blonde and pastel purple for a soft, feminine look.
2. Ombre on Short Curly Hair
Springy curls will absolutely pop beautifully with a base of brunette hair color that fades into pink ombre. A tinge of orange makes this short ombre look electric.
3. Short Straight Ombre Hair
Smooth short locks on this bob are glossed with medium pink ombre and a hot pink shade as well. Worn down with a center part or up in a cute bun, the color is what makes it gorgeous.
4. Short Blonde Ombre Hair
Blonde ombre on brunette hair is a popular combination, especially for women in the summers. Beachy waves or tight curls make this a casual look perfect for anywhere.
5. Reverse Ombre on Short Hair
While most ombre hairstyles blend from light to dark, this reverse ombre switches things up. Hot pink to light blonde is edgy on a short bob.
6. Short Ombre Hair for Black Women
Black women will love how short ombre hair makes their naturally curly locks stun. Start with light blonde and blend to caramel or a rich red.
7. Short Grey Ombre Hair
Grey ombre on short hair is an updated version of what is typically considered an elder person's hair color. Try it on your brunette or black hair and see your new look come to life.
8. Short Balayage Ombre Hairdo
Blonde balayage on a short hairdo is a common choice for women who want to rock the style. It's natural looking and the blonde brightens up the face.
9. Short Brown Ombre Hair
If your skin is pale or very light and you have black hair, opt for brown balayage on short hair. Smooth locks and part in the center for a classy look.
10. Short Silver Ombre Hairstyle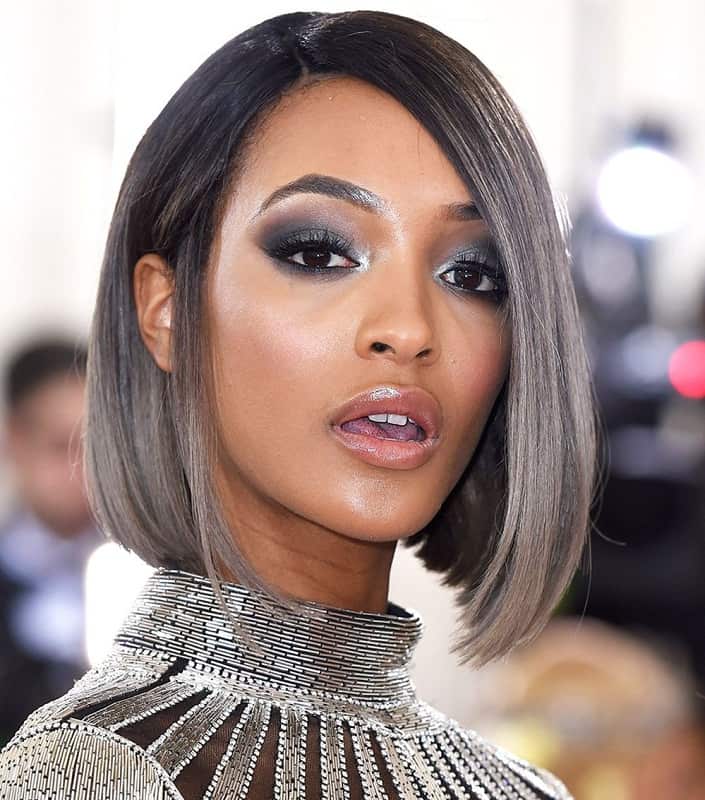 Black hair looks amazing with silver balayage. For best results, blend silver with dark hair. Smooth layered locks on short hair make the finished look polished and chic.
11. Very Short Ombre Hair
Short hair that is the length of a pixie wears ombre color well. Just take a look at the way light brown or light blonde blends with dark hair!
12. Red Ombre on Short Hair
Looking for a color that will get your short ombre hair noticed? Try a dark red on black hair. It's edgy, makes a wavy pixie semi-emo, and is unexpectedly hot.
13. Rose Gold Short Ombre Hair
Rose gold is one shade of ombre that looks great on pretty much any base color. Here, the color amazes on long hair with tousled waves.
14. Short Asian Ombre Hairstyle
If you're an Asian woman, you probably have plain straight hair. Liven it up by going with short ombre hair in a burnt red or caramel shade.
15. Shaved Pixie Ombre Hair
Red and yellow aren't typically colors often seen as ombre on short hair, but this pixie with shaved patches on the sides makes the sherbet shades pretty cool looking.
For a fierce and fashionable short ombre hairstyle, cut your hair into a sloping bob. Your hair will be longer at the front of your face than it is at the rear of your head.
17. Gorgeous Green With Ombre
Turn heads with bright green and ombre hair. Color the style so that it subtly segues from a dark-colored parting into fresh bright green tips.
18. Short & Ombre Half Up – Half Down Hairstyle
Use hair grips to pin half of your hairstyle up whilst leaving the other half of your style down. Pinning your hair like this can help to show off the color changes in your short ombre hairstyle.
19. Cute Bob with Ombre Under-layer
A lightly layered chin-length bob is a super cute haircut for people with ombre hair colors. Color the underlayers of your hairstyle whilst leaving the top layer of your hair its natural color.
20. Lightly Curled Bob with Dusky Purple Shades
Subtle curls look amazing when they are colored with a gorgeous dusky purple color. Use ombre hairstyle techniques to seamlessly segue dirty blonde color into dusky pinks and purples.
21. Heavy Side Fringe A Mild Ombre On Short Hair
Get in touch with your emo side with a short ombre hairstyle with a heavy fringe. Black and bright blue shades set each other off perfectly because of the intense color contrast.
22. Shaggy Half 'n' Half Bob Black and Red/Pink Ombre
Shaggy bobs are heavy short hairstyles which have a lot of movement. Add an extra dimension to your shaggy bob by coloring your hair two very distinct colors. Red/pink and black create a fantastic contrast when they are paired up with one another.
23. Signature Fringe
Short ombre hairstyles look amazing with a signature fringe. Keep most of your hairstyle the same color, but dye your sweeping fringe a different dramatic color.
24. Tousled Bob
Tousled hairstyles look even better when they are created on ombre hair. The subtle color changes really help the tousled sections of the hairstyle to stand out against the darker background colors.
25. Ice Queen
Create an ice queen hairstyle by teaming up platinum blonde hair with a blue shade. Show off your blue ombre hair by using curlers to flick your hair out and away from your face.
26. Purple Top Layers with Dark Underlay
For a really dramatic short ombre haircut, dye the top layer of your hair a bright color. Leave the lower layers a dramatic black color. This creates a really dramatic effect that will be sure to turn some heads.
27. Messy Short Ombre Style
Messy short ombre hairstyles are low maintenance yet they look great. All that you need to do is run a little bit of soft hold hair gel through your hair when you get out of bed.
28. Purple Passion
If you are passionate about the color purple, then choose to dye your hair an amazing purple ombre color. Your hair should blend from pinky lighter purple shades into darker bluey purple colors for the best look.
29. Dark Roots With Short Ombre
Mossy dark roots can actually help your hair to look thicker and more textured. Keeping your roots darker also helps to highlight the bright colors at the tips of your hairstyle.
30. Subtle Ombre Highlights
Sometimes the most effective ombre colors are the most subtle ones. A short ombre hairstyle in a bob shape looks great with very delicate ombre highlighting.
So which short ombre hairstyle will you choose? Whether it's a pop of color like orange and red or something more neutral, the result will be gorgeous.