When women decide to go for some type of locks, be it dreadlocks or sisterlocks, they are ready for some serious work. While dreadlocks take a long time to grow and create, sisterlocks hairstyles only require a couple of barbershop appointments.
As soon as the styling is done, you will get amazing locks that require almost no maintenance and always look neat and styled. The road to sisterlocks might be complicated, but the result will be stunning and useful.
The next time you want to change your hairstyle, all you'll need to do is arrange the sisterlocks in a certain appealing way.
If you want something new to do to your sisterlocks, know that there are hundreds of different ways of styling them. For sisterlocks, running out of ideas is not even an option.
Highlights
Sisterlocks are mini-sized dreadlocks created by Dr. JoAnne Cornwell in 1993.
Sisterlocks vs. traditional dreadlocks – sisterlocks are installed on smaller sections of hair using a unique tool, while traditional locks are installed on medium or large sections of hair using a method called palm rolling or matting.
Sisterlocks are installed via an interlocking method and can range from ⅛ inch to ⅜ inch in width. They should be installed by a trained or a certified sisterlocks consultant.
4C hair types tend to hold sisterlocks the best.
The cost of sisterlocks installation can be anywhere from $500 to $800, plus a consultation fee.
Sisterlocks should be washed every 1 to 2 weeks using a gentle shampoo and conditioner and retightened every 6 to 8 weeks.
Sisterlocks can last a long time if you take care of them properly but can be prone to breakage if not.
What Are Sisterlocks?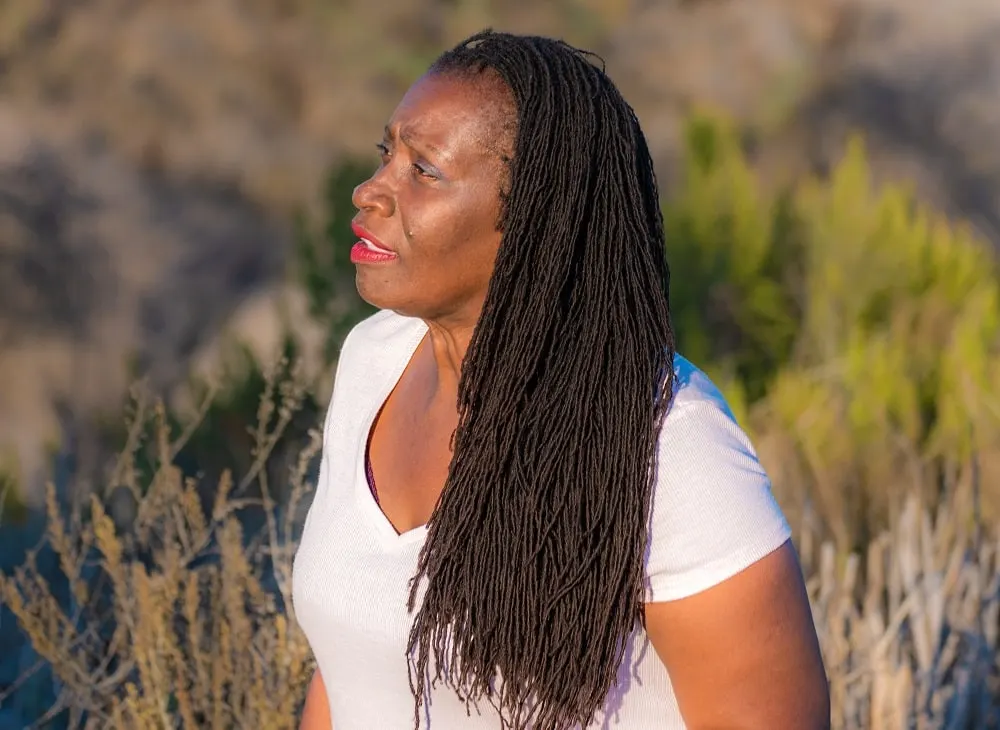 Sisterlocks are a hairstyle that is known for celebrating natural and textured hair. The style was created by Dr. JoAnne Cornwell in 1993 and has been a popular style for women ready to embrace their natural hair.
This locs hairstyle is essentially mini-sized dreadlocks. Some people even call them micro-braids. Hairstylists will put them into hair via an interlocking method, and the main difference between sisterlocks and other locs is how small they are.
The best part about sisterlocks is how versatile they are. Depending on your head size, you can have anywhere from 250 to over 400 locs. The small sections can be ⅛ inch to ⅜ inch in width, and when you meet with a sisterlocks hairstyle, they'll be able to talk to you about what you want and what's going to look best on you.
Some famous women who have rocked the world with their sisterlocks include Ava DuVernay, Chloe and Haley Bailey, and Lisa Bonet, to name a few.
Pros:
Low Maintenance
Natural Look
Protective Style
Cons:
High Upkeep Cost
Time-Consuming
Difficult to Remove
Are There Significant Differences Between Sisterlocks and Traditional Locs?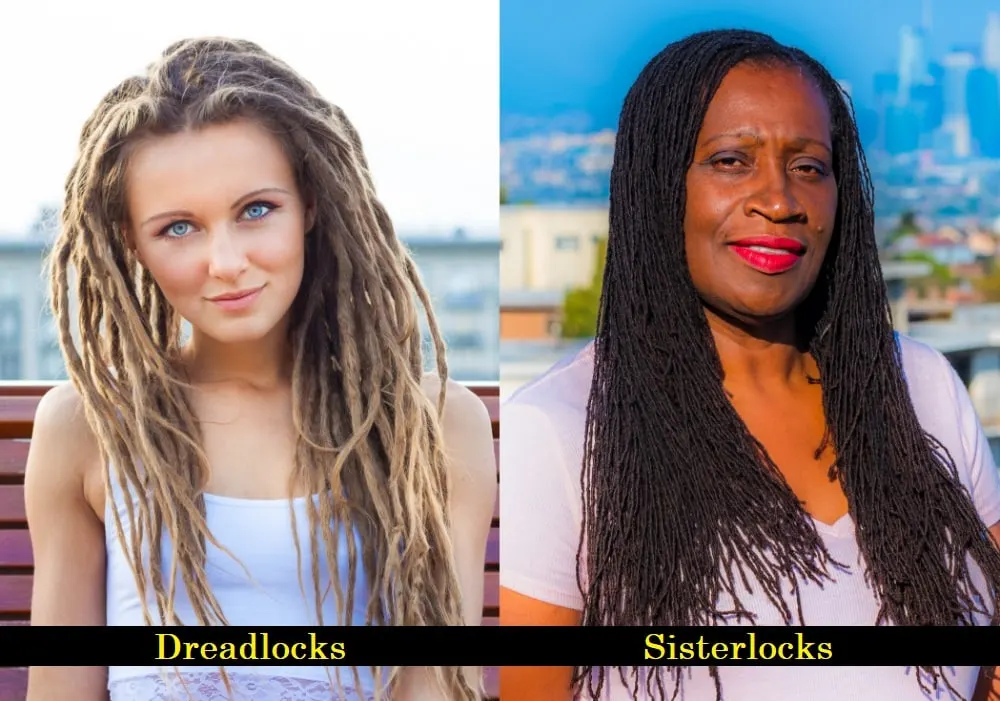 Sisterlocks and traditional dreadlocks have similarities, like being installed on natural hair, but these hairstyles have several key differences.
The first difference is how hairstyles install them. When installing sisterlocks, they use a unique tool to take smaller sections of hair, creating smaller hair locks. As for traditional locks, hairstylists will install them on medium or large sections of hair using a method called palm rolling or matting. They utilize balm or wax to bind the hair together.
Anyone can get sisterlocks on their hair, but 4C hair types tend to hold sisterlocks the best for those with natural hair. Finer hair will show more of your scalp as they cover the roots, and it can almost look like you don't have an abundance of hair.
The Installation of Sisterlocks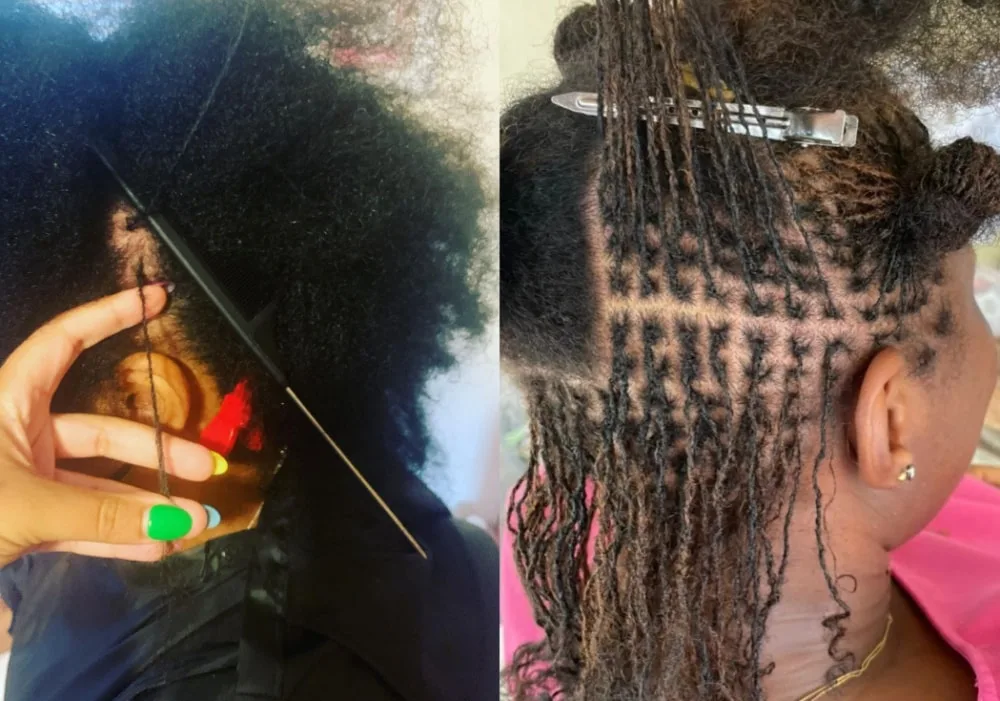 Sisterlocks should be installed by someone who's been formally trained to install them or a certified sisterlocks consultant. The Sisterlocks company has a specific locking technique for installing beautiful thin locks on hair. How a professional will install sisterlocks goes something like this:
They'll section your hair based on the size that will look best and work on your head
Your consultant will then part each section into rows that will guide them to each locs
They'll begin installing the sisterlocks with a unique tool and great any pattern if you want
How long it takes to install sisterlocks on your hair depends on how long your hair is and how many locks consultants install. For medium to long hair, it can take anywhere from as little as eight hours to more than 12. You'll want to be patient and prepare for a long day in the chair when installing sisterlocks.
How Much Do Sisterlocks Cost To Get and Maintain?
These beautiful locks come at a price, and for most, it can be pretty steep. Generally, the cost of sisterlocks installation can be anywhere from $500 to $800, but there are instances of the price being even higher.
Before you can sit for sisterlocks installation, you'll pay a consultation fee, which varies depending on the person you're seeing. The consultation fee is generally around $50. How much your total cost for sisterlocks will depend on the following:
The size of your head
The lock size you want
The hairstylist you choose
How long is your hair is
When you have a larger head, you'll need more sisterlocks to cover the head, which will drive your price up. The lock size, how long your hair is, as well as who's doing your hair also affects cost. More established hairstylists will often be more expensive, but they tend to be well worth the price.
Once you install your sisterlocks, you'll need to factor in the maintenance cost. Your hair will continue to grow with the sisterlocks in, and you'll need to tighten them at some point. The location of the salon you choose can also affect the price.
The costs you'll incur through sisterlocks maintenance include more consultation and retightening fees. This can be anywhere from $150 to $200 every six to ten weeks, depending on how fast your natural hair grows.
How To Maintain Your Sisterlocks
Once you have your beautiful sisterlocks installed, you'll want to do your best to maintain them. Maintaining your sisterlocks will ensure you have beautiful and healthy hair. Your stylist should also provide you with care information, but here's everything you need to know about maintaining your sisterlocks.
After Your First Appointment
Immediately after your first appointment, you'll want to avoid washing your hair immediately. You want to give the locs time to settle in your hair before applying products. If you have a silk pillowcase or silk sleeping cap, these are great things to use to prevent your locs from getting frizzy and looking as fresh as possible.
Maintenance Tips For Sisterlocks
Between retightening appointments, you'll want to do everything you can to maintain your sisterlocks. Maintaining your new hairstyle includes knowing how often to wash them, what products to use, and how to care for your scalp. Here are some maintenance tips when caring for sisterlocks.
How To Wash Your Sisterlocks
Between retightening appointments, you should only wash your sisterlocks every one to two weeks. Depending on how dry your locks get, you may prefer to wash them once a week or hold off for two weeks.
Be sure to use a gentle shampoo and conditioner. Once you're out of the shower, separate the locks so they don't get tangled together.
Caring for Your Scalp
Scalp care is as important as washing your locks and keeping up with retightening appointments. The best thing you can do for your scalp when you have sisterlocks is to use a deep conditioner after shampoo. This will rehydrate your locks and scalp, allowing them to retain their beautiful shine.
How Does Sisterlock Retightening Work?
Retightening needs to happen every six weeks or so. A certified consultant will use their sisterlock tool to retighten the lock to the strand of hair they initially put the lock on. This secures your locks, so they don't fall out and damage your natural hair.
Once the retightening process is over, you shouldn't see any more gaps between the sisterlocks and your scalp. Your retightening appointment will be much quicker than the initial installation, but it can still take between two to four hours, depending on how many locks you have and how quickly your hair stylist works.
The Lifespan of Sisterlocks
How well you take care of your sisterlocks will drastically affect their lifespan and if they'll contribute to excessive breakage of your natural hair. When you wash with a gentle shampoo, use a deep conditioner, sleep in a silk bonnet, or with a silk pillowcase, you should only need retightening every six to eight weeks.
If you keep up with regular retightening and the above tips, your sisterlocks will last a long time. They can be prone to breakage when you're not caring for them properly, which might make you remove them sooner than you want.
Below, we have compiled a list of 25 utterly amazing sisterlocks hairstyles for you to check out and choose from:
Sisterlock Hairstyles That Brighten Up Your Face
Being low maintenance is the ultimate plus point of sisterlocks style. If you are getting late and don't have enough time for your hair, remember, with sisterlocks your hair is always in their neatly styled look. You can also change your sisterlocks look by little arrangements here and there.
If you are running out of ideas about the way to arrange your locks, consider the below sisterlocks hairstyles. They will allow you to have fun with your new and improved hair.
There is no reason to think that sisterlocks are a hassle. Just the opposite, they will allow you to lead a hassle-free life since your hair will always look neat and well-arranged.
1. One-sided Locks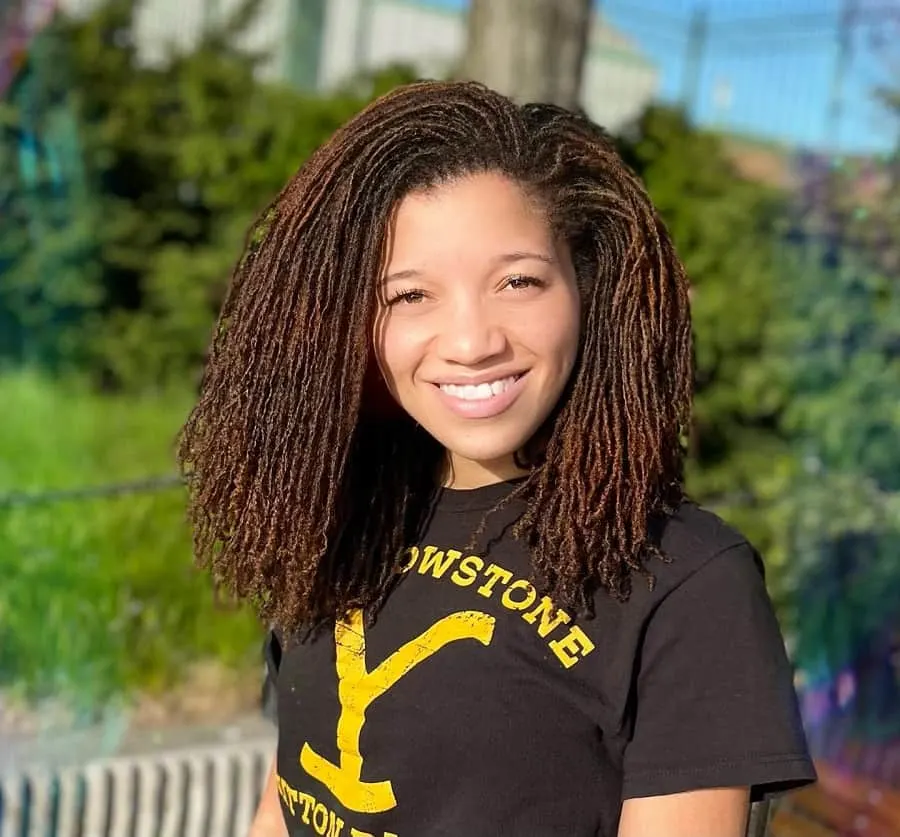 Getting the perfect sisterlocks might take you days, but we are telling you that it will be worth your patience. Before doing the locks, layer your hair, so your braids fall in a cascade. You can wear them like your natural hair, flipped on one side.
2. Half Up Half Down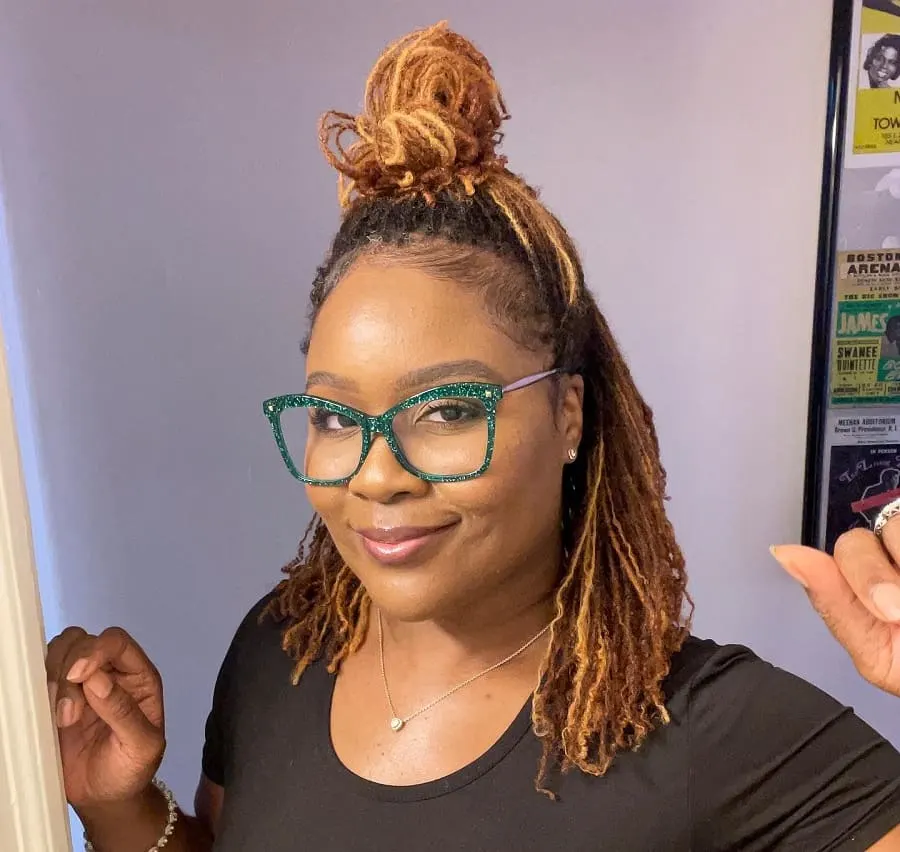 You can create an ombre before doing the actual hairstyle using a yellowish blonde, copper nuances, and a lighter brown colour. Build those locks and create a section for the top. You will style a ponytail using this part, wearing the other half of your locks on the back.
3. Twisted Sisterlocks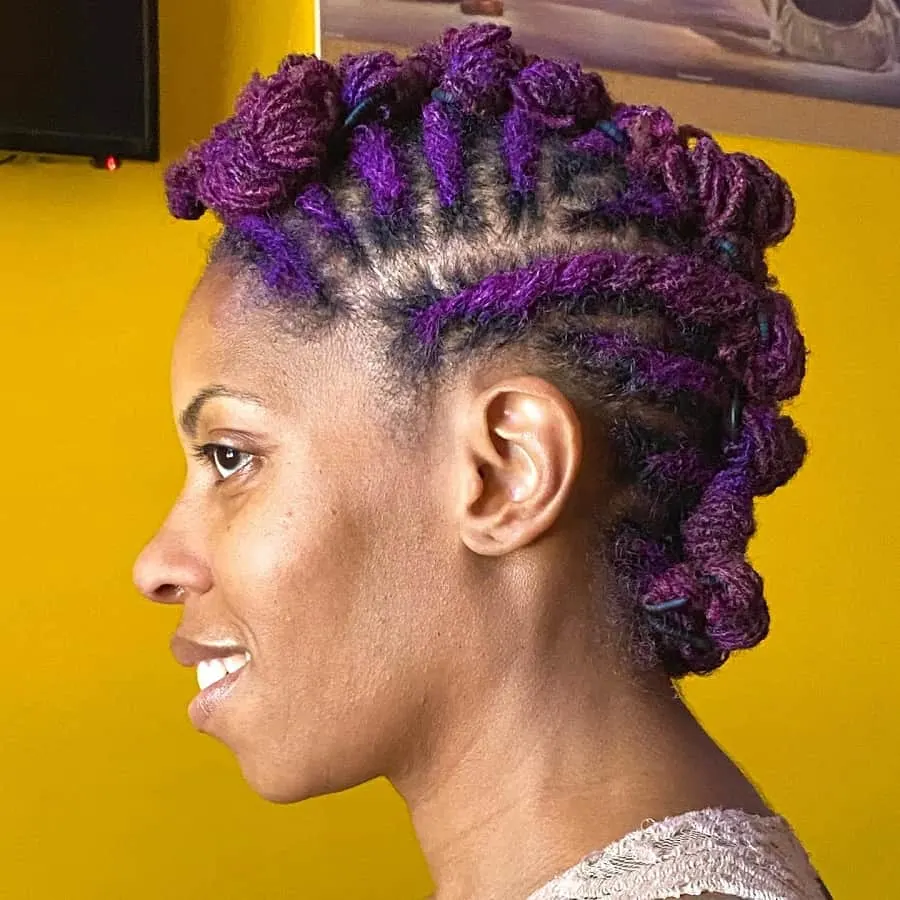 After you dyed your hair in electric purple hair color and built your thin locks, you can style them however you want. Consider a hairstyle with a mohawk. Use small sections of hair that you will twist towards the top. Style small buns and tie them with a hair elastic.
4. Braided Side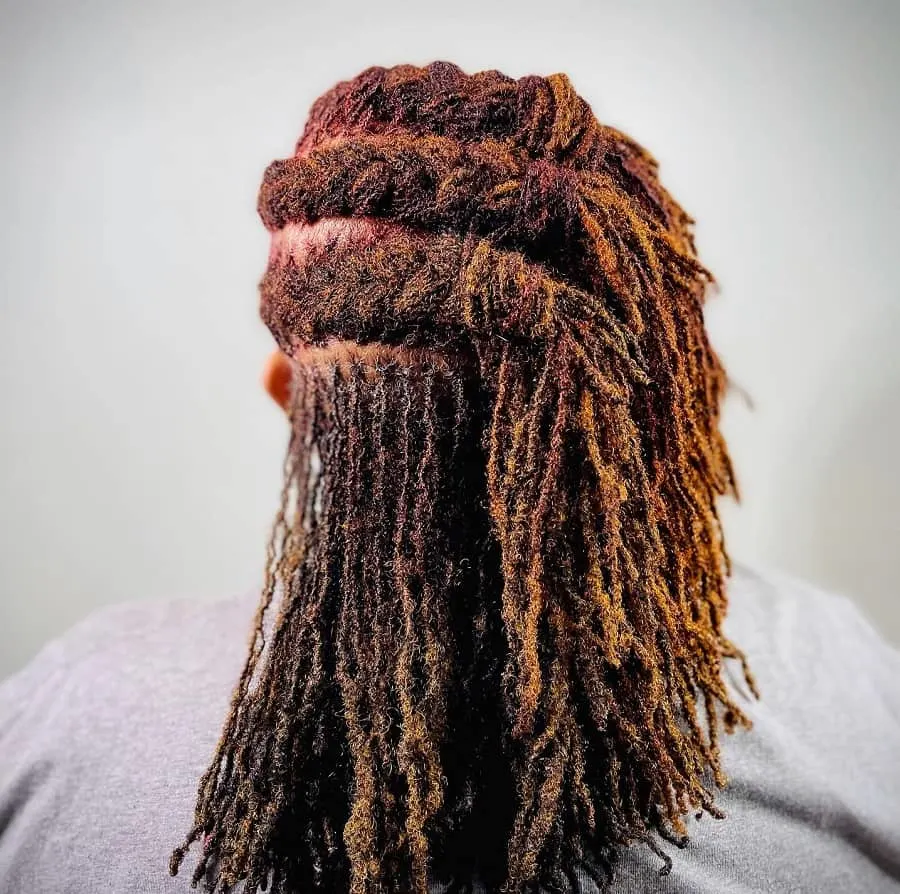 Your sisterlocks are exactly like your natural hair. You can twist them, braid them or pin them in a ponytail. If you love a hairstyle that stands out, create three sections on one side. French braid each of them, and tie the knits following the main headline.
5. Braids with Bangs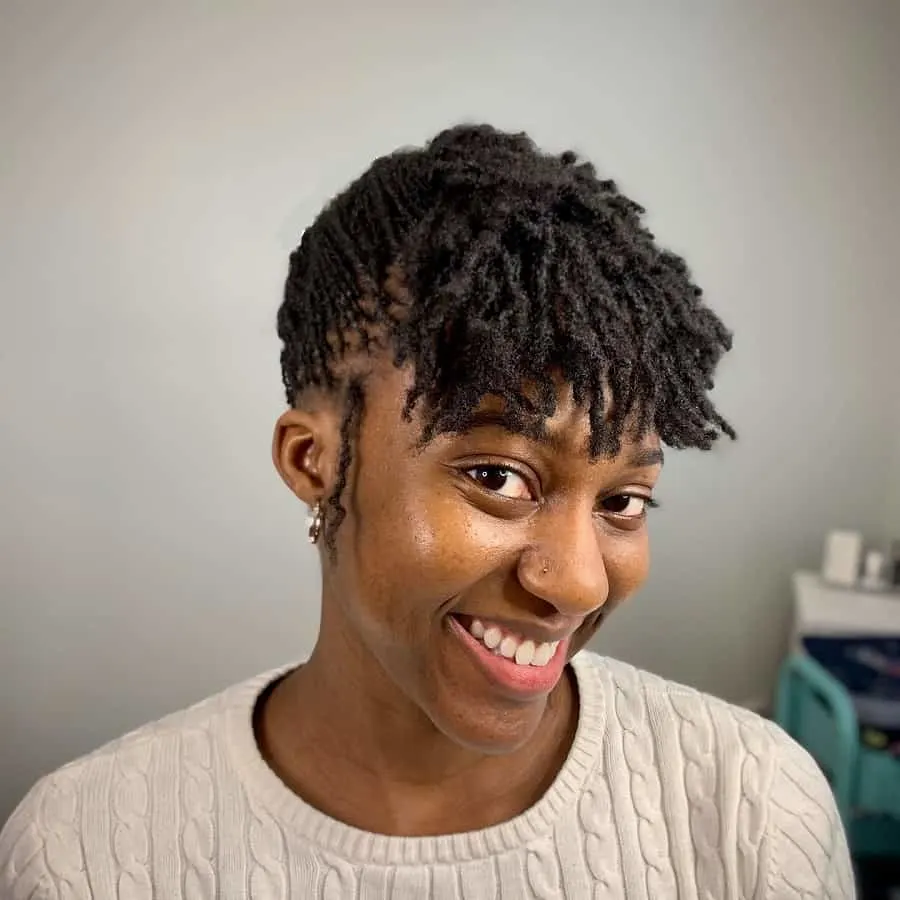 You can use your dreadlocks to create all sorts of hairstyles. Pin all your locks in the back, in a ponytail or bun, and spare the bangs. You will spread them on your forehead, creating an astonishing frame for your face.
6. Hair Braided Crown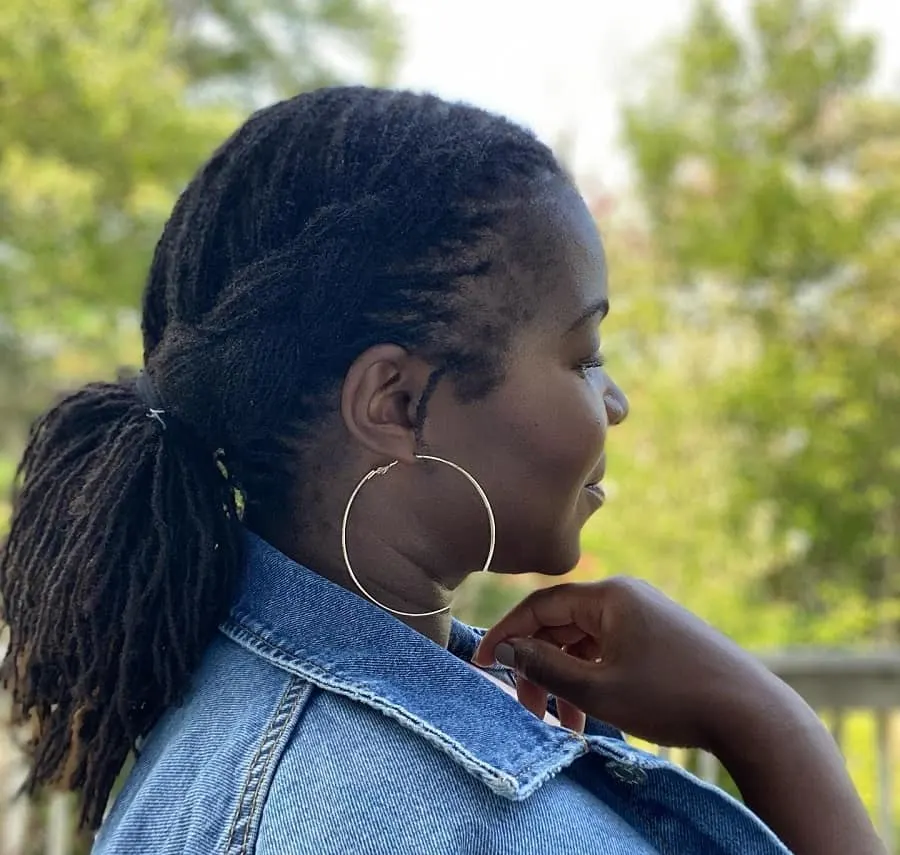 This hairstyle is ideal for all sorts of activities. You can wear it at work, for an event or even when you want a casual look that suits you. Style a middle part and create two French braids that follow the hairline and meet in the back in a ponytail. Instead of a three braid, you can also pull off twisted knits.
7. Two Ponytails
If you have short, thin dreadlocks, consider getting a childish sisterlock hairstyle that uses two ponytails built on top of your head. Use colourful hair elastics to emphasise your hairdo.
8. Blonde and Caramel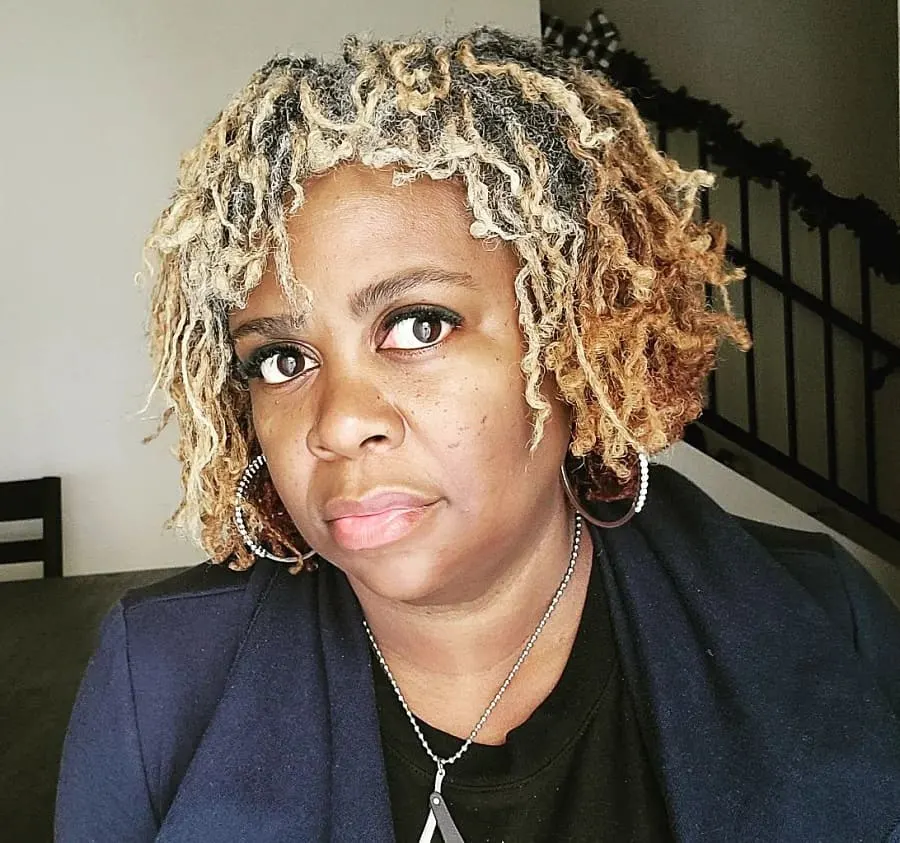 Before doing your locks, create an ombre that enlights your tresses. Platinum blonde nuances with caramel hues, and you will get a hairstyle that is worth the effort. Moreover, you will protect your hair from external factors and get a low-maintenance hairdo.
9. Curly Thin Dredlocks
If you want thin dreadlocks that really stand out in any crowd, go for a balayage that keeps your roots in their natural colour and creates a wonderful gradient. The other half of your hair must be lighter. Choose chocolate with milk brown nuance. Also, don't forget to style those impressive curls.
10. Short Sisterlocks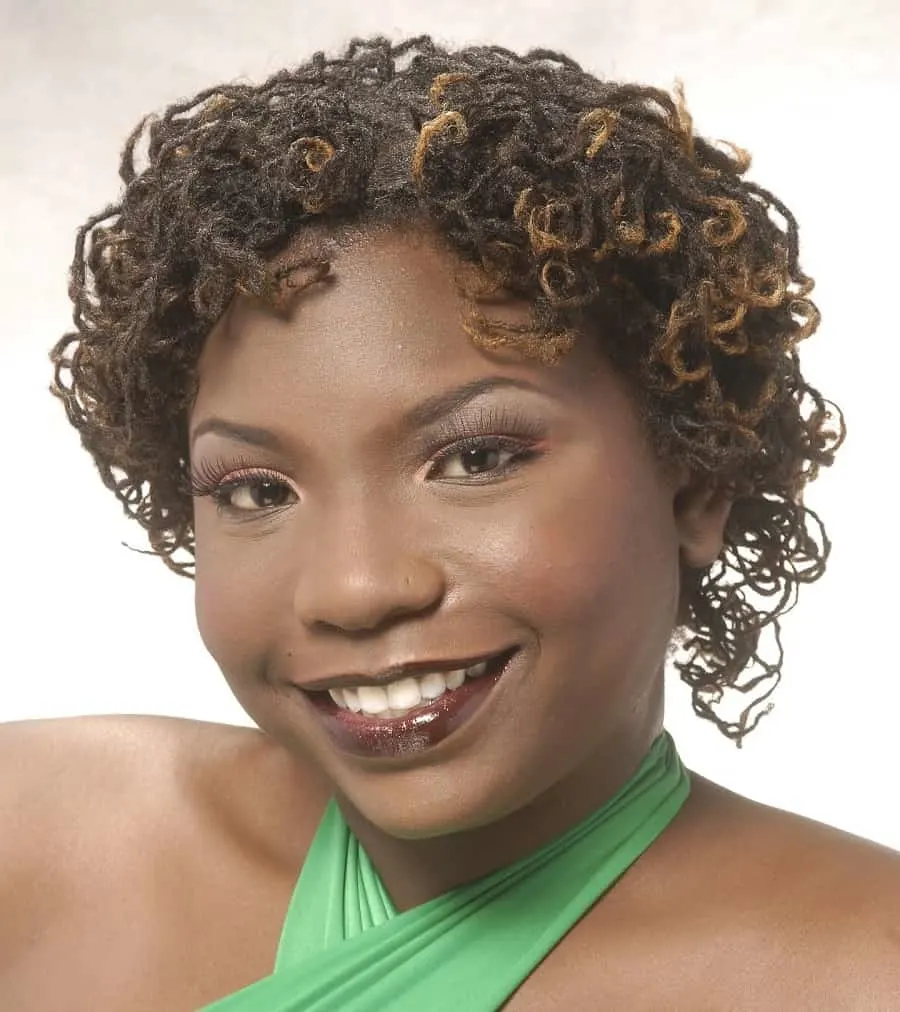 Even if your hair is short, it will take a lot of time to create locks this thin. So arm yourself with patience if you want your hairstyle to look absolutely perfect. Also, to enlighten that dark hair color, you can add a pinch of copper.
11. Salt And Pepper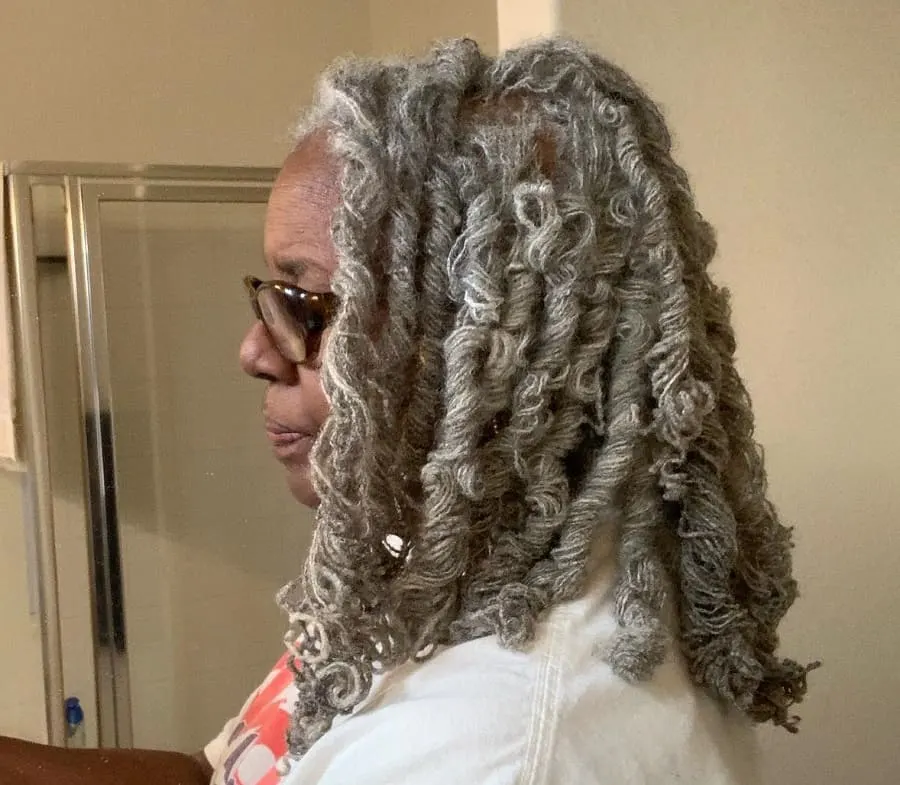 As an older woman, you need to find a hairstyle that is suitable for your hair texture, that's easy to manage and adds value to your salt and pepper hair color. And sisterlocks that are rolled on a rod and dipped into hot water to create the curl are exactly what you need.
12. Mohawk with Sisterlock
A sisterlock mohawk may look complicated but, in fact, it's easy to create. You need to ask the hairstylist to make cornrows on the sides and then sisterlocks on top. This hairstyle will stand out of the crowd.
13. Light sisterlocks
If you've decided to go with a sisterlocks hairstyle, it might be time to do some dyeing. Black hair looks awesome, but everyone needs a change. Go for lighter colors, such as brown or even honey blonde.
14. Side Sweep
Side sweep is a lighter version of a mohawk. Here you might not even need cornrows. Sweep the hair from one side upward and to another side. Clip the hair with large clips to stay intact.
15. Ombre
You can use different dyeing techniques on your sisterlocks. For example, you might want to try a light ombre. You would need to dye just the ends of your sisterlocks hairstyle. The effect will be immediately magnificent.
Difference Between Balayage and Ombre
16. Simple yet alluring
The best part about the sisterlocks is that you don't have to come up with something special every day in order to look fantastic. Simple sisterlock hairstyle is one of the best options.
17. Large accessories
If you like wearing your hair up, consider large clips and accessories to keep them intact. Sisterlocks can be rather thick and hard to arrange, so the bigger the clips, the better the style.
18. Partial highlights
Experiment with blonde colors on your sisterlocks. Consider dyeing the front strands to create a wonderfully contrasting effect. Enjoy the neat way your front strands will look when with the above side swept.
19. Beehive
Beehive hairstyles can be very different. They need thick and neat hair to stay in place. Thankfully, sisterlocks offer exactly these two properties. Ask the hairstylist to show you how to arrange it and you'll learn in no time.
20. High and mighty
Sweeping the locks upwards will create a fast sisterlock hairstyle. You don't need to come up with anything complicated. Just pull it up into a loose ponytail and clip it to the rest of the hair with small clips.
Cutest Dreadlock Hairstyles for Women in 2023
21. Short Sisterlocks
Sisterlocks hairstyle with short braids is the perfect style to look fresh. This hairstyle can go with any outfit, making you look trendy on the go. Side part them for added cuteness.
22. Sisterlocks Bun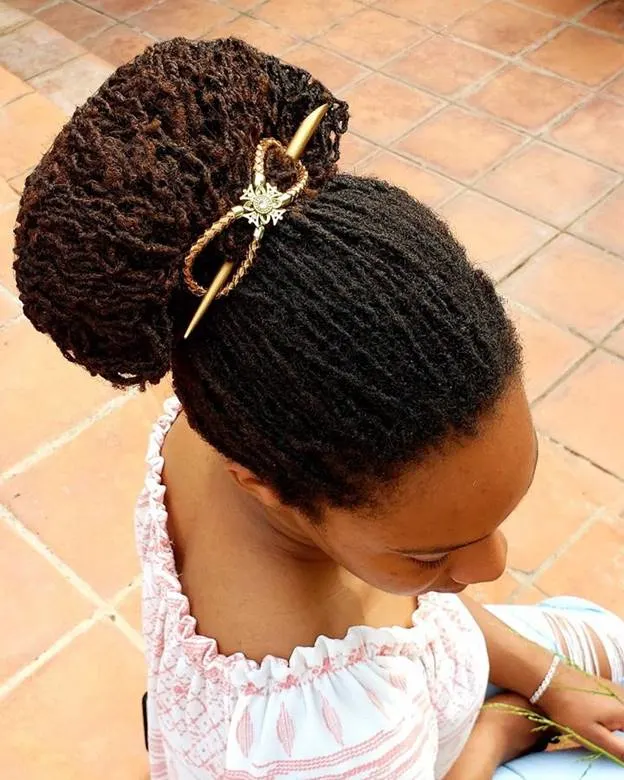 Sisterlocks bun style is one of the boldest hairstyles you can go for. If you want to look different while being trendy, choose this hairdo with sisterlocks.
If you are a short hair type person, then opting for short sisterlocks is your best option. It makes you look elegant and also adds style to your personality.
24. Topknot Sisterlocks Bun
Take your sisterlocks, tie them up and twist them around to form topknots. Combine all the topknots to form a bun. Use a little color to add extra shine to your style.
Curly sisterlocks are sheer beauty. Dye your curly sisterlocks into two colors to add some pop to them.
Sisterlocks are the ultimate fashion trend of 2023. You can choose any sisterlocks hairstyle, and it is guaranteed that you'll set fire on the ramp. After a few salon visits, your sisterlocks will shine brightly like a diamond. These hairstyles are in vogue in their truest sense.
Sisterlock hairstyles are created to make your everyday styling less complicated. Allow yourself to spend some time and money on making the sisterlocks, and you can forget about the hairstyling hassle for a long while.