Are you bored of your look? Are you looking for ways to change your look but aren't too keen on going for a major transformation? Well, the best option would be to dye streaks in your hair.
When it comes to adding dye streaks to your hair, there is no right or wrong. You can go as bold as you want or as subtle as you like. Whether you want to opt for an edgy and fierce look or just have some fun, a few hair streaks can get the job done for you.
Well, if you have decided to go ahead and add some stunning hair streaks, and are looking for inspiration – you are at the right place!
Stunning Hair Color Streaks
We have prepared this list of 23 amazing hair dye streak ideas for you to try out. We assure you that you will definitely fall in love with these ideas.
1. Go Green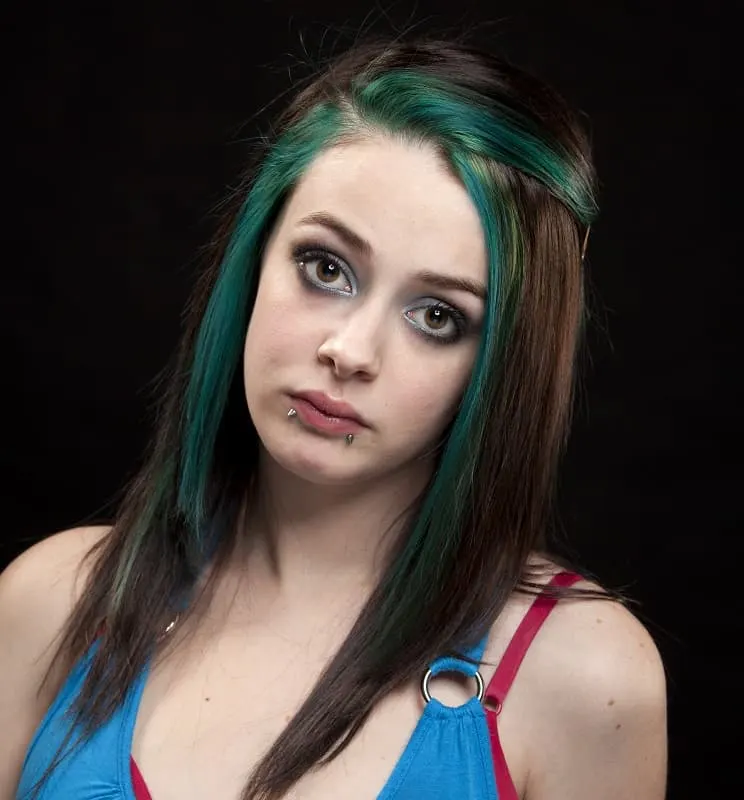 Green streaks are not something that many would prefer but this color definitely transforms your look! Just a few green streaks at the front is enough to give off a very edgy and dramatic vibe.
Make sure that you style your hair correctly so that you can flaunt your green glory with panache. You can also play around with different shades of green and see which one of them works well with your hair color.
2. Serene and Blue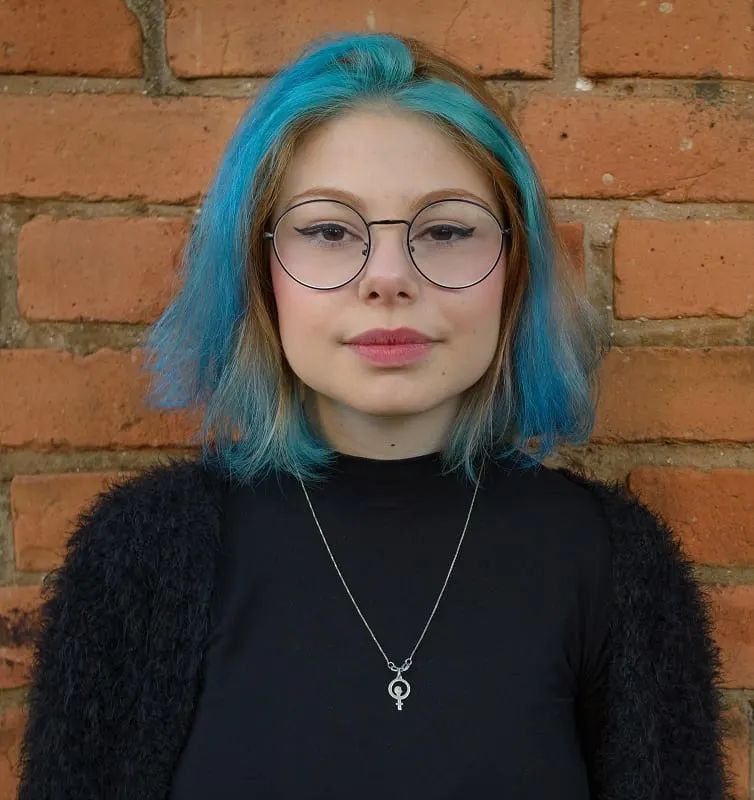 This beautiful short bob with blue highlights looks absolutely calm and serene – like the ocean! The blue streaks go well with the natural blonde hair and it is a great way to check out whether the color suits you or not before you decide to completely dye your hair blue.
This is one of the most sought-after colors when it comes to hair streaks, but it also requires you to put some extra effort into keeping your hair streaks vibrant.
3. Peek-a-boo with Red Highlights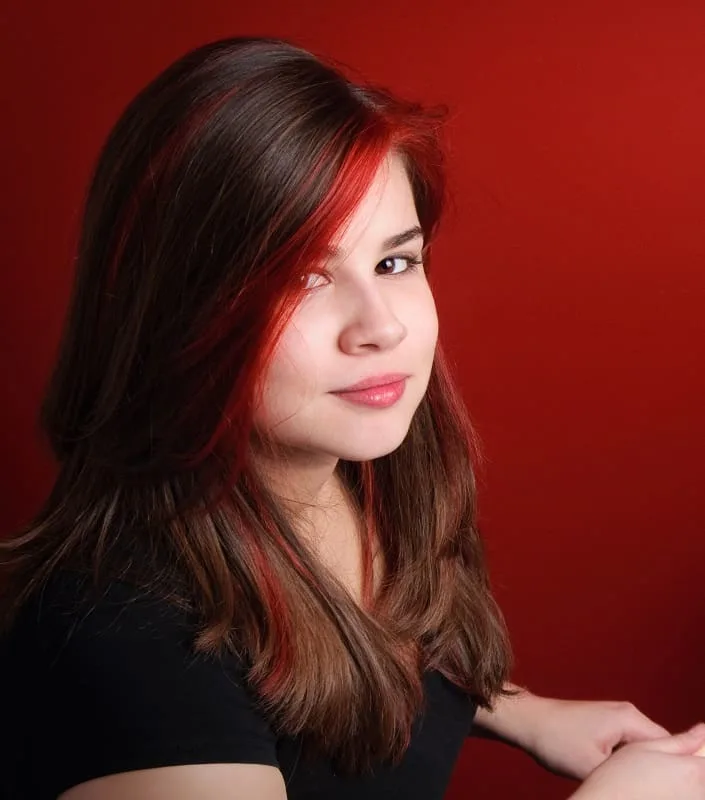 When someone talks about hair streaks, red is probably the first color that comes to our minds. Red highlights are our absolute favorite and they are a great choice if you want to add some depth and dimension to your hair without going overboard.
This particular combination of red highlights with chocolate brown hair is a classic look that suits all hair types and lengths.
4. Pop of Pink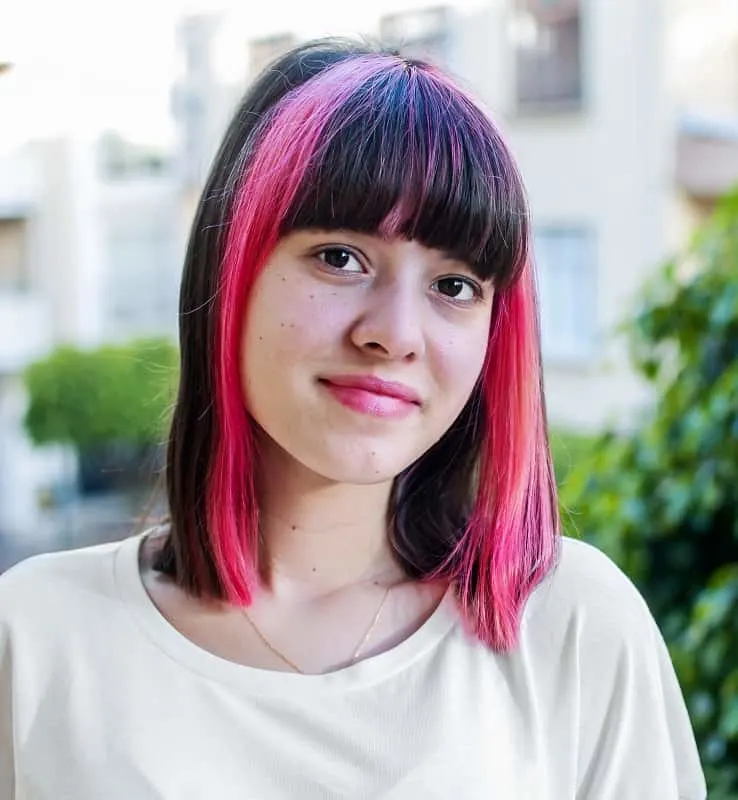 Pink may be the favorite color of many girls but not many would want to flaunt pink hair streaks. We assure you that this is a great color if you are looking for a unique transformation with minimal effort.
This shade of pink goes well with light as well as dark-colored natural hair and will definitely add a pop of color to your day.
5. Cute Blonde Highlights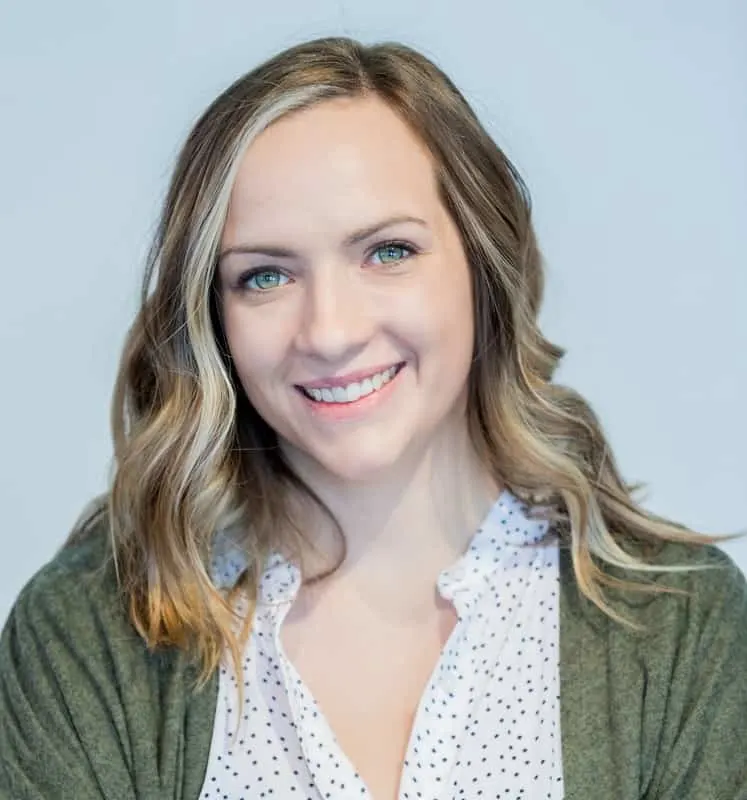 If you are looking for some subtle changes to your hair, we suggest you get these cute blonde highlights.
These hair streaks do not look over-the-top, and in fact, will be clearly visible only when you style your hair in certain ways. Also, the blonde highlights from the roots to the tips beautifully frame the face.
6. Subtle Purple Hair Streaks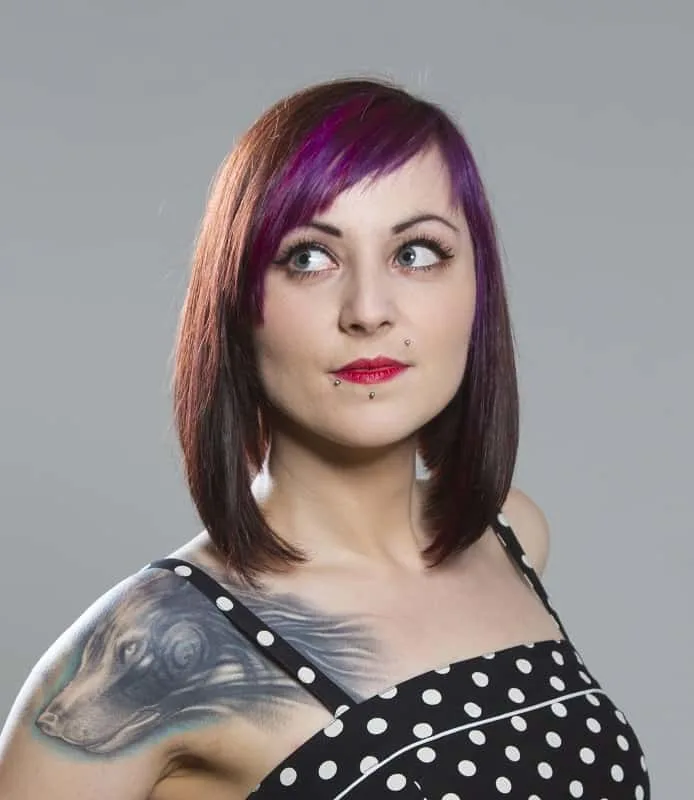 Here is a vivid yet subtle look with purple highlights which are currently the rage. A sleek bob with purple fringes looks edgy as well as adds a touch of fun to your overall look.
Purple hair streaks look stunning on not just dark natural hair but also light-colored hair. It also works well with different types of hair textures and you can further enhance your look by opting for multiple shades of purple.
7. Bold and Beautiful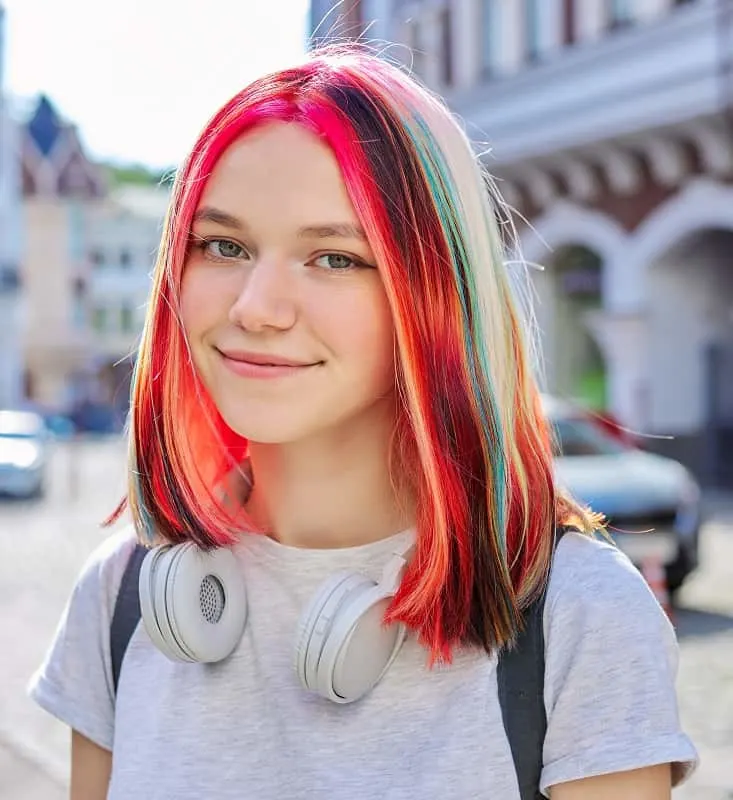 Now here is a look that is sure to turn all the heads around – multicolored highlights to transform your simple, plain look to something more vibrant and eye-catchy.
This combination of red, blue, blonde, and black go so well together that you would want to flaunt this look for a very long time. Just make sure that you take good care of your hair and maintain the freshness of the hair dye streaks!
8. Two-toned Highlights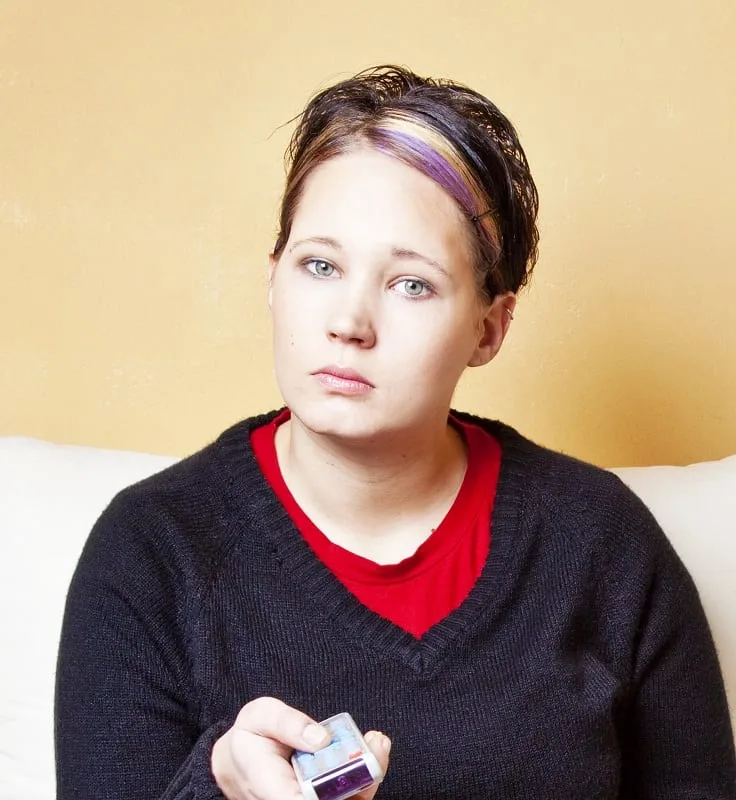 Want something unique and simple? Try this two-toned color block look! The pastel shades look absolutely amazing and you can try different hairstyles that would highlight the color block.
You can easily maintain the streaks' vibrancy with hydrating and color-protecting hair products.
Apart from the combination of blonde and purple, you can also try several other pastel shades to create your own unique two-toned color block.
9. Eye-catching Caramel Highlights
Caramel highlighting is one of the most popular choices when women think of changing their looks. This is a beautiful combination of dark and light browns!
You can add as many or as few caramel-colored hair streaks but rest assured that it will definitely stand out. Though this look suits different hair textures, it looks amazing on those who have thick hair.
10. Shaggy Bob with Two-toned Highlights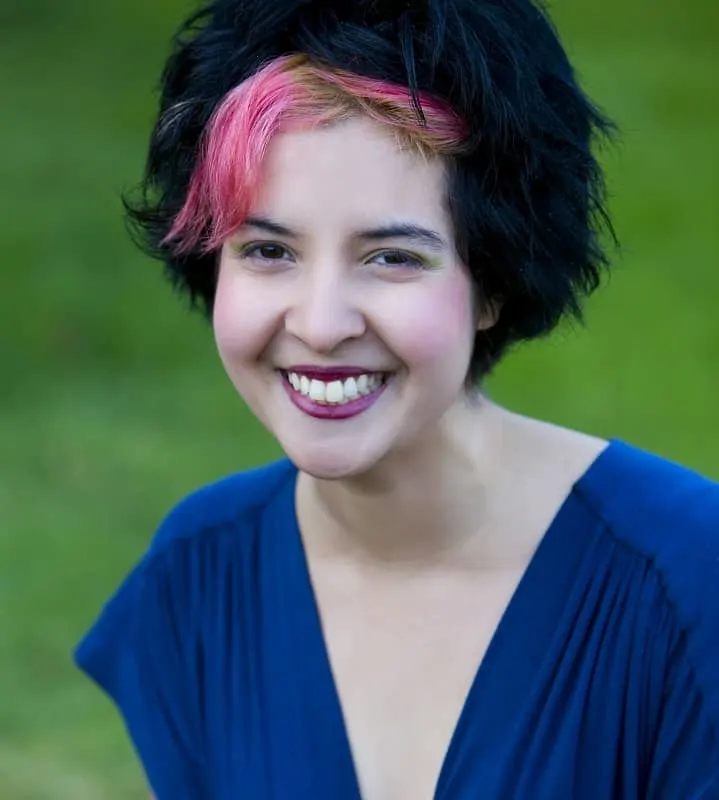 Add some flair to your basic black shaggy bob with a combination of light pink and blonde hair streaks.
This dual-toned combination of blonde and pink definitely perks up your look and adds a dash of freshness. This combination is a bold one and will surely boost up your confidence as well.
11. Dual-toned Highlights for Fine Hair
Looks like the combination of blonde and pink is quite popular! Here is another look with the same dual-toned combination. The long streaks of blonde and pink peeking through your natural hair color looks fun and quirky.
We recommend this look for women who have fine hair as the combination will add some depth and density to your overall hairstyle.
12. Bold and Edgy Bob with Vibrant Highlights
If you are someone who loves to experiment with their hair color and does not shy away from flaunting some bold looks, then we highly recommend this bold and edgy short bob with vibrant highlights.
This is an easy-to-carry look and no matter how you style your hair, these highlights will make sure that you stand apart in a crowd.
13. Multicolored Long Streaks
Add a bit of flair to your long locks with multi-colored highlights! These shades of blue and pink may look subtle but they do stand out, giving off a very fun and feminine vibe.
The USP of this look is that you need to only dye the lower part of your hair streaks. You can try some classy updos or even a simple ponytail to flaunt these multicolored hair streaks.
14. Face Framing Highlights
Want to highlight your face more? Try this super cute, face-framing pink highlights on your blonde hair.
The chunky pink highlights on either side are easy to maintain and are a great way to boost up your look without putting in too much effort. Make sure that you apply the dye right from the roots to the tips of your hair.
15. Sleek Shoulder Length with Light Colored Streaks
Want to jazz up your shoulder-length sleek black hair? Just add some light-colored highlights and you are good to go!
You can opt for colors like light blonde, ash, light purple, etc., which will add more depth and density to your hair. Make sure you dye your streaks in such a way that they are subtle yet visible.
16. Chic Pink Ombre Highlights
If looking chic and glam is what you are after, we suggest you raise the bar with these beautiful pink ombre highlights on your fringes.
This combination of blonde and pink ombre highlights will make your already chic hairstyle look even more uber cool. We guarantee you that with this look, you will surely be the talk of the town!
17. Black Hair with Multicolored Highlights
Are you tired of styling your basic black hair? Give it a fun twist by adding multicolored dye streaks! A combination of electric blue with pink can do wonders and bring out your sassy side.
We recommend that you leave about 2-3 inches on the top and then dye your hair till the tips. This will produce a flattering look when you try hairstyles like half-up, half-down, a fishtail braid or a messy top knot.
18. Dreamy Icy Blue Streaks with a Dash of Yellow
Some hair highlights are really out there, such as this one with its icy blue streaks which are further highlighted with yellow and purple streaks on either side.
This bold and vibrant look is surely going to have heads turning around – no matter where you are. So make sure that you are confident enough to try this bold but dreamy look, which is simply stunning.
19. Long Straight Lob with Multicolored Streaks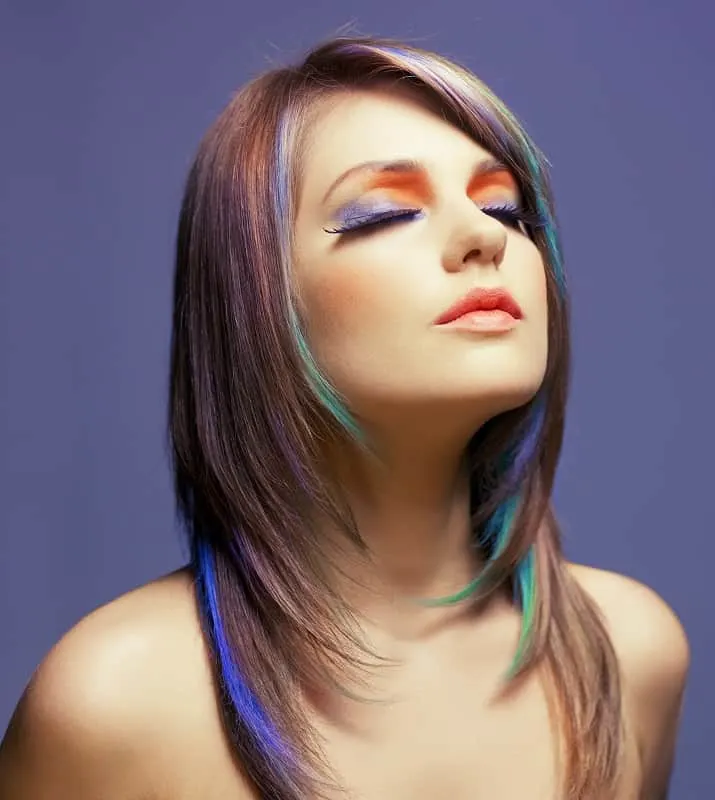 This beautiful lob hairstyle is a beauty in itself and the multicolored highlights peeking through the natural auburn hair color completely glams up this look.
This ideal combination of electric blue with soft green highlights works well for dark-colored, natural hair.
With the lob hairstyle becoming quite common, this look with multicolored dye streaks is a great way to stand apart from the crowd.
20. Red Hair with Blonde Highlights
If you are a redhead and are looking for some inspiration to dye streaks in your hair, then give this classy red hair with blonde highlights a try.
The combination of blonde and red is a classic one where red is often used for highlights. However, if you are looking for a unique yet classic look, go vice versa by keeping your hair red and just highlighting a few strands in the front in blonde.
21. Sassy, Edgy and Chic Highlights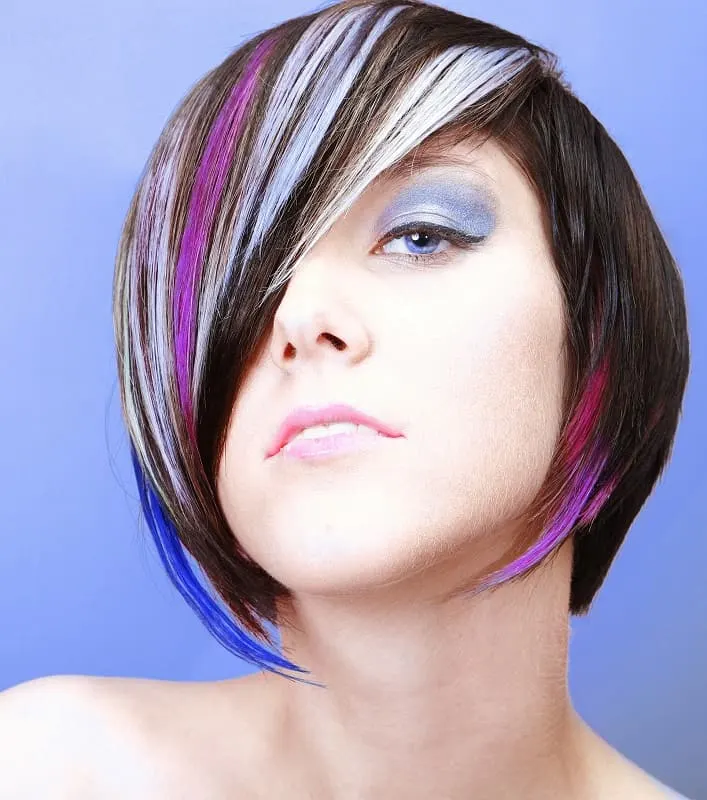 This look is not for the faint-hearted! This is undoubtedly one of the sassiest and most edgy-looking hairstyles with multicolored highlights that we have ever come across.
An inverted bob that has been completely glammed up with a beautiful combination of electric blue, shades of purple, and blonde. There is absolutely nothing that we would want to change in this powerful and chic look.
22. Honey Blonde Streaks
Honey blonde highlights are another popular choice when it comes to adding hair streaks. They look gorgeous with loose curls and beachy waves.
Apart from capturing attention on their own, these honey blonde highlights become more dramatic and add a flair to your hair when they shine bright under the sunlight. This is a classic look that can never go wrong!
23. Short Blond Hair with Electrifying Highlights
This edgy and chic short blonde haircut is sure to grab eyeballs with its electrifying highlights in shades of blue and purple.
Start with the purple color from the roots and finish off the tips with electric blue – a look that is surely going to raise your hotness quotient! You can try different combinations of colors as well, such as red and green, blue and red or purple and green.
No matter what color or combination of colors you choose, you can never go wrong with highlights.
It is an excellent way of altering your hairstyle, allowing you to flaunt a new look with minimal effort. We recommend that you seek professional help to dye streaks in your hair to get the best outcome.