When it comes to timeless beauty and fiery charisma, redhead actresses over 50 prove that age is no barrier to mesmerizing audiences on the silver screen.
Red hair might not be the first color that comes to mind when looking for hair color options for older women, but it should be a worthy candidate. It's vibrant and will certainly give your hair the oomph it needs.
Redheads look stylish and if you're looking for a bright and vivid color, check out our list of the best red-headed actresses over 50 and let them light the way for you.
Gorgeous Redhead Celebrity Actresses Over 50
You don't have to look far and wide for your red hair inspiration because here are some of the red-haired actresses aged above 50 to give you the best ideas:
1. Aileen Quinn – Layered Reddish Brown Hair + Choppy Bangs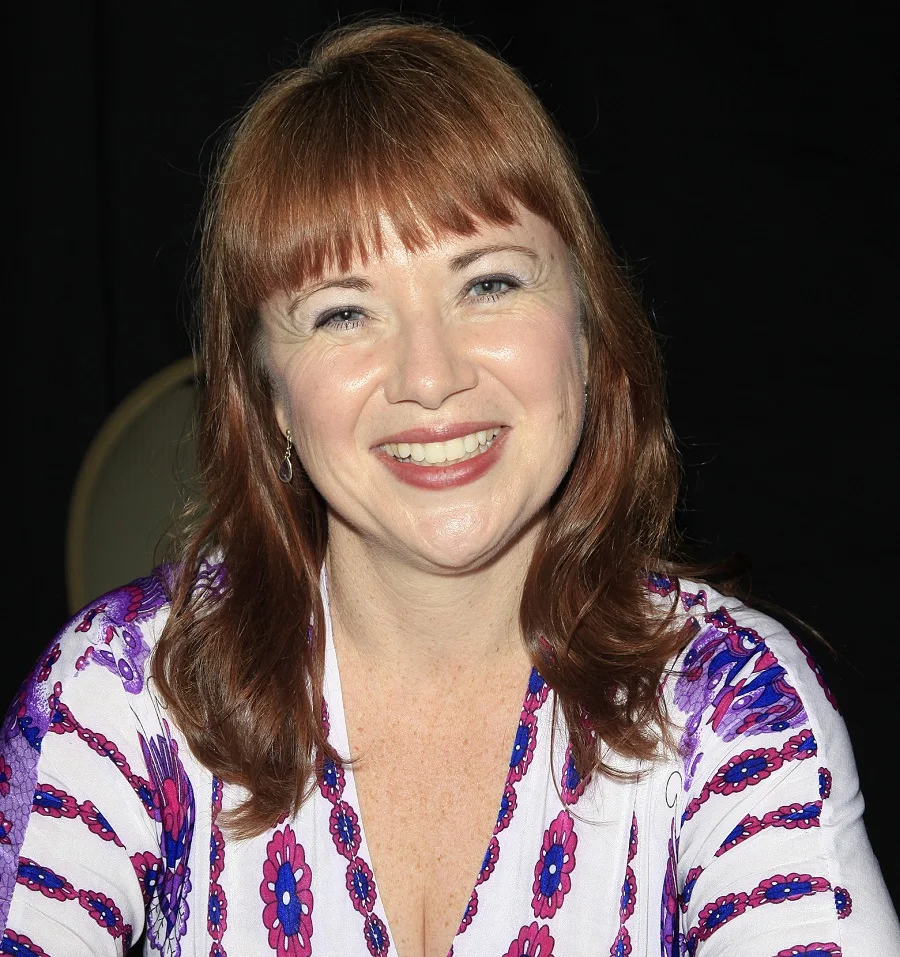 Go all-out on your youthful hairstyle with reddish brown hair with lots of layers and choppy bangs. The choppy bangs can hide your forehead wrinkles while the layers can add volume and thickness to your thinning hair.
2. Amy Yasbeck – Reddish Orange Curls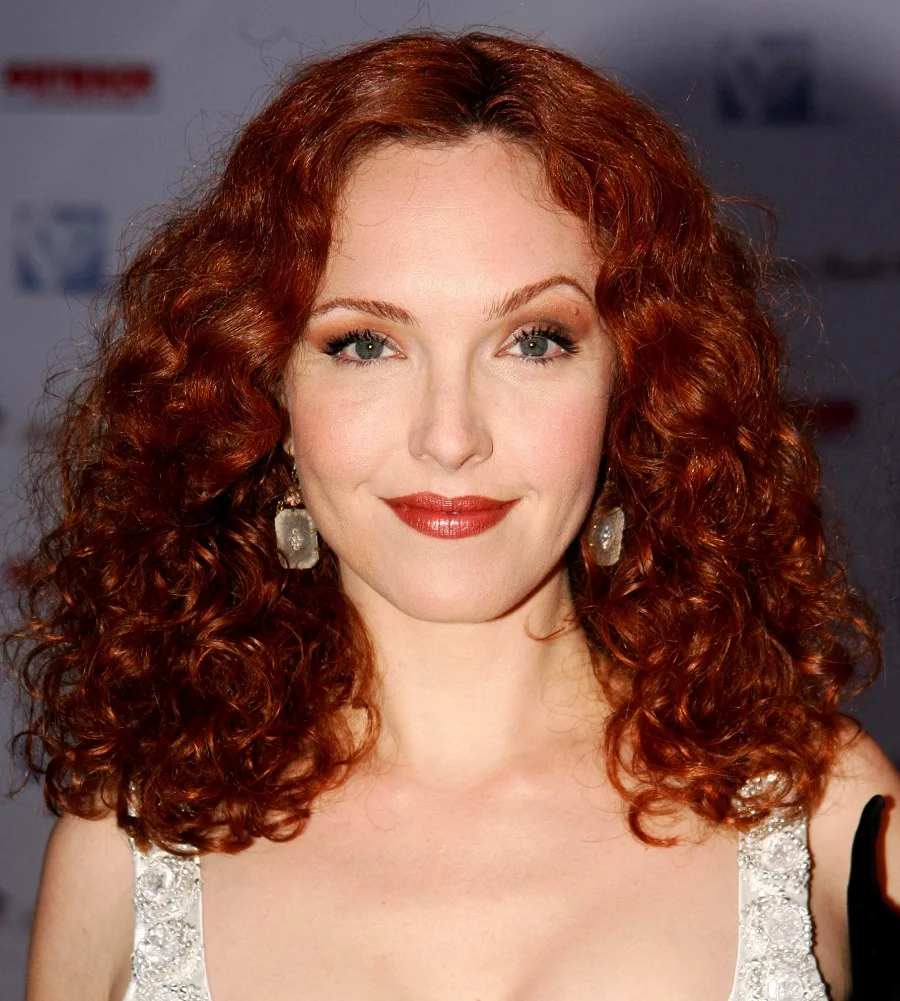 No one can stop you from showing off your gorgeous curls. For maximum exposure, we suggest that you wear a bright red-orange hair color. Keep it balanced with a simple center parting.
Because of her cheekbones and well-defined facial structure, Amy Yasbeck is of the best red-headed actresses over 50 that wear center parting the best.
3. Angie Everhart – Light Auburn Red Wispy Layers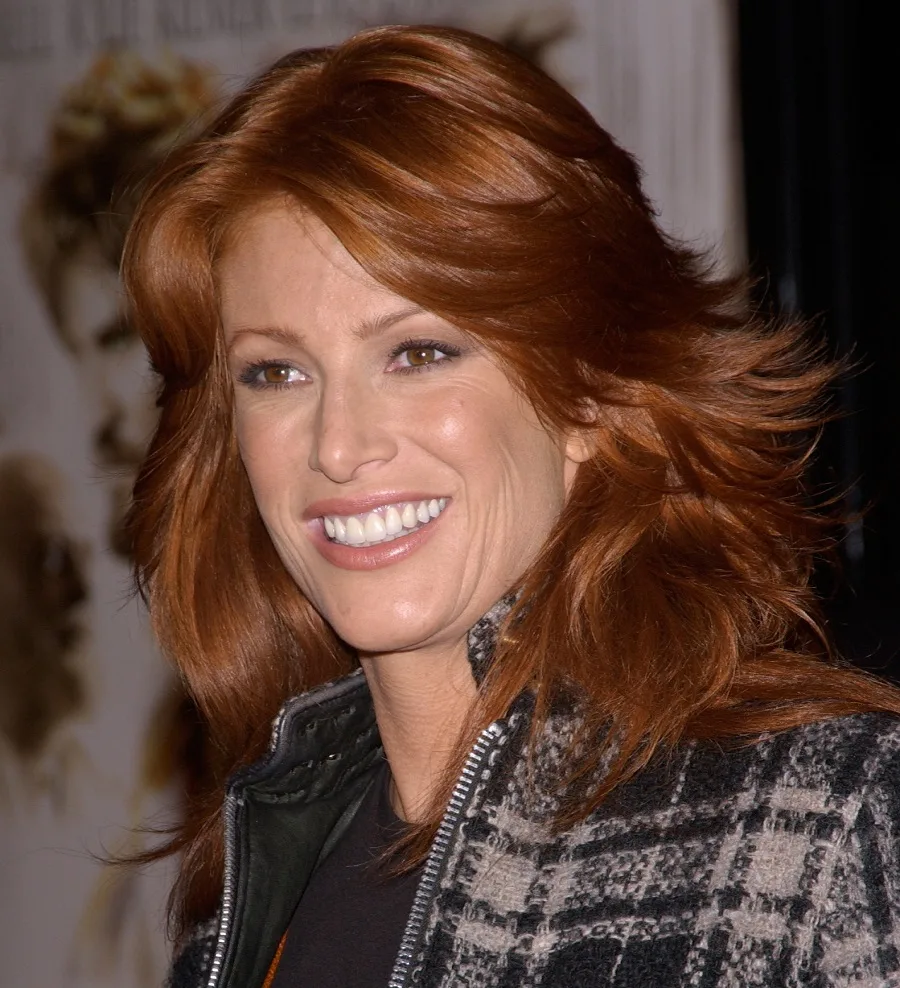 Light auburn is probably the most intriguing red hair shade out there. Is it brown? Red or copper? Well, it's all that and more. This gorgeous color also has a bronze-like metallic shine which will definitely make your skin glow.
4. Catherine Tate – Dark Auburn Layers + Sideswept Bangs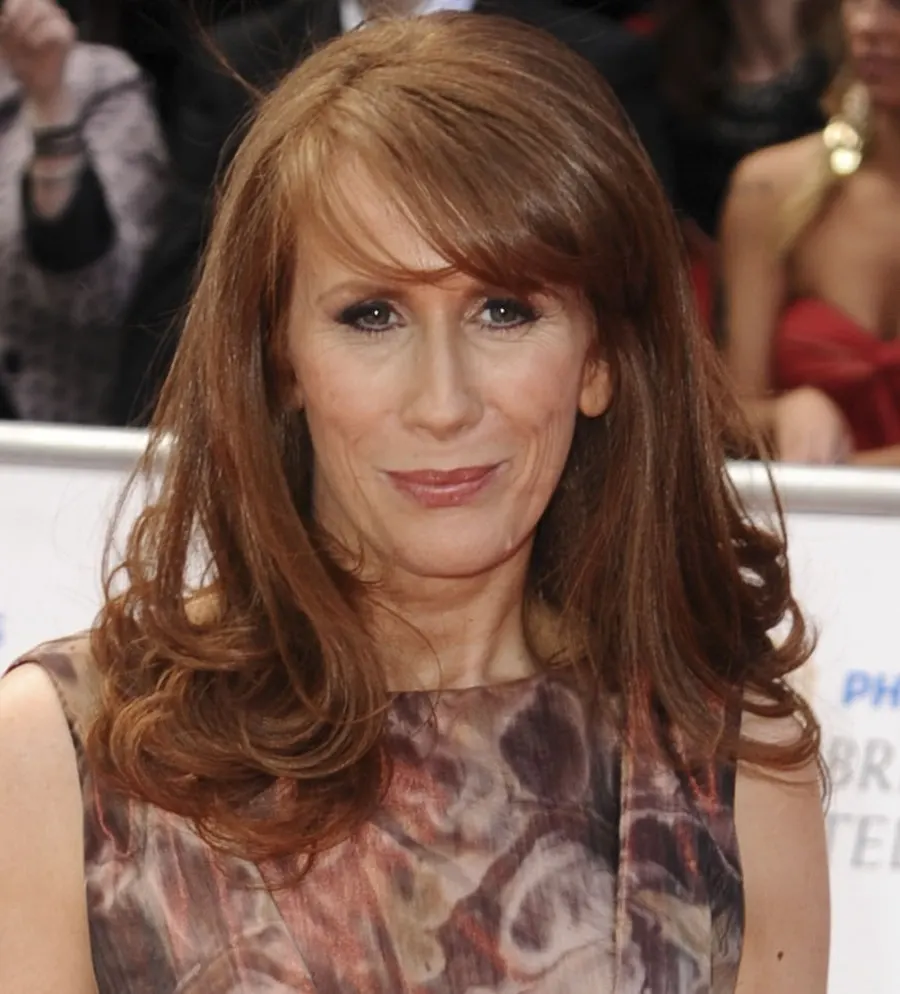 If you're intimidated by light auburn's fire and shine, dark auburn is your next bet. This shade's a little muted and darker but it still has the same sexiness and charm.
Take a page from Catherine's playbook by going for side-swept bangs which can soften your facial features and make them look younger.
5. Connie Britton – Long Copper Hair with Curly Ends
When it comes to hairstyles for older women, keeping it simple is sometimes the key. For this, Connie is one of the best red-haired celebrity actresses in thier 50s to get your inspiration from.
She kept her hair straight, sweet, and simple at the top, added curls at the bottom for extra body, and let her fabulous copper hair color take center stage.
6. Darby Stanchfield – Dark Brunette Brushed Look
Darby has always looked young for her age, and that might largely be because of her on-point hairstyles. Just take a look at how polished this brushed hairstyle is.
It keeps her hair away from her face in the most stylish way possible while adding life and color to her look at the same time.
7. Debra Messing – Auburn Side-Parted Wavy Hair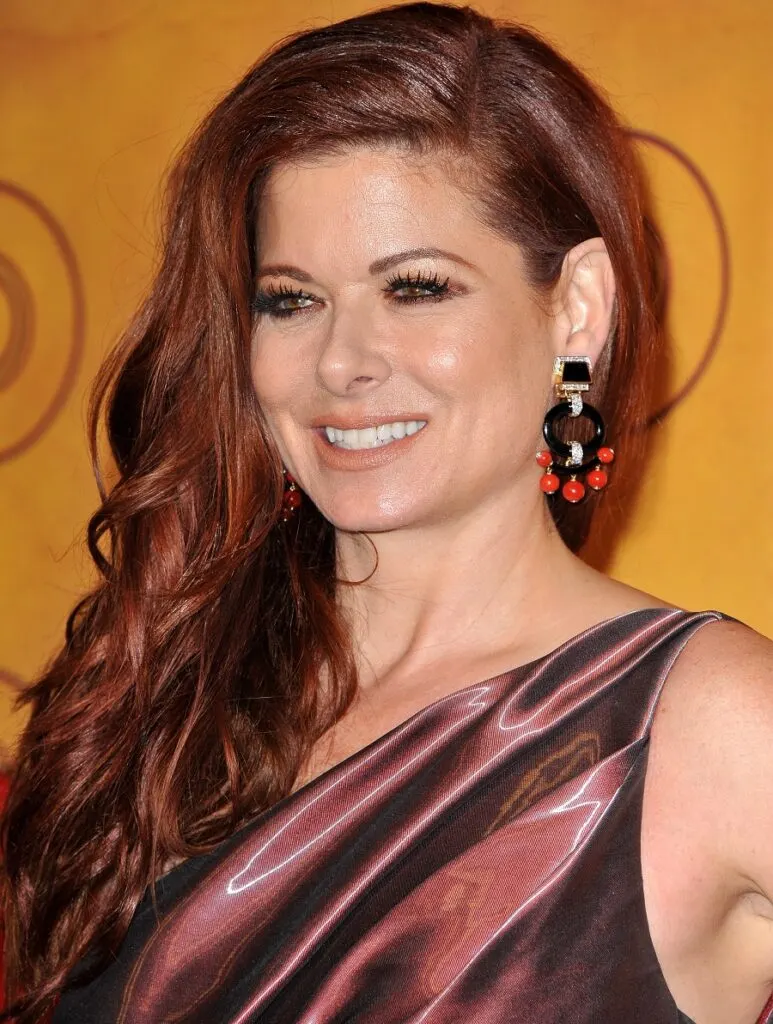 For alluring hairstyles, you can certainly expect Debra to deliver. Her side-parted hair and loose and sexy waves are always the winning combinations for va va voom hairstyles, but she took it to the next level by pairing it with an enchanting auburn hair color.
8. Deirdre Lovejoy – Pumpkin Lob with Curtain Bangs
With its ideal length, Deirdre's hairstyle is one simple look that you can effortlessly wear every day.
The good news is you can easily make this hairstyle worthy of a second look by adding face-framing curtain bangs and an eye-catching pumpkin hair color.
9. Dina Meyer – Warm Medium Copper Culy Half-Updo
Thanks to its messy curls and beautiful color, Dina's shoulder-length hairstyle is the perfect option if you want a fun and carefree look.
The loose and messy curls will give you that youthful vibe while the warm medium copper shade brings out the rosiness from her cheeks.
10. Jamie Luner – Copper Red No-Part Hair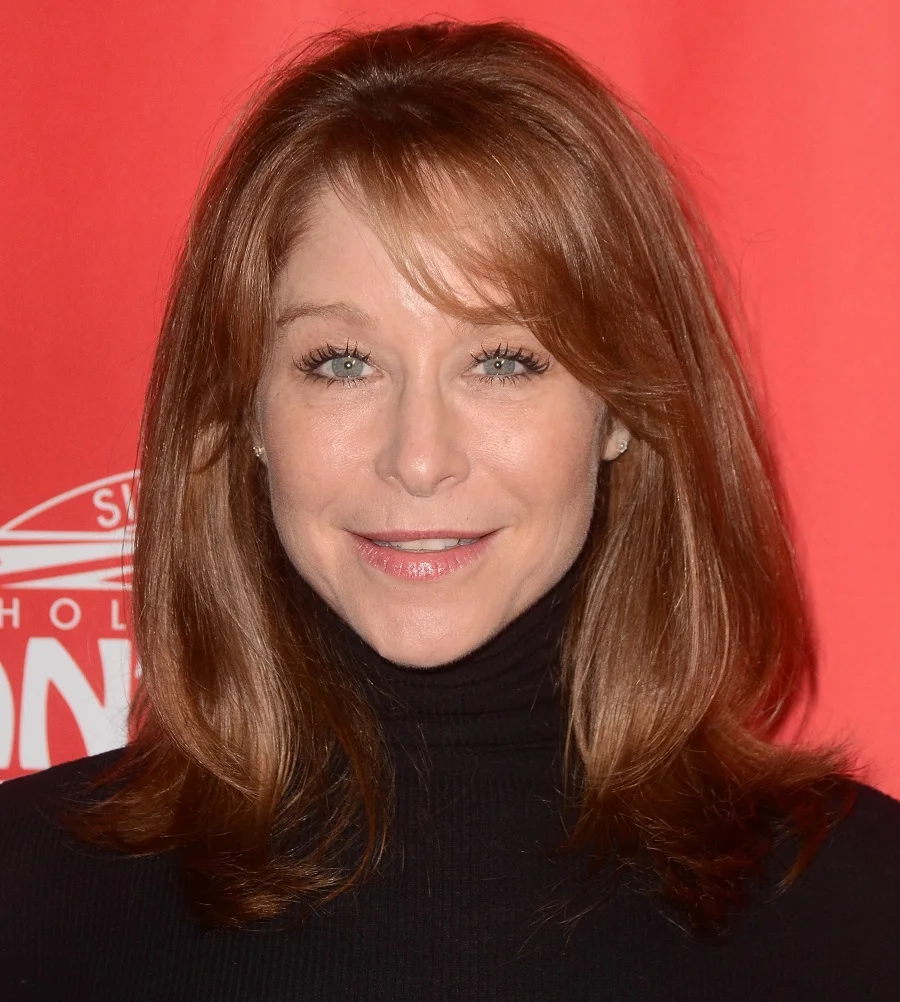 Jamie is one of the red-head actresses over 50 who styles her hair well. Her copper reds are often complemented with a few strawberry blonde streaks which boost her hair texture and dimension.
Not only that, but she's also brave enough to try the partless trend which is the perfect hairstyle for drawing attention to her beautiful face.
11. Judith Hoag – Auburn + Copper Messy Updo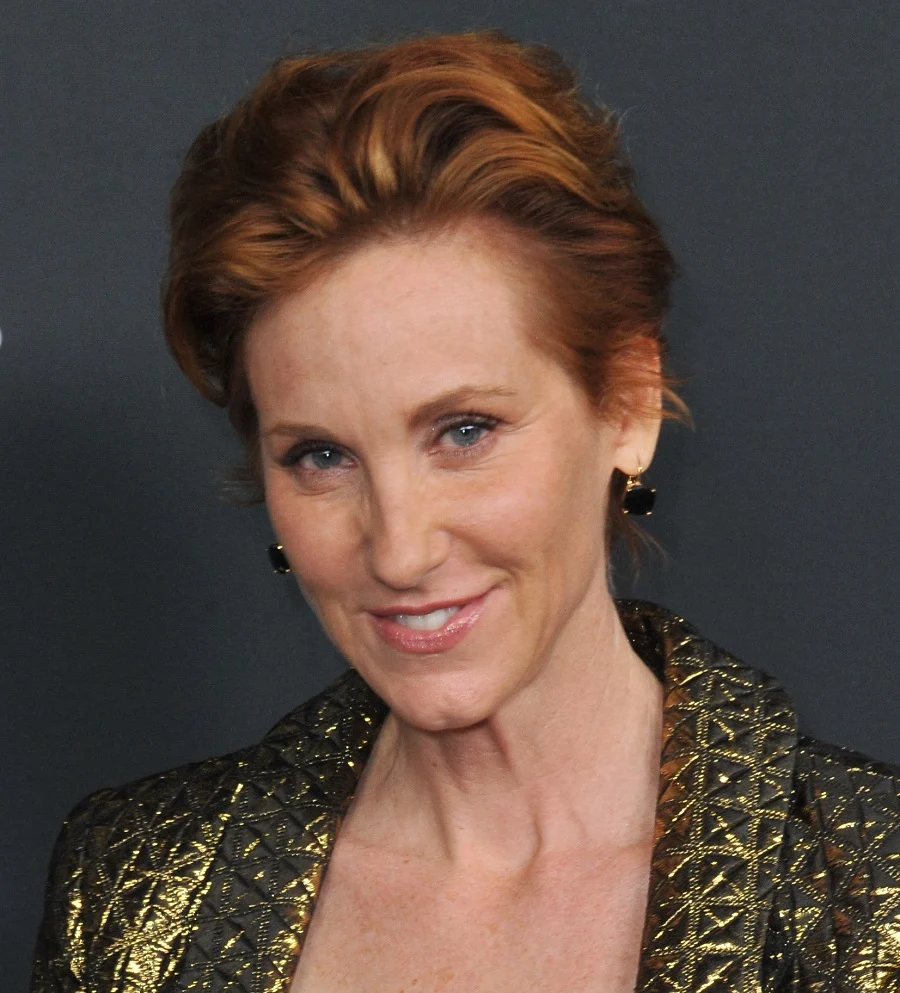 If there's one red hair combination you shouldn't miss out on, it would be the Auburn and Copper duo. That's because the copper streaks give the dark auburn a brighter and more vibrant look. Judith's messy yet attention-grabbing updo proves that.
12. Julianne Moore – Cinnamon Red Low Ponytail
Julianne is one of the iconic actresses over 50 wth red hair, but did you know that she's actually a natural blonde? This just proves that she knows a good dye job when she sees one, and this cinnamon-red hair color is not an exception.
The perfect balance between the brown and red hues gives her hair a rich and warm appearance that perfectly complements her pale skin tone.
13. Julianne Nicholson – Light Reddish Brown Lob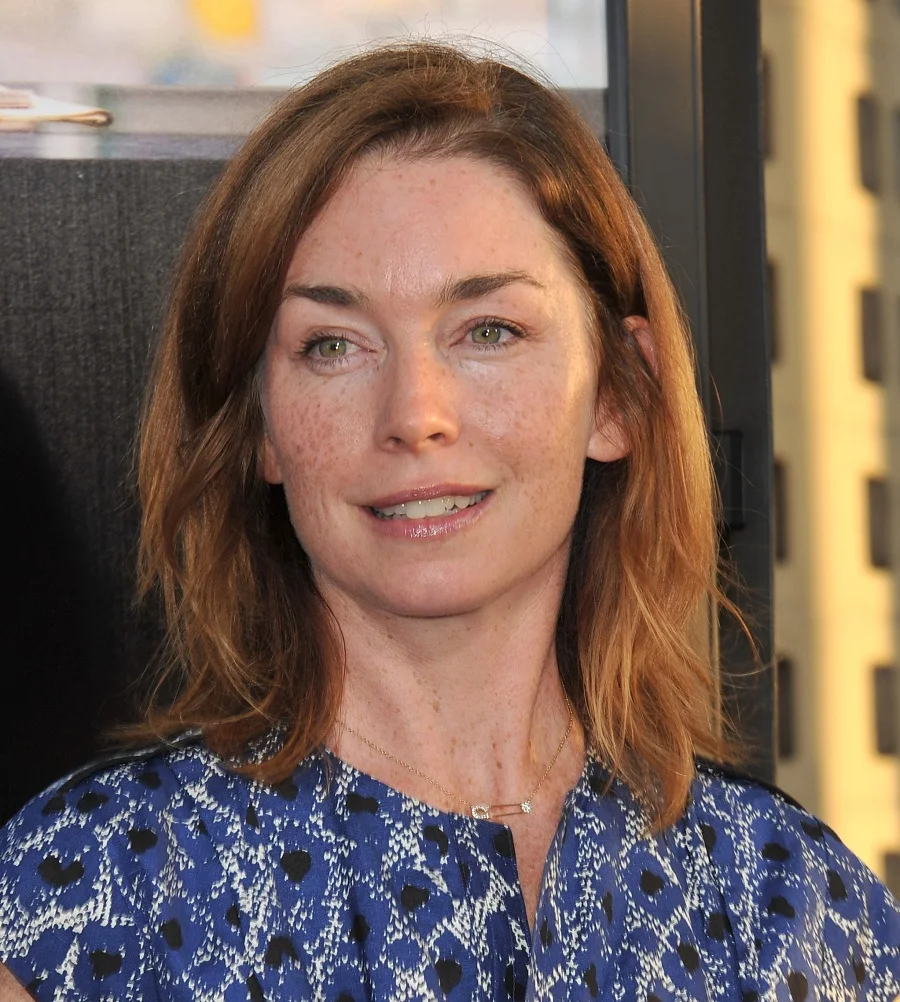 For a more tamed-down red hair color, this light reddish brown hair color is your best bet. This red hair color has brown tinges and a touch of blonde that shines perfectly when the sunlight hits it.
14. Kate Walsh – Bold Red Long Curly Hair
With her bold fiery red hair, Kate will certainly be the center of attraction when she steps into any room.
Her vibrant red shade is what you need to be the apple of everyone's eye, but please keep in mind that a hair color as bright as this one will require lots of maintenance.
15. Khrystyne Haje – Ginger Loose Waves
Khrystyne's gorgeous waves are just what you need if you're going for that girl-next-door vibe. Her loose waves are fun and bouncy.
On the other hand, her ginger hair color brightens them up and makes her look like a ray of sunshine.
16. Lauren Holly- Reddish Caramel Wispy Pixie Cut
Lauren takes reddish brown hair to a whole new level with her reddish caramel hair color.
Reddish caramel has lots of honey blondes mixed into it which gives it that luminous glow that you can't find in the reddish-brown hue.
17. Marcia Cross – Bright Red Shoulder-length Wavy Hair
With her bright red hair shade and wavy hair, Marcia doesn't have to worry about trying out trendy hairstyles.
She doesn't need any choppy layers or wispy fringe because fiery red hair already does a great job of making her stand out.
18. Megan Mullally- Deep Auburn Short Hair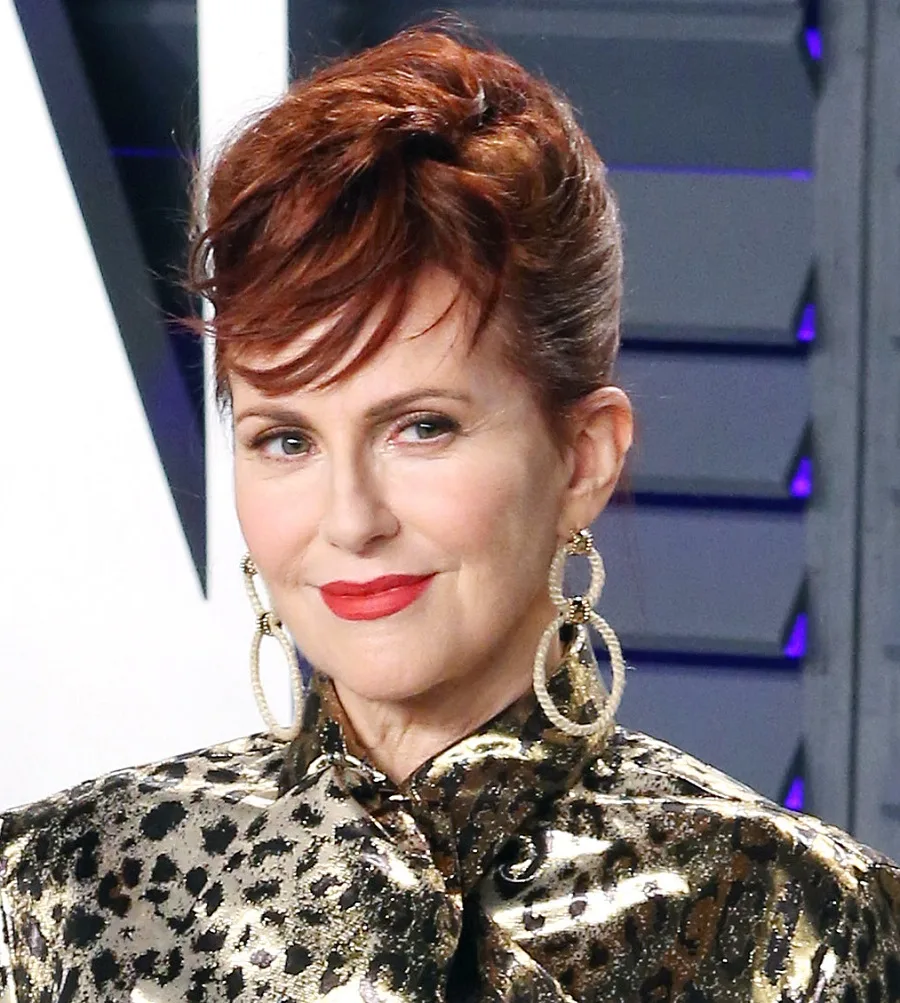 Megan made the headlines when she debuted her sleek and stylish updo during Vanity Fair's Oscar Party.
Since her hairstyle is on-point, from her pointy bangs to the shape of her updo and her flatter deep auburn shade, we can say that it's worth the hype.
19. Molly Ringwald- Dark Auburn Wavy Shag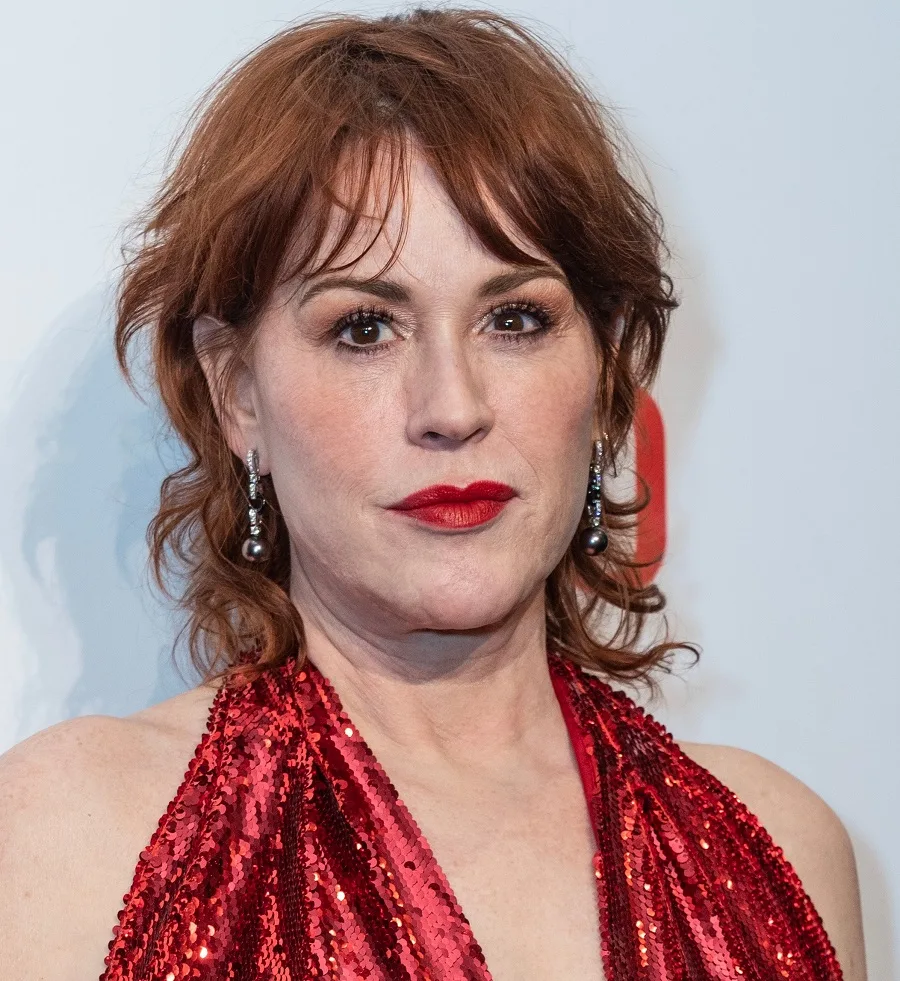 Molly is one of the red-headed actresses over 50 that's not afraid to try out trends, and this wavy shag is proof of that.
Her wavy shag may seem a bit young for her age, but she made it work by making the layers thin and wispy. Not only that, she also opted for a darker shade of auburn which worked well with her fair skin tone.
20. Nicole Kidman- Long Copper Red Hair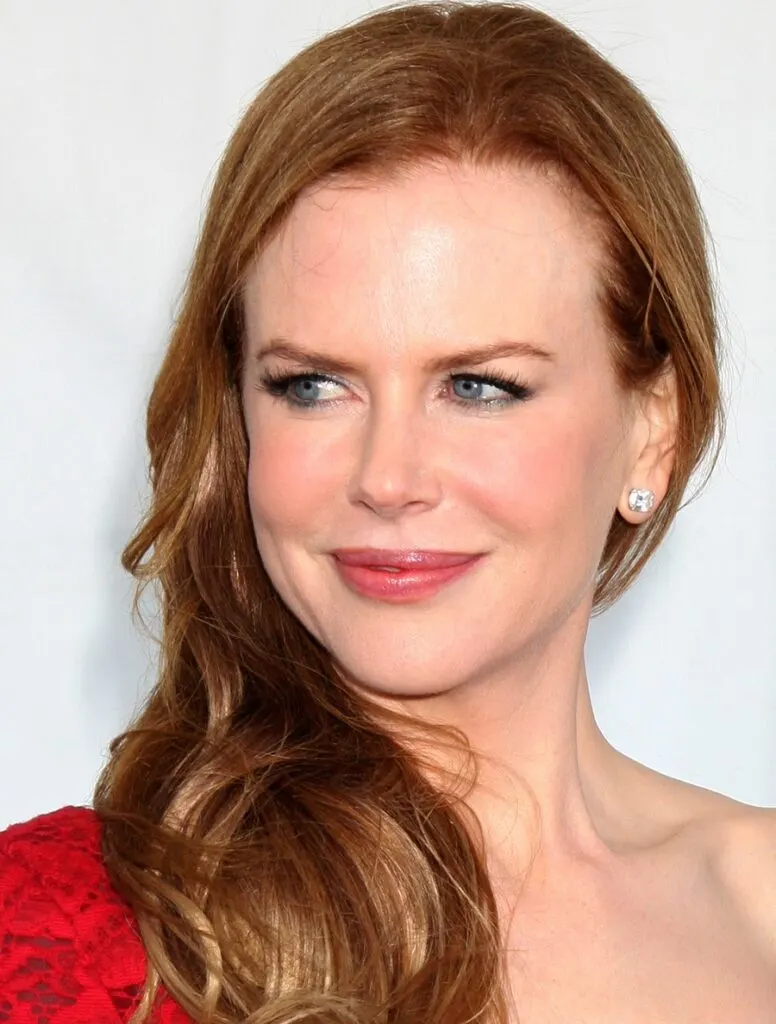 If you wish to keep things classy and elegant, then Nicole should be your next hair inspiration. Even while walking down the red carpet, she stuck to her timeless long wavy hair.
Lucky for her, she has her ever-reliable copper red hair color to give her look the oomph that it needs.
21. Raelee Hill- Wavy Vintage Copper Lob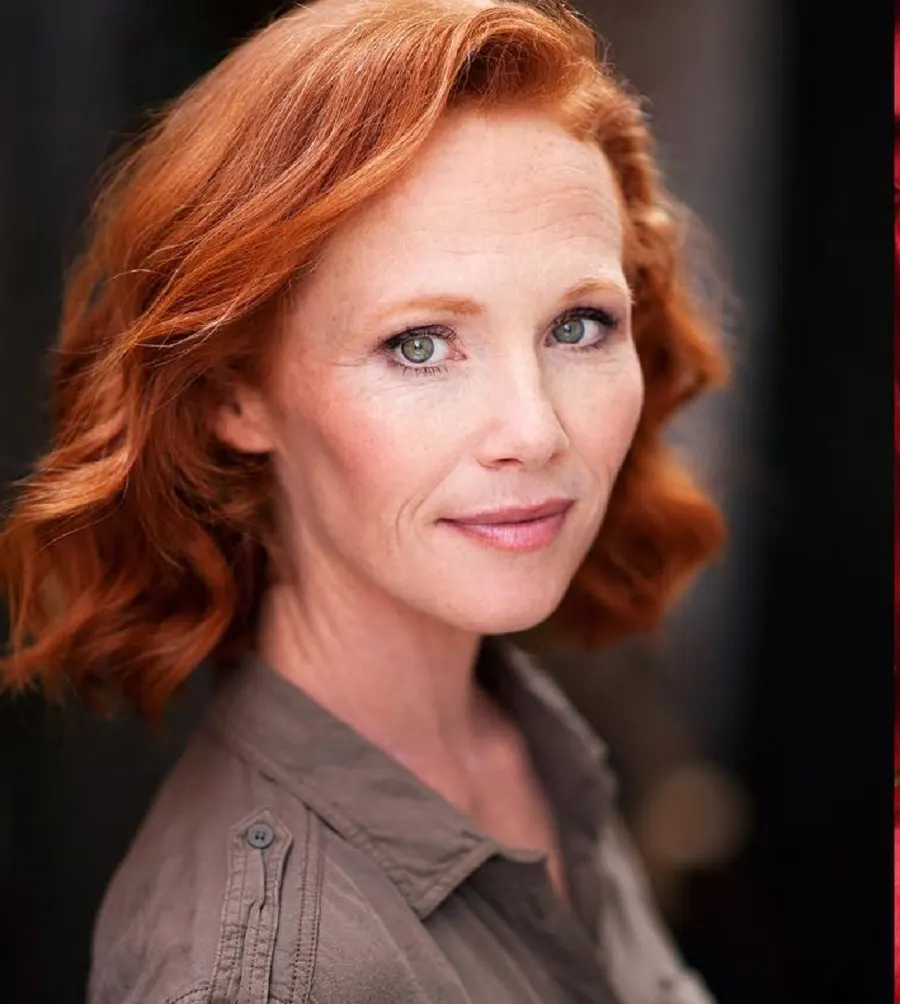 Or you can go for a vintage hairstyle which is exactly what Raelee did. Her vintage wavy lob is also a stylish way to make her hair look a lot more voluminous. The copper hair color also brightened her complexion and softened her wrinkles.
22. Reba McEntire- Irish Red Blow-waved Hairstyle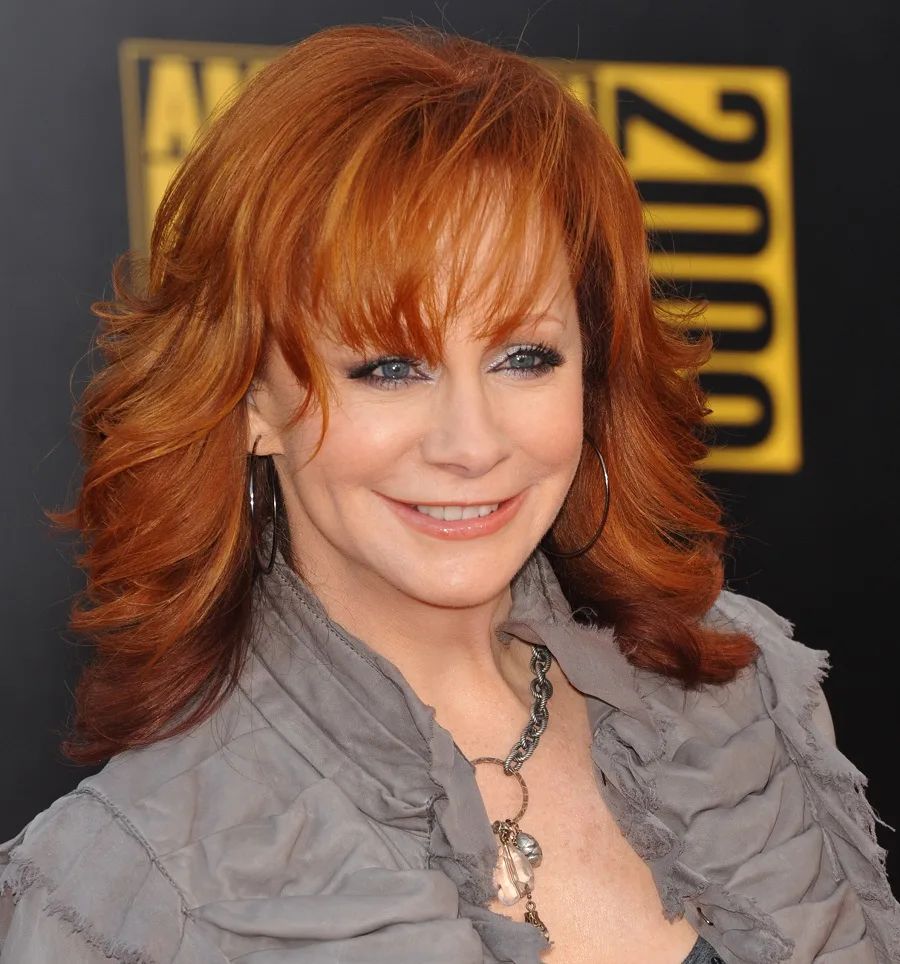 Reba is one of the redhead actresses over 50 who's not afraid of colors. And if you have the same fair complexion as hers, then you should also give her Irish red hair a try.
You can also copy her blow-waved hairstyle which is perfect for opening up your face and highlighting your best facial features.
23. Rebecca Wisocky- Light Auburn Curly Updo
Rebecca's curly and messy updo is a refreshing take on the usual classic updo. Her curly strands added a fun vibe to the look while her loose strands framed her face and emphasized her gorgeous jawline.
24. Robyn Lively- Dark Pumpkin Spice Curly Half-do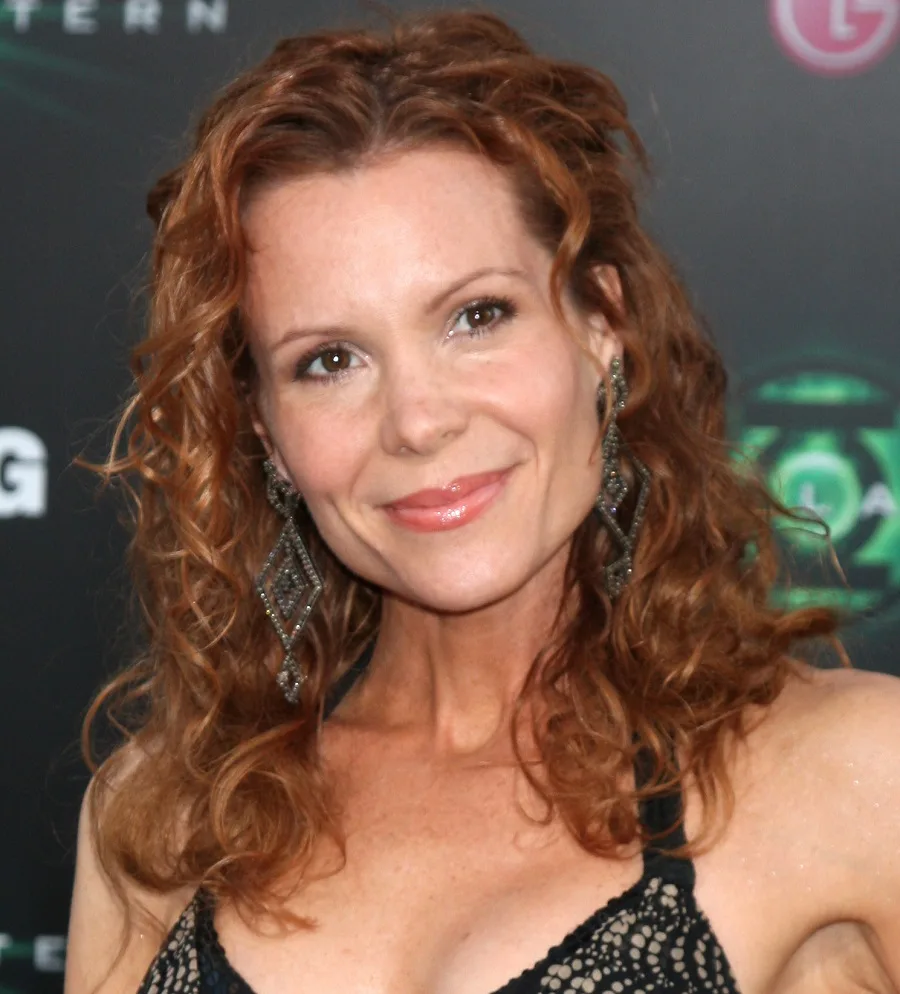 For a more subdued take on reddish-orange color, you may want to try Robyn's pumpkin spice hair color.
Since it has gold, warm brown, and copper undertones, it's much more nuanced than the usual red-orange color but still a lot more vivid than your classic auburn.
25. Shirley Manson- Dark Orange Blunt Lob + Long Bangs
Even if you're over 50, you don't have to rein in your inner rocker chic, and Shirley shows us how it's done.
Her blunt straight lob accentuate her facial features while the long bangs gave her look an edgy flair. And let's not forget her dark orange hair color which is a fun take on the usual red hair.
These red headed actresses over 50 have gotten the red hair look down pat, so go ahead and follow their footsteps, so you can rock this look too.