Brown hairstyles can be adapted to suit women over 50. As you grow older, your hair should go lighter, not darker, if you want to appear younger. And you are probably wondering why? Because this shaded complexion emphasizes your fine lines and wrinkles.
Trendy Brown Hairstyles for Women Over 50
You can opt for any hair color you want when you are young because there are no imperfections on your skin.
Unfortunately, when you grow older, the color palette is more restrictive, so the basic brown is not safe for you anymore. However, you can adapt this hair color to your age and make it look glorious on you with just a few enhancements!
If you're over 50 and looking to color your hair brown, below you will find everything you need to know about making yourself look younger and cooler!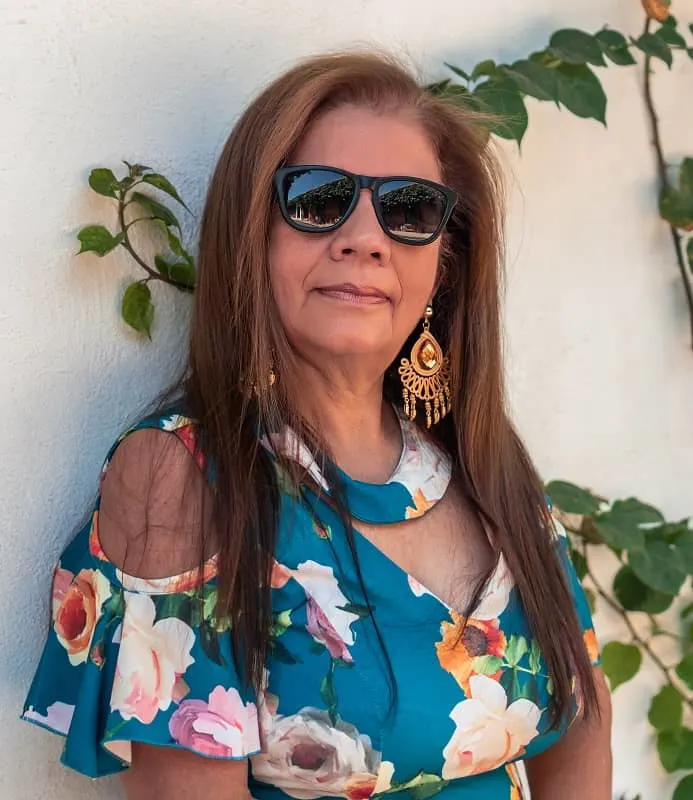 The way you choose to style your hair when you are a woman over 50 will make you look younger or older. Opt for light nuances of brown, and if you have long hair, consider layering and straightening your hair. Also, those sunglasses are a bonus point!
2. Classy Updo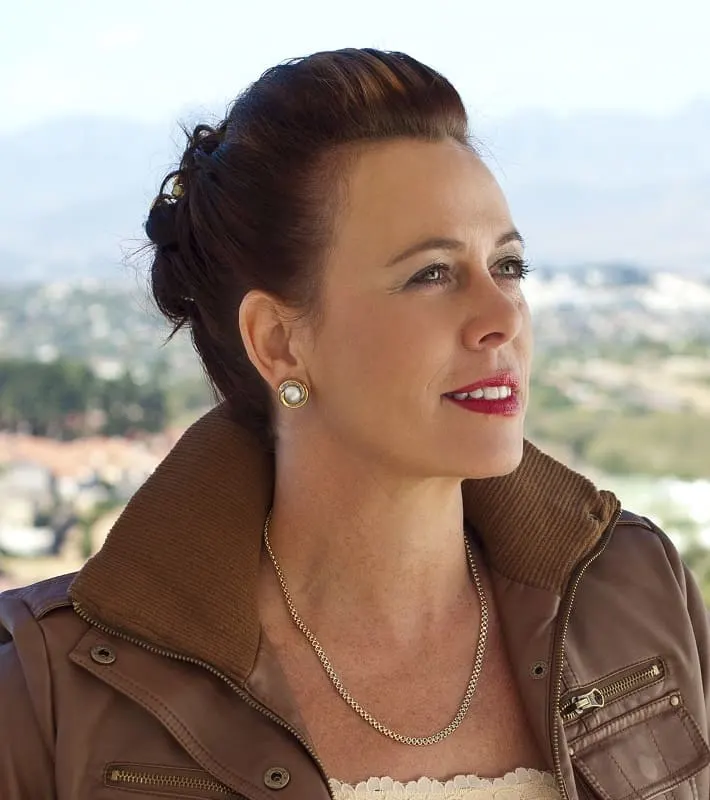 However, if you need to look classy and define a particular feature, like your eyes, you might consider a dark brown hair color. To soften it up a little bit, create some highlights. Pin the hair in the back in a bun.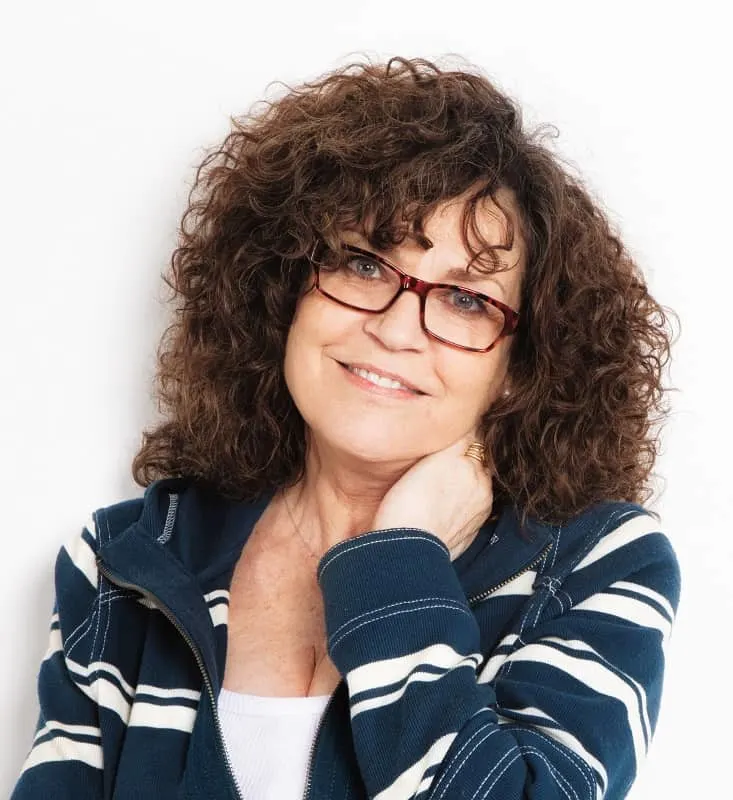 Curly hair can make you look so mature, but not if you style it right. Opt for a brown hairstyle that involves a side part on curls and lots of layers. Opt for warm highlights to give your hair more softness. Choose your glasses in a close nuance to your hair.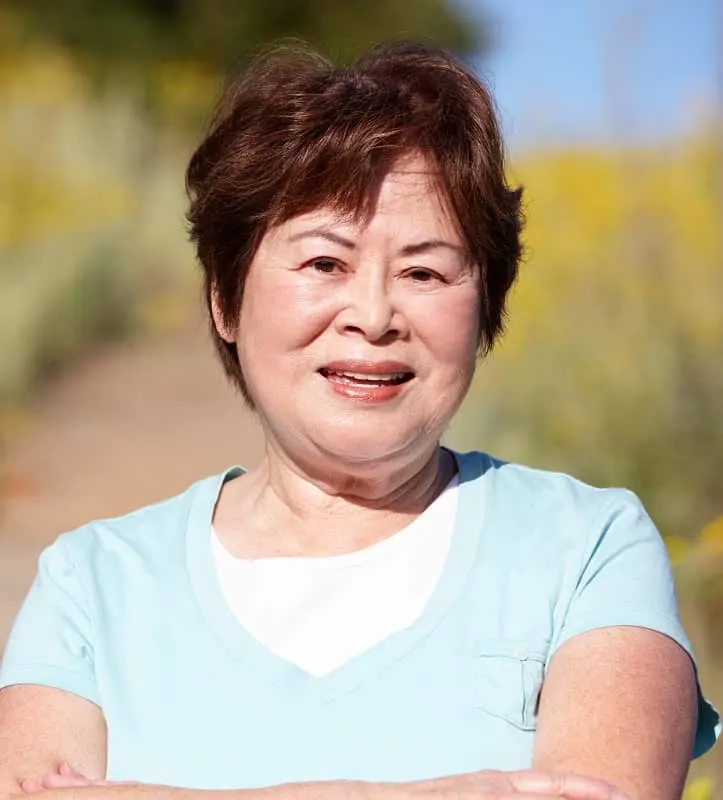 This short haircut is ideal for over 50 women who don't want to spend too much time styling their locks each day. Brown is a low-maintenance color, and you will only need to redo the roots once they grow.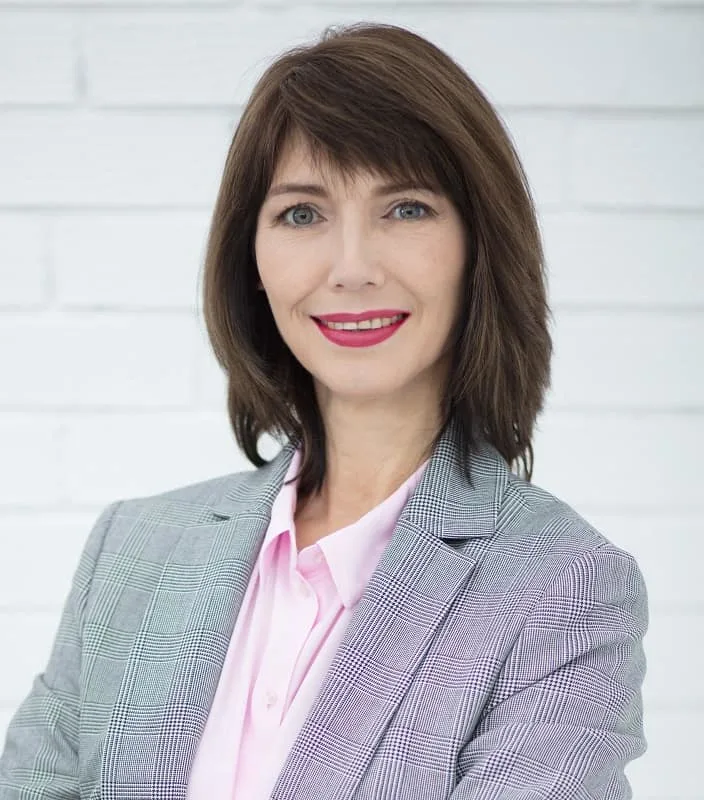 As a woman with fair skin, you need a brown hairstyle that matches your tone. Opt for a color that shows off your complexity. You can also frame your features with asymmetrical bangs that are slightly tossed on one side of the forehead.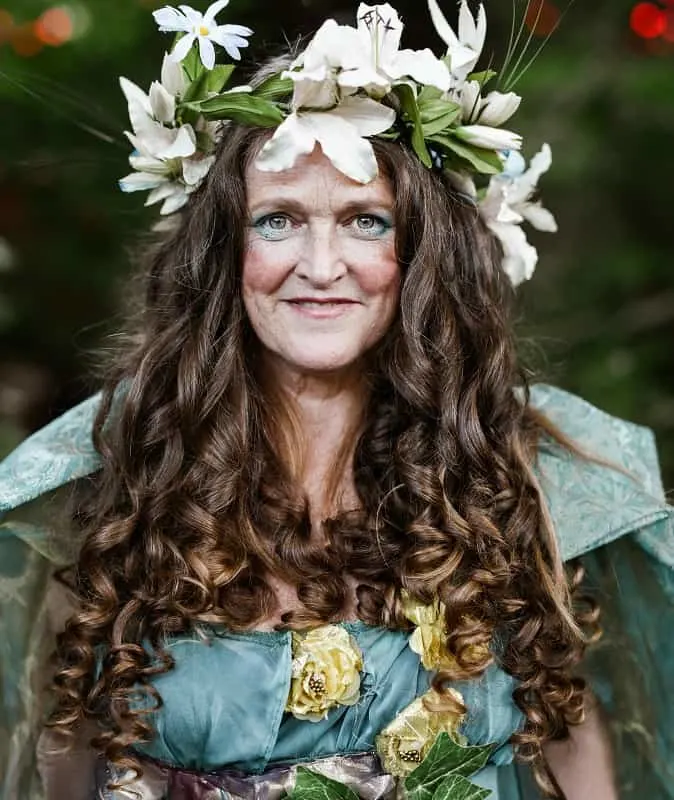 Embrace your white threads and let them grow. To make the transition look smoother, dye the ends in a warmer brown nuance. Layer and curl your hair. Feel free to experiment! Once the white hair becomes denser, you can dye them or enlighten your whole hair.
7. Red Wine Brown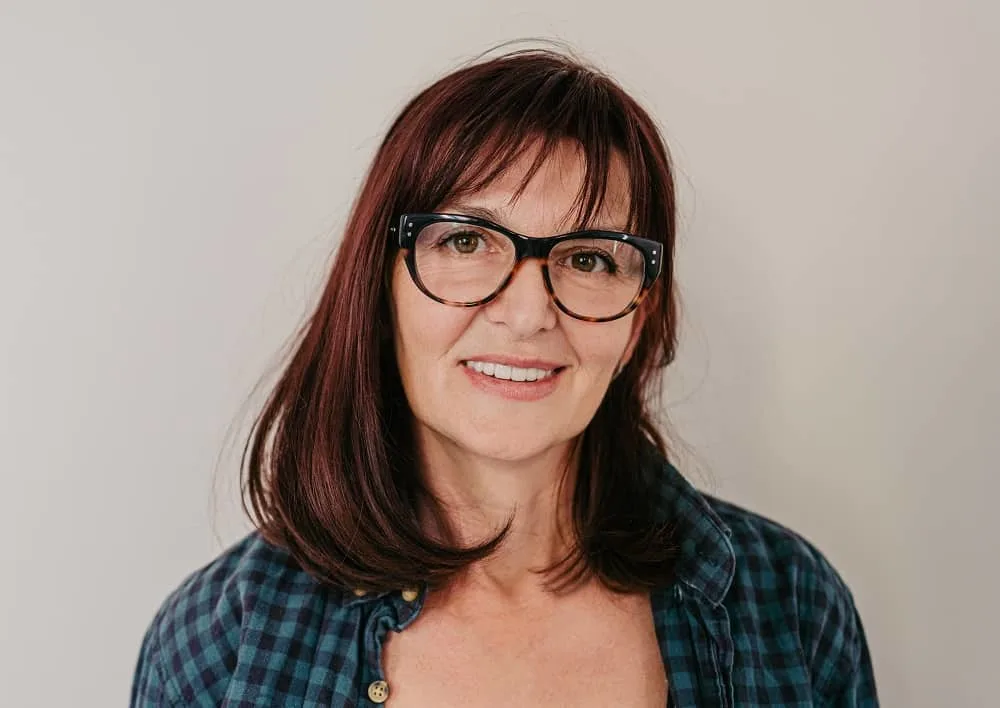 A brownish red wine hair color will beautifully suit you. Choose a haircut with wispy bangs. To style it, use a rotative round brush and a blow-drier to arrange the ends inwards. Your glasses should also suit your hairstyle and skin tone.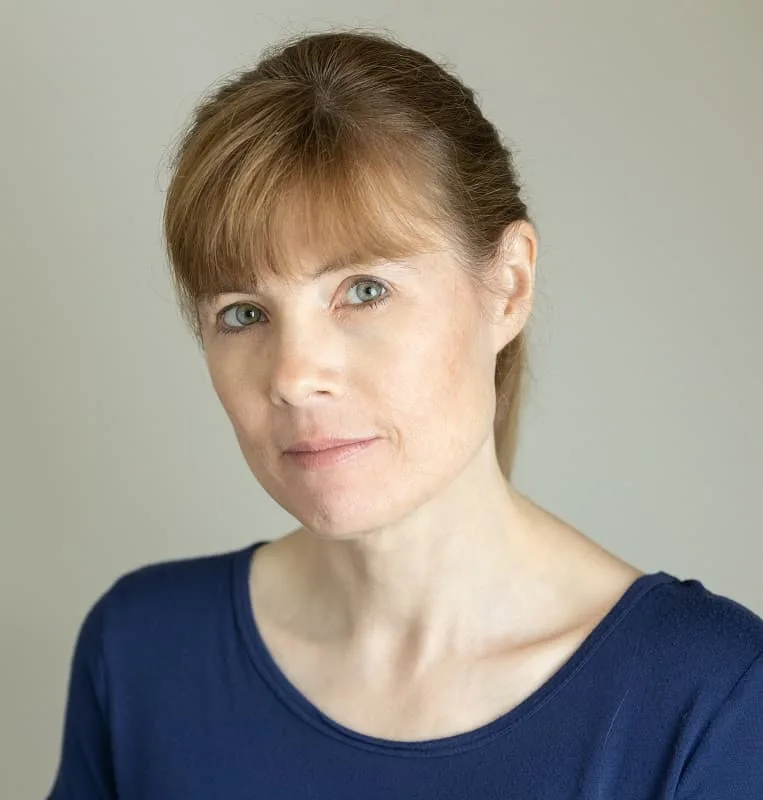 Choose a hair color from the light brown nuance scheme. A sandy brown or a light caramel might be a great choice for you when you have fair skin and green or blue eyes. By using such nuances, your aging signs will look smoother.
9. Curly Cinnamon Brown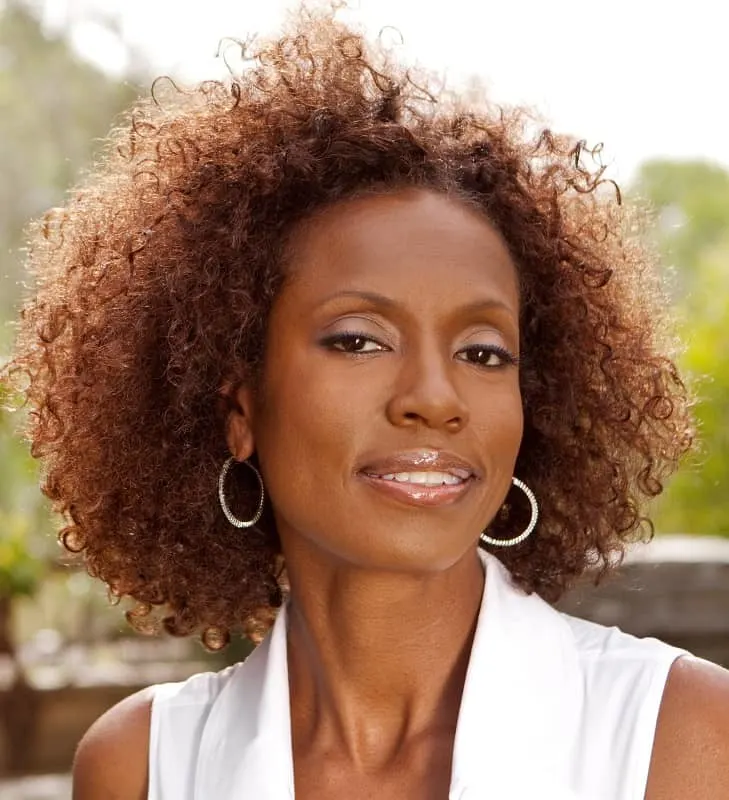 Cinnamon brown hair color will certainly spice things up in the color department. As a black woman who wants to look classy, modern, and cool, this nuance will fit your skin color like a glove. Use a small pinch of your fav hair balm to give those curls shape.
If you love wearing your hair long, get a layered haircut. Create an ombre that features dark natural root color and gradually enlightens into a delicious caramel brown color. It would help if you also had that va-va volume to rock your look.
The brown hair colors for women over 50 spectrum includes so many magical nuances that all sorts of skin tones can use. The light brown gamma is the most recommended since it consists only of warmer nuances.
These tend to smoothen aging signs, are very modern, and will make ladies look cool and with no care about their age. But if you fancy medium or darker brown shades, you can always choose mahogany brown, dark copper, or cappuccino nuance. Just make sure you carefully place some highlights to lighten the whole look.