Nothing beats red when it comes to hair colors, outfits, or makeup! And if you are thinking of changing your hair shade, this fiery color is worth a shot. It has so many tones to choose from, and each one will set you apart from all the blondes and brunettes around you.
In general, light shades of red, such as copper and strawberry, look best on pale skin tones, whereas darker nuances, such as mahogany and cherry red, look best on darker skin tones.
Now, before you go red, go through the following list of red-haired female singers to get some inspiration.
KEY TAKEAWAYS
Red hair proves to be a unique and striking hair color in the music industry.
There are many talented and successful red-haired female singers like Mick Hucknall, Jenny Lewis, Florence Welch, Lindsey Stirling, Shirley Manson, Nicola Roberts, Stevie Nicks etc.
These artists have made a name for their amazing voice and not for their fiery red locks. But the red hair gave them the bold look they deserve.
Their success in the music industry serves as inspiration for aspiring red-haired singers and for gave the red hair color a fresh popularity among the hair color geeks.
Loose waves, choppy bob, bold pixie, sleek and straight, half up and half down, curly updos, curly bangs, layered bob, adding highlights of various color with the red is the most common hairstyles seen among the redhead female singers.
Red hair is often associated with fiery personalities and boldness. You can truly sense that in the female singer's powerful voice and performances.
Go for red if you want to achieve such boldness in you too!
Female Singers Whose Red Hair Matches Their Talent
These music icons are here to teach you how to rock red tresses like no one else!
1. Bonnie Raitt – Ginger Red Waves
Bonnie Raitt is ranked among the 200 greatest singers of all time and is truly an inspiration for elderly women who think red hair is for young girls only. The singer dyes her mane in a ginger-red tone while sparing a chunk of her naturally white hair at the front. Iconic!
2. Karen Elson – Deep Copper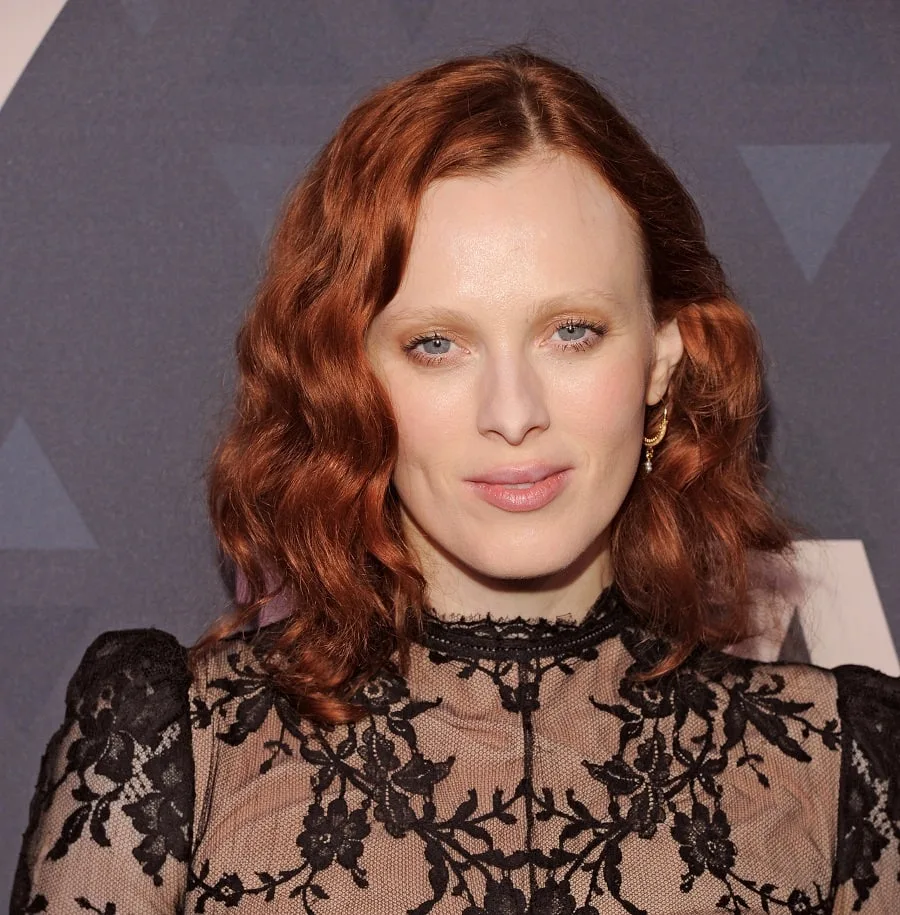 This English model and songwriter knows how to make her deep blue eyes and fair skin pop with red hair. Although she is a natural redhead celebrity, she often darkens her strawberry blonde tresses to a deep copper tinge and flaunts them with some loose beach waves.
3. Hayley Williams – Orange Fire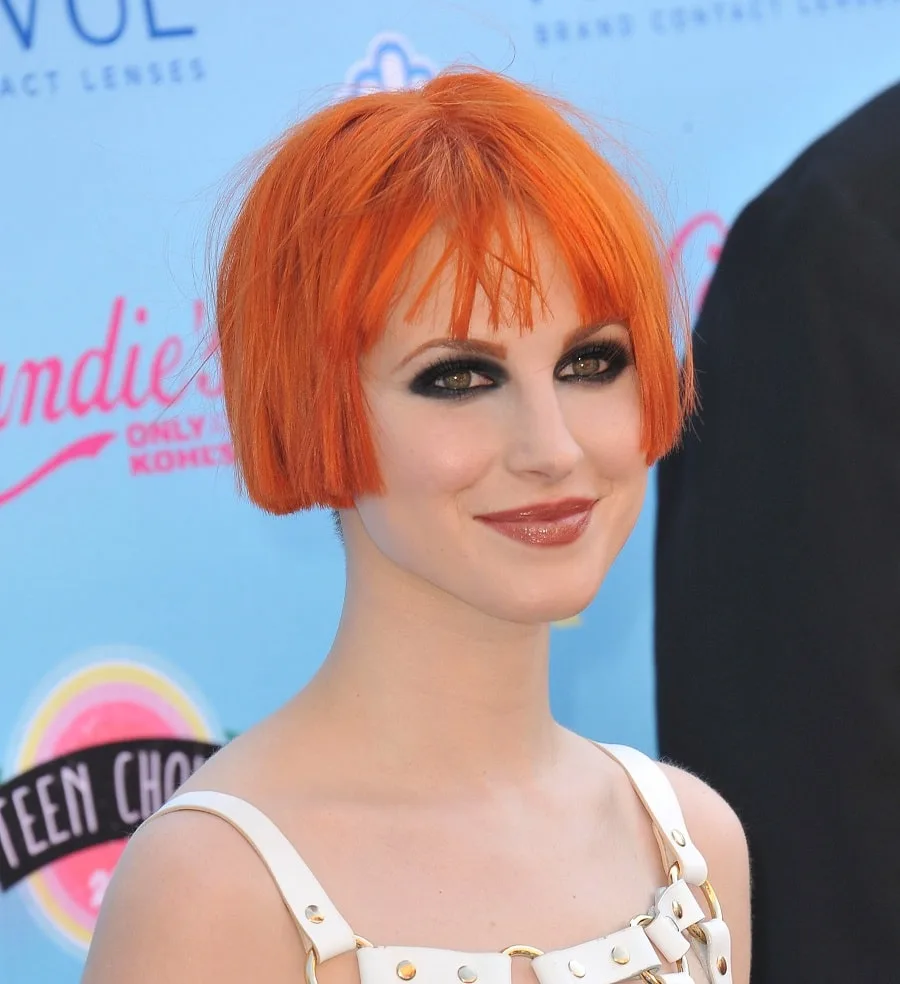 Hayley Williams is another female singer with red hair you can look up to if you want more of a rock star appeal. She debuted a super short blunt bob with straight bangs at the Teen Choice Awards and set her look on fire by dying her blonde locks bright orange.
'The Queen of Country' has sported red locks her entire life. Reba wowed everyone on the red carpet by opting for copper blonde streaks on top that faded into a burnt orange tinge before turning reddish brown near the tips. Those who love ombre hair should definitely give this look a try.
5. Rihanna – Poppy Red Victory Rolls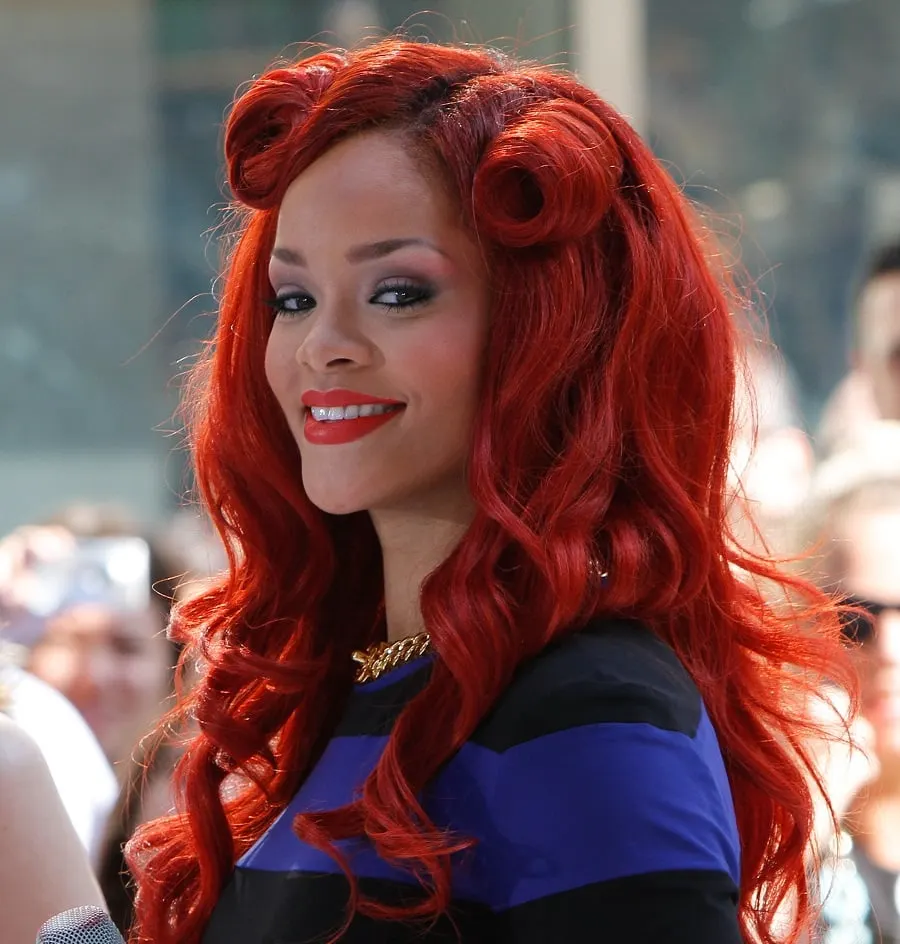 The Barbadian sweetheart, Rihanna, is well-known for her bold choices. She is often seen rocking many eye-popping hair colors but her hairdo for the Today Show truly left her fans stunned. She accented her caramel brown skin tone with bright poppy red curls and retro victory rolls at the front. Sexy!
6. Florence Welch – Auburn Glam
Florence Welch is naturally a brunette who has nailed red hair perfectly over the years. She put her green eyes on full display with a subtly layered wavy lob and thick bangs and brought her look together with a medium auburn hair color. This versatile shade of red goes with all skin tones.
7. Nicola Roberts – Strawberry Sweetness
The British pop singer stayed in between light and dark tones of red with a dreamy strawberry-red mane that she styled into an elegant updo with bangs at the Brit Awards. The way her hair shade made her skin glow is just beyond words.
8. Geri Halliwell – Brick-Red Tresses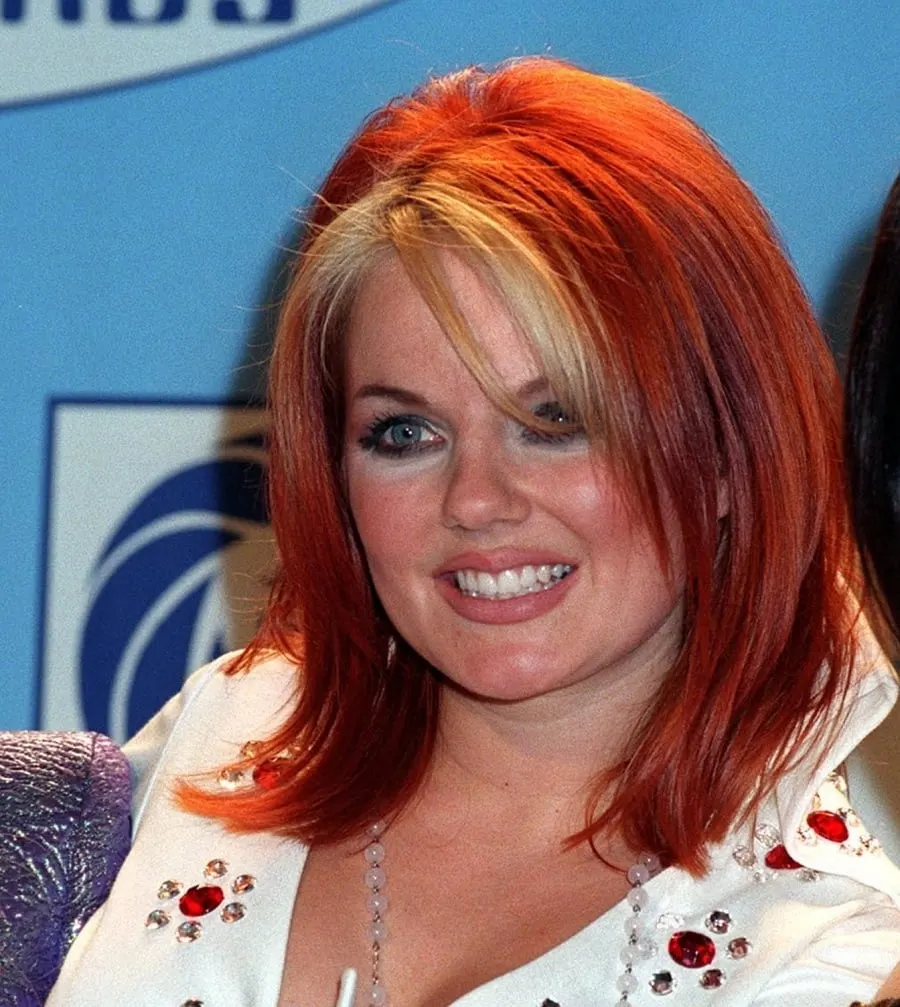 Geri Halliwell, better known as 'Ginger Spice' from 'Spice Girls', is without doubt one of the most popular red-haired female singers.
Her famous hairstyle featured a layered brick-red bob with a magical hint of blonde on those face-framing bangs at the front.
9. Shirley Manson – Garnet Lob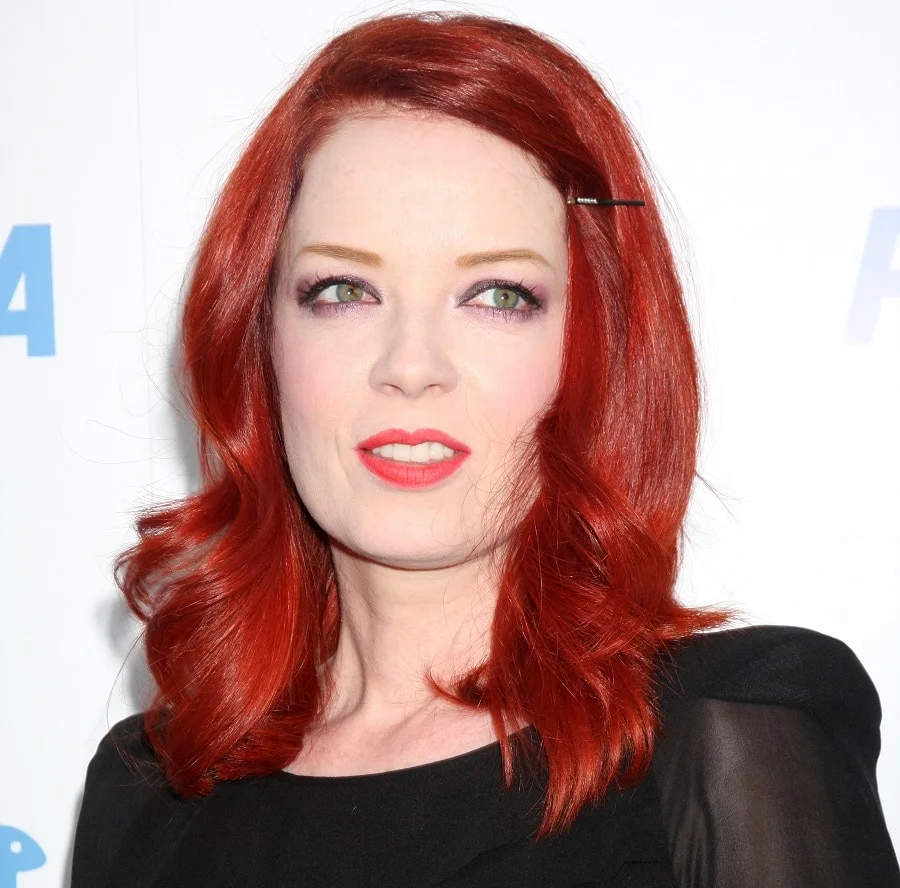 The lead singer of the American rock band Garbage switches regularly between pink and red tones when it comes to her hair. She shed off a few years at the PETA gala by sporting a bright garnet-colored lob with a matching lip tint. Keep the hair monochromatic, and you won't regret it!
10. Wynonna Judd – Flame Red Hair + Orange Highlights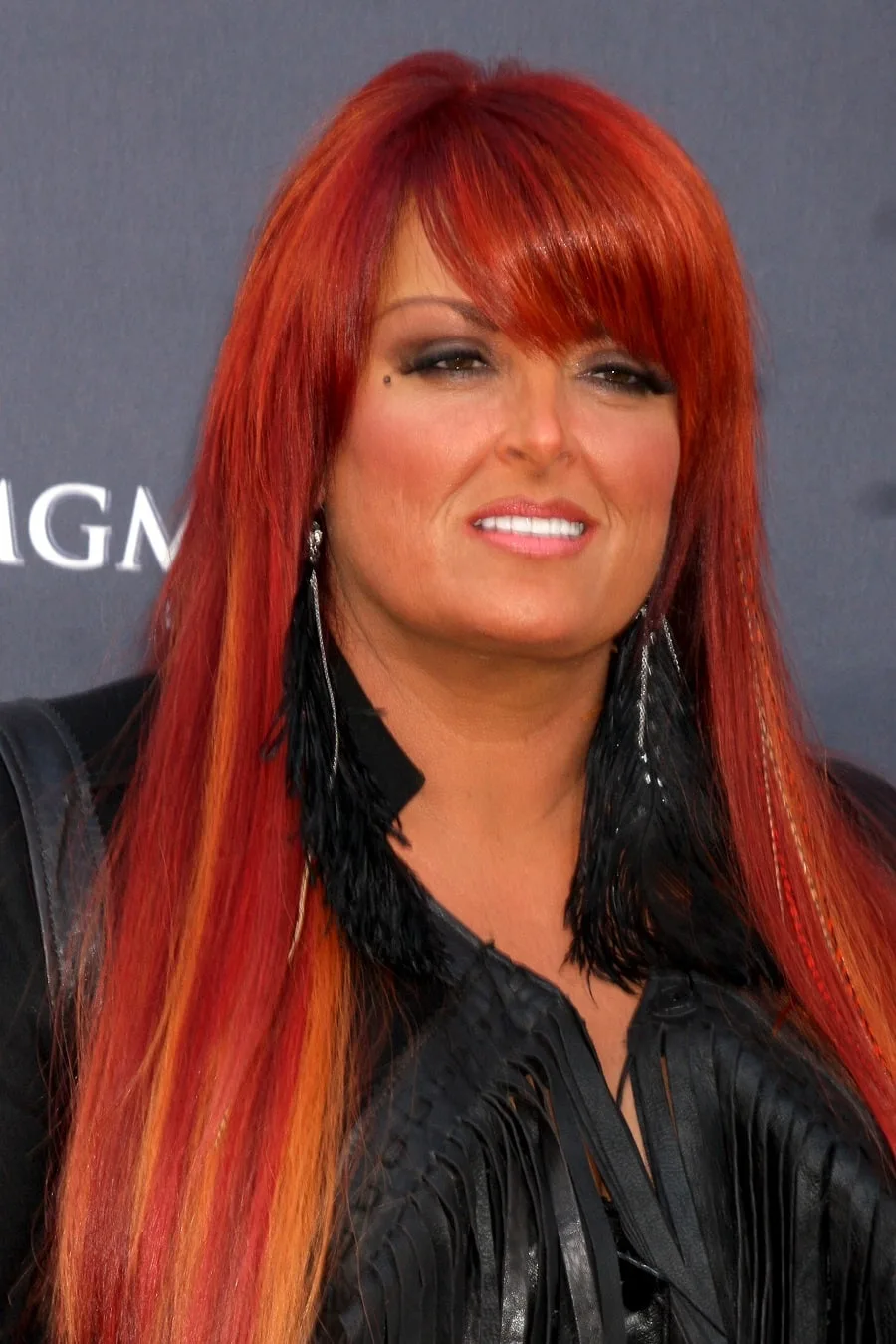 Set step into the world of redheads by recreating Wynonna Judd's renowned hairstyle. The female singer went for a flame red base and took things up a notch by adding chunky streaks of orange in between. Regular touch-ups are however essential to keep such colors popping.
If you have never tried a red hair color then you are really missing out. Choose your favorite singer with red hair from the ones mentioned above and show her look to your hairstylist. Get ready to turn around some heads!
Trending Topic