You may be over 50, but that doesn't mean you can't still be stylish! Medium hairstyles are always in because they're the perfect length – not too short or long.
As women age, many tend to go shorter for the low maintenance, but also because there is a plethora of fashionable styles to choose from. With or without bangs and no matter the color, there's a great medium hairstyle for every woman over 50.
Most Suitable Medium Hairstyles for Women Over 50
Depending on your face shape, there are a few tips for finding the right shoulder-length hairstyle. You'll need to consider what kind of maintenance you want – the more volume you want, the more time you'll spend styling.
If you have a round face or a large forehead, you will want to consider a medium hairstyle with side or curtain bangs for framing. You can browse the styles below or try a hairstyle app to experiment with styles before choosing.
1. Medium Hairstyle for Over 50 with Round Face
This medium haircut features natural hair color that blends into light blonde. A center part keeps the style simple while the slightly curled ends maintain style.
2. Medium Hairstyle for Over 50 with Glasses
By adding short layers to your medium hairstyle, you can create these choppy and textured body near the crown. Layers also help with flattering face framing and expertly complement women over 50 with glasses.
3. Medium Grey Hairstyle for Over 50
No need to keep buying box dyes when your hair starts to turn grey. This salt and pepper medium hairstyle is great for showing off thick curly hair.
4. Medium Thick Hairstyle for Over 50
Switch up dimension and distract from a wide forehead by adding a soft straight side bang to your medium haircut. Large waves from mid-shaft to ends make for super easy style.
5. Medium Length Hairstyle with Bangs for over 50
Instead of wearing your hair loose with only a center part, try cutting in bangs. This fringe is sort of unevenly cut but piecey, a soft touch to the thick body.
6. Medium Hairstyle for Asian Women over 50
Asian women over 50 tend to have thin hair and typically wear it straight. Switch style up easily with layers and wispy thin bangs.
7. Medium Hairstyle for Round Face over 50
A round or curvier face shape can look gorgeous with a medium length haircut. You may be over 50, but play with a light shade of blonde and medium bangs to feel youthful again.
8. Medium Hairstyle for Women Over 50 with Fine Hair
One of the best medium style contrasts for women over 50 with fine hair is filling the body with loose or tight curls and pairing them with straight sleek bangs.
9. Medium Length Hairstyle for Over 50 with Oval Face
No need to distract from your oval face shape at age 50 – just comb in a side part on your medium hairstyle, work in a bit of product, and you're done!
10. Medium Length Natural Hair
Women over 50 with natural black hair should embrace their texture and keep locks healthy by letting them flow free on a medium hairstyle.
For a lot of Hollywood stars, simplicity is a key to good looks. Take this hairstyle on Nicole Kidman for instance. Women over 50 can ace this medium hairstyle anytime.
Ideal for: All face shapes.
How to style: The simple lob with side bangs and slightly curled on the tips look breathtaking. A hairstyle like this can also serve as a great trick for ladies with a slightly bigger forehead. One other benefit is that it matches great with bright hair colors such as red or caramel.
There is nothing strange or wrong about wanting to look special on a special occasion.
Ideal for: Heart and square-shaped faces.
How to style: If you have a medium length haircut, then a great option for a special evening would be this hairstyle for over 50 that includes big curls at the ends of your hair and side-swept bangs. Match it with a gorgeous dress and you are sure to be the most elegant and sophisticated lady of the night.
You have straight layered blonde hair and you don't know what exactly to do with it. And you don't always have to do much because you can't really go wrong with straightening it. A classy way to style medium blonde hair for older women over 50.
Ideal for: Round and oval-shaped faces.
How to style: To add a bit of volume, you can tease it slightly and tuck a strand of hair behind your ear and sweep the bangs to the side. Who would have thought that it can be so simple?
14. Natural Afro Hairstyle
Having an afro is a gift. Many women tend to forget that sometimes and are not ready to embrace it. But those spiral, untamed curls just look magical.
Ideal for: All face shapes.
How to style: If you decide to proudly wear them, don't just leave them as they are. They are natural, but that doesn't mean that they don't require nurture and care. There are many products that you can use for styling them and maintaining their shape and shine.
We could all sometimes use a few quick solutions for a bad hair day. Even if it's not necessarily bad, busy women know how hard it is when you're trying to get work done and you're hair is falling over your face and getting in the way. A gorgeous way to style medium length hair for women over 50.
Ideal for: All face shapes.
How to style: Take two strands from the sides and tie them at the back so that you get the hair away from your face and still look great.
This one is one of those medium length hairstyles that are suitable for any woman over 50. It is also suitable for any occasion. It is romantic and it will let your true inner gentleness come through.
Ideal for: All face shapes.
How to style: For an everyday occasion you can leave it a bit messier and for a night out you can use some hair products to make every hair stay in place.
Chunky highlights are a thing. They create a specific texture in the hair and if they are done properly, they can look truly amazing. However, one thing to keep in mind is to always match hair color to the hairstyle. Not just young women but over 50 years old people can sport this medium hairstyle like a pro.
Ideal for: Oval, heart, and square-shaped faces.
How to style: If you have or are planning to get highlights like these, you should consider wearing them with your hair straight and cut straight just below shoulder length. We also suggest to part your hair in the middle because that way the highlights will frame your face beautifully.
18. Teased Hair with Curled Tips
Attitude is a very important part of everyone's personality. And everybody likes to see strong, proud and confident women. And your fashion and hairstyle choices can certainly help bring out that confidence and sophistication. Perfect shoulder length hairdo for over 50 years old.
Ideal for: Square-shaped faces.
How to style: A good idea for a blowout is to curl the edges of your hair outwards and to then tease gently the rest of the hair so that it doesn't lose its volume. Don't forget to use a little bit of hairspray to hold the hairstyle in place.
19. Cute Perm
Tight curls are kind of a statement. And they are great for women who don't want to have to worry about their hairstyle every single day. A spiral perm is a good idea for a permanent solution when it comes to good medium length hairstyles for over 50.
Ideal for: All face shapes.
How to style: You can experiment with bangs. Bangs that are shorter than the rest of the hair give the overall hairstyle dimension.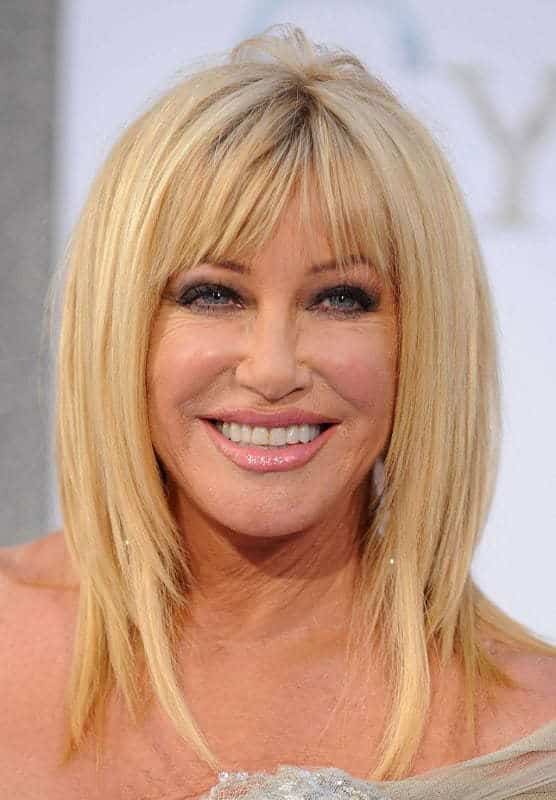 If you were not a fan of layers and you weren't a fan of bangs, then this hairstyle will change your mind. You will not be able to resist this cute medium hairstyle with bangs for over 50 years old women that will make you look a lot younger. Get ready to see all those surprised faces when you tell them how old you really are, and also to receive a few envious looks.
Ideal for: Oval and heart-shaped faces.
How to style: Straighten your hair with a hair straightener.
21. Shoulder-Length Curly Permed Hair
Big curls can also good really good on women over 50 with medium length hair. Especially if they are completely natural. A perm is also a great solution if you are looking for large bouncy curls.
Ideal for: Heart and square-shaped faces.
How to style: The curls are also great for busy women who often feel like they have to be at ten different places at once and don't have time for standing a front of a mirror and fixing their hairstyle every day, so there is no need to style at all.
For ladies that are bold and daring, this hairstyle is like a dream. Turning 50 is no excuse for not being ready for changes. And so what if the color of your hair is magenta, lilac, orange or green? Hair changes are a great way to show your creativity. You should wear it with pride and confidence.
Ideal for: Square and oval-shaped faces
How to style: A fun idea for the hairstyle is an uneven bob that is longer on one side and shorter on the other side. Curl gently the longer side and leave the shorter side straight and smooth.
Curls are very charming, and so are bangs. The two combined together may be great for ladies over 50 with oval-shaped faces and higher foreheads. Bangs will make the forehead look visually shorter and curls will be so flattering for the face shape.
Ideal for: Oval and triangular-shaped faces.
How to style: You can use a styling brush to style your bangs in whichever way you prefer, as well as some hair products.
24. All Natural
If we have to pick one thing to pronounce it the best advantage of medium hairstyles for over 50, it would be the fact that it does not require much attention.
Ideal for: All face shapes.
How to style: When you get medium shoulder-length haircut chances are that it is going to look good no matter how you style it. And even if you don't style it at all. Hair that is all natural can look great, especially because it is free of heavy products and high temperatures and it can regain its health.
If your face consists of harsh lines or it has a square shape, there are some hairstyling tricks that you can use to make it look visually rounder. A classy shoulder long haircut for over 50.
Ideal for: Square shaped faces.
How to style: One of the tricks is to cut the bangs to chin-length and curl them slightly inwards. That way they create a round shape around your face. The rest of the hairstyle can be left straight and simple and you will still look marvelous.
26. Sleek Low Bun
A bun had to find its way into our picks from medium length hairstyles for women over 50. We suggest the simplest version of a sleek low bun for an elegant look.
Ideal for: Oval and round-shaped faces.
How to style: Use some wax to make the hair sleek and role it into a simple low bun.
This is a shinier and more toned down version of an afro. This is a perfect mid-length hairstyle for older women.
Ideal for: All face shapes.
How to style: Use some wax or spray to set your curls.
Women over 50 who have very thick medium hair are often envied by other women. So it's very hard to believe that thick hair is not that easy to tame and maintain.
Ideal for: Square and oval-shaped faces.
How to style: A good idea is to curl it at the tips. Also, if you're into bangs, they can complete this look nicely.
This mid-length hairstyle for over 50 year old women speaks for itself.
Ideal for: Round-shaped faces.
How to style: Make really gentle waves, a part on the side, combined with nice bright hair color.
Beach waves and highlights are the ultimate trick of all women over 50 who look much younger for their age. An effortless and relaxed medium length hairstyle is a great choice for women over 50.
Ideal for: Oval and heart-shaped faces.
How to style: Apply some hair foam or a styling product on your hair while it's still wet, and while you're blow-drying it work it through with your fingers.
In this article, we have offered a variety of medium hairstyle ideas for over 50. You only grab a cup of coffee and a phone and make your next hair appointment.