When it comes to weddings, every detail counts, right down to your bridesmaids' hairstyles. This is where the ever stylish half up half down bridesmaid hairstyles step into the limelight.
With plenty of bridesmaid hairstyles to choose from, why opt for a half up half down style? This particular hairstyle can bring out the best features of the bridesmaids and also ensure a balanced and harmonious look.
Its versatility allows it to fit in with any wedding theme, from an elaborate royal wedding to a simple beach ceremony. It's also adaptable to different hair lengths, so bridesmaids with long, medium, or short hair look their best.
Still confused? Then check out these 20 exceptional examples of half up half down hairstyles for bridesmaids.
Half Up Half Down Hairstyles for Bridesmaids
1. Casual Half-Up, Half-Down
This style looks like it's right out of a fairytale movie. It's a playful look with carefree curls loosely pinned up with strands of hair flowing freely.
This half up half down hairstyle may seem wild at first, but it's perfect for bridesmaids at a garden-themed wedding.
Get yourself bold makeup and a sequined dress with tulle and flower details to create a beautiful, natural look with this hairstyle.
2. Bohemian Half Up Half Down Bridesmaids
When simplicity meets sparkle, you get a bridesmaid look that's traditional yet stylish. Sequin bridesmaid dresses are always a hit. Since these dresses are very shiny, you don't need an over-the-top hairstyle.
Just let your hair down in relaxed waves, and create a half-up, half-down style by pulling the sides back into a neat twist.
Add a few green sprigs for a touch of bohemian hairstyle. This look is perfect for bridesmaids at outdoor, garden, and beach weddings.
This is a cool half up bridesmaid hairstyle that your girls will absolutely LOVE. First, dye her hair with soft browns and shades of blonde and create dimension, depth, and a great base for this style.
The long hair is styled to one side, highlighted with a side braid, loose strands, and pink flowers for a boho feel. Don't just stop there! Curl the hair to add a deep wavy look to your hair.
4. Basket-Woven Half Up, Half Down Hair with Floral Accents
Another beautiful hairstyle for outdoor weddings, and honestly, we think the half up, half down style is perfect for outdoor events.
These lovely brown locks have been pulled away from the face in small sections and then pinned at the crown of her head in a basket pattern, what a cool design!
The long part of her hair has large barrel curls to add a level of glamour and then the style is finished off with small ivory flowers with green leaves.
5. Vibrant Pink
Bright pink hair might not be the first thing you think of at weddings, but when styled right it can look stunning.
It's a fun look and freestyle half up half down bridesmaid hairstyle. The hair on the sides is rolled into a halo at the back of her head, a glamourous gold hairpin is tucked in above.
6. Wavy Ginger
The beautiful long ginger locks are curled perfectly and styled in a half-up half-down style by braiding the sides in a halo around the head. Add a gold leaf halo headband to make sure it doesn't look too flat.
7. Twisted Bun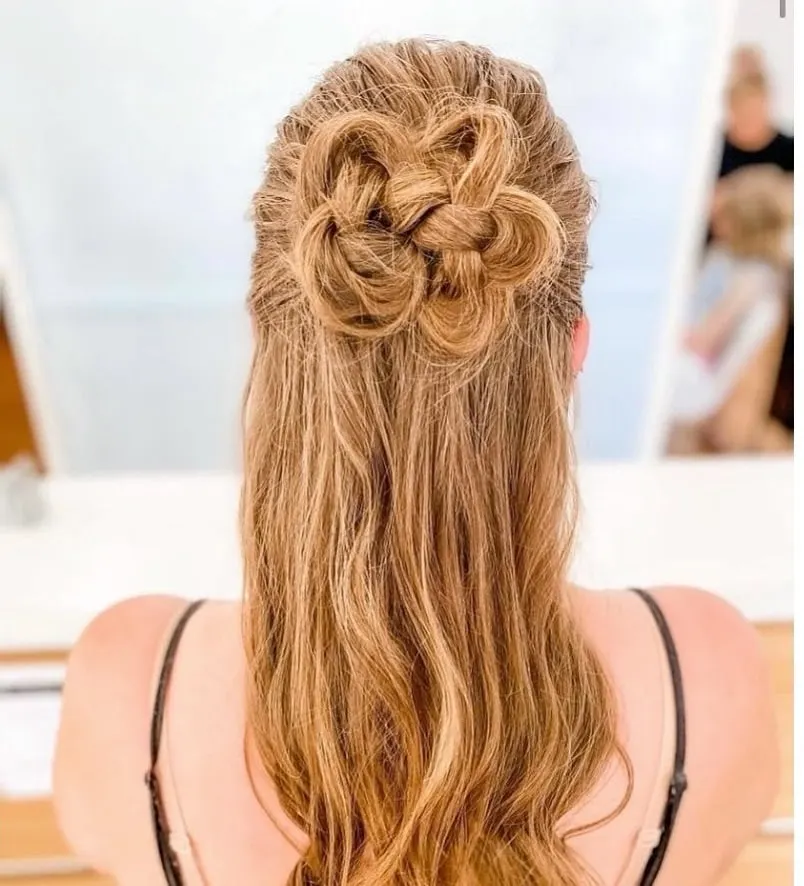 For a flirty bridesmaid hairstyle, half of the hair is tucked and pinned into a bun in the shape of a flower, then the rest of the hair is styled straight and left down. It's an elegant hairstyle that will look great with any type of wedding theme.
8. Half Up, Half Down With Natural Curls
Have you heard the phrase, "Go big or go home?" Well, how about going natural for your bridesmaid's hairstyle?
If you are an African American bridesmaid with perfect natural curls, let them flow on the big day. Pull half the hair back for a stunning half-up, half-down bridesmaid hairstyle. We love natural curls!!
9. Braids, Long Curls with Earthy Flowers
This is one of our favorite hairstyles! Long hair always looks so pretty when styled in a half-up and half-down manner and this bridesmaid hairstyle doesn't disappoint!
The sides are braided, and across the back of her head, the long locks have beautiful barrel curls, and then earthy flowers are tucked in just above the braids. It's romantic and ethereal.
10. Braided Half Up Half Down
Simply upgrade perfect beach waves into an elegant bridesmaid hairstyle by braiding a few strands of hair into a halo at the top of the head. This look is simple, yet it has a touch of romance.
11. Glamorous Half Up, Half Down Wedding Hairstyle
This style isn't just for the bridesmaid; even the bride's mother can try this. It's a striking hairstyle with a braid, followed by a pinned and tucked bun at the top of the head. Everyone is sure to love this.
The soft touches of blonde scattered throughout the hair add a beautiful touch to this bridesmaid's hairstyle.
12. High Ponytail
Another beautiful bridesmaid hairstyle that is easily created with some soft curls, a high half up half down ponytail, and loose tendrils of hair around the face. It is a lovely hairstyle that works well for bridesmaids or brides.
13. Vintage Bridesmaid Hairstyle
For all lovers of vintage style, this half up half down bridesmaid hairstyle is for you. It starts with a beautiful hair color with a touch of grey and lavender, soft barrel curls, and a side braid, and is finished with a vintage brooch as a hairpin.
14. Fishtail Braid Half Up, Half Down Bridesmaid Hairstyle
This hairstyle is perfect for you if you have long and thick hair. The half-up half-down bridesmaid hairstyle is created by weaving a romantic fishtail braid with soft waves and a dainty vines hair accessory.
15. Wavy Half Up Half Down Bridesmaid Hairstyle
This hairstyle is perfect for weddings with a classic or bohemian theme and will complement a range of dress styles and colors.
Create loose waves in the hair with a curling iron or wand. Once the waves are in place, take a small section of hair from the top of the head and pull it back, securing it with bobby pins.
Place a baby's breath hairpin on the back of the head, just above the ear. Leave the rest of the hair loose and flowing to create a relaxed vibe.
16. Fancy Bridesmaid Hairstyle
If your straight hair doesn't hold a curl, you may think you won't find a fancy wedding hairstyle. But have no fear; this is a bridesmaid hairstyle that will leave your guests speechless.
The hair on the sides is pulled back and twisted down the middle. This hairstyle can be described as a fancy and unique rope style.
17. Side Braid, Side Bun, And Loose Curls
These beautiful brown locks are braided from the front around to the side and then twisted into a decorative bun.
The rest of her hair is left down and gently curled to create a soft and beautiful wedding hairstyle.
18. Dyed Long Bridesmaid Hair
Now, this is a wedding hairstyle that will have them talking. It's truly a work of art, starting with a lovely lavender color.
The long hair is then styled with bubble braids loosely pulled for a dramatic look, and just above it, the hair is worked into a beautiful flower.
19. Romantic Bridesmaid Hairstyle With Loose Curls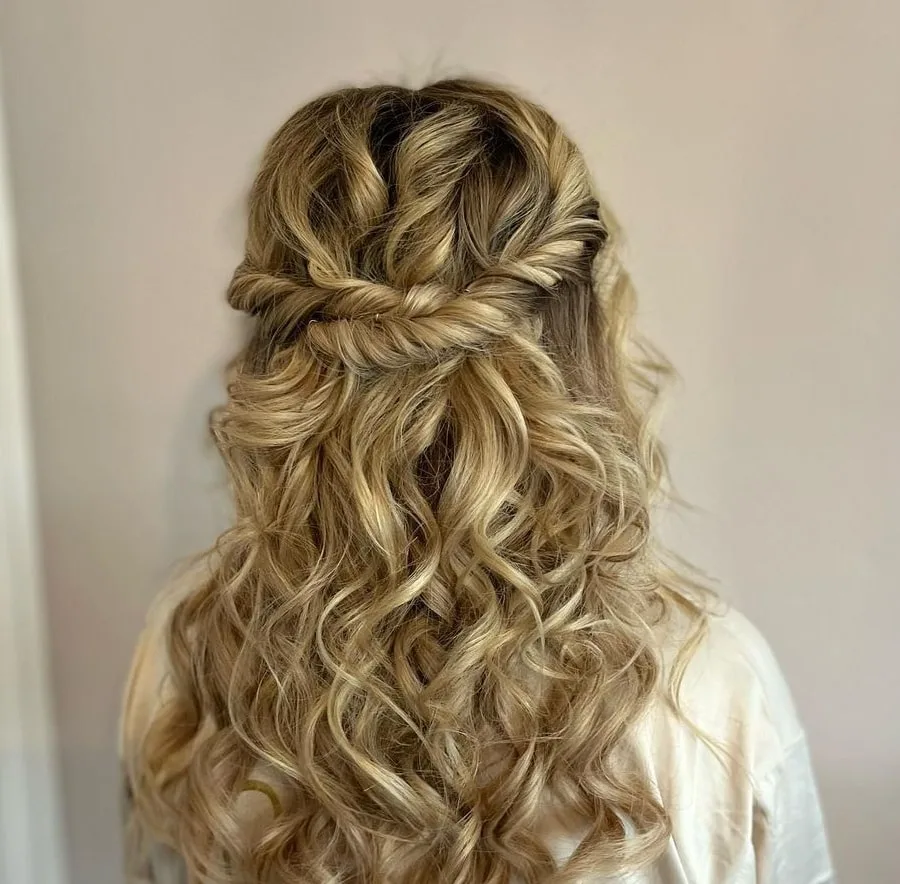 A beautiful long half-up, half-down hairstyle with voluminous curls, and the sides are rolled and pinned to create a romantic and ethereal look. It's soft, dreamy, and perfect for brides and bridesmaids.
20. Braided Half-Up, Half-Down Hairstyle For Straight Hair
Jazz up your straight hair with this extraordinary hairstyle. Add a soft wave to long hair, braid the sides back to the top, and let them flow down for a free-spirited half up half down bridesmaid hairstyle.
So, choose your bridesmaid's half up half down hairstyle and experiment with different accessories until you find the perfect look for you. With the right hairstyle, you'll not only look beautiful but also be able to enjoy the wedding day to the fullest.