Wedding hairstyles are as important as makeup, dresses, or shoes, so you must prep yourself before the big event. And as a bridesmaid, all eyes will be on you too, not only on the bride!
Curls, waves, ponytails, or even wigs or weaves are fabulous options for any black bridesmaid who needs to feel good and look stunning at a wedding.
Gorgeous Wedding Hairstyles for Black Bridesmaids
The wedding hairstyles must suit the whole outfit and makeup of African American bridesmaids. The options available are endless, but you must remember to consider the wedding theme and the location.
So if you want to shine at the next event, discover black bridesmaid hairstyles that suit any face shape, hair texture, or style.
1. Perfect Curls
Curls are probably the most popular ways to gain volume and style your hair for a wedding. To give them high definition, comb your hair and apply the spray protection, then section it into small pieces.
Use a curling wand and swipe the top to the side. On the other lateral, pin a flower decoration that matches your bridesmaid's dress.
2. Covered Forehead
When your hair is short and coarse, you probably want a dramatic change for the wedding, a transformation that gives you more of an elegant and romantic vibe.
Straighten your hair and then braid it into cornrows. Get straight weaves that you will sew in and cover with your natural hair.
3. Half Faux Pony
Faux ponytails are so versatile because they allow you to create such wonderful hairstyles for any occasion. This time, you will use your pony to make the top look richer and fuller.
Part the mane in two sections and pin the front pieces using hair lotion. Attach the pony and wrap a thick strand around the base.
4. Regular Bob
Sometimes you can go a long way with simplicity and a less complicated hairdo. Get a casual bob haircut that you can keep in its natural color or dye black. Straighten your locks and, using a wand, twist the ends inwards.
5. Textured Afro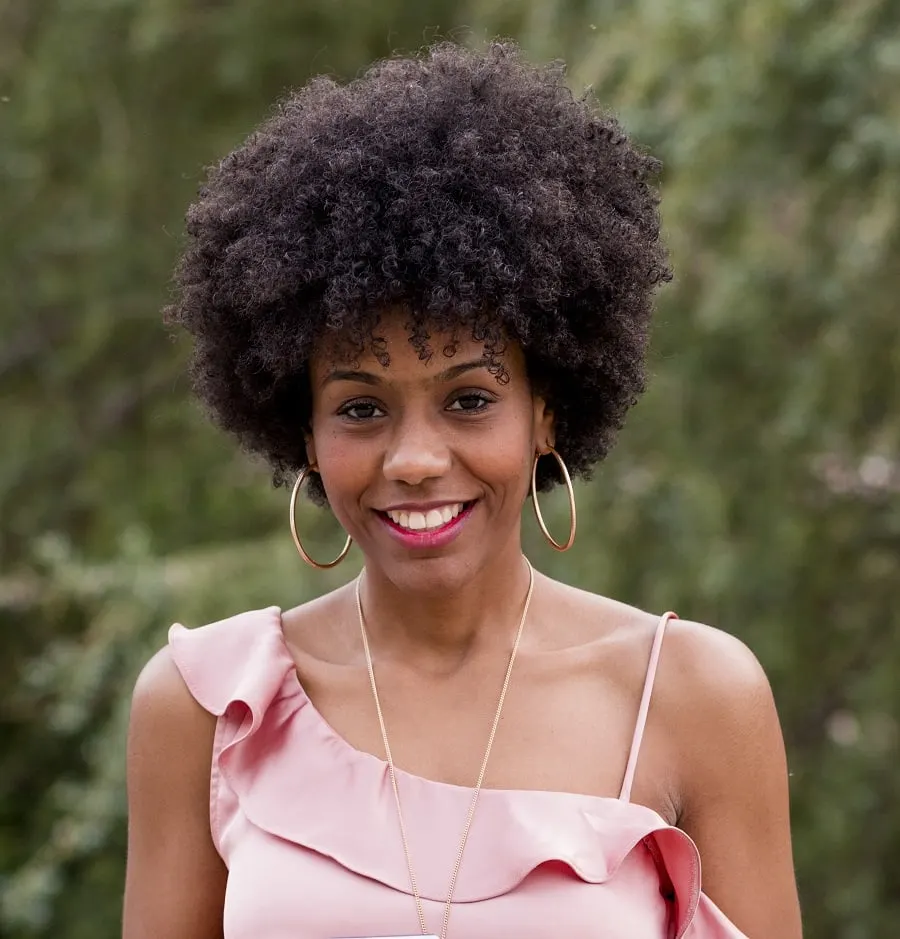 Afro curly hair has a lot of volume but sometimes, those 3C curls lack some high definitions. To achieve that, you should apply a holding gel that gives them shape and makes the ringlets tighten. Complete that fancy look with a pair of round-shaped ear loops.
6. Layered Tight Ringlets
When your hair is so long and curly, you must give it a shape. Because of its texture, the hair builds a lot of volume that you will need to cut off towards the ends. Build layers and in the back, trim the mane in a round shape.
7. Blonde Bob with Dark Roots
If you want to stick to the classics, there's no way you can go wrong. A layered bob highlighting the collar bones and neck is one of the most appealing hairstyles for black bridesmaids wearing strapless dresses.
Do an ombre or create blonde highlights but keep the roots in their natural shade.
8. Thick Rope Braids
Rope braids are protective hairstyles that will prevent damage from external factors on your natural hair. At the same time, they provide volume and make your mane longer and richer. Also, they are a stunning option for a black bridesmaid that needs a cool and unconventional hairstyle for a wedding. Pin the ropes up in a bun and decorate with golden hair rings.
9. Half Up Half Down Braids
Attach the rope braids close to your scalp and ensure the hair bundles used for the knits are the same color as your natural hair.
When going to a wedding, you can pull off a half up half-down hairstyle to reveal your face.
10. Retro Wedding Hair
Pixie cuts are not only low maintenance but also very easy to style for all occasions. Keep hair short on the sides and back and longer on the apex section.
This way, it will have enough length to style it with a mini straightening iron.
11. Afro with Headband
Ultra-coarse hair is very high maintenance, but that doesn't mean you can't find hairstyles for weddings that any African American bridesmaid like you can recreate in just a few minutes.
Use a hair spray that tames your mane and place an elastic thick headband with a flower decoration.
12. Cornrows with Bun
This messy boho hairstyle is ideal for black bridesmaids with chubby faces. If your hair is long, thick and curly, you can style cornrows for the top and meet and roll them in a bun. You can also use hair extensions to enrich your mane and add golden hair jewelry.
13. Silky Curls
First of all, to achieve those gorgeous flawless curls, you will have to make your hair as straight as possible.
You can go for a heated brush and once your hair becomes more manageable, curl it with a wand. To spice things up, build thin cornrows in a wavy shape.
14. Bob Dreads
Short dreadlocks are so cool and a pitch-perfect idea for women who want a cool hairstyle. Cut your locks in shape on a bob but spare a few longer pieces that you can decorate with hair rings.
Also, you can opt for a lighter color than your natural hue, like an auburn or chestnut.
15. Braided Bun
If you like being playful, this cornrow hairstyle for black braidsmaids is the choice you should make. Your knits shod wary in thickness and all start from one corner of the forehead, spreading all over the head.
There are so many wedding hairstyles for black bridesmaids that you can choose from and tons of combinations you can make.
Braids are very popular even for weddings, and curls probably occupy the first spot when it comes to wedding hairdos.
And if you want to be in the spotlight, this is the best occasion to pull off a unique and outstanding coiffure.