Dark ash blonde is a hair color which sits in between blonde color and brown color. Sometimes dark ash blonde can also have hints of gorgeous gray. Although many people have natural dark ash blonde hair colors, it is also possible to dye your hair this beautiful shade.
Who Should Try Dark Ash Blonde Hair Color?
Dark ash blonde is a great choice for people who are looking for a mixture of blonde and brown. If you do not want the brightness of true blonde hair or the dark intensity of fully brown hair color then you may want to choose dark ash blonde hair color instead. It also goes will with a lot of different skin tones.
Dark Ash Blonde Hair Color Ideas
Below are some of our most favorite dark ash blonde hair color ideas we have picked for you.
#1: Long Bob
Ash blonde hair looks great in a Long Bob hairstyle. Use straighteners to keep your hair sleek to show off the color and then use the irons to curl the ends of your Bob under your chin.
Brown Hairstyles With Caramel Highlights
#2: Sleek Layered Hair
Sleek layered hair is ideal for people with ash blonde hair color. Having sleek hair helps to show off the subtle variations of color between each strand. Light layers will help to frame your face.
#3: Large Glamorous Curls
Large loose curls help to create a truly glamorous style in long hair. These big curls give texture and volume to ash blonde hairstyles.
#4: Gray Ash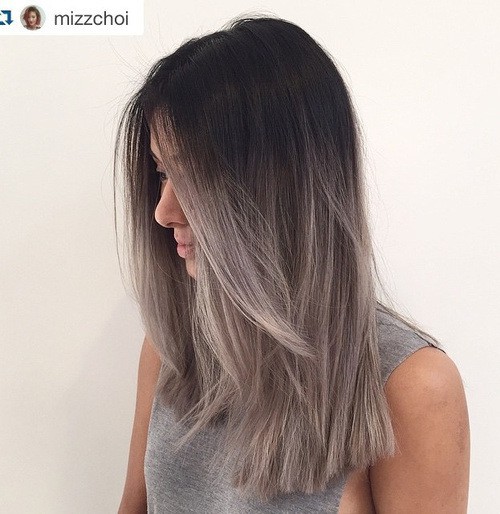 Give your ash blonde hairstyle a cool modern look by changing the color to a subtle shade of gray. Ombré colors which go from dark to light give this look an even more funky edge.
Blonde Hairstyles With Lowlights to Look Like a Star
#5: Dark Ash to White
Take the ombré look to the extreme by letting your ash blonde hairstyle run from a dirty blonde color into pure white tips. You may need to bleach your hair to achieve this look. Be careful to follow the instructions or you could damage your hair.
#6: Messy Curls
Create a devil-may-care look with your dark ash blonde hair by using curling irons to put a loose curl into your hair. Once the curl is set, run your fingers through your hair a few times to create a messy-sexy style.
#7: Dark Ash Blonde Highlights
Gray or platinum blonde hairstyles can be taken to another level by putting in dark ash blonde highlights or lowlights. Putting dark ash blonde color highlights close to the top of your hair will help to give your style depth and texture.
Ombre Kanekalon Hair Color Ideas
#8: Sloping Bob
A sloping bob is a cool style for people who want to give their hair a modern twist. Keep the hair longer close to the chin and then get shorter towards the rear of the head. Ash blonde bobs look great with a very light curl.
#9: Sleek Hair with Volume
To give a sleek hairstyle more volume, you will need to brush upwards from the roots. This gives your locks volume right from the base. Subtle dark ash blonde highlights also give your hairstyle the appearance of more volume.
Most Popular Dark & Honey Blonde Hair Color Ideas
#10: Shoulder-Length Locks
Shoulder-length locks look really glamorous when they are worn loose at a red carpet event. You can easily pull this hairstyle up into a ponytail at other times.
#11: To the Point

Dark ash blonde color really lend themselves to long layering. Get your hairstylist to cut your hair so that it goes to a point at the back. Keep short layers around your face to help to frame it.
For a hairstyle which screams everyday glamor, choose a hair color teamed up with a subtle curl. Your hair should be largely straight and sleek at the top, but it should fall into big loose curls at the bottom.
#13: Side-Parting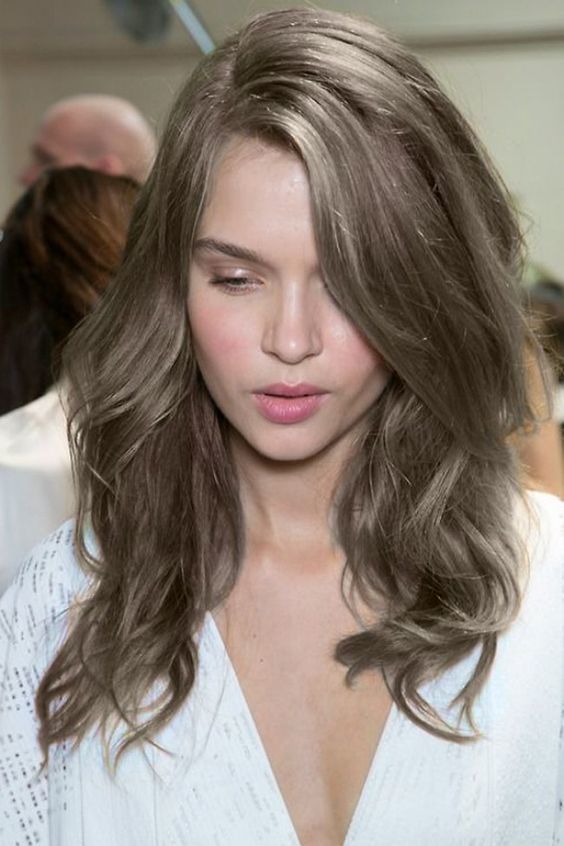 You can make subtle changes to any haircut by putting in a side parting. A side parting can help to change the way that your hair sits and will subtly change the weight balance on both sides of your head.
Give your ash blonde hairstyle an emo nod with a gorgeous sweeping fringe. Drawing your hair over from one side of your head will give your style a lot of weight near to your forehead.
#15: Distinctive Curls
Keep your curls distinct by scrunching handfuls of curling mousse through your hair whilst it is drying. Create curls in your ash blonde hairstyle by using a diffuser attachment on your hairdryer.
#16: Bold Curls
This type of curl looks perfect for a glamorous red carpet event. Make sure that you set your curls with a soft hold hairspray to help to keep them looking perfect all night long.
#17: Angled Style
Angled styles are the height of modern chic. Keep your hairstyle long at the front but then cut it much shorter as the style tracks backwards. The style looks ultra-modern when it is super sleek.
#18: Show your Roots
Dirty ash blonde hair color can look really cool when it is teamed up with darker roots. If you do not have natural roots, you can add a bit of darker hair dye to create the glossy and mossy effect.
#19: Pixie Crop
Pixie crops look fantastic on women with dark ash blonde colored hair. If you have a strong bone structure, this type of style can help to give you a real model like look or a celebrity feel.
#20: Superstar Quiff
For a superstar look, you can undercut your dirty ash blonde hair with shaved sides. Style the rest of your hair up into a fantastic mohawk with a wonderful curling quiff at the front.
Although we love all of these styles, we realize that they may not appeal to everyone. However, we have loads of other lists to choose from in case none of these dark ash blonde hair color ideas appeal to you. Check out some of our other lists by visiting our home page.