Icy blonde hair is the coolest trend right now, and you've probably seen many girls rocking it ever so effortlessly. If you've ever wanted to try it out this article is perfect for you. Throughout this article, you're going to see how to style this hair color in different ways, learn how to maintain this shade and so much more.
How to Get Ice Blonde Hair
Getting the ice blonde look on your own can be quite tricky which is why you should consider scheduling an appointment where a professional and skilled hairdresser will give you a perfect look. The DIY process is quite similar to other forms of hair coloring, and it includes:
Step 1: get hair lightening kit and the ice blonde hair dye or color kit as well as other tools you need for the coloring process.
Step 2: use the hair lightening kit according to the manufacturer's instructions to strip off a few shades.
Step 3: Section your hair into four sections and spray them with CHI Keratin Mist or any other similar product.
Step 4: start applying hair color carefully making sure every hair strand is completely covered.
Step 5: wait for 30 minutes (or any other timeframe provided by the manufacturer) before you rinse your hair.
Watch The Following Video to Learn How Dye Your Hair Icy Blonde
Ice Blonde Vs. Platinum Blonde
It's not uncommon for people to think that ice and platinum blonde are the same thing. They're not. While both of them are versions of blonde, platinum still has a hint of color in it while ice is on the cooler side and appears almost white and silver.
Ice blonde hair dye is as pale in color, but unlike platinum which is bright, this shade of blonde features violet or blue tones that give you the icy shimmer. Both types of blonde are super sexy, so the final choice depends on you only. Platinum blonde is usually preferred by girls who still want their hair to have that signature blonde feel.
Tips & Maintenance
Blonde hair requires a lot of care and maintenance, and it's a big commitment that you need to take into consideration before you decide to go for it. Without proper care, your hair color will lose its definition, and it won't last. In the end, you'd end up with a hairstyle you don't really want. To avoid all the hassle make sure you care for your icy blonde hair properly. These tips will help you:
Avoid washing your hair every day and try to go as many days as you can without washing. Generally speaking, washing your hair two or maximum three times a week is enough. When you do it on a daily basis, you strip off moisture your hair needs to remain soft, and it's needless to mention you impair hair color.
Use purple or some other toning shampoo that will prevent unwanted changes in the blonde hair.
Don't brush your hair when it's wet due to damage. Remember, it took a lot of lightning and bleaching to get icy white blonde hair color, and your hair sustained some degree of damage which could be aggravated with brushing when wet. The goal is to restore smoothness and quality of your hair.
Reduce heat styling as much as you can, only do it when it's absolutely necessary.
Buy a rich hair mask that you'll apply once a week to restore moisture and smoothness of your locks.
Use a good conditioner that will nourish your hair after washing.
Latest Icy Blonde Hairstyles
Wondering how to pull off ice blonde look? These 15 breathtaking ideas will help you out. Scroll down to see them all.
Icy blonde balayage style can take your look to a whole new dimension. There's something about this cool hue that draws us to it; probably its versatility. Now, we don't usually think of versatility when blonde (especially ice) comes to mind, but you can style this shade in different ways. One option is to add subtle waves that will make your mid-length cut bouncy and feminine.
Trends come and go. What's fashionable today may be considered completely outdated tomorrow. Bob haircut is timeless, though. If you're looking for a hairstyle that's always trendy, then this is the one. Icy blonde ombre bob with bangs frames your face perfectly and flatters skin complexion for a romantic, yet powerful look.
Here's a haircut for women who want to do something unusual with their hair. Get an asymmetrical 'do with an undercut. Ice blonde shade will stand out perfectly and flatter your skin tone. This style is also ideal for rock chicks who can create a big contrast between hair and makeup by opting for black eyeshadow.
4. Icy Blonde Braid
We love Daenerys Targaryen aka Khaleesi, and her hair is amazing. You've probably wanted to emulate her signature hairstyle, but it was far too complicated. Well, you can try something similar. This fishtail French braid looks particularly magical with the ice blonde hair dye. You can use your whole hair for a braid or do something similar to the photo.
5. Messy and Layered Pixie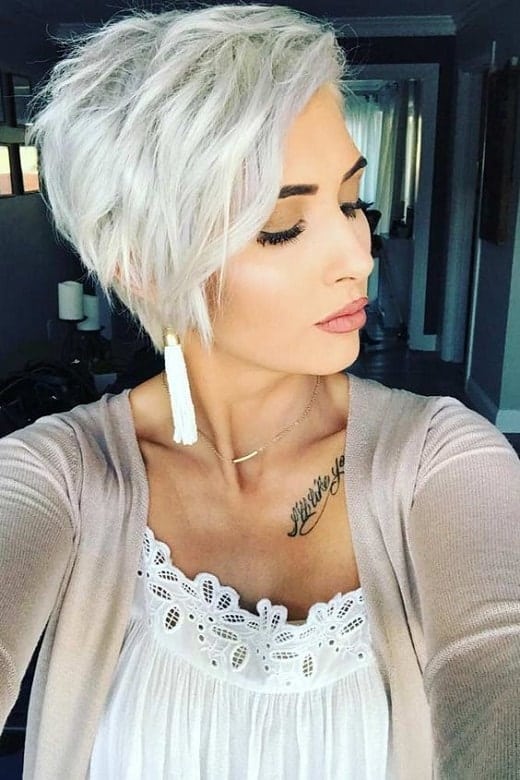 Pixie cuts aren't just stylish, and they are very practical too. They keep hair out of your way and allow you to focus on work, exercise, or pretty much anything else you're doing. Messy pixie has an effortlessly chic effect, and it's easy to create this style.
Women with dark skin are perfectly capable of pulling off icy blonde hairstyle. All you need is a great hairstylist who will make your transition to this style easy on your hair. Options are endless for you ranging from straight to curly styles. Give it a whirl, and you'll love it.
7. Ice and Ashy Combo
There's no need to limit yourself to one hair color when it's fun to experiment with different combinations. It's not uncommon for women and girls to believe their hairstyle isn't complete or that something's missing. A combination of two colors can give you that desired look that a single shade can't offer. For instance, a mix of ice and ashy blonde is beyond perfect. Try it out.
Want to frame your face in a gentle manner? Then mid-length icy blonde haircut with bangs will do the trick. For a complete effect, you may want to choose longer bangs that you'll neatly distribute for a somewhat messy, yet chic look as shown in the photo.
What we like the most about icy blonde highlights is that you can easily incorporate it into any type of haircut and look beautiful. For instance, a pixie cut can only emphasize all the beauty that icy shade offers and you should definitely consider this style. When it comes to pixie, you can choose shorter bangs or longer depending on your preferences.
If you're in the mood to do something new with your appearance, maybe you can try tiny braids on top that will give your ice blonde a new dimension. You'll resemble Elsa from Frozen, elegant yet powerful princess and a proper ice queen.
Long icy blonde hair is breathtakingly beautiful, and the best thing of all is that you can try out various styles to mix things up from time to time. When you don't have too much time on your hands for the hair the easiest and fastest thing to do is a top knot. Look how cute this style can be.
Updos are incredibly liberating, and it's fun to make them. You can create a Mohawk-like style updo and let your ice blonde hair stand out even more. If you're a fan of practical yet chic looks, then you'll definitely want to give this one a try.
13. Diva Style
Channel your inner Hollywood diva with icy blonde balayage hair styled in mid-length curls that gently frame your face. This hairstyle is sensual and elegant. It's bouncy, yet practical. Perfect for the nights out, your blonde style will put you in the center of attention.
14. Long and Free
Let your long hair loose and put ice blonde hair on display, especially if your hair is long. All you need is a mousse that will boost the volume of your hair, and you're good to go.
Here's a cool version of the ponytail. Instead of a classic ponytail, you can create a messy look that also involves a braid, just as it's shown in the photo.
FAQs on Icy Blonde Hairstyles
Q. For Which Season I Should Get Icy Blonde Hair?
Ans: Ice blonde hair dye is a great shade for the hair you can wear any time you want, but it has become a huge winter hair trend. Of course, you don't have to wait for winter just to rock this hairstyle, and you can do it now as well.
Q. I Have Naturally Curly Hair – Can I Dye My Hair Ice Blonde?
Ans: You can, but you should definitely not do it on your own. Curly hair is sensitive and susceptible to damage. The last thing you want to do is to mess up your lovely curls. Professional hairstylists will help you get icy blonde hair color in a safe manner.
Ice blonde hairstyle is a major hair trend, and you've probably wanted to try it out. There's no reason why you shouldn't do that; just remember proper care is vital. This article listed some amazing hairstyle ideas you can try.