Pompadour is a great way for any woman to express uniqueness and boldness. A pompadour gives off strong and fierce vibes, that will make you look stunning and bring positive energy around you.
With celebrities like Rihanna rocking the pompadour style, it's time you try one out yourself too! So, keep reading to find out more about the women's pompadour styles.
Who Should Try a Pompadour for Women?
While anyone can wear a pompadour with a little adjustment, it is typically suited for round and oval face shapes. Luckily, oval faces are very proportionate, so you can easily handle extra height up top without distorting your features.
Similarly, if your face is round and cheeks are full, raising the height on your hair will beautifully elongate the appearance of your face.
If you have a square face shape, however, you can still wear a pompadour. Don't go too wide with your 'do, but rather keep it small and tidy over the forehead for a narrowing effect.
Because this cut is typically worn on short hair, women with pixie cuts should try a pompadour. This style is achievable with long hair, however, but typically if it is worn straight to mirror the sleek look that is synonymous with pomp. Check out some style inspiration below.
Overall, the woman who should wear a pompadour needs to have style and a touch of class. This style is rather face-bearing, so bring your confidence and put your best foot forward if you want to try this powerful look.
Pompadour Hairstyles for Women
The following are the 18 beautiful pompadour hairstyles we recommend you to try in 2023.
1. Platinum Pompadour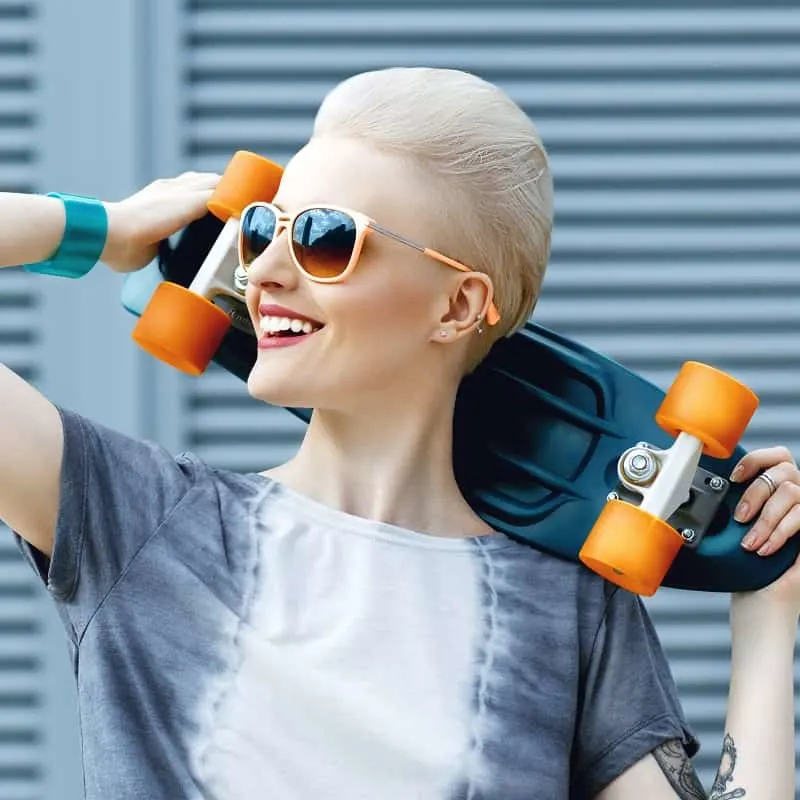 This style proves just how chic a women's blonde pompadour can really look. It is simple yet classic, with just a bit of tidy height added at the top of the forehead. Precision is pretty important when it comes to this look, so keep that in mind when styling.
2. Pompadour for Square Jaw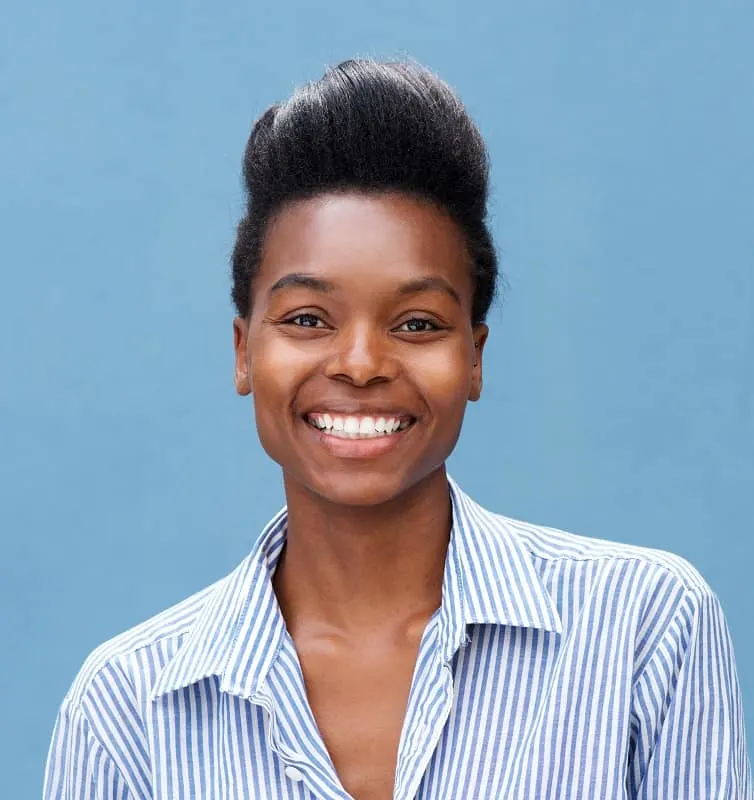 A pompadour hairstyle for Black women that narrows at the top is ideal for a square-shaped jawline. This look helps to narrow the widest part of your face while still revealing your natural beauty.
3. Pin Up Style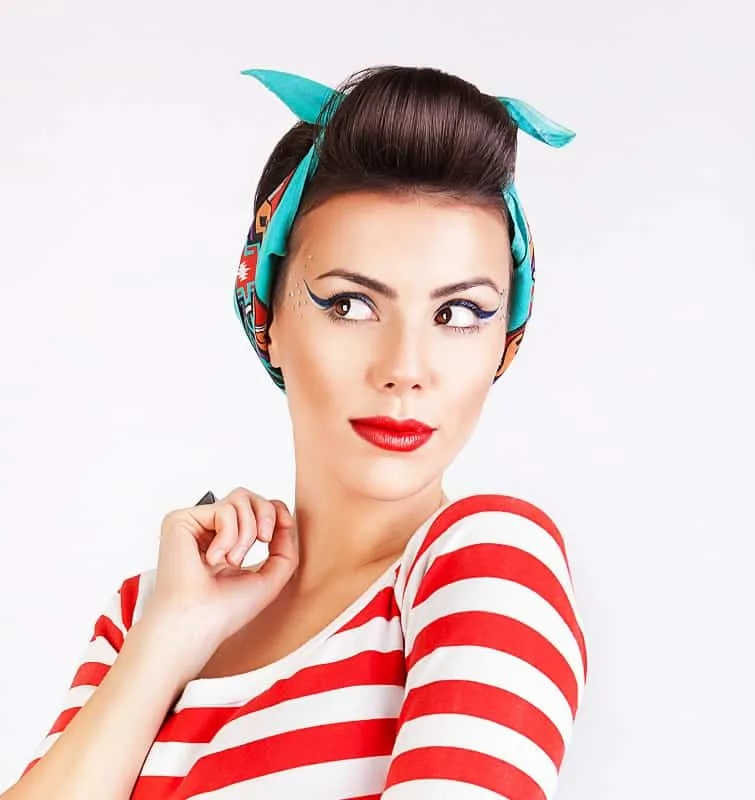 Show off some classic flair with a 1940's pompadour hairstyle for women. While this look may be highly stylized, without a kerchief, it can be worn any time, especially for formal events.
4. Pompadour for Kinky Curls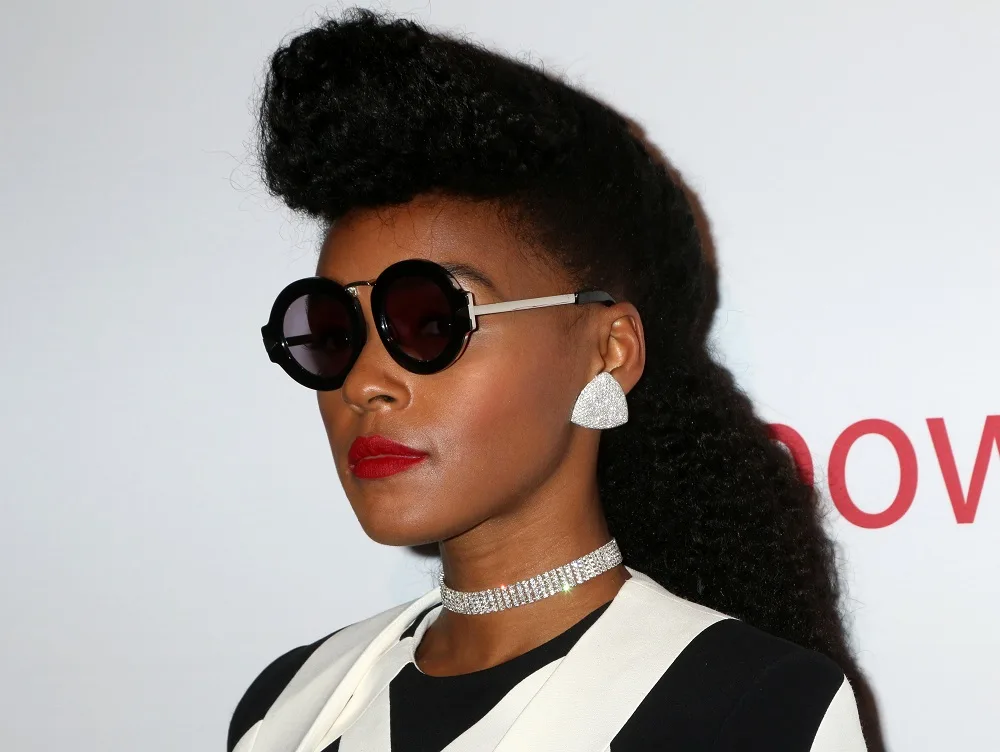 African-American ladies can sport a pompadour hairstyle with a chic twist. Instead of slicking back the hair, the puff protrudes forward to sit on the forehead making it look incredible on natural curls. Complete the style with a low ponytail and sunglasses.
5. Pin Up Style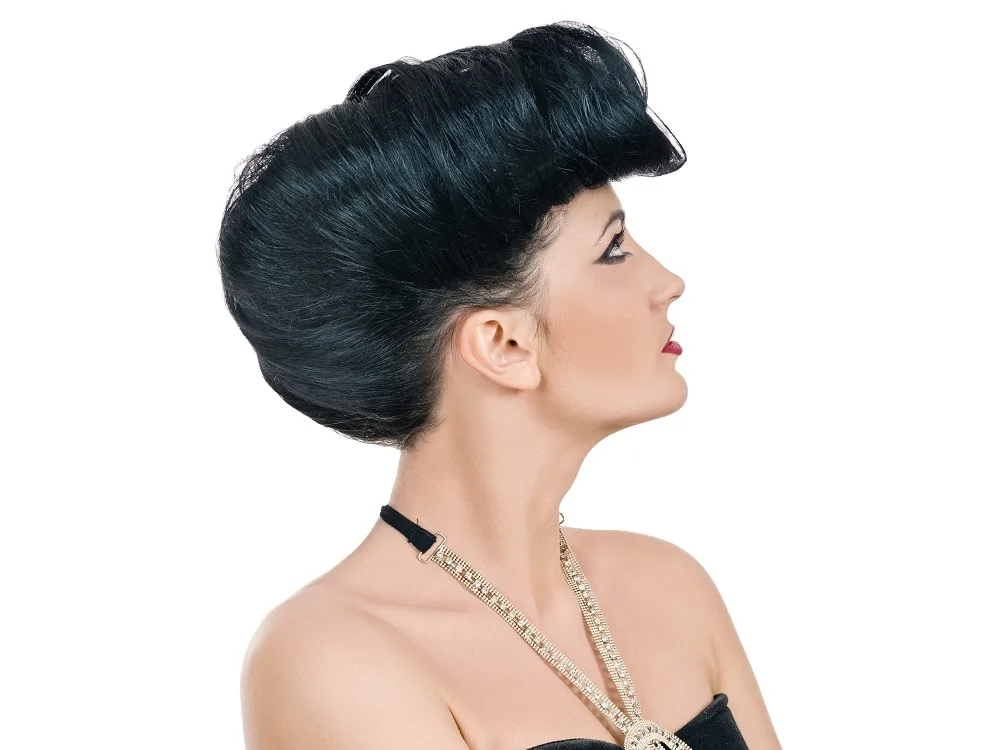 Turn around some heads with this vintage-inspired look. Tease the strands to achieve some volume before gathering them on one side of the head and wrapping them inward creating a jumbo roll. Secure with pins and use hairspray to keep the style intact all day long.
6. Graceful Grey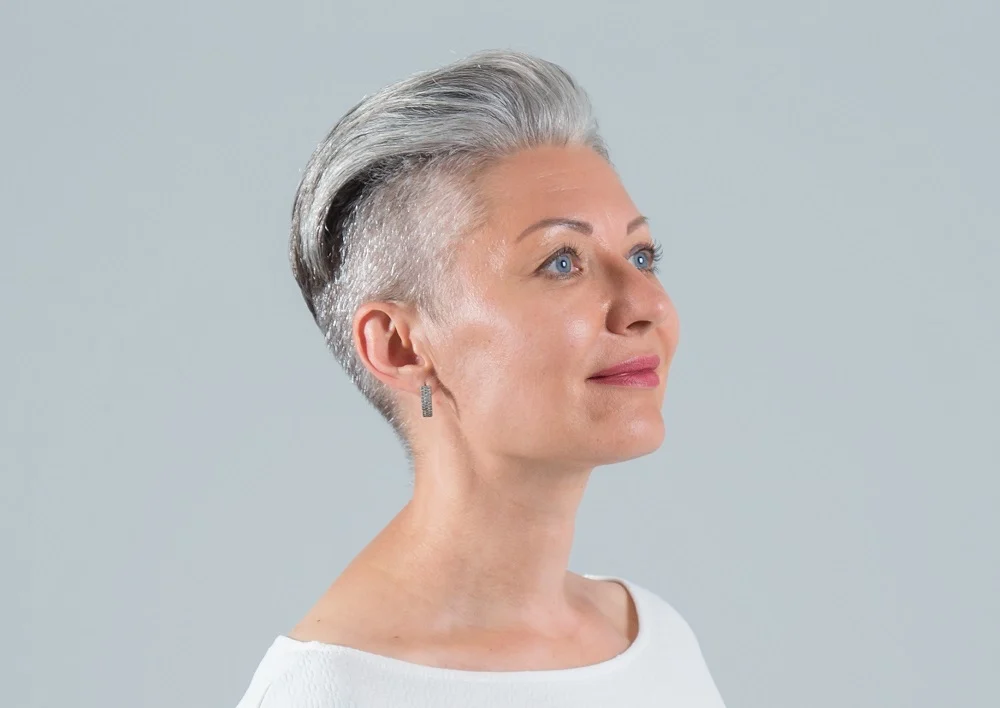 This simple yet elegant look is ideal for women getting up in years as it is effortless to maintain and style. Accentuate the natural greys with silver highlights and an undercut along the sides while the top is kept long enough to be swept back using a comb.
7. Tousled Waves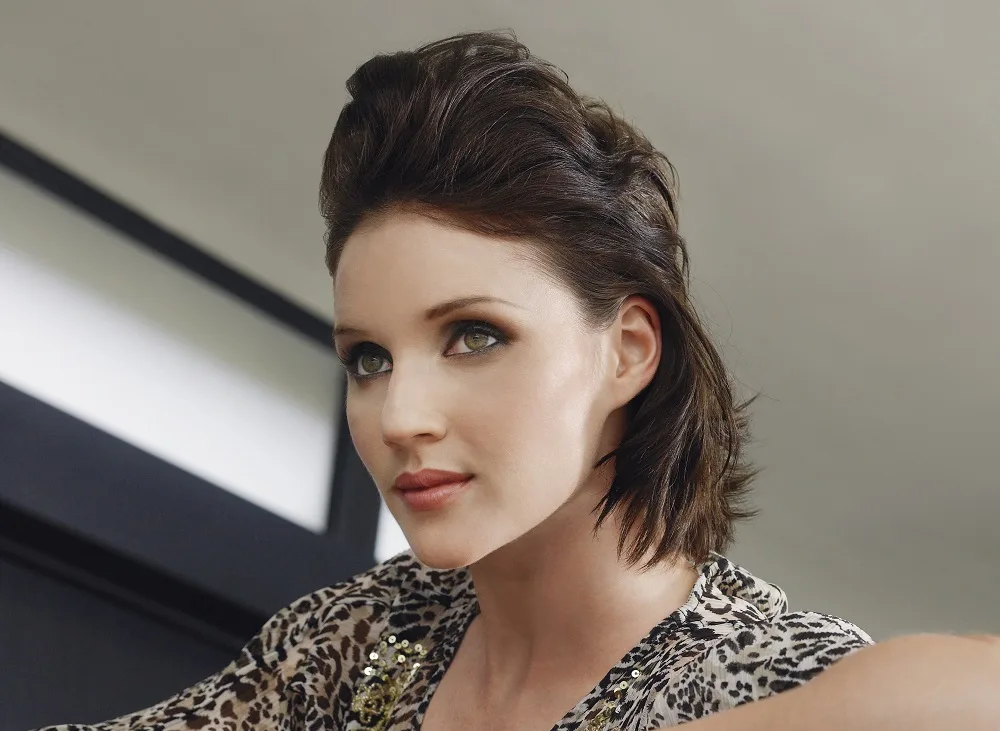 Blessed with natural waves? Use them to create a stylish pomp with an edge. The hair is chopped into a layered bob cut while the top is teased before being tousled up and back creating a high puff. Finish off with hairspray and you are ready to rock.
8. Brilliantly Swooped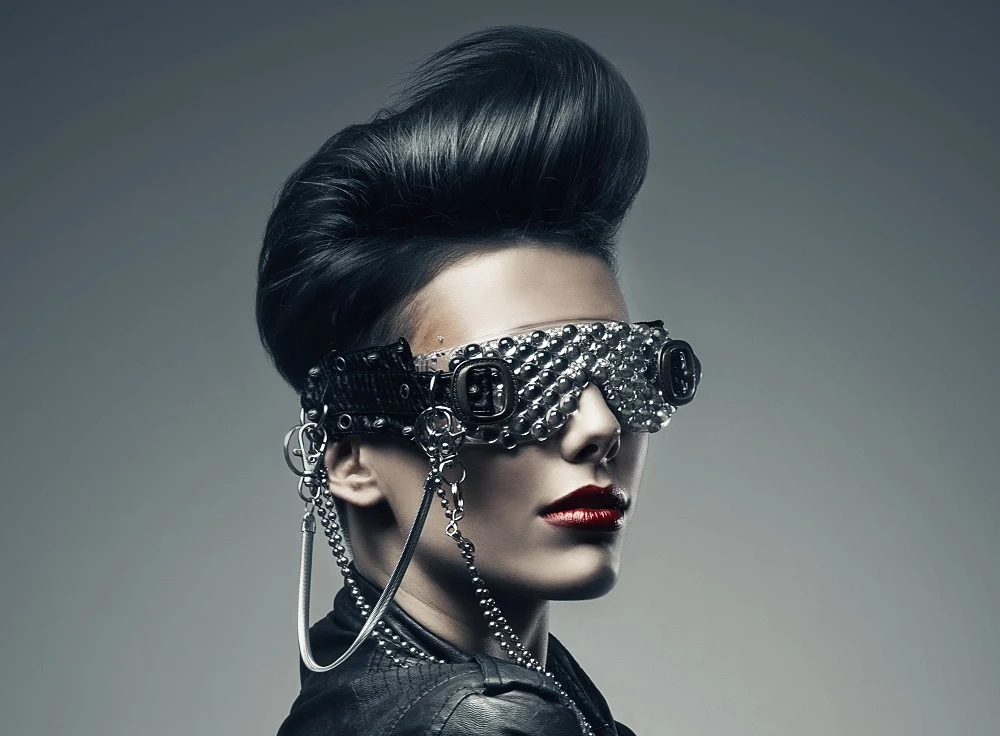 No doubt women sport pompadours and quiffs as good as men. Here is a look that proves it. Those who are confident enough to pull off this look can ask the hairstylist for a long top that tapers towards the sides. Style the hair using a hairdryer and a round brush. Voila!
9. Two-Toned Undercut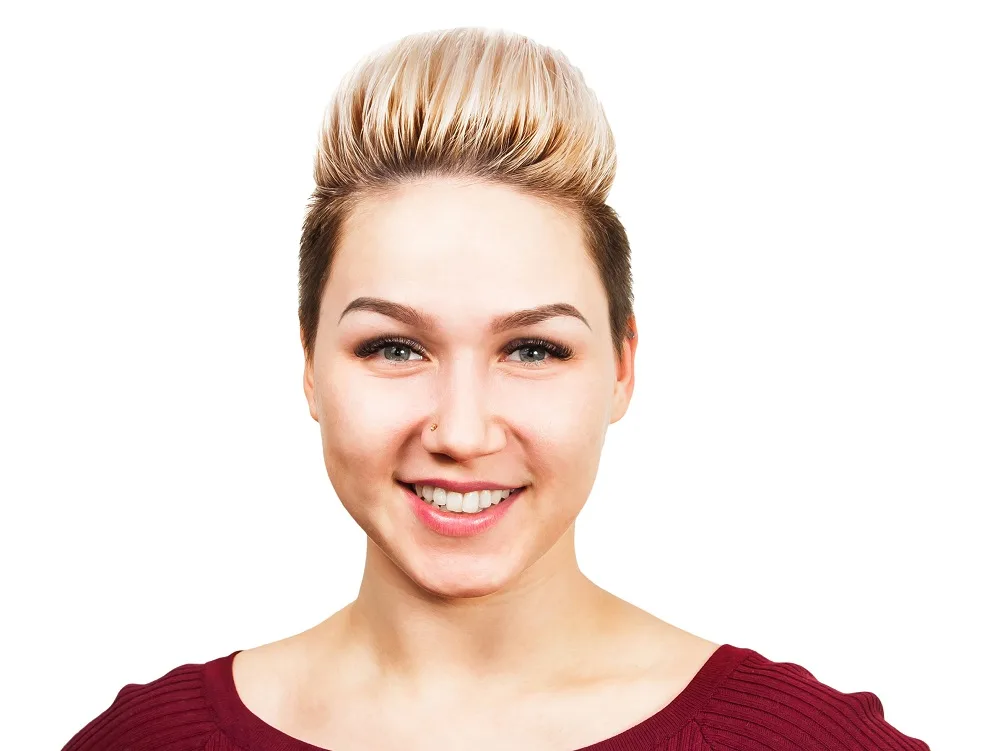 Here is another pompadour hairstyle for women that will surely turn around some heads. The dark brown sides are buzzed keeping all the attention on the long puffy blonde top that is slicked back with some pomade creating a beautiful two-toned appeal.
10. Half-Up Puff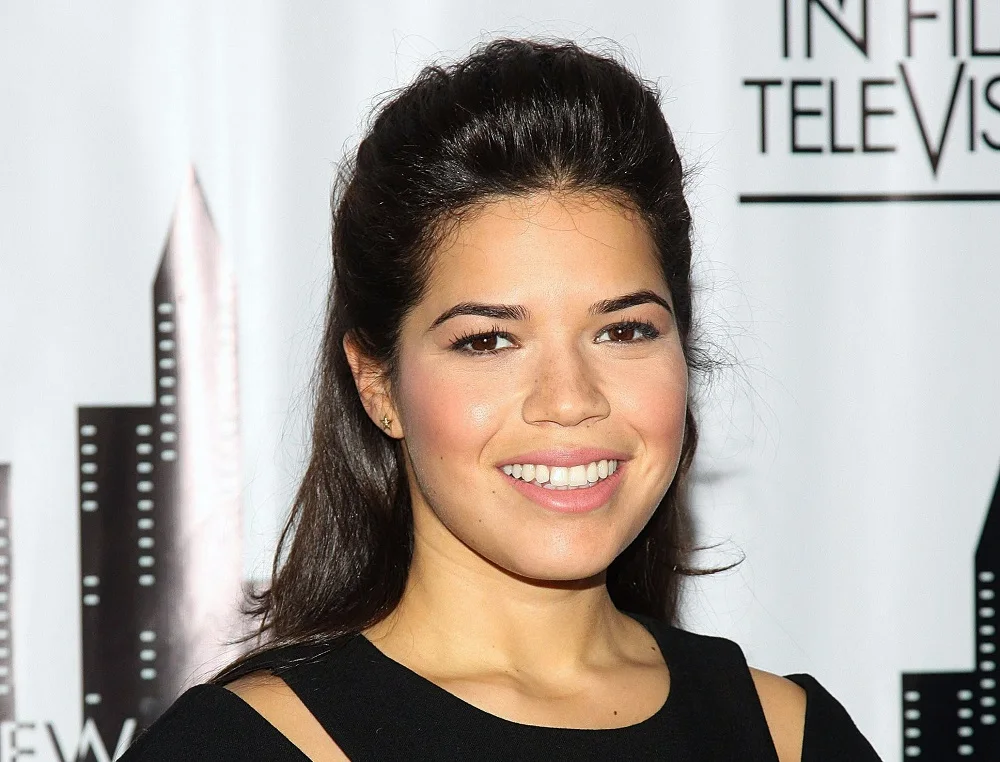 Graceful yet unique in its own way, this hairstyle has stood the test of time and never gets out of fashion. Detangle the locks and separate the front strands. Tease them to create a high top at the front that is pinned back along with the side locks.
11. Pop of Color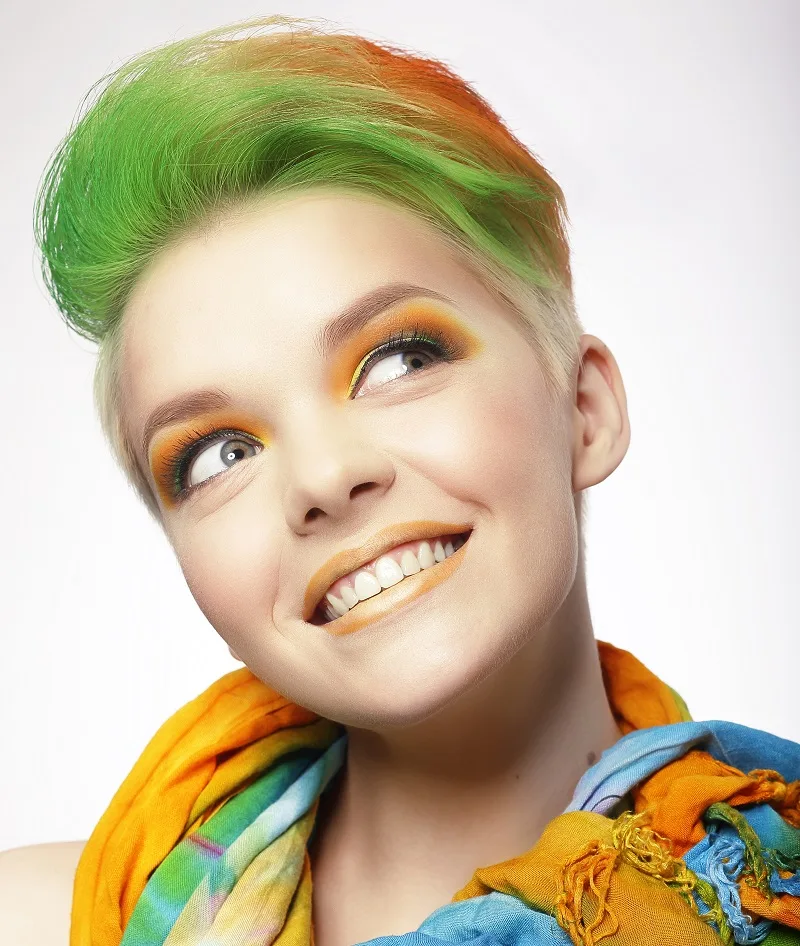 Natural blonde hair is the best to recreate this funky look as it skips the rigorous bleaching process. Taper the sides with a long top that is dyed in a brilliant pumpkin orange hue with a vivid green front. Top off with a deep side parting and there you go!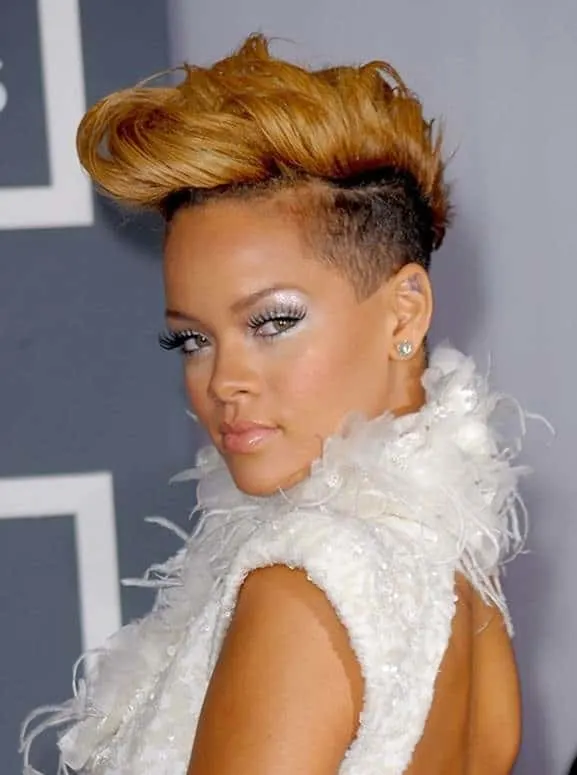 This women's pompadour will make you look like a queen! To achieve this pompadour for females, you might need to get a special haircut. The dyed hair also adds to the glory of the pompadour.
13. Voluminous Pompadour for Long Hair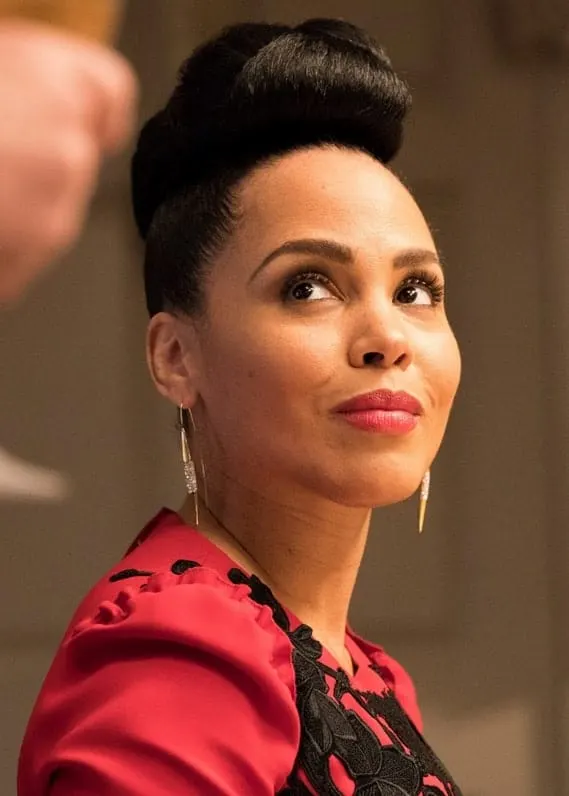 The above pompadour is a great way for women to style hair for any formal event. It will make you stand out and look absolutely gorgeous. A pompadour is a great way to get a fancy hairstyle while keeping your hair out of your face!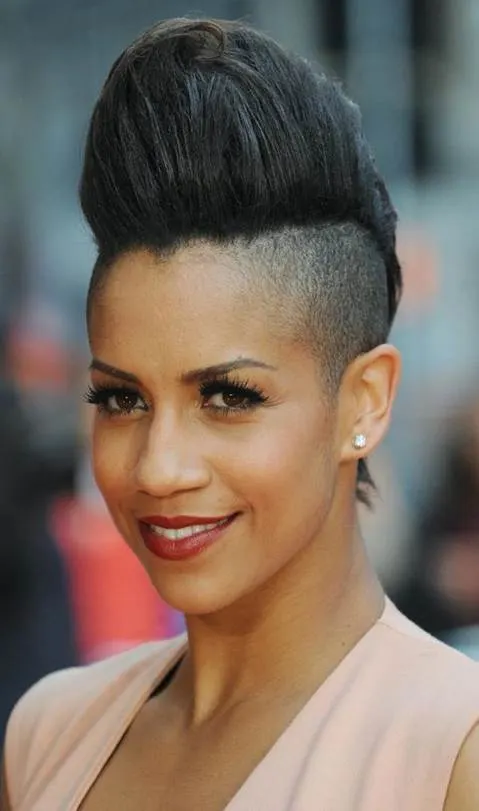 This pompadour hairstyle for women looks absolutely stunning. It's a bold hairstyle that gives strong, independent vibes! If you have a chubby face, then you should definitely try getting this pompadour because it makes your face look less chubby. The shaved sides make a strong contrast with the pompadour, giving a bold and gorgeous look!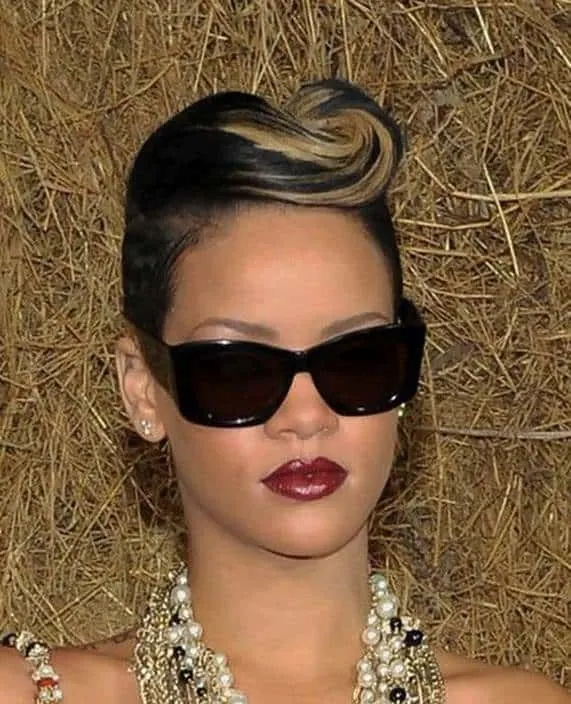 Rihanna is no doubt the Queen of Pompadours! Rocking this amazing pompadour, she has given inspiration and a style for everyone to follow.
This stunning pompadour, especially with the dyed hair, gives chic and classy vibes! If you're looking for a new and unique hairstyle to try out, you should definitely give this wavy, side pompadour for women a try!
16. Protruding Pompadour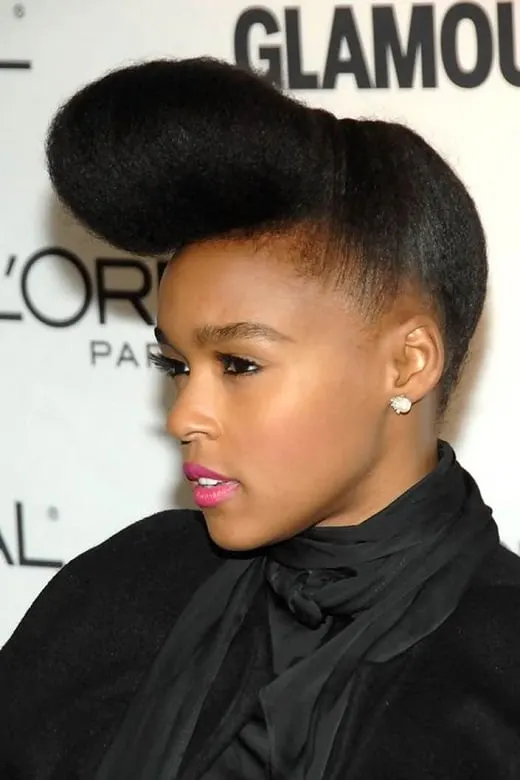 This protruding pompadour style for females is a great way to catch some attention. This woman's pompadour gives a classy, bold look and it's a great hairstyle for you if you're interested in trying something new that would look stunning too! For all the curly girls out there, pompadours look great on curly hair as well!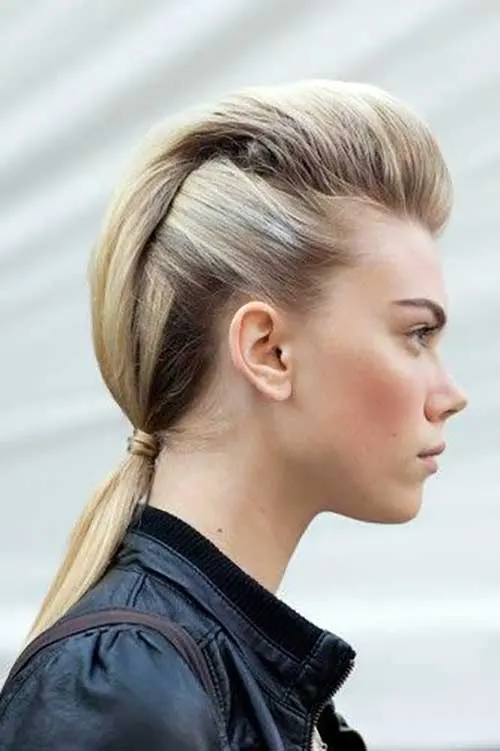 A pompadour ponytail makes you look great and it keeps your hair off your face too! This pompadour hairstyle is a great way for women to style in any event.
18. Curly Pompadour for Women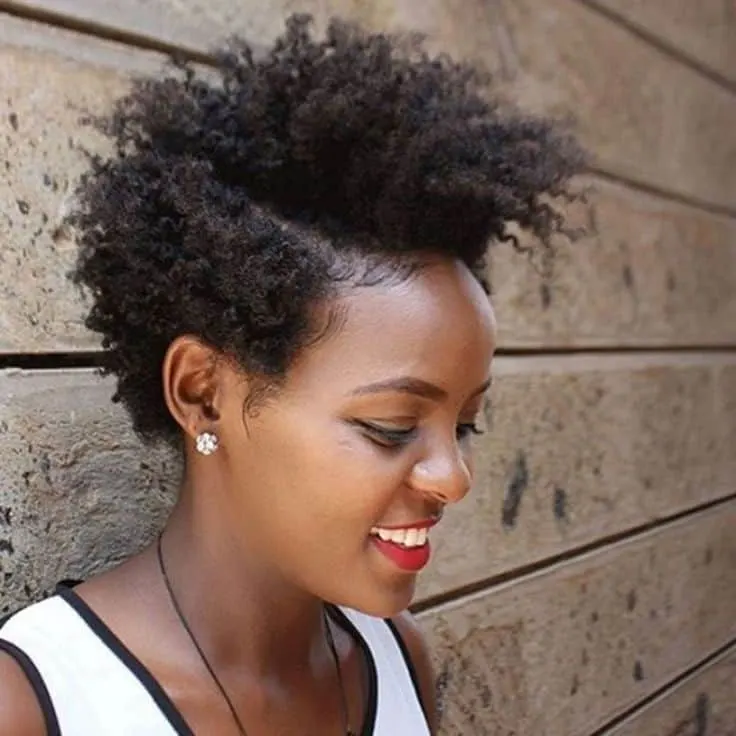 This curly pompadour for women is a great way to style short curly hair that's unruly. The pompadour looks amazing and is great for all types of events.
This hairstyle is also pretty easy to make. All you need is the right haircut and some gel and hairspray, and you're good to go!
How to Style Pompadour for Long Hair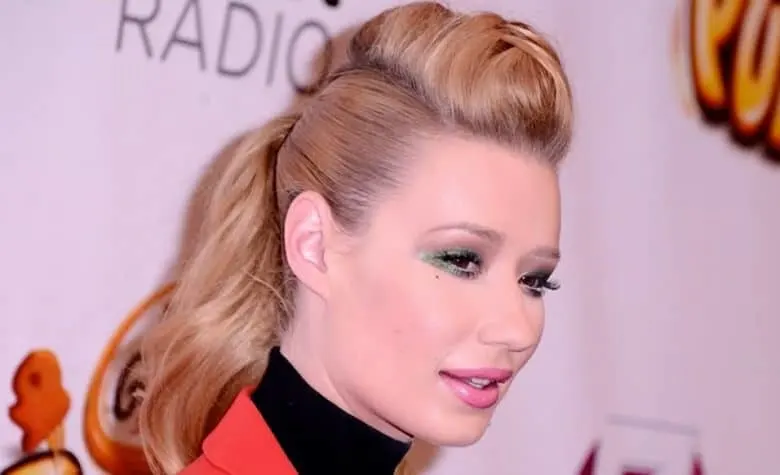 If you're wondering that pompadour hairstyles are only for women with short hair, then let me correct you right there! Women with long hair can also make pompadours! The tutorial below will teach you how to make a female pompadour if you have long hair:
You need to part your hair into three parts. The first part is the middle section of the front of your hair. Tie this part and then part the rest of your hair into three parts, one on each side, and the other one at the back.
Add some hairspray to the sides and then bring them back and put clips on them to make sure that they stay flat against your head's surface. Repeat this on each side.
Next, open the mid-front section and then divide it into two parts, one at the front, and one at the back. Start back-combing the back part, and the proceed to back-comb the front part.
After that, use a comb and hairspray to set it so that the hair is raised and then tie the ends at the back.
With the hair that's remaining at the back, you can bring it forward and hide it under the pompadour or you can style it however you want!
Watch The Following Video to Learn How to Do Pompadour Updo for Women
FAQs On Pompadour for Women
Can I try a pompadour with a pixie haircut?
Yes, you can definitely try a pompadour with a pixie. We have listed a style like this in the above list.
Pompadour or quiff, which is more suitable for women?
Both types of styles suit women, but the pompadour style gives a more glamorous and feminine look, so a pompadour is more suitable for women!
There are many female celebrities out there who have styled their pompadour in a very chic and fashionable way. Therefore, you should consider the women's pompadour hairstyle because it makes you look bold and stunning!