As winter approaches, it's time to pull out those different beanies, hats, scarves, and gloves that you've buried in the closet. If you're like me, you enjoy refreshing your wardrobe with each new season, and choosing a new winter hat can be so much fun in a season that can be pretty dull.
Because of their close crop, beanies provide the best versatility and the most warmth out of all the types of hats out there. Of course, there is so much variety within the beanie family alone.
Types of Beanie
Below, we go through all the different types of beanie caps available for purchase. Take a look and decide which beanie hat should be yours for this upcoming winter.
1. Cuffed Beanie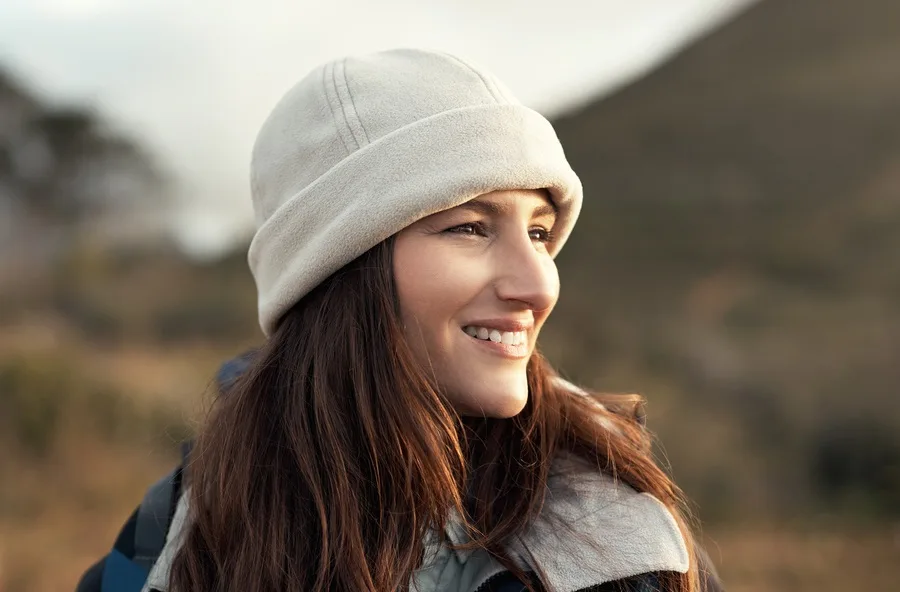 A cuffed beanie is pretty straightforward- this hat is characterized by a rolled piece of fabric attached to the opening of the hat. A cuff can come tacked and cannot be altered, or you can roll one yourself.
People typically love a cuffed hat because it provides an extra layer of warmth around the hat's opening and offers great protection for the ears.
As for beanie styles, cuffed hats can be smooth and soft, wooly or fleecy, or found in a chunky knit.
2. Cuffless Beanie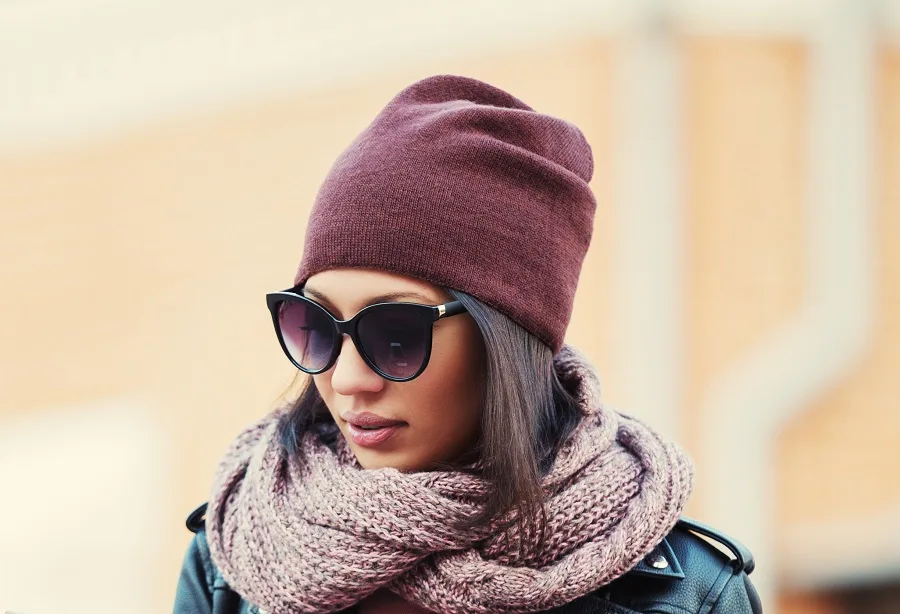 Unlike a cuffed beanie, a cuffless style has a smooth finish, but could be made of any fabric, even a chunky knit. This simple beanie style means no fold is found at the opening of the hat, but it also means that you could roll a cuff yourself if your hat is too big or you feel like changing up your look.
Like cuffed hats, cuffless beanies can be found in any color and can be made of any material you desire. At this point, you should look for colors that compliment your go-to scarf and winter jacket.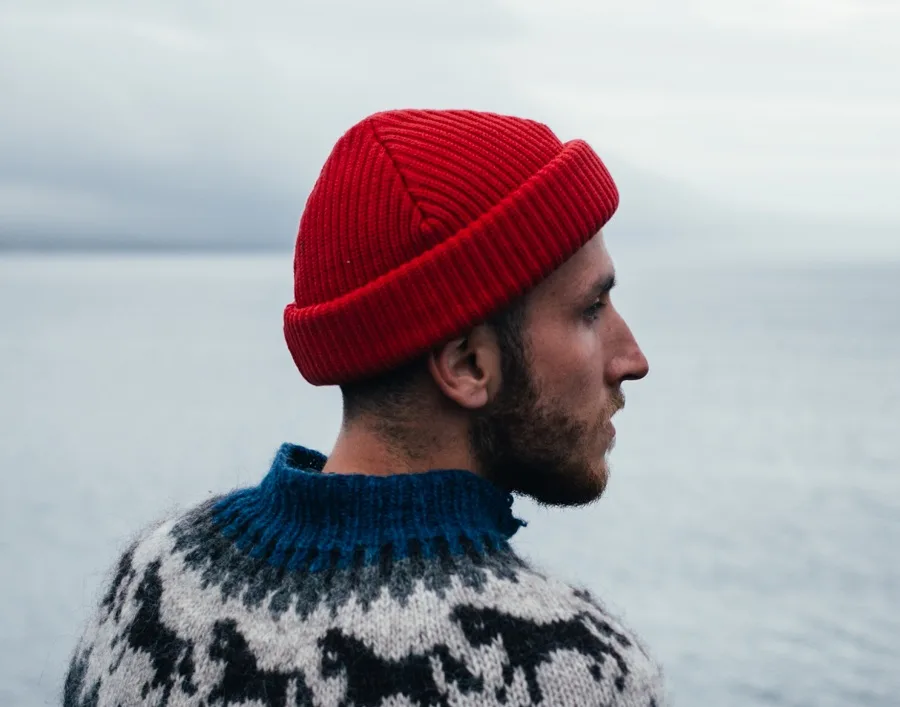 You've likely seen fisherman beanies on the coolest kids around the neighborhood. Characterized by a short crop, this rounded style generally doesn't cover the ears.
Fisherman beanies were originally designed for, you guessed it, fishermen who needed warmth in a style that wouldn't get in their eyes.
This type of hat for men can be made with virtually any material, but if it's warmth you're after, look for a chunkier knit. As for fashionable styles, this one should top your list.
4. Earflap Beanie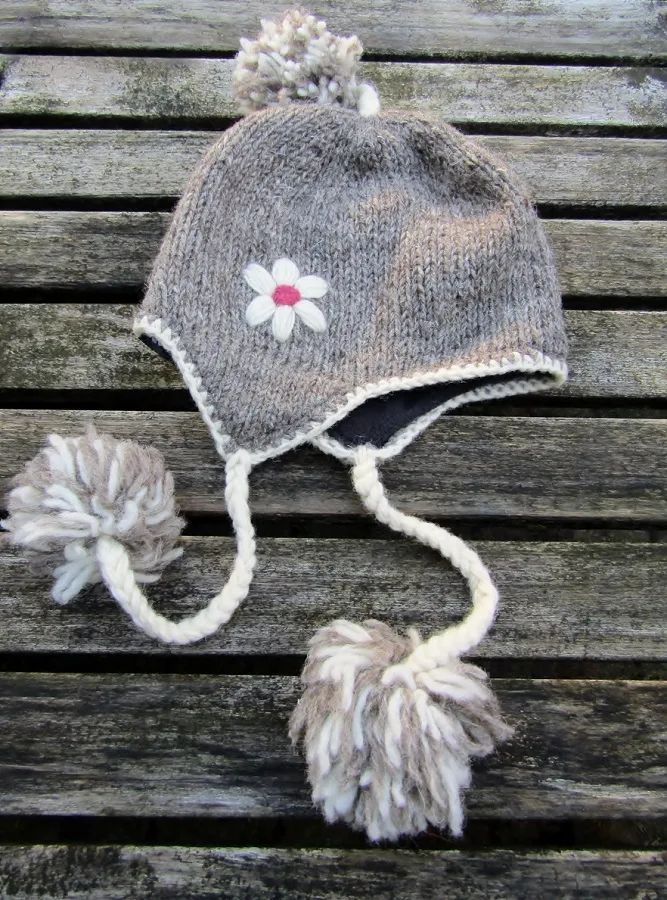 Earflap beanies are great for kids but of course, are suitable for anyone looking for extra warmth. This design typically comes with tassels that are fashionable as well as functional.
In extreme weather, like wind, tassels can be tied together for extra security. This hat variety is usually found in a wool blend, though many different materials can be used.
Hat Size Chart: What Hat Size Should You Choose?
5. Turban Beanie
This type of beanie is characterized by a close-fitting skull-like cap that covers the ears and has some sort of twisting style at the top of the forehead. Typically a protective hairstyle for black hair, turbans can be stylish for all.
The style narrows at the forehead and provides a clean face. It's not usually worn for warmth, more for functionality and style, but a fleecy turban like this one can certainly keep one's head cozy.
6. Visor Beanie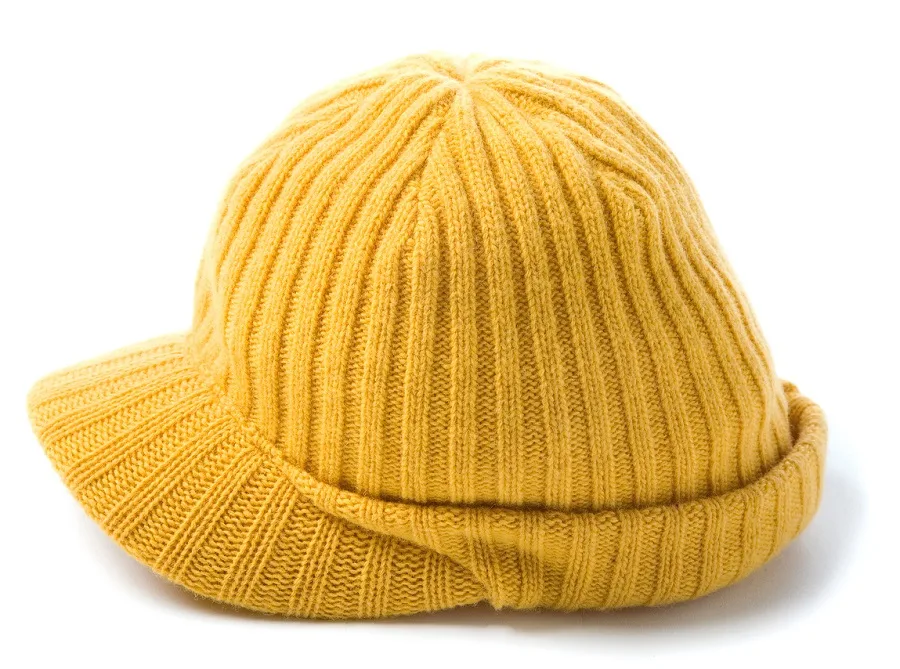 As much as one might like the sun, steering clear of the damage it can cause is easy with a visor beanie. This hat provides a few more inches over the face, offering protection for sensitive skin.
Visor beanies only need a visor, so they can be found in any material, like a cozy knit. It usually has a cuff so that portion of the hat can easily and seamlessly incorporate a visor into its look.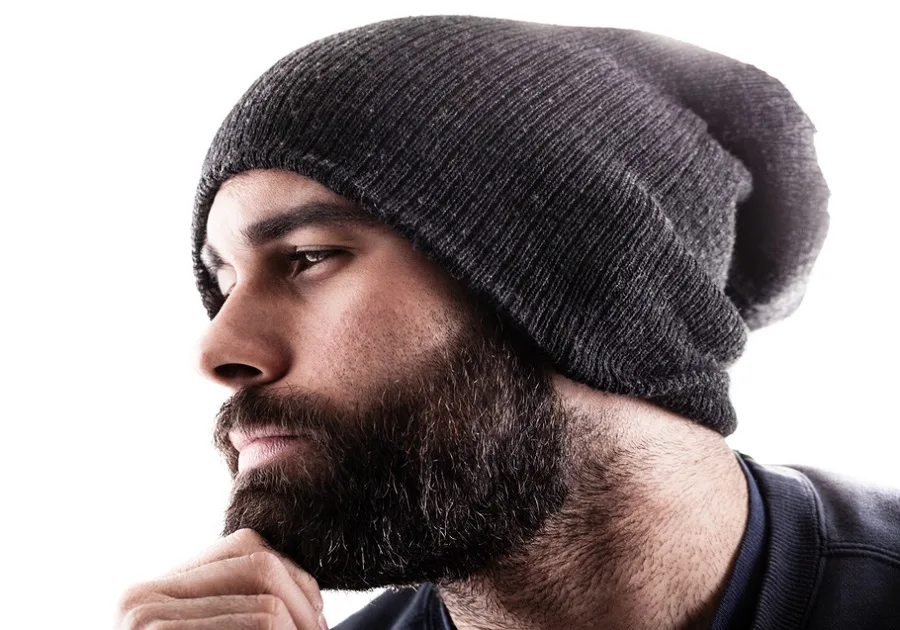 Slouchy beanies can provide for a variety of looks, whether you're into the hipster vibe or need a hat to hold dreadlocks. This style is known for being roomy and cozy, making it great for all sized heads.
Men and women alike love the way this hat uses excess fabric to create stylish folds. Slouchy hats can come in any fabric, most likely wool, cotton, acrylic, and polyester blends.
8. Parisian Beanie
The French know style, so why wouldn't they know about beanies? A Parisian beanie has that casual slouchy feel but done in a beret style, so its signature circular shape is not lost.
Characterized by small knitted border, these summer beanies usually come in beautiful and delicate knit patterns.
While Parisian beanies are more for style than they are for warmth, you can't go wrong with topping off your outfit with a pretty hat in a lovely neutral or fashion color.
9. High Top Beanie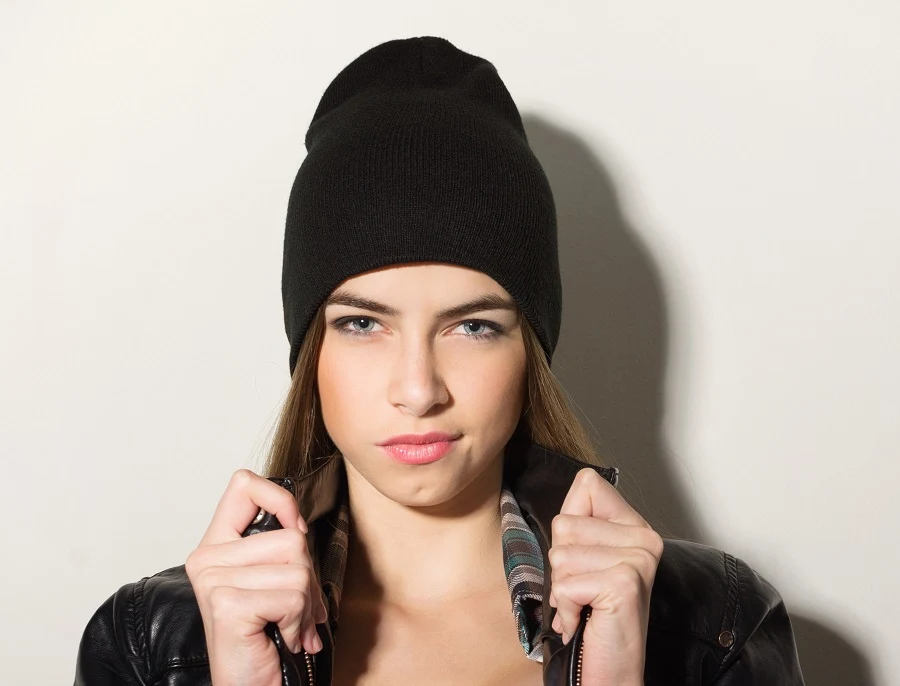 High top beanies are like regular skull beanies but are much deeper so that the hat can stand tall atop your head. This look has a rebellious flair, so try it out for a bold statement.
This type of beanie can be cuffed or cuffless, but they are usually found in this smooth style. They often come in simple colors and are tightly ribbed.
10. Hand Knitted Beanie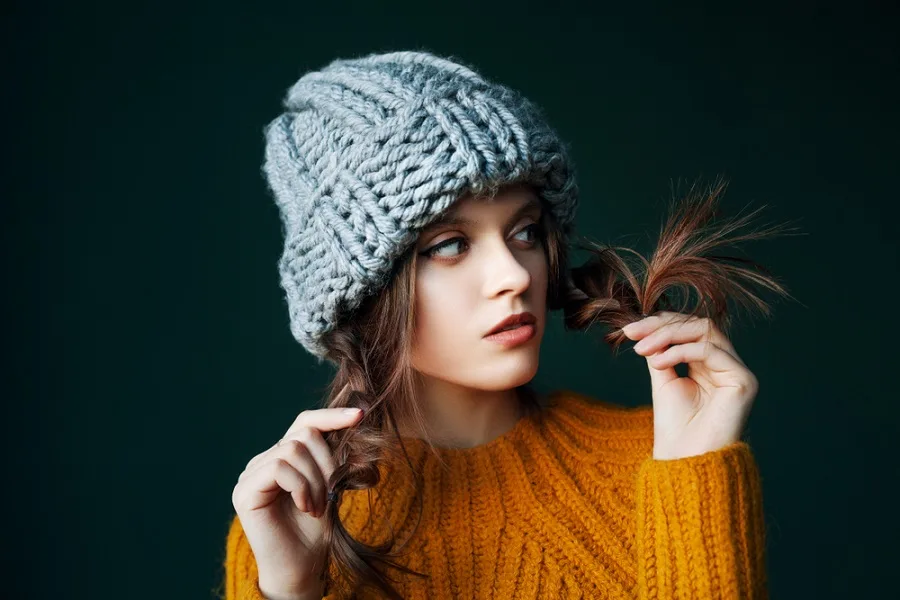 Nothing beats the luxe feeling of a chunky hand knit hat in a beautiful color. Hand knitted beanies are an investment in craftsmanship, and tells the world that you appreciate natural fibers and supporting the timeless art.
Show off your personal style with a unique design. These hats are typically made with natural fibers like super soft wool or organic cotton.
11. Hipster Beanie
They may be called hipster beanies, but they can be a fashionable choice for anyone with style! These hats are typically tightly cropped and often cuffed, coming in a variety of different colors.
These hats usually aren't very chunky, but if you find one with an acrylic blend or made out of luxe cashmere, it'll block out all weather and keep you pretty warm.
12. Ponytail Beanie
A ponytail beanie is perfect for ponytail and other updos styles, as its name would suggest! We love it for all winter sports imaginable. Wearing a hat can be annoying with long hair as it's more prone to tangle, so this beanie provides an easy fix.
This hat comes with a small hole at the back where your hair can hang out with ease. Look for hats in a chic winter white with a chunky knit for a snow bunny feel.
13. Bones Beanie
Bones beanies are like bones themselves, no fuss, no frills, and simply functional. This one from The North Face is made from 100% recycled polyester. In this day and age, we should all be considering natural and recycled fibers as often as possible.
Bones caps are simple and should fit close to the skull. They can come in any color, but are typically found in dark neutral hues.
14. PomPom Beanie
What's not to love about a delicious pom pom beanie hat? These caps usually come with a chunky knit and always contain a fluffy, soft pom pom on top of the head that feels luxe to the touch.
This look is pretty specific and gives off a chic Scandinavian wintry vibe. It's cozy and definitely makes for a fun gift. Try any color, we just happen to love winter white hat!
15. Ski Masks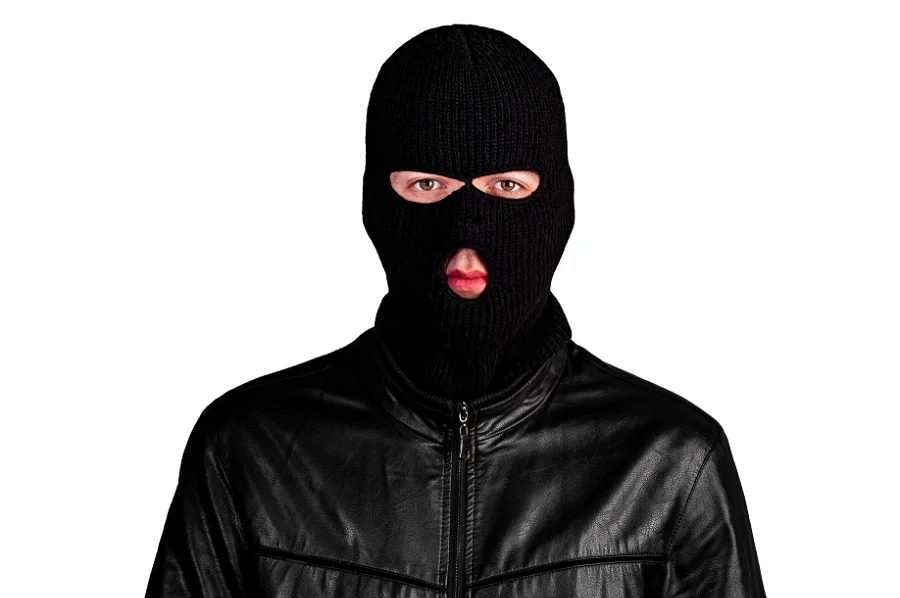 In super cold climates, a simple hat often isn't enough to keep you truly warm. To block out all wind and to prevent sunburn and chafing, a ski mask is ideal.
These hats extend beyond the head and cover the face and neck with holes cut out for eyes and mouth. This look is a bit intense and is usually suitable for extreme weather sports like skiing and hiking.
16. Woven Beanie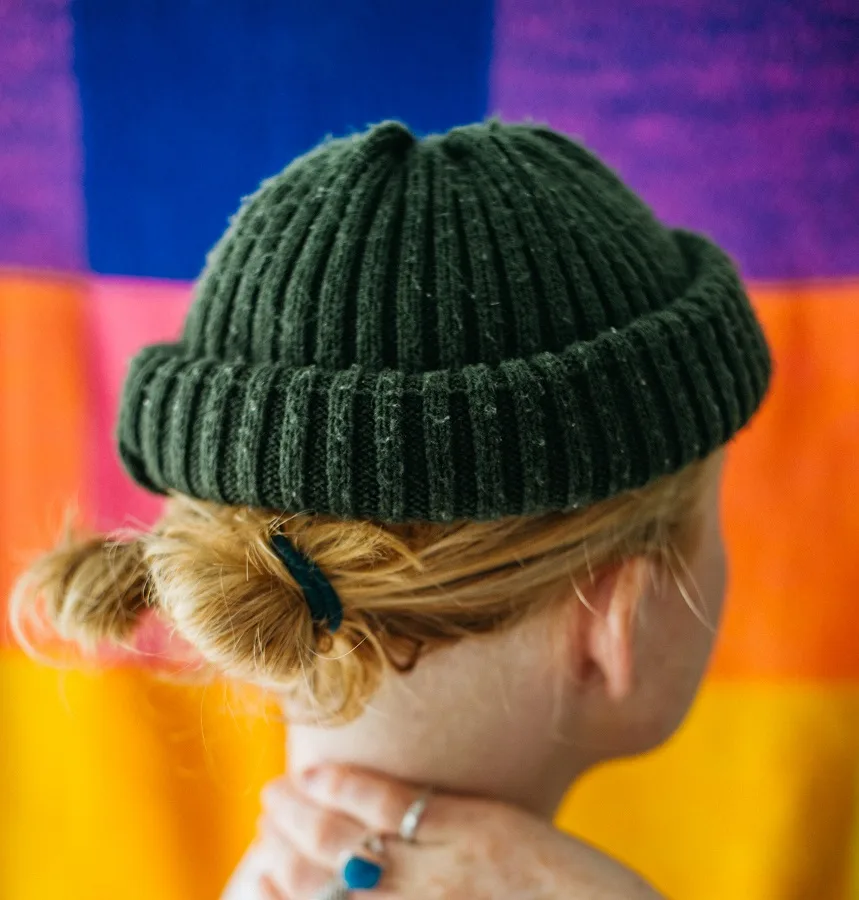 Woven beanies are known for their chunkier knit. They can be hand-woven or mass made, depending on where you buy them. We love woven beanies for their versatility- choose one in a fisherman style, a beanie style, or in an extra long cut.
Typically a wintry hat, this woven short beanie is known for keeping you extra warm, especially if it has a thick rolled cuff!
17. American Mohair Beanie
Just like a regular beanie type, a mohair beanie sits close to the head and can be tall or short. What sets a mohair meanie apart from the rest is the mohair material made from the hair of an Angora goat.
This hair is durable, resilient, and has a high luster and sheen. People love this material for hats because it is super soft and fluffy and dyes very easily for a variety of color options.
18. Animal Beanie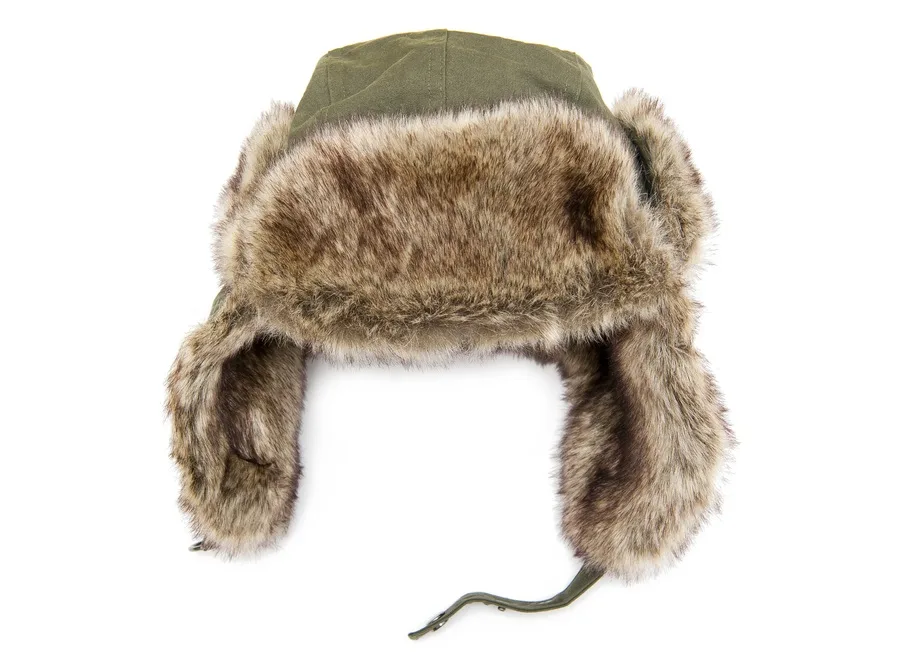 Animal beanies are typically made of animal fur with the fur usually used as an accent rather than an all-over material. While rabbit, alpaca, fox, and other woodland animals can be used, animal hats can be made faux or assembled sustainably.
Try a chic rabbit cap or a cuffed animal beanie that covers the ears. Animal is popular because of its extreme warmth and luxe look.
19. Bobble Beanie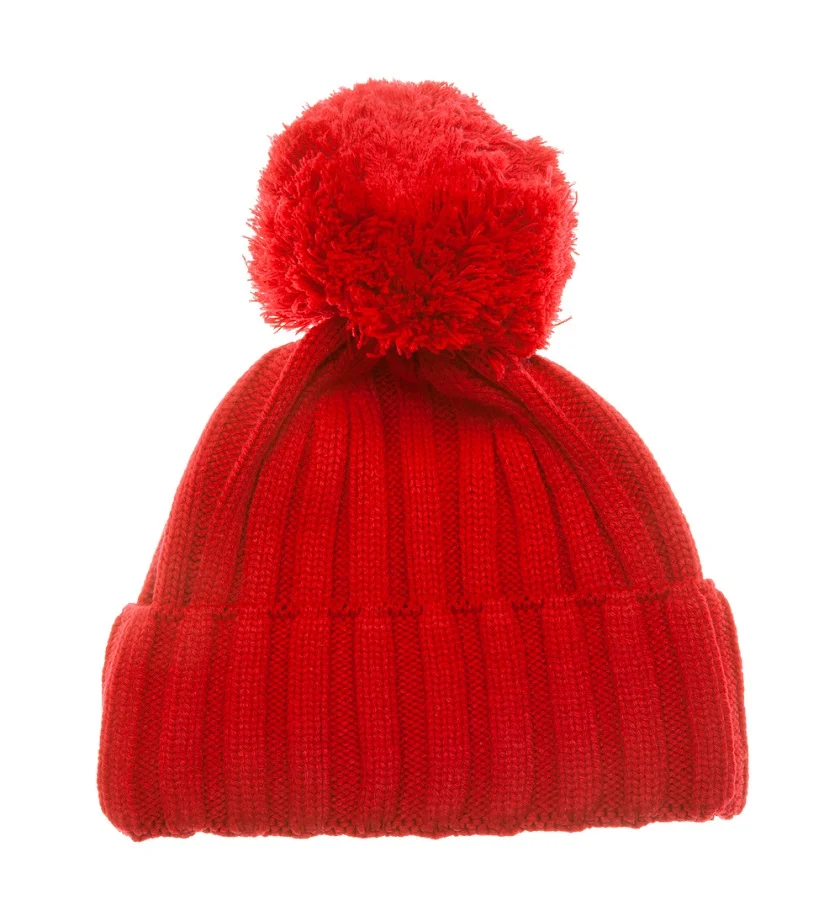 Similar to a pom pom beanie, a bobble beanie is characterized by a fluffy pom pom that sits atop a knitted or smooth beanie style. Most often, however, there is some form of ribbed knitting to balance out the heaviness of the pom pom on top.
As for color and pattern, pom pom hats can come in virtually any variety! These playful styles also happen to make excellent holiday gifts.
20. Bluetooth Beanie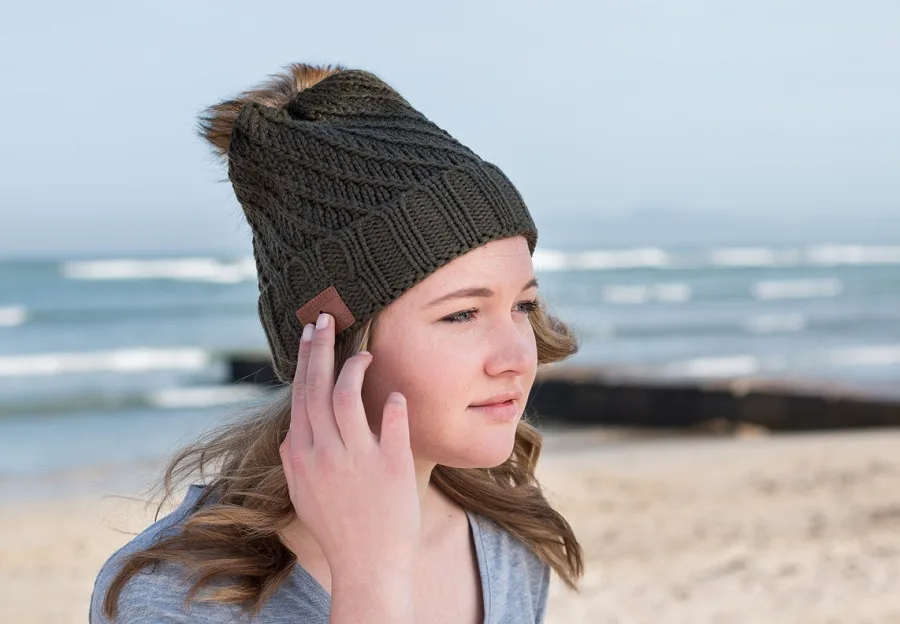 Bluetooth beanies are the ultimate design means function hat on this list. Comprised of wireless connectivity, these hats not only protect your head from the elements but keep you always connected.
Try this hat if you enjoy taking long walks and conducting business in the fresh outdoors. These hats are clearly one of the newest additions to types of beanies out there.
21. Waffles Beanie
These sensible hats get their name from the square waffle design of the knit. While the tightly woven knit reads flat, it contains that extra pop of texture that will instantly enrich your look.
Additionally, that waffle design is looped tightly closed, making it super warm while also being pretty stylish. Many of these hats come with sleek and trendy tags along the cuff.
22. Lid Beanie
Lid beanies are also a pretty basic hat that is a timeless classic for a reason. These hats are known for the feature fold at the top of the hat that creases softly for a bit of texture.
The 'lid' is usually the shining detail of the hat and typically comes in solid colors or perhaps a simple stripe design. Small tags are also often found on trendy lid hats.
23. Tactical Beanies
Just as the name describes, tactical hats are known for their touchable fabrics that are usually crazy soft. Most of the time, tactical beanies come in simple, close-knit varieties in basic colors.
These kinds of hats are usually made of fleece or a fleece blend and are great for kids. Certainly, they will keep you very warm throughout the winter months!
24. Propeller Beanie
You can thank Steve Urkel for making this beanie style popular! Propeller beanies usually fit close to the head, are almost always colorful, and contain that funky spinning propeller that sits directly on top of the noggin.
Definitely for the quirky kid, this hat is playful and fun. They are often available in a fisherman hat style or in a baseball cap fit, as seen here.
25. Ribbed Wool Beanie
This type of beanie cap combines a timeless closely knit ribbed look with wool, one of the warmest natural fibers out there. Natural fibers are great because they aren't synthetic and therefore are more sustainable than products like polyester and acrylic.
If you're looking for a classic style that will endure throughout the ages and also happens to make a perfect gift, consider a ribbed wool beanie.
There are so many types of beanies to choose from, it may be hard to pick just one. Whether you love tassels, pom poms, chunky knits, or sleek designs, there is a beanie out there for you!